How Long Is A School Bus?
By
on
This post may contain affiliate links. As an Amazon Associate, I earn from qualifying purchases. Please read my full disclosure.
School buses have developed a reputation among people living a mobile lifestyle as vehicles that are perfect for an RV conversion. With a little bit of time, effort, and money, you can turn a regular old school bus into a true recreational vehicle, party bus, or even an off-grid camper!
Building your own school bus conversion isn't the simplest process, but it can be fun and save you quite a lot of money.
One of the main problems people face when planning to convert their school bus is choosing the right length of the bus.
Obviously, not everybody is a school bus expert, and doing a little bit of extra research in that area will help you determine the right length for your needs. In this article we're going to tell you about school bus dimensions and other factors that will help you find the perfect bus!
Different Lengths of School Buses
When talking about the classic, American yellow school bus we can differentiate between three main size categories: the short bus (i.e. mini school bus), mid-sized, and long, also referred to as a full-size school bus.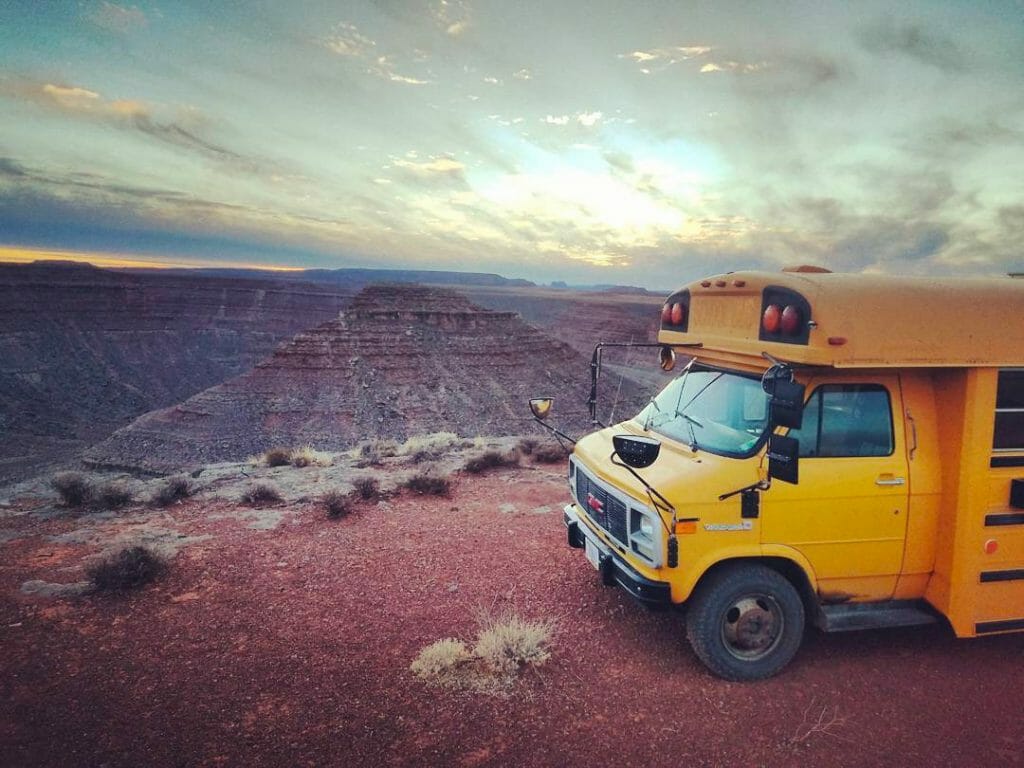 Short School Bus
These buses are designed to carry a small number of students and usually travel on routes that were planned out to pick up students from less populated areas and take them into the city or town where the school is located.
In terms of conversion, the short bus will work well for people who want a smaller vehicle that will be easier to maneuver and fit into small spaces.
After putting in the necessities like a bedroom and a small bathroom, you'll find that there is not going to be a lot of space left for additional passengers or large equipment.
Mid-Sized School Bus
Medium school buses are the most commonly seen vehicles of this type across the entirety of the United States. They generally pick up students along suburban routes, where a lot of families live. This is your bang-average school bus, but by converting it, you can turn it into a true work of art.
The medium-sized school bus offers a lot more versatility than its short counterpart. It's ideal for families with children who frequently go on short camping trips, but you shouldn't expect to be able to turn it into a proper mobile home.
Childless couples, on the other hand, will have a lot more room for creativity. A medium school bus for one or two people will be able to fit a decent-sized bed, a compact bathroom, and even a kitchenette with all of the basics needed to cook a proper, hot meal.
The mid-sized bus's capacity is still quite limited, though, and you might lack enough space to fit in a living room/lounge area.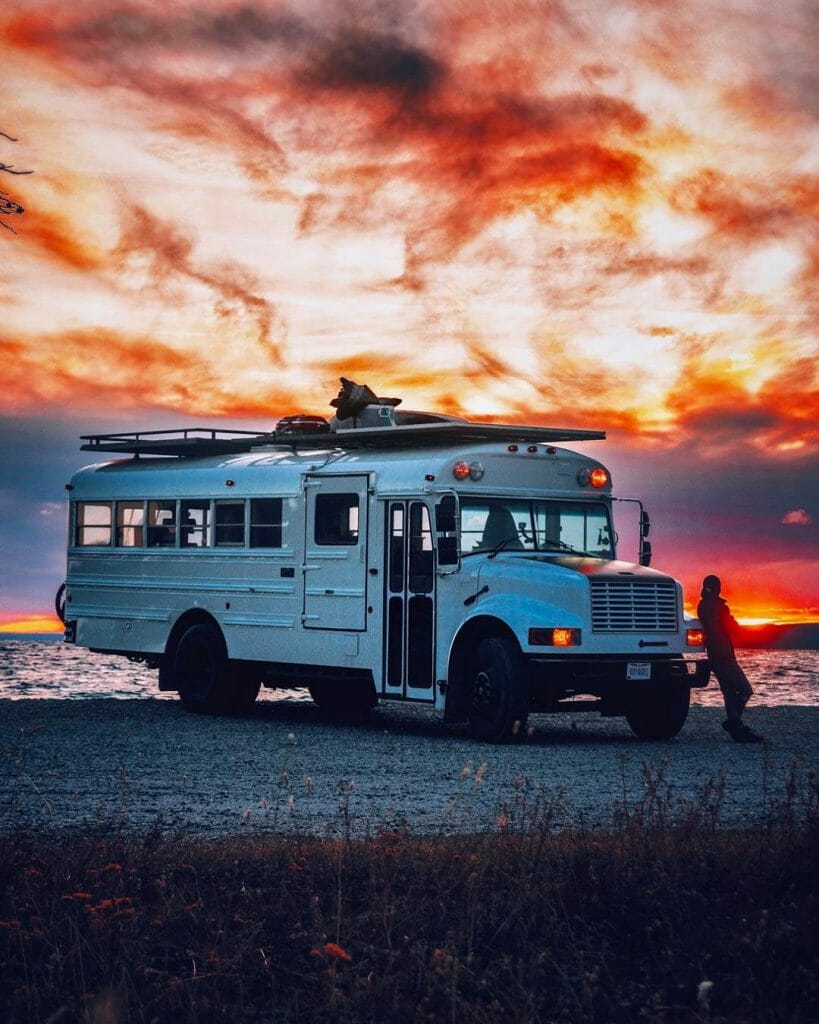 Long School Bus
This large, full-size bus type is usually enlisted by schools in smaller areas, where just one or two such vehicles are enough to pick up the majority of students.
Alternatively, these buses are used along routes in densely populated areas, such as major cities, with a high frequency of stops and a lot of children that need to get picked up.
As a converted school bus, the long bus definitely offers the most options out of the three sizes described in this article. In fact, with enough resources and determination, you could really turn it into a true mobile home!
After taking out all of the seats and unnecessary features, you'll have more than enough space to insert a bedroom, bathroom, kitchen, and even a small lounge area. With a bit of creativity, it can also be turned into a sizeable camping van, capable of comfortably fitting your entire friend group!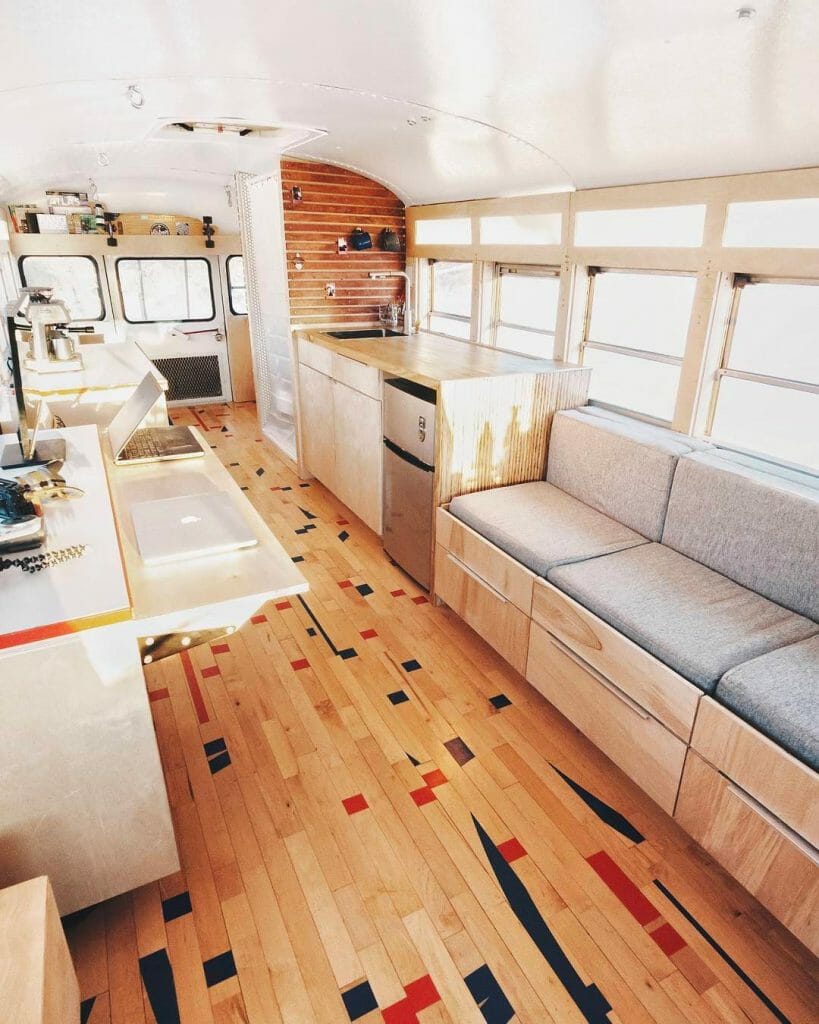 School Bus Measurements
While school bus length is the most frequently-mentioned metric when talking about these vehicles, if you want to convert it into an RV or a mobile camper, square footage is probably going to be the one that interests you the most.
In this section, we'll talk about both the length and square footage of school buses, as well as a proposed division of space for the purpose of turning a school bus into a living space.
Keep in mind, though, that school buses cannot be wider than 7.5 feet as stated by law, and the standard for the interior height is 6 feet (although 6'6″ is common).
Short bus: a small school bus's length is typically around 20-25 feet, and its width amounts to roughly 7.5 feet. This results in square footage of 150-187.5 sq ft.
Mid-sized bus: this one is a fair bit larger, with an average length of 25-35 feet, providing you with a square footage of 187.5 – 262.5 sq ft.
Long bus: a full-size school bus is roughly 35-45 feet long. Combined square footage of 262.5 – 337.5 sq ft will provide you with a lot of room to play around with when designing your converted bus.
Conversion Tips
Converting a school bus can be fairly challenging. Spacing out the basic necessities by establishing dedicated square footage for each section of your new RV before you get started will make this process much easier.
Below, you'll find our proposed sizes for the bedroom, bathroom, and kitchen for each school bus size.
Small school bus (187.5 sq ft)
Bedroom: a regular double bed is about 4.5×6.25 ft, or 28 sq ft. We'd suggest making your bedroom 50 sq ft large, so that you have a bit of space to store your bedside items, and comfortably get out of bed.
Bathroom: You should keep your bathroom as small as possible, while still enough to comfortably fit inside. For a small school bus, we'd go with 2.6 x 2 ft (5.2 sq ft).
Kitchenette: This will be the largest part of your RV, and it will double down as an eating space, with a table and a few seats. For a tiny kitchenette with just the basics, and a 2-seat table, you'll be looking at about 70 sq ft of space.
Altogether, your amenities will take up 127.2 square feet. If you're wondering why we haven't filled up all the available space, keep in mind that you'll still need roughly 50 ft for the driver's seat, as well as things like wiring.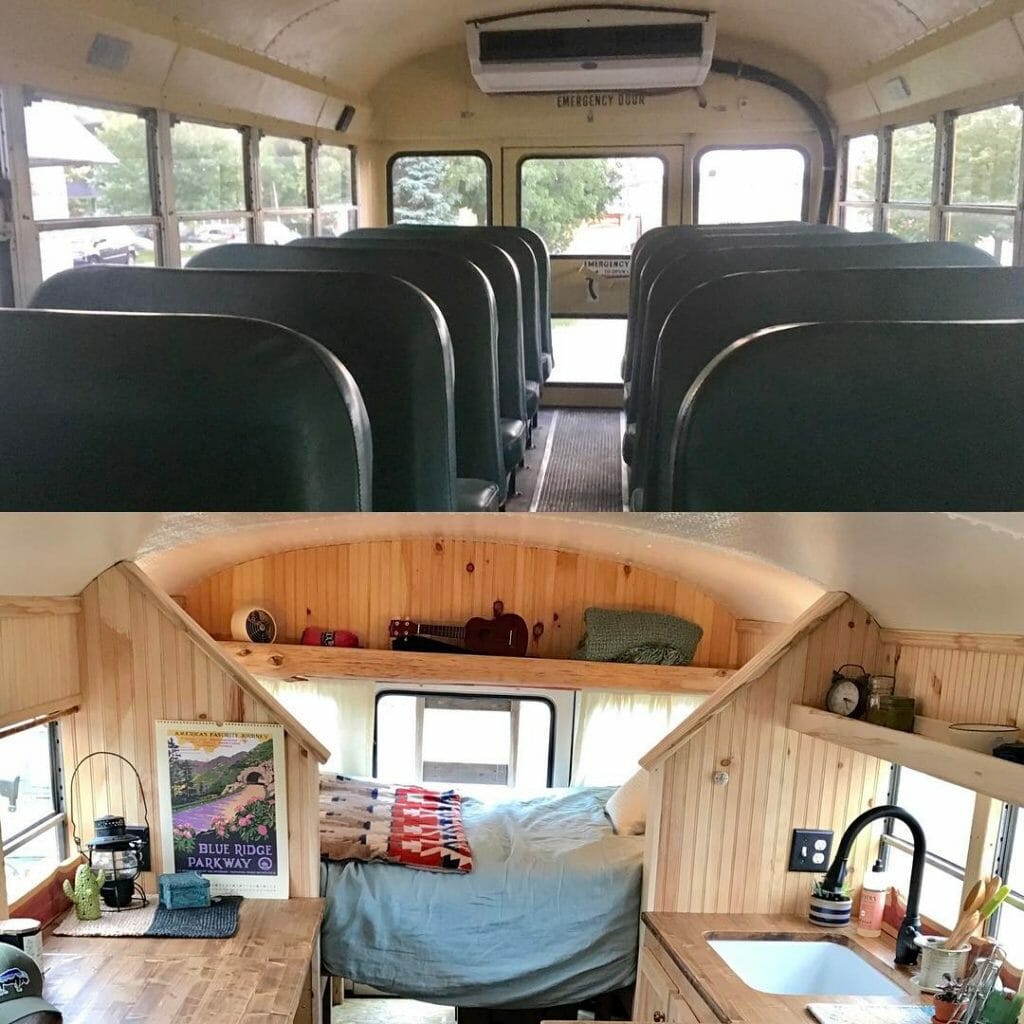 Medium school bus (262.5 sq ft)
Bedroom: With 110 sq ft more than in the small bus, you can mid-sized school bus bedroom to cover as much as 80-90 sq ft. This will give you a lot of space for a bed, as well as some room to even bring in a chest of drawers.
Bathroom: While you could still go with a 5.2 sq ft bathroom, the additional space made available due to this bus's size allows you to expand the bathroom to as much as 10 sq ft. Keep in mind that it will still have to remain relatively narrow due to the width restrictions.
Kitchenette: We'd recommend you give yourself around 120-150 sq ft for the kitchenette in this RV. If your plan entails just two people using the converted bus on a regular basis, consider adding more amenities, such as an oven, microwave, and a larger sink. Otherwise, you can dedicate the extra space to expand the dining area.
Combined, the living spaces in your new recreational vehicle would amount to 205.2-240.2 sq ft.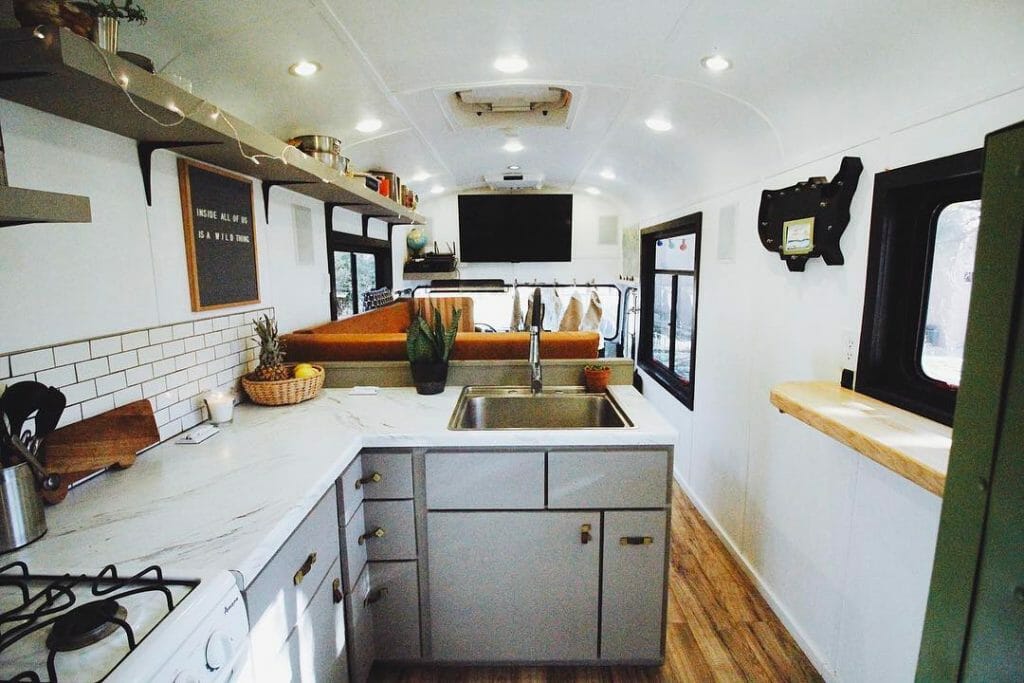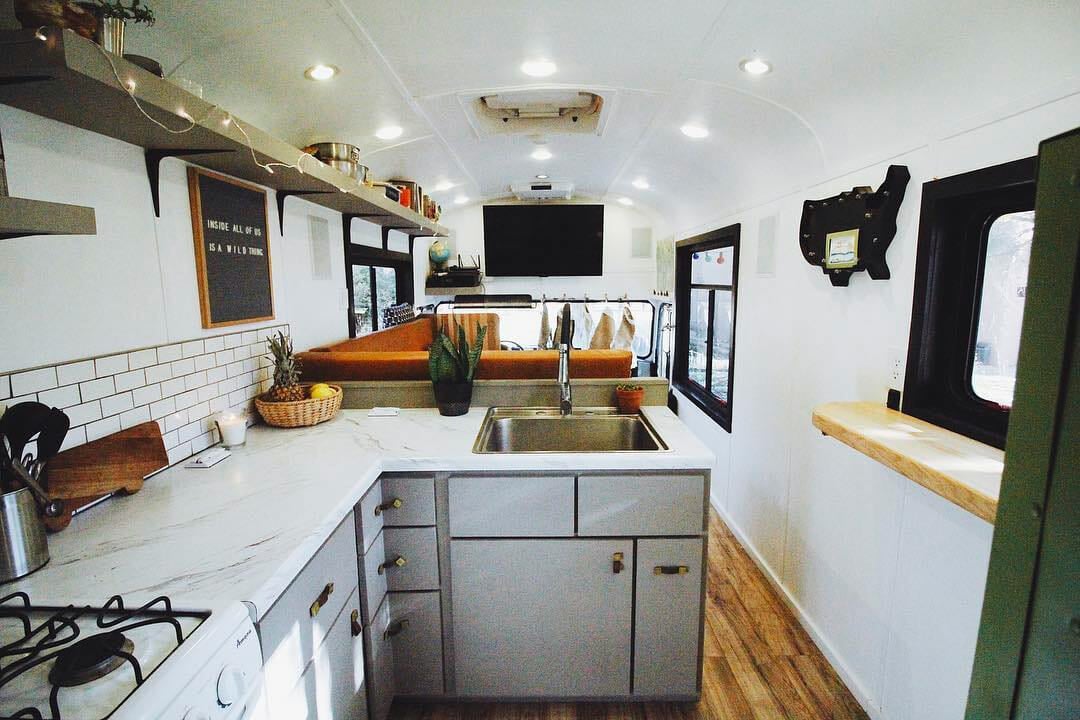 Long school bus (337.5 sq ft)
Bedroom: If comfort is what you're all about, consider making your bedroom about 110 sq ft. This will allow you to even turn it into a portable master bedroom, with a compact bathroom added into the mix!
Bathroom: So much square footage calls for a much larger bathroom than in the previous scenarios. However, you should still keep in mind the width constraints, which is why we wouldn't recommend going beyond 20 sq ft.
Kitchen & lounge area: This will be the first thing your visitors will see when walking into the converted school bus, and with a lot of space at your disposal, you can turn it into a truly special, luxurious space. This is why we recommend that you go all in and dedicate 200 square feet to build a true, homely kitchen, and a dining/lounge area, complete with a few comfy, cushioned seats next to the dining space.
All of the above will take up 330 sq ft of space in your school bus.
Final Thoughts
Converting a school bus takes a lot of time, money, and effort, but the end result might just turn out to be the recreational vehicle of your dreams!
Hopefully, this article provided you with a rough idea of the sizes of school buses, the space at your disposal, and some pointers on how to manage that space.