How To Build A DIY Camper Van Conversion: Complete Guide
By
on
This post may contain affiliate links. As an Amazon Associate, I earn from qualifying purchases. Please read my full disclosure.
A building a DIY camper van conversion can range from a few hundred dollars to thousands. Knowing all of the possible options to put in your camper will help give you an idea of what you want vs what you need.
After spending over two years doing van life full time, I've created this guide to help you decide how to build your van. Below you'll find our most up-to-date guide on how to build a DIY camper conversion of your own.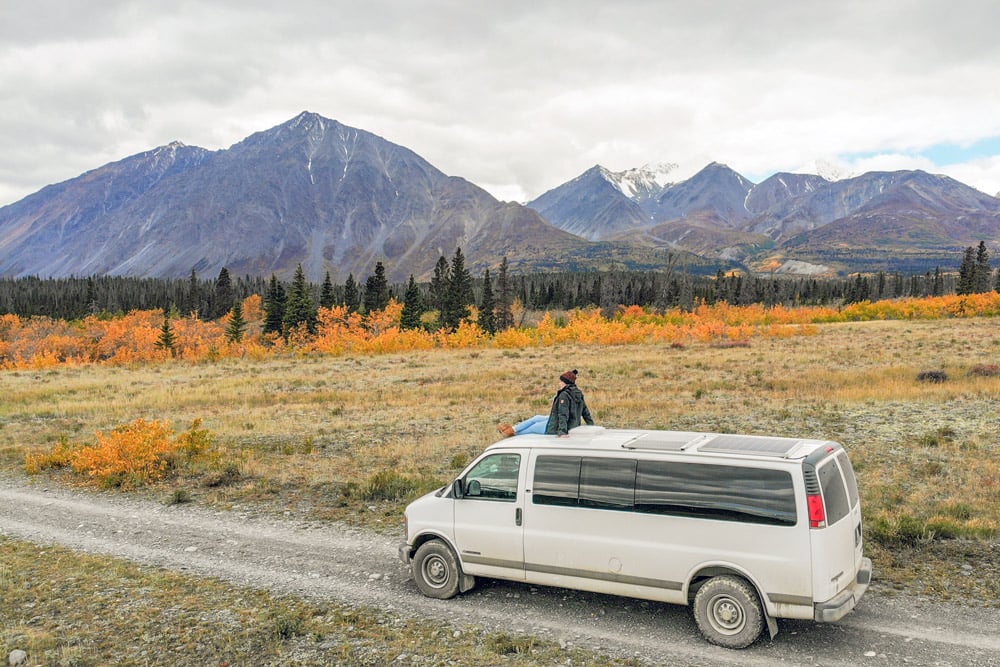 Build Inspiration
Take a look at some of the best DIY van conversions we've found. This is my no means a comprehensive list of vehicles, but it should give you a great idea of what's possible.
Conversion Process
Depending on what you need, there are a lot of options for a van conversion. You can convert a used camper van yourself, or hire a professional van conversion company.
The DIY route is going to be significantly cheaper, but it can be a lot of work.
If you have a little extra cash to spend, we recommend trying a camper van rental for the weekend. That way you can experience several camper van styles before jumping in head-first.
Before You Start
Before converting a van into a camper, there are several questions to ask yourself. What is your budget? What are your mechanical abilities? Where do you plan to travel? These articles answer some of the most basic questions.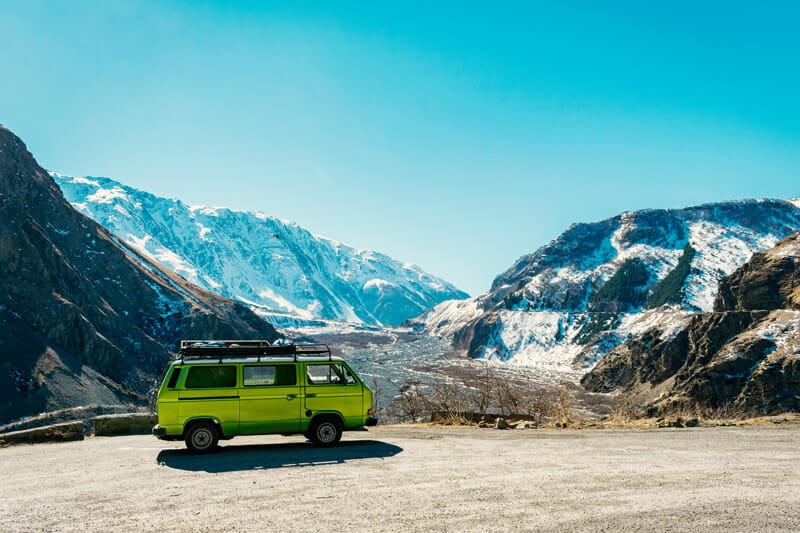 The Most Common Van Builds
You can convert a camper using almost any vehicle–including the one you already own! But there are pros and cons to every type of van, even the most luxurious rigs. It all comes down to cost and personal preferences.
These are some of the best vans for van life.
Cargo vans and conversion vans
Euro style Vans – Sprinters, Promasters and Transit Vans
Minivans
Classic vans – VW Vanagons, VW Bus, 70's 80's vans
Ultra-low budget vehicles – live in what you currently own
Skoolies
Overlanding vehicles
Class B RV's
High-top or standard height vehicles?
Remember that bigger isn't always better. There are advantages and disadvantages to buying vans that you can stand up in.
Shorter vans may be less comfortable, but they make it much easier to go urban stealth camping.
Outfitting Your Camper Van Build
No one knows every detail before starting, but doing lots of research ahead of time will make the process go much smoother.
We recommend making a mental list of equipment as you read through this post. Read through this a list of van life essentials to give you an idea of how much storage space to set aside.
Designing your DIY camper van should be done in conjunction with designing your electric system. That's because you don't want to purchase a refrigerator without taking into account how much power it's going to draw.
Now it's time for the fun stuff!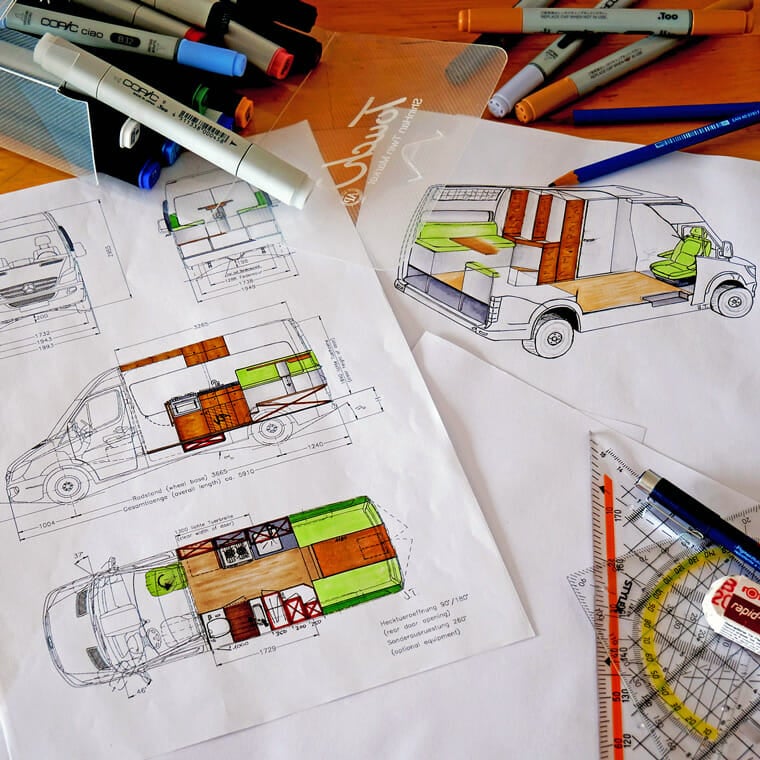 Planning Your Layout
Before you jump into purchasing accessories, or ripping out the seats, you should get an idea of what you want your layout to look like. A lot of this is going to depend on your circumstances or travel style.
To start, our best advice is to look at other vans first. Take your time to browse through Instagram, Pinterest, or websites like ours. Ask yourself the following questions:
What type of van do you own?
Is it a high-top or standard?
Do you need to be stealth?
Do you plan to travel off-grid?
Are there windows?
How many people are traveling?
Are you traveling with a dog?
Do you need a toilet, shower, or sink?
How much storage space is needed?
Will you be working in the van?
What do you plan to cook on?
How will you store food?
How do you intend to power electronics?
Can you pack items with multiple functions?
How will you distribute weight evenly?
What is your budget?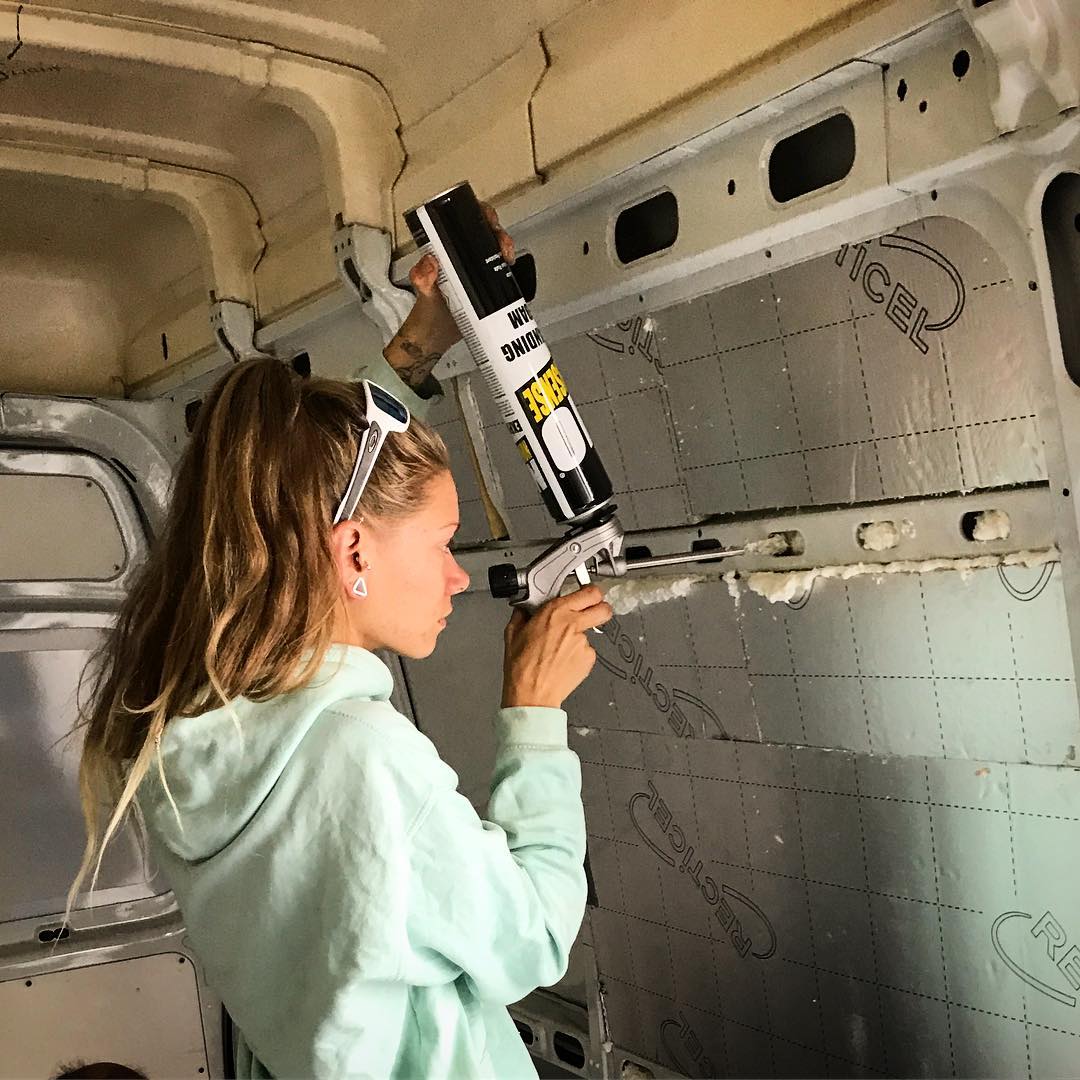 Insulation, Sound Deadening, & Barriers
Adding insulation will be one of the first steps in your van build process. This is an optional decision. You can live comfortably in a van without insulation. But it will require a lot more effort, like following the weather and controlling heat through the windows.
Most people do insulate their vans. The most common materials to use are foam board insulation, spray foam, thinsulate, fiberglass, and wool. Each material varies in effectiveness and some are easier to install than others.
Sound Deadening
Sound deadening your camper should be done before adding insulation. This is done with large, sticky sheets that adhere to the walls and reduce vibrations. Not everyone chooses to soundproof, but it does make the drive significantly quieter.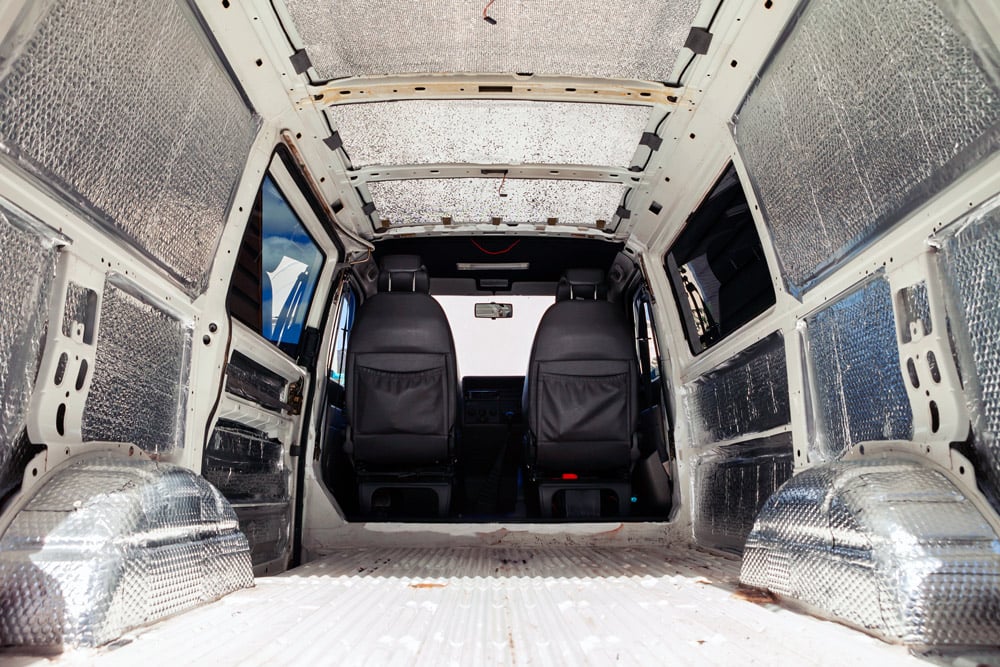 Barriers
Condensation in a van is inevitable. But with some simple steps, you can dehumidify your van and keep it van as moisture-free as possible.
Bug proofing your conversion with a camper van mosquito net is something you will not regret.
Properly sealing the exterior of your camper, including the roof, windows, and any construction holes, is the best way to avoid leaks in the rain and prevent bugs. In our blog about rv roof sealants, we discuss the different types and how to use them.
Flooring
When it comes to outfitting your DIY camper van, one of the most important decisions you'll make is what kind of flooring to install. Not only does it need to be durable enough to withstand years of wear and tear, but it also needs to be comfortable and easy to clean.
Many people opt for vinyl or linoleum flooring because it's easy to clean and relatively inexpensive. However, if you're looking for something a little more stylish, you might consider using carpet or laminate flooring.
Another thing to keep in mind is ease of installation. If you're not particularly handy, you might want to choose a material that is DIY friendly.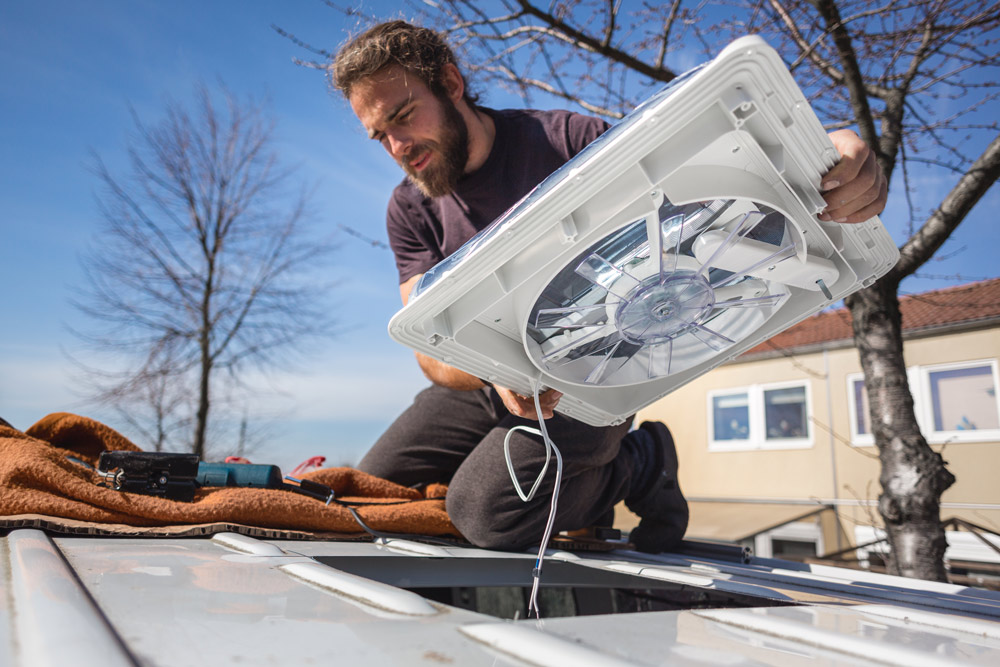 Heating & Cooling
When you build a van conversion, nothing is more noticeable than the temperature. Luckily, with your little home on wheels, you'll have the ability to follow the weather. We recommend chasing the birds and driving north in the summer and south in the winter.
How to keep cool in a DIY van build
Installing a vent fan is imperative if you're constantly camping in hot weather. The airflow also helps to exhaust condensation and moisture year-round. Covering the windows with Reflectix and parking in the shade are other ways of keeping the van cool in warm weather.
Focus on cooling yourself using misters, damp-wash clothes, going for a swim outside, and spending daylight hours in air conditioned public places.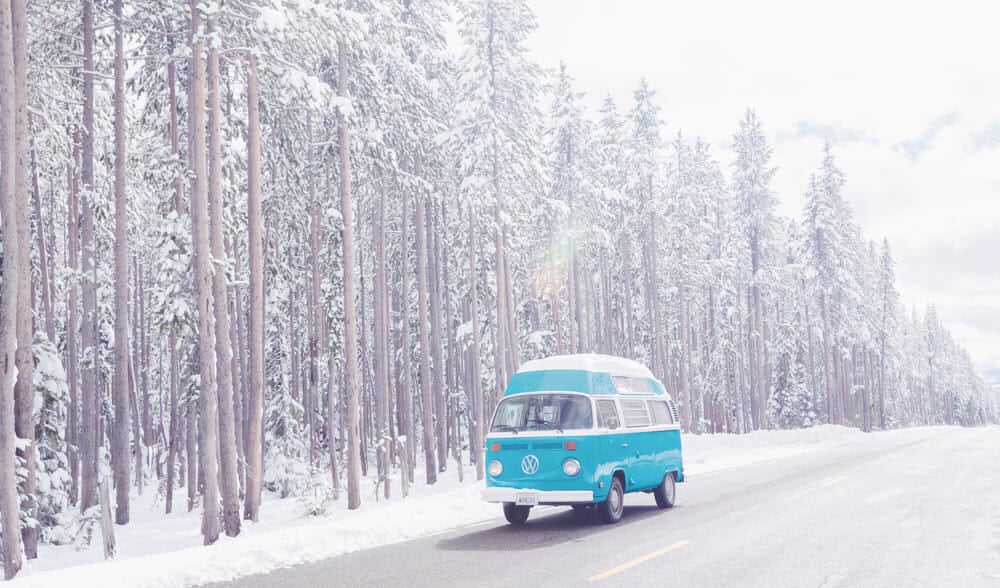 Tricks for staying warm
Keeping warm in a van is easier than staying cool. A van heater isn't necessary in most cases. Much like staying cool, the first step you should take is focusing on heating yourself.
When it comes to a van conversion, the most common options are: electric heaters, wood stoves, propane heaters, and diesel van heaters.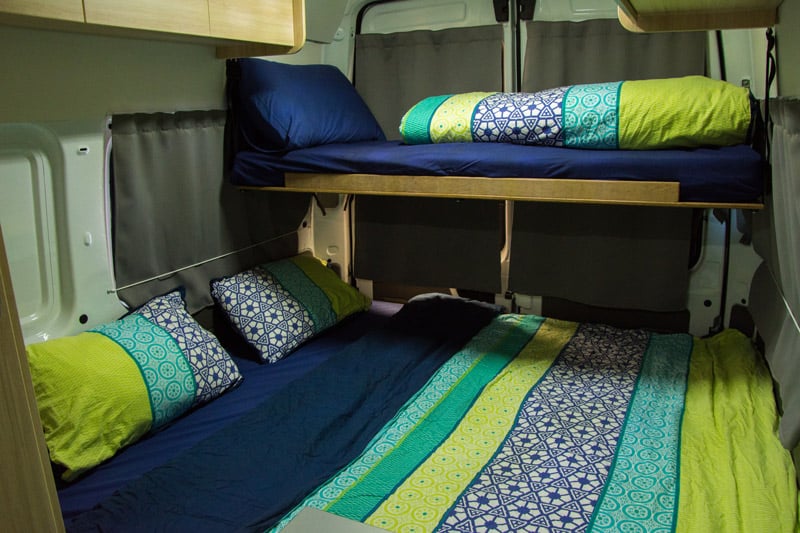 Sleeping & Bed Design
Adequate sleep is going to make or break your road trip. Chances are good that the bed is the biggest thing in your van, so it's important to get it right! In our article about bed designs, we talk about the pros and cons of each type of sleeping arrangement.
That includes why you do–or don't want to set up your bed every morning. What size mattress to get, and tips to build your own.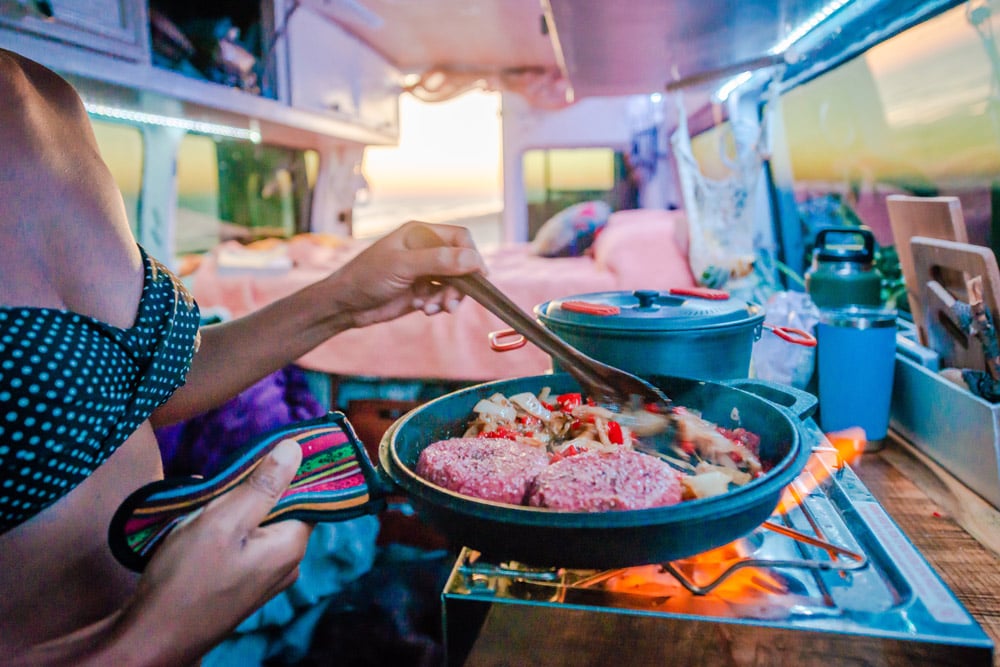 Kitchens
There are a lot of different elements that go into the perfect kitchen. Some people skip the kitchen and eat on the go, while others have fully functioning ovens! The choice is yours. Below you'll find a list of some of the most common van conversion kitchen accessories.
Refrigeration food on the road
Portable refrigerators are popular in van conversions. These have a low-power draw and can run off a small solar system.
Some people prefer using a large cooler, eating fridge-free meals, or dining out at restaurants. We wrote a blog post explaining the differences between coolers vs refrigerators that is worth a read.
Cooking food
Portable camping stoves, induction burners, and even camping ovens are common options that people choose to include in their DIY kitchen. We encourage you to get creative when it comes to saving electricity.
For example, there are ways to make camping coffee without resorting to electricity. And you can save power by frying everything in one pan, or cooking over a campfire instead of on a stove.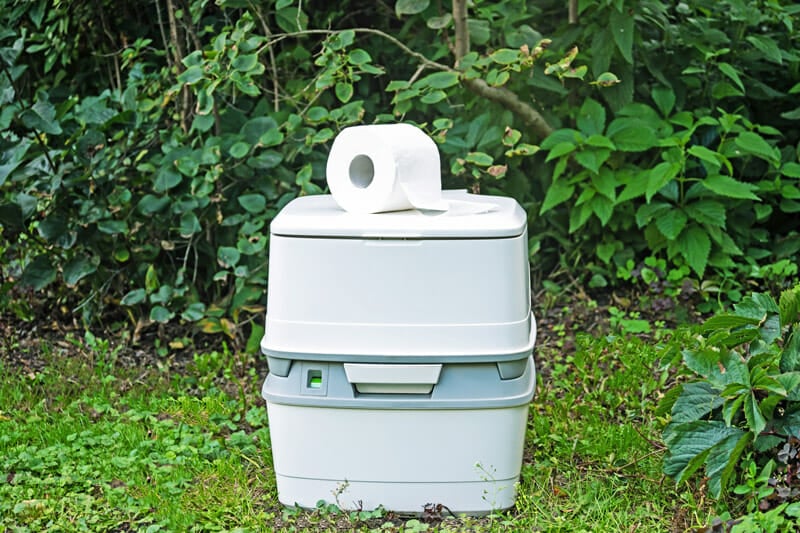 Toilets
One thing everyone wants to know about van conversions is the bathroom. Toilets are something we worried about quite a bit before starting our trip, but we're happy to report that bathrooms are everywhere.
Gas stations, libraries, shopping malls, visitor centers, rest stops, restaurants, retail stores, grocery stores, campgrounds, and parks are just a few of the places that have bathrooms available to the public.
In addition to that, there are many portable toilets that are simple to add to your DIY camper van conversion.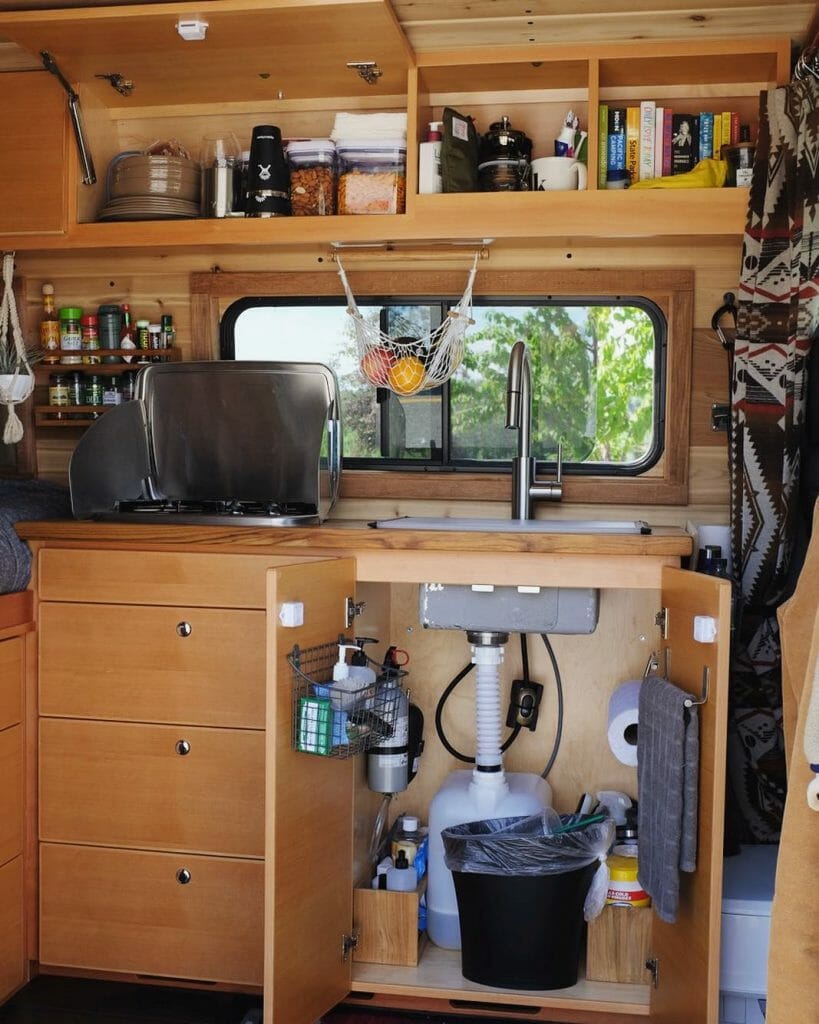 Sinks, Showers, & Hygiene
If you want to install campervan water system, there are plenty of options. A manual foot pump or hand pump is the simplest and requires no electricity.
Some conversion vans include an RV water pump. This gives you a constant flow of pressurized water which you can use for a shower as well.
Here is a quick rundown of the most common accessories to include in a DIY build: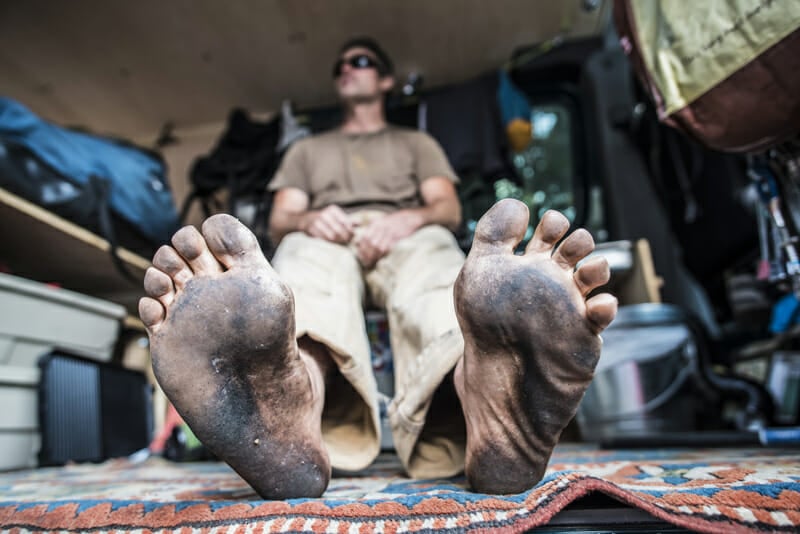 How To Take Showers While Living In A Camper Van Conversion
Spending time in a homemade camper van is not like the camping trips you've been on. Despite the picture, you will most likely not be setting up a tent in the dirt outside or getting roasted marshmallows all over your face and hands.
Your daily routine will be cleaner than you'd expect, and you'll be surprised how long you can comfortably go between showers.
In our article about public showers, we cover all of the most common options for finding a shower as well as how to install one in your camper.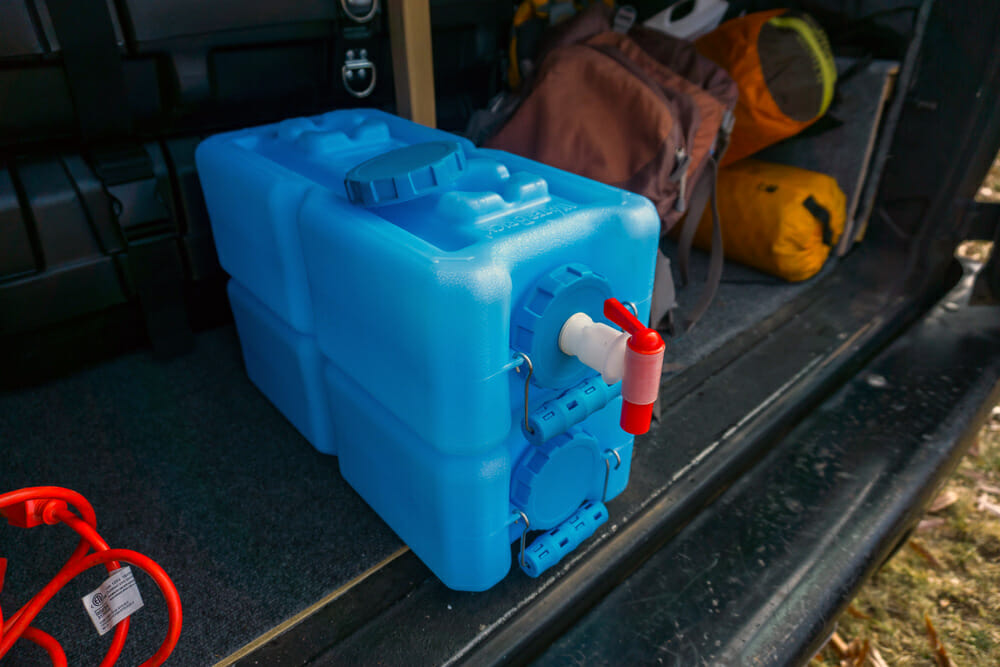 Getting water on the road
Most people who live in a van carry large camping water jugs that can be refilled. We carried 10-14 gallons of water with us at any given time.
You might be surprised to find that it's easy to get a hold of free water to fill your water container (at least in North America). Nearly every campground is going to have a water spigot on-site, but there are plenty of other locations where you can fill your water jug for camping as well.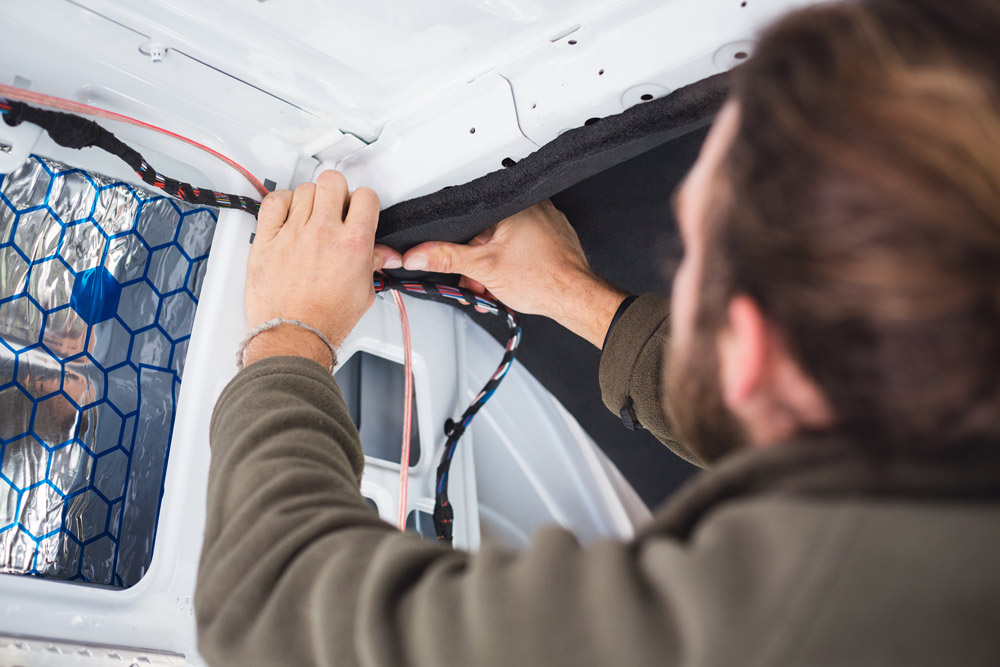 Electricity Options & Solar Calculator
Electricity is such a big topic that it deserves its own page. On our main page, find out all the options for getting electricity, and a step-by-step installation guide.
Plus, hop on over to our camper van solar electricity calculator and DIY wiring diagrams to find out how much power you need.
Disclaimer: Electricity is complicated. You should not blindly follow diagrams from this site, or anyone else's without reading through the material and gaining an understanding of electricity first. Our wiring diagrams show you the basic layout of an electric system. But we do not get into details that cover every possible scenario, and that is by design.
We caution against using wiring guides for dummies. If you don't know the difference between a volt and a watt, you should read more information to learn, or hire a professional.
Camping solar generators are a safe alternative for people who want electricity on the road but don't have the time or willingness to learn all of the ins and outs of solar.
Yes, they are more costly than building a do-it-yourself system, but they are safe, effective, and require no skills aside from figuring out which size generator to get.
Parts of a DIY Camper Van Solar System: Explained
Do It Yourself Solar System For A Camper Van Build
With our disclaimer out of the way, let's get into powering your van! Yes, electricity is complicated but it's something that everyone can learn with enough time and effort.
Our electricity guide covers every part of a camper van electric system. This includes basic terms, finding out how much power you need, how to size your wires, how to get power from the vehicle alternator, and wiring diagrams.
How Many Solar Panels Do You Need?
Start with our camper van solar calculator and input:
All of the devices you plan to power
How many hours each device will be in use
What type of batteries you plan to use
The type of charge controller you will use
How many sun hours you think the solar panels will receive
This will answer the question: how many solar panels do I need? (calculator) It will also give you estimates on battery bank size, charge controller size, and inverter size. We've included a video explaining how to use it. Finally, there are wiring diagrams for the not-so-beginner.
Solar Panels
Solar panels collect energy from the sun. Our blog post on van solar panels explains the different types of panels. We also give advice on how to get the most energy out of your panels, and how to properly wire them properly.
Charge Controllers
Charge controllers take chaotic energy from the panels and turn it into usable power that can be stored in the battery bank. In our article about solar charge controllers, we cover:
MPPT vs PWM charge controllers
What size charge controller to get
How to wire your panels
Solar Panel Kits For A Van Build
Van solar kits typically come with solar panels, a charge controller, mounting equipment, and wires. These are nice because the system is already properly sized and it takes a lot of the guesswork out of choosing parts.
Most kits do not include batteries or an inverter so you'll still have to purchase those separately. But, kits give you a good start to designing the system.
Solar Panels Installed vs Not Installed
There are two main types of solar panels that you can install in your camper van: portable and permanently mounted. Portable solar panels are great if you want to be able to take them with you when you leave the van (for example, if you're going camping).
Meanwhile, permanently mounted panels will usually save you some money in the long run as they tend to be bigger and will help you cut down on powering your gadgets with other more costly fuels.
Camper Van Batteries
Batteries are the most expensive part of your solar system so you want to make sure you're getting the right type. Our blog post about RV solar batteries covers the most common questions and explains how to make your batteries last as long as possible.
Inverters And Inverter/Chargers
Inverters allow you to power household electronics with your 12-volt battery bank. These are necessary if you want to charge things like a laptop, coffee pot or hair dryer.
Inverter/Chargers can power household electronics and charge your batteries using city power. These are less common in van life because many campers only use solar panels. But, they can be useful if you occasionally stay at campgrounds or have access to electric hookups.
Alternator Charging And Battery Monitoring
Charging a battery bank using your car's alternator is a good way to get a bit of extra energy while you drive. The two main ways to do this are by using a battery isolator or with a battery to battery charger.
Battery isolators safely combine your house and vehicle batteries so that your alternator is charging both at the same time when running.
B2B chargers use your vehicle's electrical system to provide a proper multi-stage charge to your deep-cycle house battery.
Battery monitors can help you keep track of the battery bank state-of-charge. This will help you keep your batteries healthy and extend their lifespan.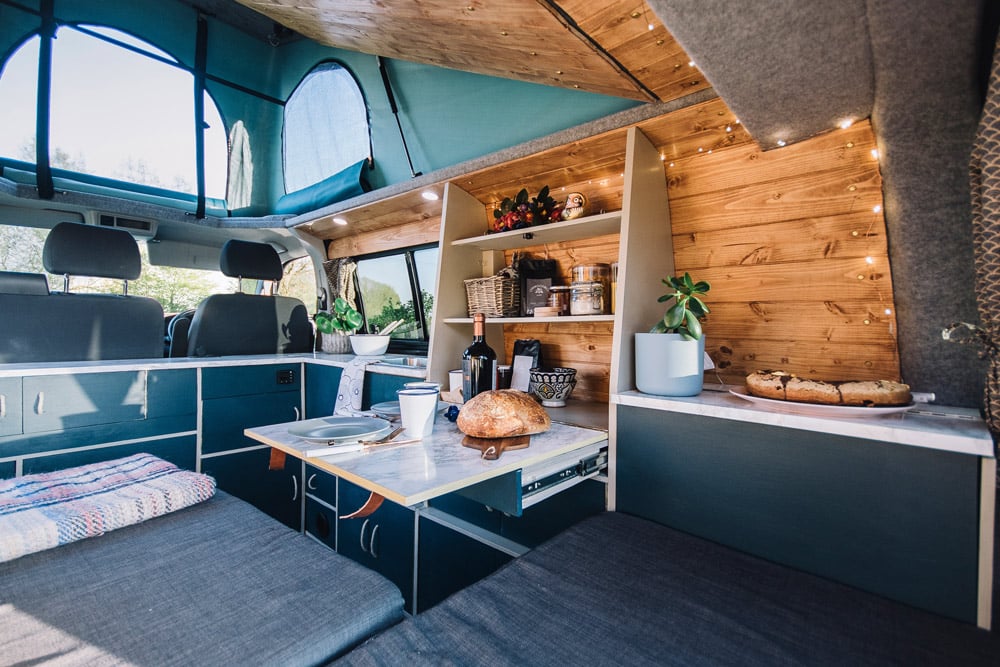 Lighting & Small Electronics
Strip lights, recessed lighting, and battery-powered lights are the most common in a DIY camper. Our article about campervan lighting ideas discusses the pros and cons of each type and how to wire lights in a camper van.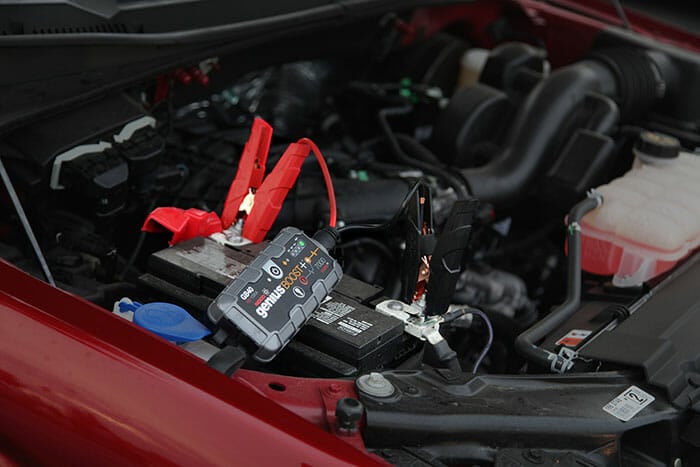 Conversion Van accessories, maintenance, and safety gear
There are an unlimited number of accessories, and each van lifer will have their own preferences. We put together a list of van life essentials and gear to add to your packing list.
Below you'll find a list of accessories we recommend everyone should consider traveling with: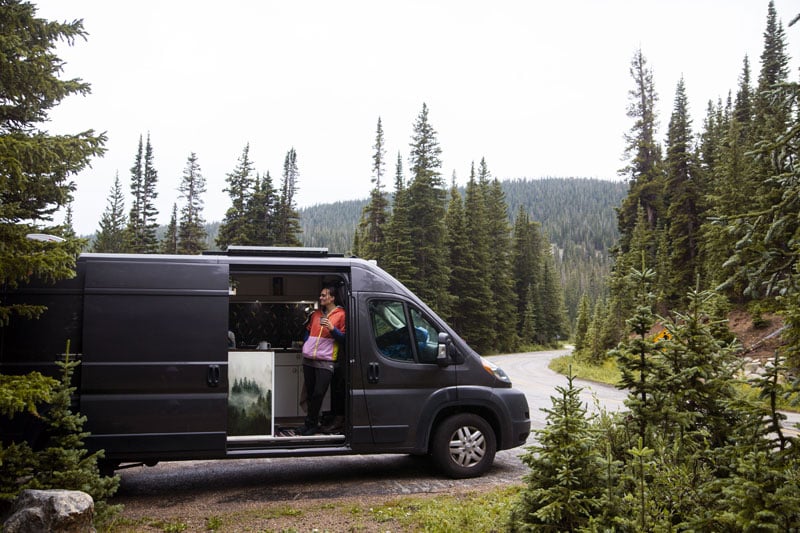 Other Van Build Considerations
Few people get to experience the joys of living in a van year round. Camper van conversions becoming more popular, and thus, more blogs and content for DIY builders are being created. You can also find insights through social media.