Camping Resources: Your Go-to Camping Guide
No matter the season, a camping trip is always an exciting experience. This is especially true if it's your first-time car camping. But even the most experienced campers have a lot of things to prepare beforehand to make the perfect trip.
First-time campers can sometimes get overwhelmed by the amount of information they need to know. It is especially true when driving off to a secluded destination – close to nature but far from civilization.
This page is your go-to camping guide, discussing the right gear you need to purchase, camping apps to install before you lose internet connection, and other camping essentials.
In the end, you will find some of the most useful camping tips and hacks for whether you're traveling solo or with a family.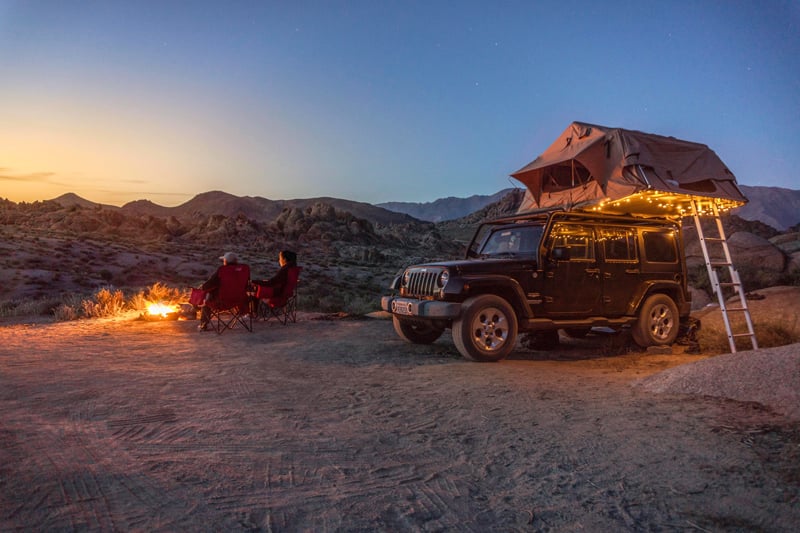 Tents
A tent is a must-have camping gear for any traveler. Even when RV camping, you won't always find it comfortable to sleep in your vehicle and would prefer to have a more spacious bed outdoors – just imagine what's it like sleeping under the stars!
If you are traveling solo, you will find a two-people tent quite spacious. Apply the same logic when shopping for a camping tent for a couple or a family with kids. By purchasing a bigger one, you are sure to have some space to move around and won't feel like you are sleeping in a tight box.
A piece of advice before you go on a trip – practice installing your tent at home a few times so that you won't face any problems when in the wilderness or at a campground.
Before you start shopping, decide what type of tent you would prefer to take with you. You can get anything from roof tents and camping awnings to winter tents and hanging tree tents.
Roof top tents are designed to protect you from the cold ground and insects by placing them on top of the vehicle. They come in two types: hard and soft shells. A hard shell tent has two protective walls on the bottom and top and, therefore, is more insulated and protective from weather conditions. In contrast, a soft shell tent is made from waterproof fabric. Although this type can be less durable than a hard shell one, a soft shell tent has a larger footprint.
If you are looking for a spacious tent to place on top of your vehicle – a soft shell type might be a more suitable option for you; however, if it is durability and protectiveness you are after – a hard shell tent would be a better choice.
Whatever you choose, rooftop tents are well-suited for overland or off-grid camping trip where a fast set-up and good insulation are one of the priorities.
Why buy a bulky tent when you can have one right on the bed of your pickup truck? This is exactly what a truck bed tent is designed for. Not only it can be customized with various add-ons like a mattress and awning, but it provides as much weather protection as any other traditional tent. Similar to a rooftop tent, you sleep off the ground and enjoy an amply-sized tent to move around freely.
If you think you cannot do without a camper on your upcoming camping trips – you are very wrong. Thanks to the camping popularity, there are so many new products that don't limit you to a few options only. Now, you can purchase so many types of tents, suitable for any vehicle, ranging from trucks and jeeps to minivans and SUVs.
If a camper or a trailer is a luxury that you cannot afford at the moment, opting for an SUV tent is an alternative that won't break your bank. A hatchback tent is versatile camping addition that can either be connected to the rear of your vehicle or work as a standalone shelter.
There is only one type of tent that can be set up with minimum effort and time spent – an instant pop-up tent. All you need to do is take the tent out of the bag, unstrap it and extend the metal poles – and voila – your tent is ready!
Although an instant pop-up tent is not particularly weatherproof and insulated, it can be used overnight in warm summer weather at the beach or forest. This type of tent is also quite spacious and offers basic protection from UV lights and wind.
A medium-sized tent can accommodate up to 2-3 people. However, if you are traveling with a group of friends or family, having a large tent for your camping trip is significantly better than purchasing a number of smaller ones.
An extra-large tent makes camping a breeze. You can bring cots and mattresses (yes, plural) with you for the whole family or group of people. Imagine sitting down with everyone to have a cup of tea or playing board games. The only problem you might face is actually setting up and packing the huge tent. It is definitely not a one-person job and requires at least one more pair of hands.
If you are looking for a tent for picnics or festivals, then a screen house is a spacious tent with lots of ventilation. The screened-in sides let you enjoy the view and light breeze while protecting you from the rays of the sun and biting bugs.
Compared to regular tents, screen houses are cheaper but are also not suited to spending a night in. It doesn't offer much protection against rain and strong wind, but it is spacious enough to place camping chairs and a table inside it.
While not exactly a tent, a car camping awning can protect you or your camping gear from sun, rain, and snow. Apart from size and material, the most important factor to consider when buying a car awning is vehicle compatibility. A car camping awning can be attached to the roof rack, or you can opt for a standalone type.
Winter camping tents can also be advertised as 4-season tents. They are usually thicker and heavier; thus, their price is higher, too. Compared with 3-season tents, winter shelters are designed to last through a snow season and are suitable to withstand strong wind and snow. They come in two categories: freestanding and non-freestanding. The latter one requires stakes and guy lines to be docked to the ground and, therefore, more times to set up.
Blackout camping tents are a perfect solution for campers who get disturbed even by the slightest light. Blackout walls will ensure you a good night's sleep and block the sunlight any time of the day. Another advantage of having this kind of tent is that it doesn't get too hot inside, thanks to its design.
Blackout tents offer the same spacious capacity for campers and protect no worse than any other tent. Depending on the quality of material, you can purchase a tent that lets in some rays of the sun or create a pitch dark environment.
Tree tents are very similar to hammocks but offer more stability and comfort. Like tent camping, hammock camping can be enjoyed with a group of people. There are hammocks of different sizes that can even suspend a group of six people. Usually, you would suspend a hammock by attaching it to the trees, but there are some two-in-one options that include a conversion kit. This way, you can set up a tent just like a tent.
Note that a hanging hammock is a nice alternative to a tent but lacks some of the features of a tent (e.g., protection from weather elements and insulation).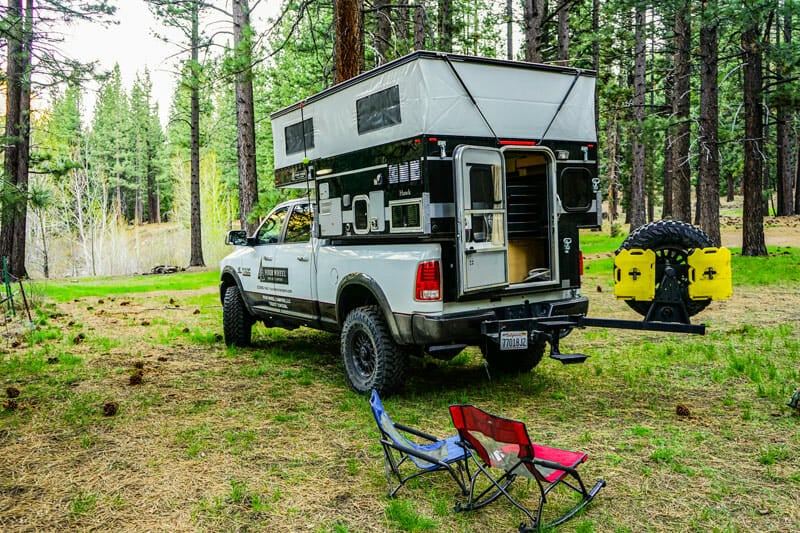 Campers And Trailers
To go camping, you don't necessarily need to spend a lot of money on purchasing a huge and spacey trailer; instead, you can opt for a smaller yet compact pop-up or lightweight camper. Obviously, it wouldn't be suitable for living there long-term, but it offers enough storage and can accommodate kitchen appliances, which are essential for the trip.
If you have a pickup – you're in luck! There are portable pop-up campers that you can attach to your vehicle any time you decide to set off on a journey. Other days, simply leave it in your garage. Such a camper is usually designed for no more than two people and has everything you need, such as a kitchen, bed, dinette, and even extra seating.
A pop-up trailer is attached to any type of vehicle and can accommodate up to 8 people, depending on its size. It is considerably lightweight and, therefore, is easier to maneuver with it. When expanded, a pop-up trailer offers enough space to sit both inside and outside. You can also look for additional features such as a stove or a mini-fridge.
An A-frame pop-up campers expend to look like a letter "A." You can find a model that has windows and vent fans installed. They are incredibly lightweight compared to other models and can be towed with smaller cars. Thanks to its low-profile design, you can easily store bikes or kayaks on top of it. An A-frame camper has everything you need for comfortable travel: kitchen, bed, and even a bathroom.
Teardrop trailers are called so because of their shape. Inside there is a comfortable bed for two, and the trunk offers enough space to store food and other essentials. Depending on the model, you can power your small electronics from the trailer if it has solar panels. If you are into short trips and look for an affordable trailer – this one might as well be the best choice for you.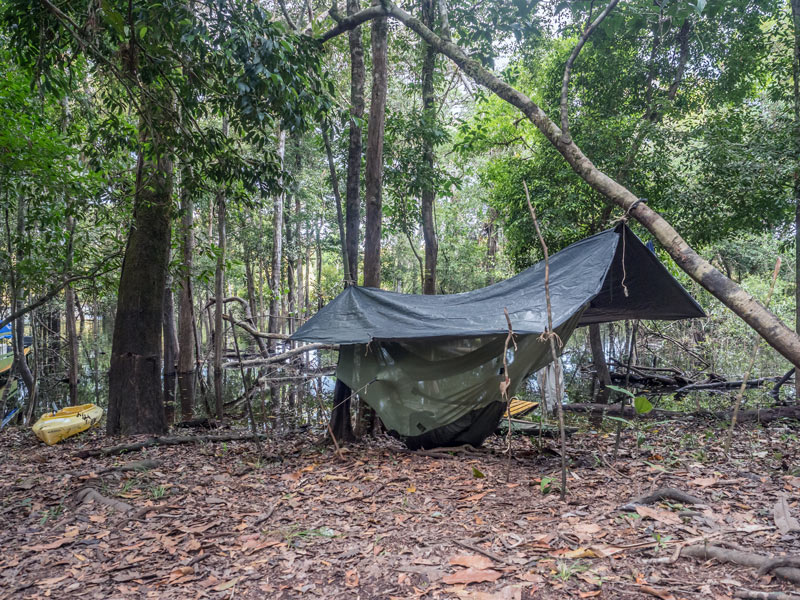 Hammock Camping
Why spend a fortune on trailers when you can use a hammock? It is lightweight, can fit into your backpack, and takes minutes to set up. It allows you to sleep on any terrain and offers a number of customizations. Although hammock experience is probably not suitable for a family, it can be perfect for backpackers, bicycle, and canoe campers.
Setting up a hammock shouldn't be as difficult as a tent; however, it still takes some time to learn it. This section will tell you all about it and more! There are a number of accessories you might be into, too, like a bug net or a suspension system – anything to ensure you a good sleep.
Since you are hanging your hammock on a tree with straps, you want to do it in a way that minimizes the damage to the trees. There are two types of straps you can have: open and closed loop. The former one is bulkier but easier to use, and the former type is thinner and takes less space in your storage. There are also ridgelines used to attach a bug net or rain fly if you decide to use one. When you choose straps based on their durability and material, you should look for a tree with the thickest bark.
A hammock by itself only provides you with a place to sleep and nothing more. If you decide to purchase a tarp or a rain fly, you ensure to protect yourself from the burning sun or rain. Some models offer you privacy and can block the cold night's wind.
A hammock bug neck wraps you like a cacoon and protects you from any flying insect that can disturb you at night. If bugs give you the creeps, a net is a must-have customization to your tent.
A sleeping pad or an under quilts provides you with warmth during the night so that your winter hammock camping is even more enjoyable. A sleeping pad is a versatile addition not only to your hammock but also to a tent. If you thought it was impossible to sleep in a hammock in winter, a sleeping pad or an under quilt make it real. Just don't forget to take warm clothes with you and set up a hammock between bushes or small trees.
A portable hammock stand lets you set up your hammock anywhere you want effortlessly and move it around a couple of times a day if you want to. Thanks to a stand, you won't be limited to one spot and worry about damaging trees. Moreover, the stand is lightweight and can be placed on any terrain.
A hanging tree tent is probably the most non-traditional one on the list. It is an upgrade to a regular hammock and is suitable for two to three people. It offers protection from bugs and is perfect for hammock camping with friends and family. Although a hanging tree tent is larger and heavier than a tent, it is usually waterproof and has some storage space.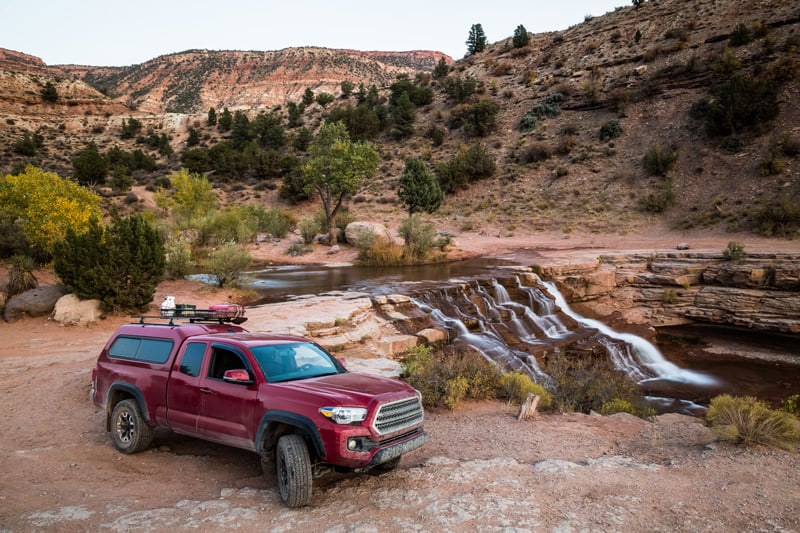 Sleeping Bags
Whether you camp in your car, camper, or a tent, a sleeping bag is a must-have in any season. It ensures you feel warm and comfortable throughout the cold night. There are two types of sleeping gear you can opt for: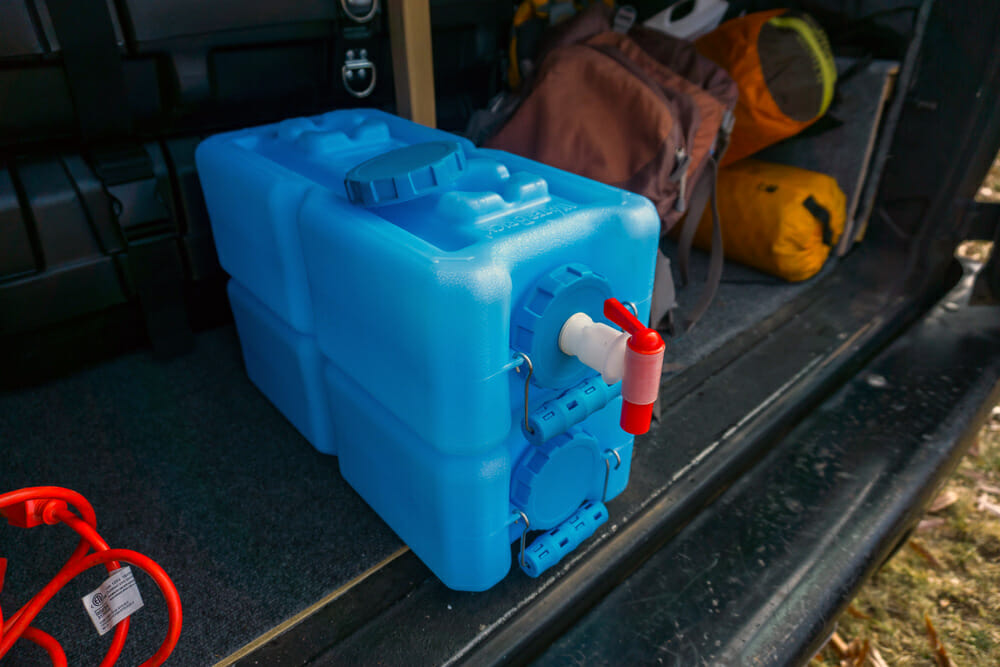 Water And Hygiene
If you are not staying in campgrounds where you would usually have access to toilets and showers, then you will find this category quite useful. To have a sufficient amount of water at all times, you will need to find the source of it. Try going to beaches and parks, visitor centers, or dump stations. Make sure you have all the equipment needed (e.g., water hose, containers, etc.). Now, you have drinking water readily available in your vehicle.
The next thing you will need during your travel is a shower. Luckily, there are many portable showers of a decent size. Check out what types there are and choose the one that fits your camper.
Lastly, you will need to use a toilet, which can sometimes be found in the parks and public lands. However, when there is one missing, it can be a problem. Since you can have a shower in your camper, the same, you can have a portable toilet. We encourage you to check out our review of different types of camping toilets, ranging from bucket and chemical to pit toilets.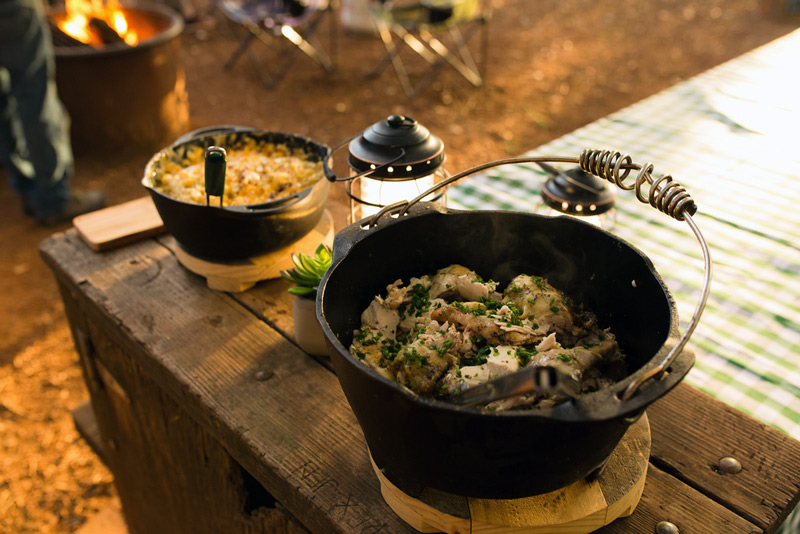 Food, Storage, And Cooking
Going on a weekend getaway with a couple of snacks and drinks prepared would suffice. However, when traveling longer, having cooking essentials is an indisputable plus, especially if you are a great cook or follow a diet. Among the basic must-haves, you should have a camping stove, kettle, cooler or a fridge, and a portable grill. You should choose camping gear as carefully as you choose cooking appliances. After all, the amount of energy is enough for a limited number of electronics working simultaneously.
If you are car camping, taking a kettle, a stove, and a cooler should be enough for a longer trip. However, if you go on an RV adventure, you have space to accommodate a medium-sized camp stove, a portable grill, a fridge, and even an oven.
Camp cooking isn't complicated as many may think. In fact, it can be quite enjoyable to cook and dine together with your close friends and family. While on the road, there is always a chance of restocking, which is not always an option when tent camping. Once you have settled in one place, walking to the nearest shop can be far and tiresome. Thus, do your meal planning in advance.
Meal planning isn't a menu in the restaurant and can have simple recipes for every meal of the day. Jot down the number of eggs, tea bags, or fruit and veggies you need for the duration of your stay and try to stick to it. This way, you won't deplete your foot reserves fast.
Look for appliances you might need for your outdoor cooking, click on the one that interests you, and learn more details about it: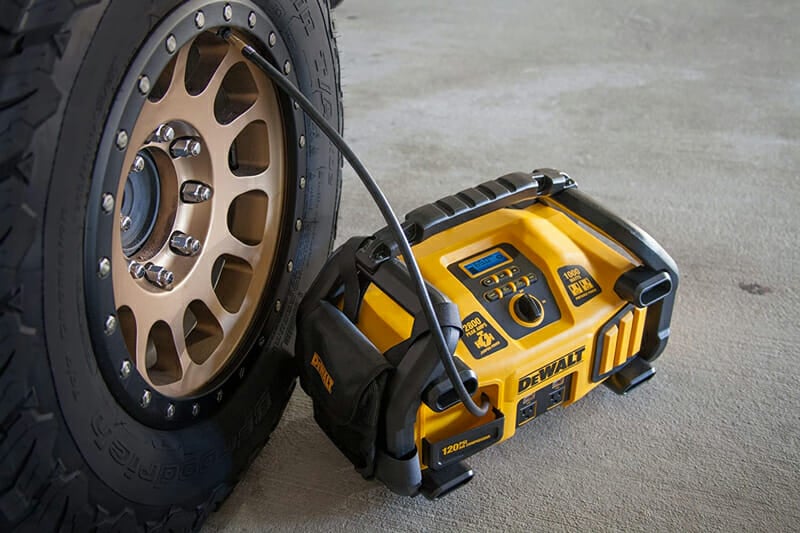 Portable Electricity And Tools
If you are going on a long journey, you are sure to need electricity to power up your essential electronics like a laptop and a phone. You can opt for a portable generator or solar panels, depending on how much power you actually require.
Another thing you might need when traveling to a distant destination is a jump starter and an air compressor – just in case any kind of accident happens. You never know what to expect on the road; that's why it is better to be prepared in advance than regret it later. Both devices are small and won't take up much of your space.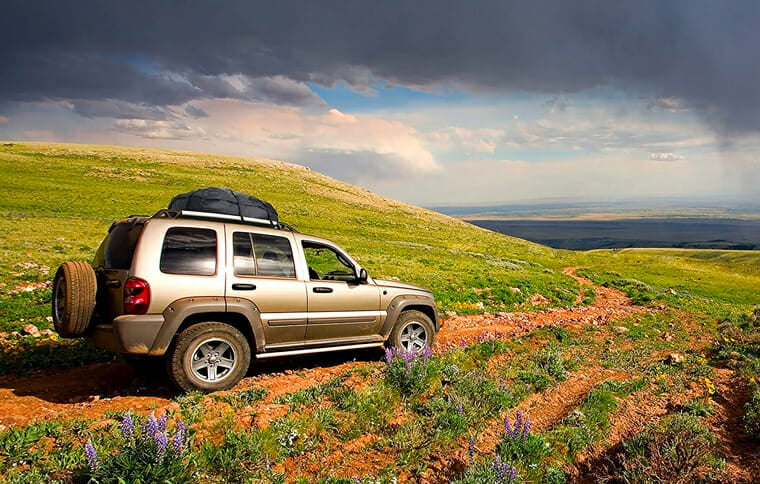 Garage And Vehicle Storage
If you have tried backpacking and want to upgrade your traveling to the next level, you would need any type of vehicle. Thanks to big camping popularity worldwide, you can easily customize your car and convert it into a portable tent with a kitchen and a bathroom. You can do even more and increase your storage drastically.
Investing in a hitch cargo carrier or a cargo roof box/bag will allow you to expand your capacity by about 500 lbs. This means more things can fit in additional storage space while keeping your trailer neat and organized.
If you are a fan of an active lifestyle, opting for a kayak or bike racks is a good idea. Make sure to check out the types of racks, what differentiates them from each other, and whether they are suitable for your type of vehicle.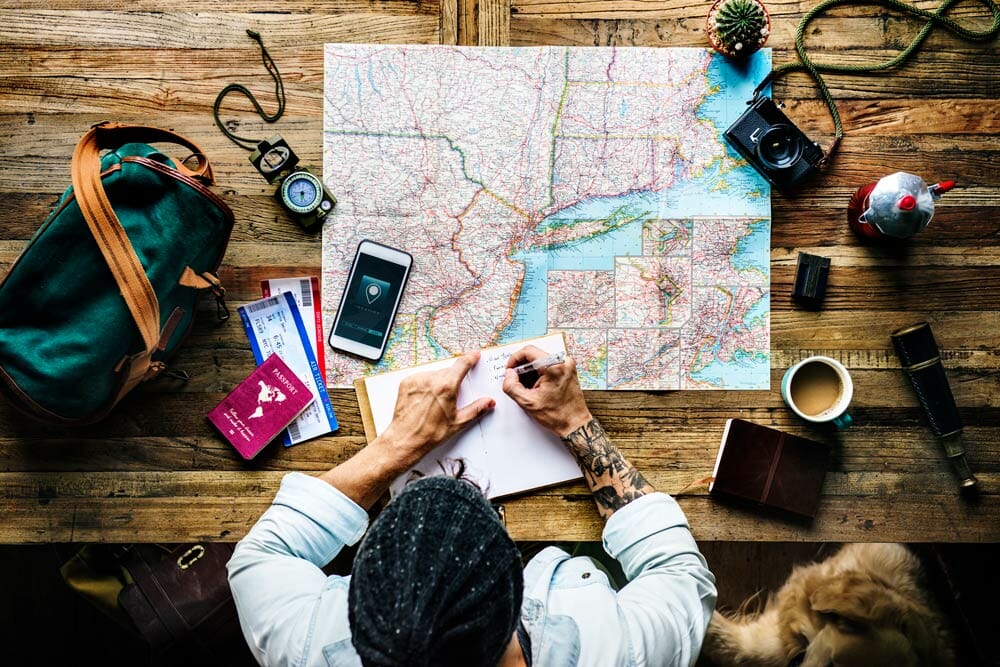 Trip Planning
There will be days when you will spontaneously set off on your camping trip and days when you will be required to plan ahead. If planning is not your strongest suit, we highly advise benefiting from mobile applications. There are various apps to help you plan the trip, set reminders, and create shopping or packing lists – try sharing those with your travel buddies to ensure everybody lacks nothing.
Depending on your destination, you might need to make a campground reservation ahead of time to reserve a place for your RV. And if you don't have a vehicle, we will gladly tell you where you can rent one. Most campgrounds have standard facilities and a set of rules. Make sure to read your campground's guidelines before making a reservation – some places might not accept pets, while others may have a limitation on visitors per van.
And of course – the fees. If you have a limited budget, a free camping site is an ideal option for you. We have an extensive guide to finding free campsites all over the US. Whatever it is you need, you've got yourself covered.
We have distinguished 14 apps you should have before you hit the road. We have selected apps that help you design the best and most efficient route, check the traffic live to avoid congestion, find the cheapest gas stations, and more. We advise you to download them when you have an internet connection and use them in an offline mode on the road.
Renting a camper van in the US is a breeze with the websites we have found for you. You can rent a vehicle of any type and choose whether you travel with kids or pets. You can find RVs that have everything you need to have a comfortable and enjoyable camping trip. Our review also includes the price so you can find the vehicle you can afford.
If you are a frequent campground guest, you should consider becoming a club member now! Although the membership is paid, it comes with great advantages. Depending on a club you join, you can have free access to any campground of that club, meet great new people, and even offer healthcare plans.
Camping on a budget is real, and you can save up a lot by stopping at free camping spots. There are plenty of places to camp in the USA: national parks and forests, public lands, and wildlife management areas. You can use the apps to find free campsites, along with a description of each place.
We have been to so many gorgeous locations in the USA and created travel guides to help you prepare for your travel to those places. Each guide encompasses a detailed description of the location with hiking trails and campsites to stay overnight. You can find what is the best season to set off on a journey and what utilities you can expect to have in each campground.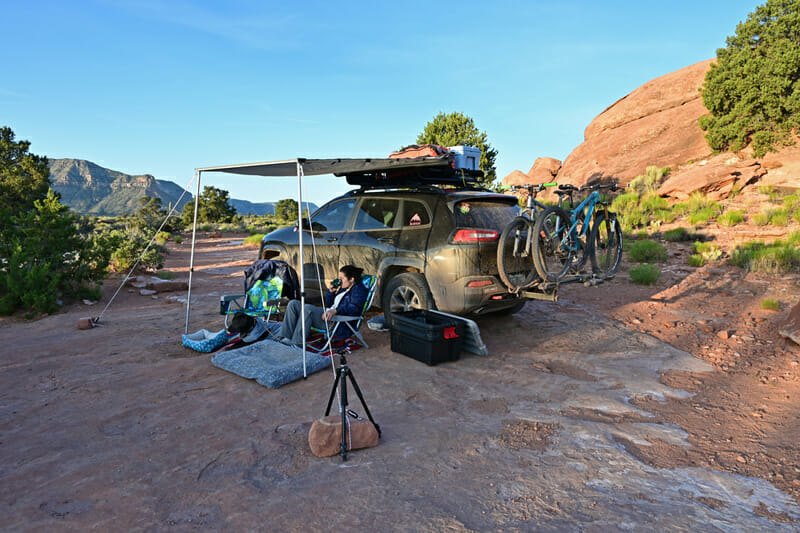 Camping Advice
It wouldn't be us if we didn't share with you a few tips that you will find quite handy during your camping trip. We've covered pretty much everything when it comes to gathering your camping essentials for the road. However, there are some useful insights that we have learned from going on so many trips. Leading in a van for over two years has already prepared us for what to expect on the road and what we should be prepared for; thus, we want you to have a joyful van life experience.
When camping in summer, the only things you might take with you are hiking boots and a light jacket; it is a totally different story in winter. Staying warm during the day, and at night especially, can be a challenge if you are not prepared. You should wear camping clothing that can keep your body warm long, like mittens and wool socks. You might also take with your a tent heater and pack a few blankets. If you decide to purchase a portable heater, make sure to test new gear at home before using it on your trip.
Coffee lovers will appreciate a nice cup of freshly brewed coffee in the morning when enjoying the sunrise. Camping makes your every morning special, and your morning ritual will give you a needed energy boost for the day. Learn the eight easy ways to brew your coffee when camping.
Having a baby is not a reason to stay at home 24/7; your infant needs fresh air, and there is no better place to get some of it than in the forest or by a lake. Camping also offers your baby to get to know the world better together with you. It is a needed break from the electronics but can require an extra effort from parents to entertain the young family member.
Whilst an infant is with parents at all times, a toddler, who is just starting to walk around, is curious to explore. You want to go camping well-prepared and have everything you might need from day one. Although a short camping trip is bound to be enjoyable in any case, there are a couple of tricks that can make camping with your toddler a breeze.
Glamping, or glamorous camping, is a popular camping preference for people who want to reunite with nature without sacrificing their comfort. Unlike regular camping, you will book a cabin, a tent, or a pod where you will have access to a kitchen, bathroom, and dining.
Your First Camping Trip With Parked In Paradise
The camping equipment you take with you depends on the destination and season. The duration of stay also plays a role as the longer you camp, the more things you will require to make your journey smooth and comfortable. Save this guide in your bookmarks, and come back to it whenever you are unsure of what to take with you. We encourage you to take a look at our latest posts and check out our travel guide to maximize your experience on your trip.