Van Life Guide: How To Build A DIY Camper Van Conversion
A building a DIY camper van conversion can range from a few hundred dollars to thousands. Knowing all of the possible options to put in your camper will help give you an idea of what you want vs what you need.
We've created this guide to help you decide how to build your van. We've spent over two years living in a camper van and talked with hundreds of other van life experts to put together a collection of the best ideas and options for living on the road.
Below you'll find our most up-to-date advice on how to build a DIY camper conversion of your own.
Why van life? Pros & Cons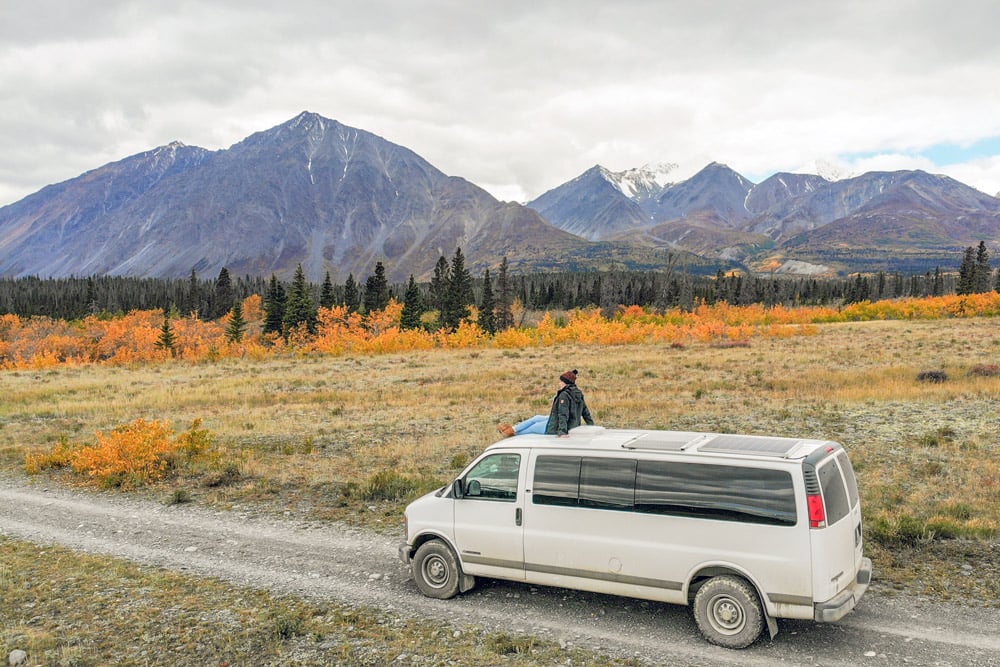 What is van life?
Van life is an alternative lifestyle similar to living in an RV, tiny home, or sailboat. The van life movement is particularly attractive to digital nomads, minimalists, and outdoor lovers who travel frequently and camp in their vehicles.
Is it illegal to do van life?
No. Van life is not illegal. You can find free camping in every state as well as multiple options for finding bathrooms on the road and even showers. In this guide, we'll tell you everything you need to know about van life.
Sounds great! Why doesn't everyone do this?
Van life is not for everyone. Loneliness, stress, mechanical issues, money, and lack of comfort items are all common reasons to quit van life. In fact, we faced many unexpected problems during our own road trip.
Some people end up living in a conversion van out of financial necessity, others build out expensive adventure campers for transcontinental tours.
Of course, there's a whole slew of people that fall in-between. Living in a camper van is not a normal lifestyle. So for better or worse, there isn't a "one size fits all" path to living on the road.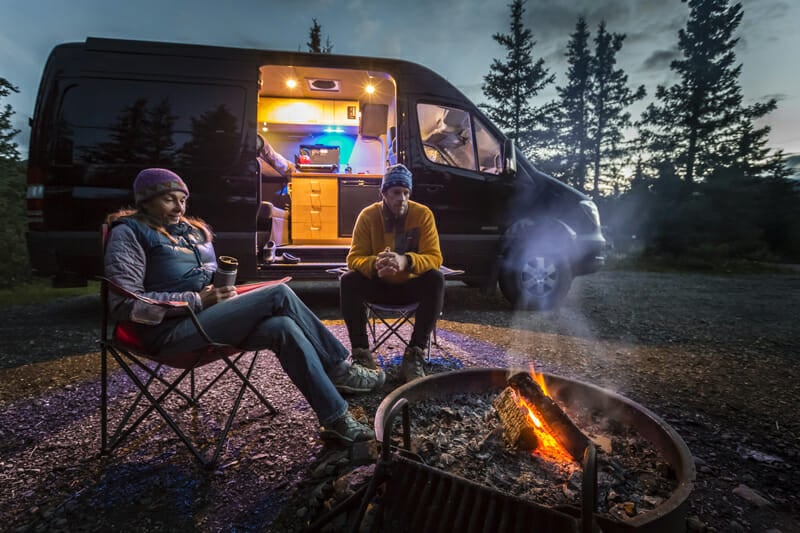 Is van life cheaper than renting?
It's true that living in a conversion van can be cheaper than paying rent; but that's not always the case. If you're only doing this to save money, you may want to consider other options first:
Renting in a lower cost of living area
Getting roommates
Doing workshares
There is a reason most people live in houses and apartments, and that's because they are optimized for living in. This isn't to discourage you from living in a camper. In fact, with the right sacrifices, van life can be very cheap!
But van life is a significant lifestyle change, so money shouldn't be the only reason you choose to live on the road.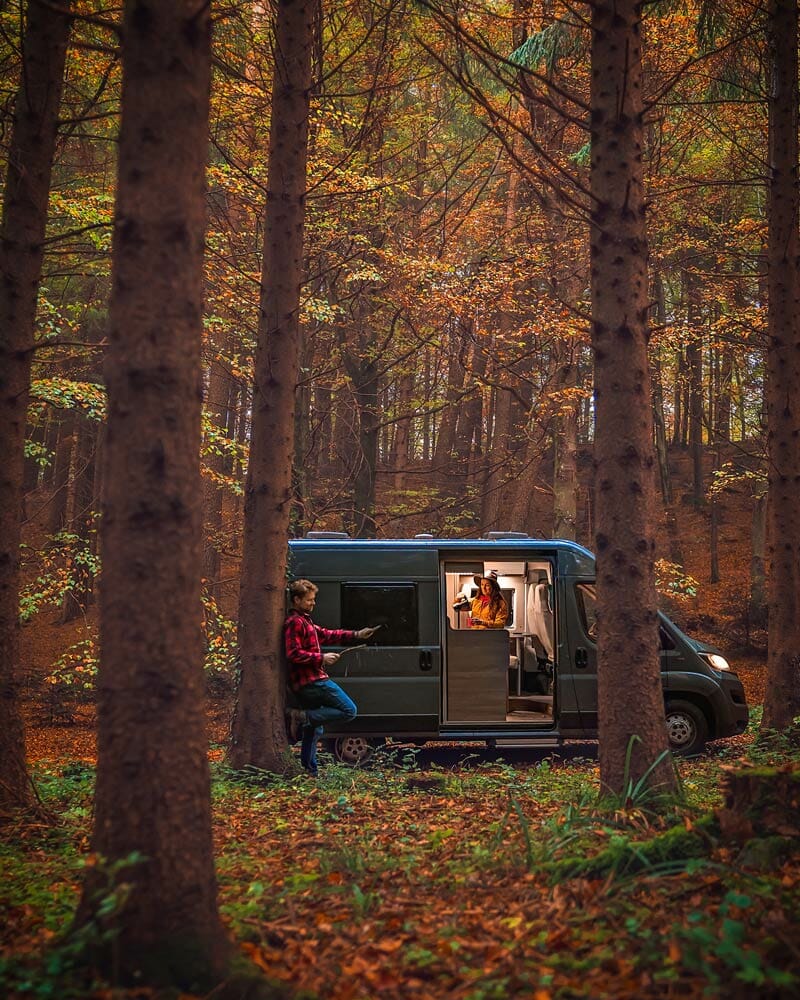 Van Life For The Adventure
The freedom to travel, navigating the unmarked roads, and spending more time in nature is the reason we chose to live in a camper.
Van life allows you to wake up alone next to hiking trails that get crowded by tourists just a few hours later. You can work outside and then eat dinner with a view and enjoy the sunset 365 days a year.
Whether you are a solo van lifer–or prefer traveling as a couple–there's nothing like going on a camper van adventure.
But, let's make one thing clear: van life is nothing like staying in an apartment.
If you're someone that needs a hot shower every night before bed, van life is not for you.
If you need reliable cell phone service every single night, van life might not be for you.
If you hate planning ahead, camper van life is not for you!
What are the alternatives to van life?
RV living can give you a similar sense of freedom without limiting your electricity use as much. Many RV campers also come with full bathrooms including showers and toilets.
Renting an Airbnb for one month at a time, or establishing a home base and making shorter camping trips is another way to visit new places without the sacrifices of establishing yourself in 80 square feet.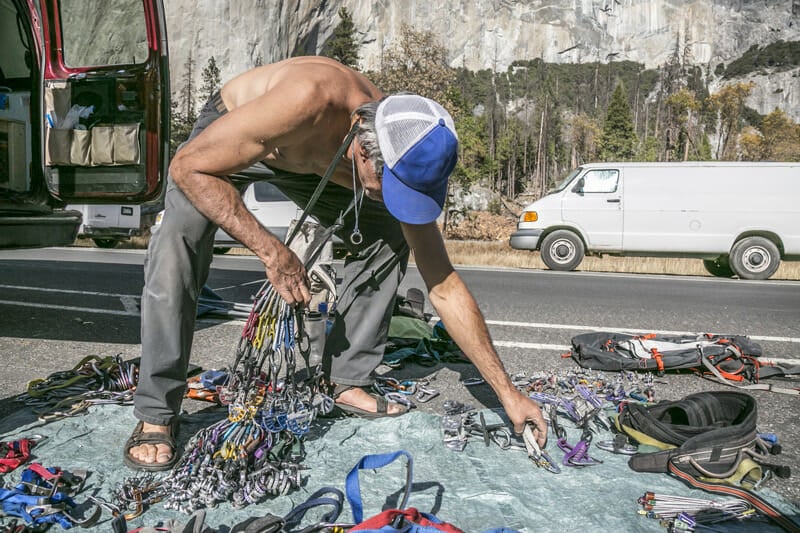 Why We Chose To Live In A Camper Van Build
Ultimately, choosing to live in a van can be one of the most rewarding experiences of your life. These are the reasons we chose to live the van life:
Relatively inexpensive: You can choose to spend as much or as little as you want on a van build. Some people convert the car they already own for under $500, and others spend up to $150,000 on the ultimate adventure camper.
Extremely mobile: Unlike an RV, you can fit into a regular parking space with a van. They're not as tall, so you usually don't have to worry about height. You'll get better gas mileage in a camper van than you would with a travel trailer, and they can more easily drive up winding mountain roads or go off-trail in the desert.
More comfortable than camping: In a camper van, you'll have the luxury of a regular mattress, shelter in the rain, more control over the temperature, and the ability to store food and belongings that you wouldn't have when tent camping.
Free camping: Because a camper is smaller and less complex than an RV it's easier to go dry camping in the National Forests or even stealth camping in the city.
Electricity: Solar panel setups allow you to get power on the road and charge small electronics, portable refrigerators, or ventilation fans. All of these are a step up from tent camping. *Although you most likely will not be able to power large electronics like an air conditioner or hair dryer, so keep that in mind. *
Bathrooms: In a camper van, you can choose to travel with a portable toilet, and there are options for showers. None of these are going to be luxurious, but they are available.
Pack up and go: The best part about a van conversion is your stuff is always with you. You can spend the night right next to a hiking trail or your favorite waterfall. You don't need to worry about checking in and checking out of an RV park or hotel. You can space out your grocery store trips every few days and visit Starbucks for some Wi-Fi. There is a lot more freedom involved than RV living or tent camping.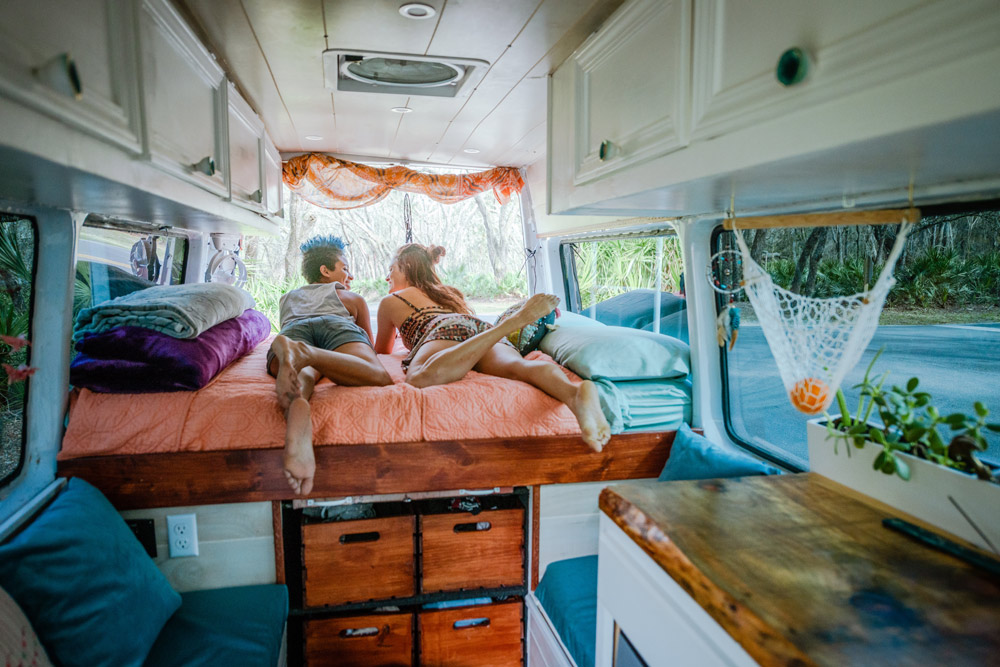 DIY Van Build inspiration
Take a look at some of the best van life conversions we've found. This is my no means a comprehensive list of vehicles, but it should give you a great idea of what's possible.
The Camper Van Conversion Process
Depending on what you need, there are a lot of options for a van conversion. You can convert a van yourself or hire a professional conversion company. In making this site, we've pulled together as many resources as possible and designed DIY guides to help you build your van.
We are not professional outfitters. We do not offer solar installs or consultations.
But we do try to provide the most accurate information available. We've lived in a camper van for 2 years and put many hours of research into every single article on this site.
As we've mentioned several times, there are many different ways to build a van and we recommend using this resource in conjunction with other websites to build your dream camper.
If you have a little extra cash to spend, we recommend renting a camper van for the weekend. You can rent a couple of different van options or styles before jumping in head-first to living in a van.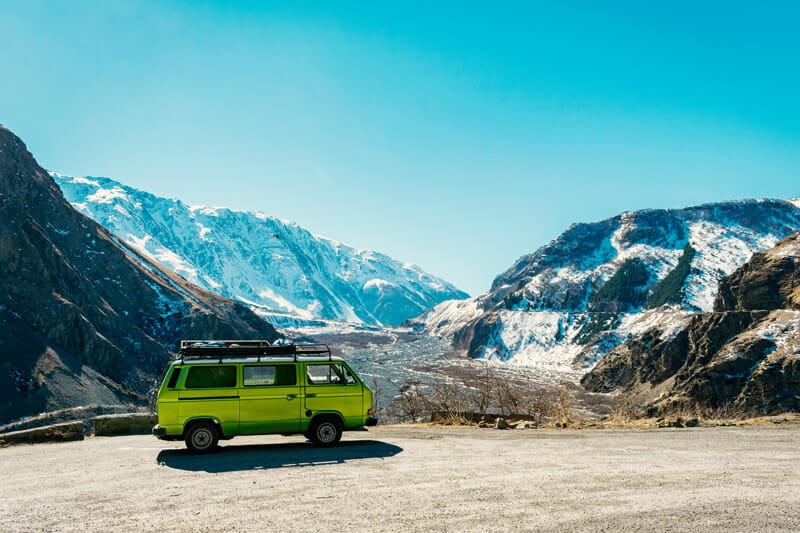 Choosing Your Camper Van
Once you've decided that van life on the open road is for you, start by choosing your van. There are a lot of basic questions to ask yourself regarding budget constraints, mechanical abilities, and where you plan to travel. These articles are a good starting point:
The Most Common Van Life Campers
You can van life in almost any vehicle–including the one you already own! But there are pros and cons to every type of van, even the most luxurious campers. It all comes down to cost and personal preferences.
Some of the most common van life campers are:
Cargo vans and conversion vans
Euro style Vans – Sprinters, Promasters and Transit Vans
Classic vans – VW Vanagons, VW Bus, 70's 80's vans
Ultra-low budget vehicles – live in what you currently own
Skoolies
Overlanding vehicles
Class B RV's

High-top or standard height vehicles?
Bigger isn't always better. There are advantages and disadvantages to buying a high top van. Things like the ability to drive through parking structures, travel with large roof toys like a kayak, and the higher price tag are just a few examples.
Shorter vans may be less comfortable, but they make it much easier to go stealth camping in the city.
There are many ways you can make a standard-height van more comfortable. Designing a layout that has proper seating or packing some foam pads to save your knees on the floor are just a few examples.
Budgeting plans for vanlifers
Everyone should consider the price of van life before starting! Not only should you think about the price of a build, but also the cost of living on the road.
In our article about van life cost, we give three examples of campers living on the road using a budget of $850 per month, $1,200 per month, and $2,000+ per month. You can watch the videos, find out where they spend their money, and decide if this is really a lifestyle you want to pursue.
Van Life Cost – Major Considerations
Fuel costs are one of the biggest expenses you'll have while living in a van. If you plan on doing a lot of driving, you'll want to make sure you have a fuel-efficient vehicle. You should also budget for regular maintenance and repairs, as well as unexpected emergencies.
Another major expense is your living expenses. If you plan on spending most of your time camping or boondocking (camping without hookups), you'll need to factor in the cost of food, water, and other supplies. If you want to be able to stay in campgrounds or RV parks occasionally, you'll need to budget for those fees as well.
To cut down on our living expenses as much as possible (while still enjoying everything that van life has to offer) we focus on saving money in a few key areas:
Free camping spots – We stay at free or very low-cost camping spots as often as possible. When starting van life, having a campsite with an electricity hookup along with full-sized toilets and showers can be an attractive proposition, but if you fit your van out right, you can almost always do without them.
If you are able to stealth camp while living in a van, then the world is truly your oyster. There are loads of websites online that list free or cheap places to camp all over the US if you ever find yourself stuck for a place to park up.
Solar power – Apart from generally reducing your need to consume electricity in creative ways, harnessing the power of the sun can make a lot of difference to the costs involved in powering your favorite gadgets.
As we'll explain in a bit more detail later on in this post, investing in some solar panels can be an extremely wise investment that means you save money in the long run. They're usually pretty easy to install, and with the price of gas seeming to constantly rise, you will be glad you did.
Home (van) cooking – Most people in the van life community will tell you that one of the easiest ways to go broke is to not pay attention to the cost of the things you are eating and drinking.
Picking up a Starbucks coffee in every town you drive through or ordering a pizza every other night is a surefire way to cut your full-time van life short by breaking the bank.
As with most things related to van living – the key is in the planning. Finding a solid set of inexpensive options for eating and drinking that are easy to restock on will help you to save money. Plus, it's usually a whole lot healthier than eating out, which will keep your mood up, too.
Thrift mindset – Your van life adventures will rarely be enriched by opting for sparkling furnishings that come straight off the shelf for full retail price. It really pays to see the potential in used items that you may be able to do a bit of work on to make perfect for you.
The same applies when it comes to clothes, utensils, storage systems, and decorations.
Buying a van to convert
Some people want to start with a fresh slate, and others want to buy a professionally outfitted van. The truth is, most will end up buying a used camper van.
Topics like rust, mileage, vehicle age, resale value, and self-inspections become especially important if you go that route. In our article about buying used, we give tips on those topics, plus search terms to use when looking for a van on craigslist.
Outfitting Your Camper Van Build
No one knows every detail before starting, but doing lots of research ahead of time will make the process go much smoother.
We recommend making a mental list of equipment as you read through this post. We've also created a van life packing list to give you an idea of how much storage space to set aside.
Upfitting your van should be done in conjunction with designing your electric system. That's because you don't want to purchase a refrigerator without taking into account how much power it's going to draw.
Now it's time for the fun stuff!
Planning Your Van Build Layout
Before you jump into purchasing accessories, or ripping out the seats, you should get an idea of what you want your layout to look like. A lot of this is going to depend on your circumstances or travel style.
To start, our best advice is to look at other vans first. Take your time to browse through Instagram, Pinterest, or websites like ours. Ask yourself the following questions:
What type of van do you own?
Is it a high-top or standard?
Do you need to be stealth?
Do you plan to travel off-grid?
Are there windows?
How many people are traveling?
Are you traveling with a dog?
Do you need a toilet, shower, or sink?
How much storage space is needed?
Will you be working in the van?
What do you plan to cook on?
How will you store food?
How do you intend to power electronics?
Can you pack items with multiple functions?
How will you distribute weight evenly?
What is your budget?
Keep in mind no van is perfect, and it's very common for people to change their layouts after trying the lifestyle for a while.
To give an example: when we first built our van, our bed was close enough to the roof that we were unable to sit up straight. As it turns out, that was a major pain. About a year into our trip, we re-built the bed to lower it about 4-inches. That small change made all the difference and we were a lot more comfortable moving forward.
Seek examples of other van builds and make it your own. There are only so many ways to re-arrange a camper.
Maximizing Living Space
One of the main concerns when living in a van is how to make the most of the limited space. After all, you want your van to feel like a home away from home, not a cramped and cluttered mess! Here are some of our favorite tips on how to build a DIY van that maximizes living space:
Use every inch of space – When you're working with a limited amount of space, it's important to use every inch wisely. That means utilizing the space under the bed for storage, using the walls for shelving, and even hanging things from the ceiling.
Get creative with storage – There are a lot of creative ways to store things in a van conversion. For example, you can use mason jars for food storage, install shelves above the bed, or use hanging baskets for fruit and vegetables.
Keep things organized – One of the best ways to make the most of a small space is to keep things organized. That means having a place for everything and keeping things tidy. Invest in some good storage containers and label them so you always know where everything is.
Choose furniture that serves multiple purposes – For example, a fold-down dining table can double as a work surface or additional sleeping space.
Built-in storage solutions – Incorporating storage spaces into the design of your key in maximizing living space. Think about incorporating shelves, drawers, and other storage into your design.
Minimalism – Living in a van has a huge amount of benefits to offer, but this sometimes comes with sacrifices. It's important to note, though, that we have found that some of these sacrifices have helped us to become better, less materialistic people who are much happier with a lot less. Going through each of your belongings and asking yourself if you really need them – if you could do without them for a week or a month, or a year – can help you to whittle down your belongings to only those that truly bring you joy. Living with fewer things brings unique freedom with it that is hard to describe.
Cleaning – Keeping your new home spic and span can make a huge mental difference to how much room it feels like you have around you. For example, if there are week-old crumbs lying around on a cutting board that makes you not want to use it, you might move on to another surface for your cutting needs instead of cleaning it straight away. That space then becomes unusable for other purposes, and before you know it, you become ever more cramped inside your limited space. Quickly cleaning up after yourself and putting things away where they belong directly after use will help to ensure that this dreaded 'dead space' doesn't slowly creep up on you.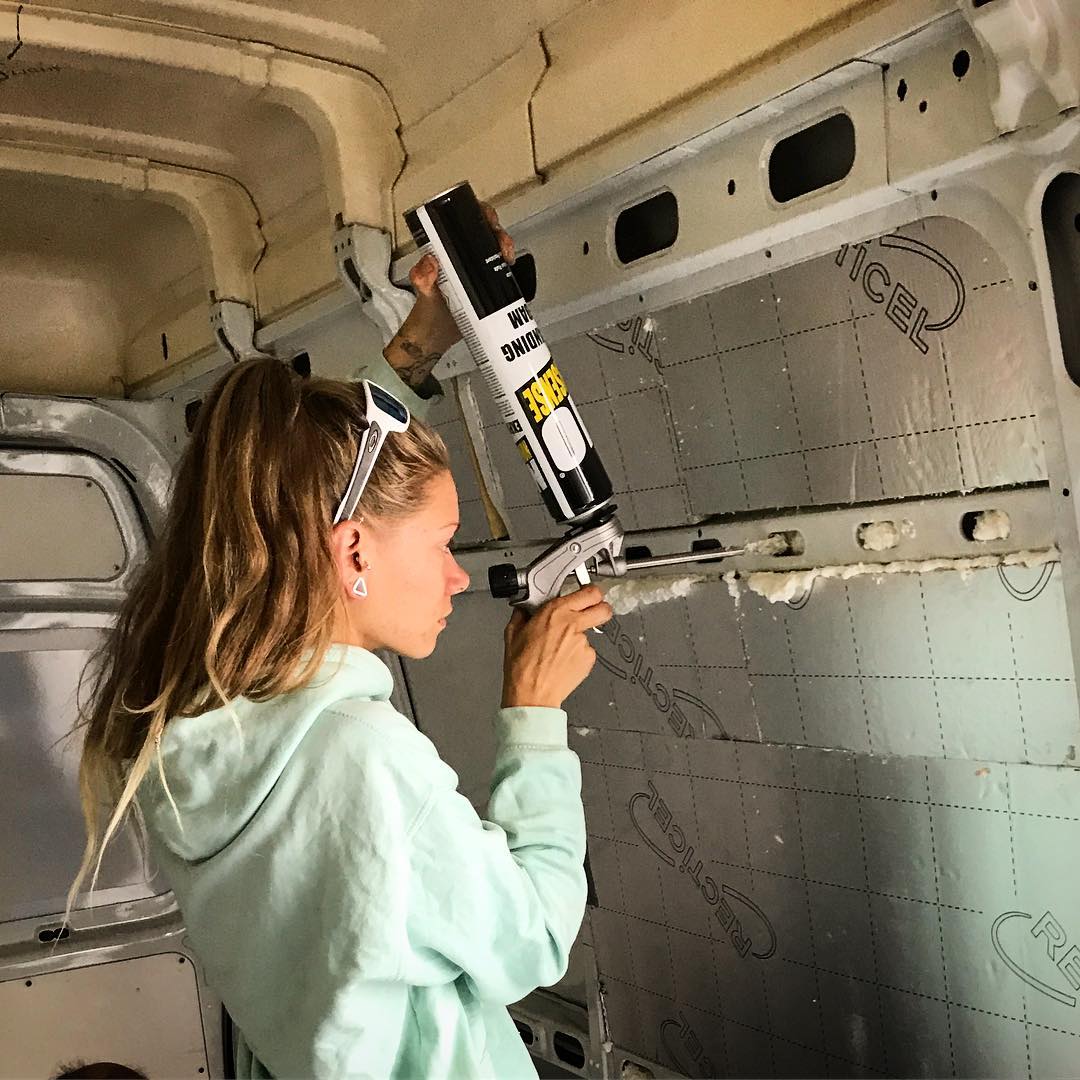 insulation, soundproofing, and barriers
Adding insulation will be one of the first steps in your van build process. This is an optional decision. You can live comfortably in a van without insulation. But it will require a lot more effort, like following the weather and controlling heat through the windows.
Most people do insulate their vans. The most common materials to use are foam board insulation, spray foam, thinsulate, fiberglass, and wool. Each material varies in effectiveness and some are easier to install than others.
Our article on how to insulate your camper van explains these materials in-depth and covers the best way to insulate your walls, floor, ceiling, and windows. For now, here's a quick rundown of the main options you will run into.
Foam insulation is one of the most popular types of insulation. It's easy to install, relatively inexpensive, and provides a good level of insulation. However, foam insulation can be flammable, so it's important to use a fireproofing spray if you're going to use this type of insulation.
Another popular option is fiberglass insulation. Fiberglass insulation is non-flammable, but it can be more difficult to install than foam insulation. It's also more expensive than foam insulation, but it provides better thermal protection.
If you're looking for an environmentally friendly option, there are also several types of natural insulation available. Sheep's wool and cork are two popular choices. Both of these materials provide good thermal protection and are environmentally friendly. However, they can be more expensive than some of the other main types.
Whichever type of insulation you choose, be sure to add a vapor barrier to prevent moisture from condensing inside your van. For even more comfort and energy efficiency, consider also installing insulated blinds or curtains for the windows.
Things to Bear in Mind
When it comes to insulating a campervan, there are a few key things you need to take into consideration in order to ensure a comfortable and energy-efficient space. First, consider the climate you'll be spending most of your time in.
If you're planning on spending extended periods of time in cold weather, don't underestimate the importance of completing this step to a very high standard. If your van is not properly insulated, you could end up freezing at night, and it could turn an otherwise great journey into a perilous one.
On the other hand, if you're mostly going to be camping in warmer climates, insulation will still be important but not as crucial.
The quality of the installation is also key when it comes to insulation. You really need to make sure everything is properly sealed and installed so that heat doesn't escape and cold air doesn't seep in. This will help you keep your van comfortable no matter what the temperature is outside.
We learned the importance of this point the hard way by enduring quite a few nights that were a lot colder than we had expected. If installing your insulation is not something you're that confident with, it could be a very wise investment to have a trusted professional carry out the work. It will probably save you money in the long run by helping to avoid the need to replace or redo any of the work.
It's also important to remember that when you're living in a van, every ounce counts. So you should definitely consider the weight of your insulation when you're planning your build. The heavier the insulation, the more weight your van will have to carry. This can impact your gas mileage and make your van harder to handle on the road.
Fiberglass insulation is lightweight and easy to work with, but it doesn't have the best R-value (the measure of an insulation's ability to resist heat flow). Spray foam is much heavier than fiberglass, but it has a much higher R-value, so it's a good choice if you're looking for maximum insulation.
Rigid foam is somewhere in between fiberglass and spray foam in terms of weight, and it also has a good R-value.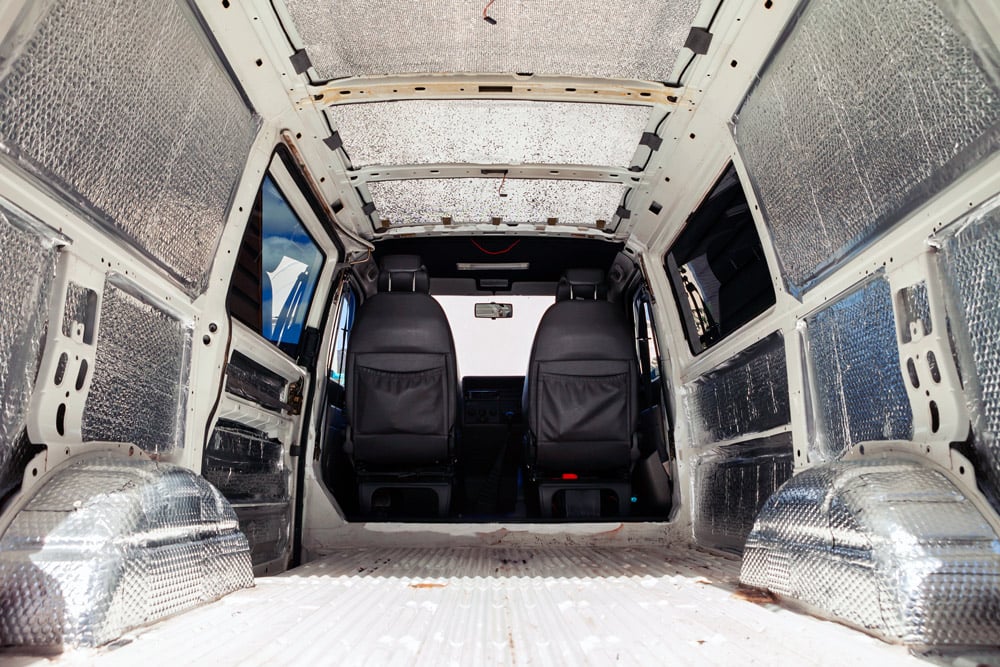 Soundproofing
Soundproofing your camper should be done before adding insulation. This is done with large, sticky sheets that adhere to the walls and reduce vibrations. Not everyone chooses to soundproof, but it does make the drive significantly quieter.
Noise dampeners make the biggest difference in large cargo vans like the Mercedes Sprinter or Ford Transit. Some people choose to install soundproofing only in the engine compartment of their smaller vehicles.
If you're planning to live in your van full-time or even just spend a lot of time on the road, it's important to consider soundproofing. It can be difficult to find a quiet place to park for the night, and you don't want to be constantly disturbed by outside noise.
Equally, we find our van to be a lot cozier when we know that our conversations, movies, and music are not causing a disturbance to anyone outside. In a lot of cases, we have relied on our soundproofing to prevent people on the outside from knowing that we are even inside the van at all. It definitely helps to ward off prying eyes and uncomfortable questions.
Barriers
Condensation is inevitable. Breathing, cooking, and simply living are all going to add vapor to the air. We do not recommend installing a moisture barrier–you can find out why here. But there are ways you can significantly reduce moisture and prevent mold.
In our blog post about avoiding condensation and moisture, we dispel some of the myths about dehumidifying your van and give tips to keep your van as moisture-free as possible.
Bugs and mosquitos will make your life miserable. We talked about this in our experience living on the road for two years. Unless you plan to spend your entire trip in the southwest desert (which has a distinct lack of bugs), please consider bug-proofing your van! This includes sealing up windows with mesh and a few other tricks. You will thank us later.
Properly sealing the exterior of your camper, including the roof, windows, and any construction holes, is the best way to avoid leaks in the rain and prevent bugs. In our blog about roof sealants, we discuss the different types and how to use them.
Flooring
When it comes to outfitting your DIY camper van, one of the most important decisions you'll make is what kind of flooring to install. Not only does it need to be durable enough to withstand years of wear and tear, but it also needs to be comfortable and easy to clean.
Many people opt for vinyl or linoleum flooring because it's easy to clean and relatively inexpensive. However, if you're looking for something a little more stylish, you might consider using carpet or laminate flooring.
Another thing to keep in mind is how easy the flooring will be to install. If you're not particularly handy, you might want to choose a material that doesn't require too much work to put down. On the other hand, if you're confident in your DIY skills, you might be willing to tackle a more challenging installation.
Finally, think about how comfortable the flooring will be to walk on. If you're planning on spending a lot of time in your camper van, you'll want flooring that won't hurt your feet after a while. Soft materials like carpet or lino are usually best for this.
Once you have decided on the type of flooring you want and your budget, it is time to start shopping around. There are many different places to purchase flooring, both online and in person.
Many hardware stores or home improvement stores carry a variety of flooring options, and you can often find deals and offers exclusive to certain stores. When shopping online, be sure to read the reviews before making your purchase. This will help you ensure that you are getting a quality product that has been (hopefully) tested by other van lifers and DIYers.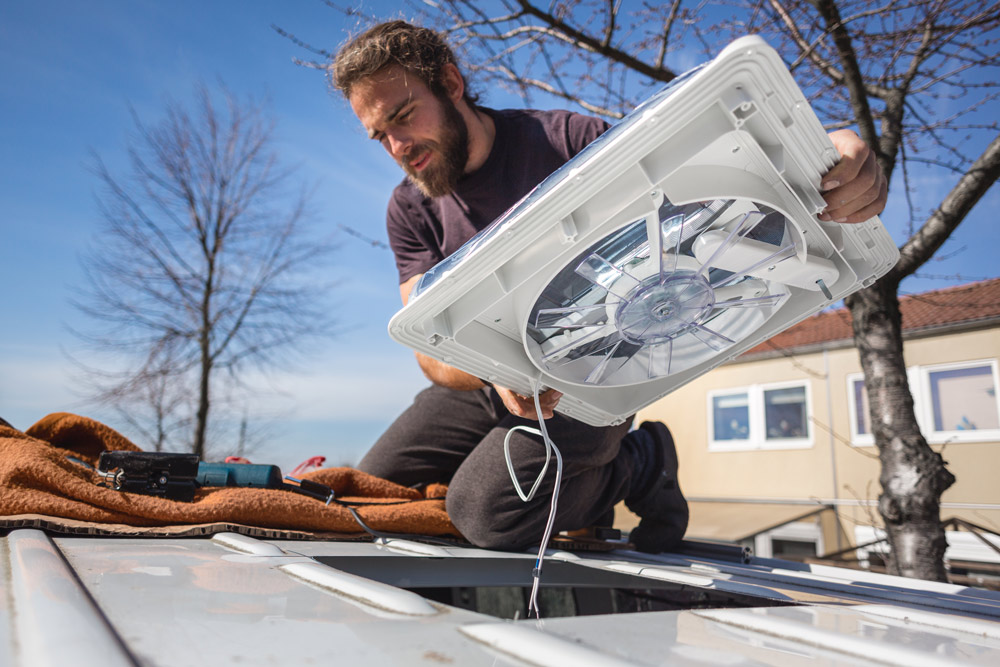 Heating and cooling
When you live in a van, nothing is more noticeable than the temperature. Luckily, with your little home on wheels, you'll have the ability to follow the weather. We recommend chasing the birds and driving north in the summer and south in the winter.
How to keep cool in a DIY van build
Unlike an RV, you probably won't be able to run an air conditioner. They simply use too much power. But there are other ways you can reduce the heat.
Installing a vent fan is imperative if you're constantly camping in hot weather. The airflow also helps to exhaust condensation and moisture year-round. Covering the windows with Reflectix and parking in the shade are other ways of keeping the van cool in warm weather.
Focus on cooling yourself using misters, damp-wash clothes, going for a swim outside, and spending daylight hours in air conditioned public places.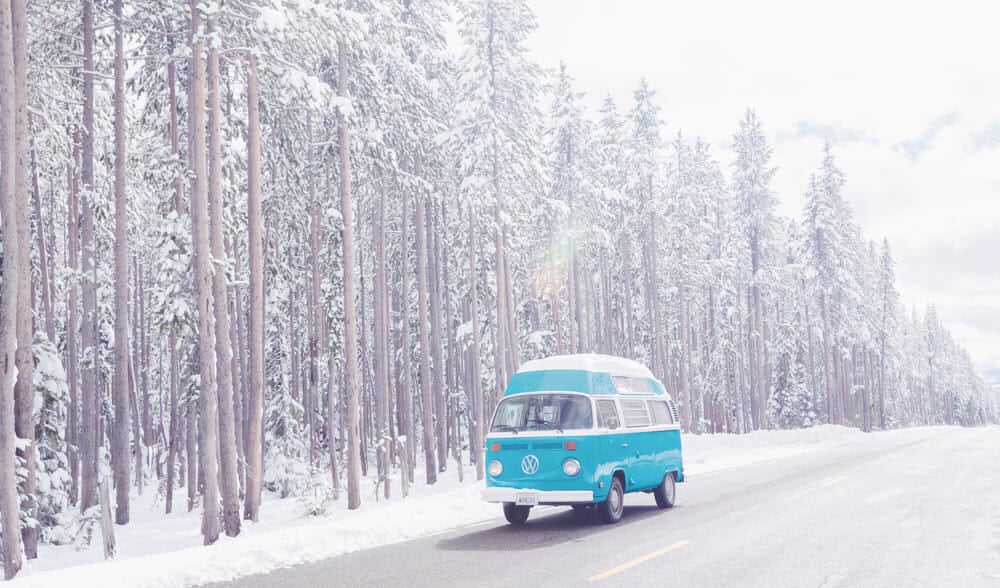 Tricks for staying warm
Keeping warm in a van is easier than staying cool. A heater isn't necessary in most cases unless you plan to take your van on some ski vacations. There have been plenty of mornings we've woken up with frost on the windows and our water bottles frozen; but we weren't uncomfortable.
Much like staying cool, the first step you should take is focusing on heating yourself:
Wear warm clothes: The tried and true method is wearing lots of layers to bed. Go to sleep with a hat, and thick wool socks on. Consider using a winter sleeping bag and cuddling up if you have a partner or dog.
Hot water bottle method: You can stay warm at night by boiling some water and pouring it into a water bottle or covered container. Then cover the capsule with a light towel and lay next to the bottle at night. Water bottles can stay warm for up to 6-8 hours; perfect for a good night's sleep.
Heating Your Camper Van Build
There are a few different ways you can heat your van in winter. Some of the most common are electric heaters, wood stoves, portable propane heaters, or installing propane/diesel air heaters. We recommend reading through our links to learn about the many pros and cons of each.
Much of this is going to depend on your access to power, how long you plan on running the heater, and how cold you expect the temperatures to get.
If you're concerned about conserving energy, there are a few things you can do to cut down on your electricity or fuel usage. One is to use blankets and sleeping bags to make sure your body heat is not seeping away from you.
As long as your internal temperature stays high enough at night, the temperature of the van is not such an important consideration. Another is to close off any unused areas of the van so that you're not heating up more space than necessary – even a curtain partition can achieve this effect.
Another top tip we've come across is to drink plenty of hot fluids throughout the day, it can make a lot more of a difference than you might expect!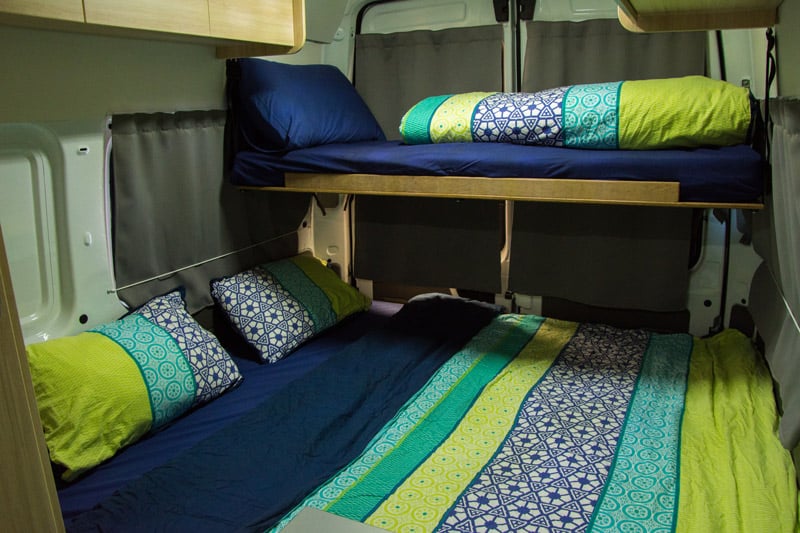 Sleeping and bed design
Adequate sleep is going to make or break your road trip. Chances are good that the bed is the biggest thing in your van, so it's important to get it right! In our article about bed designs, we talk about the pros and cons of each type of sleeping arrangement.
That includes why you do–or don't want to set up your bed every morning. What size mattress to get, and tips to build your own.
Can you legally sleep in your van?
Yes! There are many ways to go stealth camping in the city, and backcountry camping for free. Don't let your nerves get the best of you. It is perfectly legal to sleep in your car under the right conditions. Free camping is available in every state in the US.
While there are no federal laws against sleeping in your car, some states and cities have enacted their own ordinances. For example, California has a law that prohibits sleeping in your car within 500 feet of a public beach or campground.
If you are planning to regularly sleep in your van overnight, it can pay off to check the local laws before doing so. This will help ensure that you are not breaking any local regulations and that you are not putting yourself at risk of being ticketed or towed – a major setback if you are living in a van.
Additionally, it is always a good idea to find a safe and legal place to park your van before dark. This will help you avoid any unwanted attention from the police or from other people who may not be happy about seeing someone sleeping in their vehicle.
There are, of course, a few other things to consider when choosing where to spend the night. You will want to make sure you are parked in a safe area. This means avoiding dark and secluded areas, as well as areas with high crime rates. You will also want to make sure you are not parked in a No Parking zone or other restricted area. It's also a good idea to generally be considerate of your neighbors and try not to park too close to their homes or businesses.
With a little planning and research, you should be able to find plenty of safe and legal places to spend the night in your van. Just remember to be considerate of your fellow van lifers and travelers and always leave your campsite cleaner than when you found it!
Security Measures
As you embark on your van life journey, it's important to take the necessary steps to ensure the safety of your passengers and your belongings. After all, you'll be living in a vehicle that's susceptible to theft and break-ins – which is all the more important when it contains everything you need to live on a daily basis!
Here are a few ideas for some security measures you can take to protect your van and belongings:
Install an alarm system: This will deter potential thieves and let you or anyone in the vicinity know if someone is trying to break into your van. Sometimes just the appearance of an alarm system can deter thieves.
Invest in a good lock: A strong lock will make it more difficult for thieves to break into your van. And again, the appearance of a strong lock can be just as important as actually having one.
Hide your valuables: Don't leave any valuables in plain sight. Store them away in a safe place or keep them with you when you're not in the van. Key to this is having some sort of divide between the front driving portion of your van and the rear living portion. Being able to quickly pull a curtain over to hide your precious home from prying eyes could make thieves less likely to take a gamble on what lies inside.
Park in well-lit areas: Parking in well-lit areas will make it easier for you to spot suspicious activity and deter would-be criminals. It also gives any CCTV cameras in the area a chance to pick up a physical description of the perpetrators if anything ever does happen.
By following these simple security measures, you can help keep yourself and your belongings safe while enjoying the location independence that comes with your new nomadic lifestyle.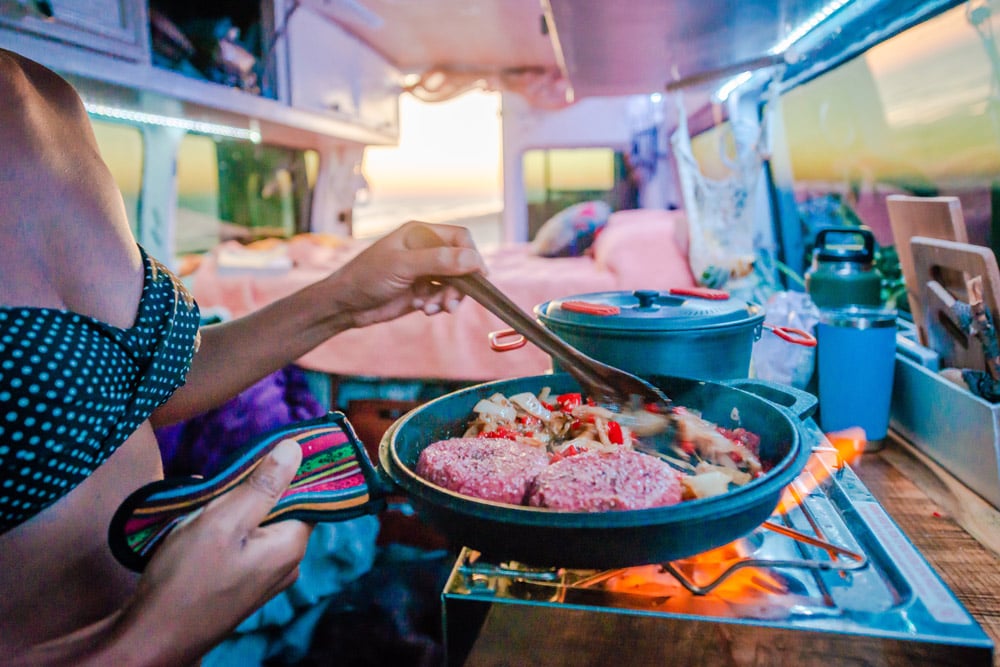 Camper van kitchens
There are a lot of different elements that go into the perfect van life kitchen. Some people skip the kitchen and eat on the go, while others have fully functioning ovens! The choice is yours. Below you'll find a list of some of the most common kitchen accessories.
Refrigeration food on the road
Portable, 12-volt refrigerators are popular in van life. These have a low-power draw and can run off a small solar system. There are many options available ranging anywhere from $200-$1000 depending on the features.
But refrigerators aren't a necessity. Some people prefer using a large cooler, eating fridge-free meals, or dining out at restaurants. We wrote a blog post explaining the differences between coolers and portable refrigerators that is worth a read if you're on the fence about which one of these options to get.
Cooking food
Portable camping stoves, induction burners, and even camping ovens are common options that people choose to include in their van life kitchen. We encourage you to get creative when it comes to saving electricity.
For example, there are ways to make camping coffee without resorting to electricity. And you can save power by frying everything in one pan, or cooking over a campfire instead of on a stove.
There are a few things to keep in mind when setting up your van for cooking, though. You should make sure that you have adequate ventilation – this is especially important if you're doing any sort of cooking that produces smoke or fumes. With good ventilation, you can avoid choking yourself out with a whole bunch of smoke or steam and also prevent any cooking odors from building up in your soft furnishings.
You'll also want to be aware of fire safety. Make sure that any flammable materials are kept away from your stove, and always have a fire extinguisher on hand, just in case.
Assuming you have all of the necessary safety precautions in place, cooking in your van can be a great experience. It's a great way to save money on eating out, and it gives you the opportunity to eat healthy meals even when you're on the road. There are endless possibilities when it comes to van cooking, so get creative and enjoy!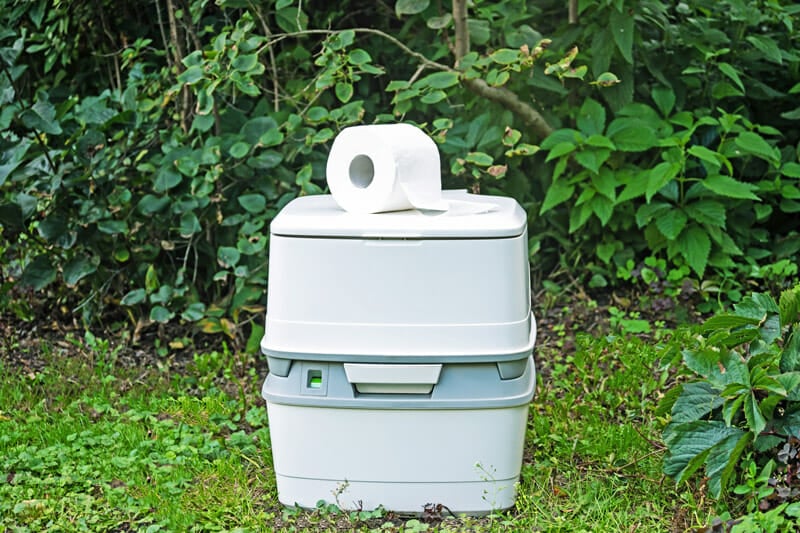 Toilets – Where to go to the bathroom
The first question we get asked when people find out about van life is where we go to the bathroom. Bathrooms are something we worried about quite a bit before starting our trip, but we're happy to report that bathrooms are everywhere.
Gas stations, libraries, shopping malls, visitor centers, rest stops, restaurants, retail stores, grocery stores, campgrounds, and parks are just a few of the places that have bathrooms available to the public.
In addition to that, these are some of the most common options:
Backpacker style: Depending on how you choose to live in a van, this option may or may not be available to you. If you're someone that regularly parks out in nature, on BLM lands, or in National Forests, it's ok to go out in nature if you follow proper burial procedures and leave no trace.
The pee bottle: If you're stealth camping in the city or stuck in the confines of a camper, the pee bottle is a popular solution. Guys have it easier on this one, but girls can still use this method with the help of fancy funnels like the SheWee or GoGirl.
Bucket toilets: The cheapest solution that still feels similar to a natural toilet is the bucket method. Products like the luggable loo imitate a toilet, but they are essentially just a bucket with a comfortable seat and lid.
Cassette toilets: Many van dwellers opt to use a cassette toilet (also known as chemical toilets) because they are relatively small and work similarly to your household toilet. These toilets have a manual flushing mechanism that washes your waste into a black water tank where it's broken down with a chemical. Then, you can empty it at a dump station.
Composting toilets: With a composting toilet, you can go weeks without having to empty the waste container. These use a combination coconut coir or peat moss to break down the waste before disposal. Composting toilets are nice because they use no chemicals. But they do take up a large amount of space and are more expensive than the other options.
Top Tips for Toilets
When you're living in a van, space is limited. That's why it's important to have a well-thought-out plan for your toilet situation. Here are a few tips to help you build a DIY camper van conversion with a toilet that works for you:
Choose the right location. You'll want to consider both privacy and convenience when choosing where to put your toilet. Think about how often you'll need to use it and how much space you have to work with.
Consider your water supply. With some toilet options, you'll need to have a way to store and transport fresh water for flushing it. A small barrel or jerry can work, but you'll need to make sure it's properly sealed, so it doesn't leak.
Decide on a waste solution. Depending on your toilet type, you may need to find somewhere to dump out your waste with varying regularity. Make sure you have planned for this – it can be illegal and dangerous to dispose of human waste in the freshwater supply of a city or town.
Figure out ventilation. Proper ventilation is key to preventing odors in your van. There are various ways to ventilate your toilet area, check out our full blog posts for our collected wisdom.
Sinks, showers, and hygiene
If you want to install a sink in your van, there are plenty of options. A manual foot pump or hand pump is the simplest and requires no electricity.
Some van lifers choose to wire a 12-volt sink pump like you would in an RV. This gives you a constant flow of pressurized water which you can use for a shower as well. Here is a quick rundown of the most common accessories:
Sink Types
Gravity-fed: Placing your container at a higher point than your sink or water bottle is all that it takes. Using the gravity-fed water system is the simplest and cheapest way to access water. All you need is a spigot and you can count on it working every single time.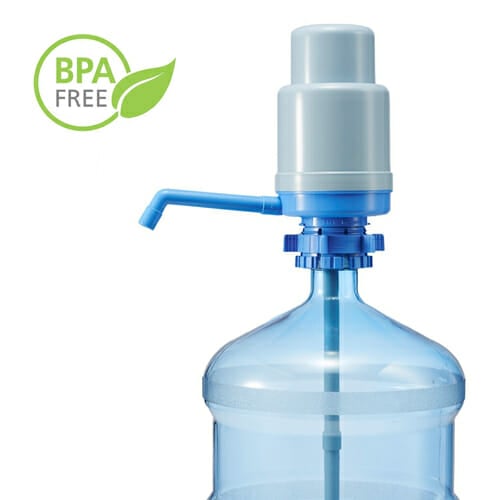 Hand pump: A hand pump is another simple and inexpensive way to receive water. All it takes is a pump faucet and some flexible tubing. Pressure from the pumping mechanism will draw water up the tube and out of the faucet.
Dolphin hand pumps are designed to screw directly on top of the 5-gallon containers you can purchase and refill at Walmart stores and gas stations.
Foot pump: These sinks involve a similar setup to the hand pump. They require only a few parts, and if you purchase camper-specific pieces, everything should fit together nicely. The difference between a hand pump and a foot pump is you will get a little bit more control over the water flow as well as hands-free operation.
Electric sinks: Building a 12-volt electric sink into your camper van is a great way to have a consistent supply of running water. This type of sink will make you feel the most at home and can also be hooked up to a hot water heater to make larger installations like showers.
Although an electric sink is not the simplest to install, it still only involves a few parts and requires just a small amount of electricity. The advantages of an electric sink include high and consistent water pressure as well as easy operation.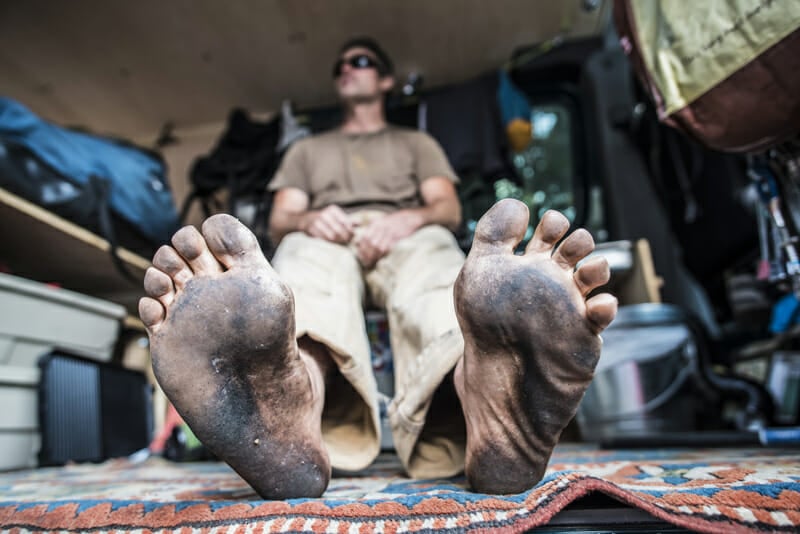 How To Take Showers While Living In A Camper Van Conversion
Van Life is not like the camping trips you've been on. Despite the picture, you will most likely not be setting up a tent in the dirt outside or getting roasted marshmallows all over your face and hands. Your daily routine will be cleaner than you'd expect, and you'll be surprised how long you can comfortably go between showers.
In our article about taking showers on the road, we cover all of the most common options for finding a shower as well as how to install one in your camper.
Wet wipes
Sink and cloth
Dry shampoo
Water bag camping showers
Pressurized sprayers
DIY Gravity showers
Portable hot water heaters
Installing a tankless hot water heater
Public Facilities

Gym memberships
Recreation centers
Campsites
Hotels
Truck stops
Beaches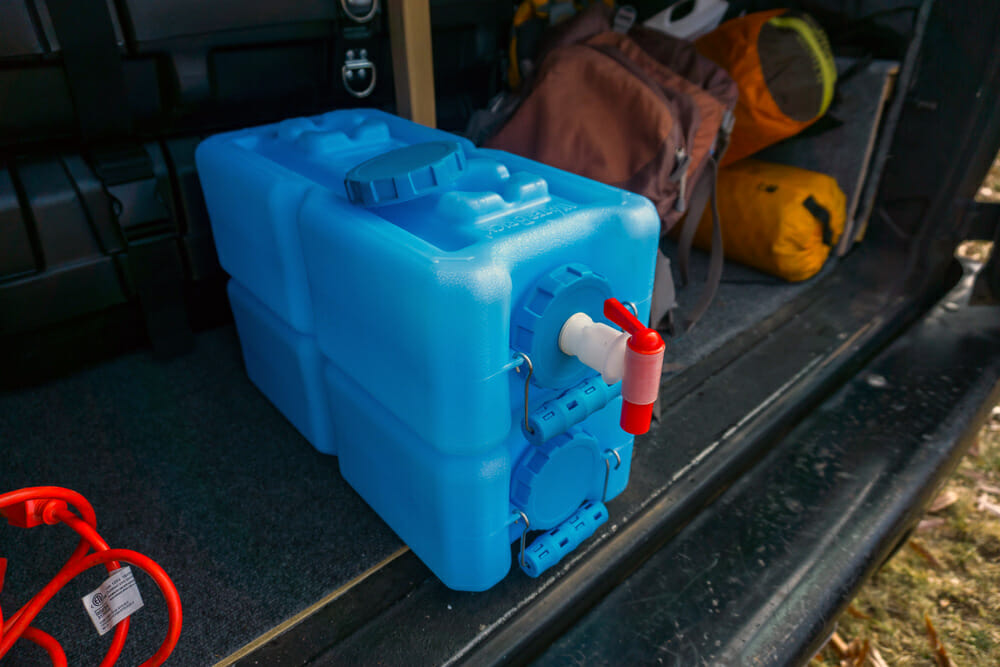 Getting water on the road
Most people who live in a van carry large camping water containers that can be refilled. We carried 10-14 gallons of water with us at any given time.
You might be surprised to find that it's easy to get a hold of free water to fill your water container (at least in North America). Nearly every campground is going to have a water spigot on-site, but here are some other locations you may not have considered:
Visitor centers: National Parks, State Parks, Forest Service Offices, and City Visitor Centers often have a water spigot outside to use. If you don't see one, just go inside and ask! They should be able to direct you to the nearest potable water spigot.
Dump Stations: Not all dump stations have potable water, but many do, and they will be marked accordingly. You can find dump stations outside many marine and RV retailers, some gas stations like Flying J and Pilot, or check out this website to find a dump station near you.
Beaches and Parks: Some beaches and parks will have free water available. This is a great place to look if you happen to be near one—just check to make sure that it's a potable spigot.
Paid Campgrounds: Even if you're not staying at a campground, many will allow you to fill up your water tank for a small fee; just drive in and ask the camping host.
Grocery Stores: If all else fails, stop into your local grocery store or Walmart. Many have water fill stations inside where you can purchase water by gallon. We've seen prices around 37 cents per gallon if you bring your own jug.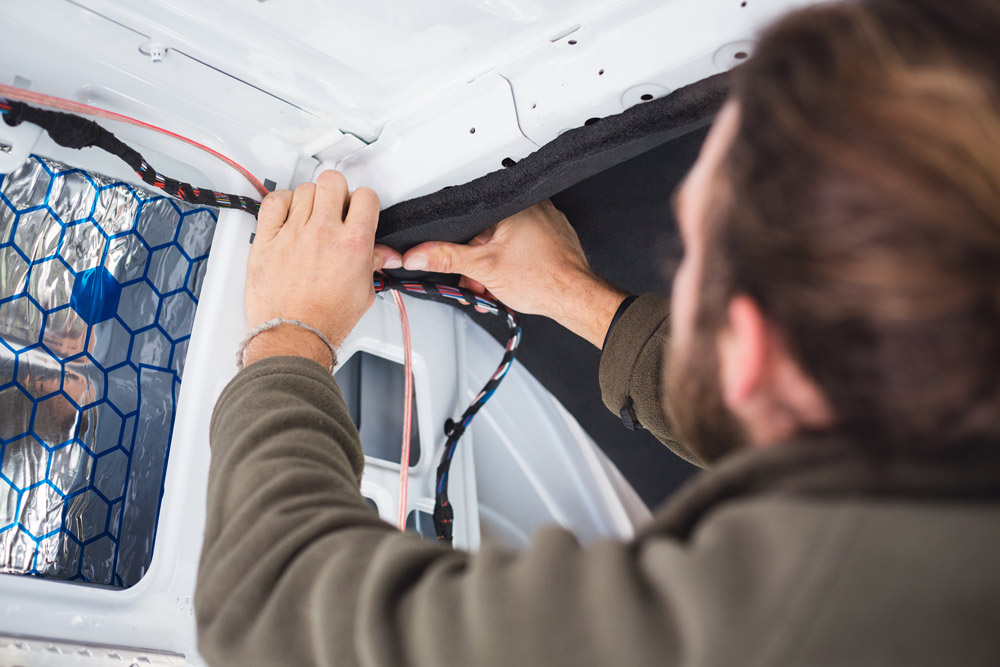 Electricity options & solar calculator
Electricity is such a big topic that it deserves its own page. On our main page, find out all the options for getting electricity, and a step-by-step installation guide.
Plus, hop on over to our camper van solar electricity calculator and DIY wiring diagrams to find out how much power you need.
Disclaimer: Electricity is complicated. You should not blindly follow diagrams from this site, or anyone else's without reading through the material and gaining an understanding of electricity first. Our wiring diagrams show you the basic layout of an electric system. But we do not get into details that cover every possible scenario, and that is by design.
We caution against using wiring guides for dummies. If you don't know the difference between a volt and a watt, you should read more information to learn, or hire a professional.
Solar generators are a safe alternative for people who want electricity on the road but don't have the time or willingness to learn all of the ins and outs of solar.
Yes, they are more costly than building a do-it-yourself system, but they are safe, effective, and require no skills aside from figuring out which size generator to get.
Parts of a DIY Solar System: Explained
Do It Yourself Solar System For A Camper Van Build
With our disclaimer out of the way, let's get into powering your van! Yes, electricity is complicated but it's something that everyone can learn with enough time and effort.
Our electricity guide covers every part of a camper van electric system. This includes basic terms, finding out how much power you need, how to size your wires, how to get power from the vehicle alternator, and wiring diagrams.
How Many Solar Panels Do You Need?
Start with our camper van solar calculator and input:
All of the devices you plan to power
How many hours each device will be in use
What type of batteries you plan to use
The type of charge controller you will use
How many sun hours you think the solar panels will receive
This will answer the question: how many solar panels do you need? It will also give you estimates on battery bank size, charge controller size, and inverter size. We've included a video explaining how to use it. Finally, there are wiring diagrams for the not-so-beginner.
Solar Panels
Solar panels collect energy from the sun. Our blog post on solar panel basics explains the different types of solar panels. We also give advice on how to get the most energy out of your panels, and how to properly wire them properly.
Rigid vs. Flexible solar panels
Fixed vs. Portable solar panels
Solar panel cell type: monocrystalline vs polycrystalline vs amorphous
Charge Controllers
Charge controllers take chaotic energy from the panels and turn it into usable power that can be stored in the battery bank. In our article about charge controllers, we cover:
MPPT vs PWM charge controllers
What size charge controller to get
How to wire your panels
Solar Panel Kits For A Van Build
Solar panel kits typically come with solar panels, a charge controller, mounting equipment, and wires. These are nice because the system is already properly sized and it takes a lot of the guesswork out of choosing parts.
Most kits do not include batteries or an inverter so you'll still have to purchase those separately. But, kits give you a good start to designing the system.
Solar Panels Installed vs Not Installed
There are two main types of solar panels that you can install in your camper van: portable and permanently mounted. Portable solar panels are great if you want to be able to take them with you when you leave the van (for example, if you're going camping).
Meanwhile, permanently mounted panels will usually save you some money in the long run as they tend to be bigger and will help you cut down on powering your gadgets with other more costly fuels.
Camper Van Batteries
Batteries are the most expensive part of your solar system so you want to make sure you're getting the right type. Our blog post about batteries for solar storage covers the most common questions and explains how to make your batteries last as long as possible.
How to size your battery bank
AGM deep-cycle vs Lithium LiFePO4
Battery types
Battery chemistries
State of charge
How to combine batteries
Inverters And Inverter/Chargers
Inverters allow you to power household electronics with your 12-volt battery bank. These are necessary if you want to charge things like a laptop, coffee pot or hair dryer.
Inverter/Chargers can power household electronics and charge your batteries using city power. These are less common in van life because many campers only use solar panels. But, they can be useful if you occasionally stay at campgrounds or have access to electric hookups.
Alternator Charging And Battery Monitoring
Charging a battery bank using your car's alternator is a good way to get a bit of extra energy while you drive. The two main ways to do this are by using a battery isolator or with a battery to battery charger.
Battery isolators safely combine your house and vehicle batteries so that your alternator is charging both at the same time when running.
B2B chargers use your vehicle's electrical system to provide a proper multi-stage charge to your deep-cycle house battery.
Battery monitors can help you keep track of the battery bank state-of-charge. This will help you keep your batteries healthy and extend their lifespan.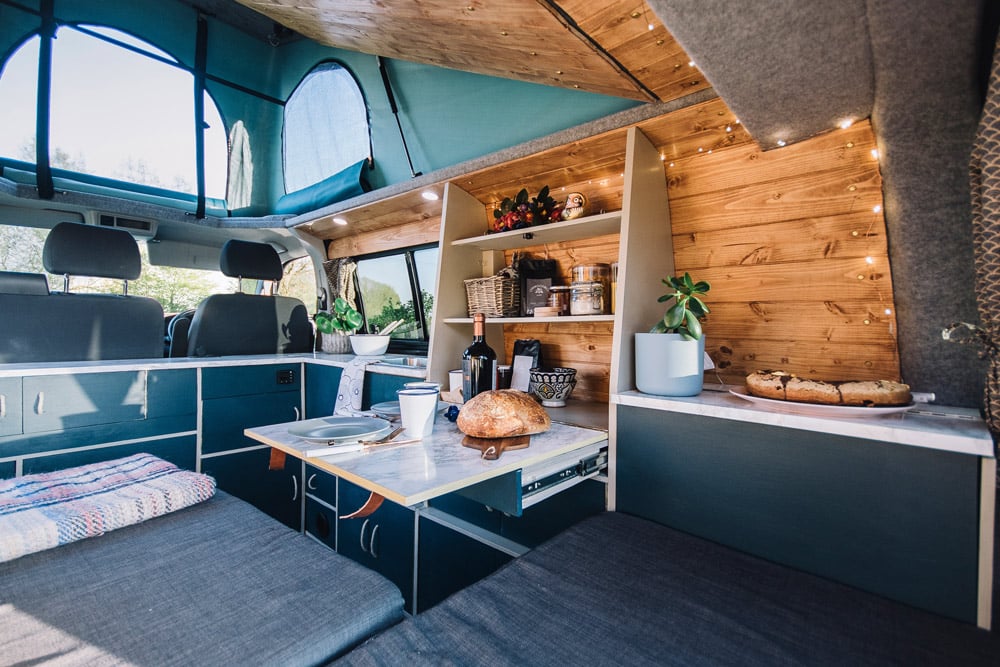 Lighting and small electronics
Strip lights, recessed lighting, and battery-powered lights are the most common in a camper. Our article about installing 12-volt lighting discusses the pros and cons of each type and how to wire lights in a camper van.
There are a few different ways to approach lighting in a camper van. You can go with battery-powered LED lights, which are relatively inexpensive and easy to install. You can also wire your lights into the van's electrical system, but this will usually be more complicated and expensive (and not something you should do yourself unless confident with wiring).
Either way, you can find LED lights in a variety of colors or even those that can change their color via remote control, meaning you can choose the perfect match for your van and your mood.
It's important to make sure everything is properly wired and grounded so that there is no risk of fire or electrocution. If you're not comfortable doing this yourself, there are many online resources and videos that can walk you through the process step by step, but we'd still recommend employing the services of an experienced professional.
If you're looking to add some natural light to your camper van conversion, consider adding a skylight! Skylights are a great way to let in some extra light during the day, and they can also help ventilate your space. Not to mention, they're a great way to add a unique touch to your build!
Installing a skylight is relatively straightforward, but it's always a good idea to read the instructions that come with your kit before getting started. In most cases, you'll simply need to cut a hole in your van's roof using a reciprocating saw, then attach the skylight frame to the hole using screws or bolts. Just make sure to seal around it properly – you don't want any air leaks that could mess with your plans for temperature control.
Decor
If you're planning on spending any significant amount of time in your camper van, then it's important to make sure it's comfortable and stylish. After all, you want your home on wheels to feel like a home away from home.
One of the best ways to personalize your space is with wall decor. Hang up some tapestries, posters, or photos to really make the space your own. You can also add some shelves to store small knick-knacks or books.
String lights are another great way to cozy up your van. They can be hung up around the perimeter of the ceiling or along any shelving you have. And if you want to get really creative, you can even use them to spell out words or phrases.
Finally, don't forget about throw blankets and pillows. These will come in handy on chilly nights or when you just want to relax and unwind. Plus, they add an extra layer of warmth and comfort to your space. Make the space your own by adding personal touches like photos, art, and mementos from your travels.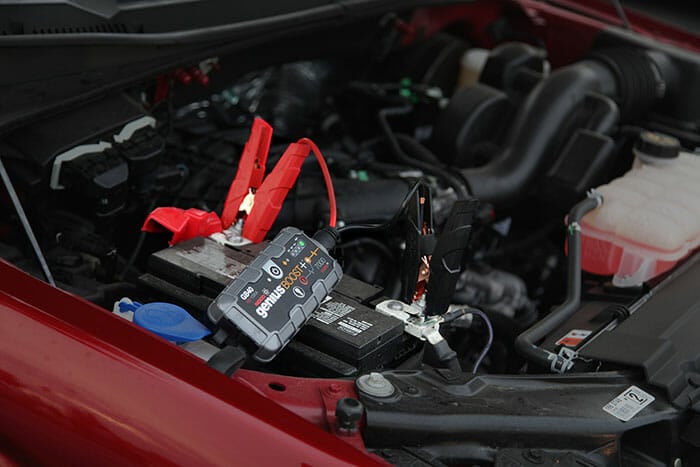 Van life accessories, maintenance, and safety gear
There are an unlimited number of accessories, and each van lifer will have their own preferences. We put together a list of van life essentials and gear to add to your packing list.
Below you'll find a list of accessories we recommend everyone should consider traveling with:
Other Notable Essentials
Cooking supplies – If you plan on cooking in your van, you'll need some basic supplies like pots, pans, and utensils. Always remember to keep spares if they won't add too much weight or take up much space. And test them out before you set off! Getting out on the road only to realize that the handle of your skillet is falling off or your spatula is melting like a candle can be a nightmare if you are far away from the nearest store.
Storage containers – You'll need somewhere to store all of your belongings while you're living in your van. Storage containers or bins are great for this purpose. Storing things efficiently will become second nature to anyone that's been living in a van for a while, and sturdy containers with well-fitting lids will be your secret weapon.
First aid kit – Always be prepared with a first aid kit in case of any accidents or injuries. In some circumstances, it can mean saving you a trip to the ER until the morning, which can come in handy.
Tool kit – A basic tool kit is essential for any DIY projects you may need to do on your van conversion while you're on the road. Not only will this potentially save you money, but it will also save you time that could be better spent on more van life adventures than waiting around for a mechanic.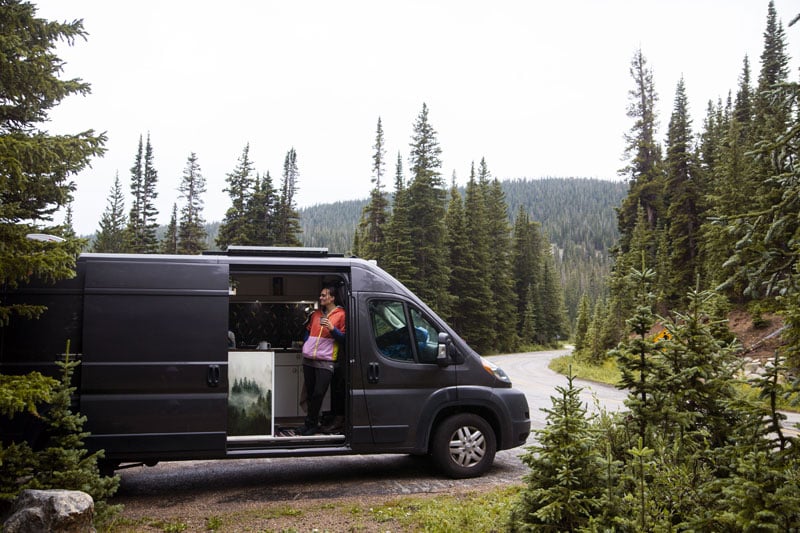 Living the van life – money saving advice & inspiration
Few people get to experience the joys of living in a van year round. Van life is becoming more popular, and thus, more blogs and content for van lifers are being created. You can also find insights through social media.