Van Life Experience: What It's Like Living In A Van Full Time
By
on
This post may contain affiliate links. As an Amazon Associate, I earn from qualifying purchases. Please read my full disclosure.
Are you thinking of taking the plunge into van life? It's definitely not for everyone, but there are a lot of benefits to living in a van full time.
You can go wherever you want, whenever you want, and you'll never have to worry about finding a place to stay. But what's it really like living in a van?
In this article we'll break down the pros and cons of full time van living so you can decide if the lifestyle is right for you.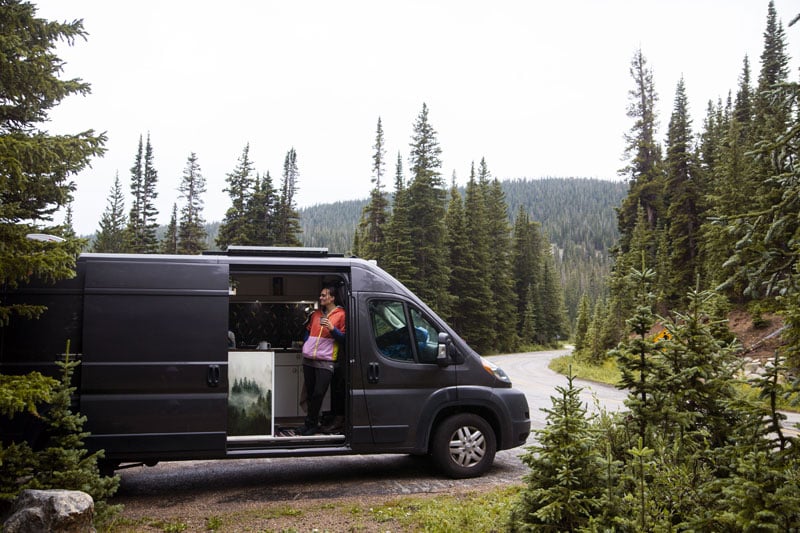 What is van life?
Van life is an alternative lifestyle similar to living in an RV, tiny home, or sailboat. The van life movement is popular among digital nomads, minimalists, and outdoor lovers.
Full-time vandwellers travel frequently and live in self-converted vehicles. They often park overnight for free on public lands and work remotely or pick up gig economy jobs along the way.
The desire for financial freedom, a minimalistic lifestyle, and simpler way of life is what drives many van dwellers.
Van Life Pros and Cons
Van life is different for everyone. Some van dwellers live in homemade campers, and others spend thousands purchasing a rig from professional camper van conversion companies.
Of course, there's a whole slew of people that fall in-between. Living in a camper van is not a traditional lifestyle. So for better or worse, there is no "one size fits all" path to living on the road.
Loneliness, stress, mechanical issues and money are some of the top reasons people quit van life. In fact, we faced many unexpected problems during our own road trip.
There are many advantages and disadvantages to van life.
Pros
Freedom: With van life, you are no longer tied to one place. This newfound location independence allows you to explore and experience new cultures at your own pace.
Affordability: Camper van conversions are often cheaper than RVs, so they are more accessible for those on a tight budget. Van life can also eliminate bills like rent payments and utilities making it less expensive than a traditional lifestyle.
Adventure: A new adventure awaits around every corner. Whether you are van-camping on the beach or in a National Park, no two days are the same.
No strings attached: Forget about rent or mortgage payments – van life is all about living in the moment and embracing a carefree lifestyle.
Meeting new people: van life brings you closer to nature and puts you in contact with like-minded individuals who share your passion for van life.
Nature: Van dwelling allows you to escape the hustle and bustle of city living, reconnecting with nature and appreciating the beauty of the great outdoors.
Customization: Van conversions can easily be customized according to your needs and preferences.
Simplicity: Van life encourages minimalism, helping you to focus on the essentials and declutter your life in the process.
Sounds great! Why doesn't everyone do this?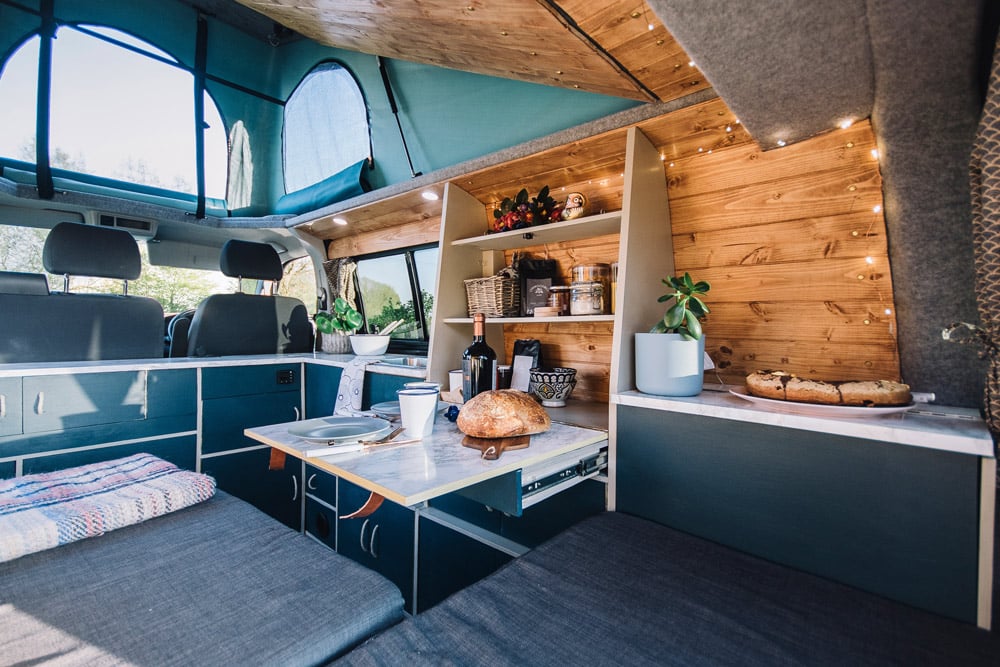 Cons
It's not as easy as it looks: van dwelling takes a lot of work and planning. You need to be prepared for all kinds of weather conditions, stay on top of van maintenance, and find a new place to sleep nearly every night.
Unexpected expenses: although van life is generally more affordable than living in an RV or tiny home, unexpected expenses often pop up. Mechanical issues and rising gas prices are just a few examples.
Additional stressors: living in a van can be extremely stressful at times, and you'll constantly be dealing with new situations (every day is different!) Examples of this include finding somewhere new to sleep every night, temperature fluctuations, and lack of structure.
Limited space: van life means living in a small space, often without basic luxuries like standard toilets and indoor plumbing. This lack of comfort can be difficult to adjust to for some.
Privacy concerns: van life can also mean sacrificing privacy, especially when you're parked in public areas or sharing communal campgrounds.
Sleep challenges: sleeping in a van can take a long time to get used to. Noise, temperature fluctuations and safety concerns (even unfounded ones) can disrupt your sleep cycle.
Weather dependency: van life is heavily dependent on the weather, making it less appealing in cold or rainy climates.
Loneliness: van-dwellers often suffer from loneliness, as it can be difficult to relate to the traditional lifestyle and your friend groups are often changing.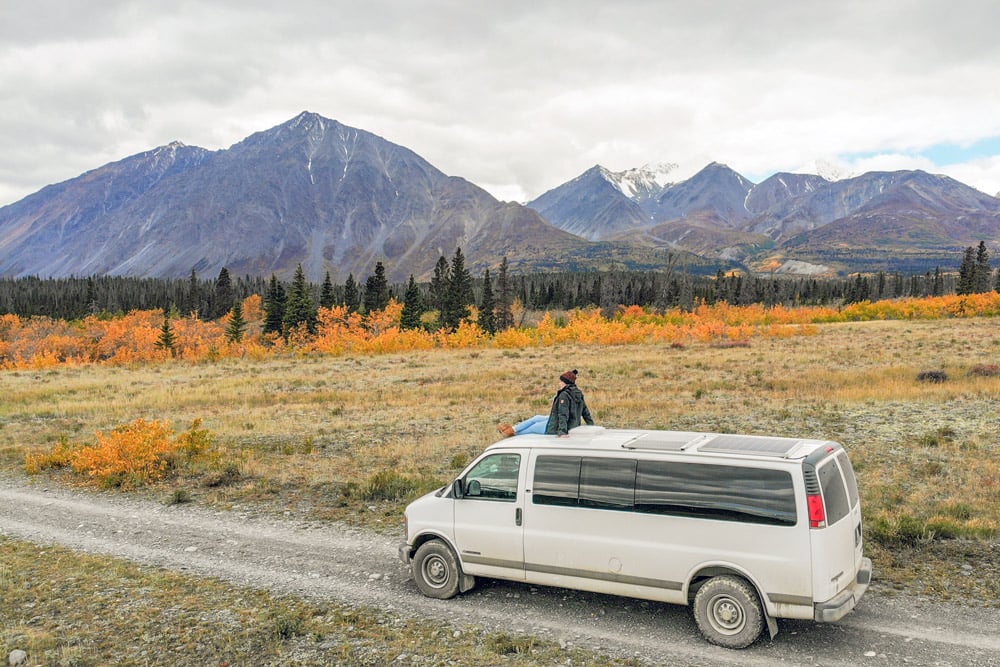 Cost
Living in a van can cost just a few hundred dollars per month, or several thousand. It all depends on your lifestyle.
The biggest van life expenses are price of the van, conversion cost, and monthly expenses including gas, insurance, food, and entertainment.
In this article about van life cost, you'll find a complete breakdown of living expenses and what to expect. It also includes a budgeting sheet so you can accurately estimate your expenditures.
Alternatives
Van life can be cheaper than renting or owning a home because you don't have an expensive mortgage or utility bills. But there are alternatives to consider as well:
RV life can give you a similar sense of freedom while providing a larger space and a more conventional way of life.
Establishing a home base and making shorter camping trips is another way to visit new places without the sacrifices of cramming yourself in such a tiny space.
How to start
The best part about van life is that you don't need to be an expert or have a huge budget. With the right resources and knowledge, you can start van-dwelling in no time.
The first step is to decide how committed you will be to the lifestyle. Do you want to van life full time, or just make van trips here and there? This will help you decide on the type of vehicle you need and how much money to invest in it.
If you have the means, consider a conversion van rental before you buy to determine if van life is for you. Many people shy away from the full-time experience after testing out the waters.
Research van life ideas and find inspiration from other van dwellers on social media. When it comes time to move in, you should have a better awareness of what to expect.
Ideas
Below you'll find some of our favorite examples of camper van inspiration to get you started. These vehicles were designed for full-time van life and come with all the amenities necessary to create a comfortable living space.
Choosing a van
When it comes to van life, there is no one "best" van to live in. However, there are a few vans that are better suited for full timing than others:
Cargo vans and conversion vans like the Dodge B-Series, Ford Econoline, Chevy Express, Chevy Astro, GMC Savana
Sprinters, ProMasters and Transits
Minivans, Honda Elements, and Class B RVs
When discussing the best van for van life, we consider the pros and cons of each type of vehicle for full-time living and give examples of budget and mechanical issues that may affect your decision.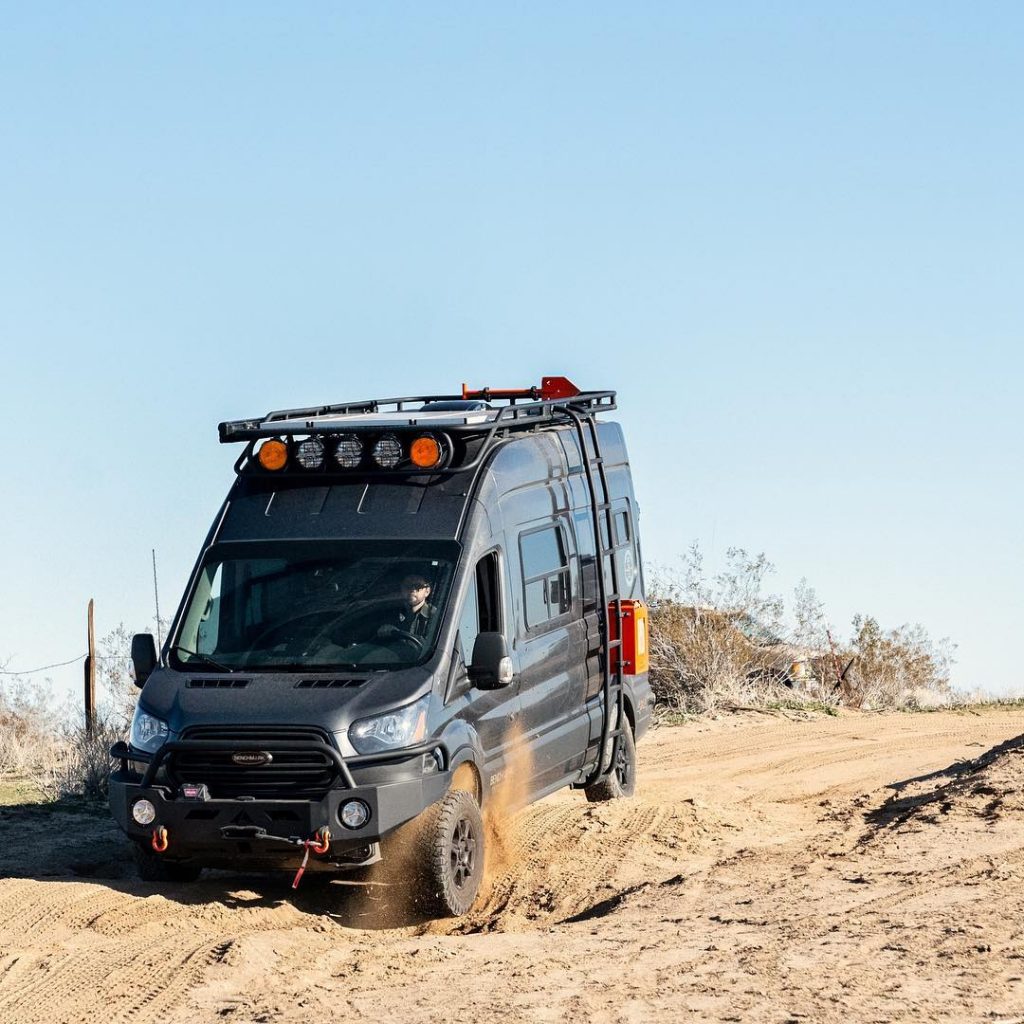 Conversion process
Once you have your vehicle, it's time to get started! Read our DIY camper van build guide for detailed step-by-step instructions to create your perfect space.
It all starts with planning your van conversion layout, then gets into the nitty gritty of fuel, plumbing, and electricity.
If the thought of constructing an entire camper makes your head spin, consider using modular van conversion kits that are available in different sizes and configurations to fit most vehicles.
Purchasing a van conversion
For van dwellers who don't have the time or skills to build their own van conversion, there are camper van upfitters that specialize in van conversions. This is an expensive way to go, but it can save you a lot of time and hassle.
These professionals have worked with hundreds of part-time and full-time travelers. They can help you design and order the perfect camper for your needs.
Downsizing
The last step before moving in is downsizing. You'll have to pack only the van life essentials and get rid of the rest.
If you're planning to travel full-time, consider selling the majority of your stuff so you can avoid the hassle and expense of renting out a storage facility.
Keep digital copies of your most important documents such as insurance information, medical history, financial forms, and birth certificates.
If you have jewelry, family heirlooms, or sentimental photos, consider keeping them with a trusted friend or family member.
Downsizing and leaving your former life behind can be one of the most emotional parts about taking off on a van life adventure. It may seem like a monumental task, but once you hit the road, a giant weight will have been lifted your shoulders.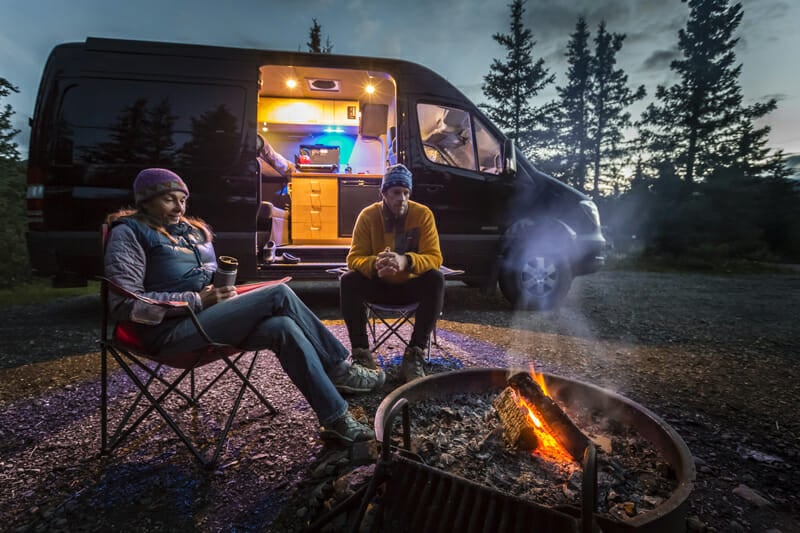 Where to park
One of the most intimidating parts about living in a van is finding a place to park. And it's something you have to do 24/7.
If you're van-dwelling full-time, it's important to find safe and legal parking spots.
Fortunately, you can find free camping in every state in the US. Public lands, National Forests, and dispersed camping sites are some of the most popular destinations.
And when it comes to cities, there are plenty of urban camping locations which are friendly to cars parked overnight.
Mail
Living in a van means you'll need to make some adjustments when it comes to mail and communication. Without a home address, you'll need to find an alternative solution for your permanent mailing address.
Many full-time van dwellers choose to use the address of a trusted friend or family member.
Others opt for a virtual mail forwarding service which can scan documents or hold and forward your mail whenever you need it.
Some of the more popular mail forwarding services for van life are:
When it comes to packages, mail can be delivered via USPS General Delivery. Simply find a USPS location near you, and check if "General Delivery" is available at that store. If it is, you can ship your package to:
[Your Name]
General Delivery
City, State, Zip
The packages will be held for 30 days and will require an ID for pickup.
Alternatively, you can choose to receive packages via Amazon Lockers, UPS or Fedex stores, or using in-store pickup.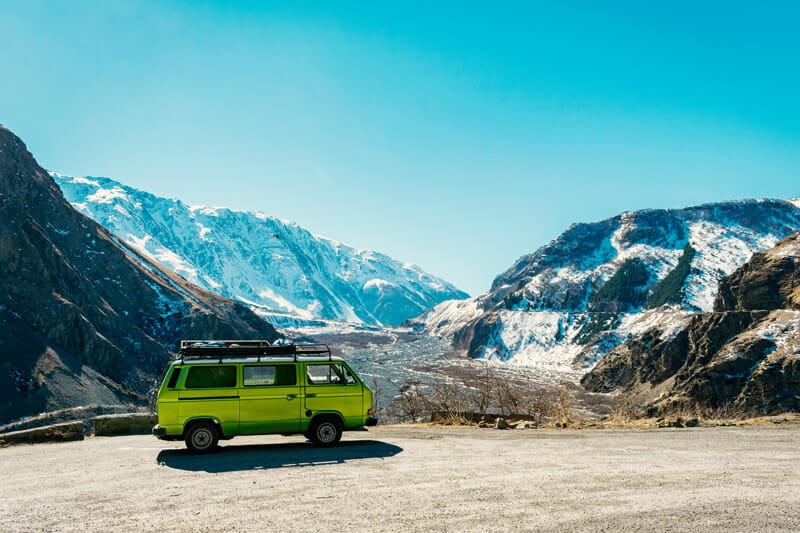 Insurance
Insurance is a crucial part of van life. Many van dwellers assume that their regular car insurance will provide coverage for a van conversion but this isn't always the case. Additionally, health insurance becomes a complicated issue when you're constantly moving from state to state.
Auto insurance
When you live in a van full time, you have to worry about insuring your camper and everything inside. Unfortunately, this isn't the most common type of coverage, and most van dwellers are surprised to learn that their DIY camper van is virtually un-insurable under standard policies.
Companies like Roamly offer campervan conversion insurance designed specifically for self-built camper vans. They will ensure the cost of your build and everything inside.
Alternatively, you can speak to an insurance agent and create a custom policy based on your specific vehicle. Certain upgrades like plumbing or a refrigerator may get you insured under an RV insurance policy which can have more favorable rates than standard vehicle insurance.
If you are van dwelling part-time, you can often get your possessions covered under a homeowners insurance policy.
Health insurance
Health insurance is a vital part of van life. Unfortunately, it can be challenging to find an affordable plan that covers you for both van dwelling and hospital visits in different states.
Affordable Care Act (ACA): The simplest solution is to find a plan through your state's healthcare exchange (ACA) which covers you in the state you're van dwelling part-time, and for out-of-town emergencies. In this case, you'll need to travel back home for any regular healthcare visits.
Short-term Health Insurance: Alternatively, van dwellers can purchase short-term health insurance plans which will cover them for a few months at a time. These are generally more affordable than traditional health insurance plans, but they are not ACA-compliant and won't cover certain pre-existing conditions or other ailments.
Healthshares: As a lower-cost alternative to traditional health insurance, many full-time van lifers opt into healthshares. These are group plans (often faith-based) which pool together funds from their members to help relieve medical expenses. Healthshares are not insurance, but they can act as an alternative if you fit the lifestyle. Some common healthshare organizations to research are:
No matter which type of healthcare you choose, van life will require some adjustments when it comes to getting insured. Speak with a health insurance broker familiar with nomads, or with your state insurance broker if you're staying in one place. There are lots of insurance options available for van dwellers but many are state-specific and they all come with their own pros and cons, so do your research before you hit the road!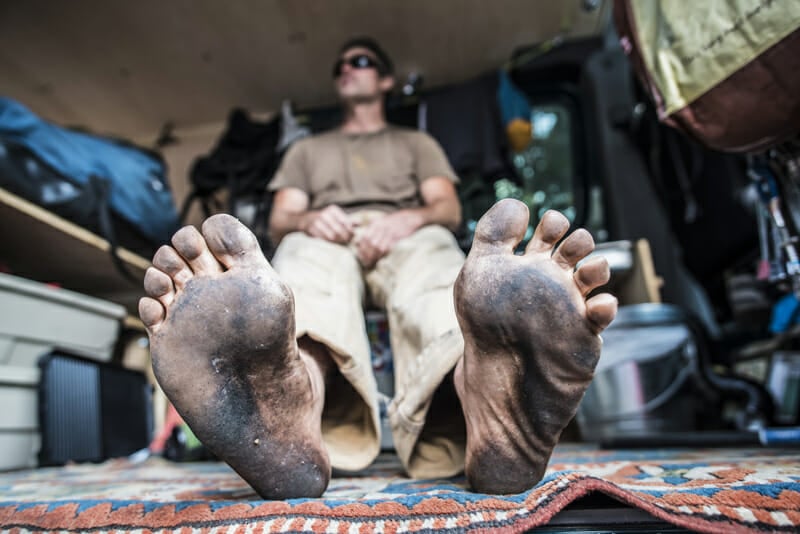 Bathrooms and hygiene
One of the most common van life questions is: "How do van dwellers go to the bathroom?" The answer isn't as complicated as you may think. For many van lifers, public restrooms are a staple part of their lifestyle. Not only are they free but they're also available in every town or city.
Additionally, there are also several solutions for adding a portable camping toilet to the inside of your vehicle. Some of these toilets are basic and others flush or use a composting solution to eliminate odors.
When to hygiene, many van dwellers make use of public showers such as 24-hour gyms, local campgrounds, and swimming pools.
Full-time van lifers who are really committed to staying clean on the road may consider installing a complete campervan bathroom with shower.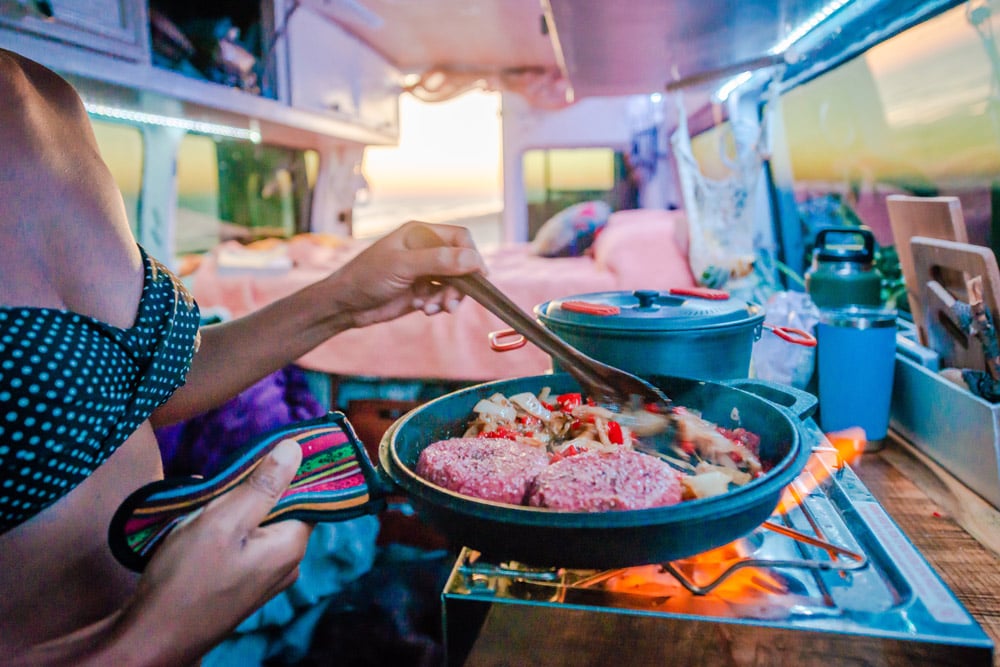 Kitchen
No van is complete without a camper van kitchen. Van kitchens generally make use of small, portable refrigerators and camp stoves. Many van dwellers also bring along cast iron cookware, camping utensils, and collapsible bowls for preparing meals on the go.
People who van life full time often come up with innovate storage solutions and creative uses for space.
Electricity
Electricity is an essential part of van life but can be a challenge to manage if you're not in a campground or RV park full-time.
Solar panels are the most common way van dwellers power electronics on the road. These systems are perfect for keeping your laptop or refrigerator charged and can be installed on the roof of your van.
Solar generators are an option for people who don't have the confidence to wire their own electronics. They are a safe, user-friendly alternative to a DIY solar system, albeit more expensive.
Internet
Internet access is key if you're working remotely. A mobile hotspot connected to your cellphone data plan is one of the most common arrangements. Cell phone signal boosters can amplify and expand your cell service range.
Additionally, public Wi-Fi networks are also available in many places. Many full-time van lifers take advantage of coffee shops, shopping malls, and libraries to get their work done.
Making money
Many full time van lifers have learned to create their own sources of income. They often work remotely, such as freelancing or running an online business. Others take on seasonal jobs and odd gigs to make money while they travel.
Finding an income source can be one of the most challenging parts about van life. It's highly recommended that you come up with a plan before you hit the road–or at least have a strong savings buffer.
Some examples of van life incomes include: photography and videography gigs, marketing, virtual assistant jobs, project management, accounting, customer service, travel nursing, data entry, writing, sales, and seasonal employment.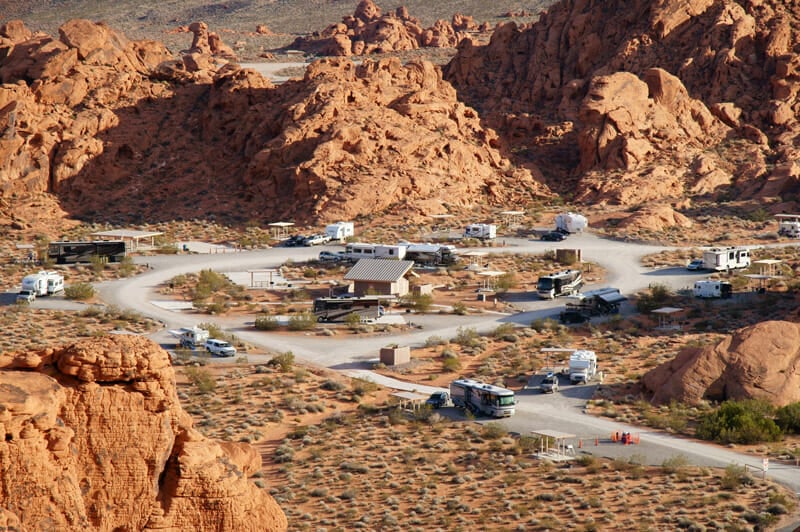 Community
Living in a van doesn't have to be a solitary experience. There are many van life communities and gatherings out there for people who want to connect with others.
These communities are not only great for moral and emotional support, but they can also be helpful when it comes to practical travel questions and advice.
Online, there are many van life communities which are active on Facebook, Instagram, and Reddit. You can also find several forums including The Project Vanlife Forum and Cheap RV Living Forum.
In person, van life gatherings and rallies are held in various parts of the world. The Rubber Tramp Rendezvous is one of the most popular, and there are several others including Adventure Van Expo, Open Roads Fest, and Descend on Bend.
Van Life FAQs
Is it illegal to live in a van?
The legality of van living varies from city to city, so it's important to check local laws and regulations. Generally speaking, van life is allowed in most places as long as you observe parking restrictions and follow other basic rules.
How do you finance van life?
Many van lifers finance their van life through a combination of income sources, such as remote work and odd jobs. Others choose to save money before starting van life or get creative with seasonal jobs.
What to pack for van life?
It's important to pack wisely and make the most of your van's limited space. Van life essentials include adaptable clothing and footwear, cooking and food supplies, hygiene items, and basic maintenance tools.
How long can you live in a van?
There's no definitive answer to this question. How long you can van life for will depend on your lifestyle, financial resources, and van setup. Many van lifers live full-time in their vans for years at a time.
How much does it cost to start van life?
The cost of van life depends on the van you choose and how much you build out. On average, van lifers can expect to pay anywhere from a few hundred dollars to several thousand for their van setup.
Is it hard to van life with a dog?
Van life with a dog is possible, but it comes with its own unique set of challenges. It requires extra planning for safety, space considerations, and even potty breaks. But if done right van life can be just as enjoyable for your pet as it is for you!
Our Experience living in a van full time
When we decided to try van life for first time, we weren't really sure what to expect.
Our plan was to set off on a year-long trip in a 1996 Dodge Ram Van. The purpose was to go on an adventure, see the places we haven't been and do a little bit of work along the way.
We are not stealth campers and spent the majority of our time at free camping on public lands.
Not everyone's experience of van life is going to be the same. Someone living in a van for financial reasons–or cruising in a $100k Sprinter conversion is going to have quite a different trip than us.
Why we chose to live in a van
Ultimately, choosing to live in a van can be one of the most rewarding experiences of your life. These are the reasons we chose to live the van life:
Relatively inexpensive: You can choose to spend as much or as little as you want on a van build. Some people convert the car they already own for under $500, and others spend up to $150,000 on the ultimate adventure camper.
Extremely mobile: Unlike an RV, you can fit into a regular parking space with a van. They're not as tall, so you usually don't have to worry about height. You'll get better gas mileage in a camper van than you would with a travel trailer, and they can more easily drive up winding mountain roads or go off-trail in the desert.
More comfortable than camping: In a camper van, you'll have the luxury of a regular mattress, shelter in the rain, more control over the temperature, and the ability to store food and belongings that you wouldn't have when tent camping.
Free camping: Because a camper is smaller and less complex than an RV it's easier to go dry camping in the National Forests or even stealth camping in the city.
Electricity: Solar panel setups allow you to get power on the road and charge small electronics, portable refrigerators, or ventilation fans. All of these are a step up from tent camping. *Although you most likely will not be able to power large electronics like an air conditioner or hair dryer, so keep that in mind. *
Bathrooms: In a camper van, you can choose to travel with a portable toilet, and there are options for showers. None of these are going to be luxurious, but they are available.
Pack up and go: The best part about a van conversion is your stuff is always with you. You can spend the night right next to a hiking trail or your favorite waterfall. You don't need to worry about checking in and checking out of an RV park or hotel. You can space out your grocery store trips every few days and visit Starbucks for some Wi-Fi. There is a lot more freedom involved than RV living or tent camping.
Most unexpected parts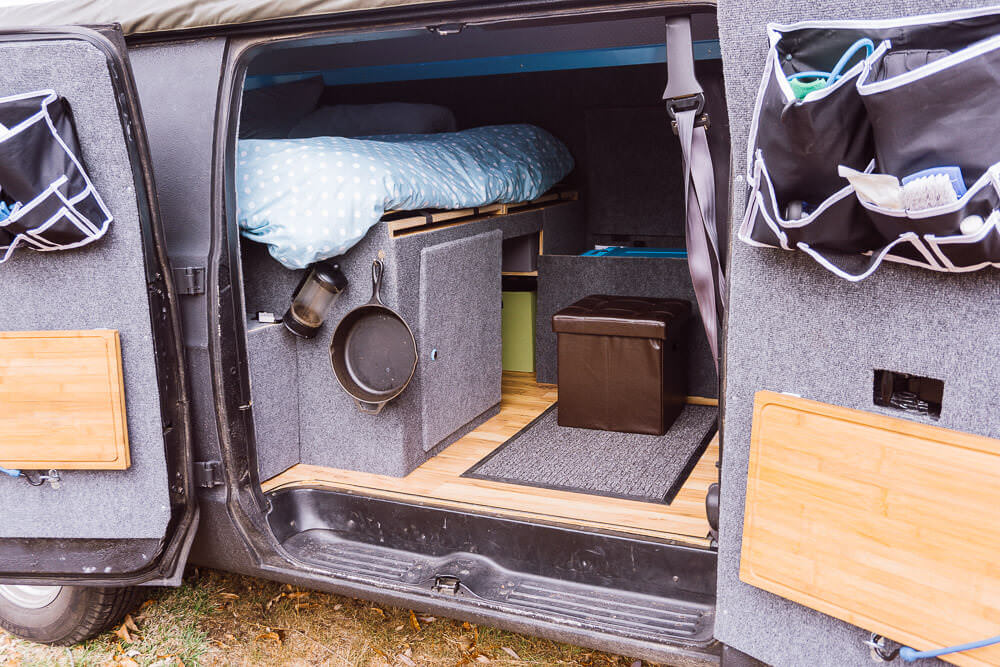 Building the van was a struggle
I wouldn't say this was entirely unexpected, but even with above-average handyman skills, the construction process was a major challenge.
Our van was minimalistic, with no plumbing, no heater, and only 300W of electricity. Nevertheless, my partner and I still got in multiple fights over the littlest things.
Gear placement, what to pack, and the layout of the build were the biggest struggles.
Before starting your DIY camper van build I can only recommend sitting down and working out all the details before you start ripping out walls in order to save a lot of headaches.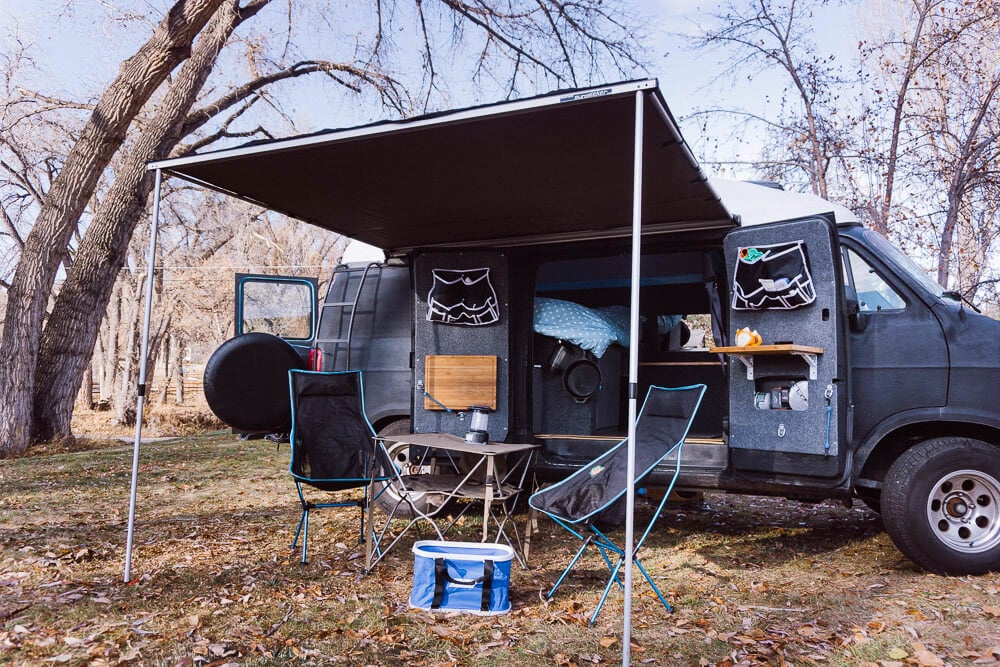 Van life is more comfortable than I was expecting
I expected van life to be a lot like camping. One of the biggest surprises to me was how much cleaner it felt.
Sleeping in a camper van bed makes a huge difference compared to sleeping on the ground in a tent.
In this respect, I think living in a van is more comparable to living in a micro-apartment than camping.
When you wake up you don't have dirt in your fingernails and nothing is wet. Waking up is comfortable.
I've rarely felt the need to jump out of bed and get out of my environment. The sun is not shining in your eyes and the wind is not making you cold.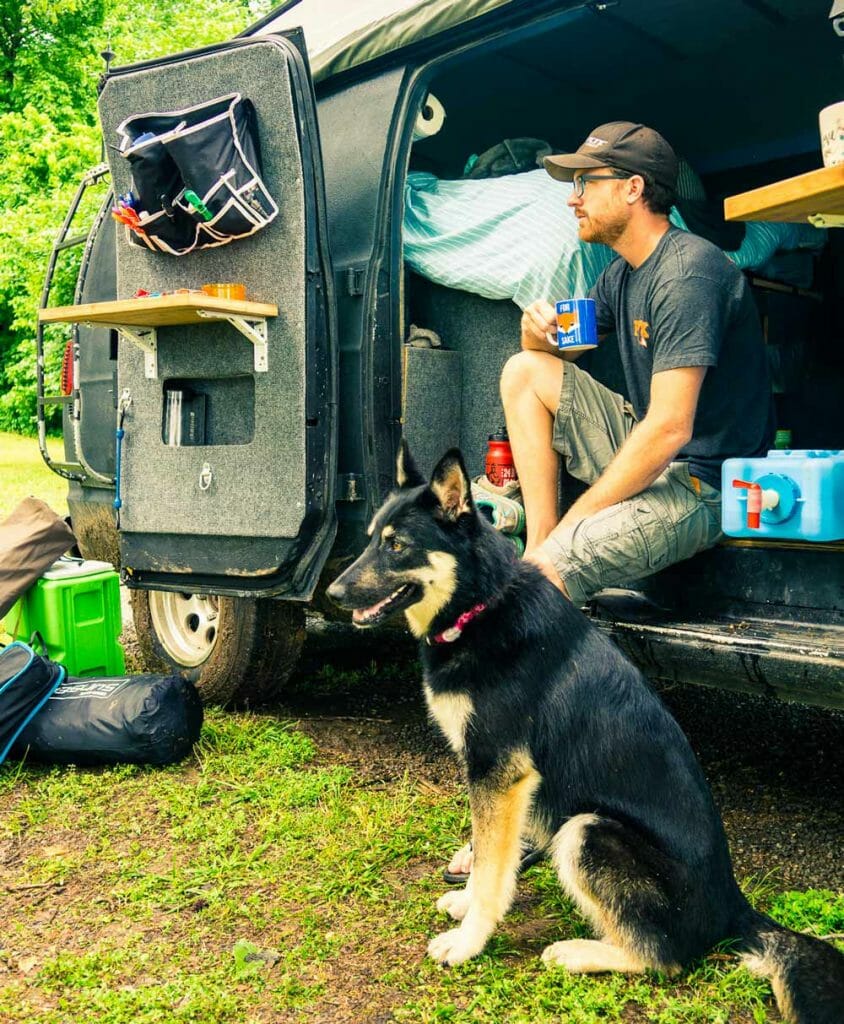 Campfires rarely happened
We noticed on day one that building a campfire was not something we would be doing often.
Many of the vanlifers on Instagram post pictures of their vans parked on a beach with awesome views and a cute little fire.
We have met van dwellers who actually do this, but campfires are not for us. When you build a campfire, everything smells like smoke; the smell seeps into your hair and clothes.
If the fire is too close to your van or the wind is blowing, the smoke gets into everything inside as well.
With showers and laundry far and few between, we quickly noticed that if you want to feel clean, do not build a fire.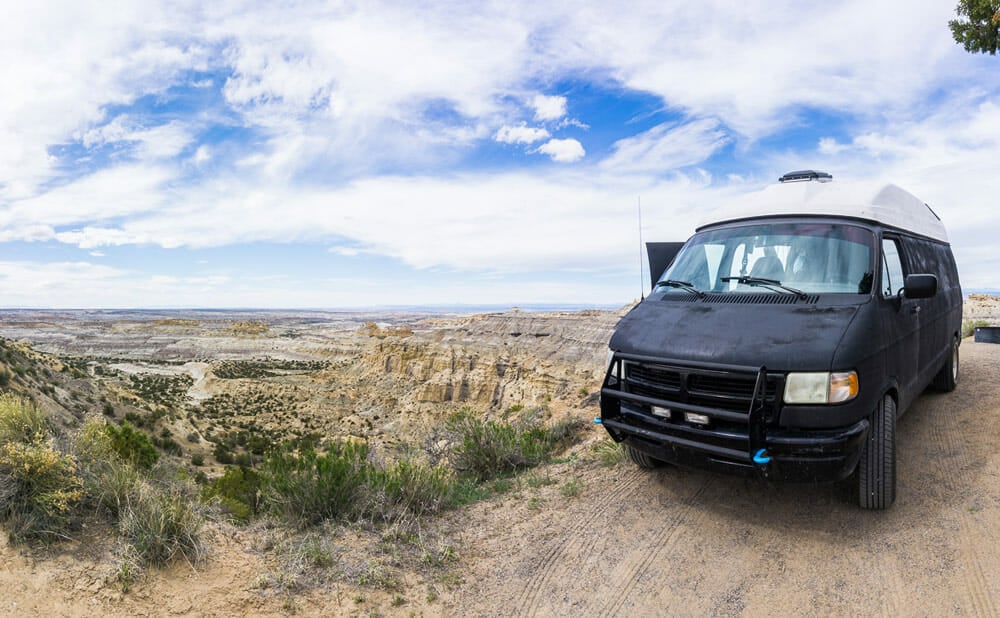 Finding Campgrounds Sucks
Locating campsites was a much more stressful experience than we had anticipated. Coming from Arizona, we were very familiar with finding public lands and free dispersed camping locations on the west coast.
But once we moved to unfamiliar territory we had to rely more on tools like BLM maps, visiting Ranger Stations, asking around, and trying to decipher Google Maps.
One of the things we found most difficult was being able to tell exactly when we crossed into public lands vs when we were still on private property.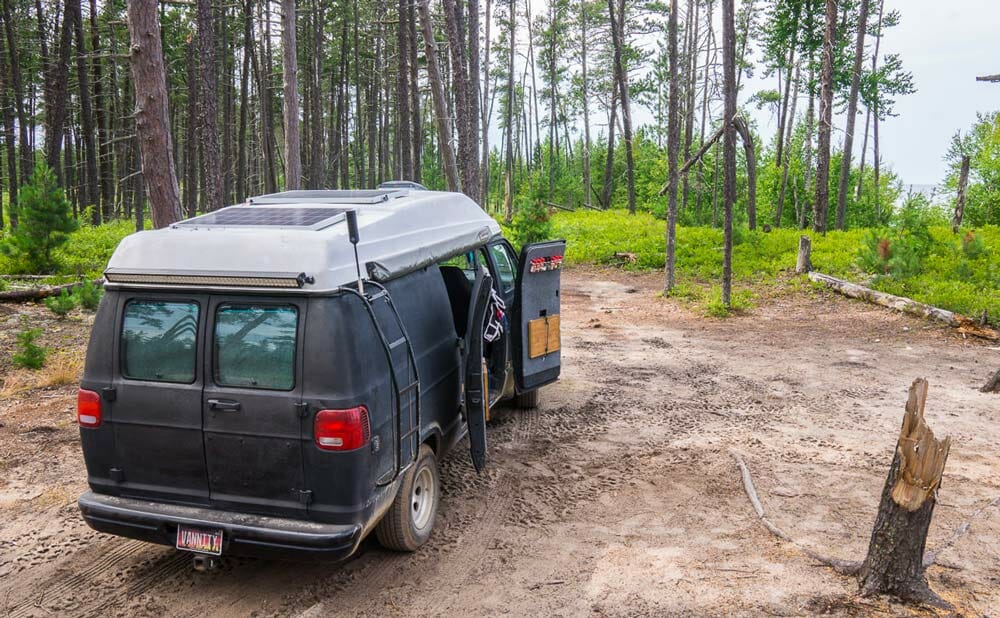 This is especially difficult if you have inconsistent (or no) cell phone service.
Fortunately, since we started the trip in 2017, a few apps have come out that make this process significantly easier.
At this point, we rely on The Dyrt Pro Membership because you can turn on "map layers" to find boundaries for Forest Service, BLM and public lands.
You can download the maps offline and they have a built-in GPS that will show when you cross into free camping areas.
Our sleeping habits changed
When you aren't building campfires, your body quickly adapts to the natural rhythm of the planet.
Within just a few days we noticed we were waking up and going to bed a lot earlier.
Our bodies quickly decided sunrise was the right time to wake up and sunset was the correct time to get in the van for the night.
We've always been morning people to begin with, so it wasn't much of a change.
Without a fire, we don't tend to meander in the dark too long. Normally once the sun sets and it starts getting cold, we retreat to the van to watch movies or read.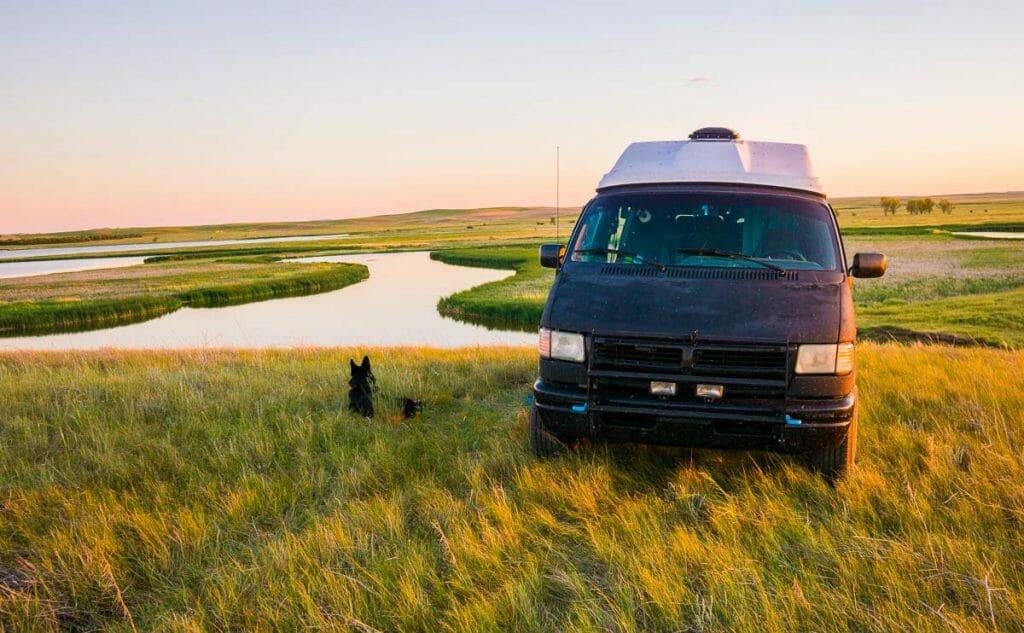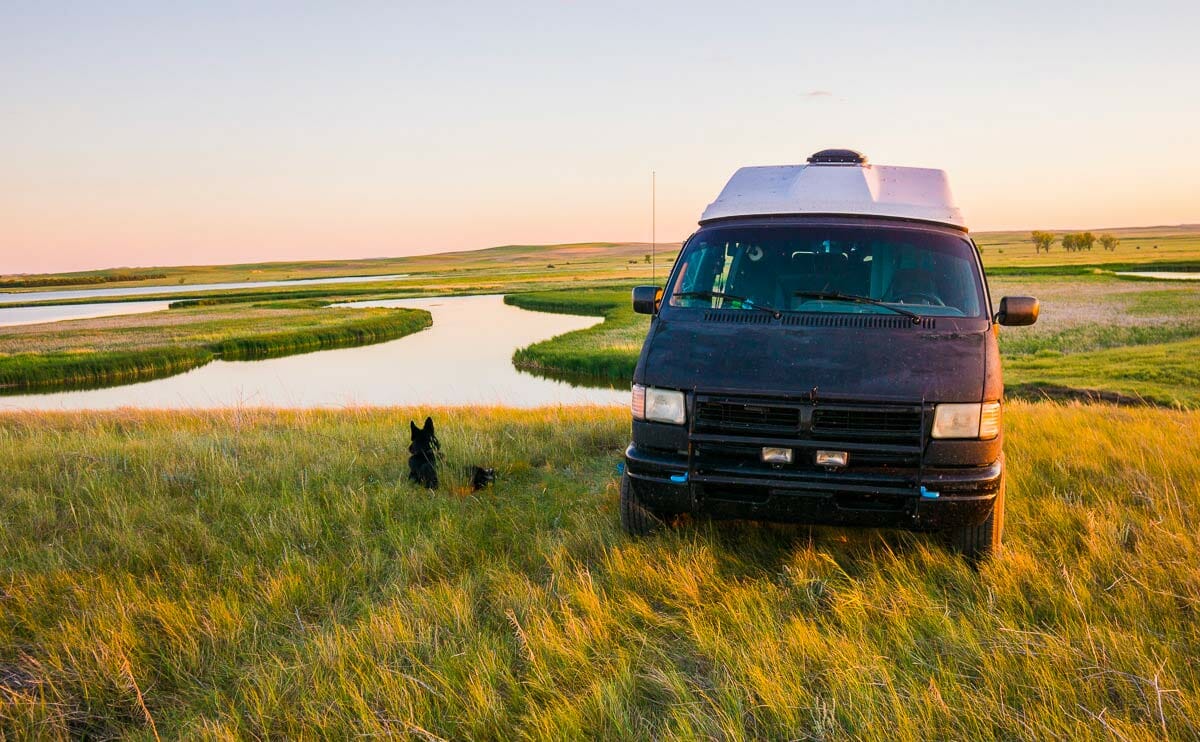 Mosquitos and flying bugs were one of the worst parts of our trip
Coming from Arizona, bugs weren't really something we had thought much about. If you've spent much time in the southwest, you know that insects are basically non-existent compared to the rest of the US.
We were in for quite a shock our first time heading up to northern Minnesota.
We were completely unprepared for insects. The first few nights were miserable. Not only were there mosquitos, but there were flies and no-see-ums as well.
We had not built any bug nets into the van. Our vehicle was poorly sealed, we had no bug spray and it was hot out.
At night, we thought we could open the windows. Wrong! The temperatures inside the van quickly rose to over 80.
Our vehicle was insulated for cold weather, not for hot and bugs. We opened the windows and the bugs swarmed in. They were everywhere and it was extremely annoying to say the least.
The next day we went to the hardware store and bought window screens. We were able to make bug net seals with magnets and duct tape; and enacted a rule that the doors to the van would stay completely closed unless someone had to run in and run out.
We found that opening the newly covered windows a few inches and running the vent fan at night was the only way to keep the bugs at bay.
It was still hot, and a lot of bugs still managed to get into the van; but it was somewhat livable.
Bugs are probably the most annoying part of our road trip so far.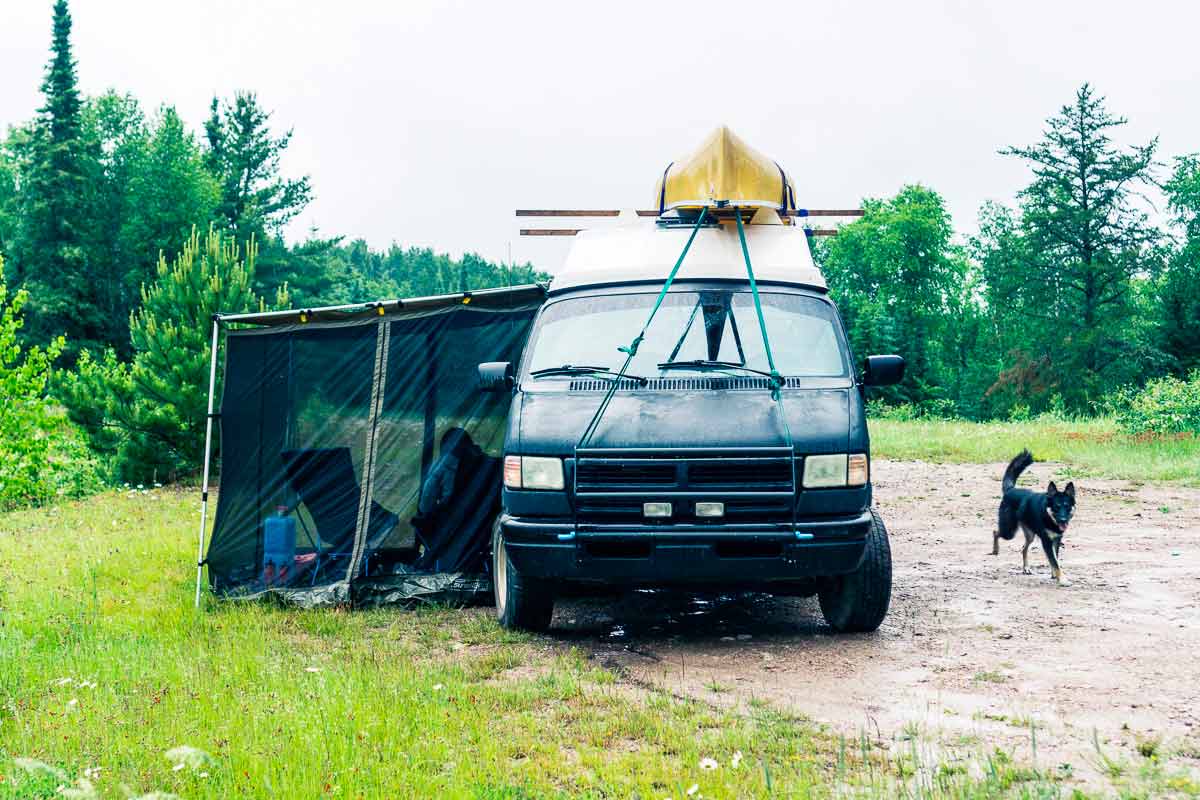 Avoid the ticks
Ticks were another unexpected van life surprise. I had never actually seen a tick before this road trip, so when I noticed our dog coming back with lumps on her back I was concerned.
A trip to the vet's office and we came back loaded with tick collars, spray and determination.
Pulling ticks out of our dog became a multiple-times-per-day activity. She was completely covered in them even with a collar.
Not only were the ticks on her, but they were on us as well. Nightly tick checks became routine. I even woke up to ticks crawling in my bed.
Did I say bugs were the most annoying part of our trip?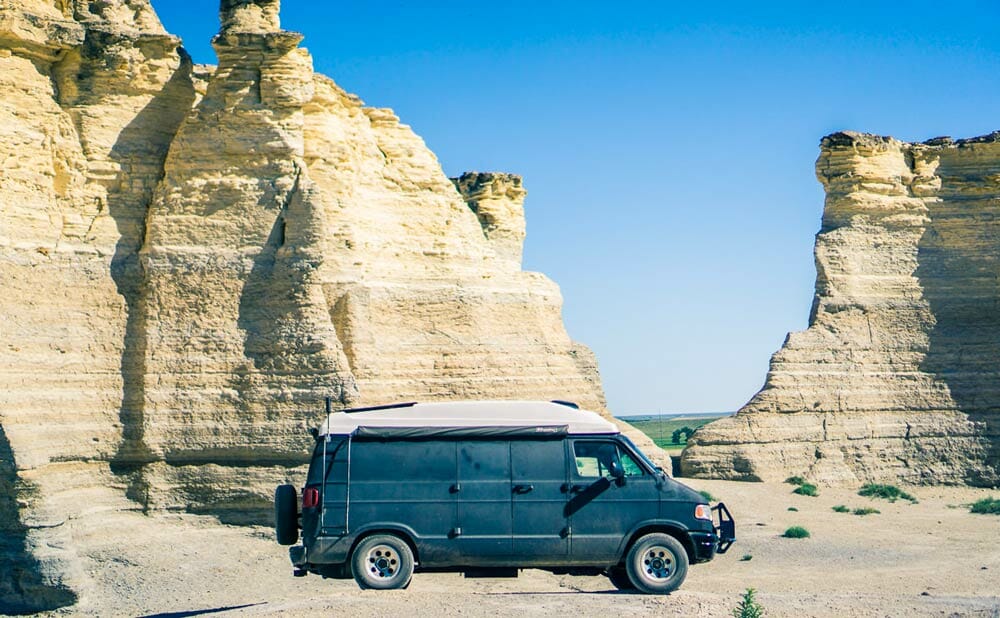 Temperature control can be tricky
We were prepared for the cold. In fact, for the first year we had nearly perfect weather. If anything it was too hot.
So far for us, it has been easy to bundle up and stay warm in the cold. Not so much when it's hot.
Running our van fan helped a lot, but in the Texas heat with the sun beating down on the insulated car all day there's not a whole lot you can do.
The refrigerator had to work overtime to stay cool inside. This meant more heat coming out of the fridge as it worked and less power for a fan at night.
We ended up pulling out a tent and sleeping outside for a few nights. The heat is not fun and I would recommend heading North when it starts getting warm.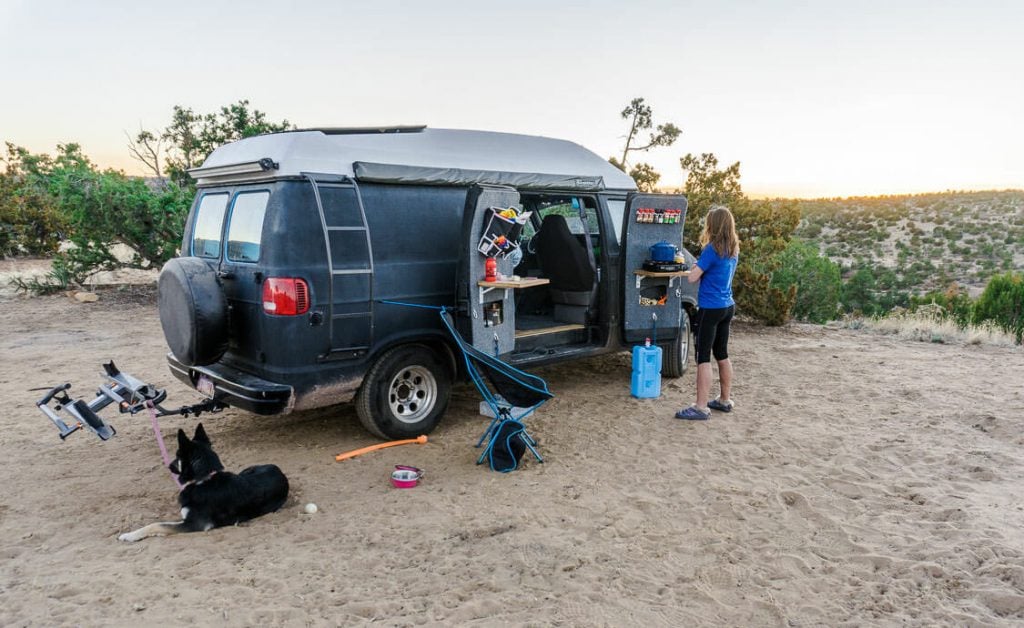 Our diets changed
Although we don't have an elaborate setup, space constraints have turned out to be almost a non-issue when cooking in the van.
What we hadn't expected was unless you're going stealth, you don't need to cook in the van. 95% of our cooking is done outside.
In fact, 95% of our time is spent outside. We have plenty of room to spread out and cook in nature and it's very enjoyable.
The 5% of the time it is raining or extremely windy however, is not very fun. Our van is small. There is not enough room for two people to be effectively standing up at the same time.
If we have to cook inside, one person will do the majority of the cooking and the other person will either have to sit in the cab or on the bed.
That person might cut up veggies, but for the most part only one person can cook at a time.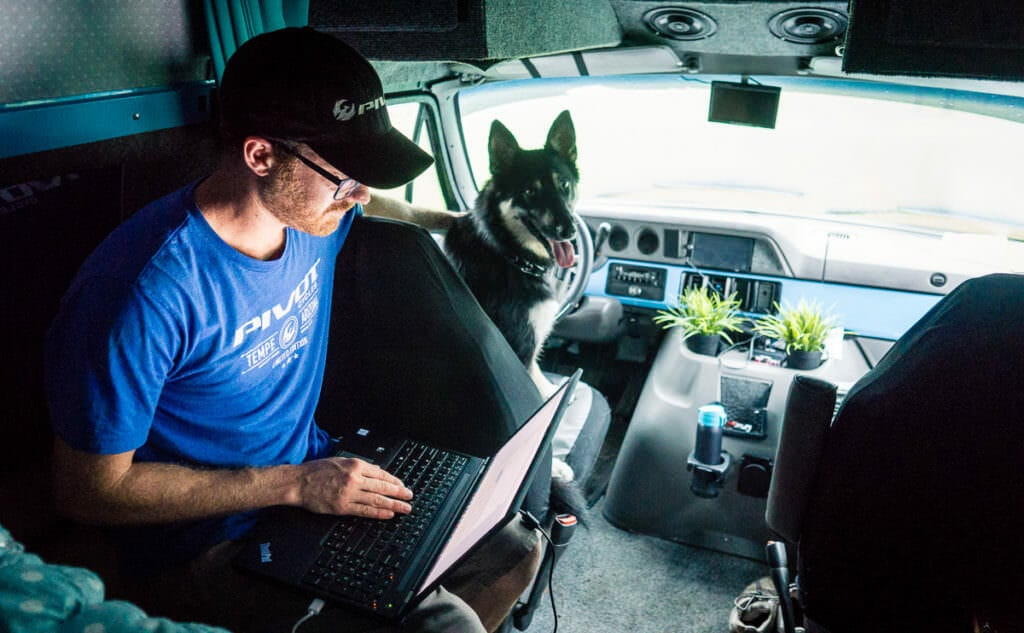 Surprise! Vans are small
A van is small, there is no privacy. As stated earlier, it's nearly impossible to have two people standing up and moving around at the same time. This is just something you get used to.
It has never been much of an issue for us, but it is something to be aware of. If someone wants to get dressed in the morning, the other person either has to go outside or move out of the way.
When you are lying in bed trying to take a nap, you will feel the van rock every time someone steps into the van. If you are sleeping at night and the dog decides to roll over or move around, it is going to wake you up.
There is not really a solution for this, but you're in nature so just hang out outside!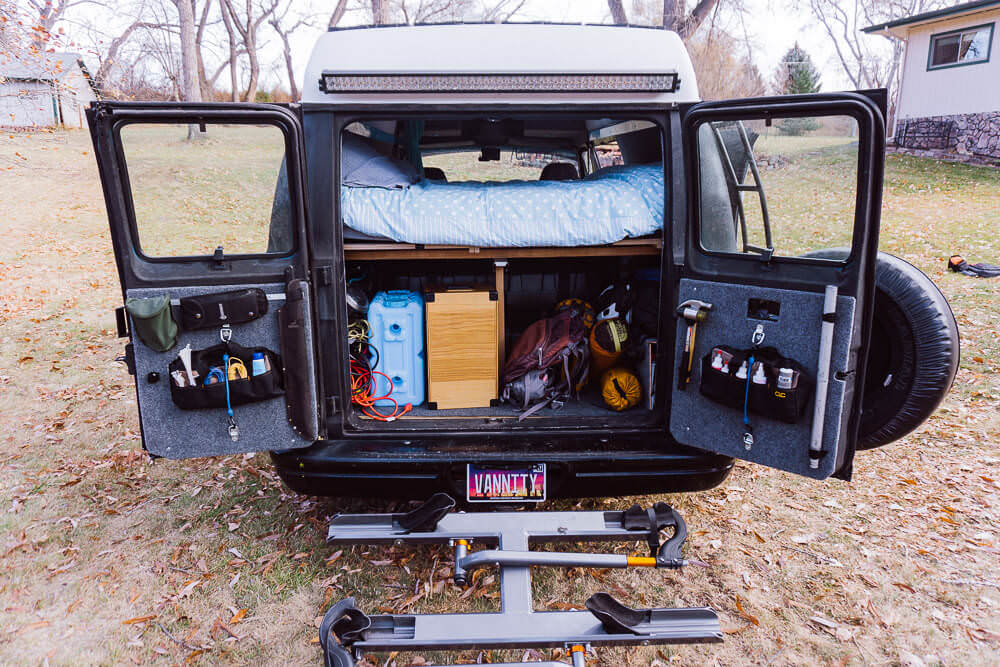 We packed too much
When we first started van life, I packed way too much stuff. In fact, I still have too much stuff! It's amazing how the van lifestyle will quickly change your opinions on what's really important.
Each time I go back to visit friends and family, I end up leaving more stuff behind. In a van, almost everything in life becomes replaceable.
Things get dirty, wet, shoved around and forgotten all the time.
Things like nail polish, makeup and bottles of deodorant fluctuate through extreme temperature changes and over time you just don't care anymore.
We're currently in the process of re-building parts of the inside of our van to give us less storage space, but better organization.
We quickly learned that almost anything you need can be bought along the way. It also makes no sense to purchase souvenirs or do too much shopping because there simply isn't space.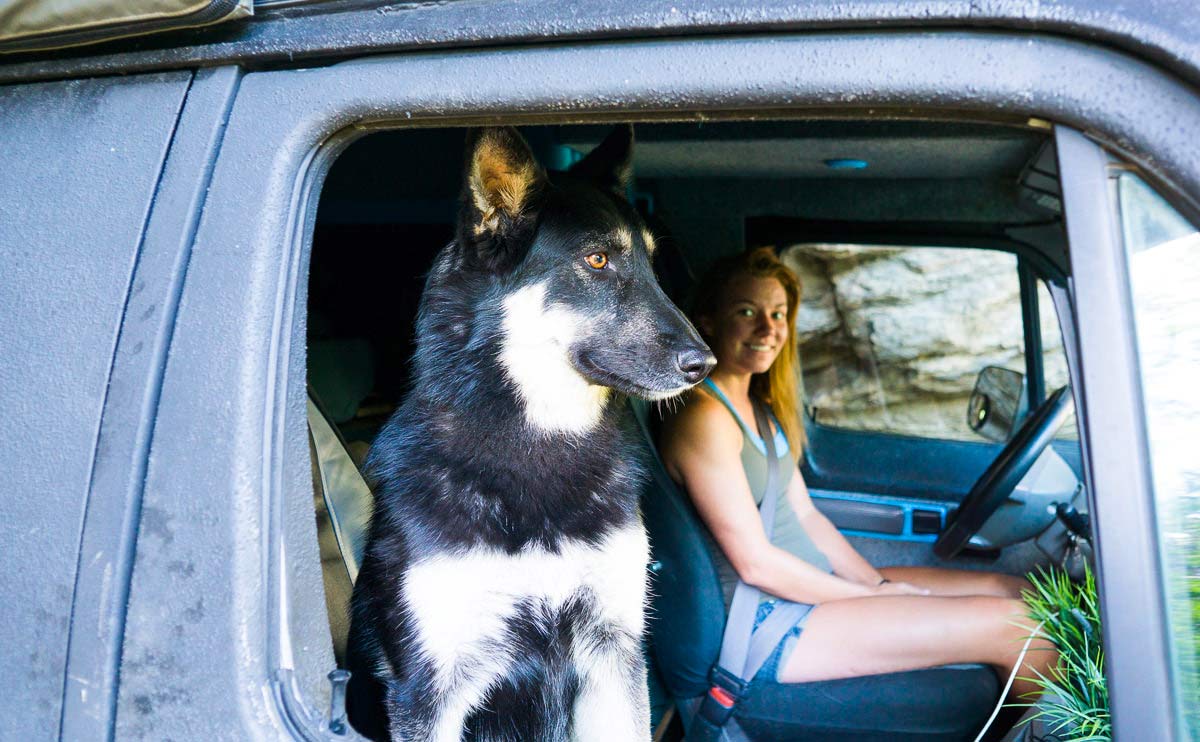 A dog will drastically change your plans
We had a lot of concerns when we were deciding whether or not to bring our dog on the trip or leave her with friends. In the end, I can't imagine doing this trip without her. Van life with a dog sounded annoying and difficult at first.
I wasn't sure what we would do with her when we wanted to go to national parks or out for dinner. Taking care of a Harper on the road turned out to be one of the easiest transitions of the trip.
Harper is having the time of her life chasing squirrels in every state and going on hikes every single day.
We think that bringing Harper along has made us a healthier and more active. Having her around reminds us to get up and move every day; we spend a lot more time doing cheap, physical activities. Because of our dog, we also eat out much less than I was expecting which has saved us a lot of money.
There are more places that allow dogs than I was assuming. If there is somewhere we really wanted to go that was not dog-friendly, it is fairly easy and inexpensive to drop her off with a rover.com host and spend the day at Harry Potter World.
Leaving her in the car is of course a concern. However, this happens pretty infrequently, we are cognizant of the temperatures, and if it is warm one of us will just stay with her. I wouldn't hesitate to Harper on a trip like this again.
Cleaning is hard
Keeping the van clean took a little bit of practice at first. When you're living in a van, everything has to be put away each night and every morning. Organization is key.
We hadn't realized the extent of this when we were building out our van, and at first we had not organized things in the best way.
The items you use most often need to be easy to reach. At first we had our coffee cups stored back behind our clothes.
As it turns out, having to pull everything out to get to the coffee mugs is not ideal.
One of the first modifications we made was swapping out the cloth seat covers with leather. We found that dog hair sticks to cloth like crazy and the leather ones were much easier to wipe off.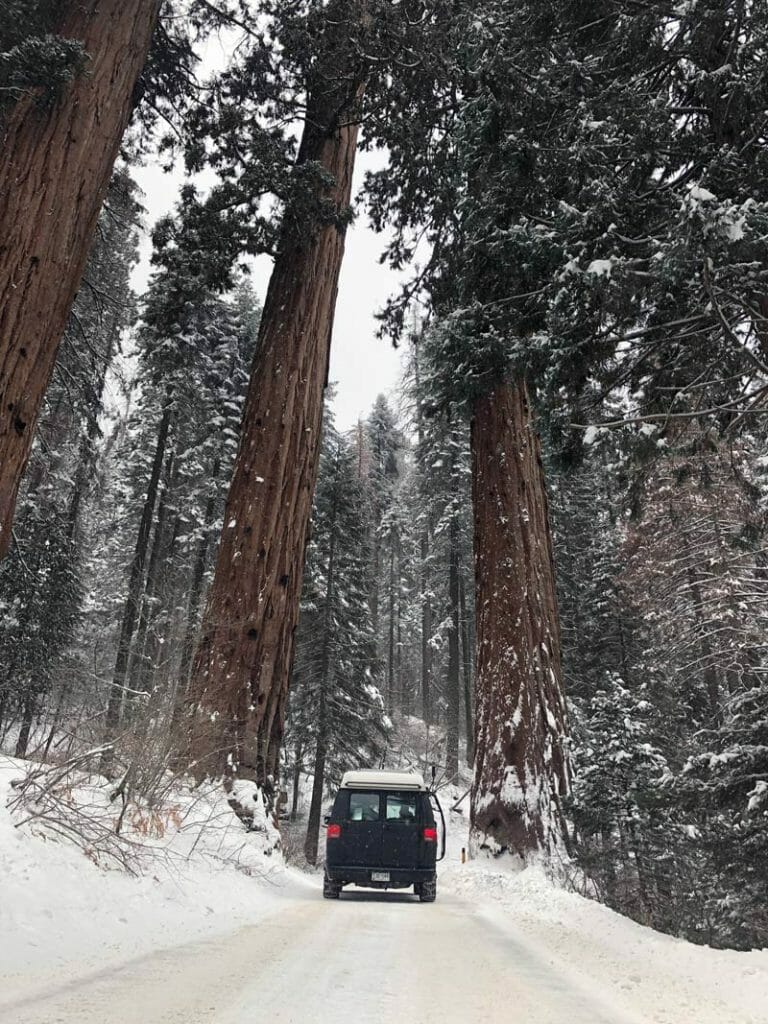 Environment matters a lot when it comes to the van life. In the southwest we rarely got rain and dirt is easy to wipe off. Once we traveled east, mud and even snow became a problem.
When it comes to mud, you learn to live with it a little. We came up with a routine of waiting for the mud to dry, then scratching it off with a bristle brush.
Beaches aren't as cool as they look. We've always been mountain people more than beach people, but after experiencing sand we are even more set in our ways.
Those glamour shots with a van parked on a beach next to the waves are not nearly as relaxing in person.
Unless you're big into surfing- which we are not- beaches can get really annoying.
Sand will get literally everywhere in your van on a beach even if you're careful. After just a few hours, you will be thinking 'f**k it, I don't even care if sand gets in my car'.
In the end, a trip to a car wash vacuum cleaner will make you feel better and life will be good.
Bathrooms are easy to find!
Showers and bathrooms were one of my biggest concerns when leaving and it turned out to be a non-issue. We actually even packed a portable toilet to bring along in case of emergencies.
I am happy to report that bathrooms are literally everywhere: campsites, gas stations, public places ect.
They may not be the best bathrooms, many times campsites just have vault toilets, but they are around.
We got rid of our portable toilet three months into our trip because it was taking up space and it's never been used.
Showers don't happen every day and that wasn't a surprise. As I said earlier, overall, I felt much cleaner than I expected to.
There are a number of different ways to find public showers. We haven't had much of a problem getting them every other day or every two days.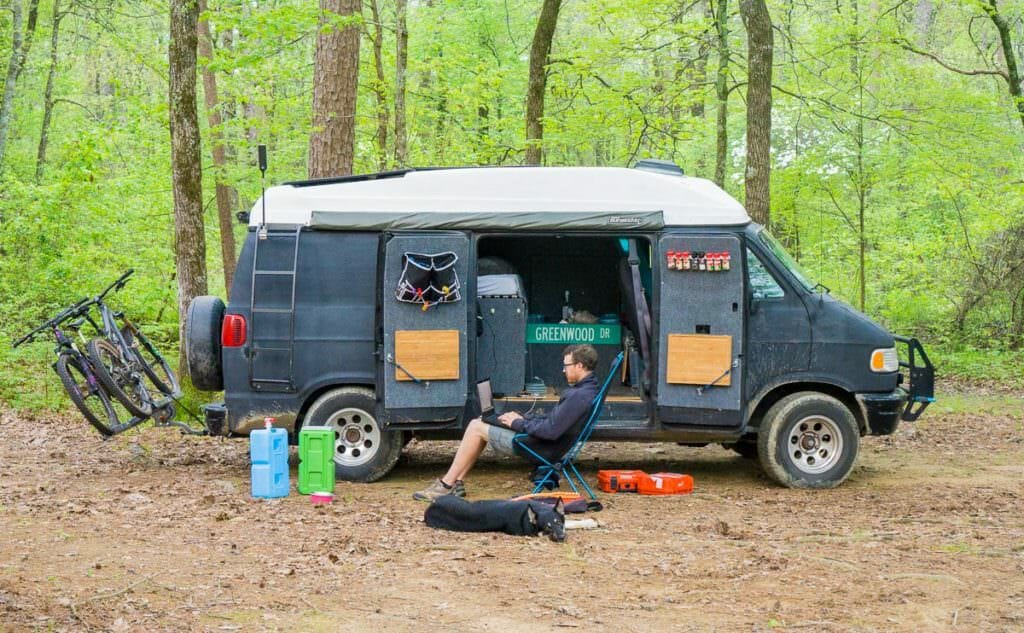 Internet service troubles
We both work online and internet wasn't something I had expected to be so frustrating when we left.
We are both currently using Visible (which runs on the Verizon network) and hot-spot to our phones or work in a café when necessary.
This wasn't much of a problem at first, but when you start getting into forested southern New Mexico or northern Maine, internet becomes a huge problem.
It is one thing to plan for not having internet for a few days. It's another to think you will have internet and suddenly be in a blackout zone for 2 days unable to check your email.
When we don't have internet, I am in a constant state of stress. I'm always worried about missing emails or not being available for something important. A cell signal booster has seemed to help a lot, but it is not perfect.
There is no great solution, but over time you relax more and learn to roll with the punches. I no longer go into panic mode when we don't have internet.
Vanlife has made me much more carefree and relaxed overtime. The stress would probably also be much less if I weren't trying to keep up with clients.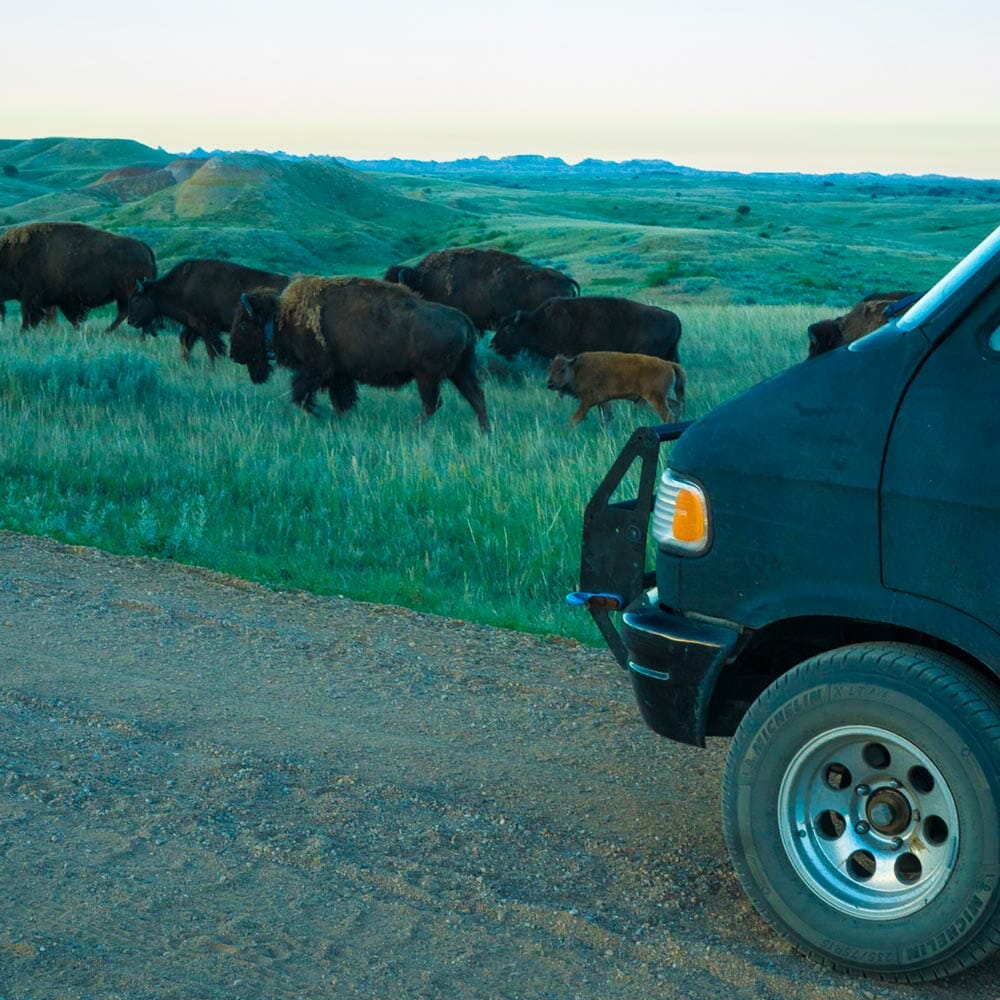 Mechanical issues will happen
We've run into mechanical issues three times in our trip so far. All three times we were lucky enough to be relatively close to town.
Some issues you can fix on your own, but not having the proper tools is going to prevent a lot of self-help.
It feels pretty hopeless when you watch your home get towed away to a mechanic shop. We were once stranded in a motel in Dollywood, TN for three days.
Mechanical issues suck, but it's important to expect that it will happen and stay positive.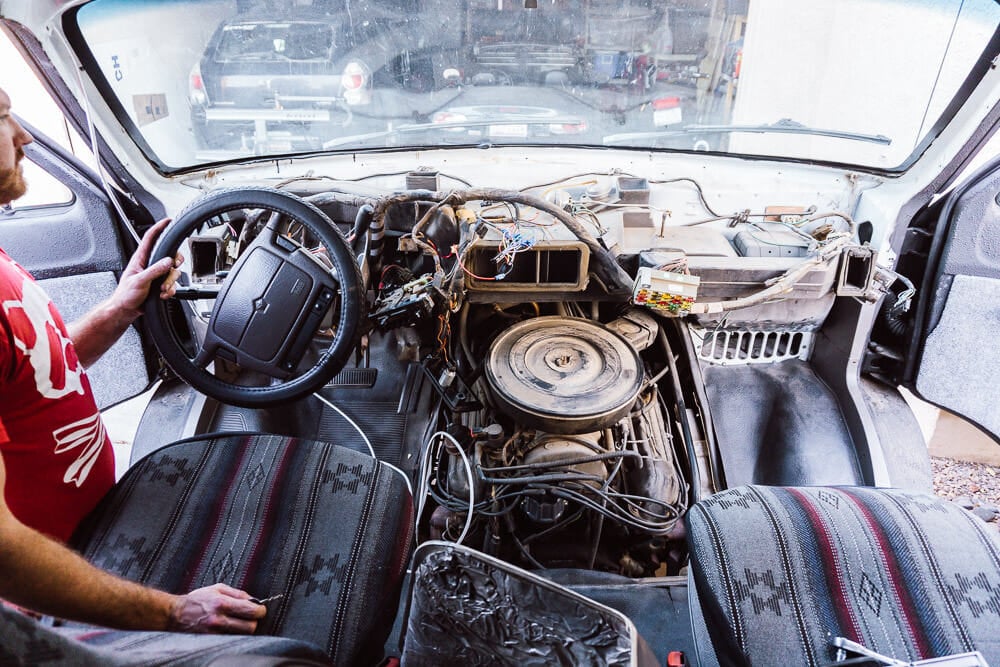 Insurance can be hard to find
As it turns out, finding insurance for a DIY conversion is not the easiest. Most "name brand" insurance companies don't know how to classify your vehicle.
We weren't quite an RV because we didn't have a permanent kitchen set up or plumbing.
We ended up getting regular automobile insurance, but that didn't cover our belongings. So we used a parent's address and renter's insurance to cover the odds and ends.
Fortunately, things have come a long way since 2017.
These days you can get camper van insurance through companies like Roamly which will cover "odd" vehicles like homemade camper vans that would normally fall through the cracks.
They have policies which can get you RV coverage just for having a camping toilet in your vehicle (no plumbing required).
And they can insure the stuff inside your vehicle like laptops and battery banks if you have an itemized list and documentation.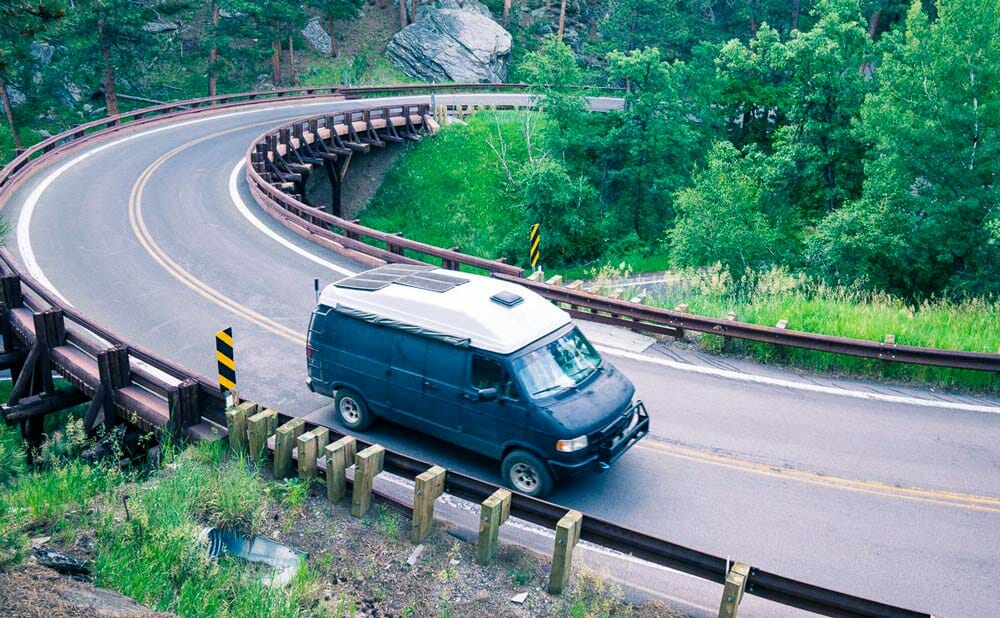 Keep loose plans
When we first took off we wanted to do everything. We had a hard time coming to agreements on where to go and what to do each day.
We felt as if every day we had to go somewhere new and if we had to sit in one place for a full day it was a planning failure.
Over time we've become much more relaxed about the whole travel thing. It's funny to think about how agitated we used to get with each other over where to go.
Our plans have become looser and looser the longer we've traveled and it's a lot less stressful and more enjoyable.
We currently use The Dyrt App for our trip planner when we need to map out a route far off in the future.
It can help you find free campgrounds and other destinations along your route. The app also tracks mileage and gas so there's less surprises.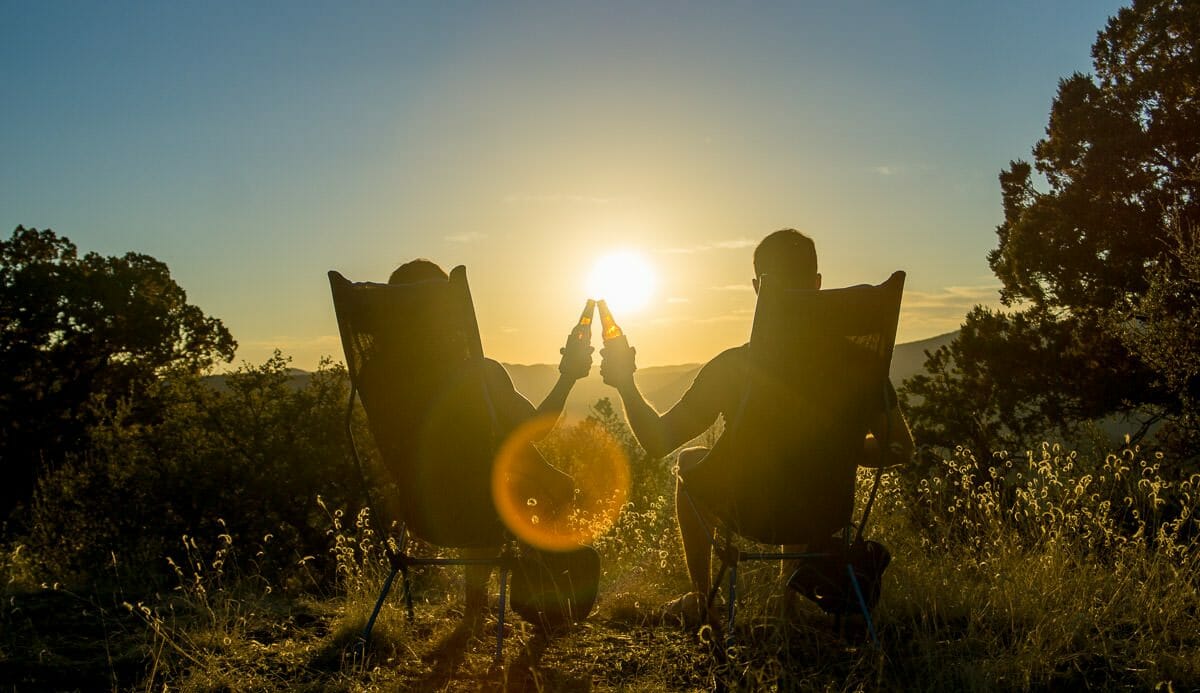 There's never enough time
By far, the biggest realization we've come to when living in a van is that you don't have time for everything.
When we imagined living the van life, we thought every day we would drive somewhere cool.
We would work on the road, go on hikes, go to museums, take up yoga, read, workout, watch movies, learn new skills, journal and draw.
We were so wrong when it came to how much time we would have.
Time flies and there's definitely not enough of it to do everything you want to do. We thought we could circle the whole US in a year.
Our first stop was New Mexico, and we ended up spending three weeks.
Even three weeks was not enough! The more places you visit, the list of things you still want to see is going to grow longer.
In the beginning, we would be in a constant state of stress that we were leaving a state without experiencing everything we wanted to see.
That's changed a lot and we've learned to prioritize the types of things we want to do (hike and exercise), and skip the things that aren't as exciting (go to beaches and museums).
Overall, living the van life has proven to be one of the most exciting times of our lives. There are a few downsides, but I'm grateful for the opportunity to be able to live this lifestyle.