Adventure Vehicle Selection Process
There are countless resources to weed through to find the pros and cons of different living vehicles. I'm a fan of Bob Well's site Cheaprvliving.com which covers extensively the different options among many other really good tips for vandwelling. But for our specific ride, we really wanted to give off that "free candy" vibe that you can only find on Craigslist.
Some Of The Deciding Factors We Started With:
We had an $8k budget for the build (+ about 5k of emergency for repairs that we'll likely see on the road), which means that the more we spent on the van, the less we would have to upgrade the interior.
Full sized cargo van. These usually come with a V8 and drivetrain that can easily handle hauling a loaded buildout through mountain passes. They are also used as fleet vehicles (plumbers, U-Haul, etc.) which means there are a bunch of them on the road and the parts are cheap with plenty of folks who know how to work on them. This goes double because they're based on full sized trucks which are the American staple of excess. VW euro campers are more romantic and often come with living areas in them but parts are expensive and if you get older ones they're underpowered for only minimal mpg gains.
We only wanted a couple of windows because it's easier to build around, more private, and more insulated.
Sprinters at this point are too expensive because they aren't fully saturated on the used market. I'd love a diesel Dodge/Mercedes but the parts and availability weren't quite there for our budget.
Conversion top. We didn't have the space or environment to add one ourselves so we limited our search to vans with one already installed. Because we were going to put the bikes inside the van, this seemed a necessity to get any kind of reasonable room for sleeping.
1996 or newer. OBDII vehicles are easier to work on for me as I don't have 10 years of experience diagnosing vacuum gauges or working on carbs, plus they're easier to pass emissions in AZ. The older systems are cheaper and easier to modify but just not worth the maintenance in my experience.
After that for every vehicle I'd find I'd do a quick internet search to see the common problems and configurations to avoid (bad transmissions, failing ECU's etc), which is a wise practice to do for any used car. My search focused mostly on the Ford Econoline, Dodge Ram Van, and Chevy Expresses. We looked at dozens over several months and test drove about five vehicles before narrowing it down to this 1996 Dodge B1500: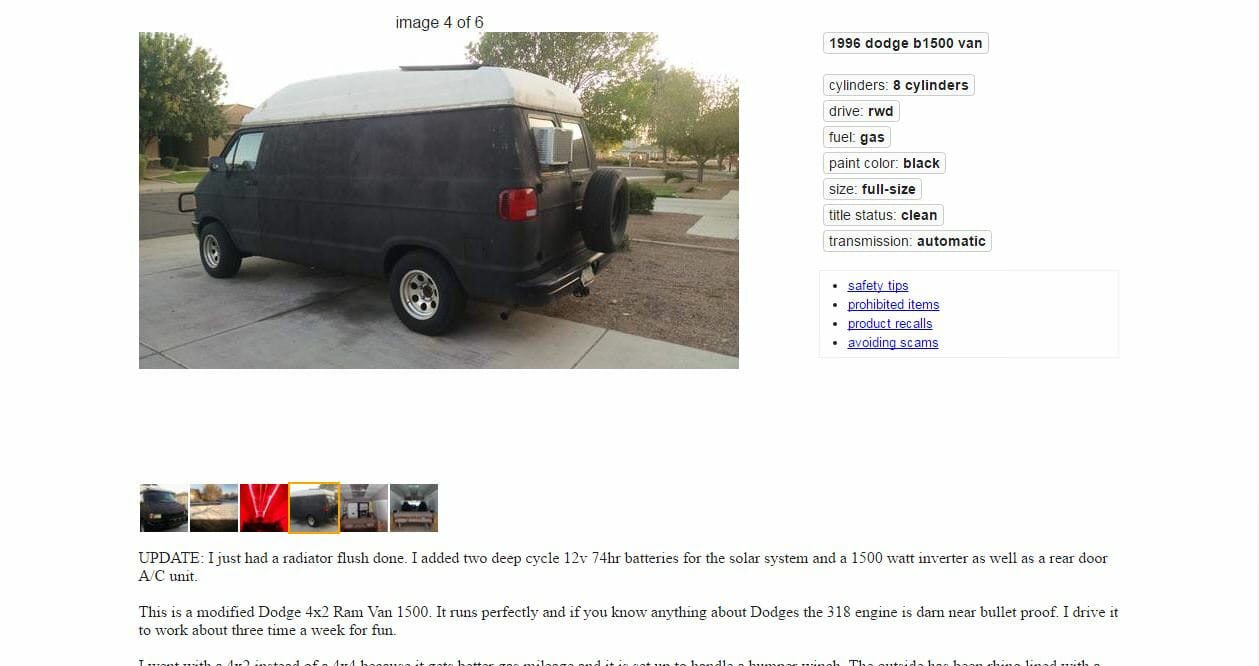 The Top 5 Reasons We Chose This Van:
Matte black bedliner. I'm still surprised Kate was as enthusiastic about this as she was
Halfway through the conversion process. This had solar and batteries and such already installed so it was on it's way to where we were going anyway. In the end we didn't use much of it, but at the time we didn't know how we were going to lay things out so it was enticing to have some of it in there and save us some time.
Insulated with spray foam. This stuff has a pretty high R-value compared to traditional van building materials.
Price. At $3700 with no major issues and being in rust-free Arizona it's whole life we had a lot of extra funds to fix it up.
We could buy it in May, giving us time to build it out over the summer.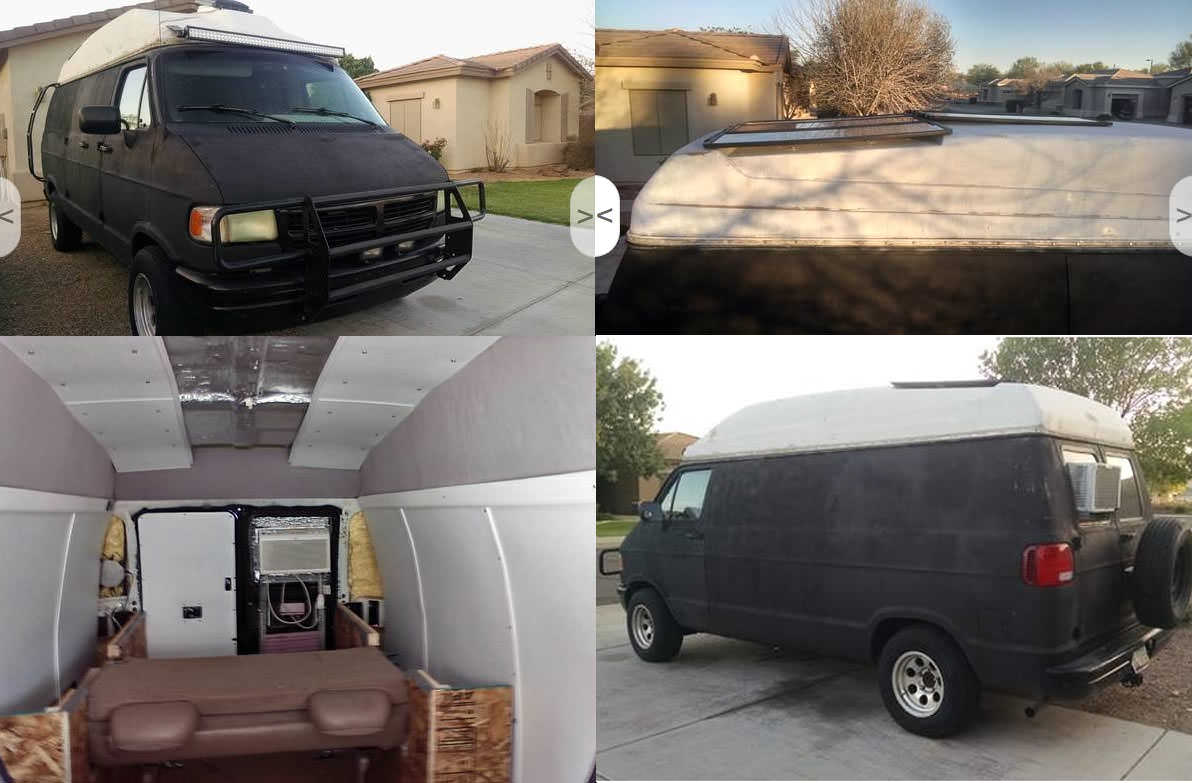 The inverter wasn't quite powerful enough to kick the AC unit on, and it could only run on the battery power for an hour but it was nice to be able to plug it in and run it while working in the AZ summer. It bought us a couple extra hours in the morning before the 110 degree heat beat it into submission. Sweet alloy wheels too.