Best Smores Sticks For Marshmallow Roasting
By
on
This post may contain affiliate links. As an Amazon Associate, I earn from qualifying purchases. Please read my full disclosure.
Imagine yourself sitting around a fire roasting marshmallows and enjoying s'mores with your nearest and dearest. This is a perfect way to end a day of camping or just spend a good time with your family and friends.
Whether you are a professional camper or an exciting family picnic lover, marshmallow roasting sticks are something that will always come in handy.
Where should one get such sticks? The answer lies in this article, where you will learn about the best marshmallow roasting sticks to order in advance as well as how to make marshmallow sticks on your own.
What to Consider While Choosing a Perfect Marshmallow Roasting Stick?
Choosing a proper marshmallow roasting stick is a vital part of a safe, high-quality family time.
Not all roasting sticks are created equal. Let's have a look at a few things you should consider while picking a perfect one.
A handle. This is one of the key features to consider. Nobody wants a stick with an awkward or uncomfortable grip. As you'll likely hold onto it for several minutes, choose the one that will relieve you of the sense of discomfort. Moreover, use handles made from heat-resistant wood. It will protect you from severe burns. 
Strength of metal. Your marshmallow roasting sticks need to withstand all that camping throws. As you'll probably store them with other camping gear, they may get beat up the more you use them. High-quality metal is a good idea if you plan to utilize your sticks regularly. Though thicker metal is more cost-consuming, it is worth it!
Safety. It's always important to be aware of safety measures when buying camping gear and supplies, especially if you're camping with children. If not handled properly, the metal sticks can reach dangerous temperatures and cause severe burns. Some rods make it challenging to avoid getting burned while removing your food.
Additionally, take the length of the roasting stick into account. A short rod may cause burns to children or adults. Choose the rods at least 3 or 4 ft long to prevent potential accidents.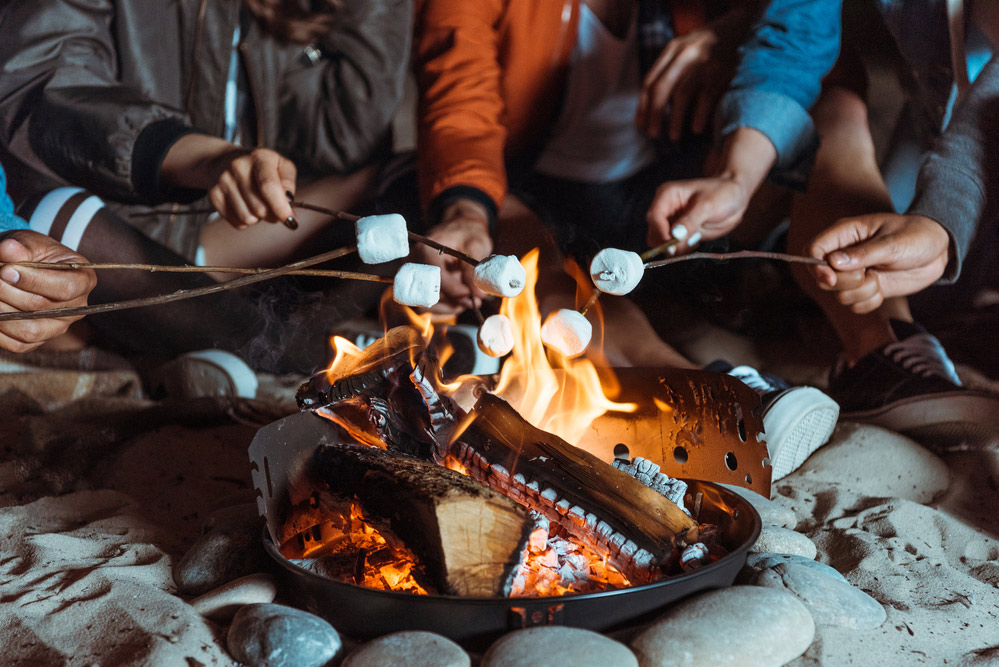 How to Make Your Own Marshmallow Roasting Stick?
Autumn is almost here. This is a perfect time for roasting marshmallows and other tasty stuff on the fire in a cozy atmosphere, wherever you do it – in the backyard using your fire bowl or in the forest using real fire.
But what to put them on? 
Marshmallow roasting sticks are essential campfire accessories. There are many kinds of roasting sticks available on sale.
However, it brings a lot of pleasure and fun when you opt for creating your own sticks. All you need to do is follow the simple tips mentioned below. Let's add a touch of style to the process!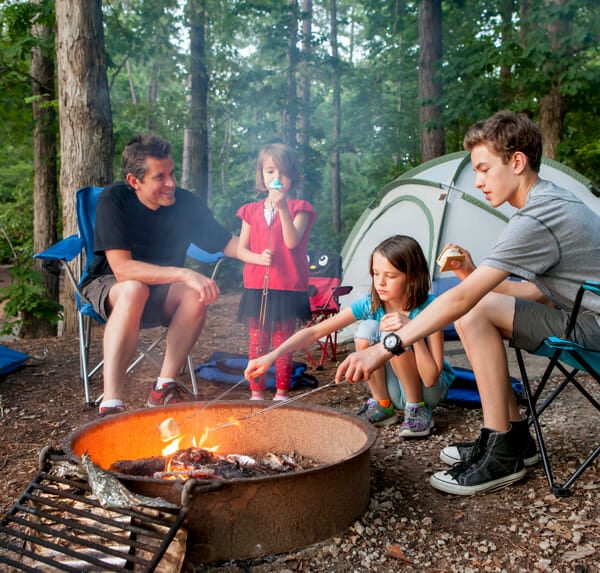 DIY Smores Sticks
DIY s'mores is a perfect activity for families with kids. Before diving into the process of creating your own marshmallow sticks, prepare the supplies. What do we need?
Metal skewers
Drill
Wood dowel rods, at least ¾" thick
Hot glue
Paint (experiment with the colors)
Styrofoam
Now you are ready to start.
Step one: Depending on the length of the stick you want, take the dowel and cut it in half or in thirds. If you've only found the skewers with the loops at the end, you will have to cut such an end with Tin Snips.
Step two: Now it's time for drilling! Drill a hole in the center of the dowel's end. Make sure the hole is big enough to fit your metal skewer.
Step three: Then, take your hot glue gun and press it into the hole. Fill the hole with the hot glue until it fills to the top, then quickly press the skewer into the hole. Swiftly remove any excess glue.
Step four: Mind inserting the skewer face down into a piece of Styrofoam or something soft that will hold it in place while the kids are painting. Sharp objects may poke your kid in the eye, so it's very important to take all necessary precautions.
Step five: Set up a paint station for the kids with paintbrushes, aprons, etc. Switch on creativity mode and have much fun during the painting process.
Step six: After the paint has dried, get ready to light up the backyard fire pit and enjoy your favorite pastime.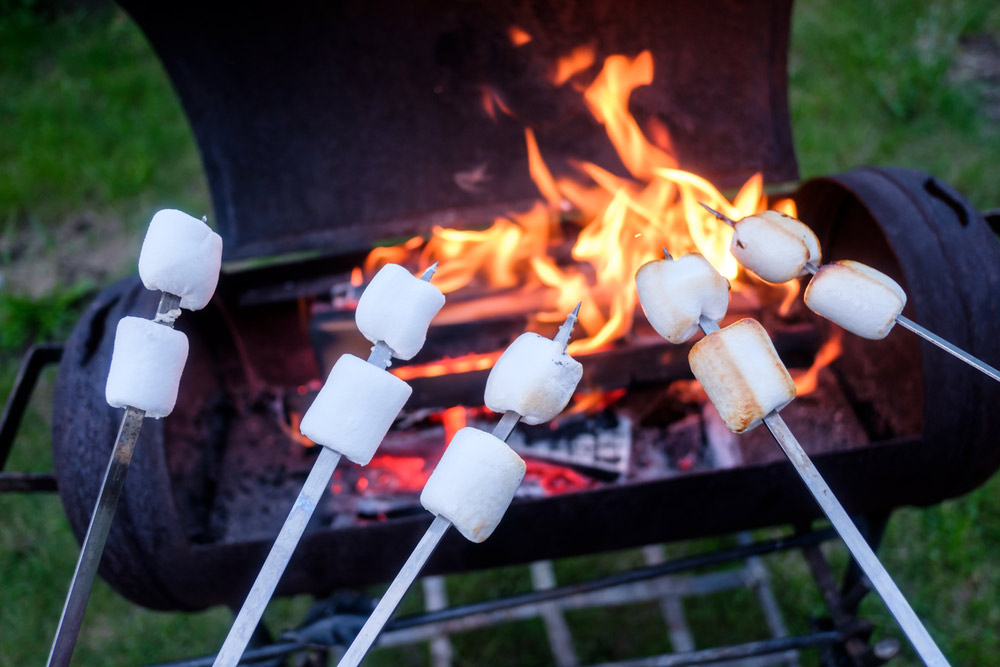 One More Tutorial: DIY Marshmallow Roasting Forks
Now it's time to go to the kitchen and experiment with the forks. To make this kind of stick, you'll need:
Metal fork
Long wooden dowel, broom, or paint roller pole
Aluminum foil
Duct tape
First, take duct tape and wind it around the pole and fork while holding your fork along one top side of the pole. Feel free to add enough duct tape to cover the handle of the fork.
Then run your hand over the tape to smooth it and make sure that the fork is secure.
The next step is to wrap a 12″ long piece of foil around the duct tape. Make sure you've covered the wood on the top of the pole.
Finally, smooth the foil, and then wrap your hands around it to smush it to the pole.
Tada! Your first DIY marshmallow roasting stick is ready. Spear your favorite marshmallows on the tines of the fork and start roasting. If the foil starts getting burned or dirty after numerous uses, simply remove the foil and add a fresh piece.
If you want to clean the marshmallow roasting forks, hold the fork over the open flame to burn off excess marshmallow goo.
Best Marshmallow Roasting Sticks to Order in Advance
If you don't fancy dealing with DIY items, we've prepared a selection of the best marshmallow roasting sticks you can order now. Leave the tree limbs and branches alone and pick any of these great roasting sticks. Let's take a look.
Aoocan Marshmallow Roasting Sticks
Aoocan marshmallow roasting sticks are a perfect option for those who care for their children's safety and those who appreciate high-quality items. 
Why should one choose Aoocan marshmallow roasting sticks? To start with, they are made of non-toxic heat-treated stainless steel, which makes them very easy to clean.
Secondly, their telescoping retracting fork design is suitable for your kids, who are willing to participate in a thrilling marshmallow roasting process. Just feel free to adjust the length.
Finally, due to their non-toxic stainless steel coating, you don't have to worry about rust issues.
Aoocan marshmallow roasting sticks will become your best companions during camping trips, backpacking, fishing trips, or home storage. The wooden handles with different color coding will make your experience even more pleasant.
Jolly Green Rotating Marshmallow Roasting Sticks
This set of 5 Telescoping Forks is everything about versatility, top quality, safety, and cost-saving. You'll immediately fall in love with this compact camping cookware! These roasting sticks can hold the weight of hot dogs or sausages, not to mention marshmallows.
The main benefits of the sticks are durable metal, wooden handles, free heat-resistant carry bag, and great price.
Prepare a fire pit and enjoy making your own marshmallows with Jolly rotating marshmallow roasting sticks.
Briout Marshmallow Roasting Sticks
Briout marshmallow sticks are next on our list. If you have small kids, these sticks are a great choice. With a maximum length of 45″, the sticks will keep you and your kids at a safe distance from the fire.
What is more, a set of ten s'mores skewers includes a rubber handle that also protects your hand from heat and reduces the pressure from food's weight. Enjoy the comfortable rubber handle with finger indents that will protect your hands by giving a firm, steady grip.
Additionally, the fork tip is made of premium quality 304 stainless steel which ensures no rusting and safe roasting. Regarding the telescopic pole, it is made of solid stainless material, which could hold your food steadily. One more benefit is its heat insulation.
Carpathen Campfire Roasting Sticks for Marshmallows and Hot Dogs
Last but not least on our list is a Carpathen set of 6 telescopic s'mores skewers. Shrinking up to 10 inches and extending up to 34 inches, these sticks are great for both comfortable traveling and keeping your children at a safe distance from any fire pits or campfires.
When purchasing these Premium stainless steel expandable sticks, you will get six marshmallow sticks, natural wood handles, six different vibrant color rings, tip protectors for safety, plus a cute Storage Canvas Pouch and Roasting Guide free Ebook with awesome Cooking Recipes.
Don't drag your feet and choose your favorite camping grill accessories suitable for eager campers and bonfire lovers, backyard firepit parties, fireplace s'mores makers, for kids that love sweet treats, girls and boys scouts, wonderful birthday parties, and magical weddings.
Time to Get Your Roasting On
There's definitely something magical about sitting around a campfire and roasting marshmallows with other people. It doesn't really matter whether you just met someone or you've been friends for years; campfires have the power to bring people together.
Upgrade your campfire accessories by creating your own marshmallow roasting sticks or buying ones online. Which campfire roasting stick will you add to your shopping cart?