How To Go Camping With A Baby In Cold Weather – Tips
By
on
This post may contain affiliate links. As an Amazon Associate, I earn from qualifying purchases. Please read my full disclosure.
*This is a guest post submitted by Jannelle Walker
Just because you have an infant doesn't mean you need to put a hold on adventures. Camping with your baby is a great way to spend time together away from the distraction of electronics, and bond in a meaningful way
When my first child Bradly was born I was so excited to take him outdoors. I wanted to share my love of nature with him. I wanted to see him lay in the leaves, and smell the trees. But I was scared. I didn't know how young is too young to take your baby camping?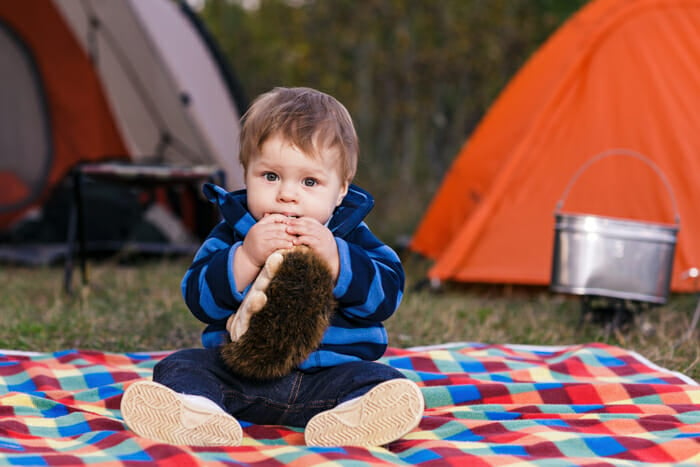 When Bradly turned 7 months old, I mustered up the courage to make it happen. And I'm so glad I did. Camping with my baby turned out to be a wonderful experience, and we've gotten to share this adventure many times since.
There are so many things to plan when taking your child on a first camping trip. From remembering to pack everything, feeding, and keeping your baby on schedule I remember the anxiety. One of the things parents are most concerned about when taking their baby camping is whether or not they will be comfortable.
You can't control the weather, but you can control how prepared you will be.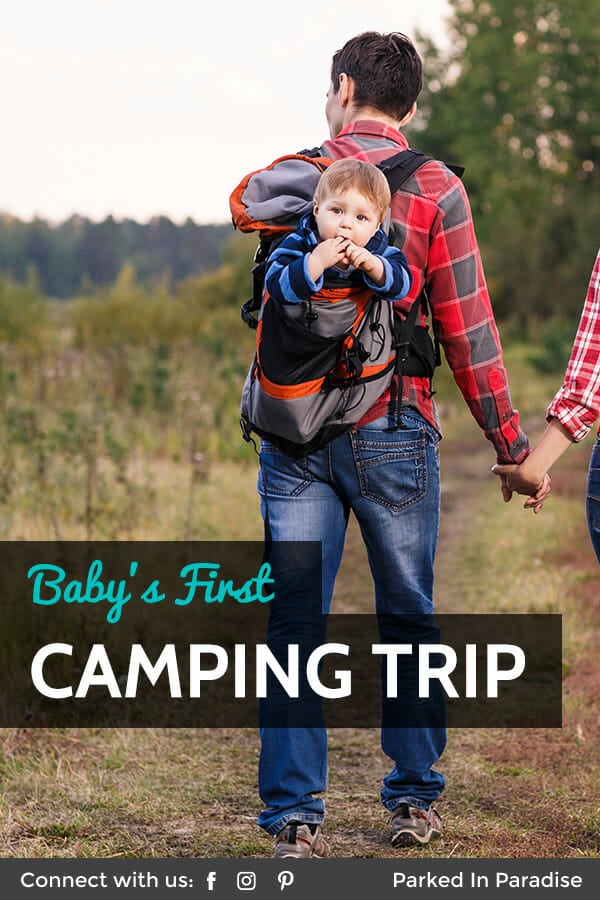 How to keep your baby warm in cold weather
Keep Active
The best way to stay warm is to move around a lot throughout the day. Lots of activity will keep the muscles warm and make your infant tired when it comes to bedtime. Help you baby explore the outdoors. Play in the mud, grab sticks and point out bugs! Although your infant may be too young to walk, going on short hikes will give them an abundance of things to look at. Remember to stay cognizant of the weather. Do a mental check of the temperature on a frequent basis and have extra clothes nearby at all times.
Pack layers and layers of clothes. Starting with a lightweight base
Packing lots of layers of clothing is the best way to keep your baby warm. Pack more than you need. Baby clothes are small and if you're car camping you can go crazy with layers! In cold weather, the most important aspect of staying warm is staying dry.
Babies cannot regulate temperature in the same way that adults can. So you need to take charge of checking them frequently. Place your hand at the base of the child's neck to check their temperature, and to make sure they are staying dry. Babies will start to sweat when they're playing, fussing or simply laying down. Anytime I could tell Bradly had sweat on his clothes were starting to get damp I jumped in to change them!
Wool is a magical, sweat-wicking material that will feel lightweight and comfortable on the skin. I like to use a thin, wool undershirt as a base layer for my baby. Start with the lighter layers and stack thicker layers on top. Fleece sweaters are a comfy and warm material to layer.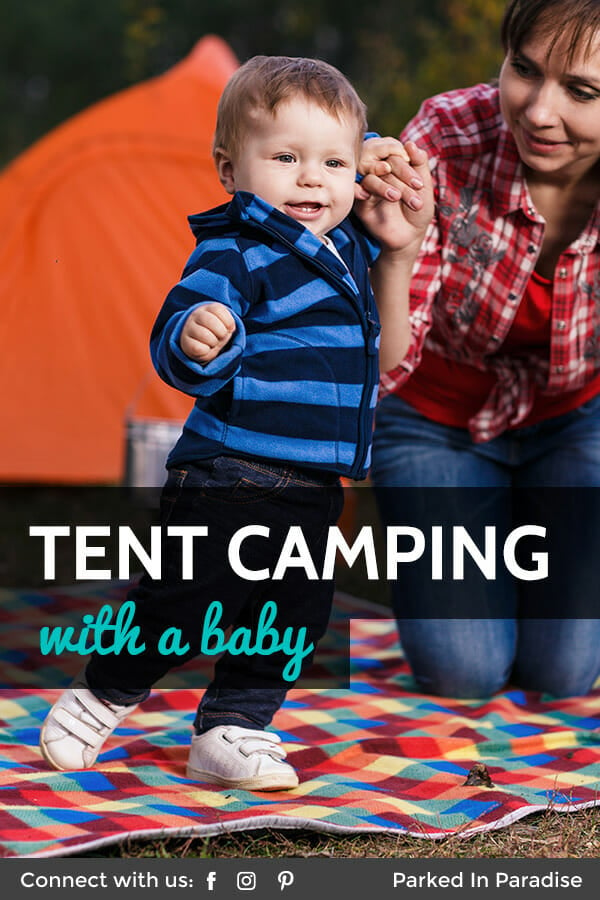 Cover Heads, Hands And Feet
More heat is lost out of theses areas than anywhere else. That makes a hat one of the most important pieces of gear you can pack. Make sure your baby's ears remain covered in the cold. Hats with Velcro straps and flaps will make you feel confident that they will stay on your infants head even during playtime.
Similarly, a lot of heat can be lost through the hands and feet. Be sure to pack extra socks, footies and mittens. Fold the cuffs of the baby's jacket and pants to cover any exposed skin between the mittens and socks. Extra blankets and footie-pajamas are also great to bring along.
Change Clothes Frequently
Temperatures can make big swings between the mid-afternoon and evening. Separate day-time clothes from sleeping gear. Changing clothes just before bed will keep you baby dry and more comfortable before heading to bed. In the coldest of weather, bring extra hats and mittens as well so they can sleep warm and dry throughout the night.
Be especially cognizant of humid or rainy weather. Even if it's not supposed to get wet, be prepared with water-proof clothing and a secure tent. Remember that water-proof clothing will trap in moisture as well. So if you need to use these types of materials pay extra attention to dampness inside the clothing.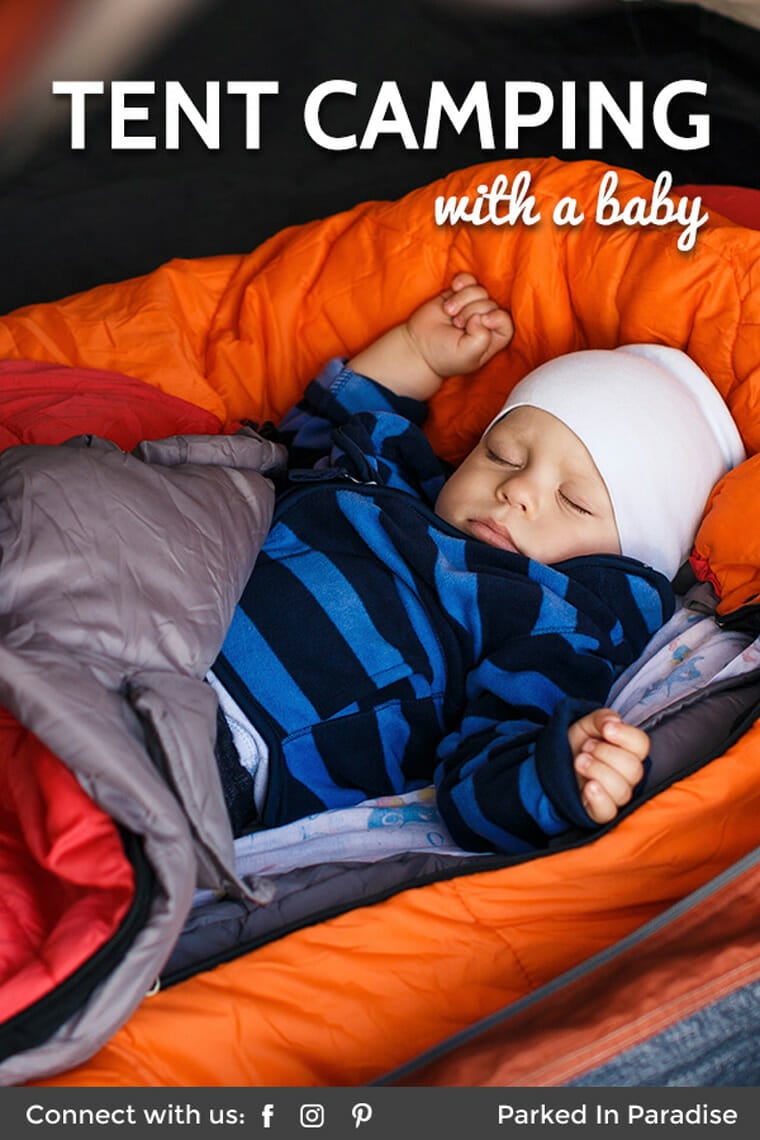 Getting Ready For Bedtime: Co-Sleeping
In milder weather, your baby should do just fine in a camping crib, cot or even their own sleeping pad. But in the coldest of weather, co-sleeping is a must! Allow your baby to snuggle next to you throughout the night.
Make sure your sleeping bag is large enough to accommodate both you, and your little infant. Co-sleeping is also important because it will allow you to keep tabs on your baby's body temperature the entire evening. In case your baby starts to get sweaty or fussy, have extra layers and a change of clothes near you inside the tent.
Don't forget to have fun!
Camping is all about spending time with friends and family. Don't let adding a new member to the family put a damper on the fun. Share the experience! Remember that a positive attitude spreads. Make your trip fun and use the outdoors as a learning experience for your kids and infants. Expose them to the sights, sounds and smells of nature. The memories you'll gain as a family will last a lifetime.