Camping In The Great Smoky Mountains National Park
On the border of North Carolina and Tennessee lies the Great Smoky Mountains National Park. This park is home to some of the tallest mountain peaks in the US. Luscious forests, rivers, and waterfalls wind through the area. And the Appalachian trail crosses straight through the center of the smokies.
Its close proximity to town makes the Great Smoky Mountains the most visited National Park in America. Despite the crowds, you can still carve out your own little piece of solitude camping in one of the park's magnificent campgrounds.
There are ten campgrounds in the Great Smoky Mountains National Park with over 800 campsites for tents and RV campers. All of the campsites come equipped with flush toilets, potable water, fire grates and picnic tables for a more comfortable experience. There is also primitive camping available and discounted private campgrounds in the surrounding area which we'll cover in this article.
Great Smoky Mountains National Park Campgrounds
Reservations: In half of the campgrounds at the Great Smoky Mountains National Park reservations are required. The rest of the campsites are available on a first-come, first-served basis. You can make a reservation ahead of time on recreation.gov.
Peak camping season: Ranges from May to October
Seasonal Closures: The mountainous region has large temperature fluctuations, that means the open and close dates vary depending on the campground. Smokemont and Elkmont campgrounds are open year-round. Most of the campgrounds are open between April and November.
Water and bathrooms: All campgrounds in the Great Smoky Mountains have flush toilets and potable water. However, there are no shower facilities within the park.
Electricity: No campgrounds in the Great Smoky Mountains have electric hookups for camping.
RV camping: When it comes to large motorhomes, the Great Smoky Mountains is a very friendly National Park. Six of the campgrounds can accommodate RVs and trailers over 30′ long, and three of the campgrounds (Cades Cove, Look Rock, and Smokemont) can house campers 40 feet or longer. Although there aren't any electric or water hookups within the park, there are dump stations open year-round at Cade's Cove, Elkmont and Smokemont.
Cell phone service: Mobile coverage is spotty or non-existent throughout the park. You'll get the best reception at Balsam Mountain, Big Creek, and Deep Creek campgrounds.
Firewood: Only heat-treated firewood marked by the department of agriculture is permitted to be burned within the park. This is to prevent insects or diseases that can make their way into the park on your firewood! Luckily there are plenty of opportunities to purchase heat-treated firewood within the park and surrounding communities.
Pets: Leashed dogs are welcome in all of the campgrounds but they must be kept on a six-foot leash.
Camping In The Great Smoky Mountains National Park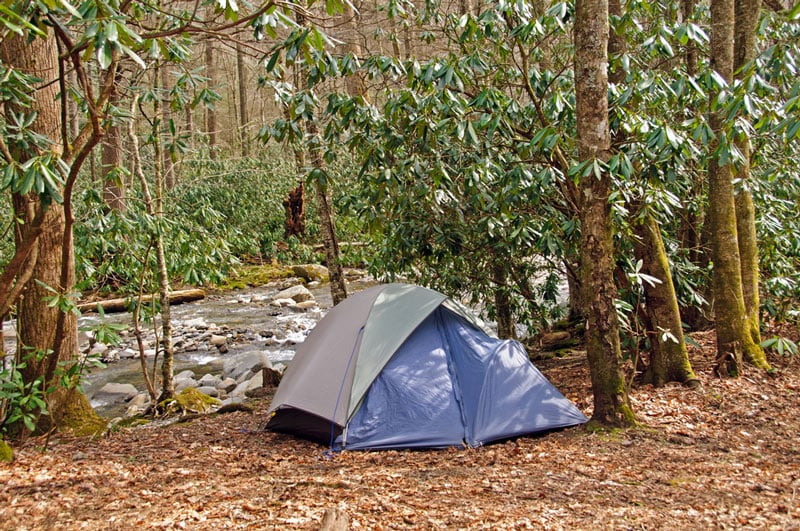 Abrams Creek Campground
Located in the mountain ranges with a beautiful, clean creek nearby, Abrams Creek campground is open April through October each year. This is a tent-only campground that requires a reservation. The campground is secluded, and because RVs are not allowed it is particularly quiet. This creates an excellent experience for those seeking a more remote setting.
Abrams Creek is an excellent place to stay if you want multiple opportunities to camp alongside hiking trails and go fishing in the creek. There is quick access to the Abrams Waterfall and the Little Bottoms trail. Sitting at an elevation of 1,125 feet, you can get lost in the mountainous terrain of the area. The location faces hot, humid summers, and rainfall is common.
Multiple waterfalls and streams throughout the area mean you'll be listening to the creek in the middle of the night as it flows right beside the campground. Hammock camping is permitted, with some restrictions on tree size. Abrams Creek Campground is a good option for those who want to get away for the week and remain rather secluded without a lot of crowds.
Balsam Mountain Campground
Located near Cherokee, North Carolina, Balsam Mountain is a seasonal campground traditionally open from May through October. The area is rather remote, creating a secluded setting that provides good access to recreational activities with few crowds most of the time. The campground features 42 campsites for traditional camping and offers both drinking water and flush toilets. One thing to note is that the restrooms do not have lights, so you'll need to bring a flashlight with you when using these facilities. The campground offers a fire pit, picnic tables, grills, and great access to nearby trails.
The location of Balsam Mountain Campground is stunning with the mountain range and streams in the background. It's common to seek elk nearby, and because it is 5,310 feet in elevation, the temperature here is very comfortable (usually under 70 degrees F during the day). A short nature trail near site 43 is a good place to start for hikers exploring the area. For those with experience, the Hemphill Bald and Rough Fork trails are nearby and offer some excellent views of old-growth trees along the 14-mile hike. The Oconaluftee Visitor Center is near the camp, as is the Blue Ridge Parkway and Mountain Farm Museum.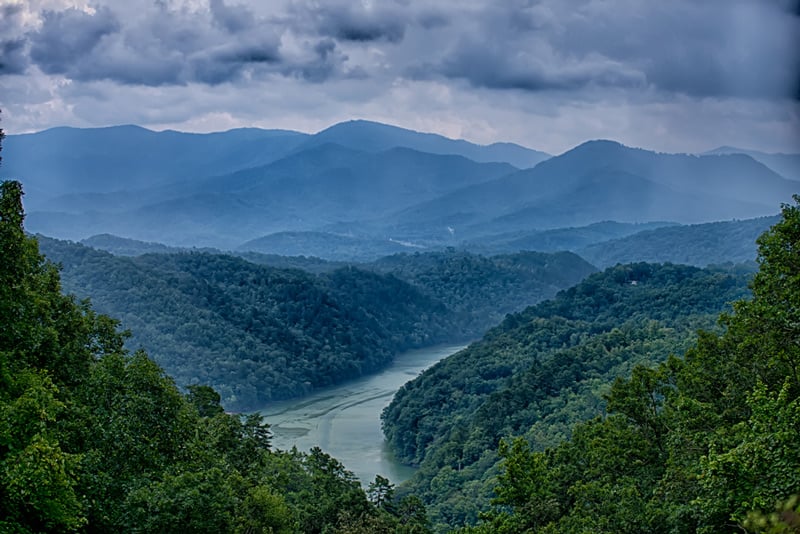 Big Creek Campground
If you enjoy solitude, Big Creek Campground is the smallest established site in the smokies with just 12 campsites for tents only. This creates an excellent opportunity for nature and wildlife viewing in a quiet location. Because the area is so small, reservations are required. The park is seasonal and generally open from April through November.
Aptly named, the Big Creek Campground sits parallel to Big Creek, with its cooling, running water all summer long. The area is at a 1,700-foot elevation and is teeming with wildlife. It is not uncommon to see black bears and, in some cases, a river otter, in the mountain stream. Fortunately, there are bear lockers provided at each campsite. You'll find picnic tables and a fire pit provided, along with a water spigot for use.
This campground is close to the Cataloochee Valley and Hartford Whitewater Rafting, for those who want to extend their experience.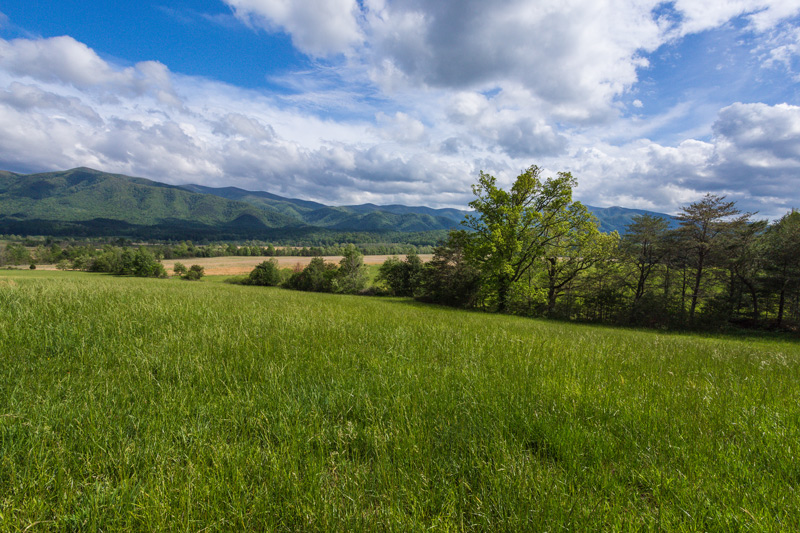 Cades Cove Campground
One of the largest campgrounds in the park, Cade's Cove welcomes two million visitors each year. This is one of the few campgrounds that is open year-round; though its peak season runs from March to December. The area is packed with amenities, including hiking and biking around the Cades Cove loop road, which is about 11 miles long.
Both tents and RVs up to 40 feet in length are welcome here and it's one of the few campgrounds with a year-round dump station. There are flush toilets and drinking water available. A camp store is available from May-October which can provide most necessities as well as bike rentals. At the campground you'll find accessible parking, a picnic area, tables, and a fire pit. A footlocker is available, and pets are allowed at the campsite.
Cades Cove is surrounded by mountains and considered one of the most popular locations in the Great Smokies due to the incredible views and wildlife. It's common to see black bear and coyote here, along with white-tailed deer, ground hots, and turkey. There is a five-mile round trip hike up to Abram Falls nearby, a moderately high waterfall with rushing water. In addition, campers can take a one-hour horseback ride or, depending on the time of the year, carriage rides. There is excellent backcountry fishing here in the various streams with large trout available easily. Historic sites are nearby, too.
Open year-round
First-come, first-served or make reservations
164 Tent and RV campsites up to 40′
Flush toilets
Potable water
Dump station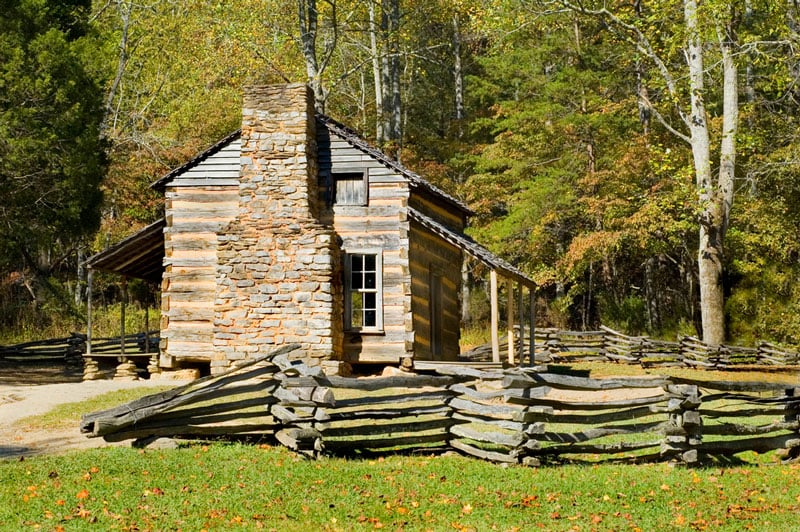 Cataloochee Campground
The Cataloochee Campground is typically open from June through November. It's located in the historic Cataloochee Valley, in an area of the Great Smoky Mountain National Park that's rather remote, creating an ideal way to see wildlife and the stunning views of the mountains. The campground offers traditional outdoor camping with drinking water and flush toilets. It does not provide showers or hookups at the campground itself.
One thing that's cool about Cataloochee is that there is a horse camp and a group camp located there. It also has easy access to multiple hiking trails and fishing streams. The campsite is about 2,600 feet in elevation, offering a moderate climate during the summer months.
Unlike other areas of the national park, Cataloochee Campground's hikes are less commonly used, making them ideal for those who want to see elk or black bear near to the campsite. There are fly fishing opportunities nearby, and over 90 historic structures, including churches and schools, near to the area. The Cataloochee Campground is a standard, nonelectric campsite offer campfire rings, picnic tables, a fire pit, and water hookup for users. It's close to the Steve Woody and Caldwell Houses, both historical treasures, and the Rough Fork Trail, a two-mile round trip hike.
Reservations required June-November
33 Tent and RV campsites up to 31′
Flush toilets
Potable water
Horse camp
Group campground
Cosby Campground
The Cosby Campground rests under a canopy of cool shade, old-growth trees. This large campground with mainly tent sites, although there are a few spaces big enough for a 25′ RV sprinkled in. This is one of the few places within the park with a dump station available.
April through November is the peak season and reservations are required throughout the year. The area is at 2,460 feet elevation, which helps with maintaining a hot, but moderate climate during the summers. However, the vast amount of shade helps keep temperatures manageable.
Nearby Cosby, there is a visitor center with some supplies available and multiple hiking trails are just steps away. Fishing and hiking are common activities, and it's likely that you'll see wildlife here.
During peak season, there are evening programs at the nearby amphitheater. Horseback riding opportunities are a short drive away, and just 5-miles from the campground are multiple historic buildings in the city of Cosby. This is a great place to stay if you want close access to convenience stores and restaurants.
Reservations required April-November
136 Tent and RV campsites up to 25′
Flush toilets
Potable water
Dump station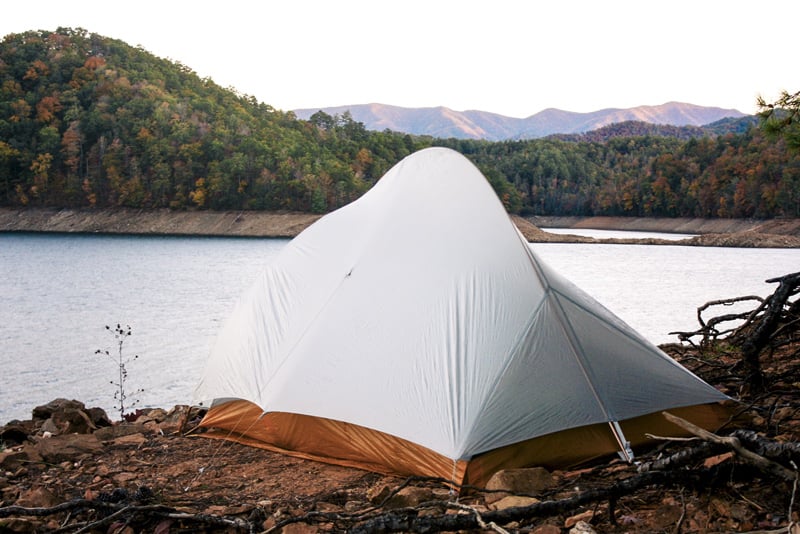 Deep Creek Campground
The Deep Creek Campground is located in a popular area within the Great Smoky Mountains National Park, making it one of the larger and more trafficked campsites. It offers 92 individual sites for tent camping and RVs up to 26′.
Because it is popular and a first-come, first-serve location, it can be hard to find available sites during weekends and peak summer months. The sites are also located close to each other unlike some of the other campgrounds in the park. Peak season runs from May through November. This is one of the few campgrounds in the park with good cell phone service so it's a good place to stay if you need to stay in touch.
The Deep Creek Group Camp site, which is nearby, allows reservations. Each of the campsites offers a table, grill, and campfire ring, along with drinking water and flush toilets.
For those who want to enjoy water recreation, Deep Creek Campground is the perfect choice. Campers can take a 1.6-mile roundtrip hike to reach two waterfalls. The Walk Deep Creek Trail, which is just over half of a mile, connects to the Indian Creek Trail. There's ample wildlife viewing here, including black bears and coyotes. Bryson City is about three miles from the campground and has a grocery store so you can pick up supplies.
Reservations available June-November
First-come, first-served campsites
92 Tent and RV campsites up to 26′
Flush toilets
Potable water
Group sites
Elkmont Campground
The Elkmont Campground is located only eight miles from Gatlinburg, TN, making it a popular destination for those who are looking to camp near home. This is one of the largest and busiest campgrounds in the Great Smoky Mountain National Park, which can mean it is a bit harder to get a desirable location. There are a total of 200 tent and RV campsites available here, each one offering gravel tent pads, picnic tables, and pave driveways. Fortunately, the campsites are spaced well so you'll still get some privacy.
Some sites have an extreme slope, or the length of the driveway is limited, making them less suitable for larger RVs. There are also 20 walk-in sites for tent camping. Each one is in a wooded area, just a short trek from the parking lot. You'll find a few wheelchair accessible sites as well.
The Elkmont Campground offers flush toilets and running water, along with utility sinks. Potable water is available through a spigot near the restrooms. There is no electricity at the campground or any water or sewer hookups (three of the campsites have electrical service for medical equipment). This is just an overnight campground with no day-use facilities available. There's much to love here, including being along the waterfront. Hiking and fishing are common, with trailhead to Little River, James Creek, and the Elkmont Nature Trail nearby.
Reservations available January-November
First-come, first-served campsites
200 Tent and RV campsites up to 35′
Flush toilets
Potable water
Dump station nearby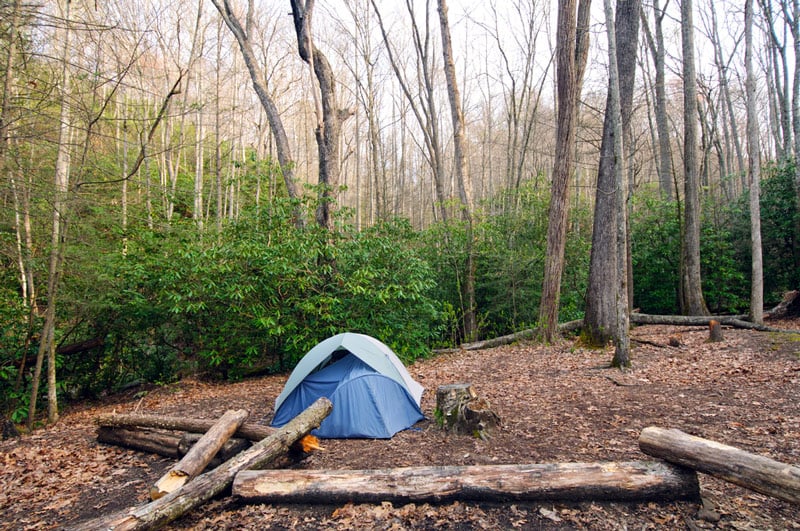 Look Rock Campground
For those looking for a lesser-known campsite in the Great Smoky Mountains National park, Look Rock Campground can be a good fit. It is close to Tallassee, TN, in the far west end of the national park. It is close to McGhee-Tyson Airport, which makes getting there easy.
The campground is near several pristine mountain creeks, which makes fishing easy to do. The area, which is surrounded by mountains, also creates a peaceful, relaxing experience for campers. It's located at 2,564 feet elevation, and temperatures hover around a high of 70 degrees F during the summer days.
The Look Rock Campground offers 66 campsites and allows for tents, vans, truck campers, and RVs. One of the most intriguing things about Look Rock Campground is that there are caves nearby for exploration and a densely forested area. Biking, hiking, and horseback riding are common, but as well as wildlife viewing. Bear and elk are known to frequent the campground area.
First-come, first-served campsites
68 Tent and RV campsites of any length
Flush toilets
Potable water
Dump station nearby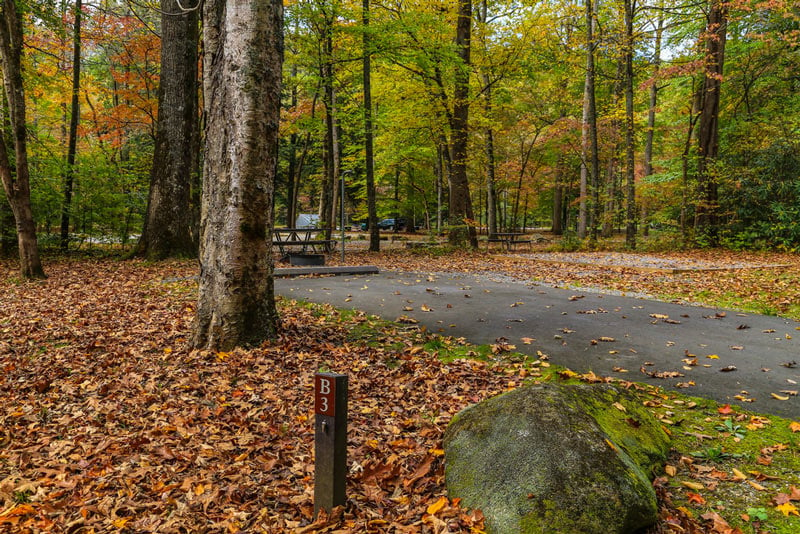 Smokemont Campground
A year-round campground, Smokemont is located in a beautiful section of the smokies with some of the best views of the mountains. The campground has both tent and RV sites which can accommodate motorhomes up to 40′. It's also one of the largest campgrounds in the park.
Situated in a forested area right along the border of North Carolina and Tennessee, there are stunning mountains and ridges around every turn. Rivers and meadows of wildflowers shine throughout varying times of the year. There are also a number of historic sites nearby, including the Museum of the Cherokee Indian. The city of Cherokee is about six miles away and provides access to convenience stores and fuel.
Reservations available Year-round
First-come, first-served campsites
139 Tent and RV campsites up to 40′
Flush toilets
Potable water
Dump station open year-round
At A Glance: The Best Campgrounds In The Great Smoky Mountain National Park
Most popular: Elkmont
Best for large RVs: Cades Cove, Elkmont, Smokemonth
Tent camping only: Abrams Creek, Big Creek
Group campsites: Big Creek, Cades Cove, Cataloochee, Cosby, Deep Creek, Elkmont, Smokemont
Horse campgrounds: Anthony Creek, Big Creek, Cataloochee, Round Bottom, Tow String
Quietest for campers: Abrams Creek, Big Creek, Deep Creek
Most cell phone service: Deep Creek
Group Camping In The Smoky Mountains
For larger groups of 7 or more, there are multiple options for spacious campsites available. You can find a few reservable group campgrounds at Big Creek, Cades Cove, Cataloochee, Cosby, Deep Creek, Elkmont, and Smokemont.
You can find more information about group camping here.
Horse Campsites At The Great Smoky Mountains
Horseback riding is another fun way to experience the National Park. Fortunately, there are 5 areas within the park where you can tie up your stock overnight without having to leave the area. Anthony Creek, Big Creek, Cataloochee, Round Bottom, and Tow String are all horse camps.
You can learn more about the rules and regulations of horse camping in the smokies here.
Backcountry Camping In The Great Smoky Mountains
Backpacking and backcountry campsites are abundant throughout the Great Smoky Mountains. With hundreds of sites available, this is the best way to get away from the crowds and sleep off the beaten path.
Permits are required for all backcountry camping. Fortunately, these are easy to obtain and cost just $4 per person. Reservations can be made up to 14 days prior to your trip. Shelters are provided and fires are permitted at designated campsites.
In the Smoky Mountains, there are over 800 miles of hiking trails including a portion of the Appalachian Trail. That means wildlife is abundant–including bears! You'll need to pack in and pack out all of your equipment, leave no trace, and most importantly–bearproof your campsite!
Free Camping Near The Smoky Mountains National Park
One of the best things about the Great Smoky Mountains National Park is that it's surrounded by National Forests and Wildlife Management Areas on all sides so you don't need to spend a dime in order to stay the night for free.
West of the park is the Nantahala National Forest with tens of RV and tent camping sites. Many of these campsites come with amenities such as fire rings, and vault toilets. A few of the campgrounds located here cost just $20 per night and have showers, flush toilets, and electric hookups. Free campsites in the Nantahala National forest have quick access to the Appalachian Trail and are dog-friendly so you can bring your pet in areas you wouldn't be able to throughout the great smoky mountains.
East of the park you'll find the Pisgah National Forest. Pisgah offers free dispersed camping, tent camping, and RV campsites. This is an excellent place to spend the night if you want to stay nearby Ashville, Tennessee or take a morning drive along the Blue Ridge Parkway.
In the greater surrounding area, you can find free camping in the Cherokee National Forest, the Chattahoochee National Forest, and in the Harmen Den Wildlife Management Area.
Private Campgrounds
Because the Great Smoky Mountains are so popular, campsites within the park can fill up quickly. There are also no electric hookups or shower facilities which can make some of these sites less appealing to campers. Fortunately, there are many private campgrounds that have all of the amenities you could want and more!
These are some of the best private campgrounds near the Great Smoky Mountain National Park: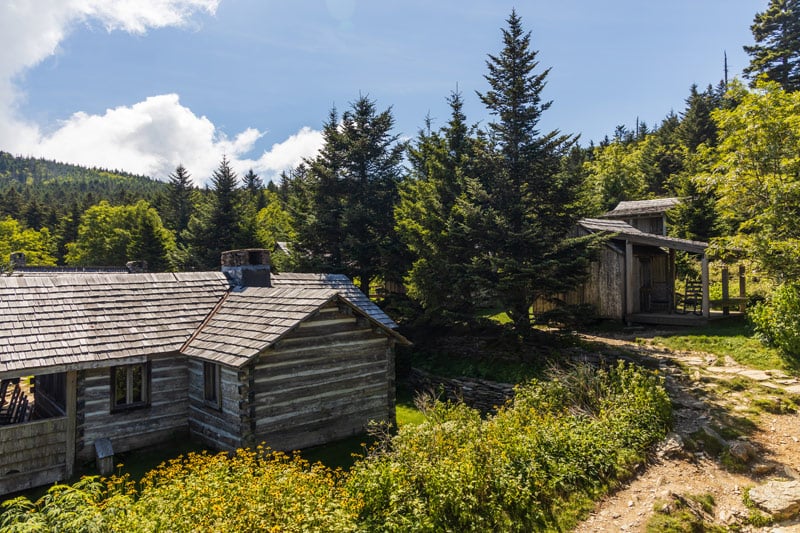 Lodging In The Great Smoky Mountains
There is only one lodge located within the Great Smoky Mountains National Park: The LeConte Lodge. It's only accessible by hiking either 5-8 miles in by foot. The LeConte Lodge consists of numerous tiny cabins perched atop Mount Le Conte which is the third-highest mountaintop in the area.
Each morning you can wake up here with unbeatable views of the mountaintops and truly experience the smoky fog that blankets the area.
The lodge costs over $150 per night, but dinner and breakfast are provided so you won't need to pack in too much gear. There is also optional wine available for purchase. Candlelit tables are spaced out both outside and inside. You'll also find bunk beds with linens provided and covered porches with rocking chairs.
This is the perfect place to relax after a long day of hiking in the mountains. Unfortunately, there are no showers. But there are flush toilets and a hot water spigot located nearby the dining room.
Nearby Hotels
If camping is not your cup of tea, there are plenty of hotels and other lodges with full amenities in the surrounding areas. Gatlinburg, Tennessee is where you will find many of the accommodations with quick access to the park.
Glamping and Tiny Houses Near The Smoky Mountains
One of the coolest ways to spend the night near the Great Smoky Mountains without going completely primitive is to book a night in a treehouse or tiny home. Glamping is abundant in the area because of the mountainous terrain and enviable views.
We highly recommend taking a look at some of these locations for a romantic or fun family getaway.
Continue Reading: