Best Glamping In North Carolina Including Asheville & The Blue Ridge Parkway
By
on
This post may contain affiliate links. As an Amazon Associate, I earn from qualifying purchases. Please read my full disclosure.
When most people think of camping, they think of pitching a tent in the woods and roughing it. But what if you want to enjoy the great outdoors without giving up all your creature comforts?
Glamping is the solution! Glamping is similar to camping, but it comes with all the amenities of home.
If you're looking for an interesting and unique travel experience, glamping in North Carolina is a must-do.
There are lots of beautiful campsites located right next to nature. They're located right off the blue ridge parkway, and nearby the bustling city of Asheville, North Carolina. It's the perfect getaway! So pack your bags and get ready for some serious R&R!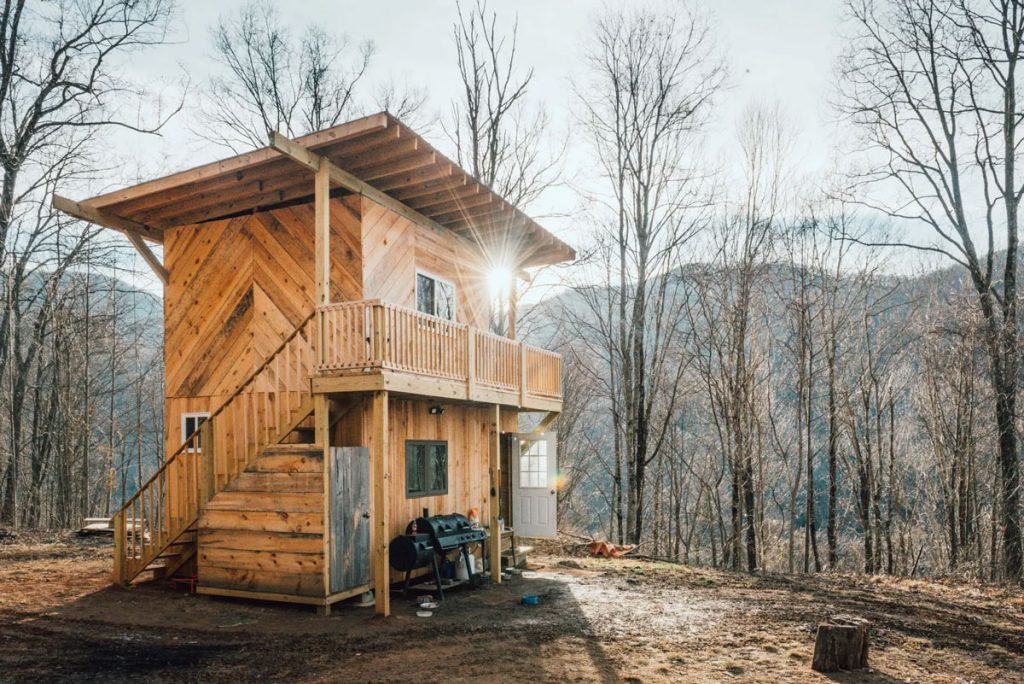 One of the most picturesque, high elevation cabins in North Carolina is the Summit Cabin near Mandala Springs.
The remote, 2 story cabin sits 3,300 feet high and is surrounded by trees in the Pisgah National Forest. To get to the off-grid retreat, a 15 minute uphill hike is required!
Pack your boots and enjoy the views. The glamping treehouse has everything you need to make the weekend memorable. You'll find plenty of cooking tools, hot water, and solar power to make the stay comfortable.
If you're looking for the perfect glamping experience, we recommend bringing your dogs, and exploring the miles and miles of trails nearby.
Location: Asheville, North Carolina
SPECIAL OFFER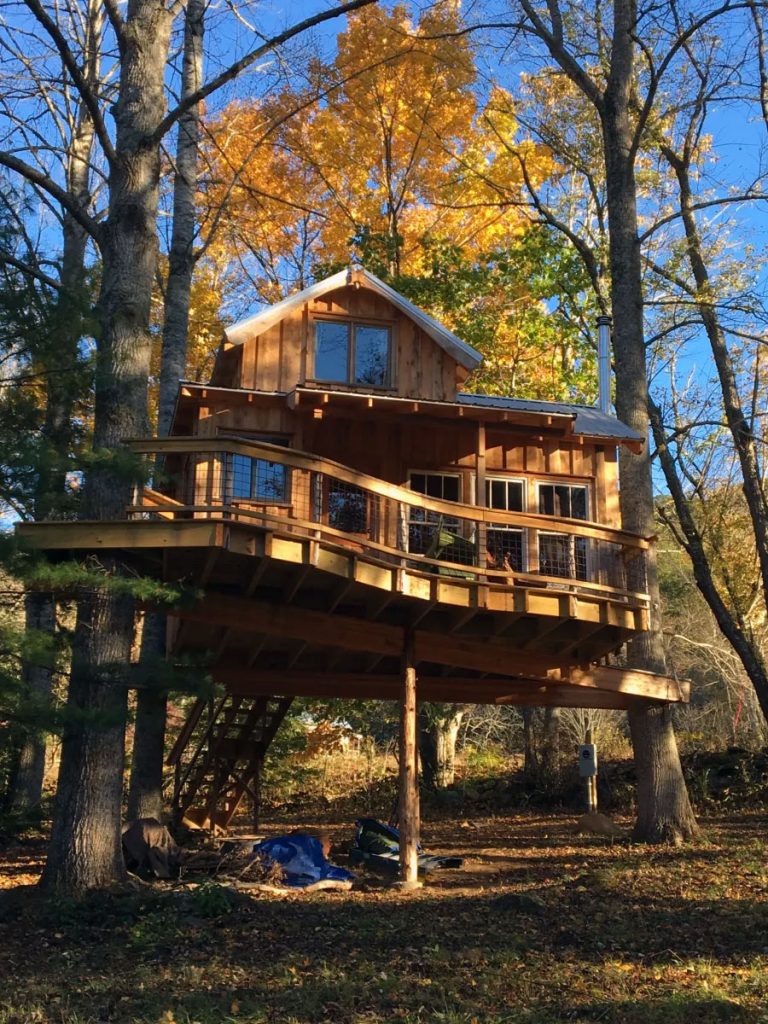 Floating among the trees, 15 feet in the sky is a serene and cozy treehouse with dramatic views of the smoky mountains. This treehouse makes the perfect spiritual retreat for those looking to meditate and connect with nature.
Built by the television show Treehouse Masters, this glamping rental is surrounded by more than 15 acres of woodland property. There is also 1,100 feet of mountain river front with a stream that you can swim in and drink from!
If you're looking for a special and unique place where you can let your spirit soar, consider embarking on a retreat at the Celesterra Treehouse.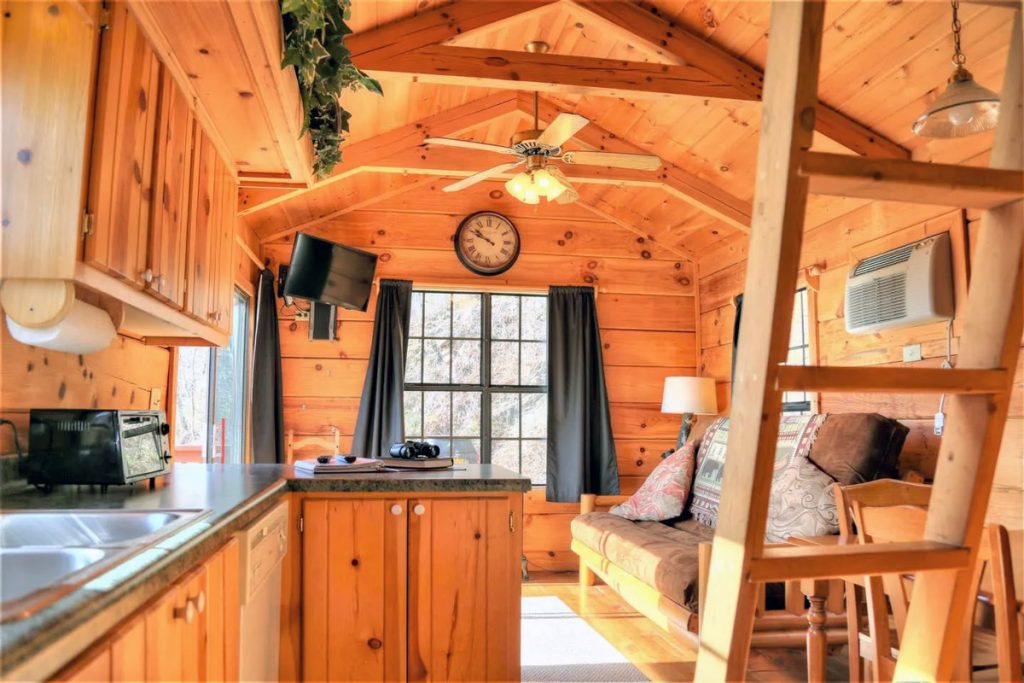 If you want to experience the perfect mountain getaway without getting dirt beneath your finger nails, then there's no better place than glamping in this smoky mountain cabin.
Seclusion, and the view of a lifetime awaits. And you can enjoy it right from the comfort of your own private hot tub! Look out onto the Appalachian Mountains, or go cliff jumping into the secret swimming hole nearby.
Nantahala lake is only a few minutes away where you can go whitewater rafting or jet skiing. When you're ready to relax after a day of adventure, watch the sunset over the smokey mountains.
Grill a nice steak on the deck, then gaze up at the star canopy and roasting marshmallows around the campfire pit.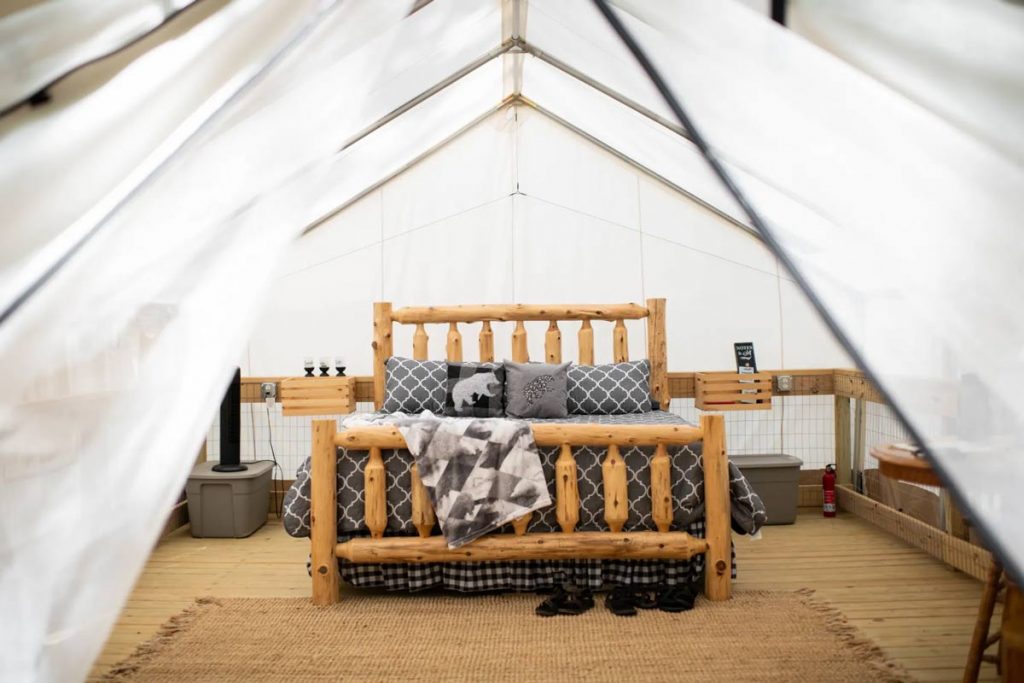 Step outside your canvas tent and walk right up to the river's edge! This picturesque glamping tent is located right alongside the Toe River in North Carolina where you can go fishing, paddling, and swimming.
Several canvas wall tents are set up on the property so you can invite a bunch of friends, host an event, or even plan a wedding!
The glampsite comes with comfortable beds, electricity, and there are toilets and showers on the property so you won't have to deal with the hassle of packing the entire setup.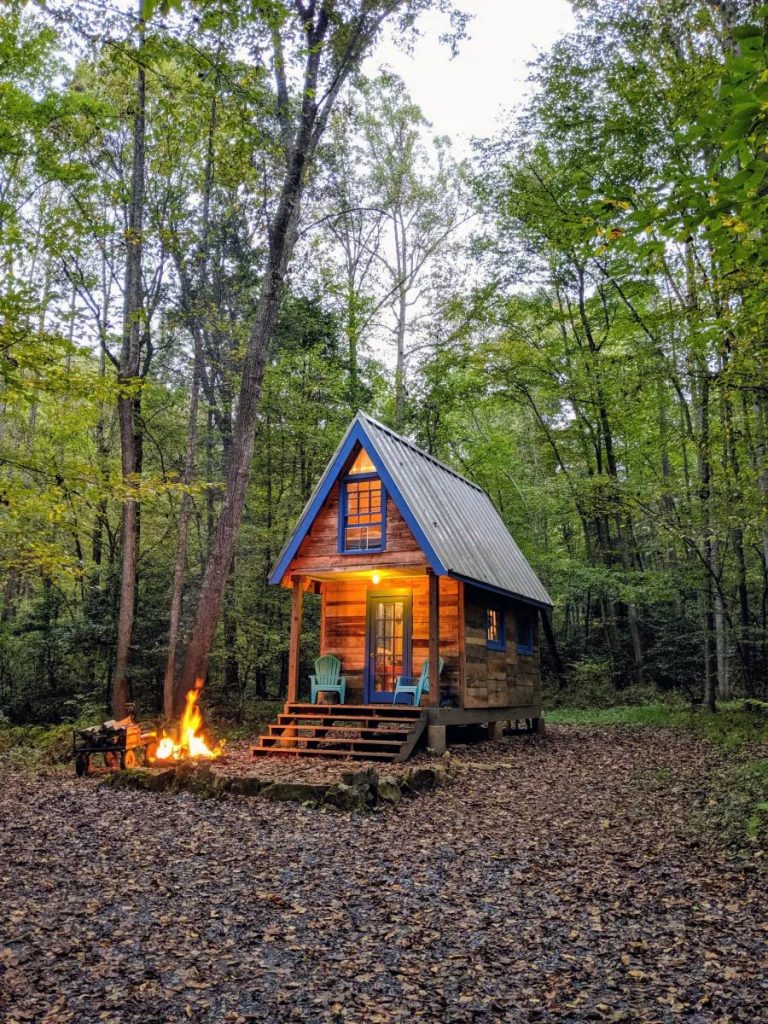 There is no better way to spend a romantic weekend getaway than on the quiet and secluded mountainside. This tiny home in the woods makes for the perfect glamping vacation.
It comes with everything you need for a comfortable vacation including a fully-stocked kitchen, running water, shower, toilet, and plenty of seating to spread out.
Pop open a bottle of wine and enjoy the night sky while cuddled up next to a roaring campfire.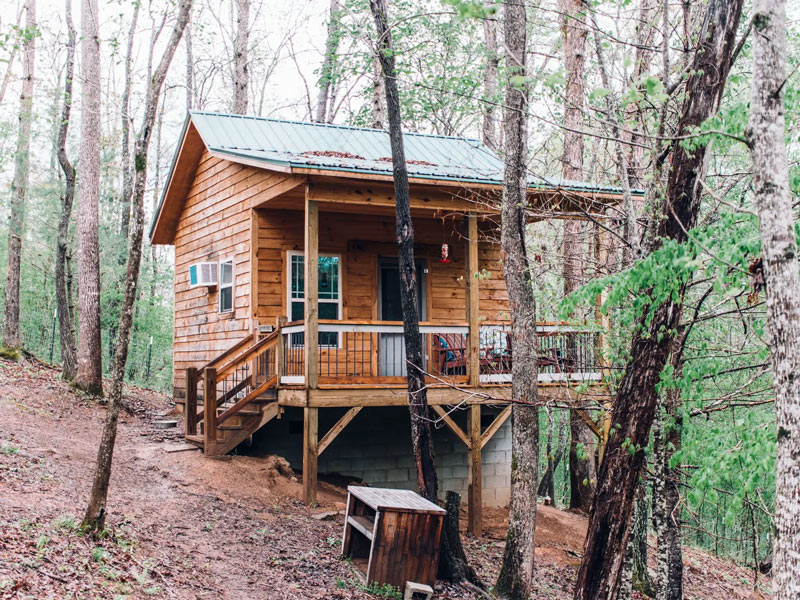 This lovely glamping cabin overlooks a small creek and is elevated right alongside the trees. Located on a hobby farm, you'll get the chance to interact with Nigerian goats, Great Pyrees, and chickens.
It's the perfect getaway for glampers who want to experience the off-grid lifestyle without giving up the luxuries of home. During the day, splash in teh nearby Fires Creek, and at night relax on your porch beneath the stars.
SPECIAL OFFER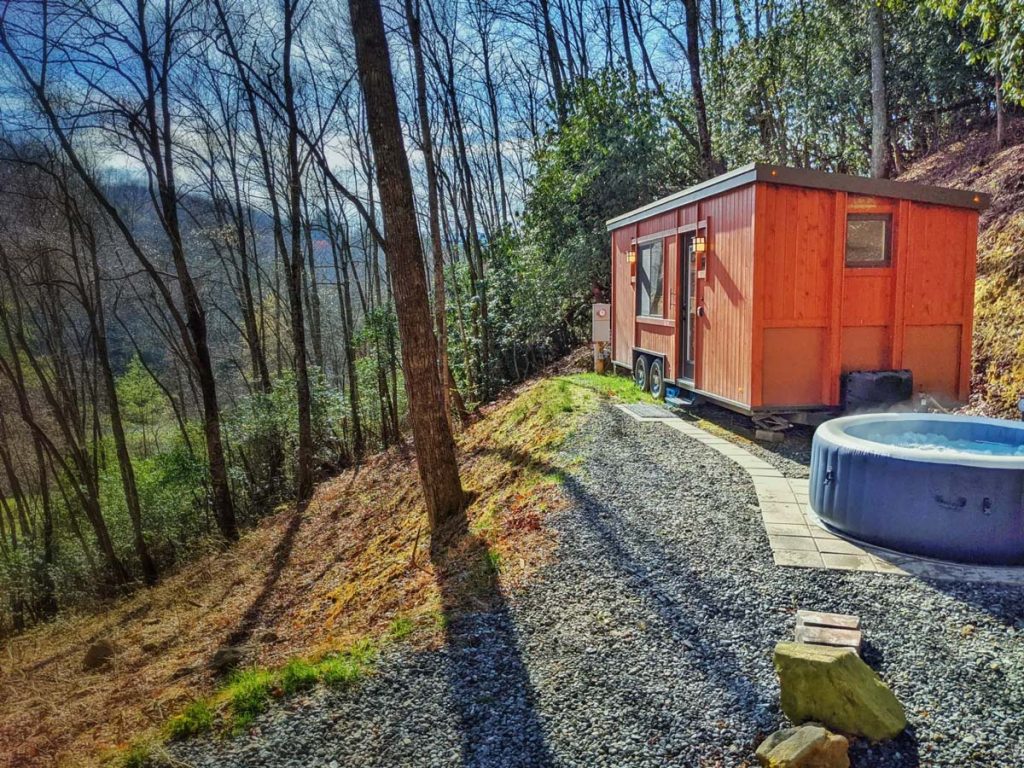 Adventurous travelers who want to go fly fishing in the creek, hiking in the mountains, and wrap up the day in a luxurious hot tub should look no further than this tiny red house in the Blue Ridge Mountains.
Located next to the Nantahala National Forest, glamping guests will find perfect seclusion among the trees. There is no cell phone service, so you'll really get the chance to connect with nature.
The kitchenette comes with everything you need to grill up a delicious meal, and there is plenty of outdoor seating as well as a large campfire pit to enjoy.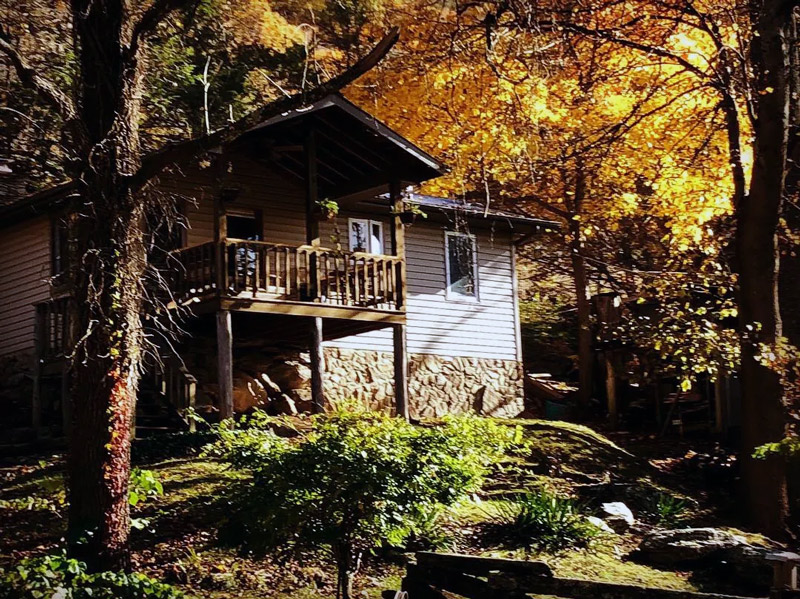 This beautiful, private cabin just 30 minutes outside of Asheville has been completely restored. It has new appliances, tiled floors, and an updated bathroom (including bidet!), making it the perfect glamping getaway.
Guests can enjoy spending the night next to a campfire on this secluded property, then go to sleep in a luxurious, queen-sized bed.
In the morning, make some coffee in the updated kitchen. The cabin has the purest mineral water you've probably ever had. Then walk out onto the porch and revel in the breathtaking mountain views.
One of the best parts about this North Carolina cabin is the freedom to roam. Rent a UTV for an unforgettable mountain tour, or go paddling on one of the small ponds nearby.
Most of the property is considered forestland so you can hike on or off the trails in the area.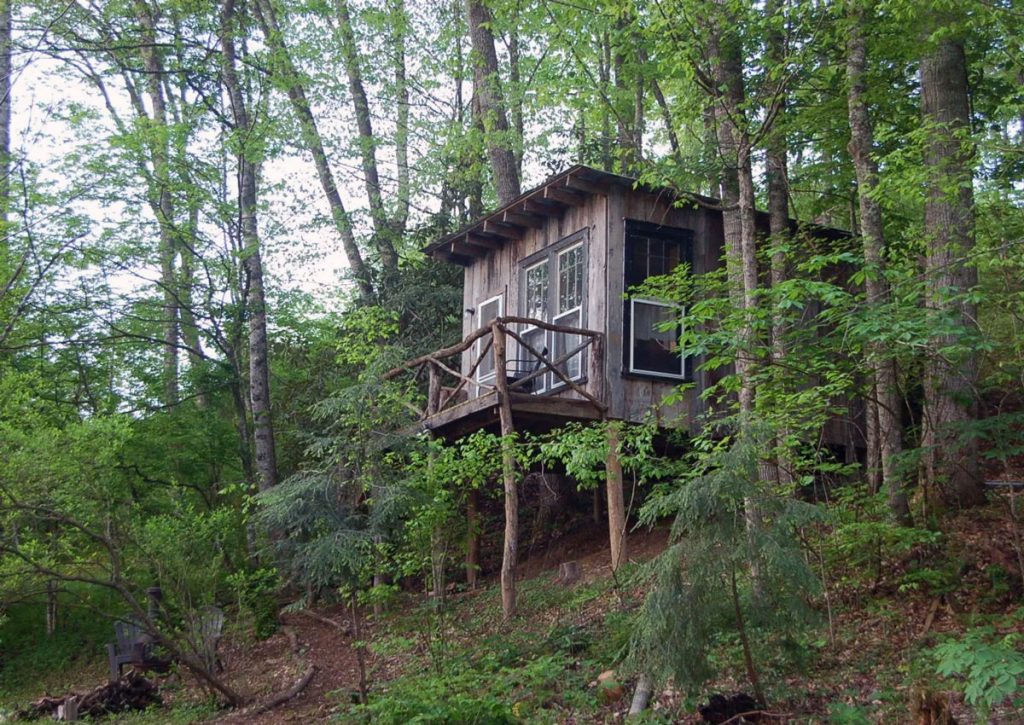 Perched upon locust tree poles, this rustic treehouse cabin was built with reclaimed lumber from a local homestead that's over 100 years old!
This treehouse has no electricity or ensuite bathroom so it is truly a "glamping" experience. But, is there any better way to disconnect and enjoy the sights and sounds of nature?
The treehouse cabin has air conditioning and propane heat so guests can remain comfortable year-round. It also has luxurious Adirondack chairs and a charcoal BBQ to grill an unforgettable meal.
During the day, step away from the treehouse and enjoy some canoeing, kayaking, tubing, and fishing in the New River State Park which is only 3 miles away.
Location: Crumpler, North Carolina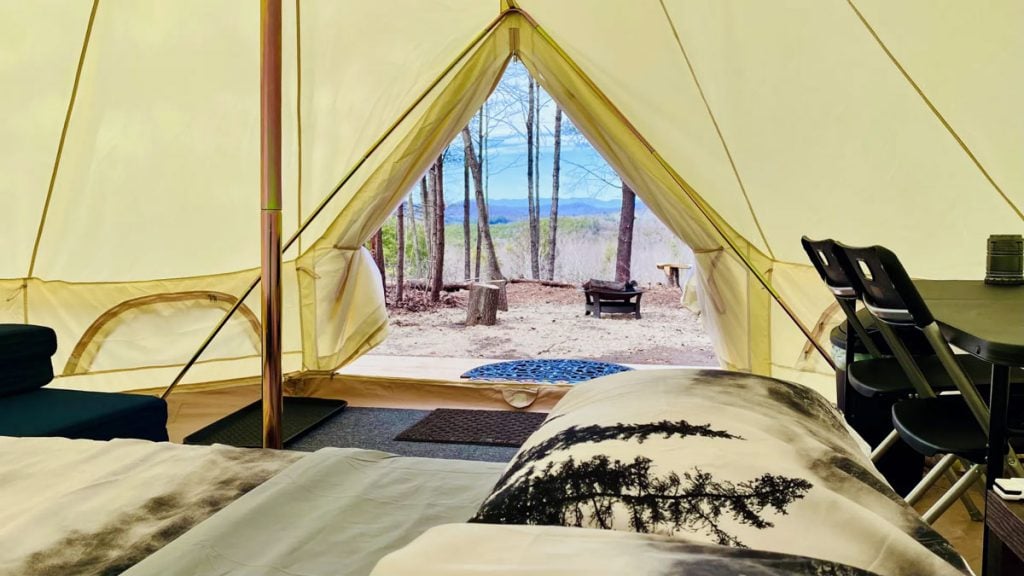 Campers who are looking for sky-high mountain views with the luxury of a full-sized bed should look no further than this comfortable glamping site located right between Charlotte and Asheville North Carolina.
At Starlight Hill Campground you get unfettered access to the outdoors. It's located in a mountainous forest with well-spaced campsites that offer plenty of privacy.
There's a creek on the property, and millions of stars that can be seen right from your bedroom. Bring the pets and grill on the BBQ pit surrounded by Tiki Torches.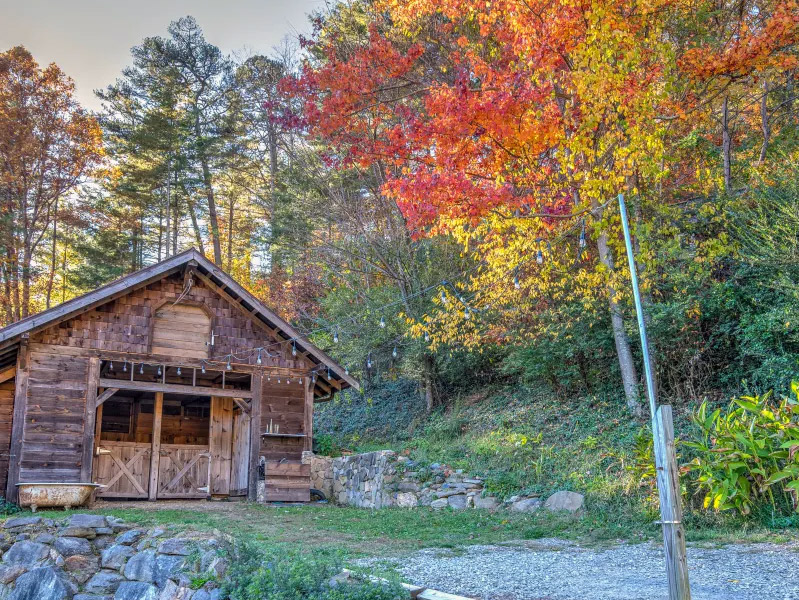 If you want to live "off grid" without committing to the lifestyle, then there's no better place than this tiny red house nestled in one of the most picturesque valleys in Asheville.
This tiny cabin on a flower farm is the perfect getaway for relaxing. You can overlook the rolling hills of North Carolina during the day, and enjoy sleeping beneath starry skies at night.
The glamping cabin is located only 4 miles from the Blue Ridge Parkway which has endless hiking opportunities. It's also only 5 miles from town, so although the property feels secluded you won't be too far from civilization.
Location: Asheville, North Carolina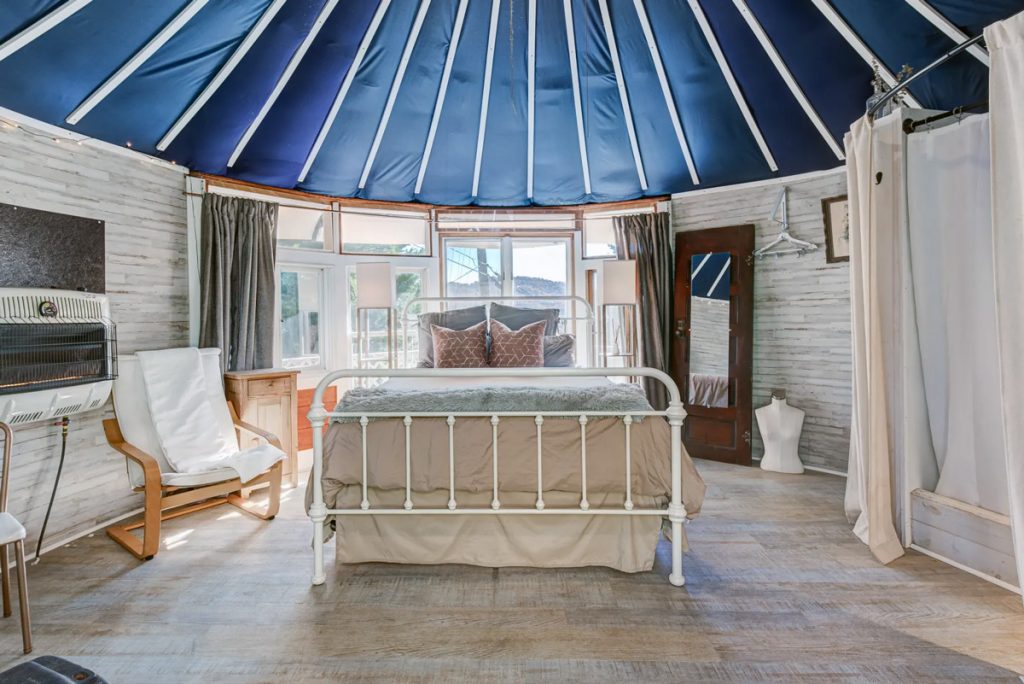 Are you longing for a romantic camping getaway in the mountains but you can't convince your partner? Glamping is the answer!
This luxurious yurt is located in a picturesque valley right alongside the Blue Ridge Parkway. It's in a prime location. Only 5 miles from downtown Asheville, but the privacy and seclusion will make it feel worlds away.
The simple, and sustainable yurt has WiFi, a hot shower ensuite, and a luxurious bed that won't make you feel like you're camping.
Location: Asheville, North Carolina
The Best Glamping In North Carolina
If you're looking for a rustic getaway that doesn't involve roughing it, consider glamping in one of North Carolina's many treehouse cabins.
These luxury accommodations provide all the amenities of home with the added bonus of being surrounded by nature.
Soak up some sun on the deck, take a hike through the woods, or just relax and enjoy the view. No matter what you choose to do, you're sure to have a relaxing and rejuvenating time when you escape to north carolina for your next vacation.
Want to explore the other states? Check out these other glamping guides as well: