National Parks In North Dakota
By
on
This post may contain affiliate links. As an Amazon Associate, I earn from qualifying purchases. Please read my full disclosure.
North Dakota may not jump out as one of the most exciting states in the US, but you may be surprised to learn about the rugged landscape and flowing rivers in Theodore Roosevelt National Park.
This state also has an interesting history centered around Indian villages and the fur trades to learn about.
There is one National Park in North Dakota. There are also two National Historic Sites and two National Trails affiliated with the National Park Service.
National Parks In North Dakota
Theodore Roosevelt National Park
North Dakota National Park Accredited Sites
Fort Union Trading Post National Historic Site
Knife River Indian Villages National Historic Site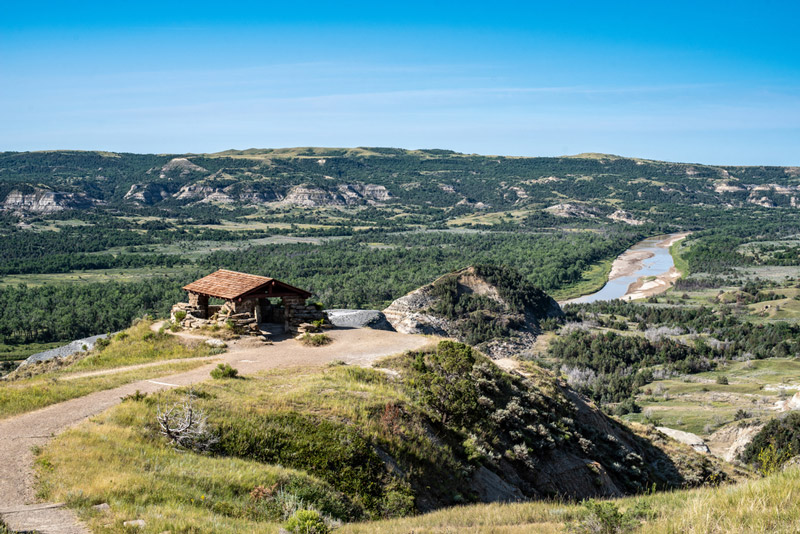 Theodore Roosevelt National Park
While most of North Dakota is covered in a flat treeless landscape, the Theodore Roosevelt National Park takes on a shape of its own. Rugged terrain with high elevation changes and a gorgeous view of the Little Missouri River below makes this park unique.
The National Park is located on the far west side of the state about 2-hours from Bismark.
This area is where Theodore Roosevelt first came to hunt bison in 1883. Today, the park offers a number of things to do for those who enjoy outdoor adventures.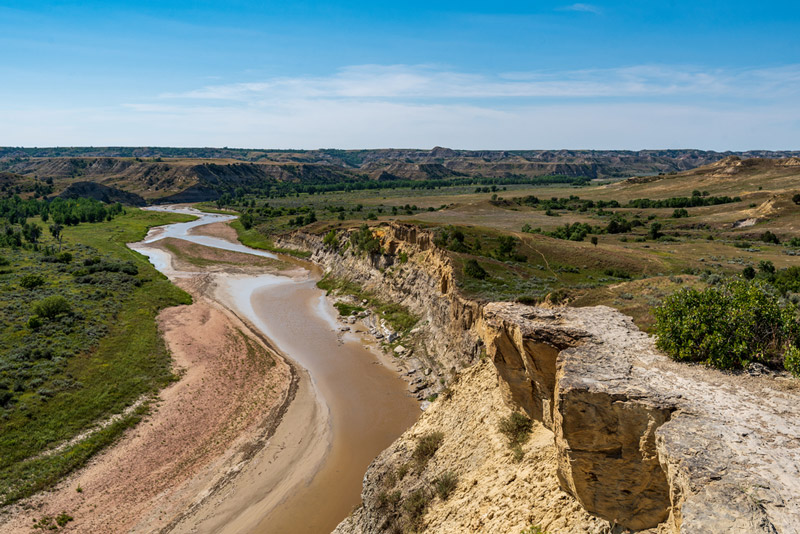 In the summer months, fishing, canoeing, and kayaking on the little Missouri are popular activities. There are also at least 20 hiking trails ranging from a quarter mile to over 18 miles long so you can find one that suits every member of the family.
Horseback riding on one of the many equestrian trails is also one of the best ways to explore the area in the same way it was once discovered.
During the winter, cross-country skiing and snowshoeing are a fun way to explore the park in the snow.
Year-round you should be on the lookout for wildlife. It's common to see a roaming herd of bison, elk, mule deer, longhorns, coyotes, and even bobcats in the park!
For those who enjoy astronomy, the Theodore Roosevelt National Park is home to the Dakota Nights Astronomy Festival which takes place each September giving you perfect views of the night sky right alongside researchers and astronomers.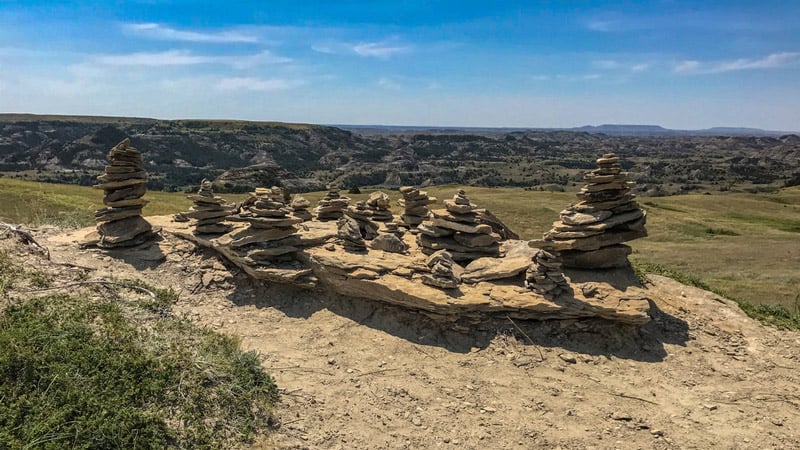 Camping
Two campgrounds in addition to a horse camp are available for tent and RV campers up to 65 feet. These sites are basic with no electric hookups but you will find flush toilets and drinking water.
Backcountry camping is also available in the park with a free permit.
Pets
Pets are not permitted on any of the trails within the park. However, there are a number of trails just outside the park which are equally beautiful and would make the perfect place to walk your dog.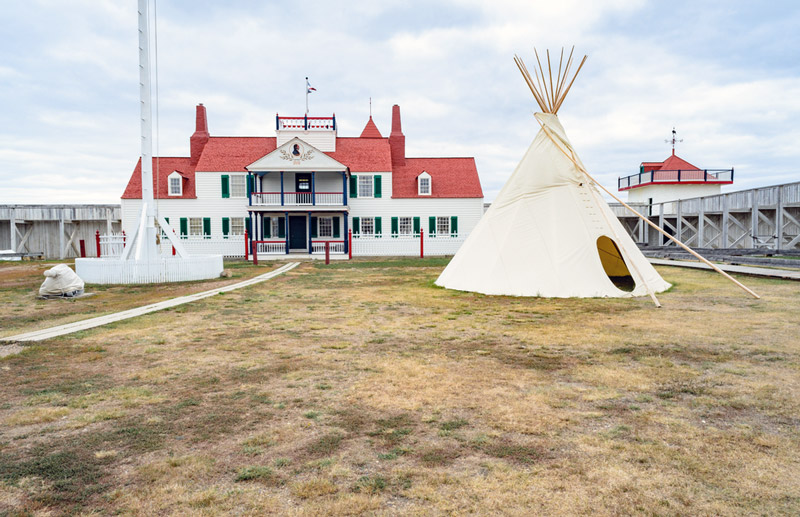 Fort Union Trading Post National Historic Site
North Dakota's historic and nationally known commercial hub, Fort Union started, as a privately-owned, highly prosperous, and famous fur trading post. This fort acted as the most important fur-trading post in on the Upper Missouri between 1828 and 1867.
Fort Union survived many years due to its unique infrastructure and now sits as a national historic site. When you visit Fort Union, you can go on an independent, 1.25 or 0.5-mile walk around the Fort. Rangers are available every day to lead you through Fort Union's history as it was in 1828.
You can also visit the Bourgeois House, reconstructed Trade House, visitor center, and museum.
Knife River Indian Villages National Historic Site
The Indian tribe known as Earthlodge people settled in villages along the Missouri River in North Dakota. This area was a famous major trade center for the Native Americans. This fur-trading center survived for hundreds of years up to and including after 1750.
At the Knife River Villages, visitors can view many items that the Indians traded in years past. Rangers are on hand daily to guide visitors on tours through the earth lodges in the village.
Tour the park store where various Indian items are for sale. Families will enjoy the Kids Camp where children can explore the area through stories, crafts, and activities. Activities include old hoop and stick games, scavenger hunts, craft-making, hiking, exploring the history of the Indian tribes, canoeing, building a miniature earth lodge, fishing, and more.
National Trails In North Dakota
Lewis & Clark National Historic Trail
North Country National Scenic Trail
Lewis & Clark National Historic Trail
This historic trail winds through and connects 21 states and many tribal lands, covering 4,900 miles. Hiking the whole length takes about three to four weeks. However, there are other ways that visitors can explore this trail, such as biking, on horseback, by car, or bus. Each state has a visitor center and museum to tour.
Each state offers views of meadows, mountain ranges, forests, rivers, and oceans. Along the Lewis & Clark Trail in North Dakota, you can tour Fort Mandan and view the Aurora Borealis.
You can also check out the many historic sites such as the original burial ground of Chief Sitting Bull, the Northern Plains National Heritage Area, On-A-Slant Village, the Double Ditch, the Lewis & Clark Interpretive Center in North Dakota, and learn about tribal history in North Dakota.
North Country National Scenic Trail
The North Country National Scenic Trail is 4,600 miles and became a National Scenic Trail in 1980 through congress's approval. The trail extends through North Dakota, Minnesota, Wisconsin, Michigan, Ohio, Pennsylvania, and Vermont.
Visitors come to travel the trail in all seasons and in many different ways, such as hikers, cyclists, skiers, snowshoers, or by horseback. People enjoy the beauty of the outdoors. This trail connects with the Appalachian Trail and the Lewis and Clark Trail.
Along the route you can visit 160 local, state, and federal lands in addition to ten National Forests. This trail takes you along farmlands, cityscapes, prairies, rivers, streams, the Adirondacks, and three of the Great Lakes.
National Parks in the Surrounding Area