Outside Van: Oregon Camper Van Conversions
By
on
This post may contain affiliate links. As an Amazon Associate, I earn from qualifying purchases. Please read my full disclosure.
Outside Van is a camper van upfitter located in Portland, Oregon. As one of the largest upfitters in the northwest, they have over 65 employees and crank out 100+ conversions per year.
There are a number of things that make Outside Van unique. For one, they have a relationship with Mercedes and you can purchase the vehicle chassis along with your upfit.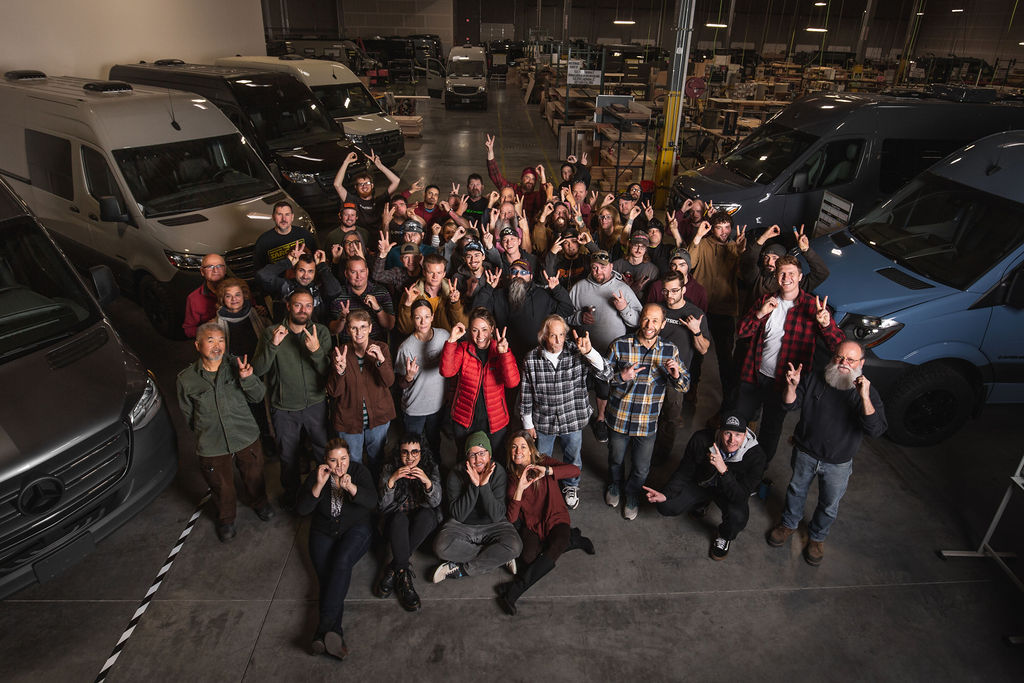 They currently only work on new Mercedes Sprinter Vans (post 2007) but plan to add Ford Transit campers to the list soon.
Outside Van also attends numerous events throughout the country so you can check out their builds at a location near you.
We recently interviewed Outside Van to get a better idea of their build process.
Outside Van Quick Facts
Location: Portland, OR
Founded: 2007
Vehicle Specialty: Mercedes Sprinter–2007 or newer
Completed Builds: 100+ per year
Employees: 65+
Do you have plans to work on other van types in the future? We currently on work Mercedes-Benz Sprinter vans and are developing plans to add the Ford Transit to our list.
Gas models or diesel only? We've actually built conversions in a number of gas-powdered sprinters. The gas-powered chassis have a little zip to them and are available at a slightly lower price-point.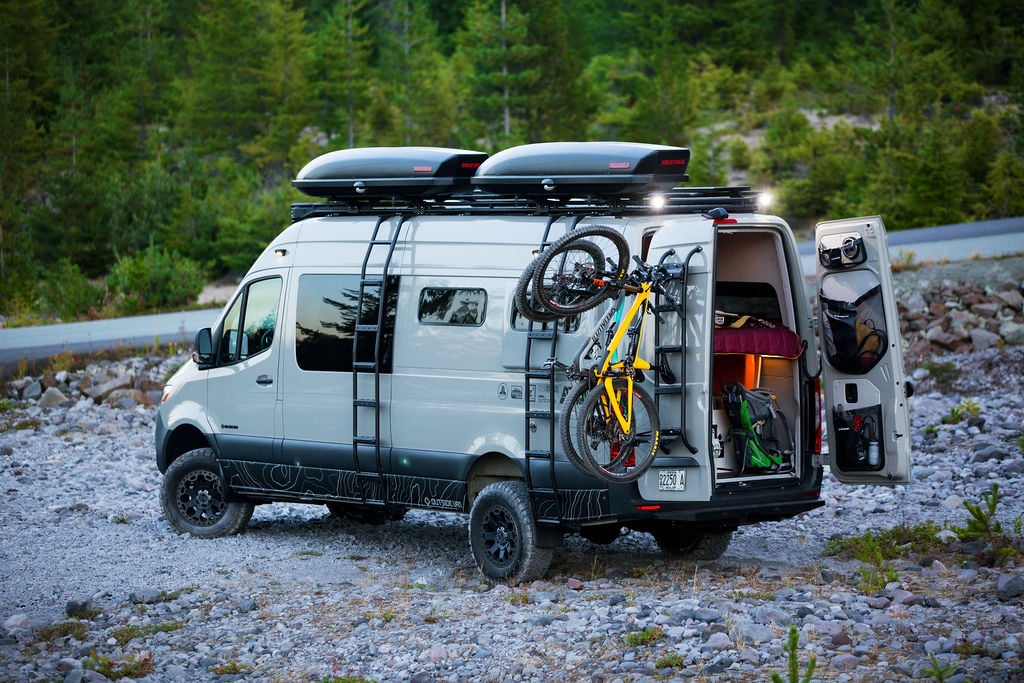 The Van Conversion Process
Average production time: Up to 4 months for production. The whole process takes around 8-10 months from initial contact.
Average conversion price: $125,000
Deposit: $2,000 refundable
Warranty: 36 months
*Note: vehicle not included in build contract. There is no financing available.
Outside Van will have three purchasing options in 2021:
Peak Series: 100% Custom/Bespoke Builds
Fusion Series: Details coming soon
Ready-to-drive: Pre-built vans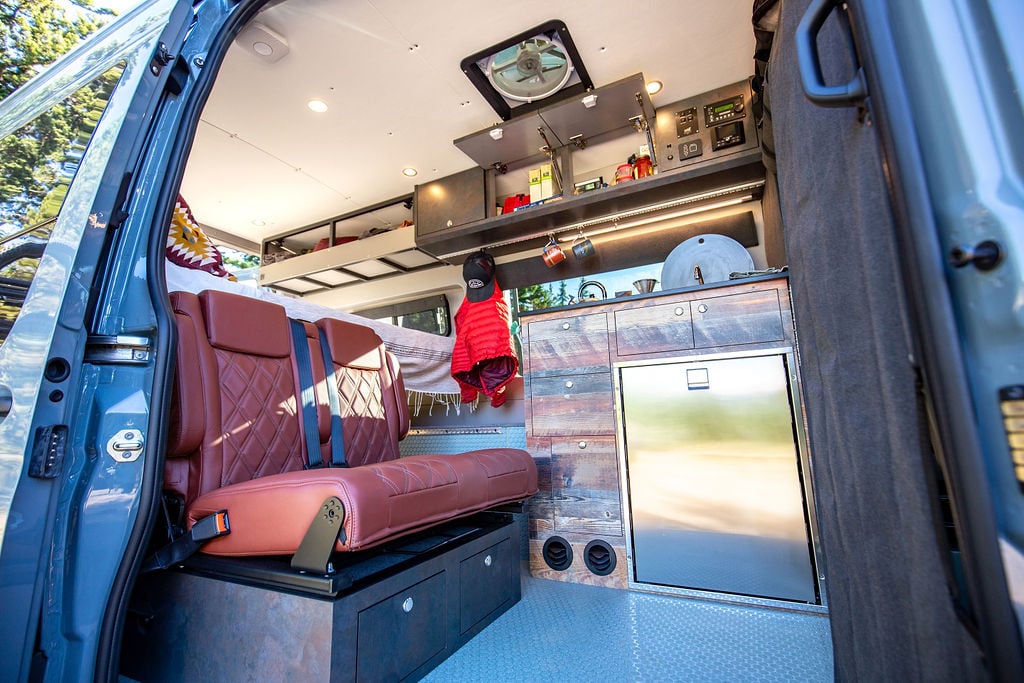 Steps To Order
Outside Van prides themselves on having one of the most bespoke/custom van design processes you can get. With that being said, they also have standard operating procedures in place so you know exactly what you're getting each step of the way.
A typical build can take up to 8-10 months from the point of initial contact. Listed below is the typical customer journey.
Visit the website and browse the options page
Contact the team with your camper van wish list
Place a $2,000 refundable deposit to reserve your spot in line
Work with one of Outside Van's designers to draw up a detailed layout which includes materials, components, colors, and other options.
Finalize the design and begin the production process.
The production process lasts around 4 months with frequent updates
Van pick up day!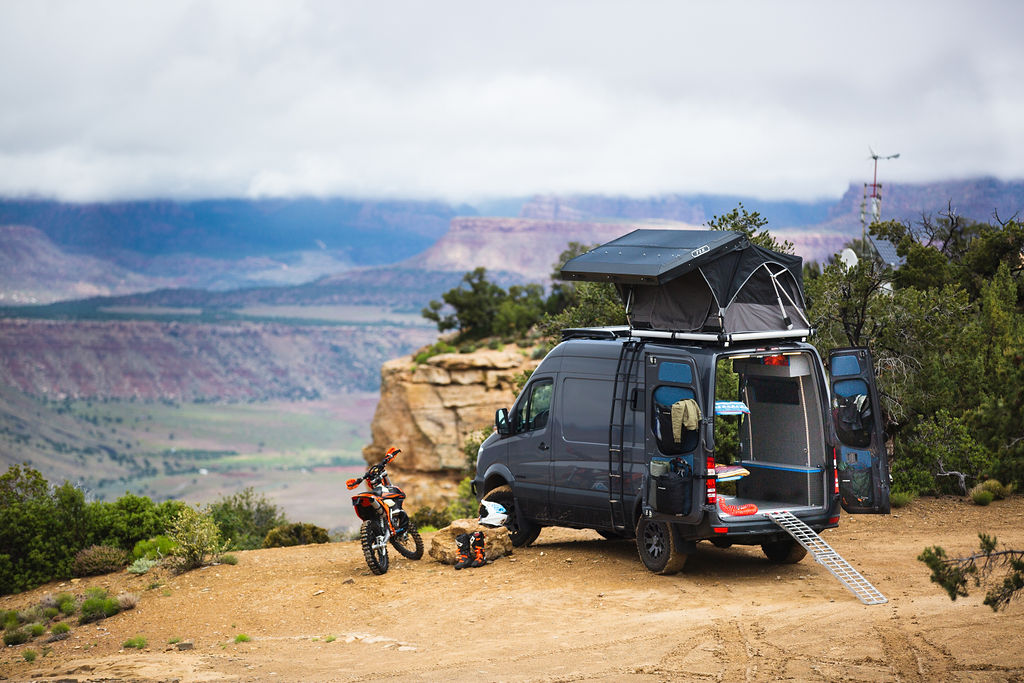 Getting The Van
One thing that's unique about Outside Van is they have access to an extensive stock of new Mercedes-Benz Sprinter chassis which you can purchase through them at the same price as the dealer.
Since 4WD Mercedes-Benz Sprinter chassis are hard to find, most customers get their vehicles through Outside Van.
Their builds also include a 36 month / 36,000 mile limited warranty on the conversion, parts, and components.
That makes this company a great option for someone who wants to buy everything in one place rather than sourcing their own vehicle then bringing it to an upfitter.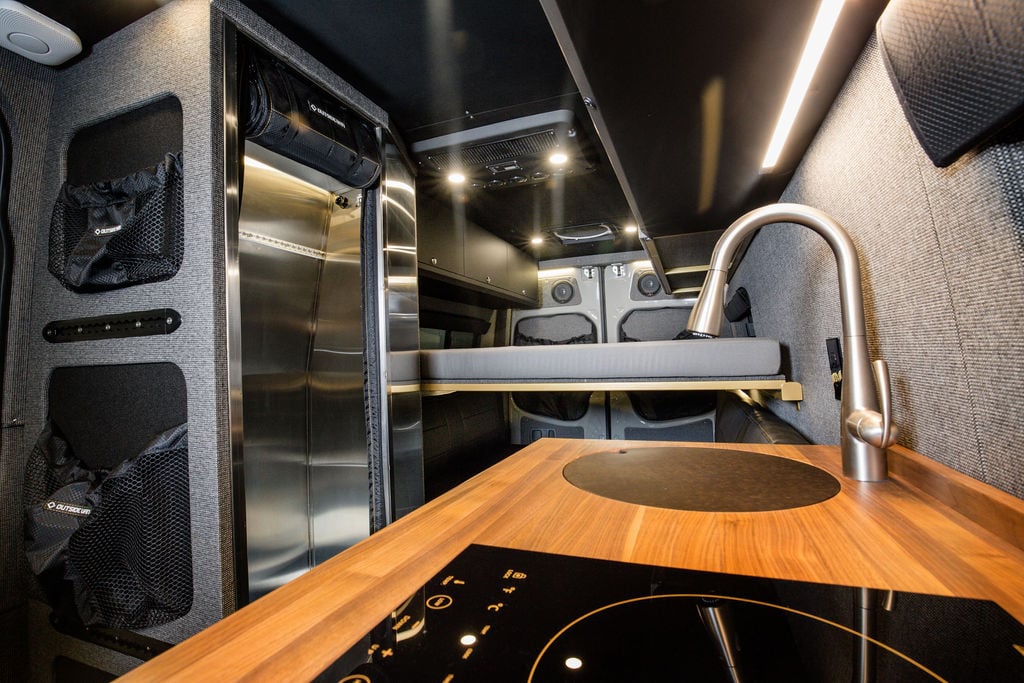 The Design Process
Designing the van tends to be the longest part of the customer journey. Of course, this depends completely on the customer.
"We've had a customer design their van in one day. We've also had customers take years. The typical design process is a couple months. Due to the extensive options list. There are a lot of choices to make."
Rendering Programs
Since every design is so custom, each of the upfits requires production ready CAD files. This allows the production team to build our conversions with the upmost accuracy.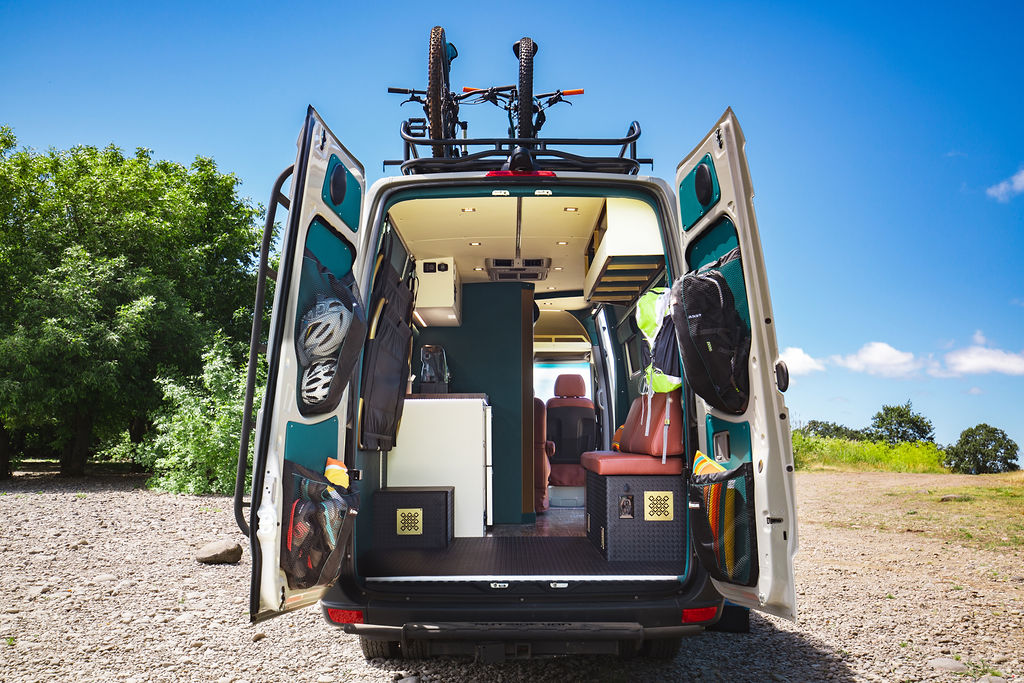 Components
Outside Van has great relationships with their vendors and likes to stay loyal. Those companies include "Zamp Solar, JL Audio, Sunbrella, Dometic, Black Rhino, Flarespace, plus many many more."
One thing that does separate Outside Van from other upfitters though, is that they will work to install any product a customer wants–even if it doesn't fall within their wheelhouse.
"We want to stand behind the product we build, so if there are any potential issues we have run into in the past we will guide our customers in the right direction. This is the benefit of being in this business for so long. We know what works and what tends to not work."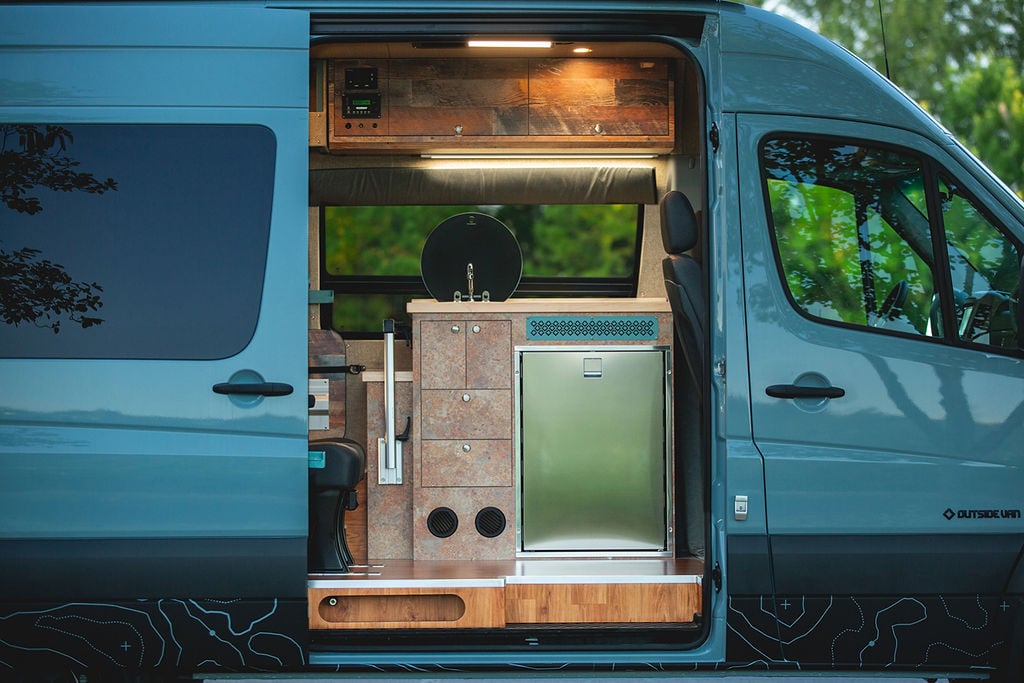 Production
Through the design process, Outside Van connects with customers about the general progress of their build and when they can expect to pick it up. With so many custom options each vans production time varies.
Changes
Changes can be made after the start of production, however this does slow down production timing and the delivery of the van.
Pickup and Delivery
Another unique feature about Outside Van compared to other conversion companies, is they offer delivery to your location once complete.
However, they also aim to have customers pickup their finished vans at the Portland HQ because it's the best way to get a detailed walkthrough of all the van systems.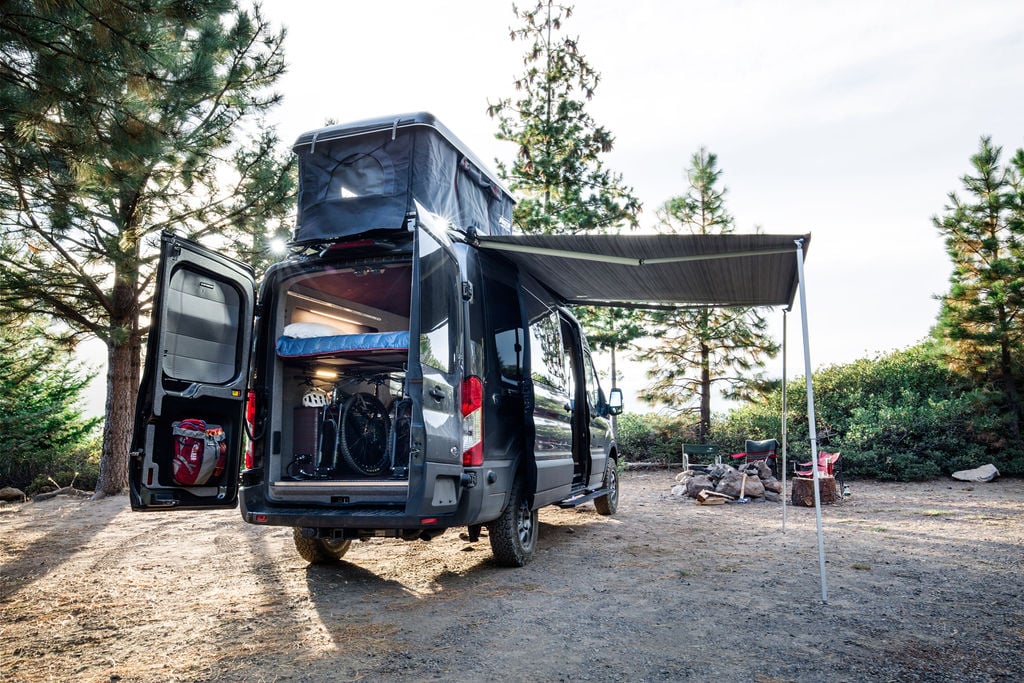 Pricing and Billing
Outside Van doesn't offer any internal financing. The van conversion cost is due upon the start of production.
The average upfit costs around $125,000. However, they have had conversions run as low as $22,000 starting with a premium interior package. Depending on the options selected, the sky is the limit!
Which design elements have the largest impact on price?
"Power. We are known in the industry for our robust power systems. Exploring off-grid is important to our customers and running out of power isn't ideal in remote locations. It's important that each customer has enough power to operate their componentry and the options they've selected for their van.
Just like everyone is unique, everyone uses their van differently, and that means that everyone uses their power supply differently. However, the more battery power you have in your van the higher the price point tends to be."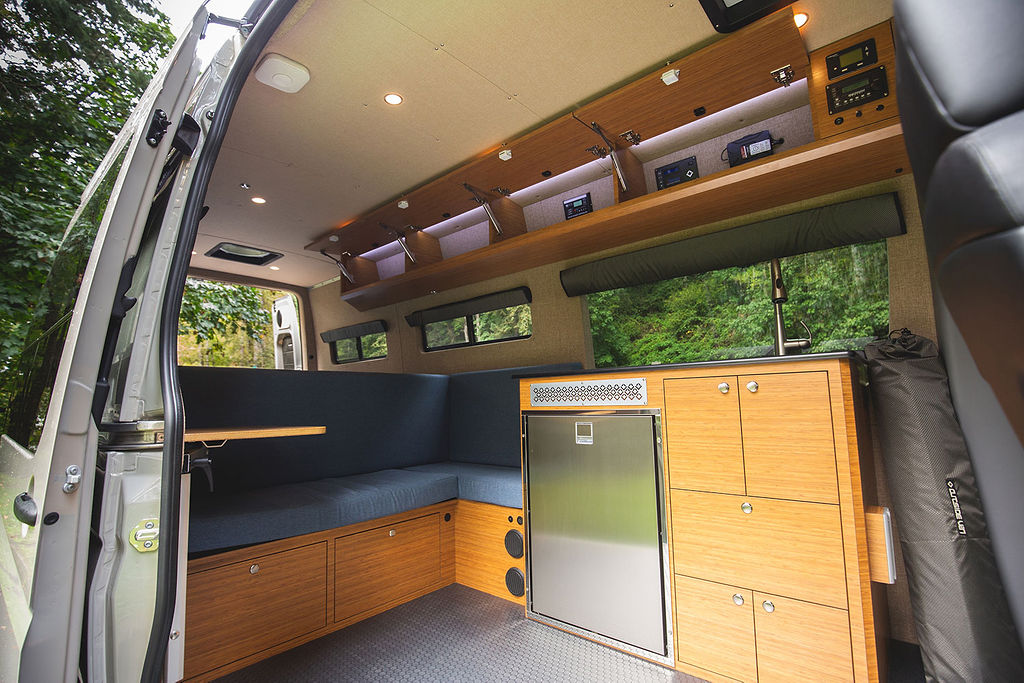 Warranties
Outside Van is one of the few upfitters that offers warranties on all components including the vehicle chassis if purchased through them.
"We stand by warranty of 3rd party products like refrigerators, batteries and such. However, we normally can fix the problems that occur and will take care of them ourselves."
The typical warranty process depends on the issue. "We have been continuing focusing on building our vans with the customer in mind. So through the design process we take in account to add access panels with maintenance in mind.
Some of the larger warranty issues need to come back to our shop for proper maintenance, however we have also been known to fly our mechanics all over the nation to assist our customers."
Insurance
"We tend to leave this up to our customers but we can provide suggestions if asked."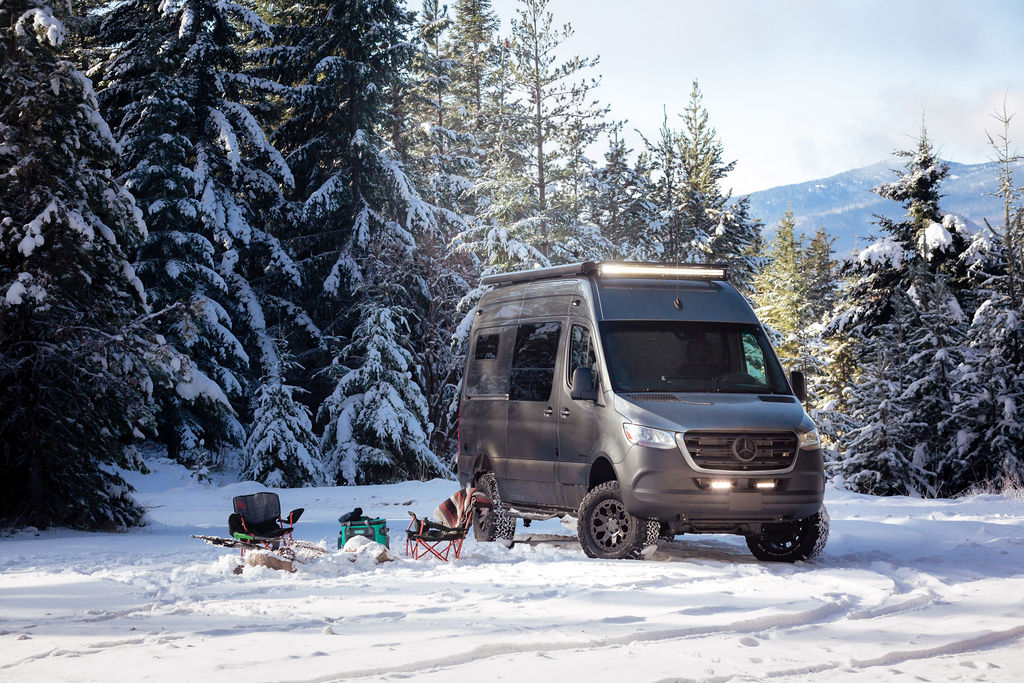 "We've been asked to do a lot of memorable things. Most of them we keep to ourselves for the confidentiality of our customers. Due to our custom capabilities the customer has a blank canvas to design on, leading to some REALLY interesting designs."