50+ Custom Camper Van Conversion Companies Listed by State
By
on
This post may contain affiliate links. As an Amazon Associate, I earn from qualifying purchases. Please read my full disclosure.
Not everyone has the time or patience to compete a DIY camper van build. Fortunately, there are plenty of companies out there that can build a custom conversion for you!
We've vetted some of the most popular camper van conversion companies in the United States. The ones that made the list have at least 5 completed builds under their belts (many have 50+)!
These companies also have multiple employees and standard operating procedures. Their campers are designed for full time van life. We did not include any individual upfitters that are new to the game, or building vans in their home garage.
Companies are listed in alphabetical order by state.
Camper Van Conversion Companies By State
Arizona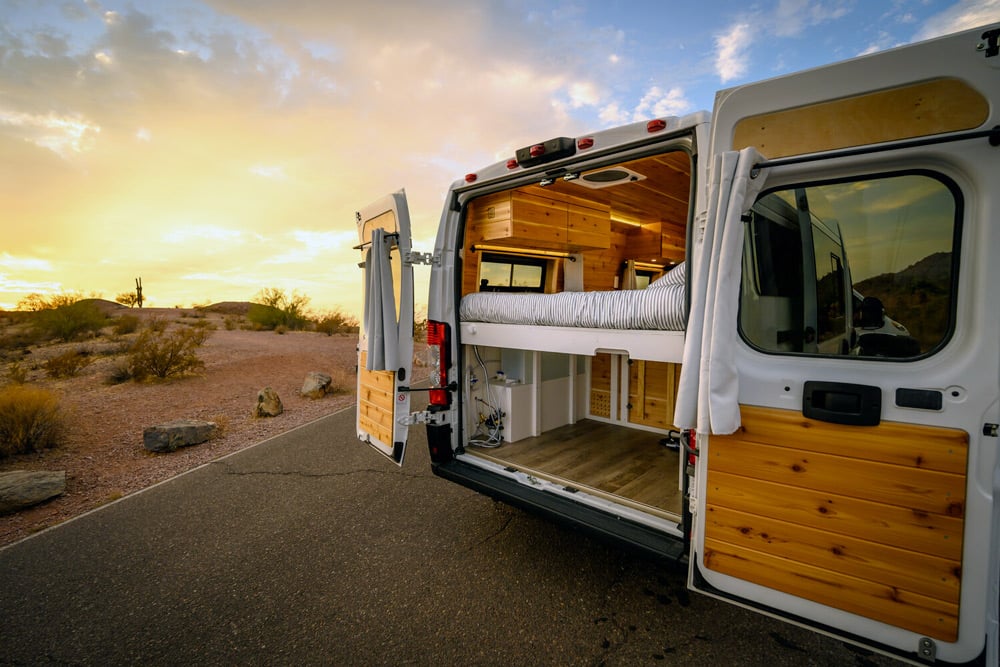 Boho Camper Vans builds, rents, and sells custom camper van conversions. One of the unique things about this company is that Boho offers financing unlike many other upfitters.
The team of 12 builds 5-7 vans per month and custom conversions start at $36,000.
California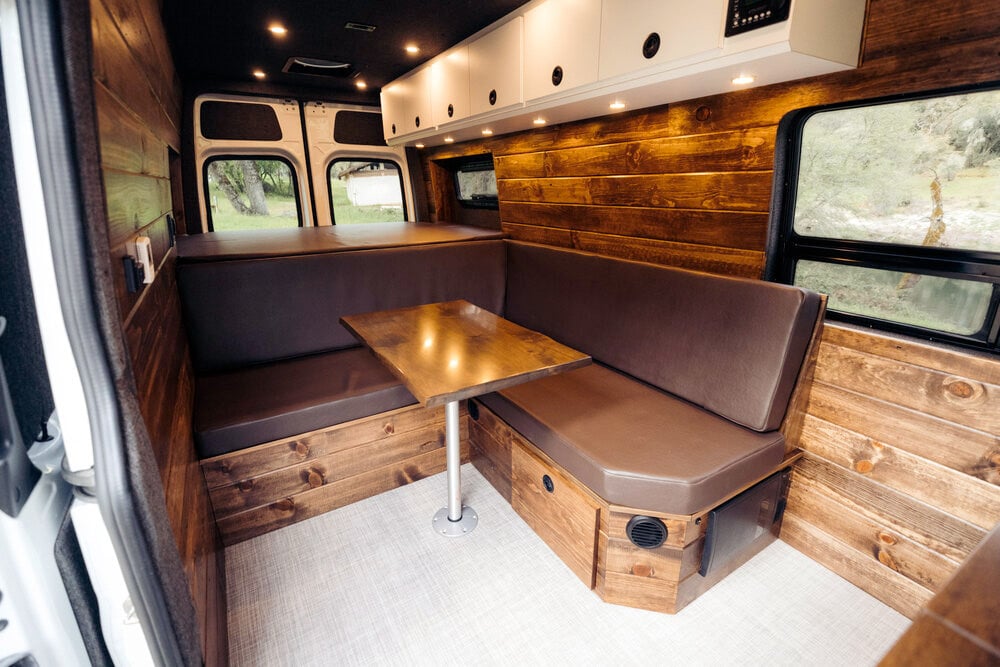 The Advanture company offers base designs, upgrade options, and fully customizable van builds. Base builds start at just $36,000 and work up from there.
Custom vans typically have a 3-month turnaround. The team can work on a variety of vehicles but focus mainly on the Mercedes Sprinter, Ram ProMaster, and Ford Transit.
American Van Works converts both commercial vehicles, and lifestyle campers. They have been around since 1971 and build their campers mainly using a modular system.
They have customized over 1000 vehicles and specialize in the Mercedes Sprinter.
Cardiff focuses on building simple weekender-style campers using a modular system. They do not do fully built designs that include enclosed bathrooms, hot water systems, or fixed cabinets.
The narrow focus means they can reduce costs to $18,000-$27,000 per build. A typical camper build takes between 2-4 weeks so you can hit the road faster.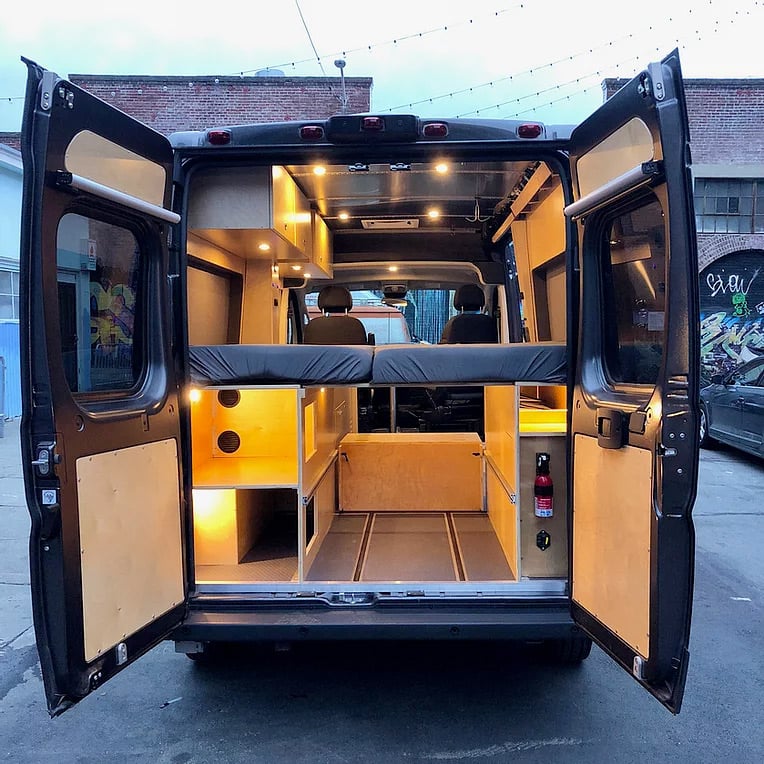 With the goal of being an affordable conversion company, Cascade Campers has narrowed down their choices. The company only works with Ram ProMaster City cargo vans that are 2015 or newer.
Each of their conversions is fully equipped with a flat price of $8,000. The team of four can build 8 campers per month and has made over 100 of them so far.
This restoration shop focuses on vintage vans and trailers. Airstreams, and VW buses are in their wheelhouse.
Epoch restorations does everything from bodywork to custom builds and solar. They also rent out their vehicles if you want to head out on a camping trip or use a camper for an event or photoshoot.
Located in San Fransisco, Glampervan will upfit your camper with one of its proven designs and layouts. The company does not do custom builds.
This allows them to keep prices low, and delivery quick. Upfits range from $30,000-$65,000 and they currently work on Ram ProMaster 136 high roof vans only.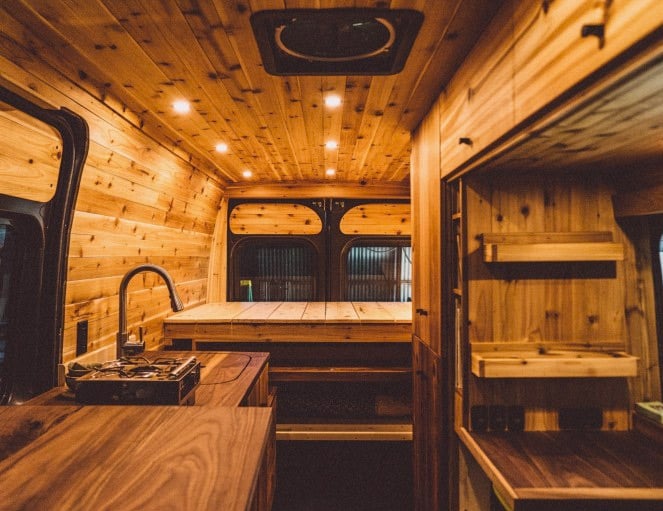 GTRV: Sebastopol, CA
If you're looking to put a pop-top on your van, GTRV is a good place to look. The company converts new and used vans into multi-use campers and Class-B RVs.
They work on a variety of smaller vehicles including the Nissan NV, Transit Westy, Metris Westy, Metris Weekender, and Chevy Express.
Humble Handcraft has roots in the tiny home industry and more recently began designing custom campers as well. They are known for their distinguished woodworking and cozy interiors.
Their philosophy is to use sustainable materials, avoid chemicals, and use recycled energy whenever possible.
Outpost Vans offers both rental services as well as custom conversion packages. The typical bespoke build averages between $50,000-$80,000 and takes 12-16 weeks for completion.
With a number of builds under their belts, the team focuses primarily on Mercedes Sprinters, Ford Transits, and Ram ProMasters.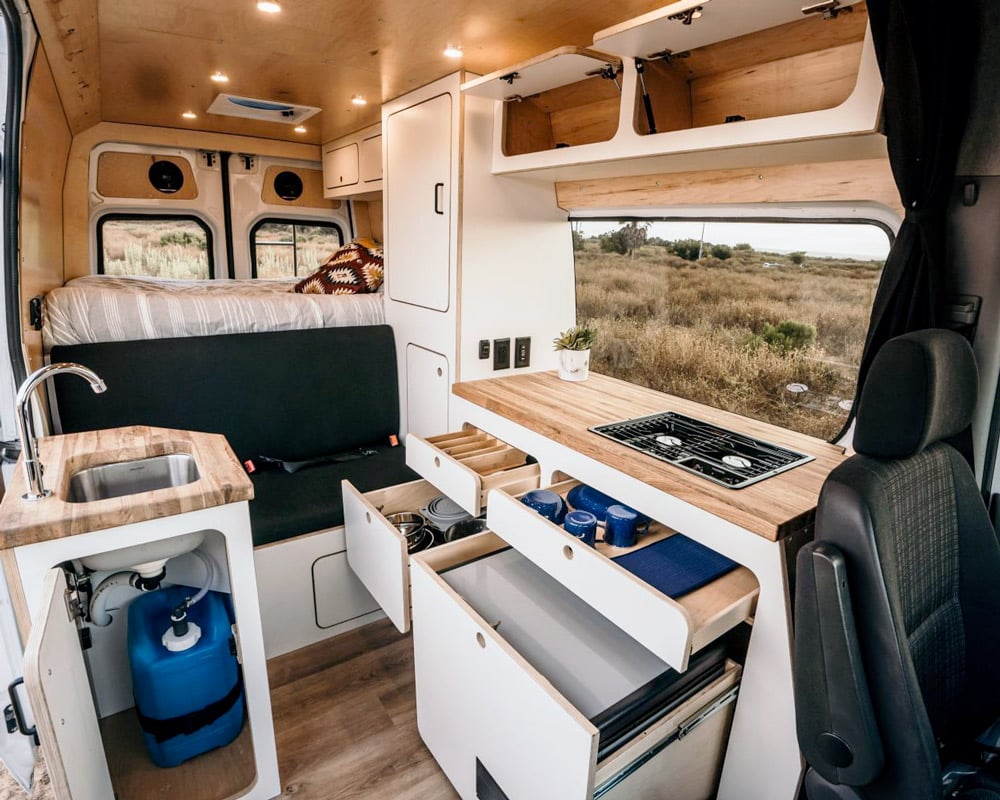 Van Craft is known as one of the leading Sprinter Van Rental companies. It's the perfect way to try out the van life before committing. In addition to renting, they also do custom conversions as well. Van Craft has a laser focus.
The company will only convert high roof 144″ or 170″ Dodge/Freightliner/Mercedes Sprinter cargo or crew vans.
Vannon: San Luis Obispo, CA
Vannon offers full vehicle builds, part installation, and technical support for campers. It is a small, family owned and operated business that specializes in the Mercedes Sprinter and Ram ProMaster.
Not only do they do custom designs, but if you're more of a DIY builder, Vannon also sells parts to optimize and upfit your vehicle
Colorado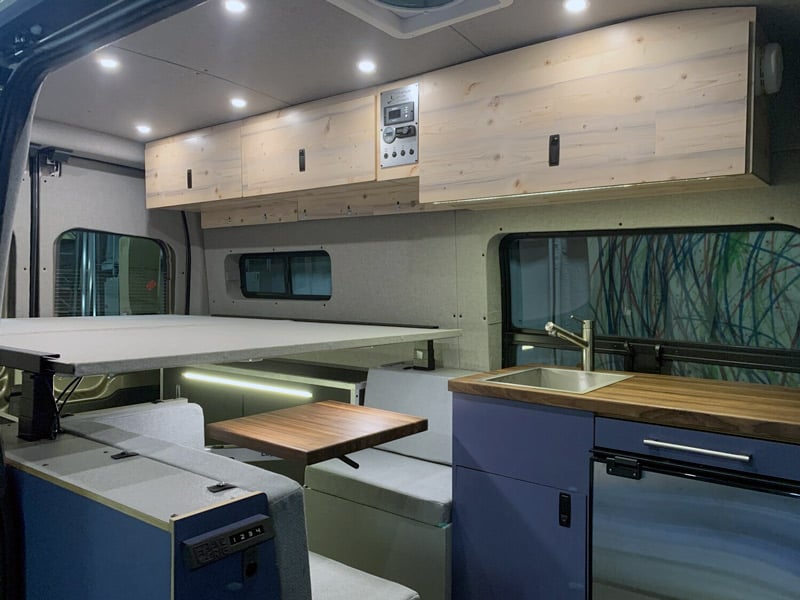 Focused solely on the Ford Transit, Adventure Vehicle Concepts builds custom off-grid adventure vehicles. They have a handful of standard build packages to choose from as well as bespoke designs.
Alpine Mechanisms is a unique company because they try to build every possible component in-house.
That includes roof racks, bumpers, swivel seats, and interior furniture. You can hire the company to design full custom conversions, or for individual part installation like electric systems, plumbing, or air heater installation.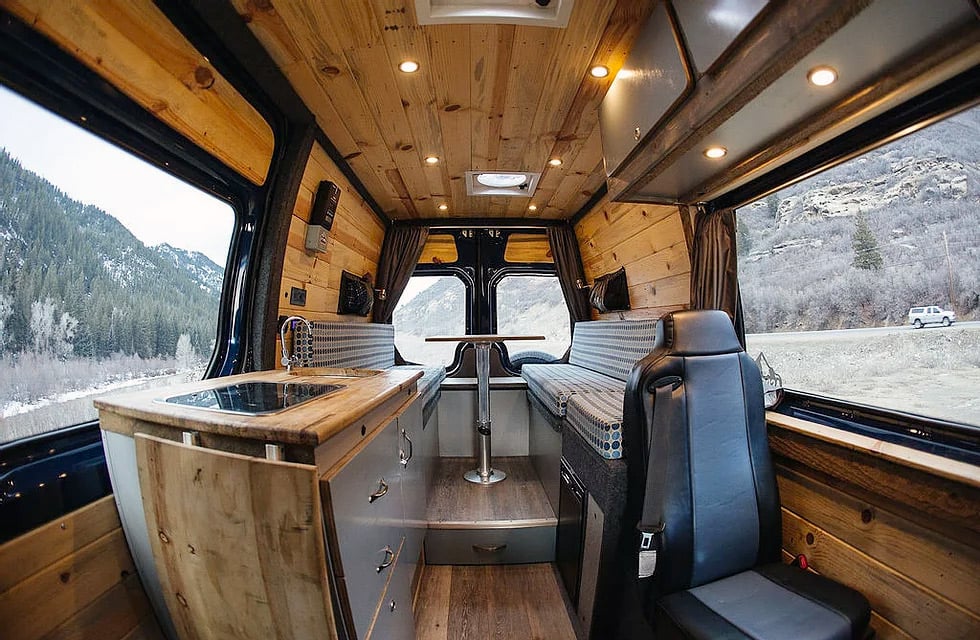 Founded by an Aspen Colorado family, this company does custom conversions, camper van rentals, and offers van build consulting.
They've worked on a number of different vehicles including the Mercedes Sprinter, Ford Transit Connect, Ford F-350, and others.
Colorado Adventure Vans has three warehouses where they build vans and do camper upgrades. You can purchase completed projects, rent vans, or get a custom design manufactured through them.
The typical conversions starts at $32,000 and they offer a la carte system installs as well.
Since 2009, Colorado Campervan has been designing and building custom conversions. Not only does this company do full bespoke designs but you can also hire them to install individual components as well including pop tops or interiors.
The company works with Ford Transit, Ram ProMaster, Mercedes Sprinter, Nissan NV, Ford E Series, Chevy Express/Savanah, Eurovan Winnebego, and trailers.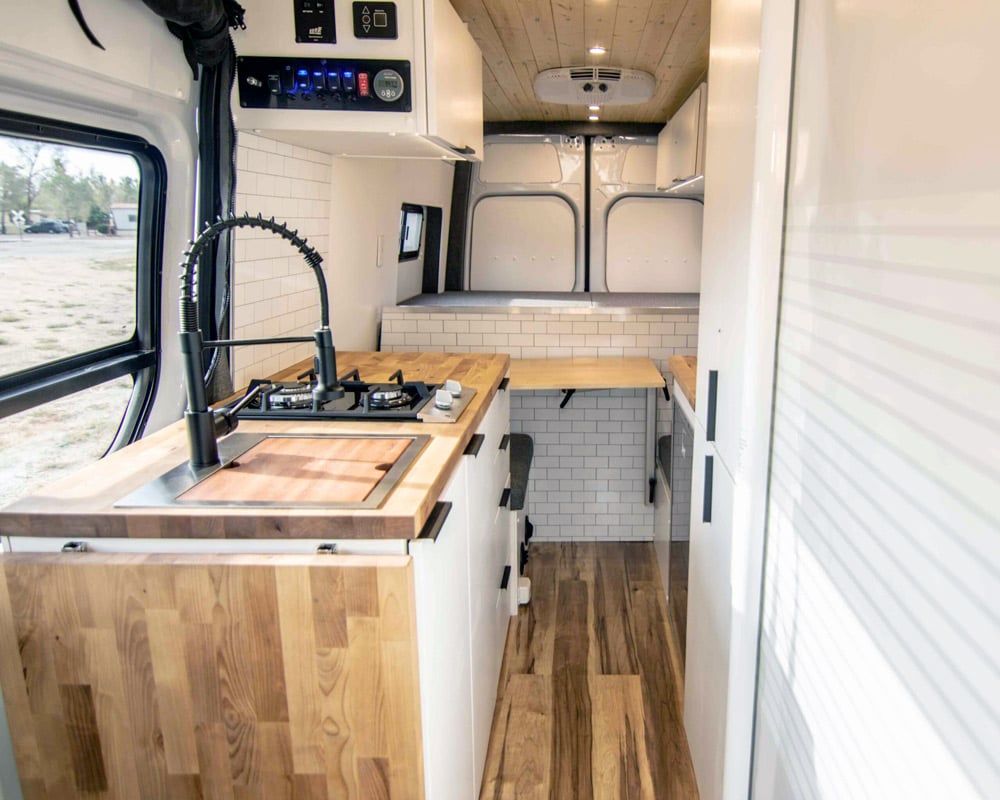 Colorado Custom Coachworks is a DIY shop and conversions company located just outside of Denver. This is a unique business because you can purchase bespoke designs, or drop in to rent some of their tools.
This company works on a huge variety of rigs including school bus conversions. If you're building your own bus, you can head to Colorado Custom Coachworks to rent the equipment for a roof jack, or hire them to raise the roof with hat channel extensions and inserts!
If you're looking for a shop that works on a wide variety of campers, Contravans is the place to go.
They convert everything from box trucks to smaller campers including the Ford Transit Connect, Mercedes Metris, Nissan NV, Toyota Sienna, and Chevy Express. You can purchase pre-built vans or design your own.
Specializing in custom minivan conversions, Oasis Campervans can do partial and full build outs of the Toyota Sienna, Honda Odyssey, Dodge Grand Caravan, and Chrysler Pacifica.
Conversions take just 3-4 weeks and cost significantly less than installing a full cargo van build.
Rossmönster offers rentals in addition to bespoke camper conversions. They have experience with Sprinters, ProMasters, and Transits as well as Volkswagen Vanagons.
The team of 10 comes from a background of custom woodworking, carpentry, and electrical.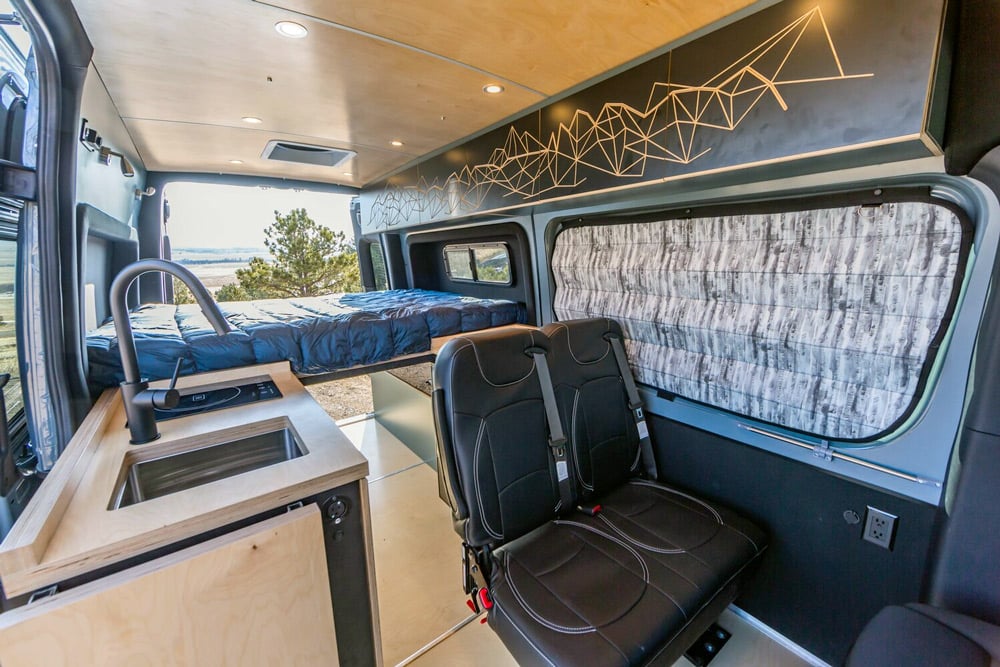 Located in southwest Colorado, this family-run shop specializes in Ram ProMaster, Ford Transit, and Mercedes Sprinter conversions. This company likes to provide a 1-to-1 approach and the most basic builds start around $19,000.
TouRig designs custom Sprinters and Transits using a mix of custom design and modular systems. You can purchase pre-built vans or bespoke designs through the company. The team of 15+ works to complete each rig in 6-12 weeks.
And after the process you'll get a 2-hour walk through as well as diagrams of the electrical and plumbing systems.
Vanlife Customs offers complete conversions as well as DIY consulting if you're just looking for some tips for your own build.
An average camper conversion typically takes 8-12 weeks and costs between $60,000-$80,000. Vanlife Customs works on Sprinters, Transits and Promasters including all lengths and heights.
Florida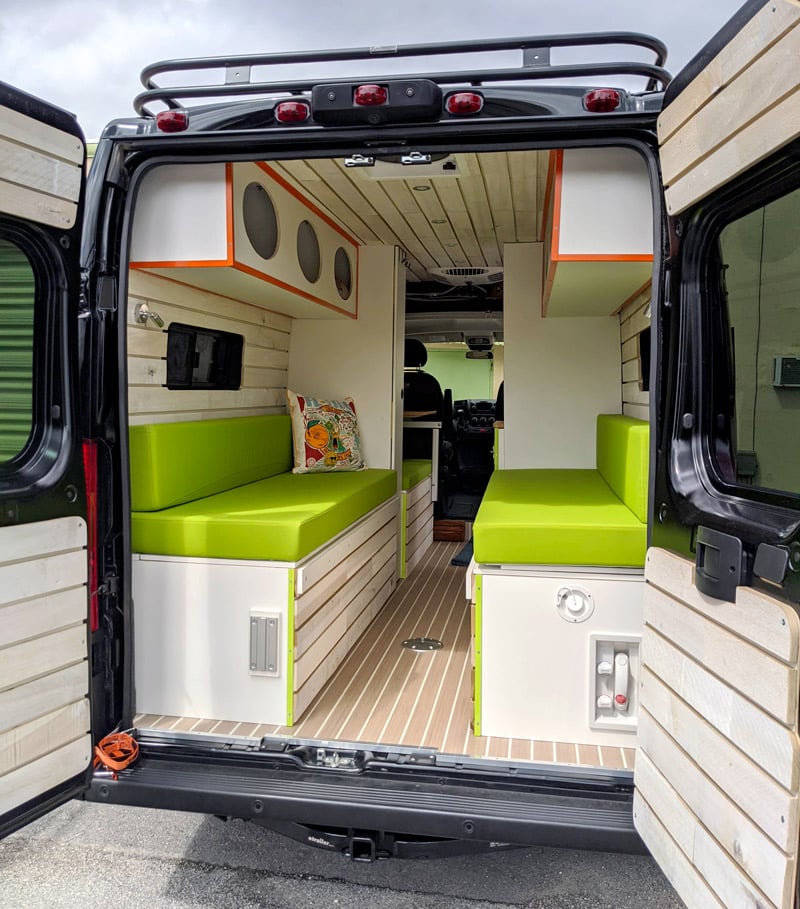 With 25 years in the RV business Custom Coach Creations is the place to go for a Class-B RV. They can put together a conversion for as little as $18,695.00.
The company uses modular components to convert the coach to your needs. They can also supply Ram ProMaster Cargo Vans for a discounted price.
Freedom Vango specializes in Mercedes Sprinter, Ford Transit, Dodge Promaster conversions, though they can work on nearly any vehicle.
Freedom Vango came about when two leading van builders decided to merge their respective companies into one custom upfitter. Today they have over 35 camper builds under their belts and are continuing to grow.
Mango Vans: North Miami Beach, FL
Mango Vans offers a variety of packages and custom build options to choose from. Basic conversions start at $38,000 and go up from there.
You can customize your van by choosing one of their proven layouts and adding components that will work best for your adventure.
Idaho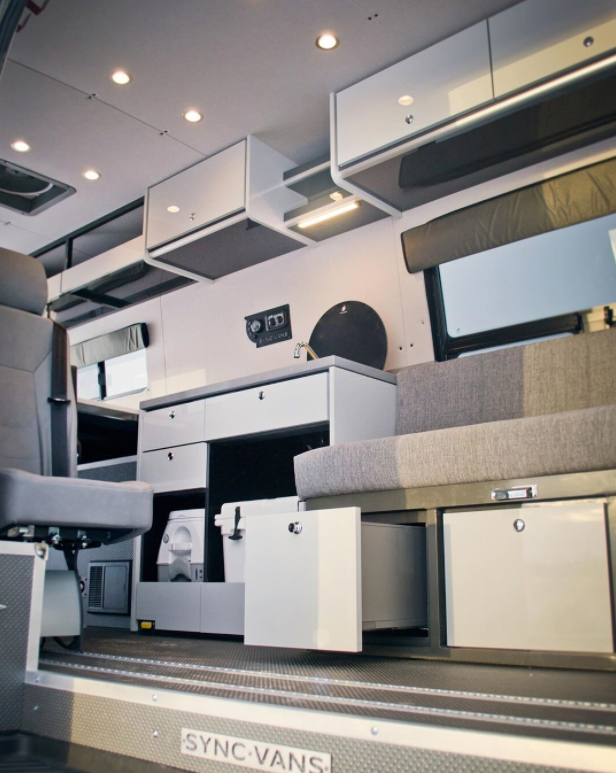 Sync Vans offers both semi-custom and fully-custom upfits. Their semi-custom designs include modular systems that fit into 144″ and 170″ vehicles. This is a great way to save some money on your conversion.
While the majority Sync builds are Sprinters, they work one-on-one with each of their clients to bring their dream van to life, no matter the model. Promasters and Transits included.
Maine Camper Up-Fitters
AWOL Adventure Rigs is located further east than any other upfitter in the US! The owners have a background in marine Woodworking which makes for some really unique designs and high-quality craftsmanship.
The company specialized in upfitting the Chevy Express, Dodge Ram ProMaster, Ford Transit, and Mercedes Sprinter.
Missouri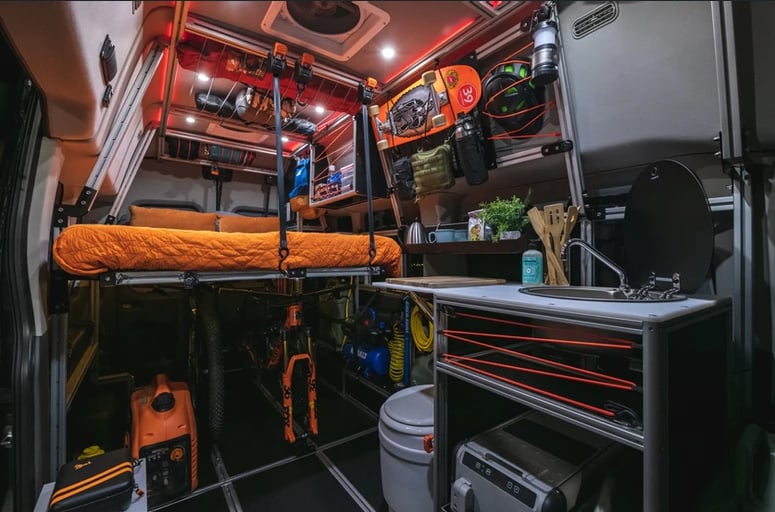 Van Do It has been in business since the 1950's and is one of the few conversion companies in the midwest.
Their team of 25+ employees creates unique and custom builds including beds with hydraulic lift systems, gear storage slides, and legal seating for up to 8 passengers. Prices range from $58,000-$108,000 including the van!
Montana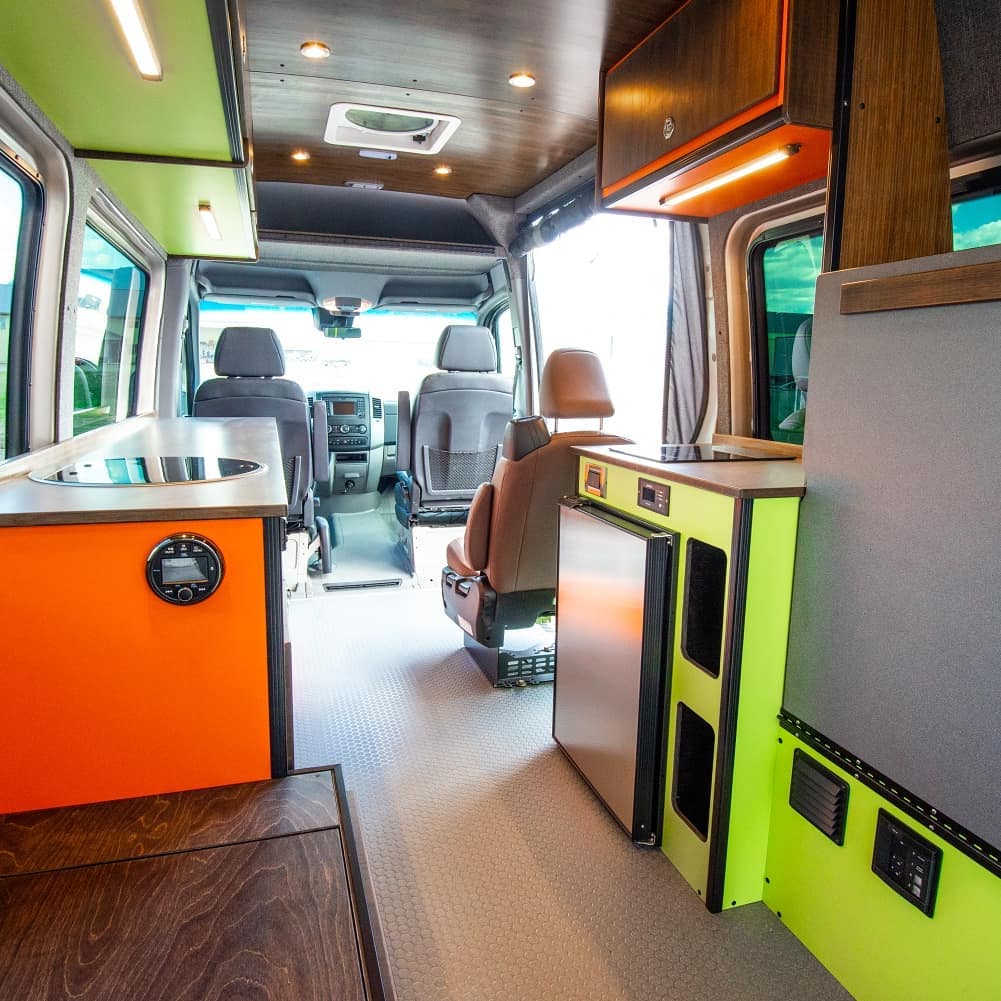 Operating since 2016, Beartooth Van Works specializes in bespoke camper conversions made for you. They have tens of conversions under their belts including Mercedes Sprinters, Ram ProMasters, and Ford Transits.
Kestrel Van Concepts sells both custom camper van conversions as well as pre-built models. They specialize in the Mercedes Sprinter. The owners of the company have spent 6 months living in a van full-time so they are no strangers to the lifestyle. Their conversions can sleep up to four people.
All Terranaut campers are built with a 4-wheel drive Mercedes Sprinter. They use a German imported modular system for the Mercedes Metris to create a luxury vehicle that's functional and comfortable.
New York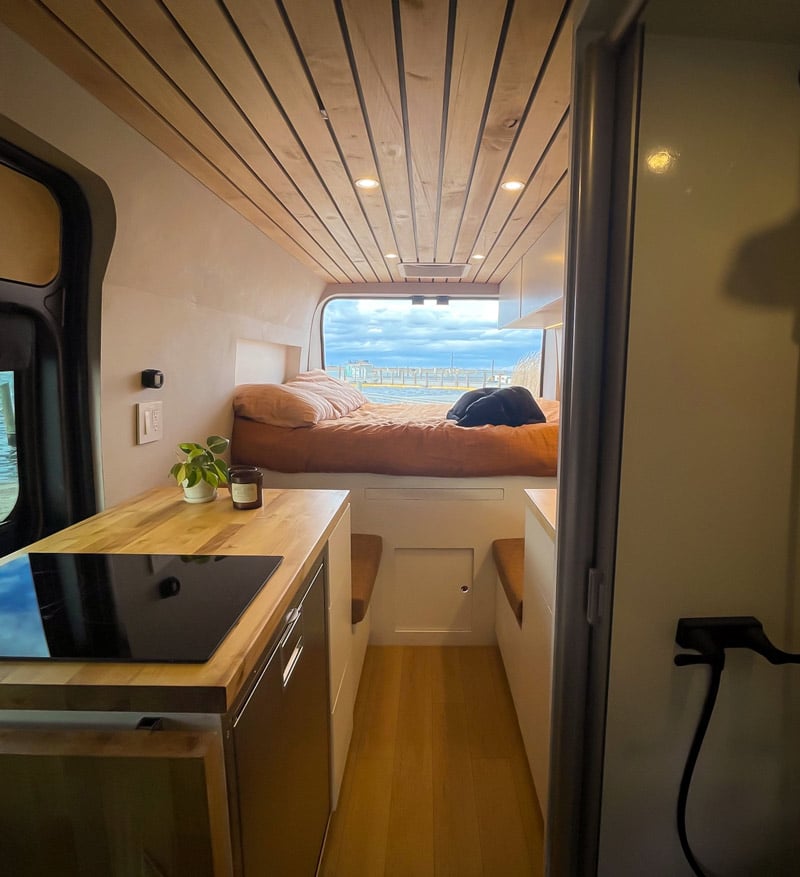 Brooklyn Campervans is one of the few Northeast van conversion companies. They blend minimalism and detailed trim work, while including all the amenities.
Their vans are outfitted with the latest technology from power stations, solar roof decks to satellite internet, as well as their signature "BKC Swing Out Panels". Conversions take 10 weeks to finish and start at $48,800.
North Carolina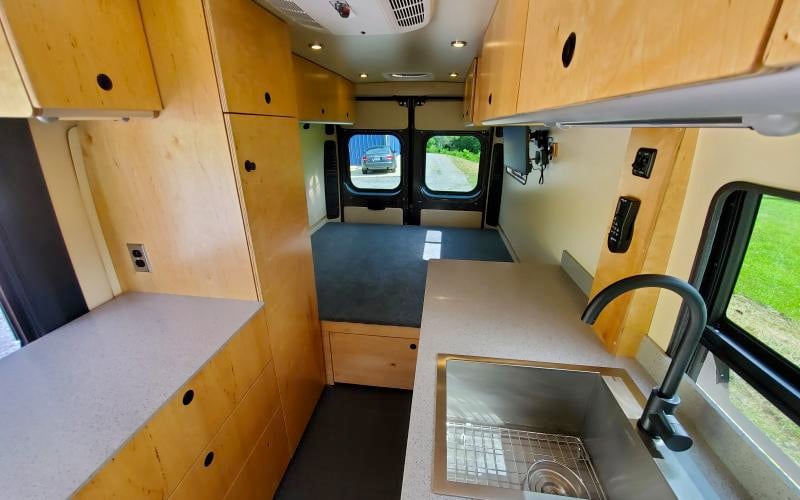 Located in the heart of the Blue Ridge Mountains, this camper van conversion company specializes in using sustainable and eco-friendly materials.
You can purchase custom upfits and pre-built campers through Blue-Ridge Adventure Vehicles and they have a wide range of options to make your adventure affordable. The most basic build-out packages start at just $5,000.
Ohio
Focused on Class B motorhomes built on a Sprinter chassis, you can purchase both new and used vehicles through Advanced RV. They also offer rental services if you want to try out the van life without jumping all-in.
Beginning in 1993, Creative Mobile Interiors offers custom conversions on a variety of vehicles and price ranges. Past conversions have included the Mercedes Metris, Mauck2, and Freightliner, in addition to Sprinters and Transits.
This shop does everything from mobile camping vehicles to commercial builds for dog groomers, medical professionals, and mobile barber shops.
Oregon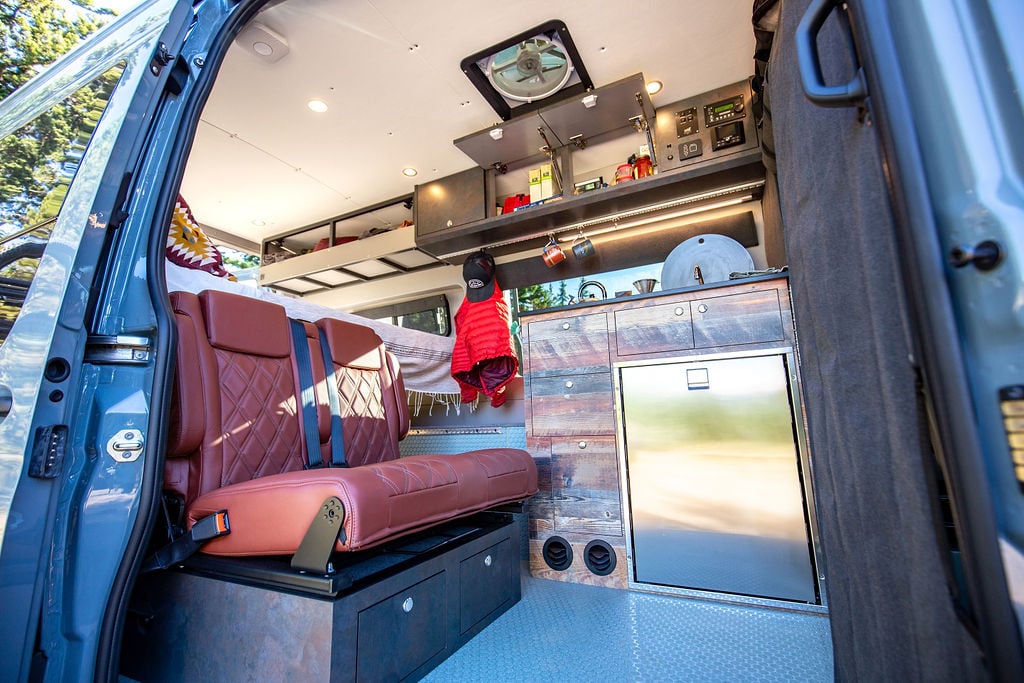 Benchmark Vehicles was started by a team of experienced woodworkers and has evolved into a full-functioning conversion shop with over 15 employees.
They specialize in Ford Transit and Mercedes Sprinters. Benchmark Vehicles is are known for designing 4×4 adventure-worthy builds that are ready for off-grid travel.
The makers at Elementum have over 20 years of experience in van conversions. The use in-house CNC machines, metal fabrication, and custom upholstery to design quality campers. Elementum focuses on Mercedes Sprinter conversions.
Outside Van is one of the largest camper van upfitters in the US. They convert over 100+ vans per year. This company is unique because they allow you to purchase the vehicle chassis along with the upfit as an all-in-one package.
They also offer a 3-year warranty on all components. Outside Van currently works on newer Mercedes Sprinter Vans only (2007+), but they plan to begin working on Ford Transit conversions in the future.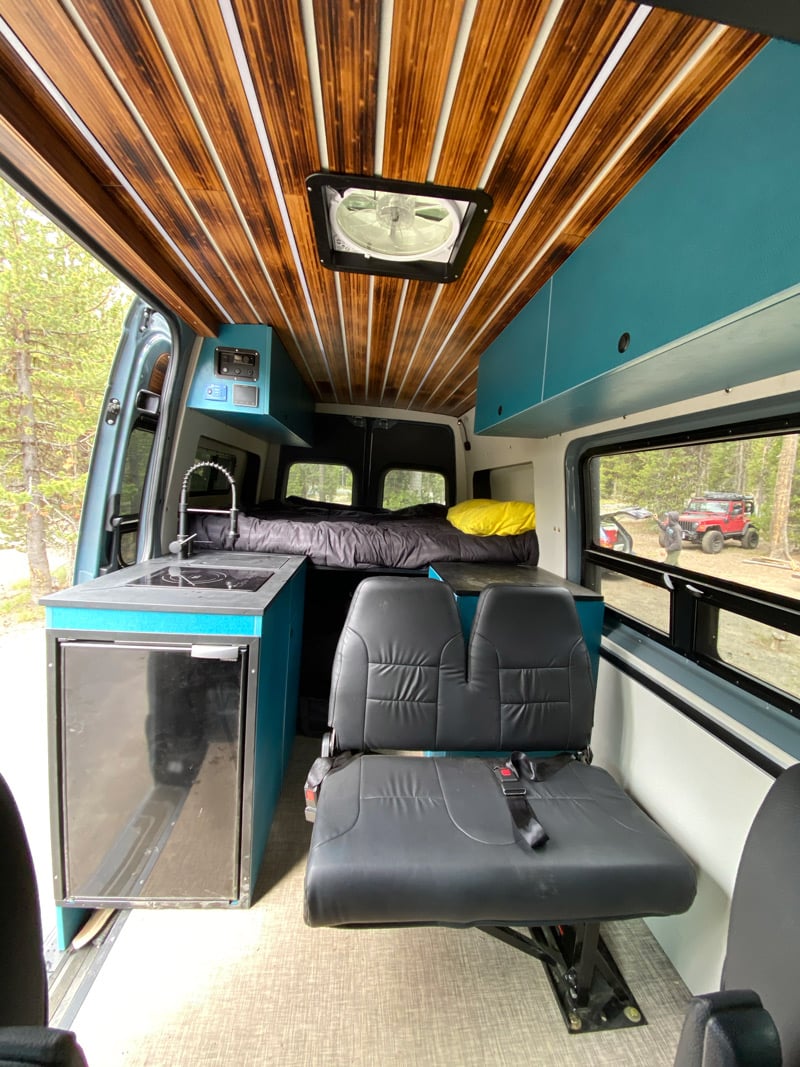 With over 140 completed conversions, Overland Van Project is another premiere upfitter in Oregon. They specialize in the Ford Transit, Mercedes Sprinter, Dodge ProMaster, and Military LMTV 1079's.
Production time typically takes between 10-14 weeks, and unlike many other companies, Overland Van Project will help set you up with camper van insurance after the process.
As a company that was founded in 1973, Van Specialties has been around for a long time. They sell van parts and accessories in addition to custom van interiors.
A cool thing about this company is that you can come to them for partial up-fit services including fuel tank installation, towing and braking systems, or purchase modular interior components.
While Zenvanz does create custom conversions for clients, their claim to fame is DIY conversion kits. You can purchase modular cabinetry and components through Zenvanz and then install it in your own van, or have it installed by a professional upfitter.
Zenvanz has a network of builders that are familiar with their systems. DIY kits start at $18,000 and are easily removable.
Utah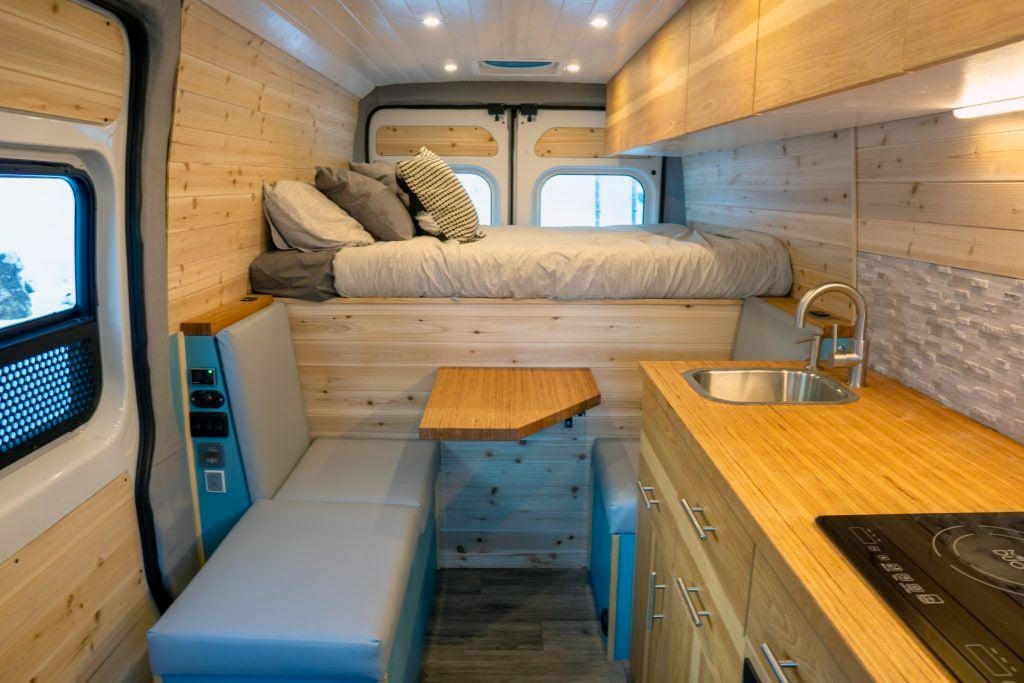 Camper Reparadise offers restorations of campers, trailers, and RVs. More recently, they got into the conversion game and now offer overland and adventure upfits as well.
Off Highway Van offers custom conversions as well as standardized build packages to get you on the road as soon as possible. They focus on Dodge Ram ProMasters and Mercedes Sprinters. The team typically takes between 6-8 weeks to finish a custom build.
Launched in 2015, Van Builders offers commercial and recreational upfits. They are currently in the final stages of becoming a Certified Mercedes Benz Master Upfitter, and will support Sprinter Dealerships, commercial and recreational upfits within a 300 mile radius from Salt Lake City.
Vertical Vans offers custom conversion packages starting as low as $35,000. They focus mainly on Dodge Ram ProMaster conversions, but do Mercedes Sprinter and Ford Transit campers as well. Production typically takes between 8-10 weeks.
Washington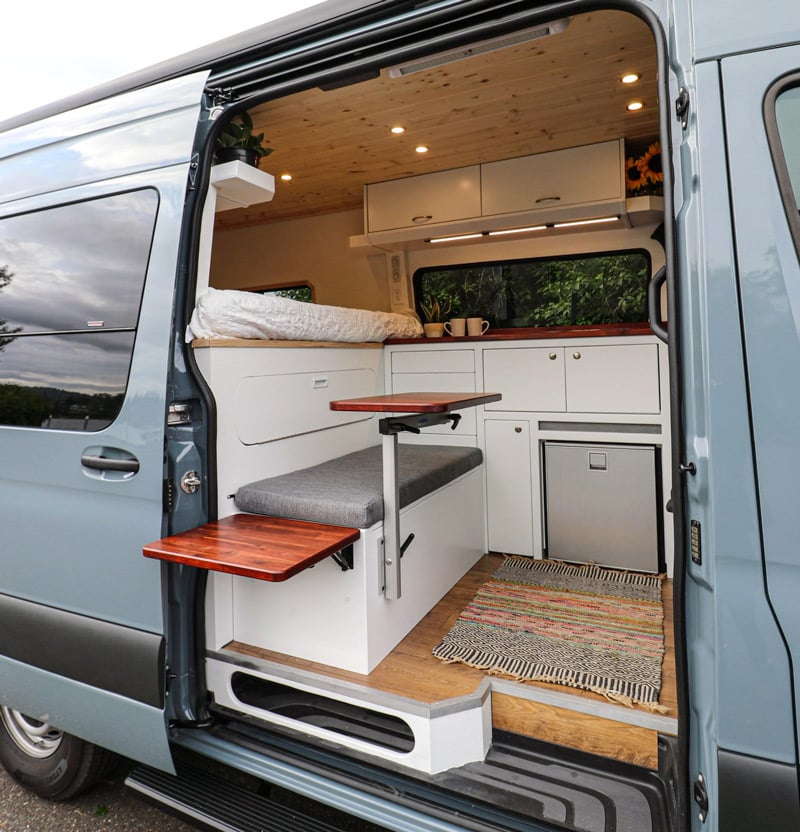 Freedom Vans was started by a van life couple and has since grown to a large shop employing over 12 people. Focused on Sprinters, ProMasters, and Transits, you can tour the shop in Bellingham to take a look at some of their projects yourself! Typical camper conversions cost between $25,000-$125,000.
Momentum Vans offers full upfit services as well as partial builds if you're just looking for a little bit of help installing a solar or water system. Employees at the company average 100+ nights in a van per year so they know what it's like to live the lifestyle! Momentum vans has an in-house CNC router and years of knowledge to build the perfect vehicle.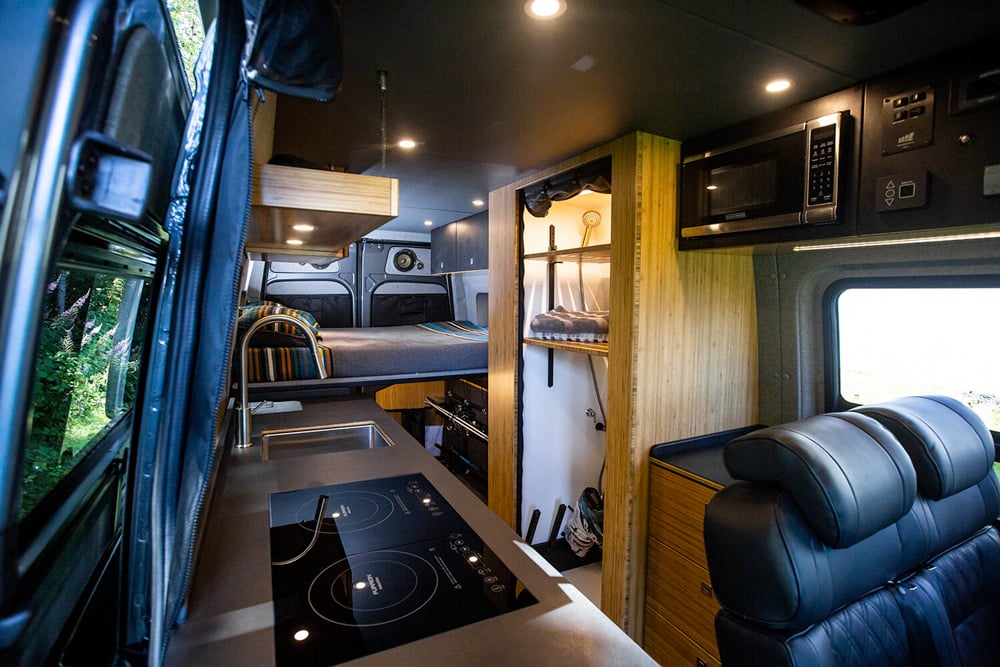 If you own a VW Bus, then Peace Vans is Seattle is the place to go for restoration. This upfitter does everything from vehicle inspections, to body work, engine conversions, and designing camping systems. The small team which started in 2011, has grown 10-fold in the last 4 years and has between 60-80 vehicles on their lot during any given day.
Van Haus Conversions offers a few standard models to choose from as well as custom upfits. They specialize in the Ford Transit, and Mercedes Sprinter, and Dodge ProMaster. All of their vans are also backed with a 36,000 mile warranty.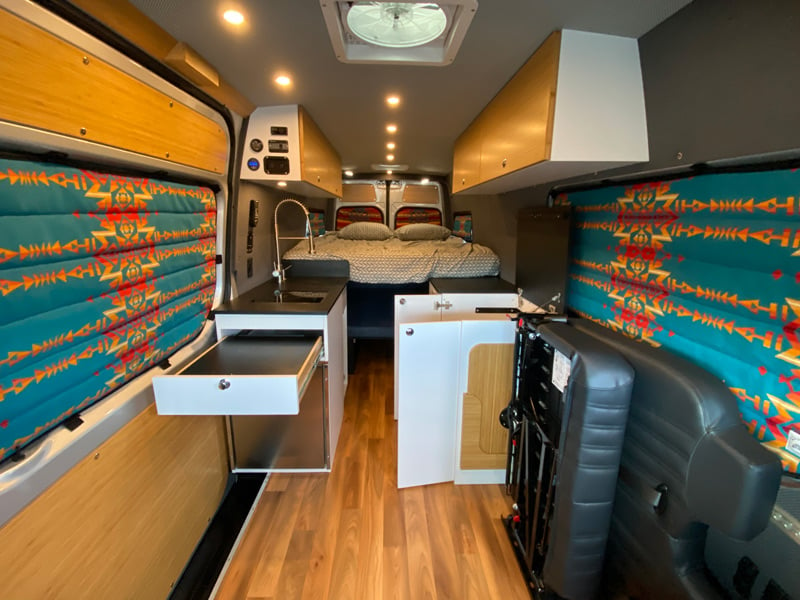 The Best Camper Van Upfitters
When it comes to sheer number of vans, the west coast and northwest have the largest collection of camper van upfitters to choose from. California, Colorado, Oregon and Washington have the most established conversion companies with hundreds of builds under their belts.
What to look for in a custom camper van upfitter
Each company is going to operate differently and you should make contact with several before committing to an upfitter.
Keep in mind the closest van upfitter is not necessarily the best. Don't be afraid to search outside your state or make a longer drive to find the perfect match. After all, there's a good chance that this van will be your home for the foreseeable future. And it's a massive investment!
What vehicles do they specialize in?
If you have a specific type of vehicle in mind, then contact companies that have experience with that type of camper. Here are a few examples:
Oasis Campervans is known for their minivans, like Toyota Sienna conversions, Chrysler Pacifica, and Honda Odyssey.
GTRV is a company that works on smaller vehicles like the Transit Westy, Metris Westy, Metris Weekender, and Chevy Express. Their bread an butter is adding pop tops.
Contravans will work on a wide variety of campers from box trucks to Nissan NV, and the Ford Transit Connect.
Overland Van Project, Outside Van, and Colorado Camper Van are just a few companies that work on large custom conversions like the Mercedes Sprinter, Ford Transit, and Ram ProMaster.
Read this post about the best vans to live in to help you decide what will fit your lifestyle and budget.
What is your budget?
Some companies will only do full conversions, others will allow partial builds. Some offer modular construction, and there's even a few that will walk you through the process yourself!
Decide what your budget is and determine what level of commitment you have to the project.
Keep in mind that most companies listing prices on their website do not include the cost of the vehicle. In most cases, you are just paying for the parts and labor when you put in an order.
Delivery
Building a van is a time consuming process, and it can't be automated. A lot of shops are small and have waitlists that are several months long. If you've got a start date already set, then you should pay special attention to the estimated delivery time–and add a few weeks for peace of mind.
Insurance or warranties
Believe it or not, many conversion companies will not help you with finding camper van insurance after the build is complete. Cutting roof vents into the vehicle, adding windows, and other holes are all things that can void your warranty.
Before committing to a professional upfitter, make sure to ask what kinds of insurance and warranties they use. Many products like refrigerators, air heaters, and vent fans come with their own warranties and you have access to that information when accepting the build.
Experience level
Highly experienced conversion companies should have several van builds under their belts. We recommend looking at upfitters with at least 5.
Be wary of brand new companies, people building out of their home garage, and people who have never actually tried van life.
You might get a big discount by being the guinea pig, but trust your gut and ask a lot of extra questions about exactly how they plan to convert your vehicle (and what kind of insurance they have if mistakes are made).
Examples and ideas
Any reputable company should be able to confidently walk you through the process of converting your camper. They should be able to show examples of other vehicles they've built, and answer all questions about the build process.
We highly recommend taking a tour of the facility if possible. You should be able to get a list of references, and a solid timeline including when they intend to start and finish each section of the project.
Custom Van Conversion Company Interview Questions
Here are a list of interview questions to ask your future camper van conversion company:
Campers

What type of vehicles do you work on?
Do you offer partial or full builds only? What about modular (removable designs)?
Will the components that I want fit into my vehicle of choice?

Build Process

How long is your waitlist?
What happens if we fall behind on schedule?
How can I visualize my future camper? (Sketches, 3D models, fabrics and materials?)
How and how often do you send updates on the build?
What if I want to make changes in the middle of the process?
What brands and components do you use?
Are there any pieces of gear or equipment that you won't install?
Can I provide my own equipment?
Can you show me examples of floor plans?
Can I view or test drive other vehicles you've built?
Do you have references?

Budget

When is the deposit and full payment due?
Are their payment plans?
Is there assistance on purchasing the vehicle?
What type of insurance do you offer during and after the build?
What happens if we go over on budget or parts?
Do I have warranties on all the parts?

Delivery

How does delivery work?
What do you get at the final walkthrough?
What happens if something is not working on the first weekend? Or in the future?