The The Best Portable Ice Maker For RV Camping (Review)
By
on
This post may contain affiliate links. As an Amazon Associate, I earn from qualifying purchases. Please read my full disclosure.
If you have ever been on a camping trip with an ice maker, then you understand what all the rage is about. No more coolers full of melted water, lukewarm drinks or soggy egg cartons, and no more spoiled food.
When you camp with a portable ice maker, you have unlimited access to cold food, cold drinks, and good times!
TOP CHOICE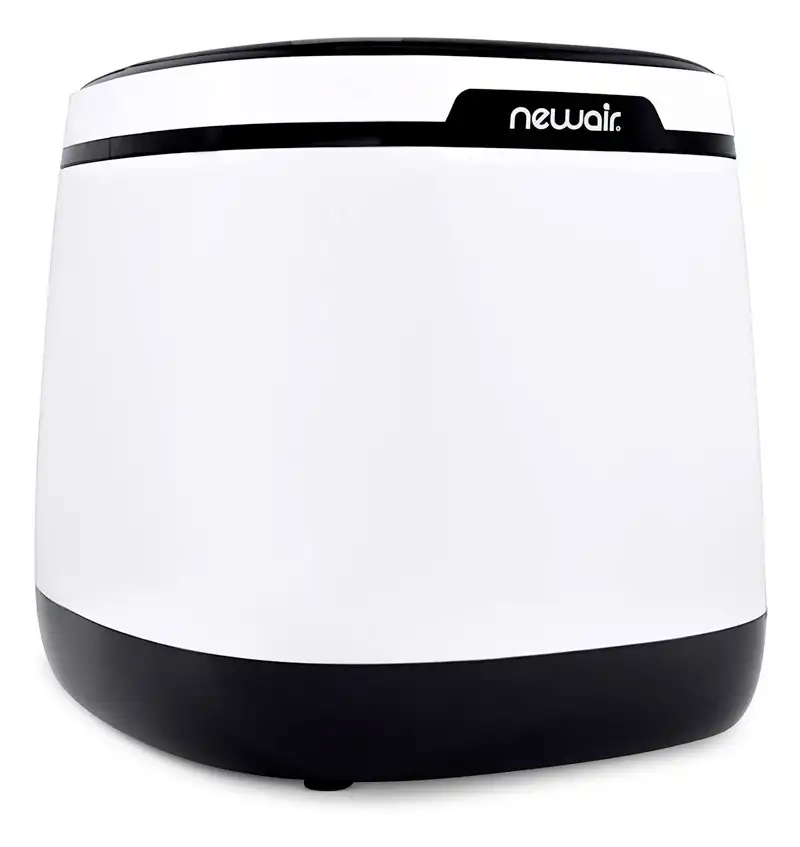 MOST COMPACT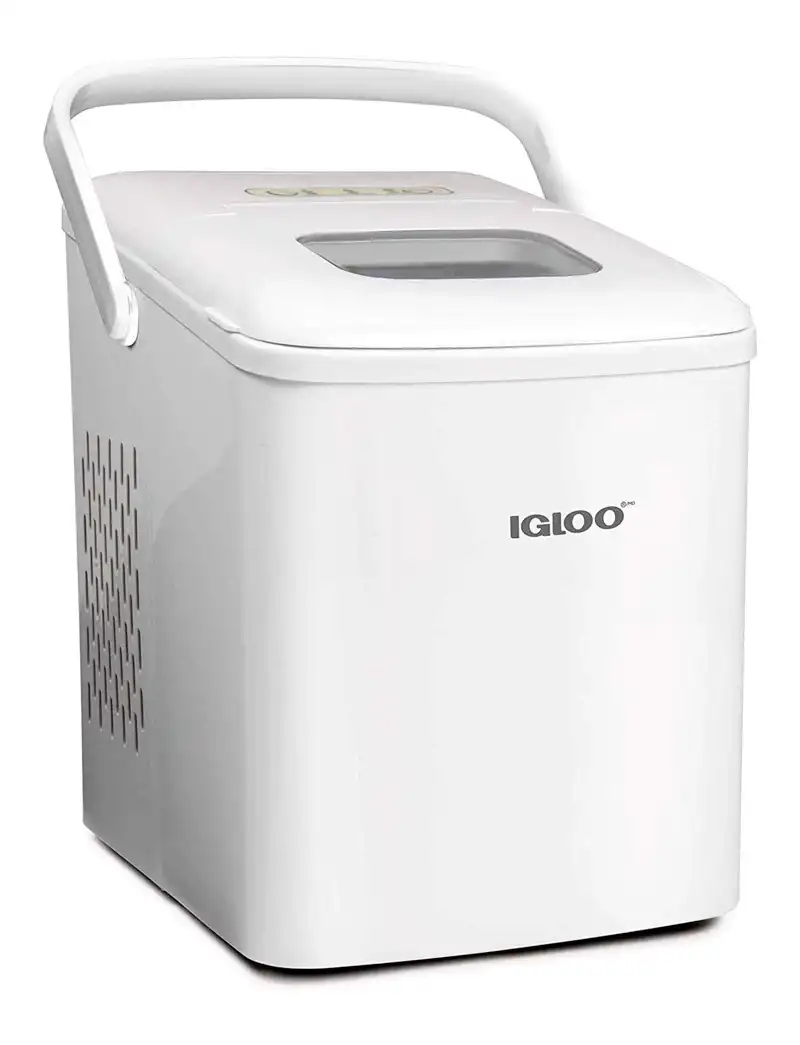 Igloo Countertop Ice Maker
Highly portable and compact ice maker that comes with a carry handle for camping trips, sporting events, and cookouts. Makes up to 26 lbs. of ice per day and will alert you when it's time to add more water.
CHECK LATEST PRICE
GREAT VALUE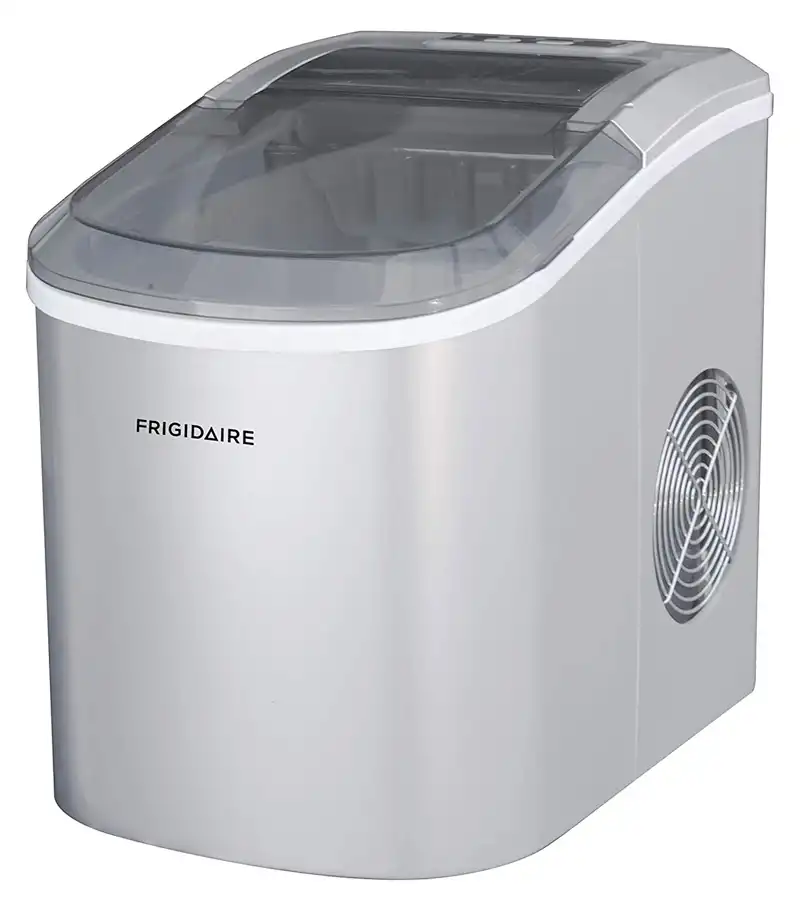 Why Campers Need A Portable Ice Maker
Having a personal ice machine may seem like an unnecessary luxury. Many campgrounds have ice available for sale and you can always pick up a bag at the local grocery store or gas station.
But the main reason you would want your own ice machine is convenience.
With a countertop ice maker, you can get cubes on demand no matter where you're parked. You won't have to choose between making an extra trip to the store or suffering through warm drinks in the middle of the week. And overtime you will save money by purchasing bags of ice every single time.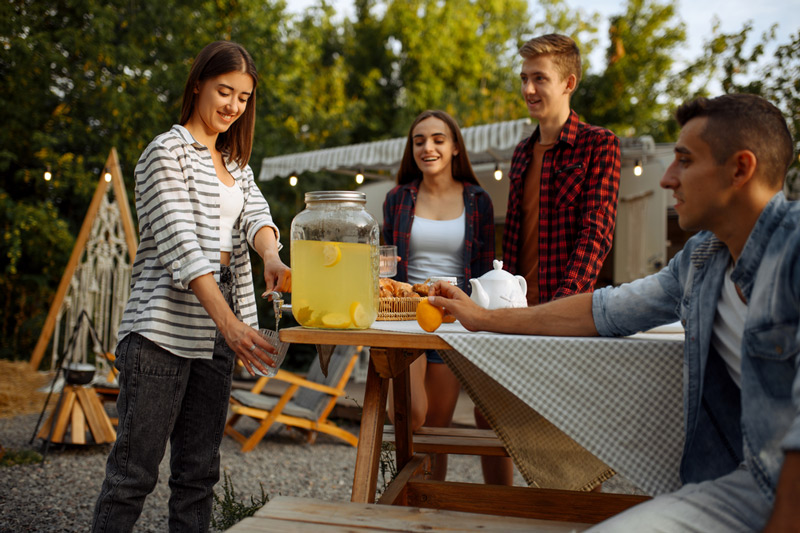 Volume
Personal ice makers can produce a surprising volume of ice compared to their size. Countertop-style designs can freeze anywhere from 25-50 pounds of ice per day! That's more than enough for a small party, and certainly a group of campers.
Efficiency
Portable ice makers can get really cold. And the most efficient designs will freeze water in just 6-minutes. That means you can make ice on demand instead of spending the whole day waiting for cube trays to freeze.
It will also leave you with more freezer space for food so you're not using the biggest appliance in your travel trailer to make a couple tiny cups of ice.
How Do You Power An Ice Machine?
These camping ice machines are perfect for the full-timer. Even though they're much more efficient than using an RV refrigerator, you'll still want a shore power connection.
Camping ice makers are not a good choice if you frequently go boondocking. They simply use too much power.
Countertop ice makers use your standard household wall outlet. So they can easily be plugged into any 110V power source.
How Does a Portable Ice Maker Work?
Although the ice may seem the same, a portable ice maker works differently than a freezer. They both, however, use a process called the refrigeration cycle to create the ice.
First, you add clean water to the machine. Then it feeds it through a coolant chemical that turns water vapors into gas. The gas is then compressed back into liquid in a condenser pipe.
Next, the expansion water valve cools the refrigerant quickly, causing it to turn back into gas—prongs attached to the evaporator touch the water, cooling it to freezing temperature.
Portable ice makers are more efficient and use less energy than freezer ice makers because, in freezers, the cold air causes the water to freeze rather than the prongs, using more energy and time to create ice.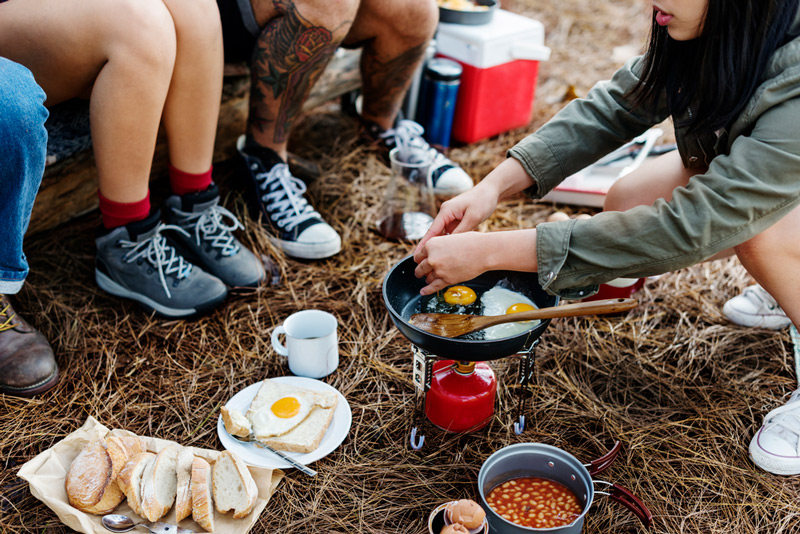 What Kind of Ice Does A Portable Ice Machine Make?
Believe it or not, a portable ice maker can produce different types of ice. Each shape of ice has its pros and cons, so consider which shape your machine makes before purchasing it.
Square cubes are one possible ice shape, and they are great for cooling off sipping drinks like whisky or for using to keep food cold in a cooler. "Blake" ice is essentially shaved ice, like a snowcone. Half cubed ice uses less liquid, so it is usually marked quicker.
Another ice shape is bullet-shaped ice, or pearl ice, which is perfect for margaritas, blended drinks, and ice tea. These are cylindrical with a hole in the middle. Pebbled ice is excellent for drinks and sodas but not as useful at keeping coolers cold.
Finally, Crescent cups are great for cooling down drinks without using a lot of water.
How Much Ice Can A Compact Ice Maker Produce?
Each machine will have a different limit on the amount of ice produced in 24 hours. Small, more easily portable ice makers usually make around 25-30 pounds of ice per day. The most efficient designs can produce up to 50 pounds per day! Perfect for relaxing in your 5th wheel camper after a long day of hitting the trails.
Storage Tank
Each ice maker has a different size storing tank. You will need to be continuously emptying the storage bin if you want your machine to keep making ice, so consider how much you want it to hold. Once the ice maker is full, it will take time for it to produce more ice again.
Speed
You'll want to be sure that your portable ice maker is producing an adequate amount of ice for your needs. A quality portable ice maker should create anywhere between 9 to 12 cubes within 7 minutes, which is enough for at least two small drinks.
Size
If you're in the market for a camping ice maker, it's most likely because you don't have a ton of space to work with. You'll want to consider the size of the ice maker vs. the area you have available.
Smaller portable ice makers tend to produce ice faster, keep it frozen longer, and have the convenience of quickly being tucked away when not in use.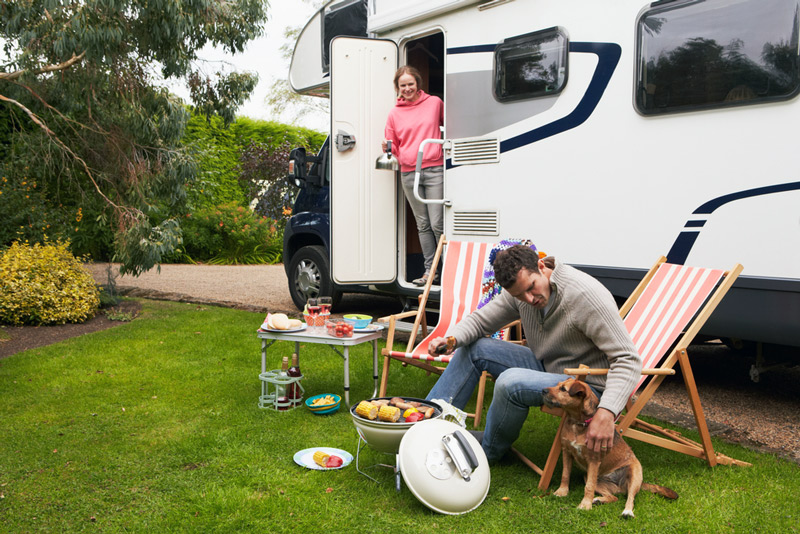 Additional Features
It's essential to consider additional features such as a timer function, an underside drain plug, the different filter options, and self-cleaning.
You'll want to find a portable ice maker that offers the most convenience, so things like timer functions, self-cleaning, and a drain plug that is easy to access and use will help make your life much more comfortable while in your RV.
For filter options, be sure you find a portable ice maker that offers a filter that can appropriately filter out any dirt or debris from your water supply. It should be long lasting at the same time.
Mesh filters have become popular because of their quality performance in filtering out dust and other particles, and their long-lasting effects. These filters only need to be changed out once a year vs. every few months.
How to Clean a Portable Ice Maker
No matter which portable ice maker you chose to get, it is crucial to keep it clean to operate effectively so your ice stays clean and healthy. Cleaning frequently will ensure that your ice cubes are free from minerals and debris and that your ice maker doesn't get rusty or clogged.
Cleaning your ice maker only requires a few simple steps:
Unplug the ice maker so that electricity is not running through it.
Remove all of the interior parts from the maker. Clear out all ice, drain all remaining water, and remove the ice tray.
Fill your sink with dish soap and warm water, and wash all of the removed items with a wet rag. For a deeper clean, you can soak them in vinegar, baking soda, or a splash of bleach
Use a soft cloth or a small scrub brush to clean the inside of the machine. Mold and mineral deposits can accumulate inside the maker, so check that every part of it gets sanitized.
Let everything dry thoroughly, then put the ice-making machine back together.
Finally, make a round of ice that you discard to ensure that everything is working properly and that you have it all cleaned out.
The Best Portable Ice Makers For Camping Reviewed
TOP CHOICE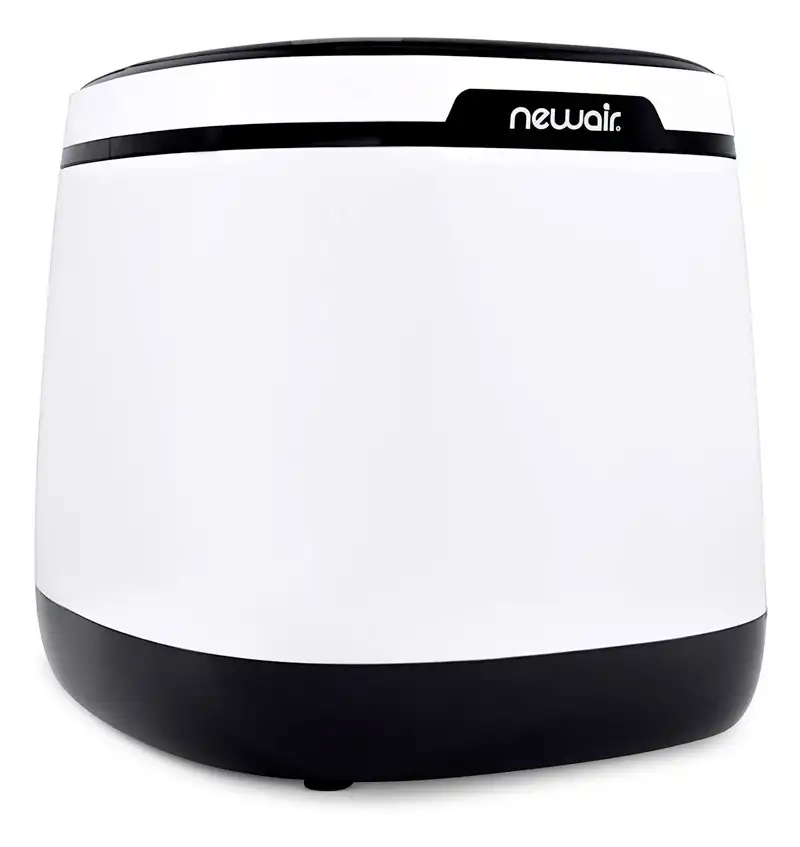 This portable, modern ice maker by NewAir is our favorite for camping. It comes loaded with features and can make ice in only 7 minutes. The compact machine is highly efficient and can make up to 50 pounds of ice each day.
It is made from all BPA free products to ensure your ice is clean and safe, and it has an ultra-insulated interior to keep the ice cold once it has been made.
The NewAir Ice Maker has a single button for operation, making it easy to operate and understand. It is compact and easy to take on the go, and it is surprisingly small for its 50-pound per day production rate.
The machine comes with a scooper and an ice bucket. It weighs 21.6 lbs and measures 16 in D x 13.60 in W x 13.5 in H. It is slightly larger than the other portable ice makers on our list, but its fast production and 50-pound yield make it worth it!
Key Features:
Makes up to 50 pounds of ice in a day
One easy button operation
Insulated ice bucket to keep ice cold
Freezes ice within 7 minutes
---
MOST COMPACT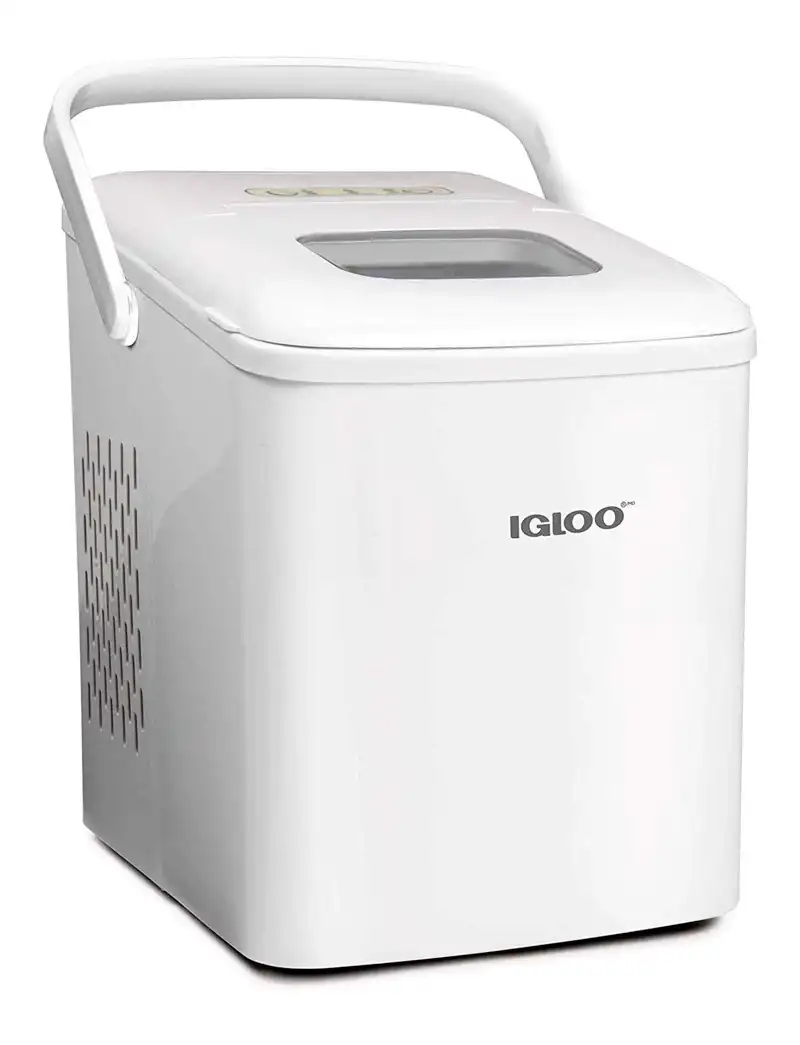 Igloo Countertop Ice Maker
Highly portable and compact ice maker that comes with a carry handle for camping trips, sporting events, and cookouts. Makes up to 26 lbs. of ice per day and will alert you when it's time to add more water.
CHECK LATEST PRICE
The Igloo Portable Icemaker is perfect for bringing on camping trips, sporting events, cookouts, and more. It is the smallest countertop ice maker we've reviewed. The Igloo Ice Maker features a 2-quart water tank that makes up to 26 pounds of ice in 24 hours.
Additionally, the Igloo features a carrying handle that makes it easy to move around and it has a self-cleaning cycle. It is an automatic, five cycle function that cleans the entire machine each time and makes your ice pristine. The ice basket holds 1.25 pounds at a time, and it makes ice in as little as 7 minutes!
The Igloo Ice Maker is controlled with easy to understand LED light buttons and the controls alert you when it is time to add water or to empty the ice bucket. You also can choose which size ice cubes you want.
Key Features:
Easily portable and features a carrying handle
Makes up to 26 pounds of ice per day
You can adjust the size of your ice cubes
Produces ice within 7 minutes
---
GREAT VALUE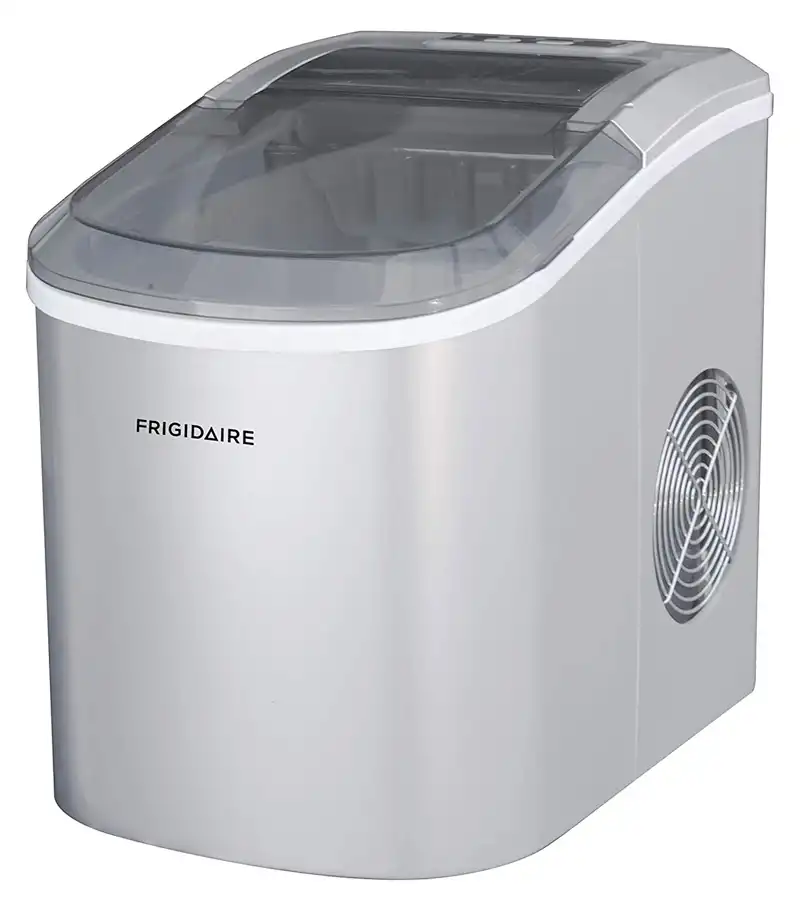 If you're looking for a highly-rated countertop ice maker that won't break the bank, this model by Frigidaire is perfect for RV kitchens and campers. It makes 26 pounds of ice per day, which is enough to keep drinks cool for the entire family. The maker features a large see-through window that lets you see the ice making process in action!
With the Frigidaire, you can change the ice level and the size of the cubes. You can make these adjustments on the built in LED screen. It features compressor cooling and only takes 6 minutes to make ice! The ice basket is large and fills up every hour and a half.
The Frigidaire Compact Ice Maker is perfect for your RV countertop or to put out during a BBQ. The machine is quiet and fast-acting. It requires a standard three-prong outlet plugin. The ice maker is functional and affordable, and easy to operate.
Key Features:
Features a see-through window, so you know how much ice is in the tray
Creates ice within minutes
Has three different available ice sizes
Easily portable and perfect for camping
That's A Wrap!
We believe that the overall best portable ice maker on the market today is the portable ice maker by Newair. If you are looking to get the best value and the best bang for your buck, then the Frigidaire compact ice maker is the way to go. Alternatively, if you want the most portable ice maker for an easily extravagant camping trip, then our pick is the Igloo countertop ice maker.
With a portable ice maker, you will be able to have a cold soda or make yourself a mixed drink in the RV whenever you please. No matter what you decide to get, a portable ice maker will transform your camping or RV experience.