The Best Portable Telescoping Ladders For RVs And Campers (Review)
By
on
This post may contain affiliate links. As an Amazon Associate, I earn from qualifying purchases. Please read my full disclosure.
Campers and RVs have tall roofs, but not all of them come with a built-in ladder. If you have solar panels, vent fans, air conditioning units, antennas, roof racks, or other equipment up-top you're going to need a way to access it.
That's where portable ladders come in!
Portable telescoping ladders pack down small so they can fit in the garage area of your RV. They're lightweight and make it easy to dust off the solar panels, inspect for leaks, or grab your extra gear.
TOP CHOICE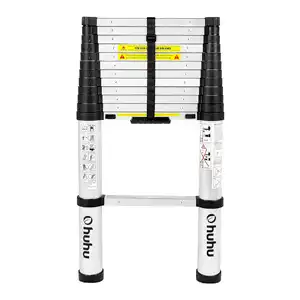 BEST VALUE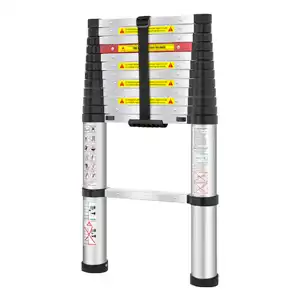 HEAVY DUTY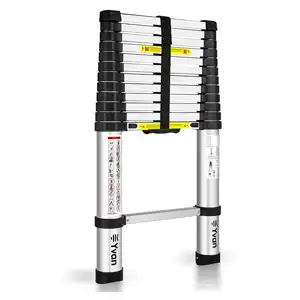 What is a Portable Telescoping Ladder for an RV?
A telescoping, portable RV ladder is designed to extend by the foot and lock in place at each point. These ladders offer excellent versatility to users because you can adjust them to almost any height you want.
Telescoping ladders provide portability, too, because they can fold into a fraction of their height. Many of them can even collapse small enough to fit into a car trunk. Most telescoping ladders are made of aluminum because it's lightweight and strong.
The versatility and portability of telescoping ladders make them perfect for RVs with limited space and weight limits.
They work well for performing regular maintenance on the interior and exterior of an RV. They also allow owners to reach the travel trailer's roof for repairs.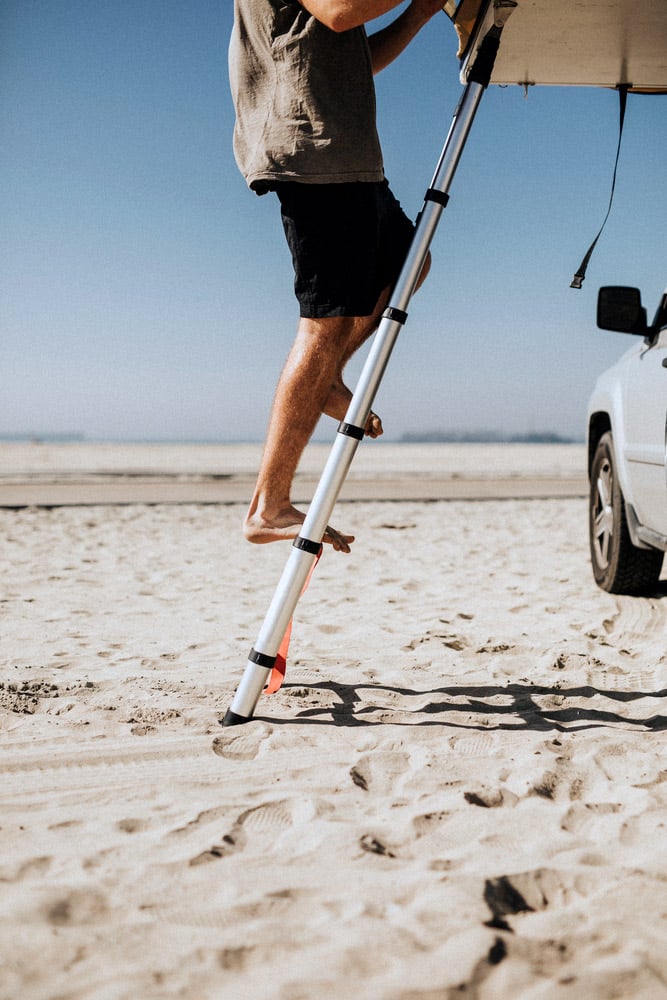 Features to Look For in a Portable Telescoping Ladder for an RV
Height
When choosing a telescoping ladder to use with your RV, you definitely want to consider the height of your vehicle. You don't want to have to stretch too far to reach your intended work area. Doing so can cause the ladder to wobble or even fall over, potentially causing injury.
Knowing the height of your camper van will help you select a ladder with a comparable height. Keep in mind that the optimal height for a ladder is one that reaches a foot or two above the area you need to access. This way, you don't have to stand on the top few rungs of the ladder, which can be unstable.
Even though telescoping ladders have adjustable height, they also have a maximum height. Make sure the maximum height is enough to reach the high places of your RV safely.
Weight
One of the best features of telescoping ladders is their portability, which depends in large part on their weight. Telescoping ladders are typically lighter than exterior ladders and they won't add any drag causing poorer gas mileage.
Material
You want to look for a ladder that's lightweight without sacrificing durability. Most telescoping ladders are made from aluminum or aluminum alloy because it's very light but still long-lasting and strong.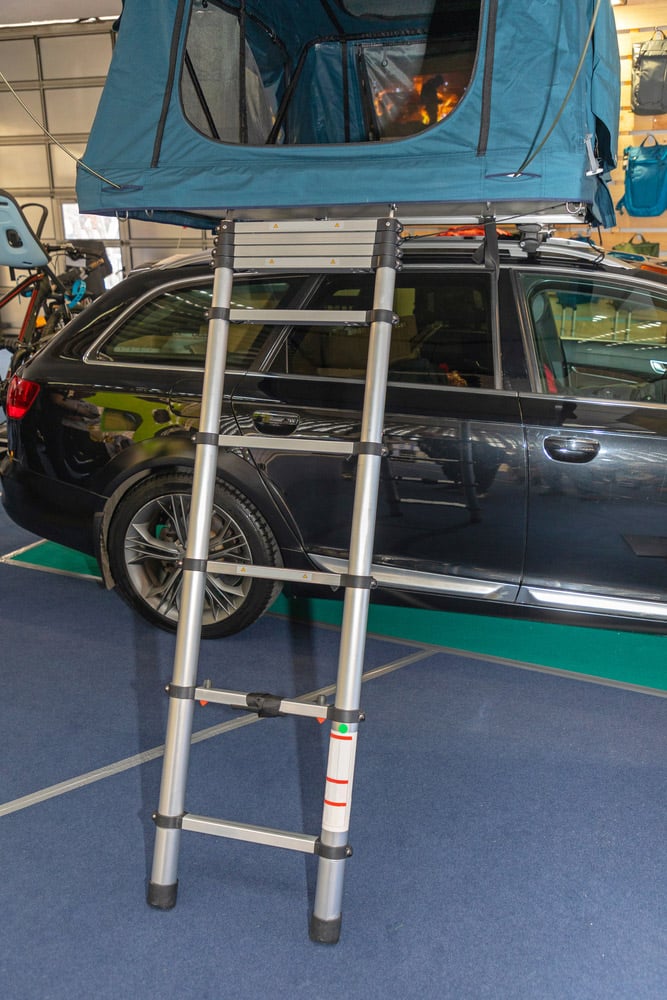 Collapsibility
Even the most luxurious RVs can be considered compact living spaces. You don't want to take up a bunch of space with a ladder. You want to use the extra space you do have to store other gear, not a ladder intended for use once in a while.
Telescoping ladders fold into very condensed shapes that pack perfectly into an RV's limited storage space. When you start researching telescoping ladders for your camper van, you may want to think about where you'll be stowing your ladder and how it will fit into space.
Safety
Safety should be every company's priority. Your ladder should include several standard safety features to prevent you from falling and sustaining severe or even fatal injuries.
Look for telescoping ladders with non-skid feet to keep the ladder in place during use. These feet prevent the ladder from sliding out from under you while your standing on it.
The best telescoping ladders will also have smart construction, meaning the ladder's design is solid, and its composition comes from sturdy materials. For example, the locking pins should hold the steps in place without any slipping, and it should have pinch-proof collapsing abilities.
A locking mechanism is another excellent safety feature to have since it prevents the ladder from collapsing during use. Another nice safety feature is extra-wide steps for more solid stability when climbing.
Durability
Ideally, this ladder will last for decades. It can be helpful to look for features like rust proof materials and high-quality aluminum. Camping and RV road trips are hard on equipment and will expose your ladder to all kinds of weather and elements. Ensuring a ladder's durability will help extend its longevity.
Weight Capacity
The ladder must support your body weight plus whatever you happen to be carrying or holding while on the ladder. Make sure the ladder you choose is sturdy enough to hold up under the weight of your gear.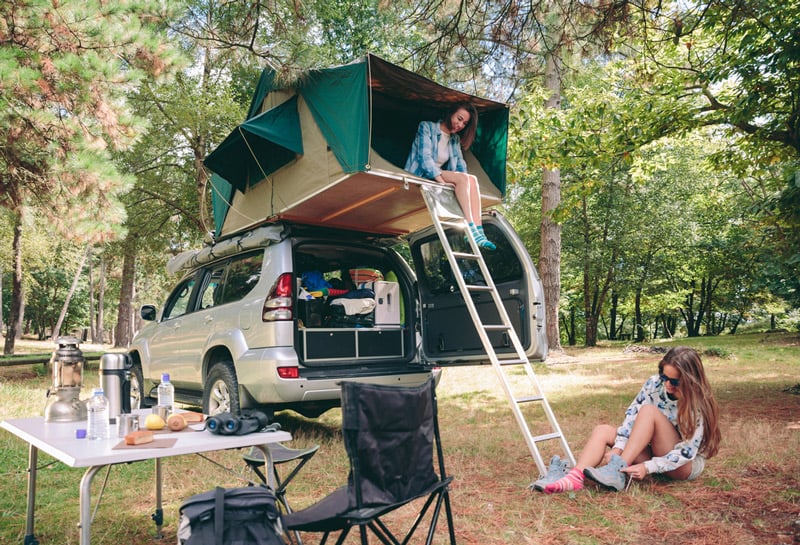 Best Portable Telescoping Ladders for RVs Reviewed
TOP CHOICE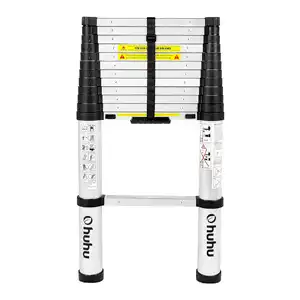 The Ohuhu telescoping ladder is our top pick for its mix of affordability and stability. It's lightweight and strong thanks to its aluminum alloy construction, which makes it perfect for storing in your RV.
This product extends up to 12.5 feet, making it a smart choice for those who need to reach higher up places, like your RV's roof. The one-touch retraction mechanism makes clean up simple, and this ladder collapses to a fraction of its size, allowing you to stow it away almost anywhere in your RV without taking up too much storage space.
This Ohuhu ladder offers excellent safety features, too. A carrying strap keeps its closed while it's in storage and a self-locking mechanism keeps the steps securely in place. Extra-wide steps make climbing safe, and the slow-close procedure doesn't pinch your fingers. All of these extra safety features prevent you from incurring injuries while using the ladder.
12.5 feet of extension
One button retraction mechanism
Weight capacity of 330 pounds
Non-slip end caps for safety
BEST VALUE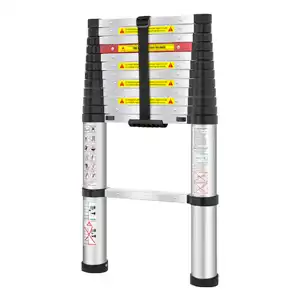 If you're looking for a telescoping ladder with great value, this WolfWise ladder has an affordable price and safe construction. This ladder is extremely lightweight and has a handle, so you can carry it wherever you need to when working on your RV. You also won't have to ask for help to transport it since it's so light.
This ladder supports a maximum weight of up to 330 pounds, which means it can support you and other tools you need for repairs and maintenance. The aluminum overlaps by 42% for even better stability and strength. You don't have to worry about the ladder collapsing while you're standing on it because of these features.
One-button retraction makes it easy to close and prevents finger injuries caused by pinching. It folds to a quarter of its extended size, which is perfect for storage on an RV where space is compact. It also closes very quickly, allowing you to clean up fast and get back to the fun parts of RV trips.
Crafted from aerospace engineered aluminum alloy
Maximum height of 8.5 feet
Retracts in under eight seconds
Folds to a quarter of its size
HEAVY DUTY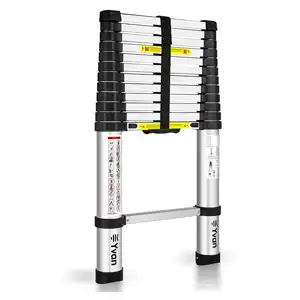 For campers who need a powerful ladder, this Yvan telescoping ladder weighs only 24.6 pounds but can hold up to 330 pounds, meaning you get an exceptionally strong ladder that's not a struggle to carry around or move from place to place.
With 12 total steps and a maximum height of 12.5 feet, this ladder allows you to reach the highest points of your RV safely. Once you finish using it, you can collapse it into a small shape for storage. It can even fit under a seat, saving you precious storage space in a compact RV.
Thick aluminum adds stability, while automatic locking keeps each step in place without any slipping. Both of these safety features keep you from accidental falls and potential injuries. One-touch retraction makes clean up convenient, so you can move on to your next task without wasting time and wrap up maintenance jobs quickly.
Made from thickened aluminum alloy for better support
Extends to 12.5 feet
No-pinch retraction method
Intelligent locking mechanism for each step
That's A Wrap!
Portable telescoping ladders make RV repairs and maintenance much more manageable. For our top pick, the Ohuhu Telescopic Ladder extends and retracts quickly and includes a bunch of safety features for your protection.
For campers who want excellent value with their telescoping ladders, the WolfWise Telescopic Ladder offers an affordable price with sturdy construction.
If you're looking for a ladder to handle heavy-duty jobs, the Yvan Telescoping Ladder has thickened aluminum for extra strength and extends to 12.5 feet to reach the high spots on your RV.