By
on
This post may contain affiliate links. As an Amazon Associate, I earn from qualifying purchases. Please read my full disclosure.
Keeping your RV properly maintained is going to prevent a wold of headache in the future. Not only should you be doing yearly, and semi-annual maintenance, but there are tasks to complete before every trip to keep your rig in good working condition.
Listed below are some of the most important areas to maintain in order to give your RV the longest lifespan possible.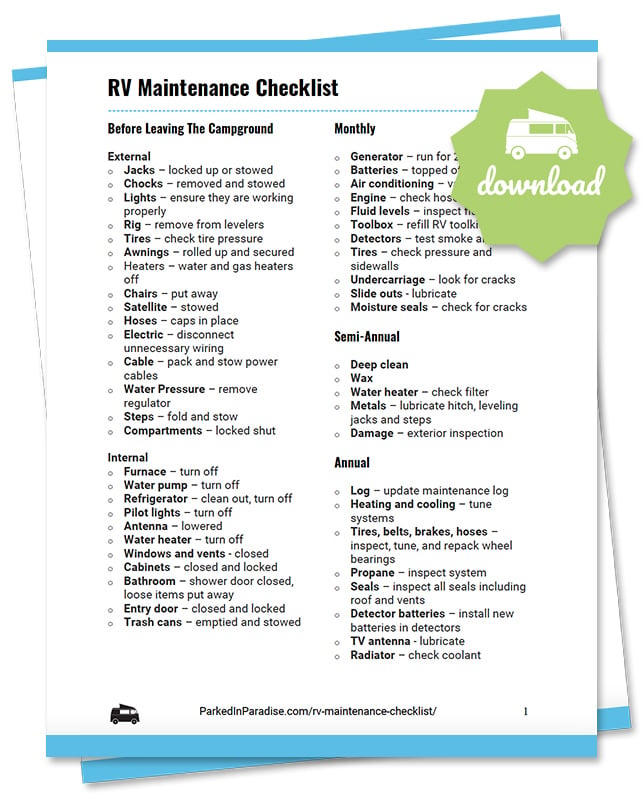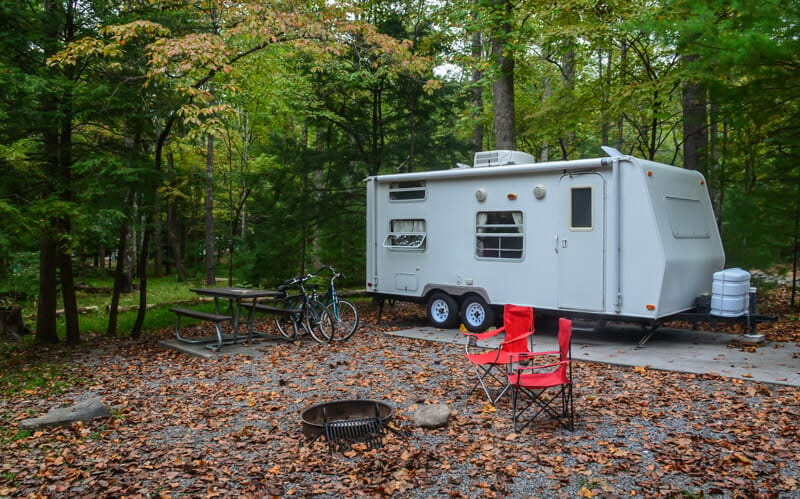 Before Every Trip
Packing up your campsite with maintenance in mind is going to make travel smoother on your next vacation.
External
Jacks: Make sure the RV's jacks are in the up position. Ensure they are locked in place to prevent them from falling during the trip.
Chocks: Make sure the chocks have been removed and stowed safely.
Lights: Quickly flip the switches and press the pedals to make sure the headlights and brake lights work correctly.
Rig: Remove the rig from the levelers and stow it safely.
Tires: Quickly walk around the tires and make sure the pressure looks even. Ensure there isn't anything that has punctured the tires.
Awnings: Make sure the awning has been put away and is secured tightly to the RV.
Heaters: Ensure that both the water and gas heaters have been turned off.
Chairs: Check the chairs to make sure they have been put away and secured tightly.
Satellite: If the RV has a satellite dish that is used for TV, make sure this has been taken down and put away safely.
Hoses: Check both the drain and fill hoses. Ensure they have been stowed safely with the caps put in place.
Electric: Check the external electric generator and/or wires. Ensure they have been disconnected and stowed properly.
Cable: If the RV has cable connections or phone wires, make sure these have been rolled up and safely put away.
Water Pressure: If there is a regulator for the water pressure system, make sure this has been removed and stowed safely.
Steps: If the RV is steps that fold in and out for embarking and disembarking, make sure they have been folded up securely.
Compartments: Check the various compartments around the exterior the RV. Ensure they have been locked to prevent items from falling during the trip.
Campsite: Always leave a campsite cleaner than it was found. Police it quickly to pick up any garbage or debris that might have been left behind.
Internal:
Furnace: Make sure the RV's furnace has been turned off to prevent any fire hazards.
Water Pump: Ensure the water pump has been turned off.
Refrigerator: If the fridge is empty, turn it off. Regardless, make sure the door has been locked.
Pilot Lights: Make sure the pilot lights have been turned off. This is another fire hazard.
Antenna: If the RV has a TV antenna, make sure this has been put down.
Water Heater: Make sure the interior water heater has been turned off. This is probably an electric supply, so check the interior of the RV. If the water heater runs on gas, this is probably an external supply, so look outside.
Windows: Make sure that all windows and vents have been closed and secure to prevent precipitation or debris from entering the RV.
Cabinets: Make sure that any interior cabinets are both closed and locked to prevent items from falling during the trip.
Bathroom: Ensure the shower doors have been closed and locked. If there is any supplies in the shower, make sure it is stowed safely.
Entry Door: Close and lock the entry door.
Trash Cans: Make sure that all trash cans are empty. Stow them safely.
Monthly RV Maintenance Tasks
The following maintenance tasks should be completed on a monthly basis:
Run the Generator: As a rule, gasoline will start to go bad after around a month. Gasoline might spoil quicker if it hasn't been used recently. Therefore, make sure it gets moving throughout the generator. Run it for at least two hours at 50 percent capacity at least once per month. If the generator isn't going to be used for a while, add a fuel stabilizer to help it keep longer.
Batteries: The batteries have water levels that facilitate the movement of electricity. Water evaporates over time, so make sure to top off the water levels once per month. Only use distilled water. Tap water has minerals that can impact how the batteries conduct electricity.
Air Conditioning: Like houses, RVs have vents that ensure only clean air flows throughout the RV. Keep the AC running efficiently by vacuuming the vents and cleaning them monthly.
Engine: Once per month, open the hood and check the hoses and clamps. Make sure they are secure. Check to make sure nothing is leaking.
Fluid Levels: In addition, check the fluid levels of the engine and transmission. If they are low, be sure to top them off.
Toolbox: Make sure there are plenty of spare parts in your emergency toolbox. It is helpful to have spare fluids in here as well, including oil. If anything is missing or low, be sure to replace it. It could be needed on the road.
Detectors: Always make sure the smoke and carbon monoxide detectors are working. There are small buttons on the side that can be used to test them.
Tires: Once per month, check the tire pressure and make sure it is appropriate. The recommended tire pressure can be found either in the RV manual or on the inside of the door. Do not forget to check the spare tire as well.
Undercarriage: Pests such as rodents and cockroaches often enter the RV through cracked insulation or lining. Check the undercarriage of the RV and make sure the insulation and siding are intact.
Slideouts: If the RV has slideouts, they need to be properly lubricated in order to work properly. Slide them out and add some lubricant to make sure they stay smooth. Look for signs of rust or corrosion, as this can impact how well they work.
Moisture Seals: Finally, look at the exterior sealants. Moisture can cause the sealants to crack or bubble. Therefore, check for signs of either cracks or separation. If there are any voids, use specialized RV sealant to fix the cracks.
Semi-Annual or Seasonal RV Maintenance Tasks
The following tasks should be performed at least twice per year (every six months):
Deep Clean: This task should be done if the RV is going to be winterized or stored for an extended period of time. Make sure to clean the interior thoroughly. It could even be helpful to get the RV detailed.
Wax: Make sure the RV always looks its best by adding a new coat of wax to the exterior of the RV. There is specialized wax that can be used. Sometimes, this is even included in a professional detail.
Water Heater: In order for the RV to have clean water, the filter has to be working properly. Most water filters will last for about six months, so it might be time to replace it. If there isn't a water filter, pour a half-cup of bleach into the freshwater tank. Let it sit for a day. Then, run it through the lines. This will keep the lines and tank nice and clean.
Metals: Be sure to add some lubricant to any locations where metal rubs on metal. Some of the common locations include the hitch, leveling jacks, and the steps. This lubricant will help the metal stay loose and prevent it from developing rust.
Damage: It is important to inspect the RV for damage seasonally. Look for sites from birds or insects might get in. If there are any gaps, make sure they are filled.
Annual RV Maintenance Tasks
The following maintenance tasks should be performed at least once per year:
Log: It is important to have an RV maintenance log to keep track of what has been done and when. Be sure to keep this log updated.
Heating and Cooling: Just like at home, the HVAC system for the RV needs to be tuned by a trained professional at least once per year. This will ensure the systems work properly when called upon.
Tires, Brakes, Belts, and Hoses: Just like a car, the tires, brakes, belts, and hoses need to be tuned by a professional at least once per year. If there is anything being towed behind the RV, make sure both sets of brakes are tuned (and that the tires are rotated) at the same time. This will ensure they wear evenly. Repack wheel bearings for the next outing.
Propane: Take a look at the propane system. Look for signs of rust, paint damage, dings, and issues with the connection integrity. The propane system needs to be working properly for both safety and efficiency reasons. It is also a good idea to test the propane system for leaks at least once per year (or every 5,000 miles).
Seals: The lifetimes of seals vary based on the environment. Therefore, inspect the seals at least once per year. Focus on the roof and vents. Look for any signs of breaks, voids, gaps, looseness, or physical deterioration. If there is a problem with the sealant, use the same sealant to replace it. This integrity is important.
Detector Batteries: Put new batteries in both the smoke detector and carbon monoxide alarms. Test them to make sure they work.
TV Antenna: Add more lubricant to the TV antenna to make sure that it goes up and down smoothly. Look for signs of rust or corrosion.
Radiator: Look at the radiator coolant and make sure if the level is low that it is replace
Keeping Your RV Maintained
Maintenance is not the most exciting task in the world, but it will end up saving you a lot of money in the long run. Make sure to look over your RV before each trip and on a monthly, semi-annual, and annual basis. Happy travels!
Continue Reading: