Best Portable Winches For Overland Adventures
By
on
This post may contain affiliate links. As an Amazon Associate, I earn from qualifying purchases. Please read my full disclosure.
Nothing beats the utility and rugged exploration of a winch! Portable winches emit batman levels of coolness. They are a thin uber-strong cable, which can be strung out strategically to pull your vehicle from imminent doom.
Winches are a fantastic piece of gear to take off-grid, and something we recommend any serious overlander has in their toolkit.
But the daydream starts fading for most people when looking at what it takes to get one. Do you really need to get a $400 bumper and $800 winch? What if they do not make one for your vehicle? How do you use one?
That's where portable winches come in!
Why Use A Portable Winch?
Portable winches save you money because you don't need to invest in a bumper and a winch.
They can be stored in your vehicle. This means that you will have less issues with theft and vandalism where that is a concern. This also means that they are less exposed to the elements, which can degrade the cable over time.
Small, portable winches can be transferred from vehicle to vehicle. If you are traveling with buddies, one winch will go a long way to get you out.
You can also keep your winch and swap it between vehicles if you have more than one.
If you end up stuck in an area where a standard front mounted winch is inaccessible, portable winches offer more recovery options to try to get unstuck.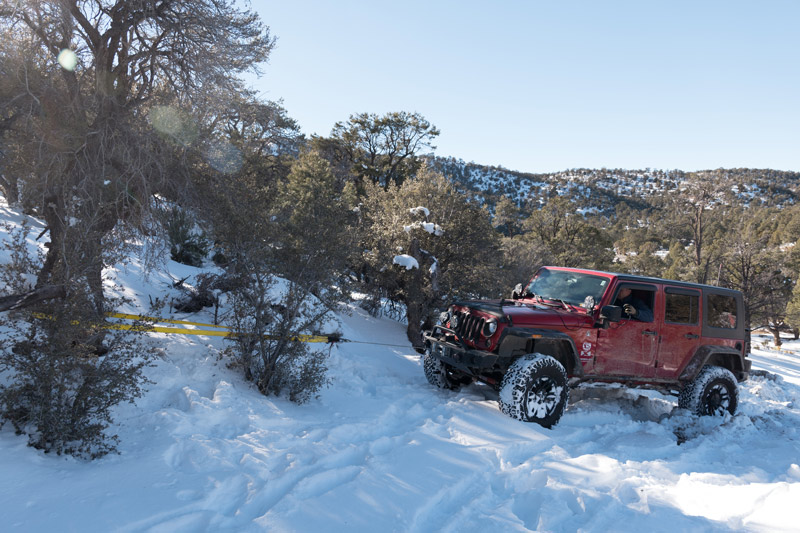 Are Winches Dangerous?
Winches can be a dangerous piece of equipment if used improperly. They can damage your vehicle or your body. A lot of energy is stored up as tension in the cable. These things orders of magnitude stronger than you, so make sure to respect their authority!
If you get a winch, make sure to go through some instruction before heading off on solo adventures. The only thing worse than being stranded is being stranded while severely injured!
Types Of Portable Winches
There are three general winch categories that you can use in a portable manner: receiver mounted plates, manual winches, and electric winches.
WINCH PLATE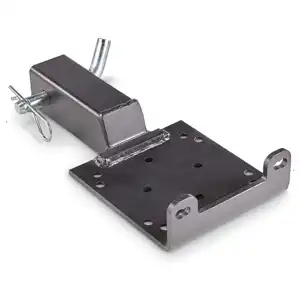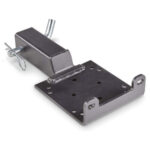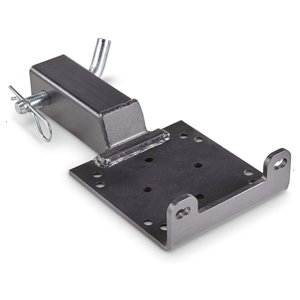 Receiver Mounted Winch Plate
This is a portable plate that you mount a standard vehicle winch to and then slide in a 2" Class III receiver hitch.
This more traditional setup has several advantages. First, it makes use of the wide array of existing winches on the market. You have more options to choose a brand that is local or use a winch that you may already have.
Second, they can be mounted in any 2" receiver. This means that the forces on your vehicle will all be properly tied to your vehicle frame. Plenty of heavy vehicles have receivers (and expedition overlanders also install front bumpers with a 2" receiver specifically to mount a winch to), which increase the utility.
If you are traveling with multiple people, you may only need one winch to service all of the vehicles.
Third, these winches usually have the strongest load capacity and are generally safer as you are able to stand further from the cable to operate them.
In summary, receiver mounted winches are great for heavy duty applications and large vehicles dedicated to overlanding. Make sure the power cables can reach your battery bank!
The downsides are that these are expensive and can only be installed in a 2" receiver, making them less versatile.
MANUAL WINCH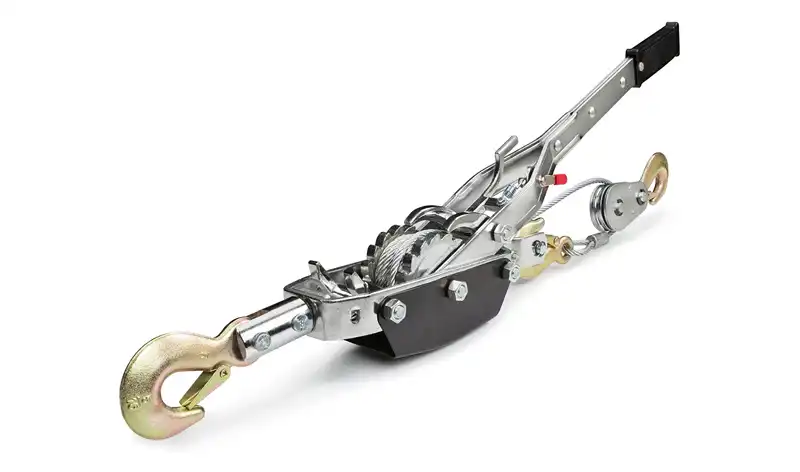 Manual Come-Along Winches
Hand winches are another heavy duty tool that can be used to recover your vehicle. They are very cheap and don't require any electricity! Manual winches are also lightweight and easier to maintain.
There are a few downsides compared to a traditional winch. To operate it, you must stand close to the cable, which is a little more dangerous. Because of this, they should definitely should be used with a cable damper, which significantly reduces the chance of injury from the cable if it should snap.
Come-along winches can be attached anywhere, which can be a blessing and a curse.
When attaching to your vehicle, you must make sure that you aren't damaging suspension components and are affixing to the frame. At 2-ton towing capacity, you will be limited a little bit on the situations that you can tow with. But for simple trailside recovery this likely won't be the weak link (compared to rock crawling where you need to be able to handle the full weight of the vehicle).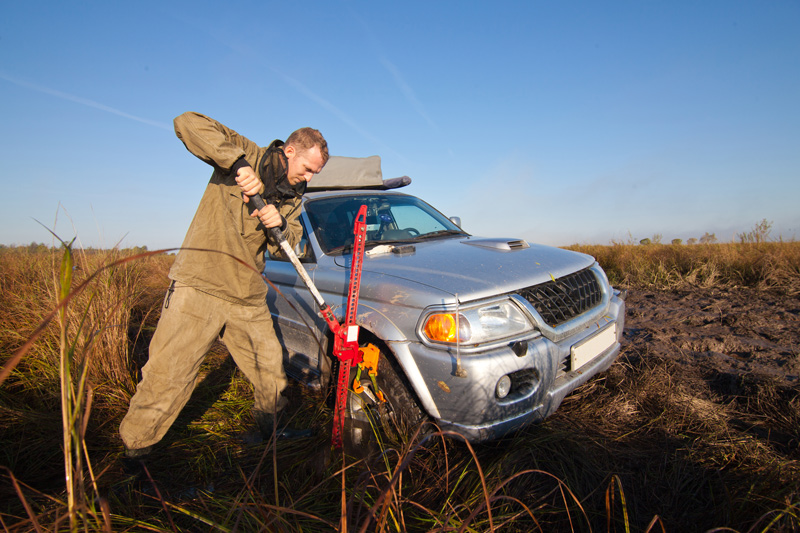 FARM JACK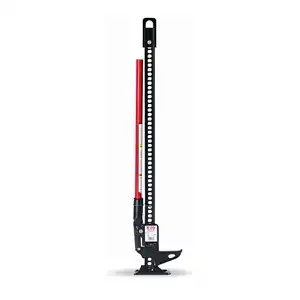 Farm Jacks
Farm jacks are another type of manual winch that can be used as a portable come-along. These take a little bit more setup, but farm jacks are very versatile and can be used as a vehicle lift for changing your tire or for pulling fence posts or a myriad of other things as well.
Keep in mind, the farm jacks need some instruction on how to use, as there are many ways to use them wrong that can result in significant injury. Make sure you get proper instruction before going down this route.
Farm jacks and some come alongs use chains, which are heavy and more limited in their length, but much safer as they do not store energy and snap like cables do.
ELECTRIC WINCH
Portable Electric Winches
There are lots of portable winches on the market, but few with the rating capacity that would be appropriate for a full sized vehicle. With that being said, the Superwinch is our favorite.
Similar to the come-along, the Superwinch is somewhat limited in capacity, but for most light camping it will do the trick. The convenience of having everything stored in a tool box is also quite nice, and can double as an assist for lifting heavy loads.
This does require a battery to operate, so you'll need to make sure that the power cables can reach your battery.
Steel Cable vs Synthetic Rope
In the end, it is more important that you know how to use your equipment and keep it maintained. Synthetic rope is lighter and stores less energy when taught, meaning it is a bit safer if it snaps. But it can be damaged by UV and is easier to unintentionally knot.
Steel can rust and fray, but is a little easier to spool and has been around longer. Either option will work great, it just depends on your preference.
Safety
With vehicle recovery, you want to pay special attention to safety. We recommend this classic DVD, but there are many free options on Youtube. It is always a good idea to practice techniques before you are out in the wild so that you are comfortable with your equipment. Even better if you can get a mentor or join an off roading club if you want to be serious about your abilities.
Winch Accessories
That's A Wrap!