The Best RV Kitchen Faucet
By
on
This post may contain affiliate links. As an Amazon Associate, I earn from qualifying purchases. Please read my full disclosure.
Choosing the best RV kitchen faucet isn't as easy as it sounds because there are so many different options, and you need to make sure the one you want will suit your RV.
When you are dealing with a recreational vehicle, there is not much space to work. In the kitchen of an RV, space is especially limited, so you need to be cautious when determining the size of the faucet.
TOP CHOICE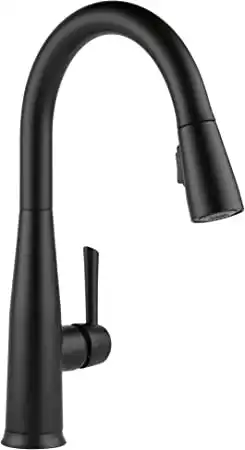 BEST SPRAYER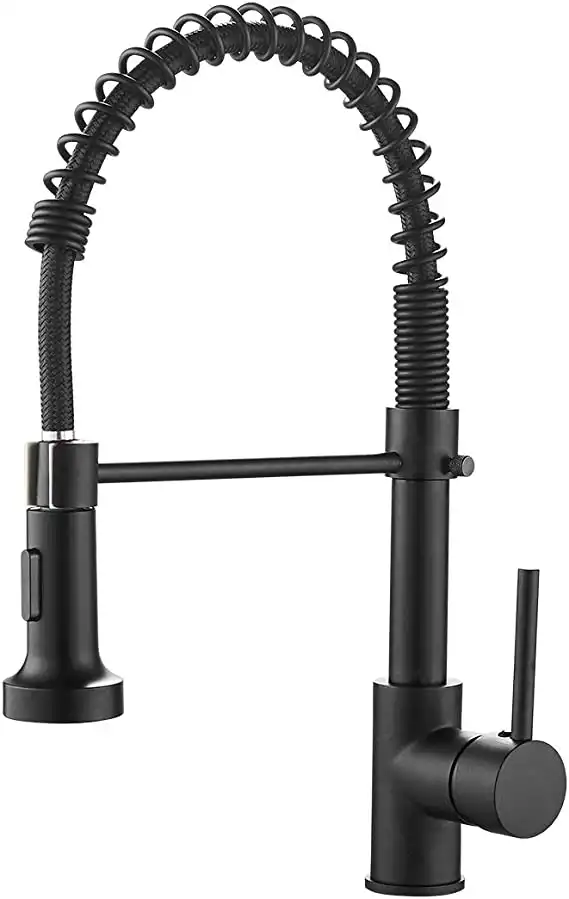 BEST VALUE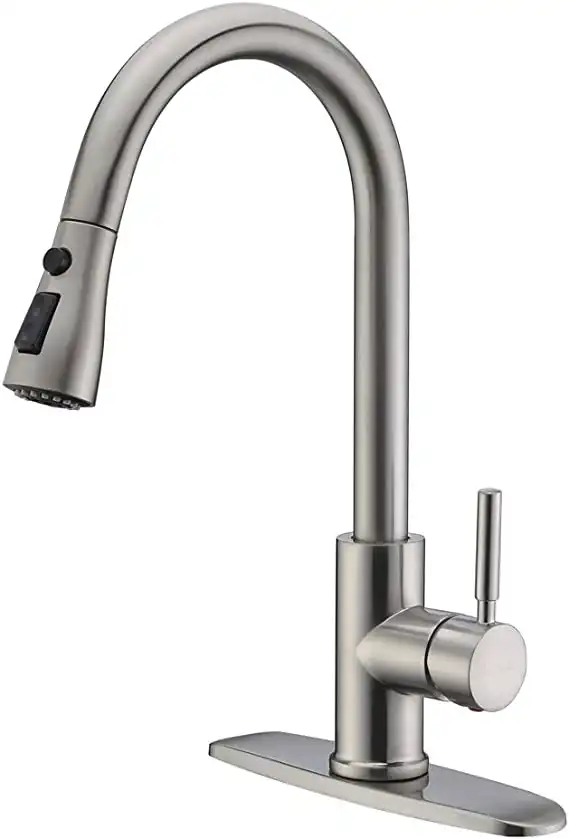 What to Know Before you Look for a Faucet
Buying a faucet that is too big for your RV sink will lead to splashing outside the sink, and it will take up too much room to comfortably do the dishes. If the tap is too small, you will be spending a greater deal of time waiting for the water to fill the sink.
There are some aspects that you need to consider before you buy an RV kitchen faucet.
Design of Sink
For esthetics and functionality, you want to make sure your RV kitchen tap works together as a cohesive design. There may also be more than one faucet hole to the design of the sink for taps with more than one feature. Determine if this is the case with your RV before beginning your search.
Water Lines
Before determining the best RV kitchen faucet for you, check if the water supply lines are compatible. Underneath the sink, you can check the size of the water line and shut-off valve. Most new faucets have ⅜" fitted flex lines as opposed to the ½" flex lines that come with the sink.
If you face this issue, you will need to make sure you change the shut-off valves in the sink to ⅜" lines.
Built-in Filtration System
As an eco-friendly investment, purchase a kitchen faucet with a built-in filtration system for your water so that you don't need to waste precious space on water bottle storage.
Aerated Spout
Not a necessity, but a water-saving method is to purchase a faucet that has an aerated spout. This process of mixing air and water creates the illusion of a lot of water pouring out. You may have seen these types of faucets before and thought how lit the water felt pouring onto your hands. The light feeling is because of the air mixed in. It still gives you adequate water pressure but reduces the waste of water.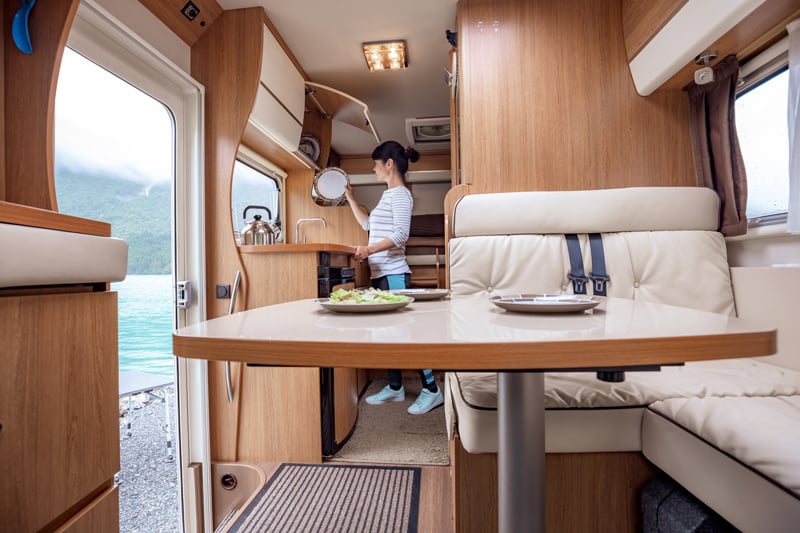 Types of Kitchen Faucets for your RV
Part of the reason it is so difficult to decide on a faucet for your RV is that there are so many different kinds. We will narrow down the choices for you so that the decision is a bit easier to tackle.
Single Handle
For a smaller kitchen sink, the single handle tap is a good choice. Make sure you have enough room for the handle to rotate so that it doesn't hit anything.
Double Handle
For most spaces, whether an RV, home, or office, the double handle is the most common type of faucet. There are two ways that the handles come mounted; separate or attached a the baseplate. The double fixture is more common because it is easier to adjust the temperature of the water with two nozzles.
Bar faucet
One benefit of the bar faucet is that it does not take up space like most other faucets. A compact faucet is paramount in an RV where the space is limited. These faucets are used in higher-end kitchens but are suited for a recreational vehicle.
Pot filler
A pot-filler faucet is often in restaurants. It is mounted on the wall and has an easy to maneuver design that can be folded against the wall when idle. This RV faucet is exceptional because it can stretch out over the stove so you can fill a pot without having the hassle of readjusting.
Hands-free
The great advantage of a hands-free faucet is that you don't need to touch the tap with dirty fingers to get it to turn on. The hands-free faucet comes with an activator in the front that signals the water to come out and then stop when it is triggered. You have the option of shutting off the automatic feature.
Pull-out
A detachable hose that allows you to aim the spout anywhere is what makes the pull-out faucet so great. The hose is held into position by a magnetic lock. The pull-out fixture for RVs makes cleaning fruits and vegetables much more comfortable.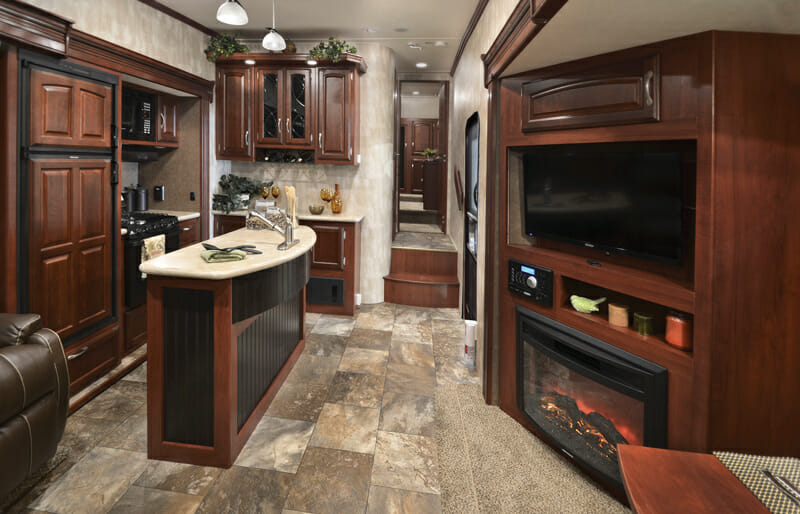 Optimal Features
RV kitchen faucets come with many appealing features that make clean-up or food preparation a breeze. Here are some other things to look for when purchasing your tap.
Temperature
When considering a tap for your RV, remember that a double-handled faucet will need to be adjusted for proper temperature control each time. A faucet with a single faucet can maintain a pre-set temperature.
Finish
You will want to purchase a faucet that is made of a durable material and has a finish such as chrome, nickel, or bronze finish.
Stream or Spray
A button controls the water stream intensity. Choose a regular stream or a spray, similar to in a shower, for easy rinsing.
The Best RV Kitchen Faucets Reviewed
TOP CHOICE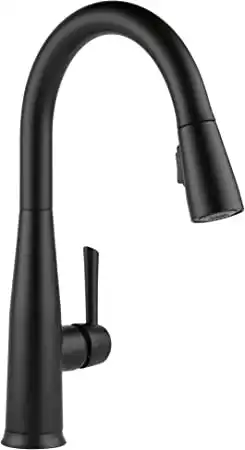 Delta Faucet Essa
The Delta Essa single-handle touch kitchen faucet allows you to turn the tap on and off without getting messy after cleaning or cooking. You can touch any spot on the kitchen spout with another part of your arm or wrist to control the flow of water.
You can even check the water temperature from across the room with the TempSense LED indicator with a light that changes color based on the water temperature. To keep your kitchen sprayer solidly in place, MagnaTite Docking uses a magnet with enough power to secure the tap in place so it will not fall or droop.
The Patented Delta DIAMOND Seal reduces the probability of leaks from forming and has a life span of more than twice that of the industry standard. You won't have to worry about leaks for the entirety of your kitchen faucet's life or an average of 500,000 uses.
You can install the kitchen faucet yourself with easy instructions. It fits single or 30 hole configurations of 8 inches. It comes with all the RV kitchen faucet parts you need to install it, including a deck plate that allows for 3-hole installation if desired.
The 18 – GPM maximum flow rate will help you conserve water as you run your tap. An automatic water-flow feature shuts off the tap after the water is left running for four minutes.
Hands-free turn-on and off feature
Ensures water conservation with automatic shut-off if water left running
DIAMOND Seal Technology to prevent leaks
Strong magnetic docking to hold the tap in place
BEST SPRAYER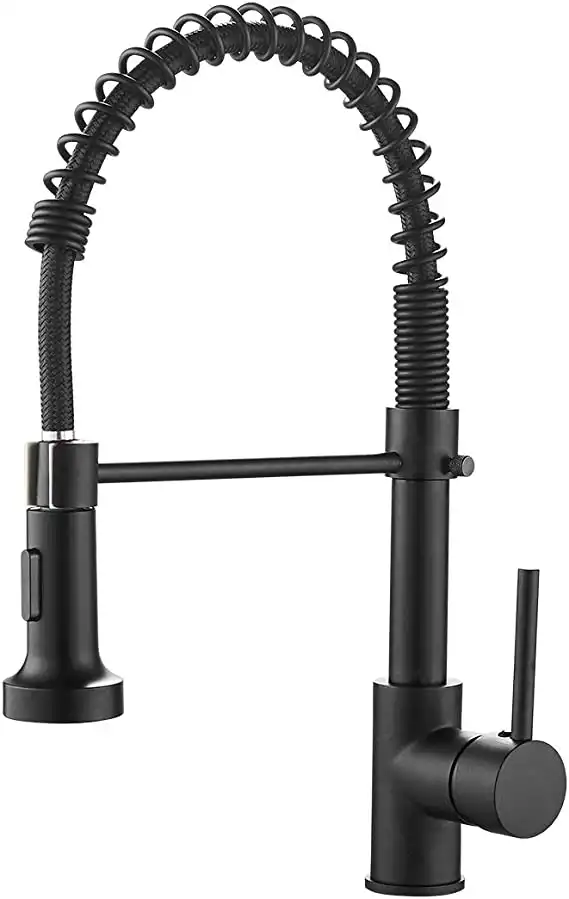 OWOFAN Kitchen Faucet Pull-Down – Best Sprayer
This industrial kitchen faucet has an open spout and is compact at 15.7 inches which will fit under the majority of cabinets.
It features a dual-mode setting that provides a softer stream for rinsing suds from the sink or filling ice cube trays or a powerful stream that will help clean off any caked-on food or grime. The sprayer can be angled anywhere you need it with a 360-degree faucet sprayer.
This sink faucet is made of quality materials and contains no lead but rather a beautiful brass construction. The inner hoses are compiled of food-grade PEX that provides clean water with no metallic taste. Disk valves made of ceramic exceed average industry standards and will provide high quality for the life of the faucet. The faucet also has an outstanding aerator.
Installation is easy with 1 or 3 – hole, ⅜" water hoses, and all hardware for mounting included. The one thing that you will need to purchase as a package with the faucet in-store is the deck plate if you need one.
Dual-mode stream for light and heavier spray power
Contains zero led
PEX food-grade hose provides clean water
Easy to install on your own
BEST VALUE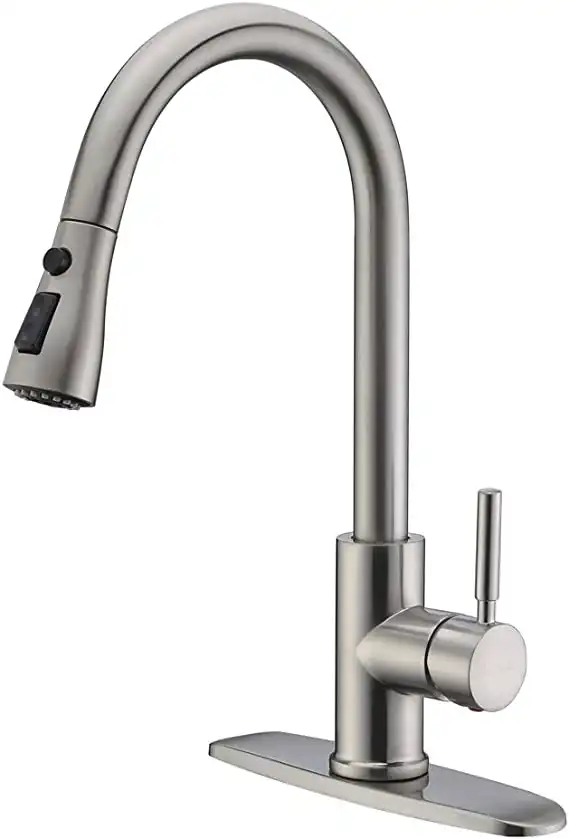 WEWE Single Handed Faucet – Best Value
You get more than you pay for with this stylish, single-handed faucet. It goes well in any kitchen with a sleek design and high-quality stainless steel construction. This RV faucet has multifunctional 3-way sprays for filling large items with water, rinsing spray, or pausing to avoid splashing while in multitasking mode.
The pull-down faucet is easy to install with a combined pull-down hose and, the water line is preinstalled inside the faucet to save you time when installing. Cut out the middleman and save money by doing it yourself in half an hour.
The WEWE single-handed faucet for RVs is easy to control. You can adjust water temperature, flow volume and move the nozzle with a 360-degree swivel range. The sprayer will retract once you are finished.
Easy to clean and corrosion and rust-resistant finish to stop dirt from clinging to the surface of the faucet.
Rust and corrosion-resistant
Easy to use and adjust water control with one hand
Easy installation that does not require a plumber
3 – way spray for multi-use functions
That's A Wrap!
If you need to make an RV kitchen faucet replacement, any of these options are excellent. The Delta Faucet Essa is our top choice for an overall kitchen faucet for your RV based on the longevity of the tap, water conservation, and ease of use.
The OWOFAN RV kitchen faucet is a great choice for anyone considering a pull-down sprayer option. It is made to last and has ceramic disk valves for longevity and a multi-use sprayer. The best value is the WEWE single-handed faucet for construction, rust-resistant quality, and overall appearance.
Before you buy a faucet for your RV, consider the space you have, what features you want in a tap, and your budget. Another thing to keep in mind is whether you are going to install it yourself or hire someone to complete the installation.