The Best RV Surge Protectors & Electrical Management Systems
By
on
This post may contain affiliate links. As an Amazon Associate, I earn from qualifying purchases. Please read my full disclosure.
RV surge protectors are a necessary accessory to protect your electric system, and internal appliances.
Many campers will tell you that surge protectors are not necessary, but it only takes one bad connection and you'll quickly be out thousands of dollars in equipment.
Surge protectors are inexpensive, and will give you peace of mind while camping. In this article, we'll tell you what to look for, and how to find the best surge protector for your camper or trailer.
Why Get an RV Surge Protector?
A surge protector monitors and protects your RV's power supply. It finds defects and levels electricity usage, protecting the RV and its equipment.
You can lose your power supply with one small bad connection. Whether you use your RV every day, seasonally, or once a year, having an RV in your toolkit is a must.
Your RV will need protection in the following scenarios:
Power surges
Voltage drops
Lightening strikes
Poor wiring
Surge protectors prevent voltage spikes.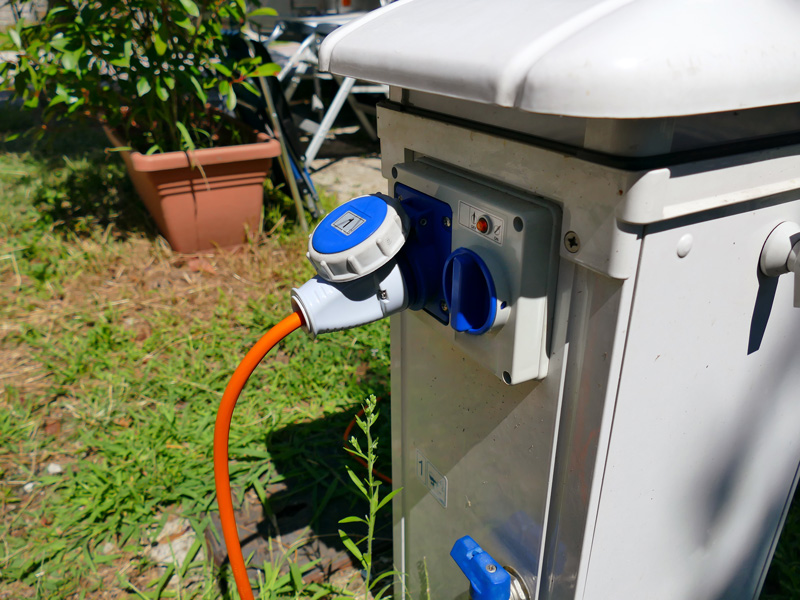 What Is An Electrical Management System?
Electrical management systems are similar to surge protectors, but they protect against every type of bad power connection.
They will also give you amperage readings, high and low frequency protection, and protect against faulty grounds.
Electrical management systems are more expensive than a standard surge protector. But they offer the best protection for your camper!
What To Look For In An RV Surge Protector
Amp Rating
This indicates the amount of power you'll use. You want one that's appropriate for your operation. Otherwise, you increase the change of overheating, fire, and electrical problems.
If you have a 30 amp RV, you should use a 30A surge protector. If you have a 50 amp RV, you should use a 50A protector; simple as that!
Installation
Simple surge protectors plug in-between the campground power pedestal and your RV power cord.
Electrical management systems are hardwired into your camper. These require more installation, but you won't have to worry about leaving them behind!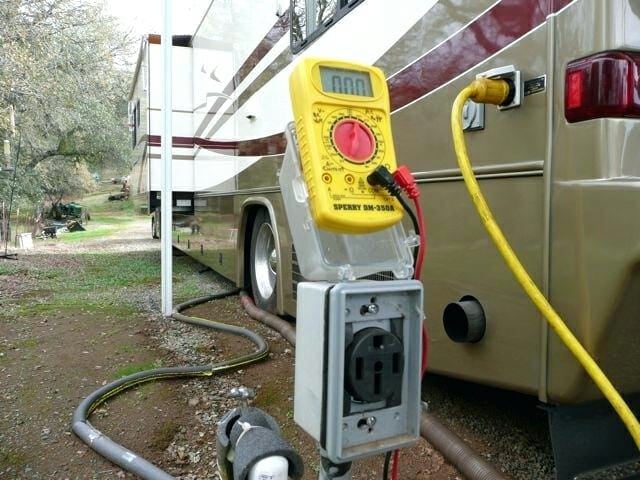 Weight
Choose a lightweight unit. You don't want to add too much of a load to your ride. Plus, if you have an outdoor unit, you want to avoid breaking your back during the physical transport.
Display
The best surge protectors have indicator lights that will show you additional information such as:
Open Neutral
Open Ground
Reverse Polarity
Open Circuit/No Power
Surge Protection Status
Overheating Plug/Receptacle
the Best Surge Protectors And Electrical Management Systems For An RV
BEST PORTABLE 30A

Best Portable 30A RV Surge Protector
The Portable EMS-PT30X is a top-notch RV 30 amp surge protector. Its LED display provides a variety of specific information that'll help you monitor and manage your electrical systems.
The EMS-PT30X provides a surge protection rating of 44,000 amps and 1,790 joules. There's a higher protection level against large power spikes.
What really makes this model work for me is its weather resistance. It operates in a wide range of temps, from -40 to 221 degrees Fahrenheit.
The resistance minimizes the possibility of losing functionality in the most unpleasant climates. That's durability no RV owner should overlook.
The device is user-friendly and has exceptional plug-and-play capability.
Security is often an issue with these portables—no worries with the Portable EMS-PT30X. The device comes with an RV surge protector lock. It will stay in place even if your rig hits the bumpiest roads or toughest terrains.
The compact size makes for easy storage, placement, and transport.
Integrated LED display shows you important voltage info
Low and high-voltage protection detection
Reverse polarity feature goes beyond only tracking reverse polarity
BEST PORTABLE 50A

Best Portable 50A RV Surge Protector
Progressive Industries also manufactures a 50A RV surge protector with all of the great features you will find in the 30A unit.
When there are surges or spikes (usually caused by transformer malfunctions, lightning, power pole accidents, etc.), the unit assesses and filters the disruption out. It will also shut your rig's electrical off if the spike registers as a hazard.
The device has a remote display that provides voltage, frequency, current, and error codes. You can check error codes and know immediately why your power got interrupted.
It is microprocessor-controlled, driven by software that manages the unit. A bypass option conveniently lets you skip over the computer operation while maintaining your surge protection.
Unit is extremely well constructed
Functions impressively in unfavorable temperature conditions
Hardwiring means that you will never have to worry about theft
BEST HARDWIRED 30A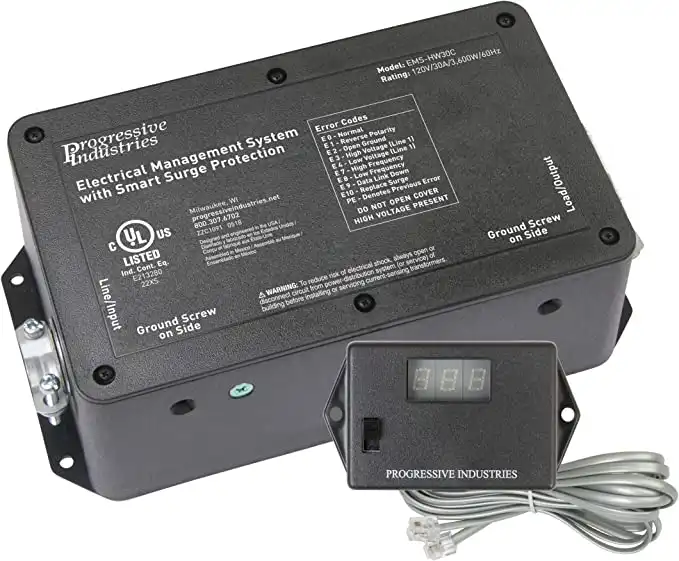 Best 30 Amp Hardwired RV Electrical Management System Surge Protector
If you're looking for a hardwired EMS that is easy to install and covers all the basis, this model from Progressive Industries is our top choice.
A hardwired RV surge protector like this 30 amp RV EMS system provides an exceptional level of electrical and surge security. The installation between the RV's electrical panel and AC inlet safeguards all onboard AC devices.
There's a function for AC power interruptions or if a fault condition is detected by the EMS. The built-in time delay gets triggered.
Hardwiring your surge protection eliminates the risk of leaving the machine behind. You also get comfort knowing you're protected any time you plugin.
The EMS-HW30C includes a 14-foot data cable, open ground, open neutral and reverse polarity functionality, over and under-voltage protection, accidental 240-volt protection, AC frequency protection, and surge failure and miswired pedestal indicators.
You get five modes of surge protection, surge indicator, reverse polarity protection, open neutral and ground protection, and much more.
Safeguards your RV electronics
Device is a superior surge protector
Protects your RV from old posts or miswiring
Readout displays Amperage usage in real-time
BEST HARDWIRED 50A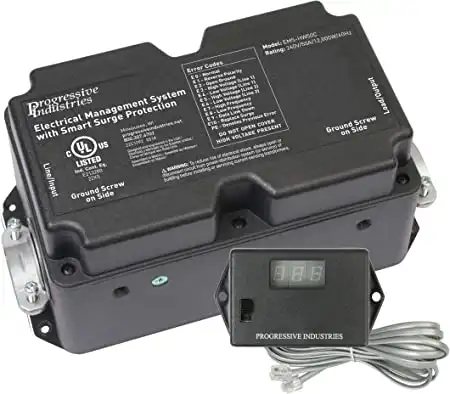 Best 50A RV Electrical Management System Surge Protector
This 50A device is a complete electrical management system. It's a proven solution for surge protection with pedestal testing included in the unit.
It looks for voltage fluctuations, incorrectly wired pedestals, and power surges that might harm appliances and electronics.
The unit can read a variety of power issues and will shut off RV power in case of a threat. And I can tell you from experience, better that than having a short destroying your wiring.
The improved design comes with an up-to-date secure locking bracket, microprocessors, robust pull handle, and built-in scrolling digital display. It has sturdy Lexan housing.
You're fully protected regarding all power issues
Comes with out-of-the-box functionality, meaning no installation is required
Security includes a built-in locking bracket
That's A Wrap!
A Progressive surge protector would be invaluable, letting you travel with confidence, knowing you've minimized electrical problems that can ruin your journey.