Top 10 Things to Do in Big Bend National Park
By
on
This post may contain affiliate links. As an Amazon Associate, I earn from qualifying purchases. Please read my full disclosure.
Desolate desert, red and orange dusted mountains, cactus blooms, giant boulder formations, hollow canyons, and a giant river running through it all are just a few of the things you'll find in Big Bend National Park.
Located along the Chihuahua border of Mexico and Texas, Big Bend is Texas' best-kept secret for nature lovers, hikers, climbers, and adventurers.
Due to its remote location, Big Bend receives few visitors compared to all other national parks, letting you take in its stark beauty without the clutter of big crowds, even during peak seasons.
Also, because it is so far removed from any large city or town, Big Bend has some of the clearest night skies on earth. Stargazers can see every constellation and planet as if they were in a planetarium, and shooting stars abound. It's truly an awe-inspiring sight.
Camping, star gazing, and hiking are just a few of the many fun, relaxing, and interesting things to do in Big Bend National Park.
In this article, we will explore the top 10 things to do in Big Bend National Park to help you plan the most action-packed trip.
Big Bend Top 10
Peak Around Santa Elena Canyon
Ross Maxwell Scenic Drive
Balanced Rock
The Windows Trail
Dip In The Hot Springs
Chisos Basin Area
Paddle The Rio Grande
Tuff Canyon
Hike The South Rim Trail
Climb Emory Peak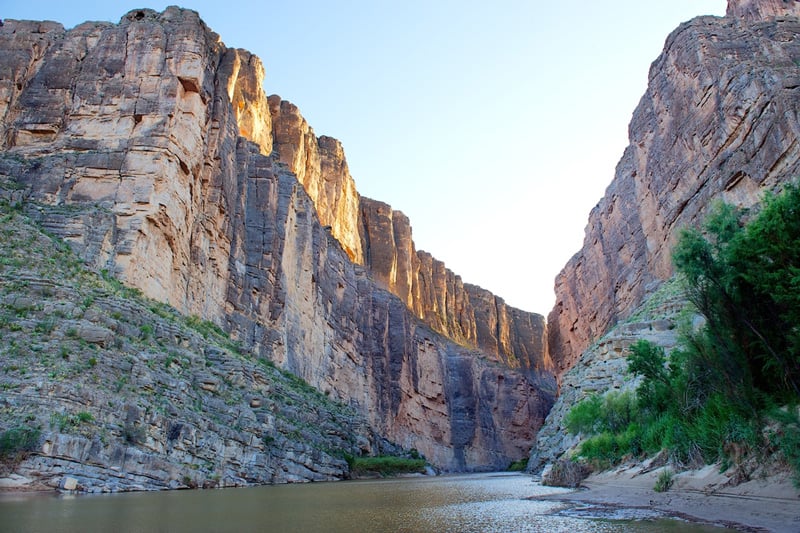 Peak Around Santa Elena Canyon
Santa Elena Canyon is a 1,500-foot tall canyon entrenching a large section of the Rio Grande River, and one of Big Bend National Park's most impressive landmarks.
It's a short 1.7-mile round trip hike into the canyon where you'll marvel at the enormity of the canyon walls rising up like skyscrapers on either side of the Rio Grande.
Depending on the time of year you go, you can sometimes wade through the river for a refresher and to get a different viewing perspective.
There are only about 80 feet of elevation gain in this hike, but it's sufficient to provide excellent views of the canyon and river below.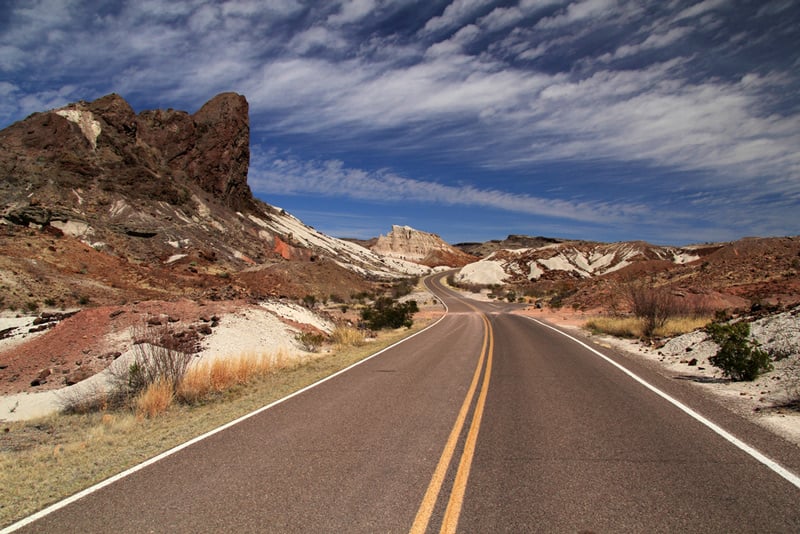 Ross Maxwell Scenic Drive
If hiking all day every day isn't for you, there's a less strenuous way to take in the spectacular views around Big Bend.
The Ross Maxwell Scenic Drive offers a 30-mile passage through the park beginning at Panther Junction Road and ending at the famous Santa Elena Canyon.
You can spend various hours on this drive, stopping at the numerous overlooks to take pictures and gaze out at different views of the mountains and surrounding desert.
Many of the trailheads for Big Bend's popular hikes are located off Ross Maxwell Scenic Drive, so you're sure to experience the scenery, whether as part of a leisurely drive or en route to a hike.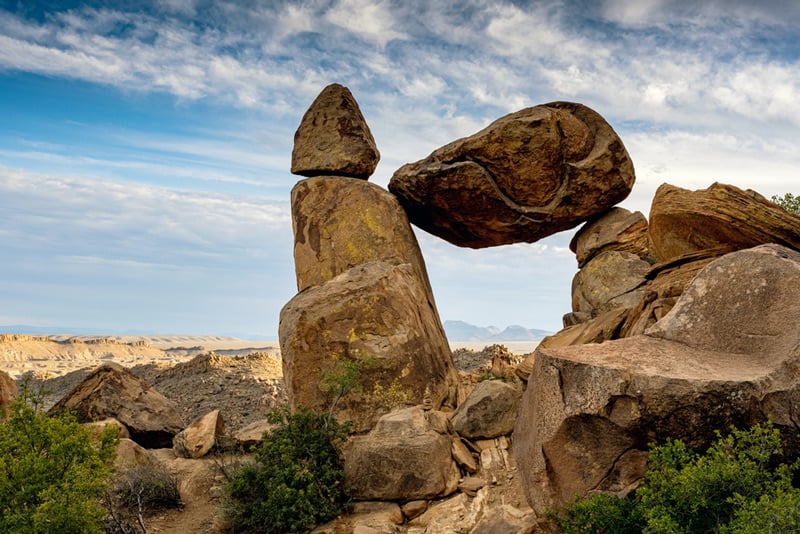 Balanced Rock
Balanced Rock is one of Big Bend's most popular attractions. Balanced Rock is a rock formation characterized by a large rhombus-shaped boulder that appears to be balancing precariously at either corner on two tall column-like boulders. It's a veritable natural Stonehenge that will leave you perplexed and in awe.
The easy 2.2-mile hike to Balanced Rock is mainly flat with a short steep uphill to get to the main attraction.
It's great for kids of all ages, and the views of the surrounding desert get better and better. Therefore, as you hike out to the rock, make sure you glance behind you.
The Windows Trail
The Window may be the most iconic mountainous rock formation in Big Bend, as it is an enormous V-shaped dip in the mountain range that acts as a window to peer through.
The best views of The Window are at sunset and night from the valley below. There's a quick, 0.3 mile hike to an unfettered view of the Window, replete with benches and a paved foot-path.
For avid hikers looking to arrive at the notch itself, the Windows Trail hike is a moderate 5.6-mile hike with a 1000 ft. elevation gain that gives you an incredible view of the Chisos Mountains and the basin below.
You can hike the Windows Trail during the day, they head down to the Window viewing trail for the sunset and star-gazing to experience this natural wonder from every angle.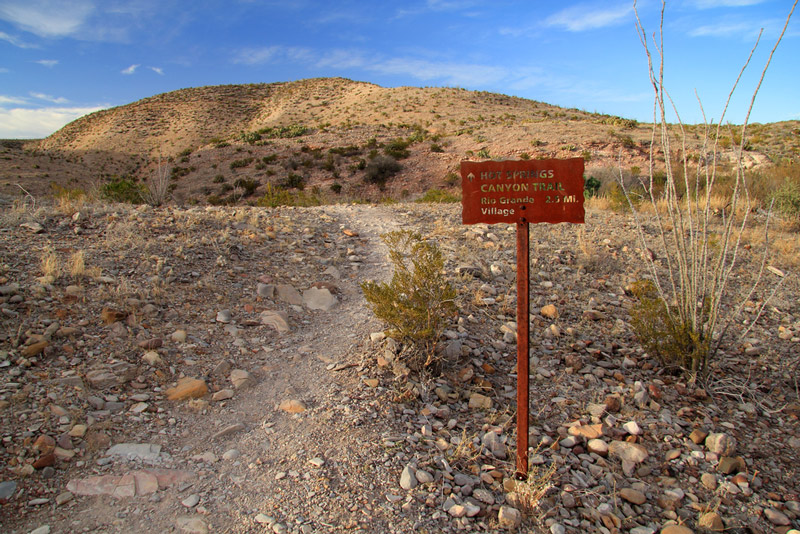 Hot Springs
Rejuvenate and relax those sore hiking muscles with a dip in the luxurious hot springs, located within Big Bend National Park. They have two names, so don't get confused! Some call them Boquillas Hot Springs, named for the Mexican Village and canyon nearby.
Most people on the U.S. side of Big Bend call them Langford Hot Springs for the land's original turn-of-the-century owner J.O. Langford, who built a resort and bathhouse around the springs, remnants of which are still standing today.
Thought to have special healing powers, these springs have provided a cross-cultural destination for relaxing and healing since long before the National Park's existence.
They are a bright blue and turquoise color, serving as a paradisiacal vision of a desert oasis. You can only access them on foot, but it's a short half-mile hike out to them.
You can enjoy them year-round. Even in the scorching summers, mornings, evenings, and nights are always chilly.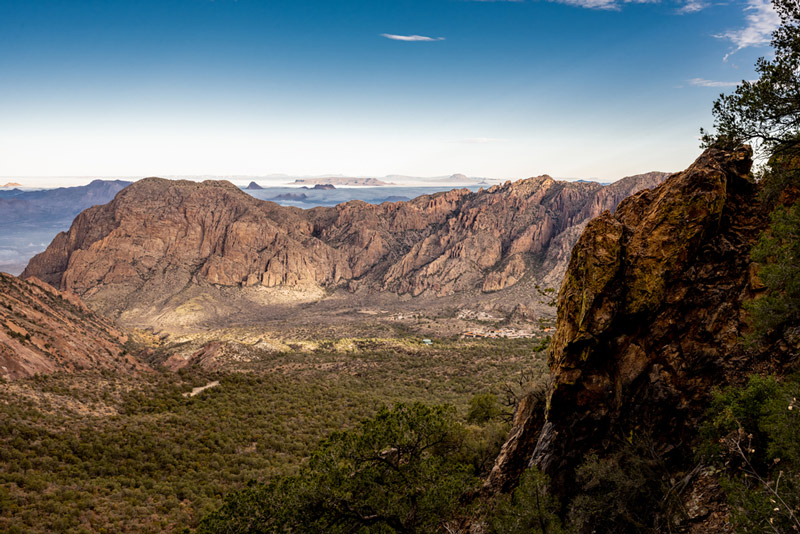 Chisos Basin Area
The Chisos basin area refers to the valley below Big Bend's very own self-contained 40-mile long mountain range, the Chisos Mountains.
Many of the best hiking trails in the park start at the Chisos Basin Area, including the South Rim Trail, the Window Trail, and the Emory Peak Trail.
The Chisos Basin is also home to a popular campground with all the basic amenities such as picnic tables, grills, and restroom facilities. You'll have a great view of the Window from the campsite, so enjoying dinner at sunset and finishing the night with a stargazing session before bed are certainly the Chisos Basin campground's best gifts.
There is a visitor center and lodge if you aren't into camping and want to sleep in a bed. If you're just passing through, there's a short loop hike through the Chisos Basin valley that takes you through a shady forest area and meets up with trailheads for longer hikes.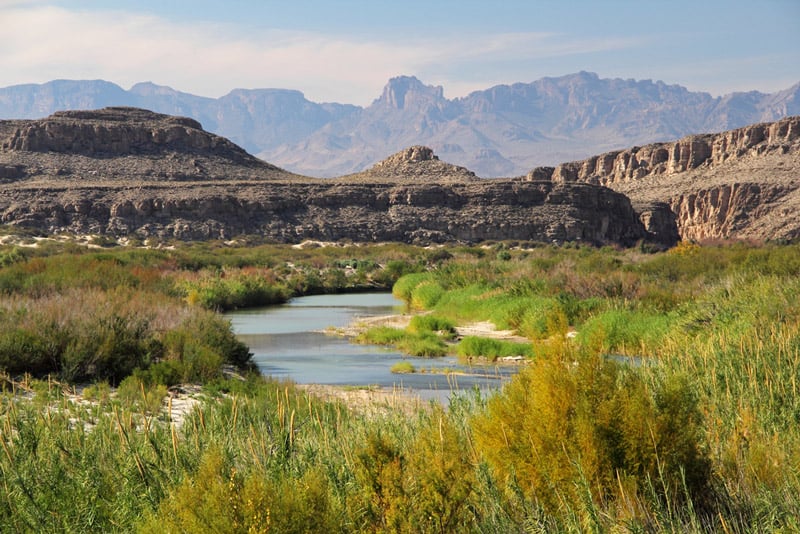 Paddle the Rio Grande
A canoe trip through the beautiful canyons and bends that lie along the Rio Grande is a favorite activity for most tourists and an unforgettable experience for any Big Bend itinerary.
We recommend a guided tour because tour guides are very knowledgeable about the geology, history, and topography of the region, spouting off fun facts and fascinating explanations of the rock formations and the river's flow as you paddle along.
Tours are day-long events that provide a midday meal. You can purchase a tour that embarks from the town of Lajitas or Terlingua near the park's western entrance. If you're bringing your own gear, you'll have to apply for a permit to paddle down unguided.
Tuff Canyon
Tuff is a term that describes the hardened volcanic ash that lines the canyon's walls that is whitish-grey and has a rough, rugged texture fitting its name.
Tuff Canyon is an easy, short 0.75-mile hike that gives you up-close and personal views of the canyon's volcanic remnants as well as spectacular views of Castellan Mountain in the distance.
You can access the trail from the Max Rockwell Scenic Drive at mile 20, which is also an overlook viewpoint of Tuff Canyon and the dry riverbed below.
During spring and summer, you'll encounter tons of wild desert flowers along the rocky, sandy trail through the canyon.
It's a pleasant hike that you can incorporate into one of your pit stops on Ross Maxwell Scenic Drive.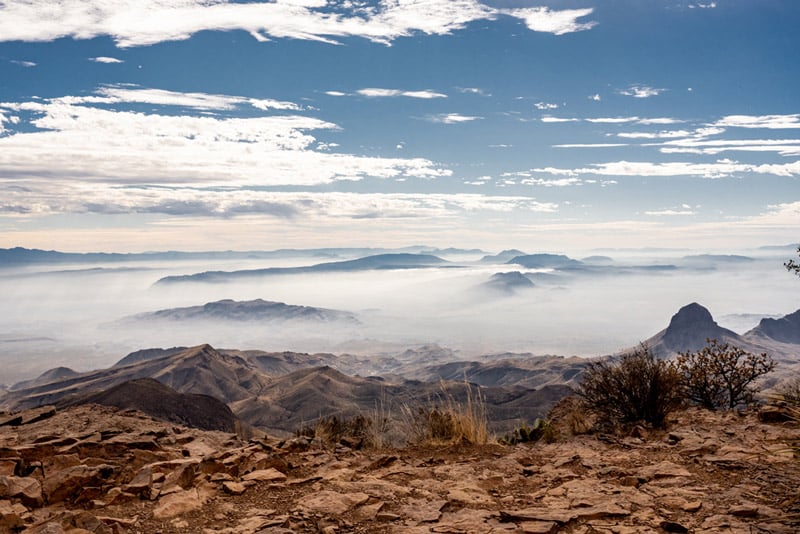 South Rim Trail
Avid hikers will meet their match with this grueling 12-15-mile hike along the southern rim of the Chisos Mountains. You start in the Chisos River basin, accruing an impressive 2,000-foot elevation gain as you climb up to the rim.
The hike can be 12 or 15 miles depending on which route you decide to take; there's a steeper yet shorter Pinnacles route and a longer, more gradual climb with the Laguna Meadows trail.
Regardless of which route you take, the South Rim Trail bestows the best views of Big Bend's majestic mountain ranges and the desert valley below.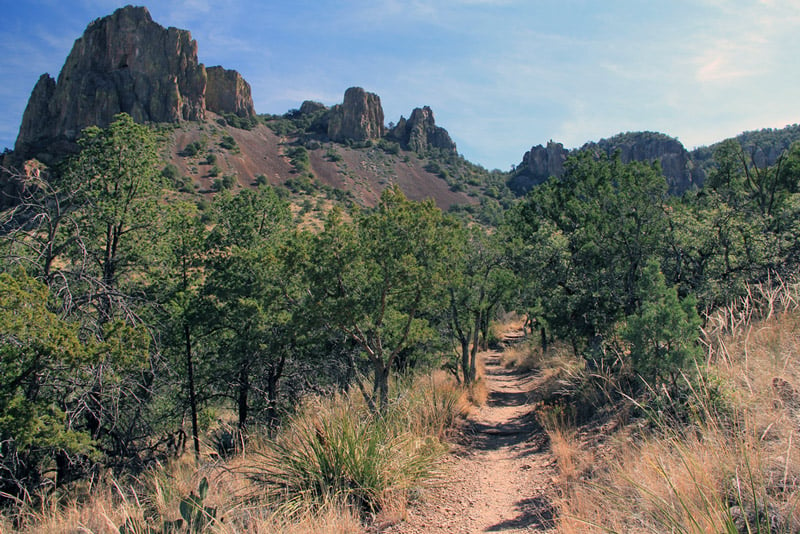 Emory Peak
Emory Peak is the highest point in the park, and the trail to get there is the hardest hike in the park. If you're up for the challenging 10.5-mile hike and 2400-foot gain in elevation, you'll get bragging rights and a true bird's eye panoramic view of the park in all its glory.
You'll experience different types of terrain, from the forested Pinnacles trail to the scenic spur trail, culminating in a steep, rock scramble up a sheer rock face to reach the summit. While it may be a few miles less than the South Rim Trail, this hike will take longer to complete.
Plan on a good 8-10 hours for this hike.