Best 12 Volt TV For RV And Campervan Travel (Review)
By
on
This post may contain affiliate links. As an Amazon Associate, I earn from qualifying purchases. Please read my full disclosure.
Just because you're out living an adventurous life, doesn't mean you can't indulge in a movie or TV show every once in a while. Whether you're replacing an old TV or getting a new addition for your RV, you're going to want one of the best 12 volt televisions.
You don't go shopping for a regular TV for a motorhome. 12 Volt TVs are built specially for mobile vehicles to provide a smooth viewing experience on the go.
TOP CHOICE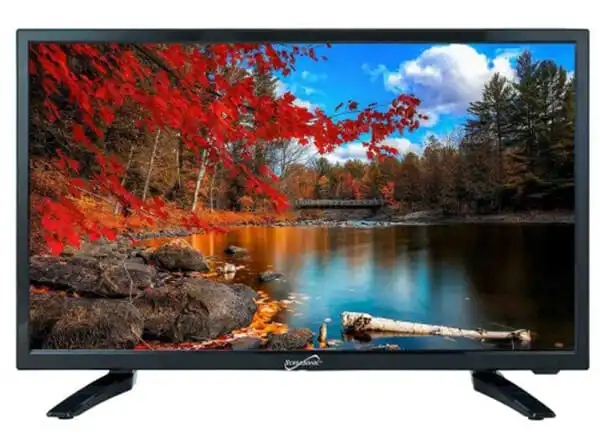 MOST DURABLE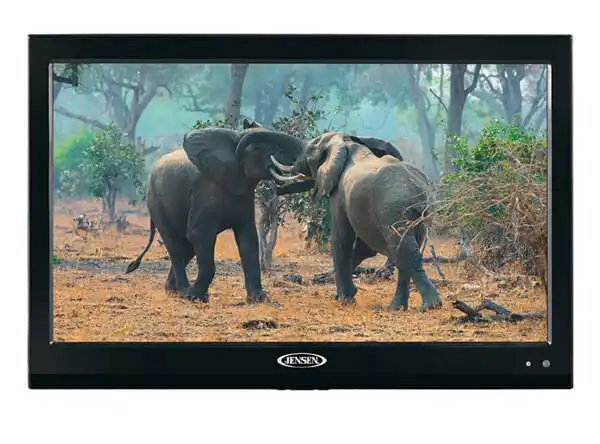 GOOD VALUE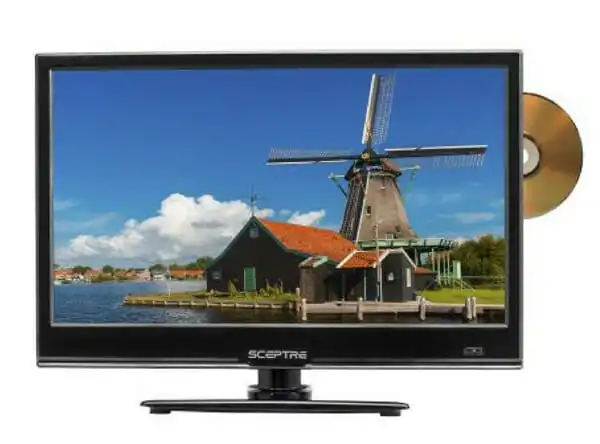 Difference Between a 12 Volt RV TV vs. Regular TV
You may be wondering, "Why to bother with a 12v TV when you could just mount your regular TV?". The answer is simple; regular TVs are not built to withstand vibrations and shocks—especially on bumpy roads.
Even if your trip happens to be as smooth as silk, there comes the problem of power consumption. 12 volt TVs run on less power than your regular TV. They are designed to wire straight into a 12v or 24v battery. That means you don't need an inverter, and you won't be throwing away more energy than necessary.
There are a few other things that make 12v models stand out:
The internal chassis is purposefully strengthened so that the television will stay securely on the mount. This is crucial in RVs, as they go over so many bumps, and normal TVs could break free of the mount upon a large impact.
12v TVs are thoroughly tested in vibration chambers to ensure they're safe against intense jostling and impact.
12v models are also put through rigorous testing to ensure they resist against extreme temperatures and humidity that are common for RV users to experience. With regular TVs, condensation can form if it's cold. And if the TV suddenly warms up when you turn it on, it can result in short circuiting.
Overall, 12v TVs provides a much better outdoor viewing experience. The angles can get a little difficult outdoors due to intense sunlight blasting the TV screen. Since most 12v TVs have an anti-glare coating you'll be left with a more seamless experience.

Which size TV is best for your RV?
As with anything in your RV, space will be a priority. You don't want your television taking up valuable living space in an area that can already be quite limited. You're probably not going to get a model that's the same size as the one you'd have at home, but keep in mind that you'll probably also be watching from a shorter distance.
Choosing the right size TV will depend on two things:
Your RV space: You have to consider the available space of your recreational vehicle before choosing a TV. Make sure there is a flat wall available or a suitable area opposite the TV to sit.
The position of the TV: Take into consideration whether you're planning to use a swivel mount or a fixed mount. You may not need as large of a TV if you have the ability to swivel it, because then you can point it in the direction that you're sitting to see it better.
The market for 12v TVs is not a large one, so you won't have the luxury of selecting from too many different sizes. The most popular sizes of 12v TVs range from 19 to 24 inches. That may seem small, but it will look much larger inside your vehicle.
Additionally, pricing is always something to keep in mind. The larger the TV, the more expensive it will be.
What about extreme weather?
It's close to impossible to keep the weather conditions inside your RV 100% ideal, particularly when you're traveling to so many changing climates. 12 volt TVs will be resistant against humidity, so you won't have to worry about potential electrical problems or affected components.
How to Mount an RV TV
The last thing you want is for a TV to fall on the top of your head while enjoying your time away from home. The mounting process of an RV TV is quite different from a regular TV, as the brackets are not the same. TVs can be mounted in several positions, it could be fixed or articulating. Whatever bracket you choose, make ensure it is able to mount your TV firmly.
The market has got a wide range of solid brackets to suit your mounting style. When you find one that's a good fit, find a space to beneath your cabinetry to install it. In a Class A or C type motorhome, for example, the TV can be mounted under the set of cabinets that lies just above the cockpit.
Select your mount.
Remove any mounting equipment that was there before.
Figure out the way you want it mounted. The most common methods of doing this are to screw the mount inside the RV wall or hang it on the overhead spaces.
Decide on the area where you'll be hooking up the TV mount. Even if the surface seems solid, you may want to add some reinforcement; like a piece of 3/4″ plywood. It's always a good idea to do this even if you think the area is strong enough to hold a TV. The weight of your television combined with the jostling around of your RV could, over time, weaken the wall where it's hooked up if you don't do this. You may also use TV straps, stands, or brackets to help secure it.
Use (preferably) Carriage Bolts with a washer and nut to fasten the mount. This is the most heavy-duty option and is best to ensure it's properly secured.
Make sure to test out the lengths of your cables if you're going for an articulating mount.
Watching TV On The Road
There are a number of ways to watch TV on the road. The most popular option if you're doing shorter trips will be with DVD players or streaming online. That said, depending on your budget and length of stay you can get full satellite hookups and even cable! These are the different ways you can watch TV in a motorhome:
DVDs, USB, HDMI, and PC Cable Slots
TV Antenna
Satellite Dish
Cable
DVDs, USB, HDMI, and PC cable slots
When you're adventuring in your RV, you want to consider every option possible. On of the most underrated parts of having a 12 volt TV is the ability to watch DVDs. Sure, it's a bit outdated, but they are reliable. At times you're not going to have satellite or cable reception, where this may be the only option.
Another little convenience is having USB, HDMI, and PC cable slots in your TV. This will allow you to hook up your phone or laptop to listen to music or watch TV and movies when you want.
Antennas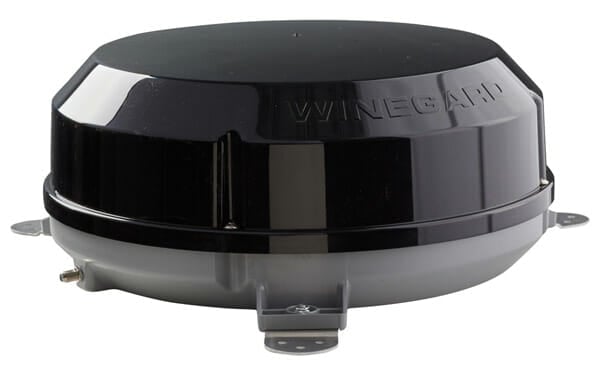 RV TV antennas are a common way for travelers to watch TV on the road. There are three styles of antenna: manual crank, automatic crank, and dome antennas.
With crank systems it's important to remember to crank the antenna down before driving! They can get quite tall and snag trees or power lines on the go. Dome antennas are becoming a lot more popular for this reason. They are electric, lower profile and don't have to be moved up or down to receive a signal.
Antenna connections are relatively straightforward. If your RV has an existing antenna, simply plug the cables into the control box or the back of your TV. Most newer RV TV models will have a user-friendly connector in the back.
The channels will change signals and get mixed up each time you travel. So every time your park you should perform a channel scan on the menu of the TV. If there is no existing antenna, you can install your own.
Satellite Dishes
Some RVs come equipped with a satellite dish and others have hookups so you can add it to the RV later. If you don't want it located on the roof, you can purchase portable satellite dishes and set them outside your camper when you park.
Watching TV with satellite can be one of the more expensive options. Just like at home, you'll also need a subscription service.
Dish Network is one company offers a month-to-month no-contract service if you own your own equipment. That means you can hook up your satellite and get TV just for the months you're camping.
Cable Television
Some campgrounds offer cable television service. In that case, you can plug a weatherproof coaxial cable between the source to your 12v television. If your RV has an outside cable port you can plug into that, then run a secondary coaxial cable to your TV from the inside port.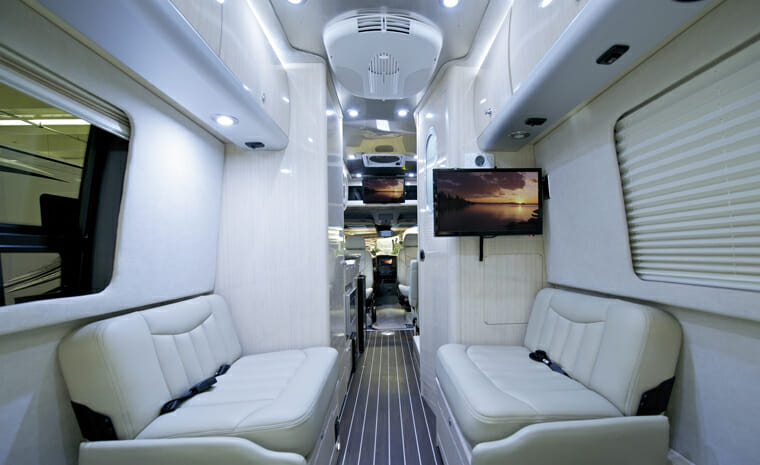 The Best 12V RV TVs Compared
TOP CHOICE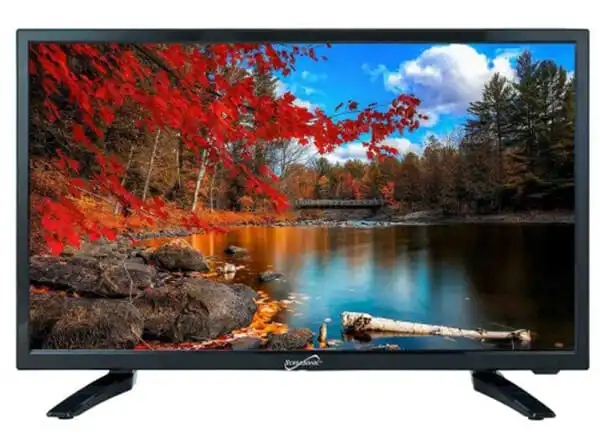 If you're looking for the best value for your money, pay attention to the SuperSonic 1080p LED Widescreen HDTV. Even though it's affordable, you still receive amazing picture quality, and convenience of having a built-in DVD player, an HDMI port, and a USB port. This makes it so adaptable that even if you don't have access to cable/satellite, you can watch movies stored on a USB drive or laptop.
What's more, this TV has a built-in card reader, VGA, RCA jacks, and AV hookup components. That makes it great for gaming, and adds even more versatility.
The fact that it's lightweight makes for easy installation and won't pull so much on the wall you mount it on. And this 12 volt TV comes with detailed, clear instructions that makes it a breeze to set up.
With the SuperSonic You have quite a few size options to choose from; anywhere from 13 inches, all the way to 40.
The only complaint we've found is that while the LED technology in the screen delivers crisp and clear viewing, you may have to angle it in different ways to take advantage of it. The sound quality also isn't the highest rated, especially considering the size of the television. However you can always hook up an extra set of speakers if that feature is important to you.
| Pros | Cons |
| --- | --- |
| Lowest price | Not the best audio quality |
| Most versatile outputs | Need to angle in some situations |
| Most sizes to choose from | |
15.6 inches 19 inches 22 inches 24 inches 32 inches 39 inches 40 inches
MOST DURABLE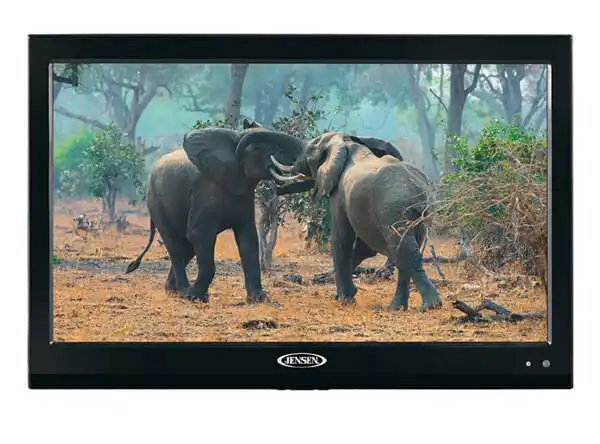 The Jensen TV is designed specially for camper vans and boats, and it's recognized for its durability by users. While it doesn't have it's own TV stand, it has multiple mounting points making it more stable, so you don't have to worry about it loosening up during a drive.
Unlike the other TVs in our review, the Jensen is a standalone TV and doesn't have a built-in DVD. It features HDMI, USB and VGA ports for connectivity.
The picture quality is one of the best things about the Jensen TV. The 1366 x 768 Full HD provides you with a crystal clear display. If you place picture quality at the top of your priority list, the Jensen JVT19DC will provide you with just that.
It also comes with a remote control included that is intuitive and simple to use. You can adjust pretty much anything from the comfort of your bed.
| Pros | Cons |
| --- | --- |
| Most Durable | No DVD player included |
| Lots of mounting options | Only comes in one size |
| Great picture quality | |
GOOD VALUE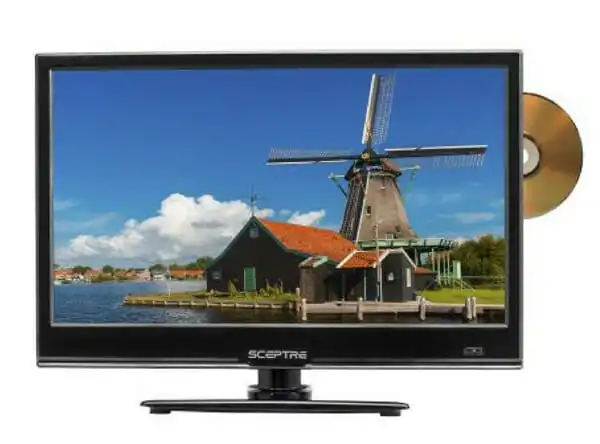 If you need a basic TV with an in-built DVD so you don't have to worry about poor reception, the Sceptre E246BD-SMQK 24" TV will fit your needs perfectly. To add to the convenience, it comes with a remote control so when you're in relaxation mode, you don't even have to get out of bed!
Trying to keep up with the latest technology, Sceptre added an HDMI port that allows you to enjoy audio and video by connecting a single cable. And thanks to the USB ports, you can listen to music, or choose to store some movies or videos on a USB fob. That makes it easy to stay entertained on the rainy days when reception isn't great.
The brushed metal television comes wall mount-ready, so you won't have to deal with a bunch of preparation to get it hooked up.
If you are someone looking for a less expensive way to have a decent-sized TV/DVD player, then this will be the best pick for you. That said, Sceptre doesn't have the best sound quality and video resolution of the TVs we've reviewed. The Jensen and Supersonic beats it out in those areas.
| Pros | Cons |
| --- | --- |
| Built-in DVD player | Not the best resolution |
| Versatile connections | Not the best sound quality |
| Comes with remote | |
Wrapping It Up
If you want to save some cash, and get the most versitility, god for the check out the SuperSonic 1080. The Jensen JTV19DC is user-friendly in set up and use, and it's the most durable out there. Finally, the Sceptre is a good pick for relative affordability, user-friendliness, and high level of quality.
We hope that our guide has helped you find the best 12v TV for you. Happy Travels!
Continue Reading: