The Toughest: ARB Portable Refrigerator Review
By
on
This post may contain affiliate links. As an Amazon Associate, I earn from qualifying purchases. Please read my full disclosure.
ARB products are built to take a beating. Their refrigerators are built like a cooler with the added benefit of a refrigerator compressor. ARB refrigerators come in four different sizes. Each fridge has a cooling capacity of 50ºF – 0ºF and runs of 12-24DC power as well as 110V AC power.
| Model | ARB37 | ARB50 | ARB63 | ARB82 |
| --- | --- | --- | --- | --- |
| Height, Width, Depth (in.) | 16.9 x 11.3 x 6 | 20 x 15 x 27.8 | 16.9 x 17.7 x 33.3 | 20 x 17.7 x 33.3 |
| Weight (lbs.) | 45.6 | 49.6 | 54 | 59.7 |
| Volume (12oz. cans) | 50 | 72 | 90 | 120 |
| Availability | Amazon | Amazon | Amazon | Amazon |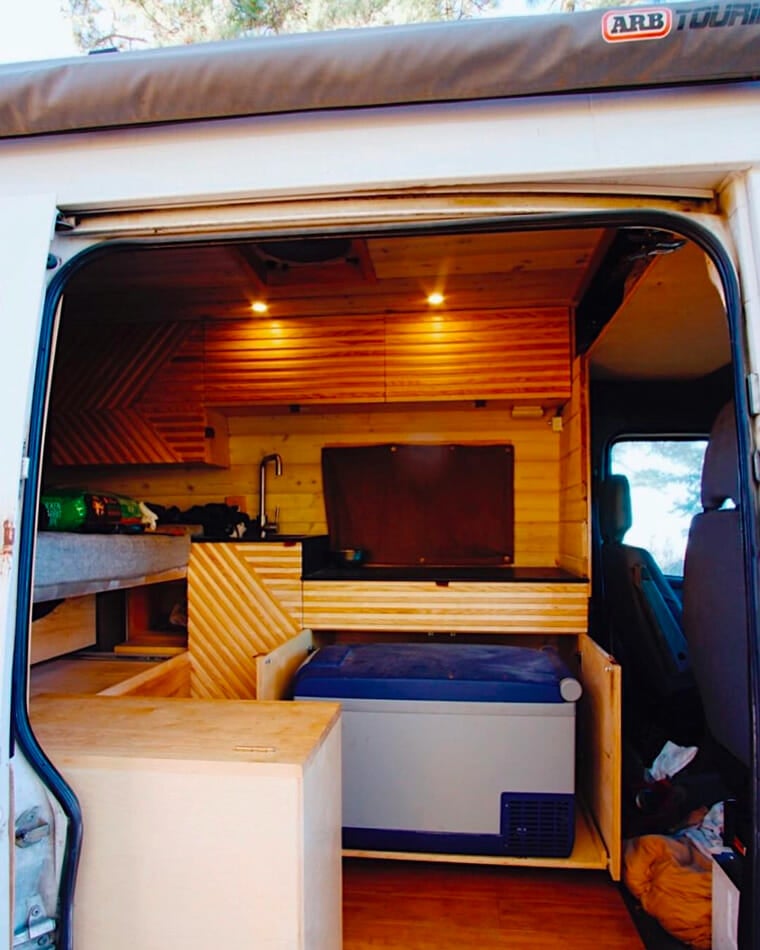 Features of the ARB Portable Refrigerator
Sturdy Build Quality
The reason the ARB is the toughest out there is because of the sturdy build quality. The refrigerator has steel handles that are built right in to the unit. Because these handles don't stick out or move they are less prone to flexing over time and can be tied down to the floor or slider of your vehicle. If you choose to add a slider, ARB also sells slider accessories that fit each fridge size so you don't have to build your own.
ARB is confident with its product and offers the longest warranty of the refrigerators we've reviewed – 3 years.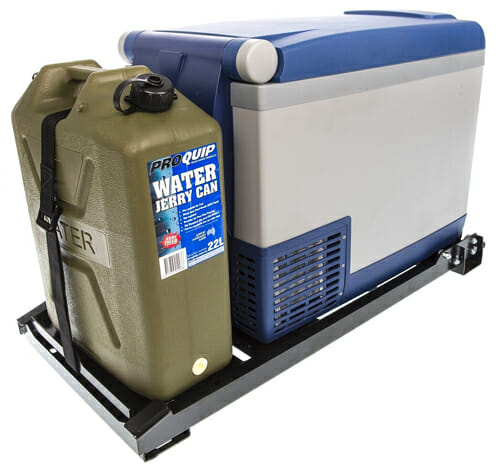 Technology
Like many of the other products we've looked at, this refrigerator does come with a digital display and multiple temperature settings as well as a battery protection switch. The battery protection switch will prevent the unit from running your car completely out of battery. All of the controls are kept under an overhang so they will not be accidentally bumped or reset throughout the day.
Although this fridge does not come with wifi, it does have a remote monitor that can be placed at another location within your vehicle to monitor and adjust the temperature or battery.
There is also a recessed LED interior light within the refrigerator unit which is a nice bonus.
Refrigerator Top
The top of the refrigerator easily pops off. This is an advantage because if the refrigerator is kept in a compartment with a low ceiling or somewhere the lid cannot be fully opened it is still possible to reach in and get food.
A tight latch seals the O-ring on the top keeping the refrigerator highly efficient as well.
Water Drain
A water drain on the bottom is something we haven't seen much of in portable refrigerators. As an extra bonus, the ARB has a water drain can be opened to hose out the interior compartment in case of spills.
Large interior space
ARB uses every amount of available space on the inside. A dairy compartment sits right above the compressor and runs 5-6 degrees warmer than the rest of the interior to keep food from freezing. Like most other refrigerators, they also have a removable basket to keep food dry in case of condensation.
View the ARB Portable Refrigerator
Considerations when purchasing an ARB Portable Refrigerator
Because of the high quality, ARB is one of the most expensive portable refrigerators on the market. If you are on a tight budget, they'll probably be out of your range.
There have been some mentions that the 12V cable fits very snug and can be difficult to remove once plugged in. There have also been a few complaints of the refrigerator draining the car battery. The ARB is used by many over landers and adventure campers. With a dual battery, solar panel setup and paying attention to the battery shutoff this should not be too much of a problem for a vanlifer.