Overview Of The Best 12 Volt Portable Refrigerator For Camper Van Life
Refrigerators are an important part of a van build, but also take up take a large amount of space and power. 12 volt RV and boat specific refrigerators are going to be the best choice for vanlife because they are well constructed and insulated to withstand the bumps and high heat of a mobile lifestyle.
We've built a list of the best 12 volt portable refrigerators for a vanlife to help you decide what's best for your camper. Each refrigerator on this list is a 12V DC energy efficient fridge that will work seamlessly with a solar panel setup.
There is no right way to live the vanlife, but if you want to purchase a fridge, we've done a lot of the legwork for you here.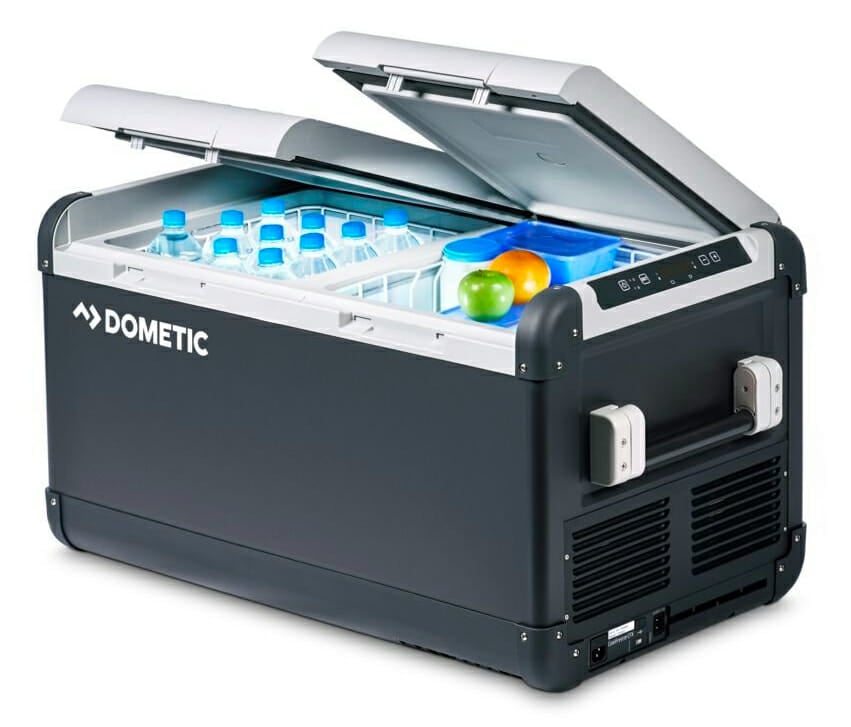 The Dometic line of refrigerators is heads above the rest when it comes to technology. They have a huge line of refrigerators to choose from whether you are looking just to keep food cold, for a fridge/freezer combo, or even something that will keep your food warm.
Dometic refrigerators come with advanced digital displays that can be adjusted through a phone app as well as on the refrigerator control panel itself. Along with temperature controls, colored lights indicate whether the compressor is currently running or switched off. A battery protection setting can also be adjusted to keep the battery from full discharge.
Dometic refrigerators are built to last and some of the larger models come with dual-zone compartments meaning you can set each compartment at a different temperature freezing and refrigerating food at the same time.
Most Efficient ↠ 

Engel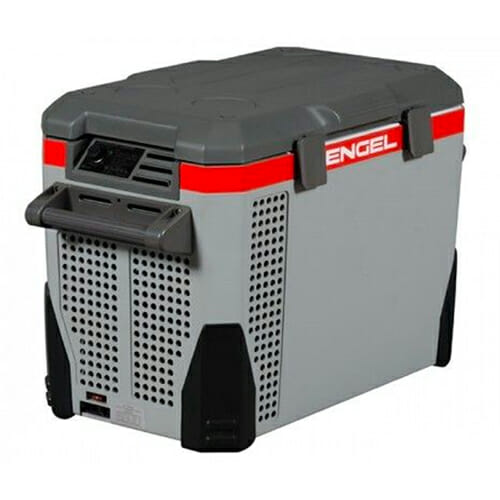 Engel portable refrigerators have been around for years, and they've only gotten better with time. These refrigerators use a unique one-part swing compressor which is one of the most efficient compressors on the market. The Engel brand refrigerators will draw the least amount of power and give you the longest run-time of anything on the list.
The design of the Engel is very simplistic and no-frills. With a steel encasing covering almost the entire outside they are durable and sturdy. The inside compartment of the Engel is separated from the external walls allowing you to swap parts without getting an entirely new refrigerator. They also have a very long warranty of 3 years.
The Toughest 12V Fridge ↠ 

ARB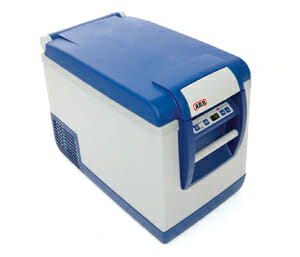 ARB is one of the most durable refrigerators on the market. Built with the overlanding community in mind this refrigerator is made to operate at 30 degrees of tilt and in all weather conditions.
What sets this model apart from the others is the build quality. Steel handles are attached close to the unit to reduce flexing over time. The refrigerator can be tied to the floor using the handles, or added on top of one of ARB's custom sliders.
The digital controls are kept under an overhang so they will not be bumped around and the lid pops off for easy access in small spaces.
Best Bang For The Buck ↠ Norcold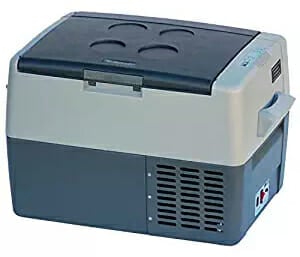 The Norcold line of refrigerators offers a quality refrigerator without breaking the bank. It comes with a reversible removable lid, and all of the basic controls including multiple temperature settings, and a battery cutoff switch.
One of the quieter models on the market, the Norcold has a short and squatty appearance making it the perfect size for a road trip.
Runner Up 12V Refrigerators
What To Look For When Purchasing A Portable Fridge
Compressor refrigerators (rather than 3-way) make the best choice for small campervan conversions because of their ability to withstand the tight twists and turns of road trip adventures. 3-way refrigerators run off propane which can easily cease operation if left at a steep angle.
12v portable refrigerators have also been built to handle temperature extremes and rattling during transport. This makes them a better choice than a typical AC powered mini-fridge.
Check For Appropriate Dimensions
In the confined space of a van, purchasing a portable fridge with proper dimensions is going to be key. Because you will not have to store ice to keep food cold, a refrigerator can take up less space than a cooler. Internal dimensions are also important. Depending on where the compressor is located, some models have more space on the inside than others.
Keep in mind that most portable refrigerators do not take into account the size of the handles that stick out. It is also important to leave a little extra room for ventilation. If a refrigerator is kept in a confined space, the heat from the compressor will make the fridge work harder to keep cool.
Direction The Door Opens
A top-open fridge will naturally be more efficient than a side-door or slide drawer refrigerator. This is due to the way cold air convection, spilling out the bottom and sides of the fridge as soon as it is opened. A top-door refrigerator will require you to stack food. With a side-door refrigerator on the other hand, food can spill out if not properly secured behind a barrier after a long drive.
Fridge/Freezer Combos
Determine whether you are looking for a refrigerator, a freezer or both. Some portable fridges can only be one or the other. Others have dual-zone compartments where you can set separate temperatures for each compartment. Is eating ice cream on the road important? Or are you satisfied with storing a few blocks of cheese but having more space?
Refrigerator Efficiency
Door swing direction is not the only thing that affects efficiency. Motor type and layout of the compressor can make a difference in how often and how long a refrigerator has to be on. Some refrigerators have temperatures that are easier to adjust than others.
Most refrigerators come with a battery cutoff switch, but the most advanced ones will allow you to control this with a remote as well.
Fridge Weight
Weight can have a major impact on a vehicle and also affect how you use the refrigerator. With an extremely heavy fridge for example, you may not want to add it to a slider or move it at all. Extra weight can also affect gas mileage so it's something to consider.
Pricing and Warranty
When it comes down to it, pricing might be the most important thing determining which refrigerator to purchase. More expensive refrigerators will generally have a higher quality. You can expect more technological advancement and durability with a higher price.
Refrigerators with longer warranties tend to last longer. Good customer support is also a key feature of refrigerator satisfaction. Not all RV repair shops will work on refrigerators that are so small. A refrigerator with components that are easy to find can make or break your decision.