Best Portable Refrigerator For Camping & Camper Vans
By
on
This post may contain affiliate links. As an Amazon Associate, I earn from qualifying purchases. Please read my full disclosure.
Purchasing the right 12v refrigerator is one of the most important decisions you can make for your camper van. Portable refrigerators take up a large amount of space and can be a big power draw in your van build.
RV and boat specific refrigerators are going to be the best choice for van life because they are well constructed and insulated to withstand the harsh environment of a mobile lifestyle.
TOP CHOICE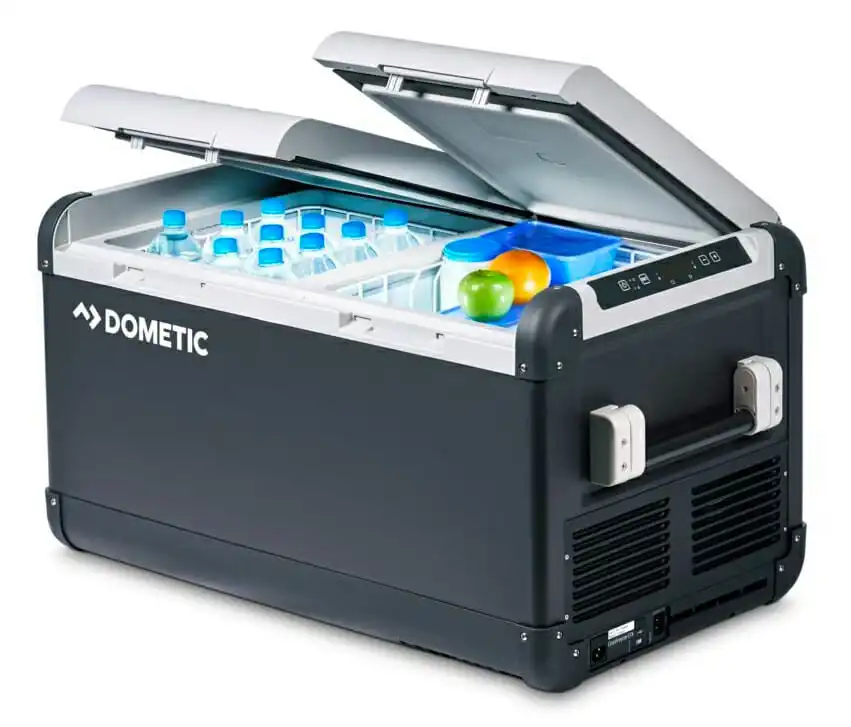 MOST DURABLE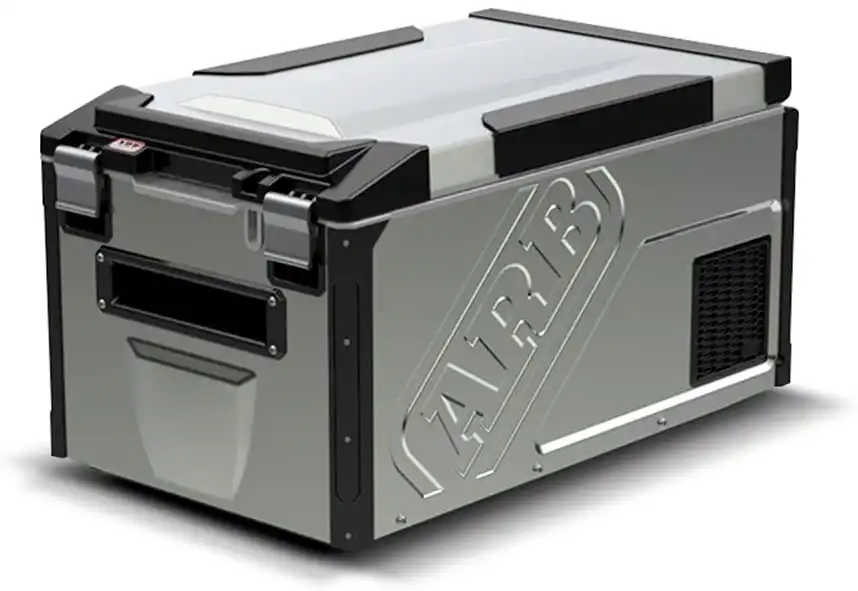 BUDGET FRIENDLY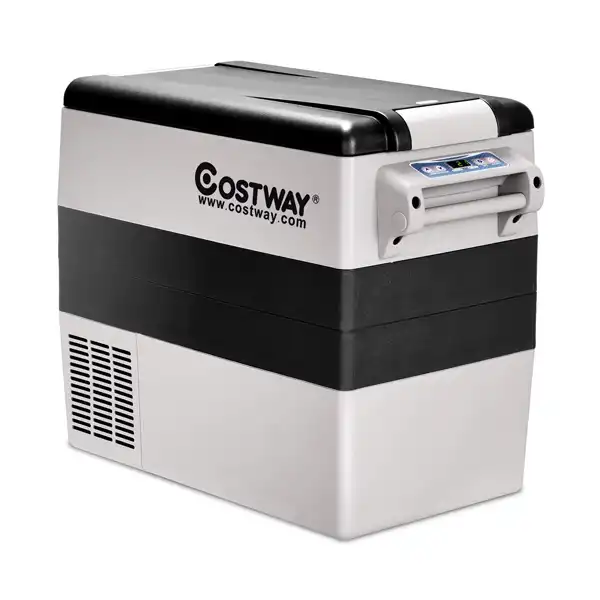 Costway
52L large capacity
Internal lighting and battery protection
Can achieve 30-minute fast cooling from 90°F to 32°F
CHECK LATEST PRICE
We've compiled a list of the best 12v portable refrigerators for a van to help you decide what to buy for your needs. Each refrigerator on this list is a 12v DC energy efficient fridge that will work seamlessly when camping with a solar panel setup.
Best 12v Refrigerator Models Compared:
TOP CHOICE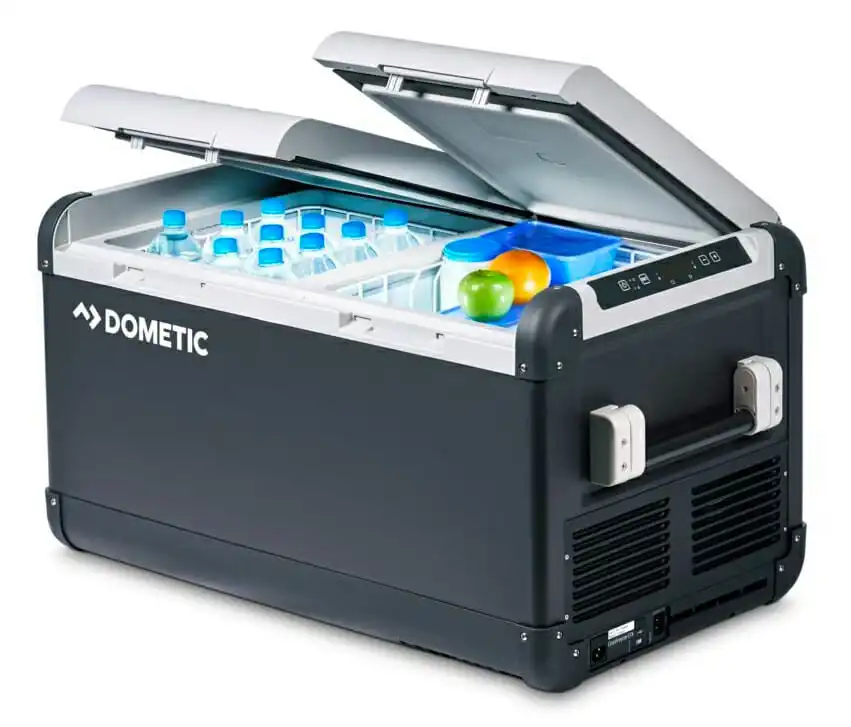 Our Pick ↠ Dometic CFX75 Dual Zone
One of the things we like most about Dometic is they have a huge line of models to choose from that come in every size to fit your specific camper.
Our personal favorite is the CFX75 Dual Zone. We like this one because it is a fridge/freezer combo with separate temperature zones which means you can pack both cheese and ice cream on your road trip!
According to Dometic, the CFX75DZ has an average Energy Consumption of 1.30 Ah/h
For anyone that is a number cruncher, you can pair it with the Dometic app to turn off the compressor for a single compartment, get alerts when the lid is left open, choose battery protection settings and adjust temperatures straight from your phone. These settings make the fridge highly energy efficient which is perfect for someone living off solar power.
Check Price: Dometic CFX75
SMALLER OPTION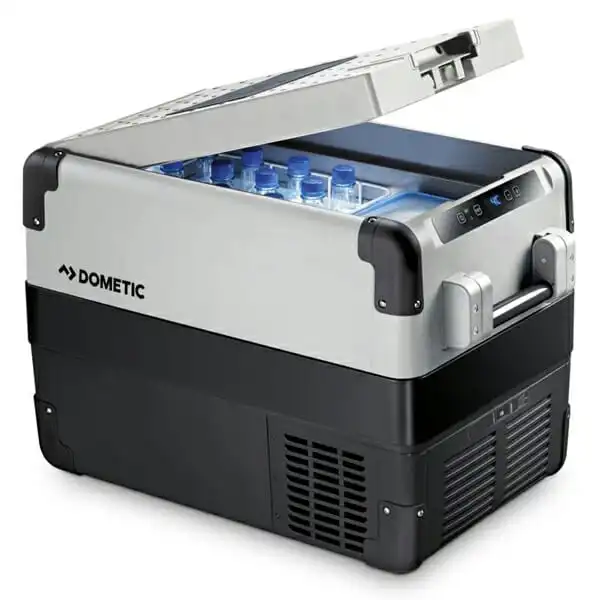 Smaller Option ↠ Dometic CFX40
While it would be great to have a large fridge freezer combo, Dometic has smaller portable refrigerator options as well. Our preferred choice is the CFX40.
This fridge comes with all of the same cool features as our top pick, minus the separate freezer compartment. It's also a fraction of the price.
Check Current Price: Dometic CFX40
MOST DURABLE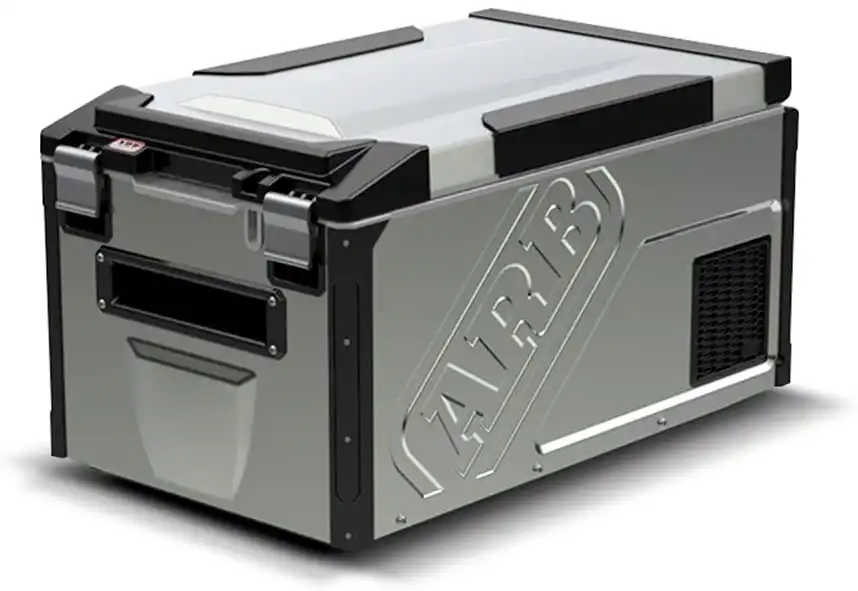 The Most Portable 12v Fridge ↠ ARB 50Qt.
ARB was built with the overlanding community in mind. It is one of the most durable camping refrigerators out there. This fridge been designed to safely operate at 30 degrees of tilt and in all weather conditions making it extremely portable for the impulsive nature of van life.
What sets this model apart from the others is the build quality. Steel handles are attached close to the unit to reduce flexing over time. The refrigerator can be tied to the floor using the handles, or added on top of one of ARB's custom sliders. It also has a removable top which is useful for situations like cleaning and loading.
One of the things we like most about the ARB is the digital controls are kept under an overhang so they can't be bumped and readjusted during travel. ARB makes four different size models of the 12 volt fridge.
Check Current Price: ARB Portable Fridge
MOST RELIABLE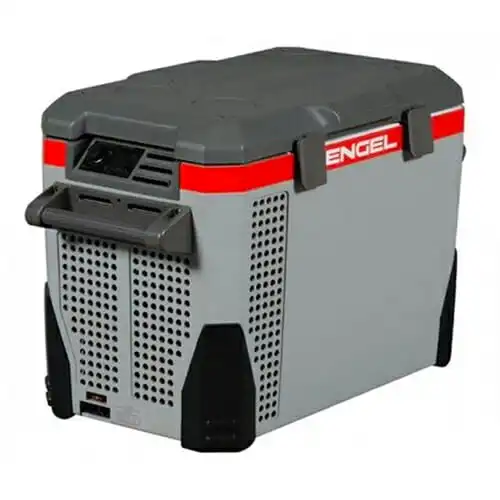 Most Reliable ↠ Engel MR040F
Engel portable refrigerators are considered "a legend in reliability" because of their unique reciprocating compressor design. The Sawafuji Swing Motor has only one moving part with no bearings or cranks. This means there are less parts to break, and it is the most efficient compressor on start-up.
Engel makes 4 models of 12v refrigerators ranging from 48qt – 85qt. They are known for longevity and come with a 3-year warranty which is one of the longest on the market.
Check Current Price: Engel 12v Refrigerator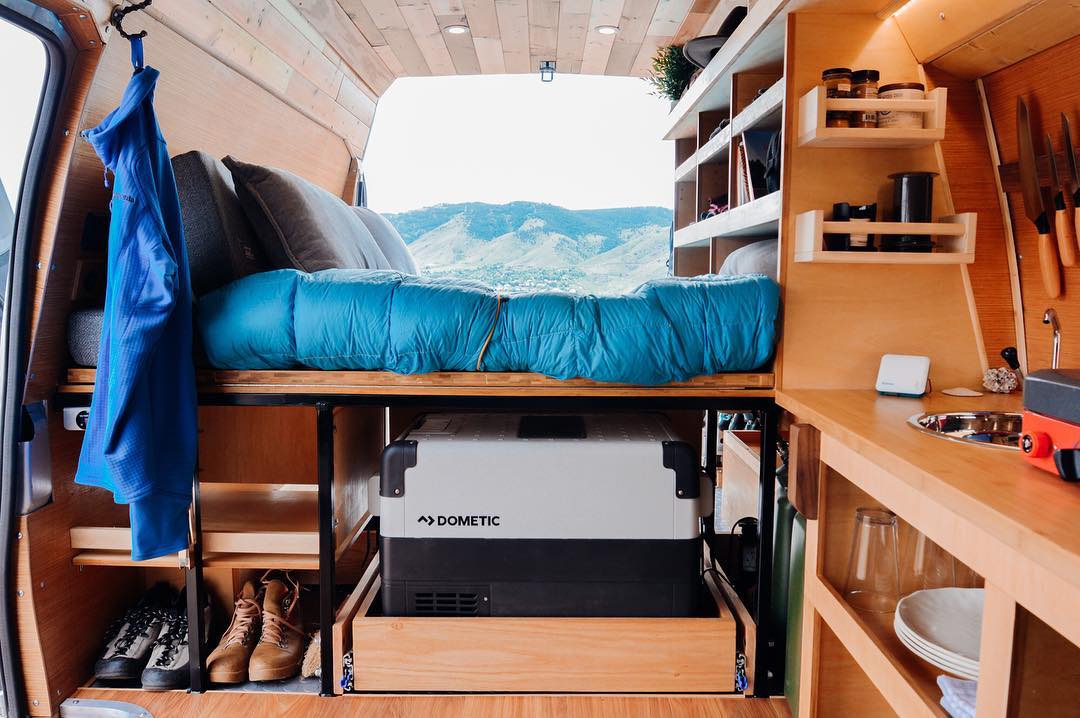 Runner Up 12v Refrigerators And Budget Models
| Model | Alpicool C15 | Costway | Norcold NRF45 | Whytner FM62-DZ |
| --- | --- | --- | --- | --- |
| Designation | Least Expensive | Budget Friendly | Good Value | Dual Zone |
| Dimensions | 22.4" x 12.6" x 10.2" | 27" x 13.5" x 21" | 25.5" x 15.7" x 16.9" | 23" x 12.5" x 15" |
| Weight | 21.2lbs. | 36lbs. | 51 lbs | 62lbs. |
| Capacity | 16 Qt | 54 Qt | 47 Qt | 62 Qt |
| Compressor | Alpicool | HuaJun ZH25G | Danfoss | BX Compressor D Model |
| Lowest Temp | -4 °F (–20 °C) | -4 °F (–20 °C) | 0 °F (–18 °C) | -8 °F (–50 °C) |
| Digital Display | ✓ | ✓ | | ✓ |
| Internal Light | | ✓ | ✓ | ✓ |
| Dual Zone | | | ✓ | ✓ |
| Battery Cutoff | | ✓ | | |
| $ | Check Price | Check Price | Check Price | Check Price |
LEAST EXPENSIVE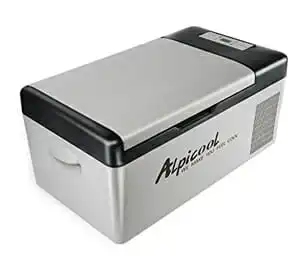 Most Inexpensive 12 volt refrigerator ↠ Alpicool
Alpicool is by far the most inexpensive refrigerator we've found. Overall reviews online show that it works well for the price. This refrigerator does not have as much insulation the others so it won't run as efficiently in the long run. However, it makes for a good low cost option that will run directly off your 12v battery.
BUDGET FRIENDLY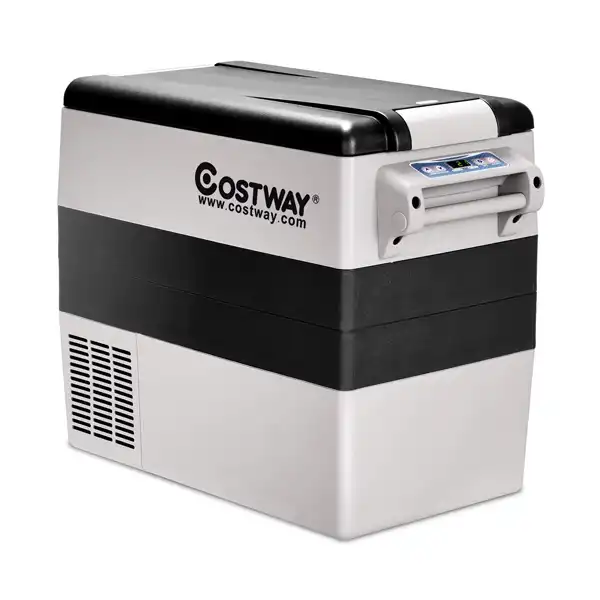 Costway
52L large capacity
Internal lighting and battery protection
Can achieve 30-minute fast cooling from 90°F to 32°F
CHECK LATEST PRICE
Budget Friendly ↠ Costway
Costway is another inexpensive 12 volt refrigerator to look into if you're on a budget. This fridge comes with many great features including internal lighting, removable wire basket, LED display and three levels of battery protection.
Norcold is a top rated camping refrigerator that comes with an energy efficient Danfoss compressor. The Norcold comes with a reversible and removable lid, multiple temperature settings, and a battery cutoff switch. One of the quieter models on the market, Norcold has a short and squatty appearance making it fit certain builds better. This brand of fridge comes in three different sizes.
Whytner dual zone refrigerators are a good alternative to the more expensive Dometic brands. The Whytner uses a BX Compressor D Model and comes with an LED digital display, removable wire baskets and interior lighting.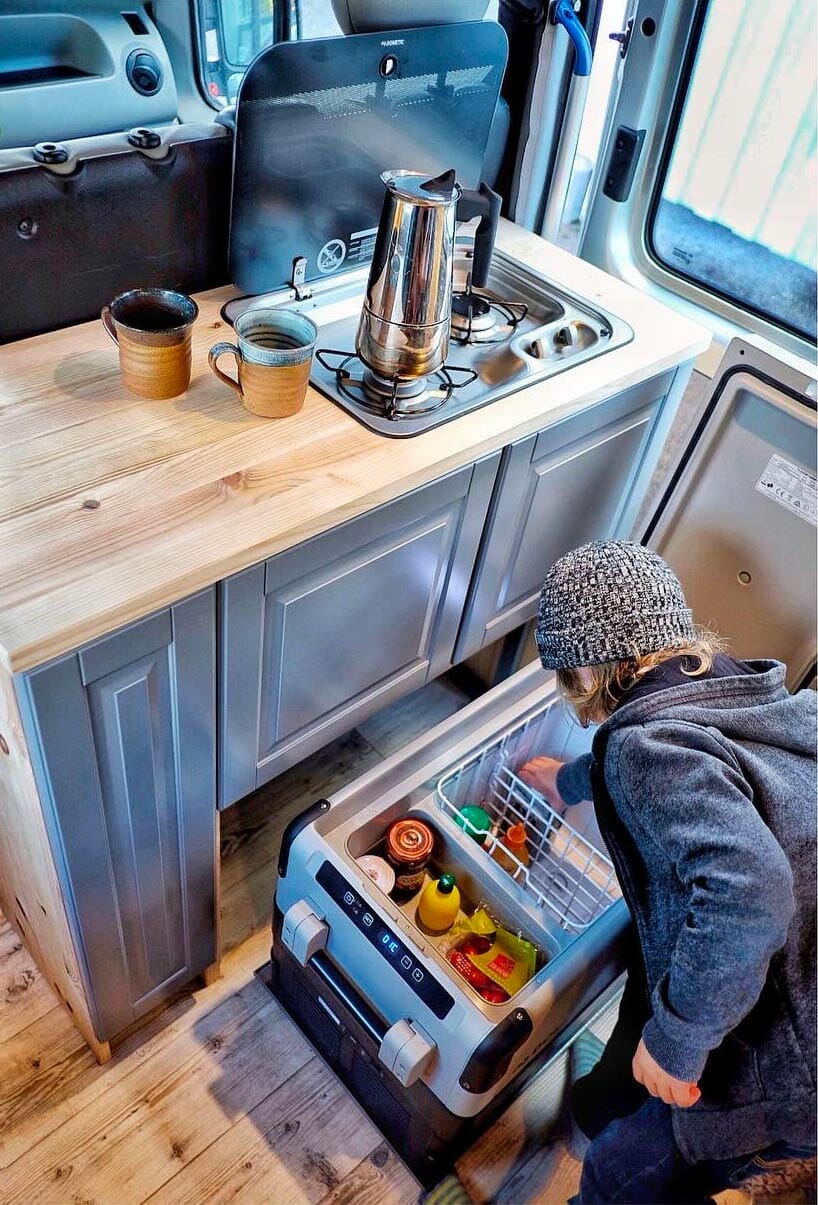 Why You Should Purchase A Refrigerator For Your Camper van
Efficiency is important for any full time traveller – especially if you're using solar. So it's necessary to reduce the impact of your devices. When it comes to purchasing a refrigerator for a diy camper van or RV you should take into account how it will effect the electrical system.
DC Power vs AC Power
Compressor refrigerators all run on DC power. Even household mini fridges have a built-in system to convert their DC to AC power before you plug it in.
With a regular dorm fridge, you'll be losing a bit of energy converting DC to AC back to DC power. That's a lot of waste!
Not only that, but without modifications an AC mini fridge will require an inverter to be on 24/7. Inverters draw a slight amount of power when they're turned on, which means that an AC refrigerator system will be draining your batteries even if the fridge compressor isn't running.
That means you should avoid buying a household mini fridge.
Your van will most likely be wired to run off of 12v DC power already. To set up the most robust and efficient system from the start, go out and buy an DC powered fridge.
Insulation
Small household fridges are woefully under insulated. Because their wattage draw is a non-issue when connected to the electric grid, they use a small amount of insulation in favor of more space inside. Camping and RV specific refrigerators have nearly double the insulation thickness of a regular mini-fridge.
They are also designed to withstand the tight twists and turns of a moving vehicle. That makes them a better option for a camper van.
Compressor Refrigerators vs Absorption Refrigerators vs Thermoelectric Coolers
Compressor Refrigerators
These refrigerators use the same technology as the ones you find in your home. They use a process that compresses refrigerant to draw hot air out of the food compartment and vent it out the back or top of the fridge. They are highly efficient compared to absorption refrigerators.
Compressor refrigerators make the best choice for a campervan conversion.
12 volt portable refrigerators have also been built to handle temperature extremes and rattling during transport. This makes them a better choice than a typical AC powered mini-fridge.
Absorption Refrigerators (3-way)
Absorption cooled refrigerators (sometimes called 3-way) began gaining popularity among the RV community in the 1960s and run off either 12V, 110V or propane. An absorption refrigerator is the most efficient when using propane, but less efficient when using electricity.
We do not recommend using an absorption refrigerator unless you have RV hookups because the power draw will be enormous.
Absorption refrigerators use a combination of water, liquid ammonia and hydrogen gas to keep them cool. Because of the liquid, they can be finicky and require a level surface to operate correctly. If you want to learn more about absorption refrigerators, this youtube video has a great explanation of how they work.
Thermoelectric Coolers
Thermoelectric coolers are DC powered and can plug into the 12v socket of your car. These are designed to keep food cool for short road trips. There are two main problems with using a thermoelectric cooler in your campervan:
They are less efficient than a 12 volt compressor refrigerator
They do not get cold enough to store food long term
An electric cooler will drop the ambient temperature up to 40°F. So if you're traveling in a hot 100° day, the cooler will only chill to 60°F. While that is great for a road trip, it is not a good long term solution for life on the road.
We do not recommend using a thermoelectric cooler for full time travel because they do not get cold enough.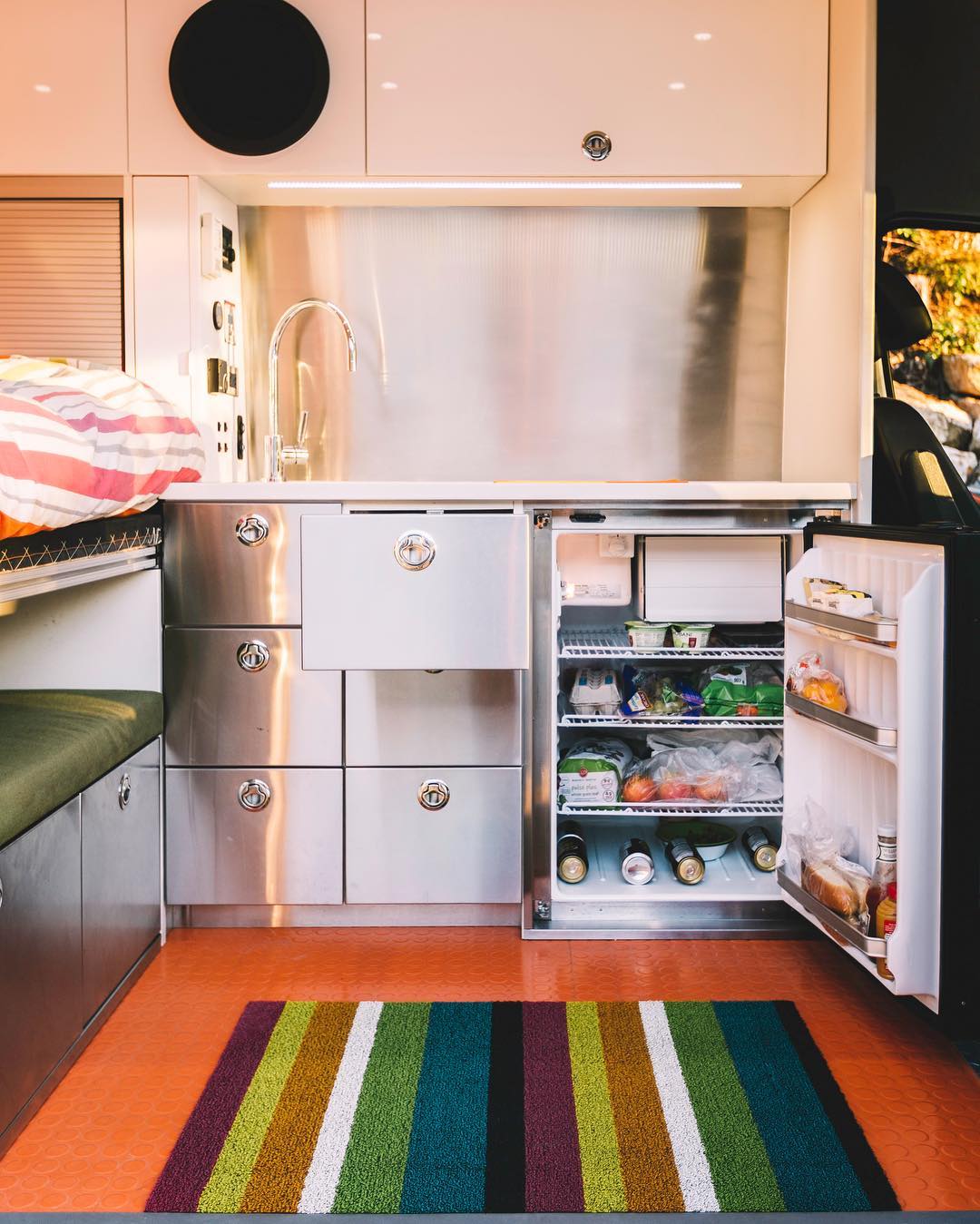 What To Look For Before Purchasing A 12v Fridge
Before purchasing a 12v refrigerator, there are a few key things to keep in mind:
Appropriate Dimensions
Door style
Refrigerator Efficiency
Dual-zone vs Single Temperature
Weight
Warranty
Portable Refrigerator Dimensions
How large of a portable refrigerator you should buy is going to be unique to the build of a van. Someone who owns a sprinter van will be able to get away with a larger refrigerator than someone camping in a VW bus. Always keep in mind the larger the refrigerator, the more power it is going to use.
In addition to the outer dimensions, refrigerator features can make a difference when planning your build:
Power cord location: Some refrigerator power cords stick out quite far and can get in the way of things you plan to build around a fridge.
Handle width: Most portable refrigerators do not take into account the size of the handles that stick out. Most handles are removable, but some brands like the ARB have them built-in.
Ventilation: If a refrigerator is kept in a confined space, the heat from the compressor will make the fridge work harder to keep cool. Most manufactures recommend at least 1-2 inches of ventilation around the compressor.
Interior storage capacity: This is often measured in quarts or cubic feet. These dimensions can be hard to visualize. To give an example, there are approximately 7.5 gallons in 1 cubic foot of water. Recognize that gallons of water does not mean you can actually fit that many gallon containers in the refrigerator. It means that if you were to pour that many gallons of water into the refrigerator the liquid would fit.
Direction of the Doors
Whether a refrigerator opens on the top or with a side door makes a difference. Aside from convenience and personal preference there are a few elements to be aware of.

Chest Style Refrigerators
Everything else equal, are the most energy efficient design. Because hot air rises, the chilled air will sit at the bottom of your fridge and less of it will escape when opened.
Make a great seat or solid surface when living in a van. Space is everything in a campervan conversion. While you can't build on top of a chest style fridge, you can use it as a seat or work surface. Some van lifers choose to build a sliding drawer underneath their fridge so it can be tucked under a counter or bed when not in use.
Portability. This style of refrigerator can taken out of the van, moved around and double as a cooler. A chest style refrigerator has more room on the inside and can hold ice or other liquids. Many of them come with a drain plug which can be useful when cleaning.
Your food will always remain in place and secure. Nothing will fall out of this fridge when you open it. That will keep everything more organized during travel. You can also more easily stack items and take up all the possible storage space.
May not be the most efficient use of space. If you choose to build a chest style fridge underneath a counter: combined with slide out hardware, and room to open the lid, this fridge will take up more space than an upright fridge. On the other hand, if you just have the fridge strapped to the floor, it is one of the more economical uses of space.
Upright Refrigerators
Shelving or counter space can be built directly on top. This is the biggest advantage of an upright refrigerator. It is a huge space saver in something as small as a van. However, that also means you can't move the refrigerator around. It will be a permanently fixed appliance.
Slightly less efficient than the chest style. Due to air thermodynamics more cold air will be lost when when the doors are opened. Cold air settles below hot air, so when you open a space from the top, the coldest air stays inside at the bottom. A front door will allow this cold air to "pour" out, meaning the compressor will have to work a little longer to re-cool that loss. That said, this effect is minimal compared to insulation and install techniques, so don't let it be a major deciding factor.
They tend to be more expensive. There is more hardware built into these refrigerators and they are geared toward the RV and boat crowd. All things considered, you will probably be paying much more for an upright fridge than a chest style.
Upright 12 volt refrigerators are harder to find online. To get the best deal, it's recommended that you visit a marine or RV specific dealer.
Items can fall out when opened. RV and boat refrigerators are all going to have latched doors to avoid them swinging open during a drive. If you're moving infrequently this is less of an issue than those who are. Make sure to check that the door does stay securely shut before purchase.
If the refrigerator does not come with a shelf-barrier, you can purchase small, spring loaded curtain rods and secure them to the front of the fridge to hold items back.
| Model | Isotherm Freeline 115 | Thetford NR751BB | Norcold DE00-41 | Dometic Coolmatic CRX50 |
| --- | --- | --- | --- | --- |
| Capacity | 115l | 76l | 3.6 cu. ft. | 45l |
| Dimensions | 19.5" x 20.7" x 31.4" | 21" x 20.5" x 18.5" | 31" x 23.25" x 23.5" | 19.7" x 21.1" x 15" |
| Compressor | Danfoss | Danfoss | Danfoss | Dometic |
| Internal Light | ✓ | ✓ | ✓ | ✓ |
| Freezer Compartment | ✓ | ✓ | ✓ | ✓ |
| Battery Cutoff | ✓ | ✓ | ✓ | ✓ |
| $ | Check Price | Check Price | Check Price | Check Price |
Slide-drawer refrigerators
Items will remain in place. With a slide-drawer portable refrigerator you get the ability to build shelving or counter space on top of the unit as well as not worrying about items falling out.
Expensive and hard to find. Much like the upright refrigerators, 12 volt slide drawer refrigerators are costly and difficult to order online. If you love the idea of this type of fridge, you should visit a boat or RV dealer to order.
More usable space. While this fridge type has less interior storage space compared to the exterior dimensions, food items can be stacked better than in an upright fridge. This means you can get the benefits of a chest fridge but still have shelving or counter space above the fridge.
Potential for a lot of cold loss. Due to the entire fridge being exposed when opened, these can lose a lot of cold air and therefore the least efficient of the three.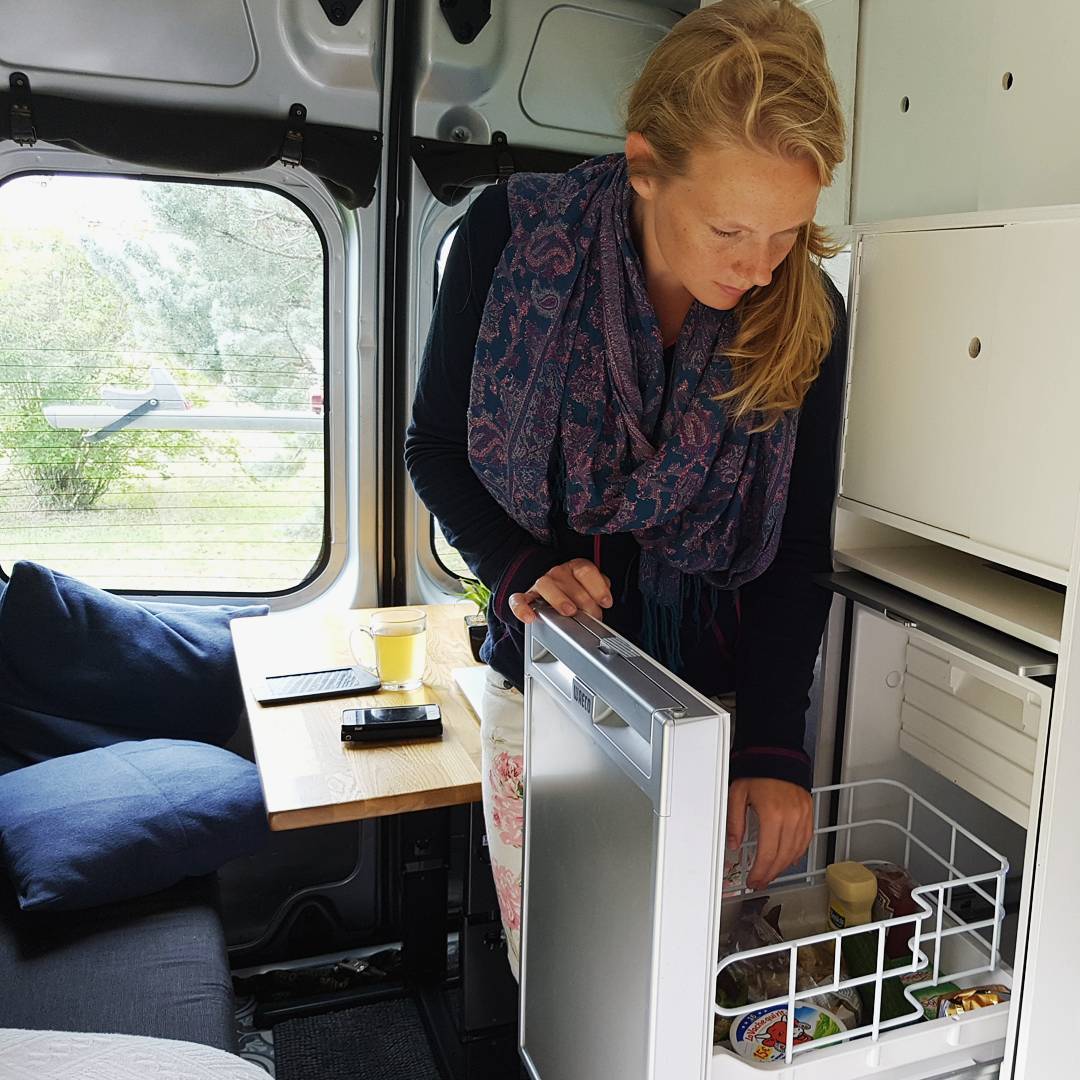 Portable Refrigerator Efficiency
Door swing direction is not the only thing that affects efficiency. Motor type and layout of the compressor can make a difference in how often and how long a refrigerator has to be on. The two most popular motor types are the Danfoss compressor and the Sawafuji. The Dometic models have their own compressor.
While each of these compressors work well, the Sawafuji (which is in the Engel 12v fridge) has the least amount of components. That means it's less likely to break and because of its unique design, it is the most efficient on startup.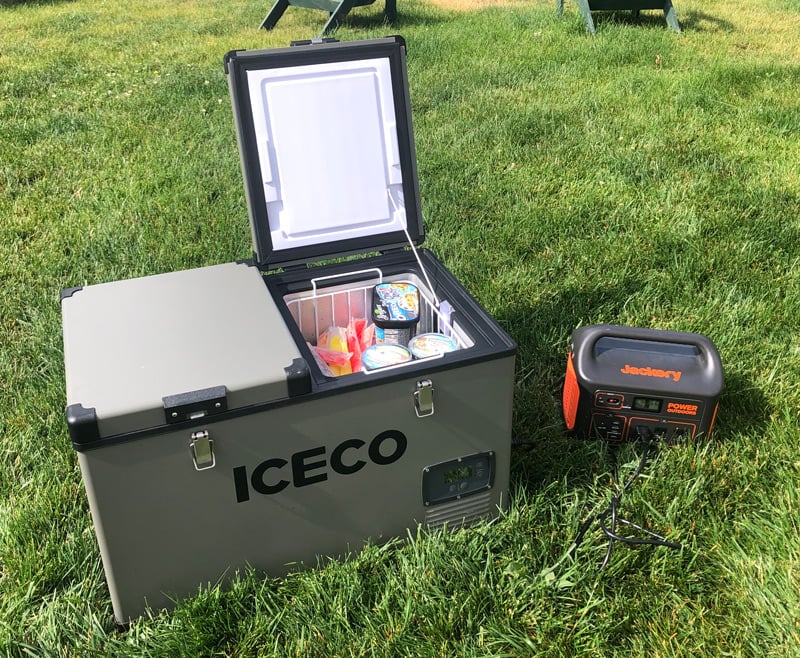 Dual Zone Fridge/Freezer Combos
If you have the budget, dual-zone fridge freezers are an excellent way to eat a variety of foods during your van life adventure. Dual zone models allow you to set separate temperatures for each compartment. If eating ice cream on the road or storing frozen veggies is important to you, definitely take a look at fridge/freezer combos.
Fridge Weight
Weight can have an impact on a vehicle and also affect how you use the refrigerator. With an extremely heavy fridge for example, you may not want to add it to a slider or move it at all. Extra weight can also affect gas mileage and safety, so it's something to consider for smaller vehicles.
Pricing and Warranty
When it comes down to it, pricing might be the most important thing determining which portable refrigerator to purchase. More expensive refrigerators will generally have a higher quality. You can expect more technological advancement and durability with a higher price.
Refrigerators with longer warranties tend to last longer. Good customer support is also a key feature of refrigerator satisfaction. Not all RV repair shops will work on refrigerators that are so small. A refrigerator with components that are easy to find can make or break your decision.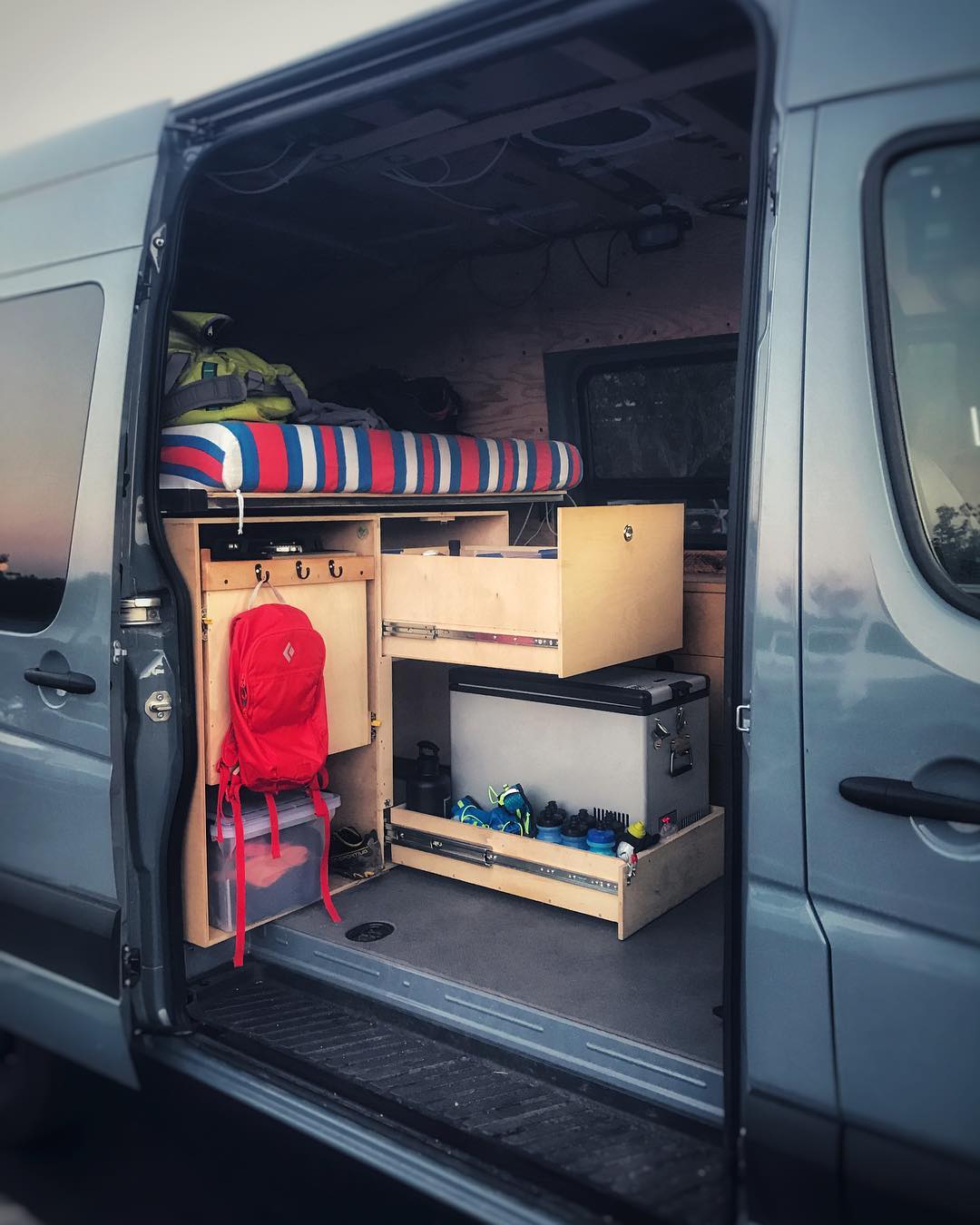 Running A DC Powered Refrigerator Off Solar Power
How much electricity does a DC powered refrigerator use? While most manufacturers list the max power draw, this doesn't tell you how much power the fridge will use over the course of a day. The main thing to keep in mind is the compressor is not running 24/7. The motor will kick on when the food compartment gets warm and turn off when it has cooled below a set temperature.
A refrigerator's electricity use varies depending on your environment.
During extremely hot weather the compressor motor might be running all day; In the winter, it may not be running much at all. In addition, the start-up amps of a motor and the running amps are not the same as it will spike when it is turned on.
It is not possible to put a universal number on daily Amp use. Because there are so many variables that affect compressor run time, the best you can do is find a good average. The way to do this is to test it while you're using it in different environments, whether with an ammeter or just listening to the compressor run time. But if you're planning a build, this isn't always possible.
When calculating solar panels, we like to estimate 10 hours of refrigerator run-time for summer weather. In the winter, our 40L Norcold fridge will use as little as 15Ah per day, and when we come across hot weather, it'll be running closer to 50Ah. The Dometic website lists average Ah/h cooling in 90 degree weather on their site.
How To Make Your Refrigerator More Efficient:
Purchasing a 12v portable refrigerator with a good compressor will start you off on the right path. A Sawafuji swing compressor (Engel brand) is the most efficient on startup. Danfoss and Dometic are other top of the line compressors. These are found in most of the popular brands of 12 volt refrigerators.
The other major factor in refrigerator efficiency is insulation. Most small AC dorm fridges have very little insulation. Standard chest-style DC fridges and marine swing-door fridges both have moderate amounts that are a good balance of space and efficiency. Wrapping your fridge in pink foam or insulation is on the extreme end, but it can be done to increase efficiency.
Ventilation is also important. To get the most out of your electricity, it's best to have a clear area around the vents on your fridge and a space for the heat to dissipate. Trapping your fridge in a compartment that's being heated by its own exhaust isn't ideal. We've even seen some more ambitious installers use small 12V PC fans to actively remove hot air from their fridge compartment.
A fridge that is "full" has a more stable thermal mass and is slightly more efficient as a result. So don't be afraid to keep your refrigerator well stocked.
Finally, you can mitigate a bit of cold loss in your use of the fridge. It goes without saying that the longer you keep the door open, the more cold air you lose in the process.
Where To Buy Used 12 Volt Refrigerators
Used portable refrigerators are an affordable alternative to purchasing new. Many of these run for decades without needing any servicing so the name brands can be quite reliable second-hand. Craigslist and Facebook Marketplace are some of the best options for finding a used refrigerator. Letgo, offerup and ebay are all good places to look as well. Search for RV, Boat, Marine, or Trucker fridge and make sure to look for ones that use a compressor.
DIY Inexpensive 12v Refrigerator
With an ultra-budget and some mechanical skills, a small AC mini-freezer can be purchased and retrofitted to run similar to a DC refrigerator. This system is reliably cheaper than a new RV fridge but still highly efficient. Mini-freezers, like those found in dorm rooms, will have about twice the insulation thickness of an AC mini-fridge and cost significantly less. You can often also find mini chest style freezers that work the same way.
A cheap thermostat can be placed in the freezer which triggers a relay supplying power to a single small inverter. The inverter is always switched "on" but the relay switch will only allow it to turn on when the thermostat goes above a set temperature.
Below the set temperature, the inverter switches off. This solves two problems. First, it allows you to regulate the temperature above the freezing settings that come on the mini-freezer. Second, it turns off the inverter off when the compressor isn't running, which eliminates power loss from an idle inverter. To see an example of this setup check out this forum post on building a DIY refrigerator.
Living Without A Fridge
While a portable refrigerator might be on everyone's wish list, you don't need a fridge to live in a van.
Without a refrigerator, many people forgo any meal prep and eat at restaurants to save on space and time. This is a completely reasonable living situation if it is your preference. That said, traveling without cold food is going to limit types of meals you can cook.
You can save hundreds of dollars in up-front cost without a refrigerator. You'll also be able to save big by not needing to install a large (or any) solar system.
Refrigerators give off excess heat while running. This is great in the cold, but not so much when you are a parked somewhere hot. Opting for a cooler will help prevent your van from heating up as quickly in the summer.
Finally, if you're living on a budget, we recommend taking a look at some high-quality coolers before planning for a 12 volt refrigerator. You may be surprised by how long ice can last in a chest cooler.
Wrapping It Up
There are dozens of models of 12v refrigerators on the market and big differences between them. If you're looking for the most advanced and energy efficient technology, we recommend the Dometic models.
ARB 12v refrigerators are perfect for overlanding or rugged adventures.
If you're on a budget, Apicool is the least expensive and Costway makes a great bang for your buck.
Continue Reading: