Camping Cooler Vs Portable Refrigerator | Which Is Better? Pros and Cons
By
on
This post may contain affiliate links. As an Amazon Associate, I earn from qualifying purchases. Please read my full disclosure.
If you do a lot of camping, the question will come up: "Should I upgrade my cooler or buy a portable refrigerator?"
The answer is more than just a cost analysis. Camping coolers and refrigerators each have their own benefits and disadvantages. This article should give you a better idea of what to look for and help you make a decision.
Cooler vs Refrigerator Pros and Cons
| Camping Cooler | Portable Refrigerator |
| --- | --- |
| Cheaper | More Expensive |
| Minimal Ongoing Cost | Requires Power |
| Less Temperature Control | Full Temperature Control |
| No Freezer Option | Greater Temperature Range |
| Lighter | Heavy |
| Easier To Clean | Harder To Clean |
| No Ongoing Maintenance | Some Maintenance Required |
| Longer Lasting | Shorter Lifespan |
Price
Price is the most obvious difference between the two. The most advanced camping coolers will cost a couple hundred dollars at most. On the other hand, portable refrigerators regularly approach the thousand-dollar range. And the price doesn't stop there.
Camping coolers use ice and insulation to stay cool. Ice doesn't last forever – you have to continually add to the supply. But ice is significantly less expensive than an electrical system.
Portable refrigerators need to be powered with solar panels, household AC power, or 12v DC power from your car. None of those methods come cheap. The most energy efficient refrigerators still draw 1.3Ah or more. That doesn't sound like much, but it will easily consume a solar panel or two which quickly adds to the price tag.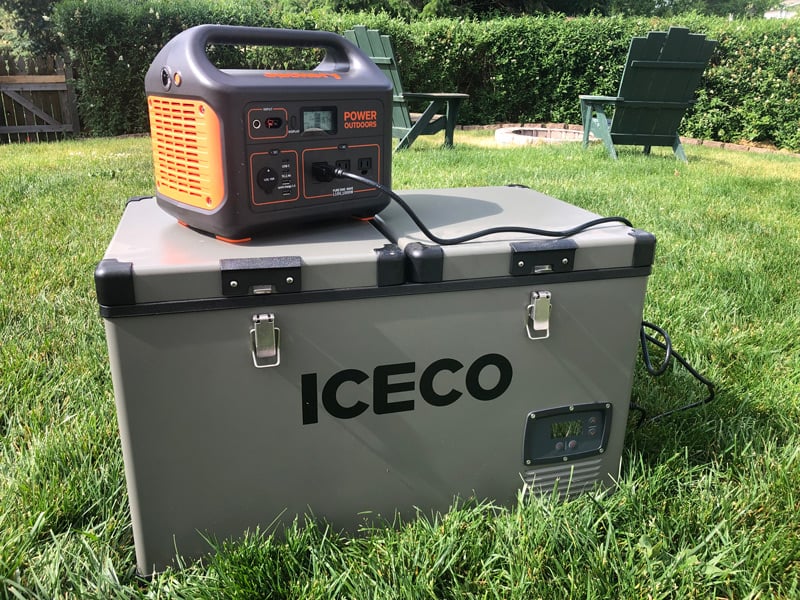 Temperature Control
Portable refrigerators take the cake when it comes to temperature control. Dual-zone models can hold a freeze. All it takes is the press of a button or the twist of a knob to set your food to the perfect temperature. Some models even come with the ability to control temperature with your phone.
There are some steps you can take to better control a cooler's temperature. But anything you do will pale in comparison to a portable refrigerator. Consider how long you'll be camping. Modern coolers have come a long way since the advent of foam boxes. Some can keep ice cold for over a week!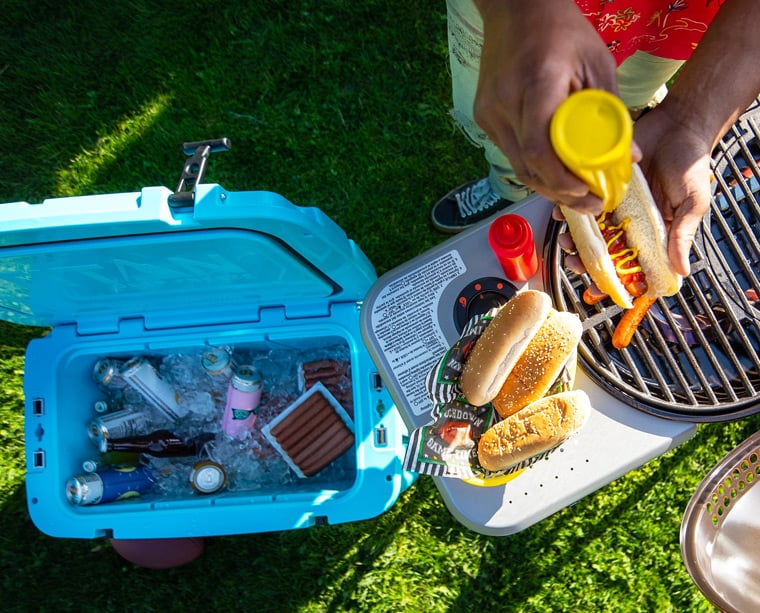 Tips to keep your cooler cold longer:
Fill it up as much as possible
Minimize opening and closing the lid
Keep it sealed tight when shut
Place it in the shade
Don't drain the water
Use block ice rather than cubes
Use twice the ice as contents
One thing we will say about coolers is that if you're not careful you can easily end up with all of your food floating in a sloppy mess. You need to stay on top of waterproofing your food or utilizing coolers with wire baskets.
Maintenance
To keep the contents of a cooler cold longer than a few days, you have to continuously fill it with ice. That sounds a little cumbersome, but it's the only thing you need to worry about aside from keeping it clean.
Portable refrigerators come with a host of intricacies. Not only do you have to maintain the fridge, but you have to look after your power source as well.
It's common to power a portable refrigerator with solar panels. When using solar, you have to keep track of the panels, battery power and correct wiring. Most refrigerators have a low battery cut-off setting, but if you're not careful you can risk damaging your batteries which is another expense.
Refrigerators have so many moving parts compared to a cooler. There are simply more things that can go wrong. Here are a few things you may not have thought of:
Refrigerators need ventilation
Damage will occur if they operate at a steep angle
They aren't waterproof
Control panels can break
Lightbulbs can go out
Dust and debris can inhibit the compressor
Overall, a good cooler can last practically forever. A refrigerator will break down over time.
Weight
Portable refrigerators weigh a lot more than a cooler, even when it's filled with ice. Yes, they are portable in a "take it anywhere" kind of sense. But most people aren't hauling their refrigerator around very much. Typically, the fridge will stay stationed in the vehicle or right outside the campsite.
Conversely, you can take a cooler on a canoe through a river without a second thought. They welcome a plunge into a lake compared to the damage caused to a refrigerator.
We find the weight and portability of a cooler much more desirable than a refrigerator.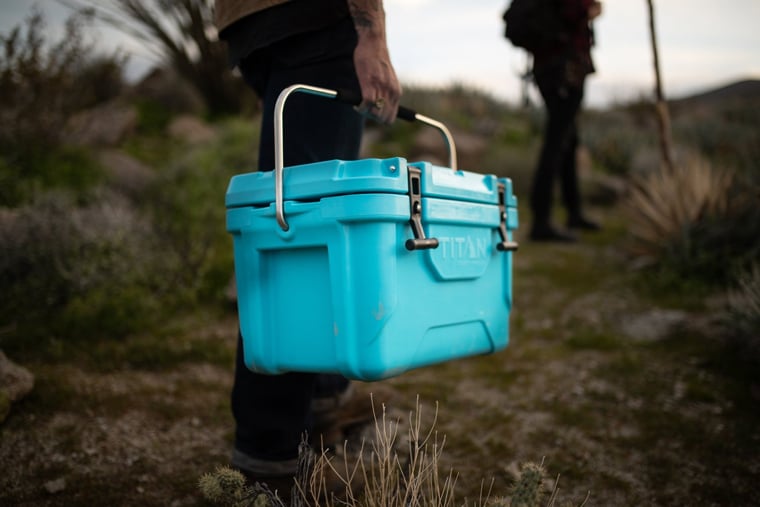 Cleaning
How do you clean a cooler? Open the drain, grab a hose and spray everything out. It's as simple as that.
With a portable refrigerator you have to be a bit more careful. Many portable refrigerators come with drain plugs, but you can't just spray them down. You'll have to hand-wipe the fridge to avoid harming the motor and electronics.
You also can't just flip a refridgerator upside down and let it dry. You have to be a little more careful with the cleaning process.
Extra Features
This is where a refrigerator wins hands-down compared to a cooler. Some of the features you'll find in a portable refrigerator are unimaginable in an ice box.
Top portable refrigerator features:
One other thing to mention is that portable refrigerators can double as a cooler. If you don't have power, you can fill the fridge with ice. It's insulated enough to keep your food cold for at least a day or two.
The Bottom Line
Deciding between a cooler and a portable refrigerator is a personal choice. Everyone is going to have their own opinion, but this is how we would break it down.
Choose a camping cooler if:
You have a low budget
You have access to ice or camp 10 days or less at a time
You want to take your food anywhere
You want a product that will last a lifetime
Choose a portable refrigerator if:
You have a healthy budget
You know your way around electronics
You're ok with keeping it semi-stationary (in the vehicle most of the time)
You are a full-time traveler (van life or RV living)
You love cooking and want better control of the temperature
You need a freezer
Our Recommended Coolers
TOP CHOICE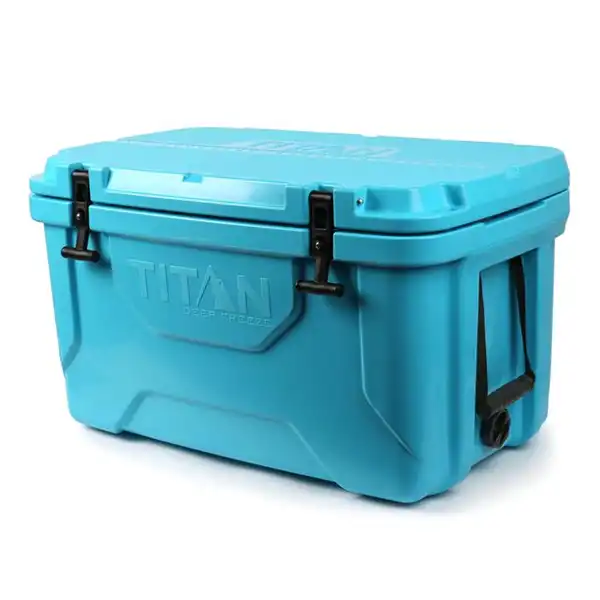 BIGGEST VARIETY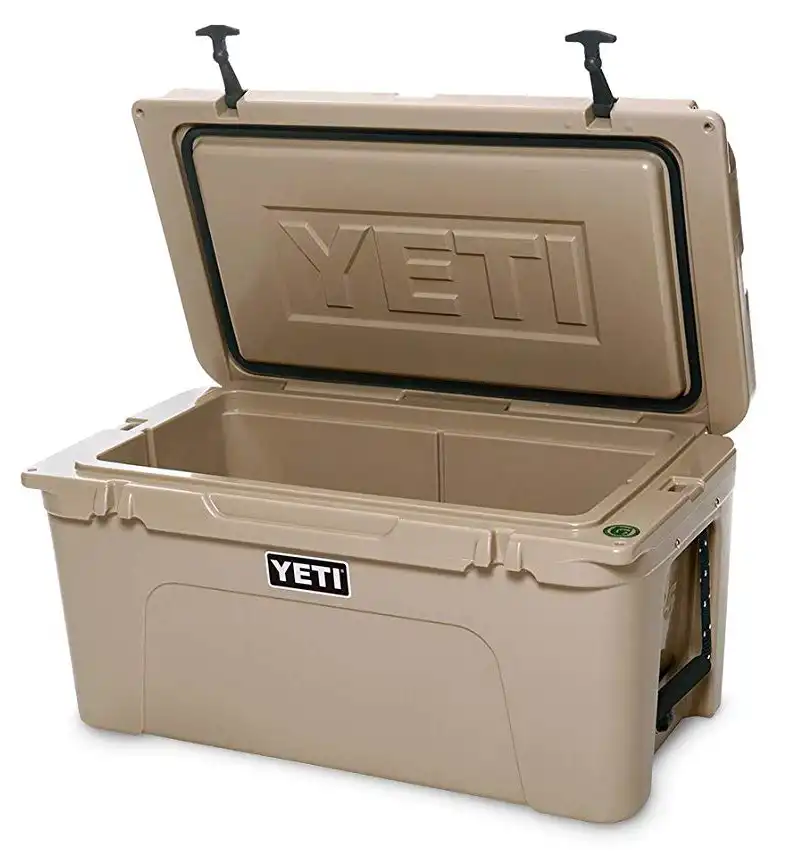 GOOD VALUE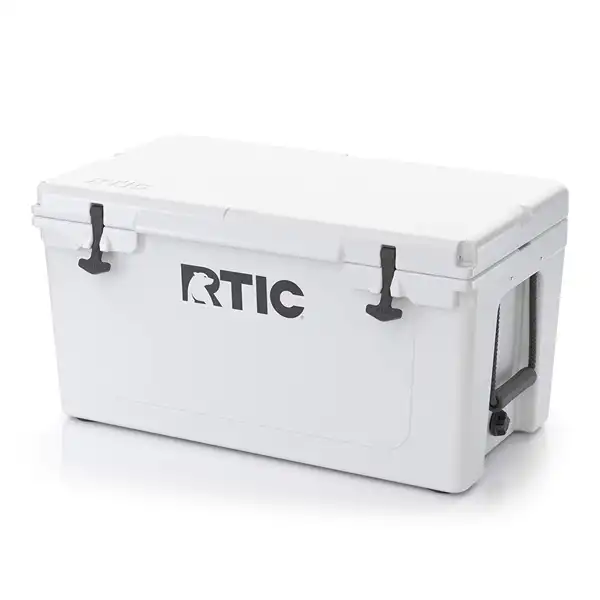 RTIC 65
Built with rotomolded construction, this cooler contains two drain plugs for easy cleaning and holds up to 64 cans.
CHECK LATEST PRICE
Our Recommended Refrigerators
TOP CHOICE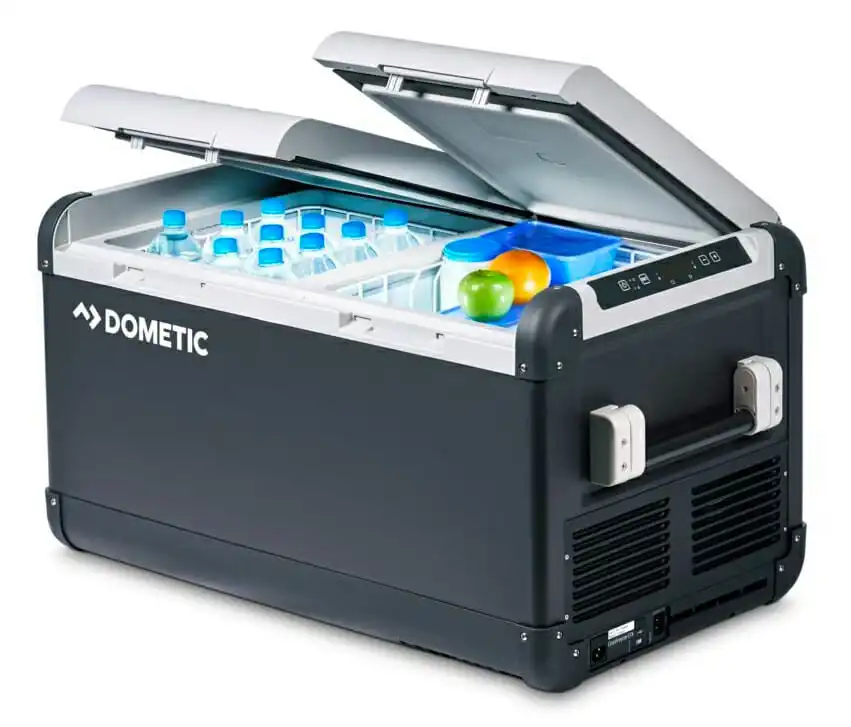 MOST DURABLE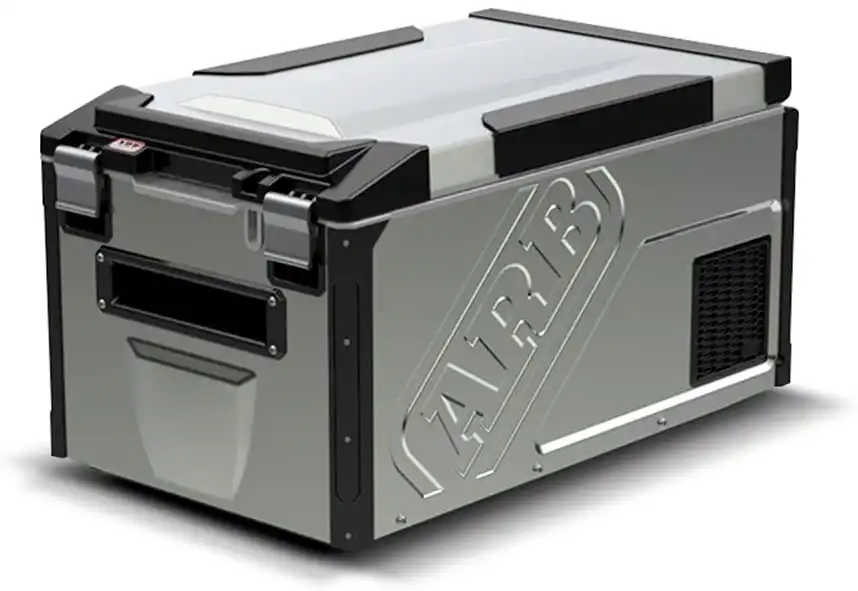 BUDGET FRIENDLY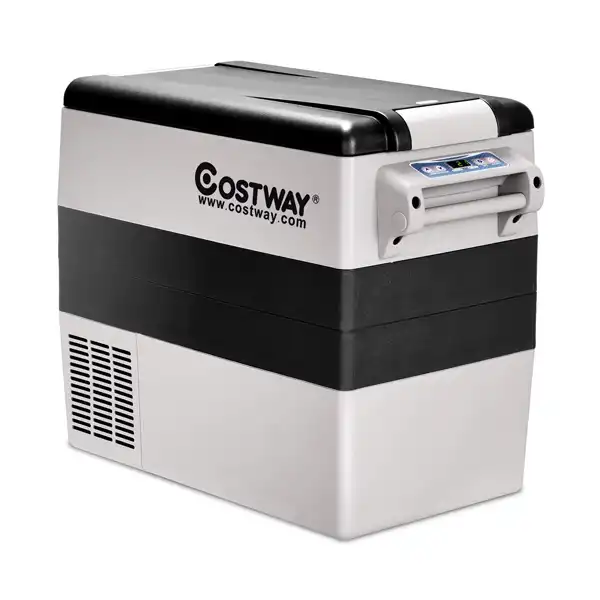 Costway
52L large capacity
Internal lighting and battery protection
Can achieve 30-minute fast cooling from 90°F to 32°F
CHECK LATEST PRICE