Best Camping In Illinois – Where to stay (Review)
By
on
This post may contain affiliate links. As an Amazon Associate, I earn from qualifying purchases. Please read my full disclosure.
Illinois is known as the Prairie State with over 85% of its land covered in cornfields. But despite its name, you can find large forests, rugged hiking trails, and plenty of camping throughout Illinois.
In this article, we're going to cover all of the best Illinois campgrounds. Whether you're looking to do tent camping, RV camping, or free dispersed camping we'll let you know what to expect from each region. Jump to each section below to find the best camping near you: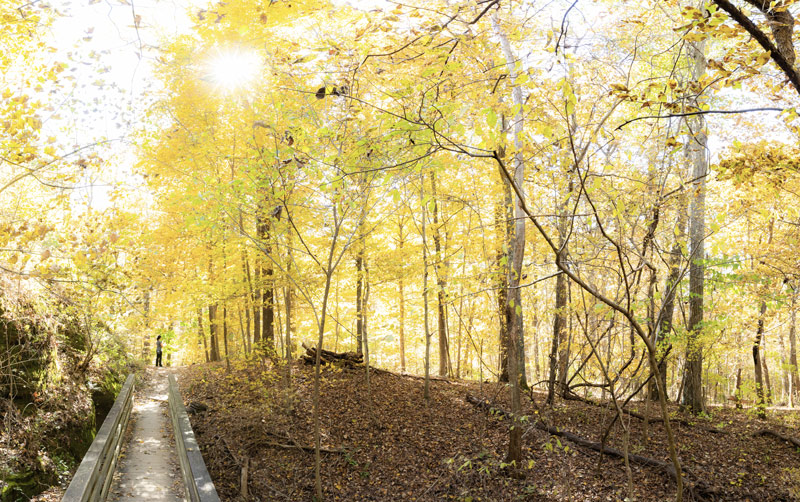 Camping In Northern Illinois State Parks
There are 35 state parks that allow camping in Northern Illinois. All of the state parks listed below allow tent camping; and 16 of them have space for 5th wheel travel trailers or RV motorhomes.
The most popular campgrounds in Northern Illinois are: Chain O'Lakes State Park, Illinois Beach State Park, Kankakee River State Park, Rock Cut State Park, Shabbona Lake State Recreation Area, and Starved Rock State Park. The most popular parks fill up quickly so you'll want to reserve a spot ahead of time.
Camping is available year-round in most state parks. But many of the campgrounds shut down water facilities in during the winter season (October 1 – April 30). In Illinois, most of the campgrounds with amenities can be booked ahead of time through ReserveAmerica.com
Chain O'Lakes State Park
Chain O'Lakes State Park is one of the most popular camping destinations in Northern Illinois. Located just 90 minutes north of Chicago, this is the largest concentration of natural lakes in the area making it a boaters paradise. You also can find over 6 miles of hiking and mountain biking trails in the park.
There is RV and tent camping here as well as cabin rentals. The campground has full amenities including electric hook ups, shower houses and a dump station. Pets are allowed on leash.
Chain O' Lakes State Park has a large number of outdoor activities to do including archery, horseback riding and hiking; so it's a great place to get away from the bustle of the city. It's best known for its water activities. Fishing, boating, canoeing and kayaking are popular. Many people even choose to do ice fishing in the winter!
If you don't have your own watercraft, you can rent paddle boats, canoes and motorized boats at the park.
Adeline Jay Geo-Karis Illinois Beach State Park
If you want to go camping right on Lake Michigan, then Illinois Beach State Park is the place to go. It's 1 hour North of Chicago and located right on the lake; sandwiched between the North Dunes Nature Preserve and the Illinois Beach Nature Preserve.
Illinois beach is perfect for water activities. You can go swimming, scuba diving, windsurfing and sailboarding from the pier. There's also plenty of hiking trails and fishing opportunities in the area.
The campsites at this park fill up fast; there is a 3 day minimum booking window during peak season and a 2 night minimum stay on weekends between May and September. The campground accommodates tents as well as Class A motorhomes with hookups, dump stations and a shower house.
Kankakee River State Park
Kankakee River State Park is 1 hour south of Chicago and has two campgrounds on site. The Chippewa campground is tent only with limited electricity and no showers, while the Potawatomi campground is full-service for RV and campers.
Hiking along limestone canyons and waterfalls is just one of the unique things to do in the area. Mountain bike, equestrian, cross country ski, and snowmobile trails are mixed in among the many areas hikers can explore. This is also a cool place to go geocaching, metal detecting (permit required), or bring your pet to experience the fall colors.
Rock Cut State Park
Rock Cut State Park near Rockford, Illinois is filled with wildlife and trails. There are over 40 miles of hiking trails and 23 miles of mountain bike trails in the park for active campers.
In the summers, you can take a kayak, canoe or boat on one of the park's two lakes. There's also campgrounds with electricity and showers on-site where you can take your RV or tent.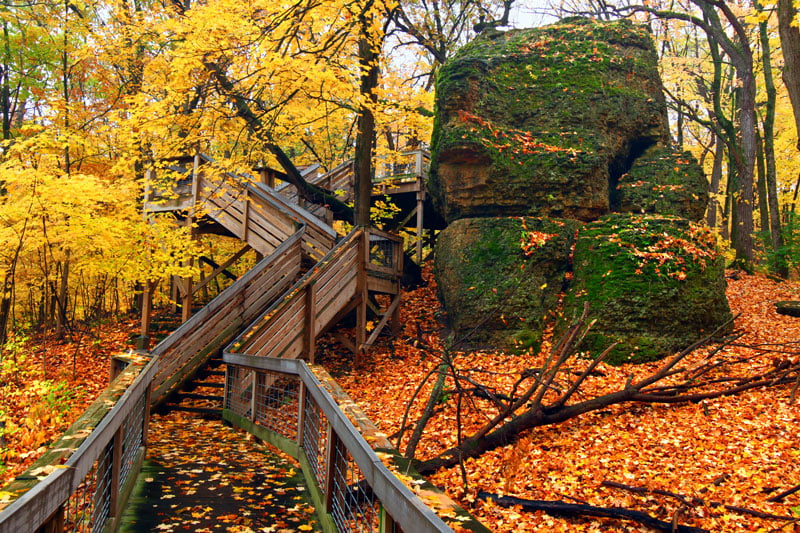 Shabbona Lake State Recreation Area
Shabbona Lake State Recreation Area is a cool mix between lake, wooded forest, grass covered meadows and marshland. There is 8 miles of hiking and nature trails as well as plenty of opportunity for fishing, boating and hunting.
As far as camping goes, you can find both tent and RV sites. Electricity, showers, dump stations, boat rentals, and there's even a restaurant on-site.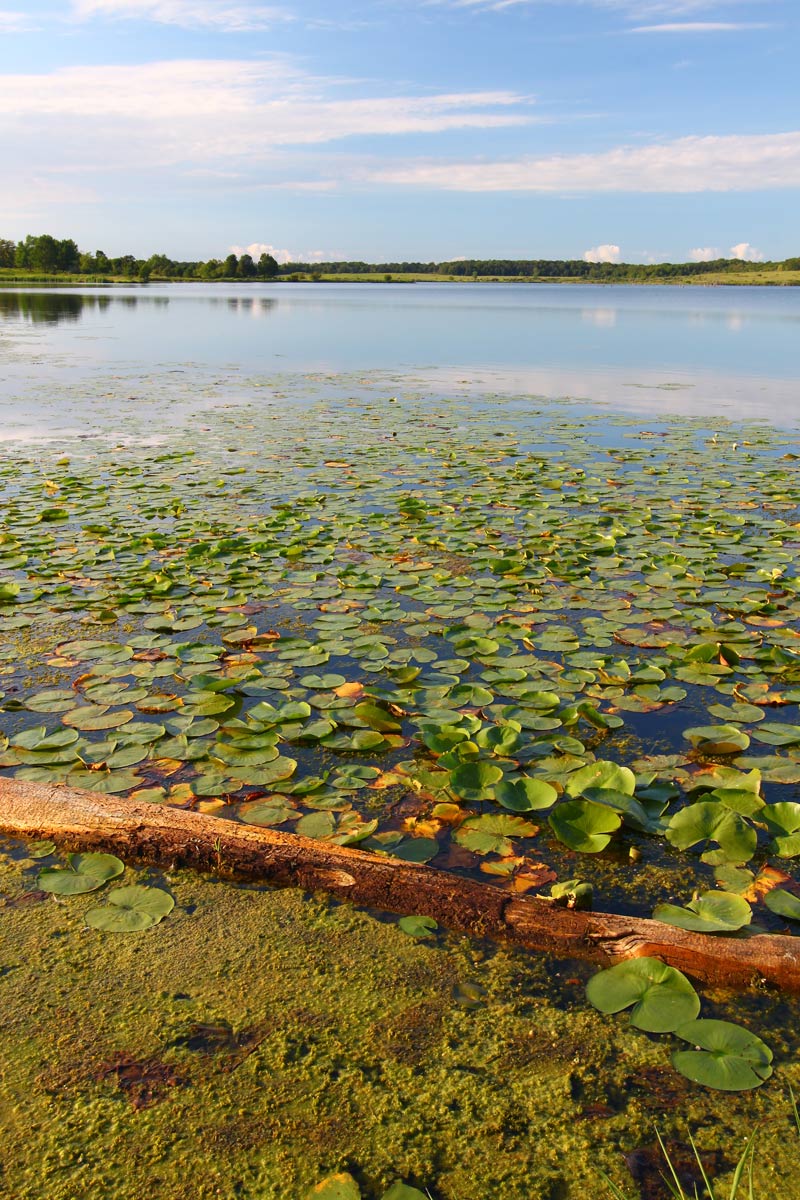 Starved Rock State Park
Starved Rock State Park might be the most popular state park in Northern Illinois. It has 18 vertical wall canyons and stunning waterfalls cutting through 13 miles of trails. Camping, fishing, kayaking and hiking are the activities this park is known for.
Starved Rock has started to get more crowded–especially during the peak summer season. So if you plan on camping, it's important to make a reservation ahead of time. The campground has full amenities for RVs and tent camping.
The park itself has a nature center, restaurant and aquarium display. You can book a trolly or boat tour to take you near the canyon which goes to show just how popular this place has become. If you're looking for something a little quieter, Matthiessen State Park is only 2.5 miles down the road and has its own gorgeous waterfalls with significantly less foot traffic.
Northern Illinois Primitive And Free Camping
If you want to get away from the crowds, primitive camping is a great option. Buffalo Rock, Channahon, Gebhard Woods, Rock Island Trail, Silver Springs and Woodford are all walk-in campgrounds. Some of them require leaving your car and backpacking a short ways. There are no electric hook ups or shower facilities. Some of these sites have pit toilets.
Unfortunately, there is not much free camping to be found in Northern Illinois. The primitive campsites require permits which you can pick up at the park office. Prices vary, but most offices charge between $5–$10 per night.
Kayak and Canoe Camping
Castle Rock State Park is unique because there are primitive campsites located here that can only be accessed via kayak, canoe or boat. The campsites are first come, first serve, and the permit costs $6 per night.
This might be the only park within two hours of Chicago where you can go camping and have the area almost to yourself.
Paddling to the campsite is about 2 miles and could take a few hours coming back depending on the water flow. There is a dock at the campground as well as grills, picnic tables and a porta potty. Be sure to pack some water in your canoe because there is no water on site.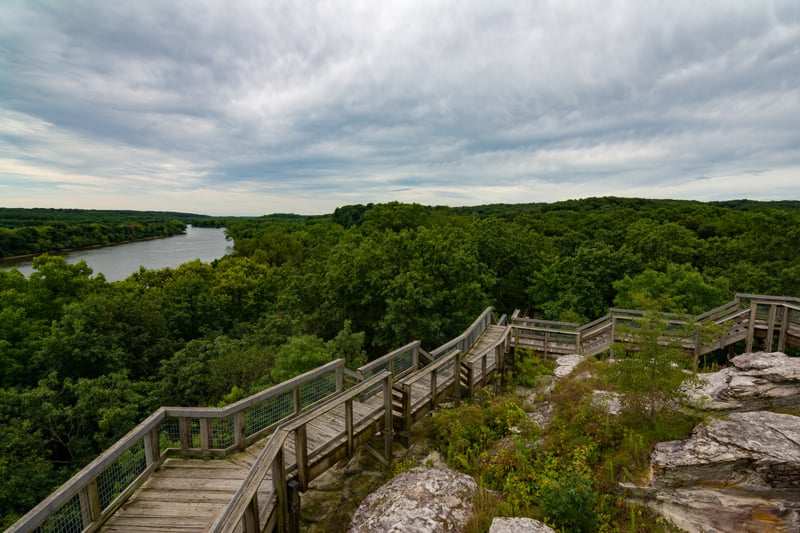 Equestrian Camping
Matthiessen State Park is an equestrian only campground. Located just a few miles from the famous Starved Rock State Park, this is an excellent place to settle for the night and get ready for a morning ride. Matthiessen has 9 miles of multi-use trails for horseback riding and mountain biking. It's particularly beautiful in the fall when the leaves are changing colors and the humidity has dropped.
Campsites are $10 per night and have restrooms (but no showers), picnic tables and a grill.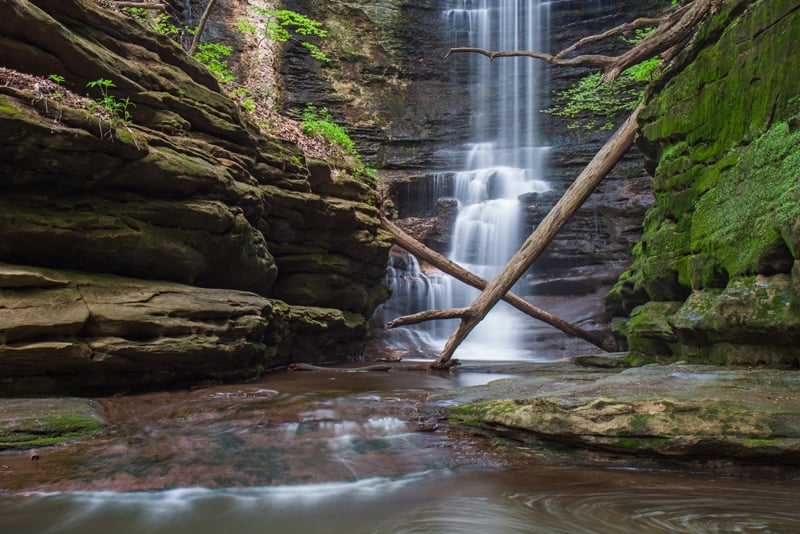 Northern Illinois RV Camping
If you own an RV or plan to rent one for your family, Northern Illinois has lots of places to stay. There are private RV parks surrounding the Chicago area and many of the Illinois State Parks have campgrounds with full amenities.
Illinois Beach State Park is located the closest to the Lake. You can go camping, fishing, hiking and boating as well as get great views of Lake Michigan.
Camping In Central Illinois State Parks
Central Illinois RV and Tent Camping Sites
Central Illinois is packed with RV friendly campgrounds and most of them have full hookups. Of course, you can find tent camping sites at all of these campgrounds as well.
Kickapoo State Recreation Area
Kickapoo State Recreation Area is an outdoor playground for campers. It's one of the few parks in Illinois where you can go scuba diving. There's also single-track mountain biking, hiking, canoeing, boating and fishing to be done in the area.
Two large campgrounds are available to campers for both tent and RV travelers. There are also primitive walk-in sites if you want a more secluded destination.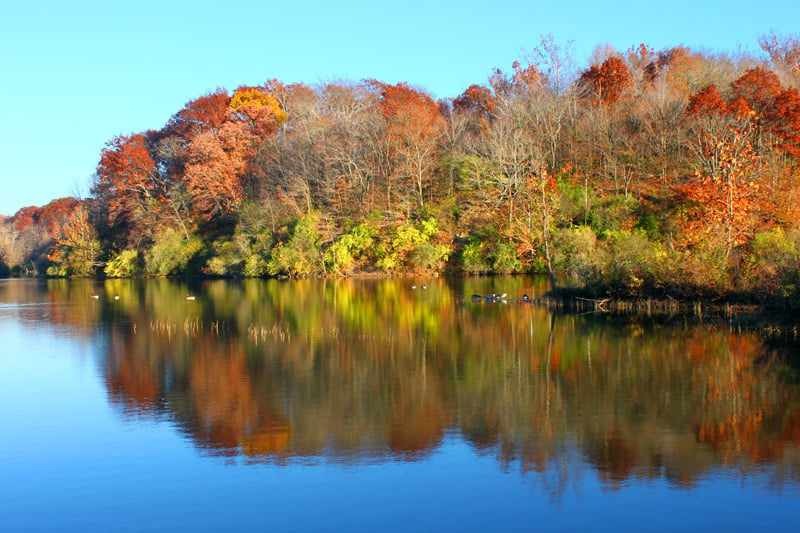 Pere Marquette State Park
Pere Marquette State Park in western Illinois near St. Louis is known for its spectacular fall colors. This is the place to go if you want to go rock climbing along the river bluffs. There is 20 miles of paved bike trail to cycle through and lots of opportunities for bird watching with over 230 species identified in the park.
You can also go tent or RV camping here. The campgrounds have electricity and shower houses.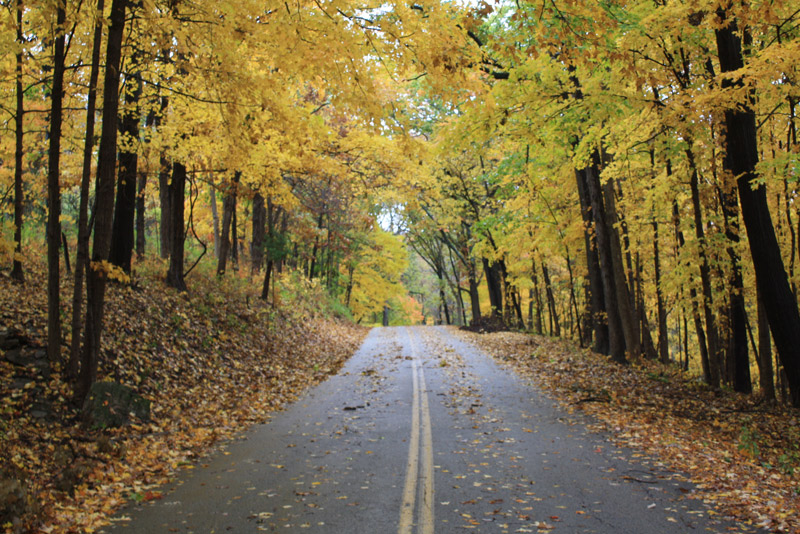 Central Illinois Primitive And Free Campgrounds
Just like in Northern Illinois, free camping is hard to come by in central Illinois. Most campgrounds have full amenities on-site for RV travelers. If you want to get away from the crowds, consider camping at: Hidden Springs State Forest or Middle Fork State Wildlife Area. These places have minimal amenities so the cost per night will be the cheapest around and you're less likely to be crowded with other campers.
Kinkaid Lake, which is located in the northern portion of the Shawnee National Forest has free primitive camping just outside the Johnson Creek Campground. You can set up your own campsite and fire ring as long as it's at least 150 feet off the trail. You can stay for a maximum of 14 days.
The further south you travel in Illinois, the more opportunity there is to find free camping.
Camping In Southern Illinois State Parks
The best camping in the state can be found in Southern Illinois. This is the place to go if you love outdoor adventure. Activities like camping, hiking, backpacking, horseback riding, fishing, climbing and hunting are popular in the area. There are a variety of state parks with campgrounds ranging from basic tent sites to full-featured RV campgrounds.
Eldon Hazlet State Recreation Area
Eldon Hazlet State Recreation Area is one of the largest campgrounds in Illinois. More than 800,000 people visit this park per year. There are over 300 campsites with full amenities plus cottages to book.
Eldon Hazlet is not the place to go if you're looking for a primitive camping experience. But it is a great place to bring families, and spend time in the outdoors with lots of nearby amenities.
Boating and sailing in the lake is popular, and visitors like to go tubing and water skiing as well. Within 10 miles of the campground you can go antiquing, shopping, or take scenic drives. It's truly a unique location to visit.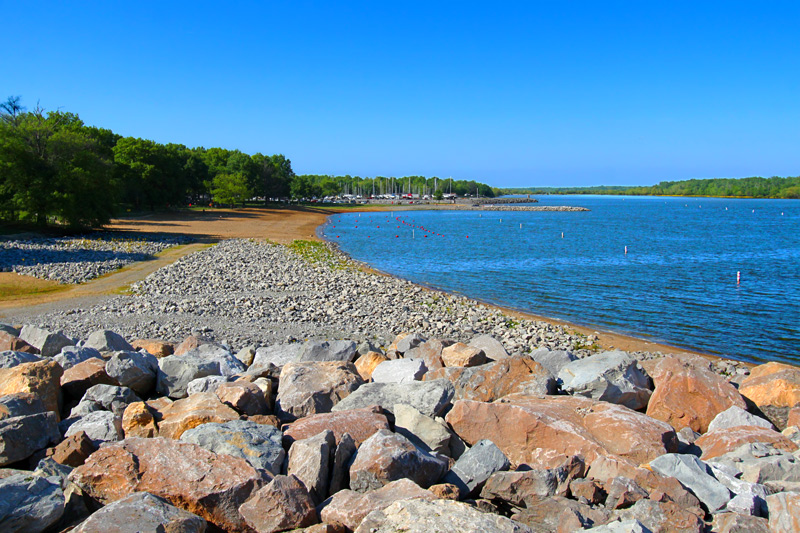 Horseshoe Lake
Horseshoe Lake State Park in western Illinois will feel like visiting a different region of the US. It has bald cypress, swamp cottonwood, and tupelo gum trees rising out of the shallow lake. The main activities at this park are boating, fishing and hunting.
You will find 38 campgrounds here equipped with electricity for an RV and shower houses.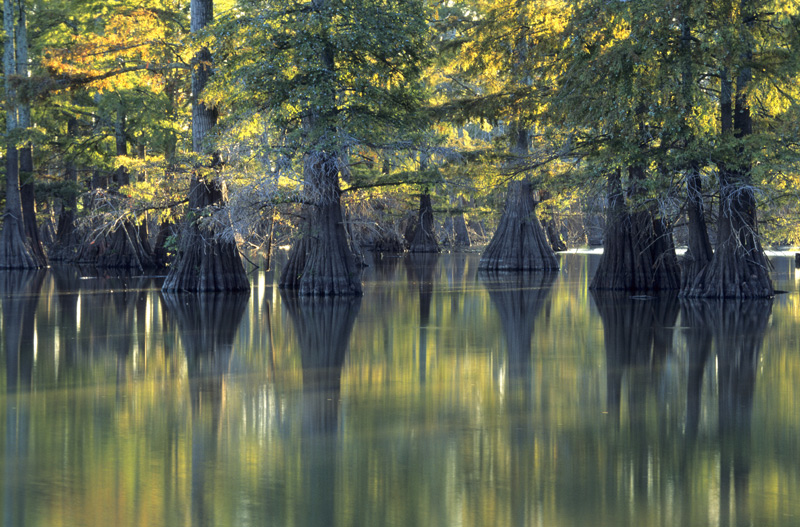 Shawnee National Forest
The Shawnee National Forest spans a large portion of southern Illinois. Whether you're looking for primitive camping, tent camping or RV camping, there are a wide variety of places to spend the night.
The most popular hikes in the Shawnee National Forest are:
Garden of the Gods (eastern Shawnee)
Cave in Rock (eastern Shawnee)
Heron Pond (central Shawnee)
Pomona Bridge (eastern Shawnee)
Garden Of The Gods Recreation Area
Garden of the Gods Recreation Area is not a state park, but an area located in the Shawnee National Forest. There are 12 campsites located here that cost $12 and have fire pits and toilets.
Garden of the Gods has popular rock formations and tall bluffs. The most famous trail is Observation Point; a 5.5 mile hike along the naturally sculpted landscape.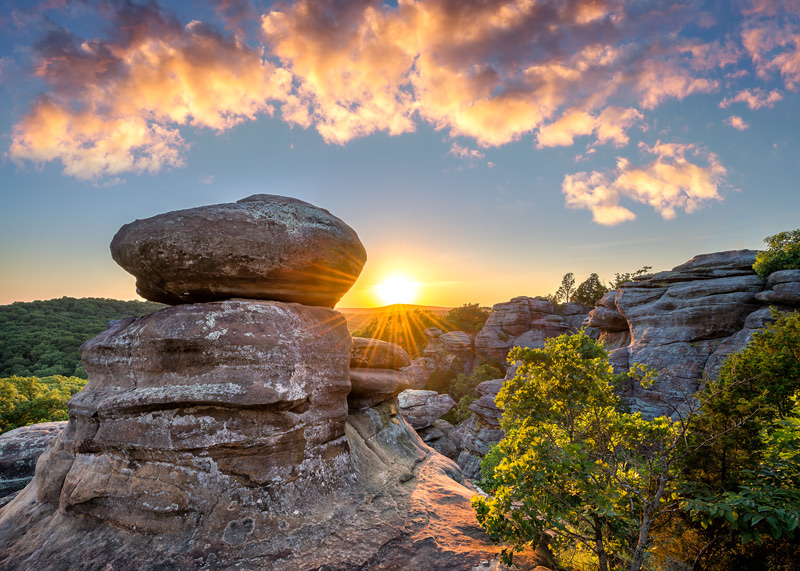 Heron Pond
Heron Pond is a hike along a floating boardwalk over a swamp filled with Cypress and Tupelo trees. It's a truly unique experience in the state of Illinois. The easy hike is only 1 mile round trip so it's perfect for bringing families or small children. This is a bucket list destination if you're planning on camping in central Shawnee.
Southern Illinois Free And Dispersed Campgrounds
Free, dispersed camping is permitted in many areas throughout the Shawnee National Forest. You won't find amenities like water, dumpsters or toilet facilities at these campsites. They are walk-in and first come, first serve. Each area is going to have it's own rules so you'll want to look up the specific regulations ahead of time. Most places allow year round camping with up to 14 days of continuous stay. Camping is generally permitted 150 feet off the trail, and 150 feet away from the lakeshore.
Here are a few areas dispersed camping is permitted:
National Parks In Illinois
There are 2 National Parks in Illinois and 3 National Historic Trails that are perfect for hiking. There's no better way to top out a camping trip by visiting one of the famous historic sites in the state.