23 Best RV And Conversion Van Rental Companies in 2022 (Review)
By
on
This post may contain affiliate links. As an Amazon Associate, I earn from qualifying purchases. Please read my full disclosure.
Renting an RV or camper van is a great way to get out in nature without having to rough it in a tent. You can get a hotel-like experience then step directly onto the hiking trail – no commute required.
If you're planning a summer road trip, then there's no better way to commute than with a camper. Conversion van rentals let you try living van life without having to build your own camper. And larger families will appreciate the extra space in an RV.
In this article, we're going to cover the top RV and camper van rental companies in the US.
At A Glance: The Best RV and Camper Van Rental Companies
(Scroll down to see the full list of rental companies)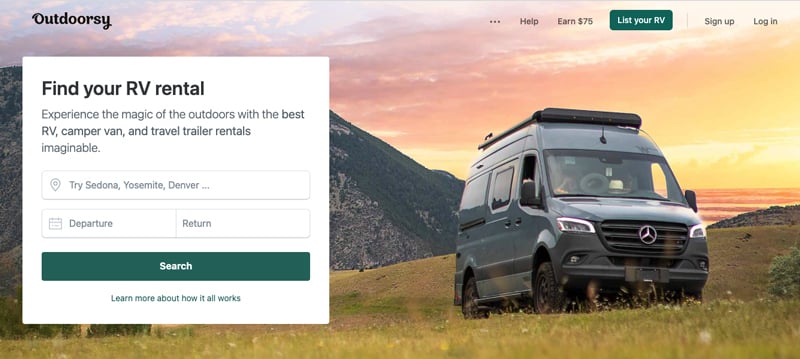 Peer-to-Peer RV and Camper Van Rentals: Outdoorsy
Located: Everywhere in the USA
Outdoorsy is the best RV rental company if you're looking for a variety of conversion vans, towables, motorhomes or trailers. This is a great way to test out a DIY camper van without building one yourself!
They are a peer-to-peer marketplace where you're booking rentals from the owners themselves. We've seen everything from converted minivans, to toy haulers, and luxurious 5th wheels.
We like this style of rental because get to speak directly with seasoned travelers who can give you a lot of advice on how to set up their RV if you're a first-timer. Chances are, they've got some great tips on places to stop.
Outdoorsy has a great selection of filters so you can choose the vehicle that's going to fit your style of trip best. Some examples include:
Bike racks
Satellite dishes
Festival-friendly vehicles
Pet-friendly RV rentals
The platform also gives you a lot of room for negotiation on extras and you get a discounted price compared to many other services.
Find an RV or camper van rental near you on Outdoorsy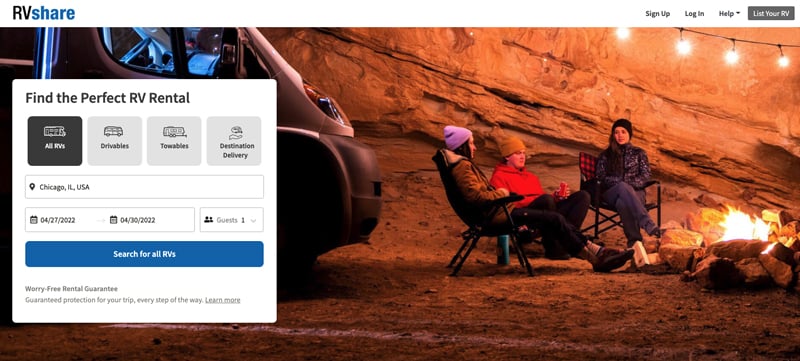 Largest RV Rental Marketplace: RVshare
Located: Everywhere in the USA
RVshare is the largest rental marketplace for both driveable and towable RVs. It is another peer-to-peer rental service meaning you'll be renting from the owners themselves. In fact, if you own an RV already, you can list it for some extra cash!
This business has been around since 2012 and has quickly become one of the most popular ways to rent for a road trip. They offer 24/7 roadside assistance and rental insurance for anything you can think of.
RV Share has a great cancellation policy with six tiers ranging from forgiving and flexible to very strict depending on how much confidence you have in your trip.
One thing that RVshare offers that you won't find often is that they have a program to deliver the RV to you for an extra fee. So if you don't have the means to get yourself to the owner you still won't have any problems renting.
Find an RV rental near you on: RVshare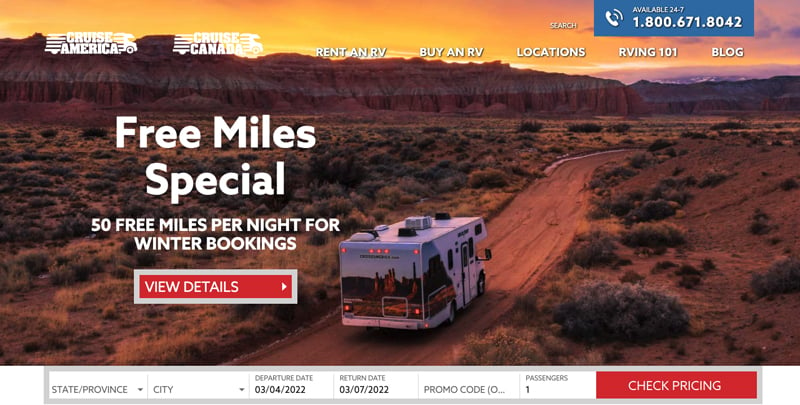 Standardized RV Rental Company: Cruise America
Located: Everywhere in the USA
If a corporate company makes you feel more comfortable, Cruise America is one of the most well-known RV rentals in the US. You can find Cruise America RVs driving all through the National Parks as they have big distinctive images covering the majority of the vehicle.
You'll quickly notice when renting through Cruise America the process is similar to a regular car rental company but on steroids. They will have very scheduled pick up and drop of times and locations. You'll also be required to sit through a training video so you know what you're getting into.
The workers at Cruise America are doing a regular day job and may not be RV owners themselves. That means the experience might not be quite as personable as you would get with a RVshare or Outdoorsy. Cruise America also has a much steeper price tag than a peer-to-peer marketplace.
All that said, when you go corporate you know you'll be getting the same rental experience every time. The vehicles will be well-maintained (or at least looked over on a frequent basis). Cruise America might not have quite the unique level of vehicles, but there also shouldn't be any surprises; and that's a comforting way to travel for some.
Find an RV rental near me using: Cruise America

Locations: Los Angeles, Las Vegas, San Francisco, Portland, Seattle, Salt Lake City, Denver, Phoenix, Atlanta, Chicago, Orlando, New York
Escape Campervans is the best rental company if you're looking for a smaller vehicle that can tackle tight turns and climb the highest mountains without spending hundreds of dollars on gas.
The company has 13 locations throughout the USA and Canada and they offer 4 different styles of vans to choose from:
Ford E-150 (the smallest, and most budget-friendly rental)
Ford Transit Connect (the most fuel and space-efficient)
Ford Transit 350 (larger, more luxurious rental)
Jeep Sahara JL 4 Door (equipped with a roof top tent)
All of the vehicles from Escape Camper Van Rentals come with a small kitchen, sleeping arrangements for 2-5 people, dining area, sink, refrigerator and stove.
However unlike many of the other rental companies on this list, Escape Campervans do not come with a toilet or shower built-in. So you'll need to rely on campsites and public facilities while on your road trip.
Even though these vehicles are bare-bones, they can be less expensive than some of the other rental companies so it's a great way to travel on a tight budget.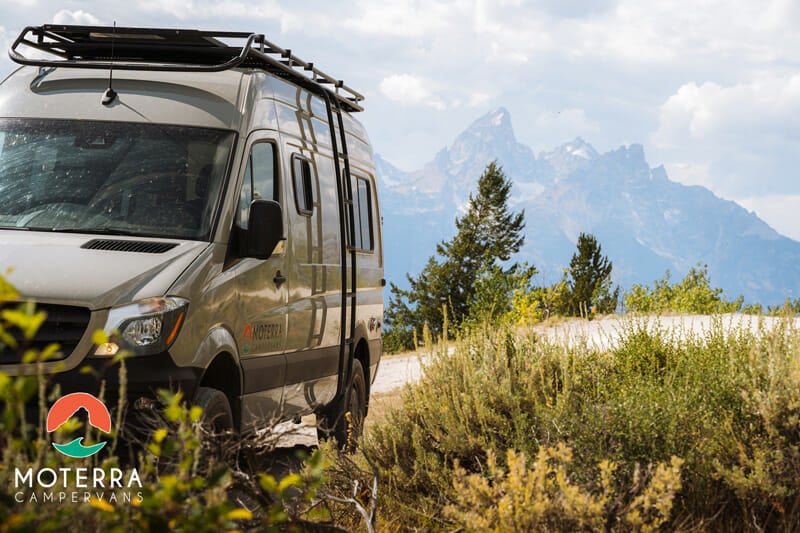 Locations: Jackson (Wyoming), Whitefish (Montana), San Francisco, Salt Lake City, Las Vegas
If you're looking for a curated road trip, Moterra Campervans takes the cake. The rental comes with a suggested itinerary, campsites, and road trip planner so you don't have to think too hard.
The luxury camper vans come decked out with refrigerators, stovetops, sinks, toilets, and indoor showers. Plus you get a bunch of camping equipment like marshmellow sticks and foldable chairs as well so you won't have to pack anything.
All of the vehicles in Moterra's fleet are newer Mercedes Sprinter Vans built out by Sportsmobile.
The company was originally founded in Jackson Hole, Wyoming and became famous for their curated road trips from Jackson Hole to Yellowstone.
Since then, they've expanded to multiple locations including San Francisco, Salt Lake City, and Las Vegas.

Smaller Camper Van Rental Companies
Rental locations: California, Arizona, Colorado, New Mexico, Oregon, Idaho, Utah, Nevada, Montana, Wyoming, and Washington State
Exploring the west coast in a camper van rental is easy with Mercedes Sprinter RV Rentals. They have 29 locations in 11 states.
And twenty-two of those locations are at international airports for convenient pick up anywhere you fly into in the western region of the United States.
The company offers five Mercedes Sprinter Van models to choose from. They're equipped with a stocked kitchen, a bathroom with a shower, toilet and sink, plenty of storage, and a TV.
Four of these Mercedes Sprinter RV Rentals have a king-size bed. One comes with a queen-size bed. They all have AC, heat, and solar power.
Mercedes Sprinter RV Rentals offers weekly rental rates starting at $3,175. However, they offer "gap rentals" by the night, starting at $395 per night.
Rental locations: Minneapolis, Austin, and Nashville
Voyager Campervans pick-up locations are strategically placed for road trip exploration of the middle and eastern parts of the United States.
And they offer one-way reservations, so you can pick up in Tennessee and wind your way north to Minnesota on a scenic van life road trip through the midwest, for example.
They offer three Dodge Ram rental vans for travel. The three rental options have amenities that range from very basic to a few extra comforts. One of them has a fully stocked kitchen and two full-size beds.
The other two offer camping-style cooking options and a couch that converts to a bed. There isn't a bathroom in any of these vans, but one of them has an outdoor shower available.
Voyager Campervans rents by the night, with a three-night minimum. Rates start at $119/night.
Rental locations: Denver, CO; Bozeman, MT (Yellowstone); Las Vegas, NV; and Seattle, WA
All rental locations for Campervan North America are in the west and northwest states, offering convenience for renting a van for a road trip.
They offer five versions of vans, including Nissan, Dodge, and Ford brands. And they've recently added two pop-top camper vans: a Mercedes and a Ford.
Amenities for these vans range from very basic, couch-to-bed/no kitchen/minimal equipment to fully stocked luxury vans with kitchens and bathrooms.
They rent by the night, starting at $48/night, and require either a 3-day or 5-day minimum, depending on the season. Long-term rentals and one-way rentals are also available.
Rental location: Golden, CO
This company promotes adventure travel in more ways than van life. They offer camper vans plus conversion van rentals. They have available a few custom-built camper vehicles. Their rental fleet includes
2 custom-built campervans
4 pickup trucks with custom-built camper conversions for the bed of the truck
2 RV motor-homes
1 SUV with a roof-top tent
2 pickup trucks with a bed cover and a roof-top tent
1 pop-up camper trailer
1 roof-top tent to use with your own vehicle
The trucks are a good choice for being able to drive off-road and camp in remote places. And for an even more rustic, unique camping style, rent one of their roof-top tent options.
The cost to rent ranges from $100/night for the stand-alone roof-top tent to $400/night for the largest RV. The rates per night for each vehicle vary depending on the number of nights rented.
All Adventure Travel Sports Rentals are custom-built for durable camping. None of these build-outs would be considered luxury style. Amenities are limited to the basics needed for a camping trip.
Rental locations: Los Angeles and San Francisco
Lost Camper has a large fleet of six models of travel vans for rent. All of these vans are fitted with either a bed inside the vehicle or roof-top tents. Some have both.
The build-outs are very basic, offering a true camping experience. No luxury "glamping" here.
These vans are considered "budget campervans". Nightly rates start at around $60 and depend on the vehicle and dates chosen. The rental rate includes unlimited mileage, whereas some of the other rental companies have a daily mileage limit built into the price.
The company also offers extra equipment for rent like refrigerated coolers, sleeping bags, heaters, etc.
Rental locations: Denver, Salt Lake City, and Las Vegas
With names like Biggie, Squad, and Smalls, the three van models offered by Native Campervans have the bases covered for size and amenities.
The Biggie and the Smalls sleep 2. The Biggie has more amenities, with a full kitchen built in between the bed and the cab. The kitchen includes a sink, stove, and mini-fridge.
The Smalls is more compact and sporty. It comes with a "camp kitchen", which pulls out on glider rails from the back of the van. This means the kitchen is only accessible from the outside of the van, so it'll have a more rustic camping feel to it.
The Squad sleeps 4. There's a bed in the back of the van that sleeps 2, and a roof-top tent that sleeps 2. This one also has a camp kitchen that's accessible from outside the rear of the van. The interior is spacious for storage and extra seating room.
These vans are rented by the night with a 3-night minimum. The rates vary by season but start between $109 and $129, depending on the vehicle.
Rental locations: Orlando, Fort Lauderdale, and Miami, FL
For an east coast road trip adventure, Ondevan Campervan is a good place to start. Picking up in Florida, you can travel the coastline and camp on the beach in style.
These seven vans sleep 2 and have a kitchenette inside equipped with a camping stove and sink. The other three sleep 3-4 people and have a camp kitchen accessible from the outside rear of the vehicle.
Ondevan rents their vans by the night. Depending on the season, they allow single-night rentals or two-night minimums. Rates run between $100 – $300, depending on the season and vehicle choice.
Rental locations: Bozeman and Livingston, MT (Yellowstone)
The vans offered by Tierra Traveler are custom built for luxury vanlife. Each of these vans is built with a kitchen inside, complete with a stove, sink, and even maple butcher block countertops.
They sleep 2 and have plenty of room for storage and seating.
Tierra asks for a 3-night minimum with rental rates that start at $325. These vans are durable, stylish, and comfortable, so they're worth the higher price point.
Rental locations: Denver and Las Vegas
This company's fleet includes Volkswagen, Dodge, and Winnebago brand vehicles. Five of the seven vans come with a pop-up camper roof, creating more space for standing and sleeping.
These five are built out for luxury and comfort like an RV. They have full kitchens and a stowable toilet.
The other two rental models are more utilitarian in style with kitchen supplies for a camp kitchen. In these vans, the interior seats need to be converted to beds when ready to sleep.
Rocky Mountain Campervans requires a minimum of 4-7 night rentals, depending on the season and vehicle choice. Daily rates start at $155 for the non-luxury models and run from $209-$290 for the luxury vans.
Rental location: Seattle, WA
Start your exploration of the Pacific Northwest United States by picking up one of three models of vans from Peace Vans in Seattle. They have a fairly large fleet of vans included in three categories: vintage, modern, and specialty.
Their vintage vans are Volkswagen Vanagons and resemble the classic VW vans that have been converted to campers. The modern vans are Mercedes Metris model vans that are converted into a more modern style.
Both of these models of vans include a built-in full kitchen with a sink, stove, and mini-fridge. They also all come with a pop-up tent on the roof.
Peace Vans' specialty vans are Mercedes Sprinter vans and are decked out with all the amenities of a luxury RV. These vans don't have a pop-up roof tent, but they don't need it. Their bigger size and spacious interior provide plenty of room.
The vintage and modern vans cost $225/night with a 4 or 6-night minimum, depending on the season. The specialty vans are between $350 and $400/night.
Rental location: Costa Mesa, CA
Another great starting point for a van road trip to explore the Pacific Northwest, Vintage Surfari Wagons specializes in the classic VW van experience.
They have three models of VW vans: Bay Window, Vanagon, and Eurovans. With these options, your choices range from 1970s style travel up through the 2000s era.
All their vans are equipped with a kitchen that includes a stove, sink, and either a mini-fridge or electric cooler. The rear seat converts to a bed, and there's plenty of storage. The rates range from $183 to $236 per night.
Rental locations: North Shore Oahu, Hawaii, and San Diego, CA
Explore Hawaii or the Pacific coast of the United States in a Volkswagen camper van. Hawaii Surf Campers has a fleet of nine VW vans ranging from 1971 to 1993 models, plus a 2017 Ford Transit.
All the vans except the 1971 VW bus have a rooftop pop-up tent, and they all sleep up to 4 people. They also all come equipped with a full kitchen and plenty of room to lounge comfortably inside.
The Ford Transit (Big T) is a custom luxury build-out with contemporary, stylish features.
Big T rents for $200 per night. The rest of their vans are $179 per night.
Rental location: Hood River, OR
Vanlife is a popular way to explore the Pacific Northwest and the west coast of Canada, and Roamerica's Oregon pick-up location is a great place to start.
Their van rentals are all Ford Transit 4WD with rooftop pop-up tents. They sleep 4 adults or 2 adults and 3 kids.
These vans are built with complete kitchens and plenty of storage. The interior is somewhere between rustic and luxury, and these vans can hold their own in rough terrain as well as drive smoothly on paved roads.
The rental rate for all Roamerica's vans is $325/night with a 6-night minimum. This fee includes everything like unlimited mileage and all the equipment needed for your trip. No a la carte pricing here.
Rental locations: San Francisco and Los Angeles
As you can probably tell by the name, Trekker Vans has a fleet of Ford Trekker model vans custom-built in RV style.
These vans sleep two and have a kitchen area with a sink, refrigerator, and a portable camping stove.
The base price is around $268 per night plus any optional add-ons. They offer add-ons like a roof-top tent or storage, various mileage packages, a bike rack, and various camping equipment. This allows you to customize your package and price.
Their vans are 2016 or newer and include heat and AC. There's plenty of room to lounge comfortably during the day. And at night, the two bench seats and table convert to a queen-size bed.
Rental locations: Denver, Salt Lake City, and San Diego
VanCraft has three locations out west for convenient van road trips in the beautiful western states. They offer camping van rentals in three sizes, all with RV-like amenities.
They all sleep 2 inside the van. The two largest vans (Long Wheelbase and Short Wheelbase) offer an optional rooftop tent for an additional two people.
The Long Wheelbase and the Short Wheelbase have kitchens inside the van with a sink, stove, and mini-fridge. The Micro Campervan has a camp kitchen that pulls out the back of the van on sliders.
The base rental price for the Long, Short, and Micro vans is $89, $189, and $199 per day respectively.
Rental locations: Temp, AZ plus various cities for "owners fleet"
Boho is a custom van conversion company. Most of their vans are newer-model Dodge Ram Promaster, but they also have a Jeep in their fleet.
These vans are beautifully designed with all hardwood interiors. They could be considered luxury vans with full kitchens and RV-like amenities. But they have a lodge-like, rustic look to them.
Most of these vanlife rentals require a 3-night minimum at $687 for the three nights, plus protection and cleaning fees that bring the total for a 3-night trip to nearly a thousand dollars. If this is in your budget, Boho is the way to do vanlife road trips.
Rental location: Eliot, ME
One of the few van rental companies in the northeast region of the United States, Maine Campers is in a great location for exploring Maine, New Hampshire, and Vermont.
This company rents Volkswagen Westfalia camper vans. Basic and functional, they sleep 4 and come with a full kitchen. The rear seats convert to a bed. There's plenty of room to move around inside and cabinets for storage.
Rates start at $195 per night with a 7-night minimum. Their rental season is June-September only.
Rental locations: Salt Lake City
Their vans range from basic camping-feel interior to luxury amenity-rich build-outs. There are three Dodge Promaster and two Chevy Express vans to choose from.
The Skyline Campervan, a Dodge Promaster 2500, has a premium interior with knotty pine walls and maple cabinetry. It includes a full kitchen and sleeps 2. This van rents for $249 per night.
The other four vans step down a bit in luxury and amenities, as well as price. They sleep 2-4 people, depending on the availability of a rooftop tent add-on. These run from $109 to $129 per night.
Rental locations: Seattle, Portland, San Francisco, Los Angeles, San Diego, and Denver
Go Camp has the largest fleet of camper vans available. It's impossible to list them all. There are Volkswagens, Fords, Mercedes, Dodge, and even some Hondas and Jeeps. Just scrolling through the options and imagining the possibilities is enjoyable.
The interiors of these rentals are stylish and built for comfort. A few have rooftop tents and pop-ups. Some are luxury RV-style. And others are sporty and fun. There's a van (or Jeep) for every adventure.
Prices are as diverse as their vehicle line-up, starting at $89/night and going up to nearly $300/night.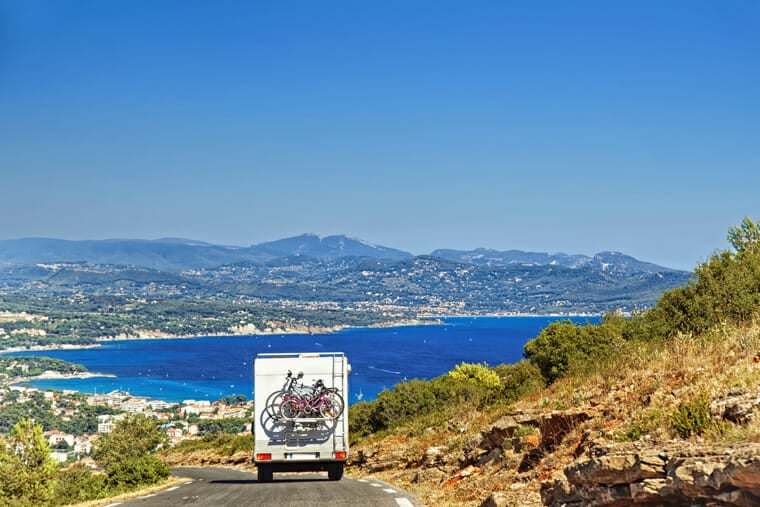 How To Rent an RV
Once you've decided which type of RV you want to rent it's time to find a rental company! There are hundreds across the US so you'll have plenty to choose from. The two main ways to rent: with an RV marketplace, and with a traditional vehicle rental company.
If you've never been inside an RV before, it's hard to envision the experience. How much does it cost? Where do you park it? Are there special rules to obey?
Luckily, renting an RV or conversion van is not nearly as complex as it sounds. In this post, we're going to break downout exactly how an RV rental works, what to expect, and how to make the most out of your travels.
Benefits of Renting an RV
When you rent an RV, you get the luxury of having the whole house with you. Unlike booking a hotel or taxiing to the airport, you can pack nearly anything you want. That includes liquids, electronic devices, and you don't have to endure long lines at security checkpoints.
With an RV, you'll be on vacation as soon as you pull out of the driveway.
Meet the locals
An RV allows you to really take your time and soak in the destinations. Instead of zipping past the flyover states you can stop and shop the local markets. You'll get a better feel for lesser-known areas. And there are more opportunities to make a pit stop at anything the piques your interest.
Space
If you're planning a long-haul trip, an RV is going to have an on-board bathroom and room to move around. That's going to let you cover more ground at a quicker pace. Plus you'll have a more comfortable journey compared to your average car.
Bring your pets!
This is a HUGE advantage to joining the RV travel club. Pets are difficult (and sometimes impossible) to bring on an airplane. Hotels charge you big extra fees, and car rides are not always comfortable for your animal.
With an RV, you can bring your pet with you anywhere! They'll love wandering around the campground. Plus, if your RV is climate controlled, you'll get the chance to leave them inside if you go for a non-pet friendly hike.
Park close to the action
When you spend the night at a hotel, you have to get up extra early for some adventure. Wake up, pack your backpacks, eat breakfast, get in the car, and make the commute to a National Park or attraction.
An RV eliminates nearly all of those chores. You can get a nice parking spot walking or biking distance from nearby trailheads. You can fry up breakfast right at the campground or inside your camper kitchen. More importantly, you can skip the morning rush to get into the parks.
At night, you can rest at a campfire beneath the stars. Roast some marshmallows and be just a few feet away from your bed.
RVs come equipped with refrigerators, stovetops, full-sized beds, toilets, showers, and even televisions! If nature is not your thing or the temperature isn't great you can still spend a comfortable evening inside.
Save money on activities
When you spend the night at a hotel you often get charged for every extra thing; breakfast, snacks, or outdoor equipment rentals. Plus, you'll likely end up eating dinner at a restaurant because there is little to no space for food in the room.
In an RV you can bring most of those things along. Pack a few board games entertainment. Fill up an entire fridge that will take care of three meals per day + snacks. You can even attach a mountain bike to the back for an all-day adventure ride.
With an RV rental, your big costs are going to be the RV itself and an appropriate campsite. The entertainment value in travel should take care of the rest.
Try before you buy
Maybe you're ready to go all-in and buy an RV of your own. Maybe it's even your dream retirement plan? We highly encourage you to rent an RV first before jumping in. Renting an RV will quickly help you find out if you're really ready to buy. Save yourself thousands of dollars and learn the answer to this question by renting first.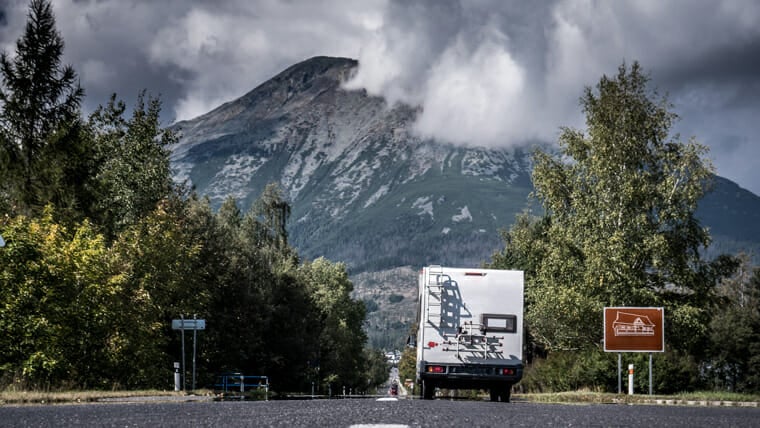 Disadvantages of Renting An RV
It wouldn't be fair to only list the advantages of RV travel, so we'll try to point out a few things you may not have considered.
Gas prices: The more you move, the more you're going to be spending on gas. The best way to save money here is to shoot for longer stays at each location.
Less mobility: If you don't bring a commuter car along you're going to have a harder time hitting up a grocery store or drive-through in an RV. We recommend that you stock up on food and entertainment items before you go. Once you hit the road, just enjoy the vacation! Unless you're renting an off-roading travel trailer, RVs are really meant to get you to your destination then allow you to have fun there.
Cleaning up after yourself: RV rental companies do not come with their own maid service. That means it's your responsibility to change the sheets in the morning and potentially pack your own towels. If you're going to take the RV out for weeks at a time, you'll be responsible for re-filling water and emptying your blackwater tank.
What Type of RV Can You Rent?
Deciding to take an RV travel vacation is just the first step. Next is figuring out what type to get. There are two main categories: motorized and towable.
Motorized RVs (Motorhomes)
Motorhomes have their own engine, and the living area can be accessed from the front cab. These are easier to drive and allow you to tow a commuter vehicle on the back. They tend to have the most storage space.
With a motorhome, you don't have to worry about hitching and un-hitching at each destination. There is less set up overall. The main types of motorized RVs are:
Class A: The largest and most spacious RVs. They have full amenities plus some. They are the most expensive and luxurious to rent.
Class B: More compact camper van design. They come with all the essentials including a toilet, shower, and kitchen.
Class C: These are larger than Class B campers. They have a sleeping area built over the cab area and essential amenities like a toilet, shower, and kitchen.
Conversion van: Not all rental companies supply conversion vans. These can range from owners renting out their DIY Sprinter vans to budget rental companies that have converted full-sized vehicles. These tend to be the cheapest rentals, but they may not come with any amenities.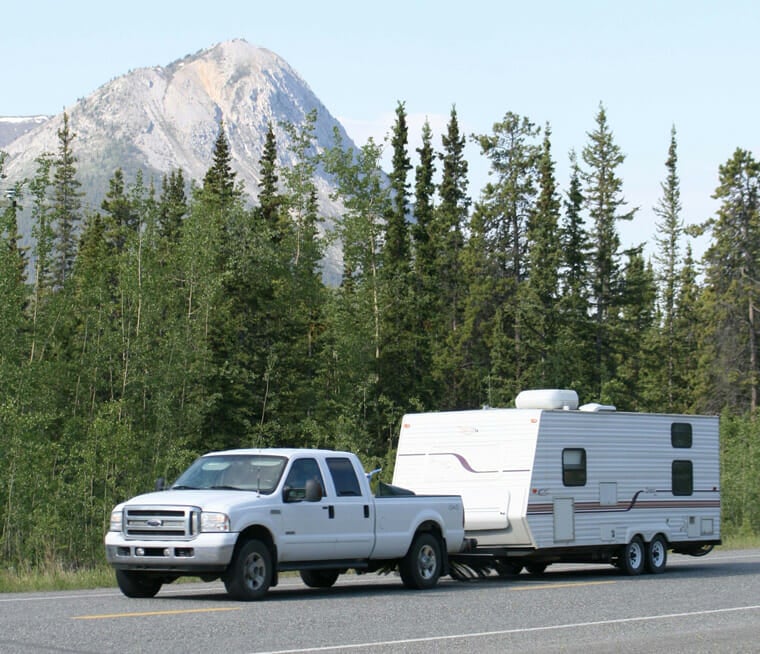 Towable vehicles
When renting a towable RV you'll likely be required to have a vehicle capable of towing large amounts of weight. Some rental companies will allow you to rent a tow vehicle along with the RV for an extra charge.
Towable RVs are more work to set up at your campsite because you'll have to unhitch and level it. They are also more difficult to drive.
That said, there are some big advantages to renting a towable vehicle. For one, you can set it up at a campsite to claim your spot then drive around comfortably in a smaller car. They tend to be much cheaper to rent. And you won't run into any engine troubles because there are fewer mechanics involved.
There are a lot of different towable RVs to choose from. They can range from a luxurious hotel-style living area to a small step up from camping. These are the main types to look out for:
Travel Trailers: These are similar to a Class A motorhome. You can expect space for a big family, full-sized refrigerators, stoves, and microwaves. They also come equipped with a full bathroom – toilet and shower included. They connect to your tow vehicle with a ball-hitch.
5th Wheels: Similar to a travel trailer, the biggest difference with a 5th wheel is that they attach to a truck bed with a jaw hitch rather than a ball and coupler. That means it's easier to maneuver than a travel trailer and simpler to set up at the campsite. They also tend to be wider and have the most interior space.
Destination Trailers: Another large, luxury travel home is the destination trailer. They are meant for long stays at an RV site and should be driven around infrequently. Destination trailers are built more like a typical home, with heavier construction and large patio doors. They are taller and have high ceilings. You may run into clearance issues when driving them around. They are not fuel efficient at all and are difficult to maneuver.
Toy Haulers: A mix between living areas and storage space is the toy hauler. These have a wide base, full amenities. Most of the interior furniture is collapsible so you can fold it up and make room for storing ATVs and jet skis during the drive. They connect to your tow vehicle with a ball hitch and are meant to carry a lot of weight.
Popup Campers: One of the cheapest RV rentals is the popup camper. They are low profile and lightweight making them easy to park. A popup camper collapses during the drive and must be set up at the campsite. It has softer sides and requires more time to put together. Popup campers typically come with a bed, seating area and kitchen. You may or may not find a restroom in these campers.
Lightweight Trailers or Teardrop Trailers: Another cheap RV rental is the lightweight trailer. These are some of the easiest to drive around and the most fuel-efficient. They have the least amount of storage but tend to come with full kitchens and sleeping areas. They may or may not come with restroom facilities.
The Cheapest RV Rentals
The smaller you go, the less expensive your RV rental is going to be. Towable RV rentals are cheaper than motorhomes but do require you to have a tow vehicle.
Rentals like teardrop trailers, popup campers, and conversion vans are going to be the biggest bang for your buck but they also offer the least amount of space. These types also do not come with bathroom amenities for the most part so you'll have to plan facilities into your campsite decision.
Do you need a special license?
In general, if your motorhome or RV is under 45 feet long and under 10,000 pounds you do not need a special license to drive it. The law varies a little state to state but whatever rental company you choose should be able to answer that for the specific RV you choose.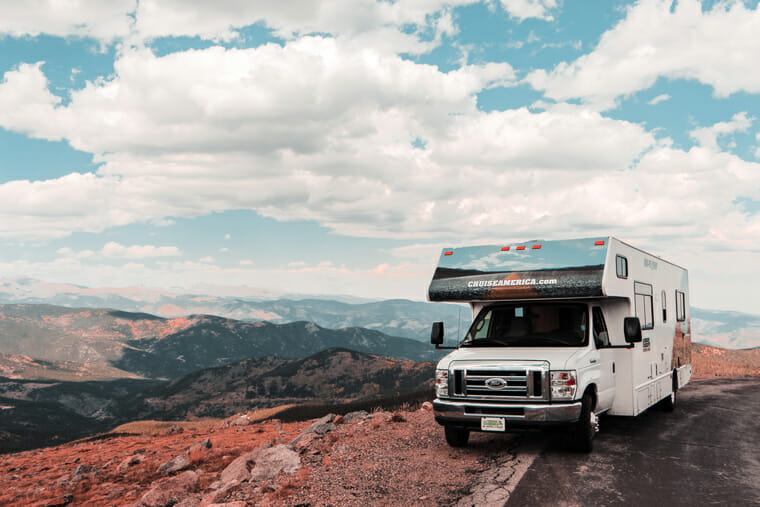 Where To Park Your RV
Planning is key when it comes to an RV vacation, and you'll want to book ahead unless you decide to do some boondocking. Spots at an RV park can fill up fast, especially if you're traveling during the busy summer season.
Most National Parks and other popular destinations will have RV campgrounds nearby. You can find these on google maps. The local travel center should also be able to point you towards a few locations.
Campendium and Allstays are good apps for finding RV friendly campgrounds.
Joining Discount RV Clubs
If you decide to travel for more than a week at a time, the best money-saving advice we can give is to join an RV club. RV clubs cost a small yearly fee to join and can save 15-50% per night on campsites.
Passport America
Passport America is the biggest and most popular discount RV club. They have over 18,000 locations across the US and cost just $44 per year to join.
With your Passport America membership, you get 50% off all of those RV campsites and you can expect full hookups and amenities at each.
Harvest Hosts
Harvest Hosts is a unique RV travel experience that costs $79/year to join. But the buck stops there. With this membership, you get FREE overnight camping at vineyards, breweries, farms and more.
This membership is run by small business owners who allow self-contained RVs and camper vans to check out their biz and spend the night on their property. The membership has a few caveats – like you can only book one night at a time – but the cost and entertainment value make it a great supplementary club if you do a lot of travel.
Harvest Hosts Discount Code:
Get 15% off when you sign up through this link: Harvest Hosts and enter the code at the top during checkout.
If you're more of a long-term traveler, or someone looking for travel friends, Escapees is the club to join. This membership offers all kinds of discounts from campsites to mail forwarding, to travel healthcare assistance. The price is just $39.95 to join.

Boondocking
Boondocking is when you spend the night on free Bureau of Land Management (BLM land) or National forests. These are legal overnight parking areas open to RVs and campers. On BLM land there is a strict policy of 'pack it in, pack it out'. There are no hookups, bathrooms, or amenities in these areas and you shouldn't expect cell service either.
It takes a bit of finesse to get familiar with the locations that allow overnight camping. And the rules vary from state to state. If you're interested in learning more about boondocking, read our post on how to find free campsites.
Last Minute Tips For RV Rentals
There's a few logistical questions you'll want to ask before signing the papers for your RV rental. These should help avoid any unwanted surprises when you start your camping trip. When looking at rentals, ask yourself:
What is the average MPG of the unit? How much does it cost to fill the tank?
What is the insurance, roadside assistance and cancellation policy like?
Are generators or propane tanks included? How do you refill them?
Are there backup and side view cameras to help with parking?
Does the RV come with kitchen accessories, linens and dishes?
Is there an air conditioner or heater?
How does the blackwater tank work? Are you responsible for cleanup?
Make sure you do a walk-through of the RV and find all of the outlets and hookups. Test the lights so you know where the switches are. If the RV has a composting toilet or propane hookups be sure to ask how to use them.
An RV vacation is a great way to explore the country. Take full advantage of the amenities your motorhome has to offer. I hope these tips have helped you feel more comfortable about the process of renting an RV.