The Best Class C RV Motorhome Brands and Manufacturers
By
on
This post may contain affiliate links. As an Amazon Associate, I earn from qualifying purchases. Please read my full disclosure.
One of the most convenient road trip vehicles is a Class C Motorhome. These small RVs get better gas mileage then Class A motorhomes, and they are easier to park and maneuver.
Class C RVs are drivable so you don't have to hitch and un-hitch at the campsite. They're also fully self-contained which means they have an on-board bathroom, and plumbing.
If you're someone who likes to camp in comfort without the hassle up setting up and taking down your equipment every night, then a Class C camper is for you! In this article, we're going to cover the best Class C Motorhome brands and manufacturers. Plus tips for finding the best camper for your money.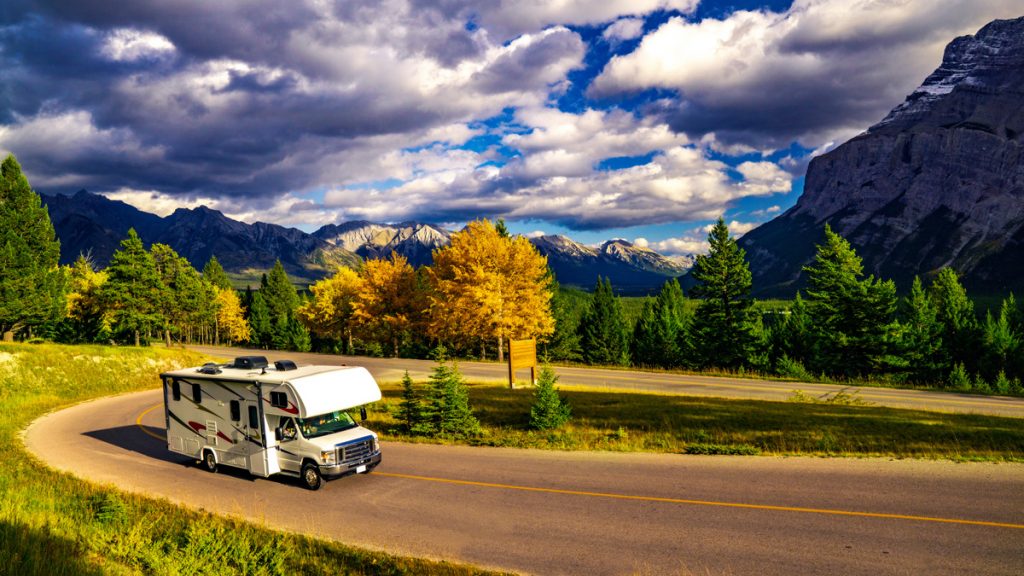 What is a Class C Motorhome?
A Class C motorhome is a small to medium-sized RV. They are built with a cut-away chassis so the cab looks like a standard vehicle, and the back looks like a boxy RV. Most Class C campers have an over-cab sleeping or storage area.
Class C campers are easy to drive, have a large sleeping capacity, and are fully self-contained. People like them because they are one of the most affordable motorhomes and they offer a lot of flexibility.
Class C RV Features
Typically 24-36 feet long
Easy to park and drive
Sleeps up to 6 people
Includes a functional kitchen
Toilet and shower inside
Small dinette or seating area
Multiple storage compartments
Can tow additional vehicles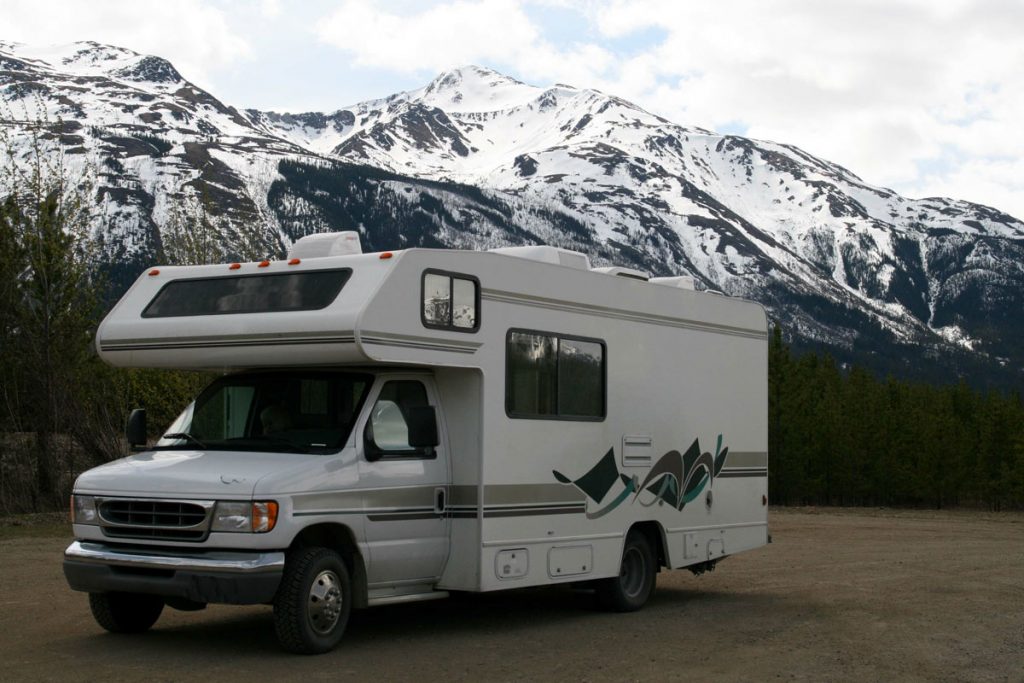 Class C Motorhome Brands And Manufacturers In The USA
When it comes to the Class C camper, there are only a handful of manufacturers to choose from. Most Class C RVs are manufactured by Thor Industries, or Forest River and their respective brands.
Independent Class C RV brands are hard to find. Gulf Stream Coach and Nexus RV are two of the most prominent. Some of the old-time favorites like Holiday Rambler and Lazy Daze no longer manufacture Class C campers.
Thor
Forest River
Gulf Stream Coach
Nexus RV
Rev Group
Winnebago
What Are The Top Class C Motorhome Brands For The Money?
When it comes to value, these brands are consistently rated among the top choices according to full-time RV travelers.
Thor
Winnebago
Gulf Stream
Entrega
Dynamax
Best Class C RV Motorhomes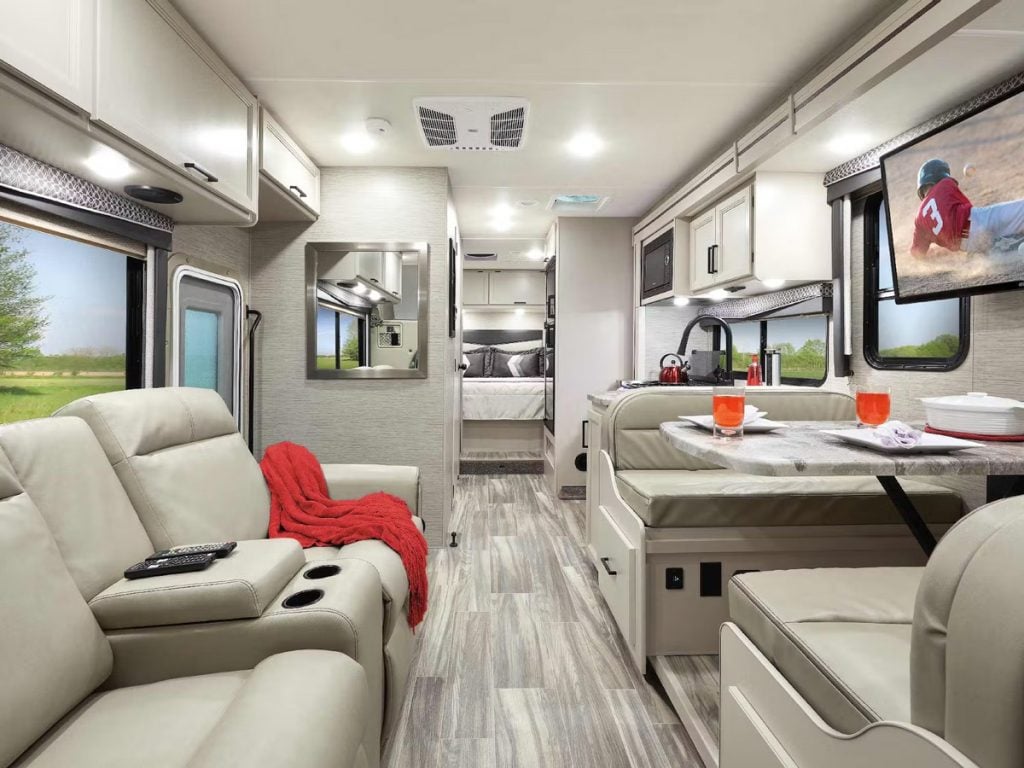 The Four Winds by Thor industries is one of the most popular Class C motorhomes for a reason. It's packed with features, has multiple floor plans to choose from, and has flexible amenities to complement every type of camper.
The floorplans range from 24 to 32 feet in length. There are also multiple slide-out options which give you more interior space when you're parked. When it comes to the engine, there are a few different options to choose from. One is the powerful Ford E-Series Chassis, and the other is a Chevrolet Chassis.
Some of the notable features include:
8,000-lb. Trailer Hitch
Automatic leveling jacks
Backup and side view cameras
Electric awning with LED lights
Interior and exterior shower
In-house entertainment system
Sleeps up to 7 people
Pricing for the Four Winds by Thor starts at $125,000.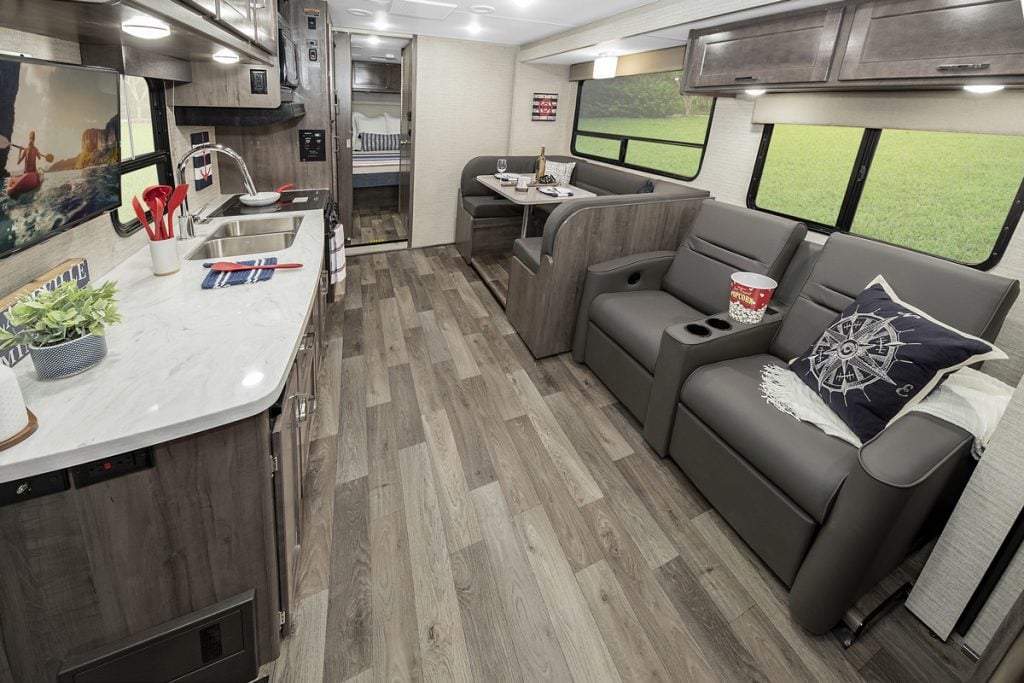 The Mini Winnie by Winnebago is a powerful and flexible Class C RV that's easy to drive and maneuver. Despite its size, this camper can tow up to 7,500 pounds which means you have the ability to haul a secondary car or SUV.
Inside the Mini Winnie you'll find luxury amenities such as Corian countertops, stainless steel appliances, and comfortable theater seating. The Mini Winnie is built on a Ford E-350 or E-450 chassis and has multiple floor plan options to choose from.
The largest Mini Winnie spans almost 33 feet-long and has a freshwater tank capacity of 44 gallons and 76 gallons of LP fuel capacity. It can also comfortably sleep up to 8 people using flexible sleeping arrangements which is perfect for a large family.
Pricing for the Mini Winnie Class C starts around $120,000.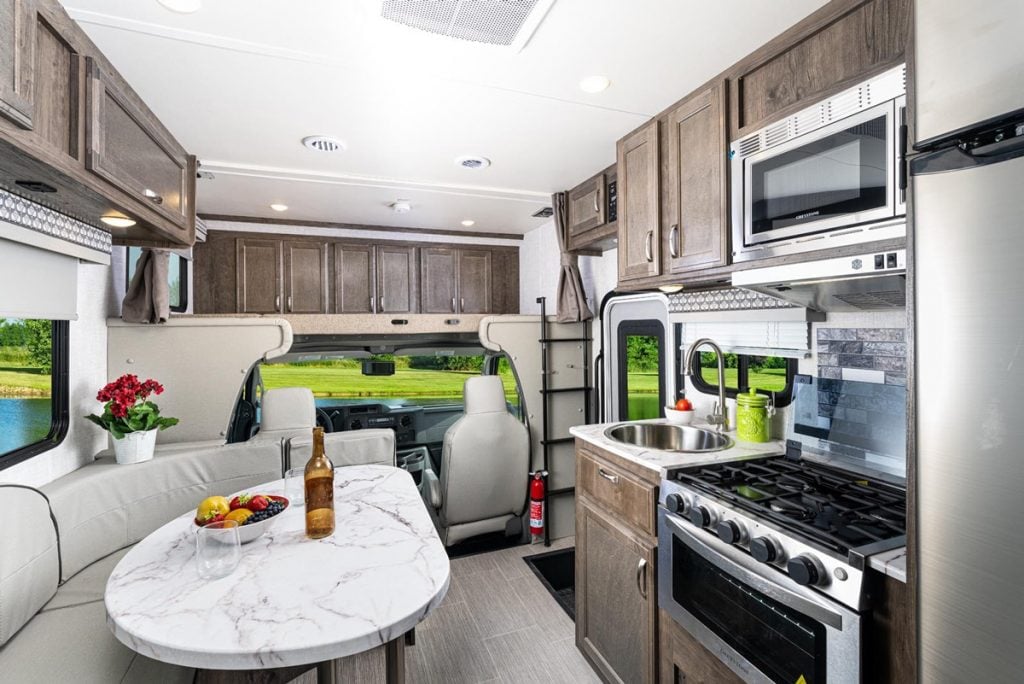 3. Gulf Stream Coach Class C
Gulf Stream Coach is a family-owned manufacturer located in the heart of RV country – Indiana. This independent manufacturer prides itself on quality, and their selection of Class C campers is no exception.
The BT Cruiser and Conquest are two models that come in a variety of configurations. They each use a powerful, Ford E350 Chassis and have large capacity fuel tanks.
Throughout the construction of the camper you'll find features that were built-to-last including welded aluminum perimeter frame walls, insulated steel frame floor, and seamless EPDM rubber roof. Inside, you've got maple cabinetry, a solar-ready electric system, and residential appliances.
These campers start at $120,000 and go up depending on features and amenities.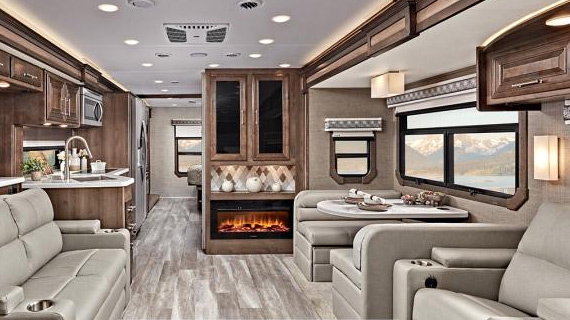 4. Entegra Coach Accolade
Entegra is another Thor Industries Brand that we can't stop hearing about. The Entegra Coach Accolade is one of the most luxurious Class C campers on the market and it's easy to see why.
The Accolade is built on a Freightliner chassis and is available in multiple floor plans. One of the coolest things about this camper is that it's one of the few to offer a full-wall slide which gives you an incredible amount of interior space.
When it comes to selections, owners of the Entegra can choose everything from the exterior paint to the cabinetry and valance decor. Inside you'll find over-the-top amenities like an electric fireplace, hardwood cabinetry, wood-framed windows, and skylights.
The Entegra has appliance options that you would normally only find in much larger campers like a washer and dryer, 4-door refrigerator, and powered theater seating.
Pricing for this luxury Class C is not cheap. Customers can expect to pay around $250,000 for the camper.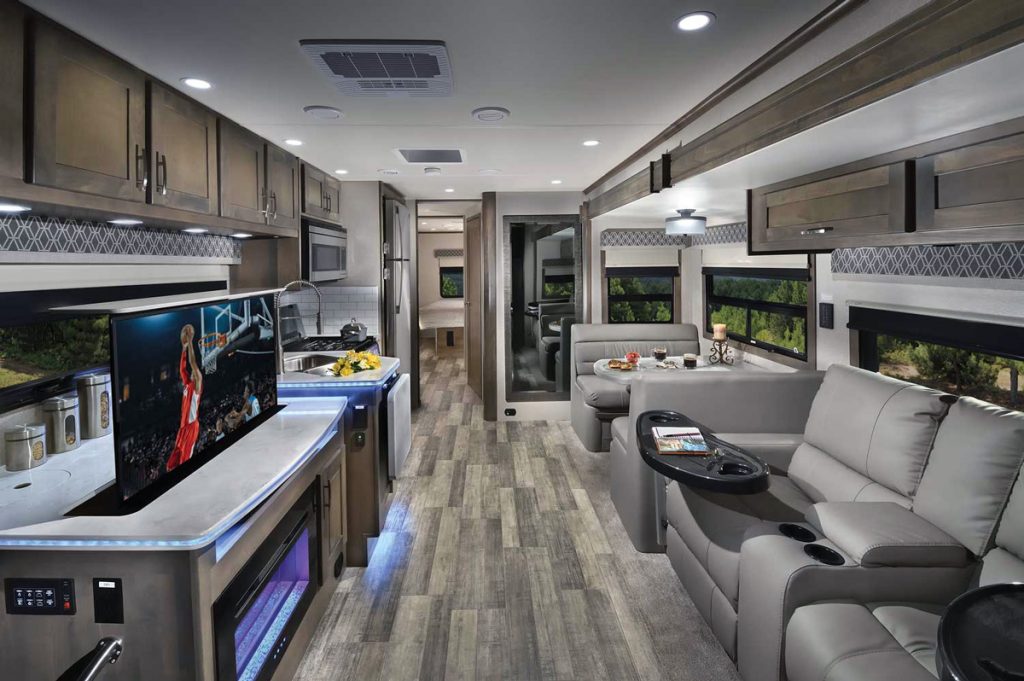 5. Dynamax – Force
Dynamax is a Forest River brand known for their wide array of Class C motorhomes. The company has 6 different models to choose from and each motorhome has it's own unique floor plan.
The Dynamax Force Class C motorhome is a type of Super C RV which means it uses a a medium-duty truck chassis so it can travel further and carry more weight.
This beast of a vehicle starts at $350,000 and stretches nearly 40 feet long. It has 94 gallons of fresh water capacity and a 100 gallon fuel tank. The trailer hitch can tow up to 20,000 pounds so you can travel with practically any vehicle imaginable.
Not only are the engine specs impressive, but you'll only get top of the line amenities in this Super C RV. The kitchen comes with residential appliances, and it has 2-3 slide outs for maximum floor space.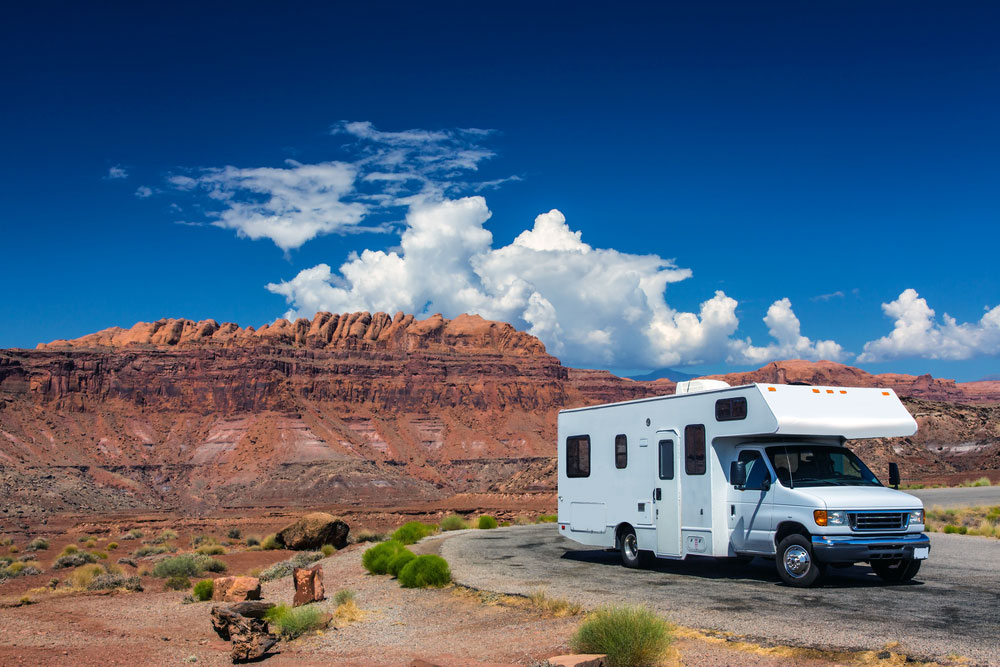 Tips for purchasing the best Class C Camper
No matter what budget you're working with, there are still some features that are going to make some class C campers last longer than others.
One of the most important features of the Class C is the chassis. In fact, it might be the only thing that truly matters in this camper. The most common chassis types are:
Mercedes Sprinter (diesel)
Ford F-550 (diesel)
Freightliner (diesel)
Ford E-Series (gas)
Chevrolet (gas)
The Freightliner chassis is the best for heavy-duty use, although these are mostly found in Super C RVs. The Mercedes Sprinter chassis has a great reputation although it can be more expensive when it comes to repairs.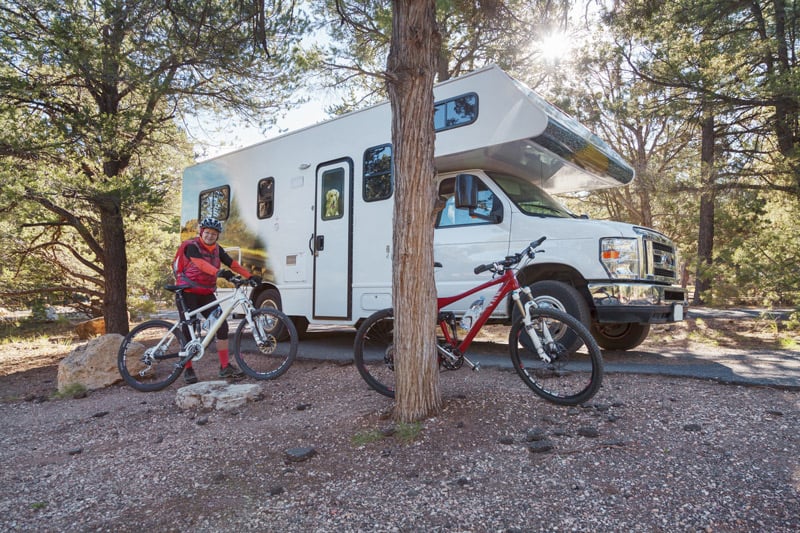 Camper Options
As far as interior options go, look for wood cabinets rather than MDF because they will hold up longer. For durability, consider campers with vinyl flooring rather than carpet.
Make sure to inspect the frame of the camper as well. If you have the choice, a Class C with a fiberglass roof will hold up well.
Most accessories inside a camper can be replaced overtime, so make sure to pick a camper with a solid foundation to begin with.
Frequently Asked Questions About Class C RVs
What is the smallest class C RV?
The smallest class C RVs are only 22 feet long. You can find several brands which make short models including the Gulf Stream BT Cruiser, Winnebago Outlook, Jayco Redhawk, Thor Four Winds, Chateau, Freedom Elite, and Coachmen Freelander.
What is the largest class C RV?
The largest Class C Motorhomes are called Super C RVs. They can get up to 41 feet long and sleep 9 people comfortably.
How much does a Class C RV cost?
Class C RVs are one of the most inexpensive motorhomes. You can get a new Class C RV for $80,000. The most expensive Super C RVs can cost over $350,000.
What are the best used Class C motorhome brands?
The best used Class C brands on the market are Winnebago, Dynamax, Entegra Coach, and Gulf Stream.