The Best Class A Motorhomes Top Brands And Manufacturers (Review)
By
on
This post may contain affiliate links. As an Amazon Associate, I earn from qualifying purchases. Please read my full disclosure.
Some of the largest and most luxurious campers on the market are Class A Motorhomes. These big rigs have a powerful chassis and residential amenities.
Like 5th wheel campers, the best Class A Motorhomes are ideal for large families and comfortable for full-time travel. They come with a variety of layout options and floor plans.
In this article, we're going to cover the best Class A Motorhome brands and manufacturers. Plus tips for finding the best motorhome for your money.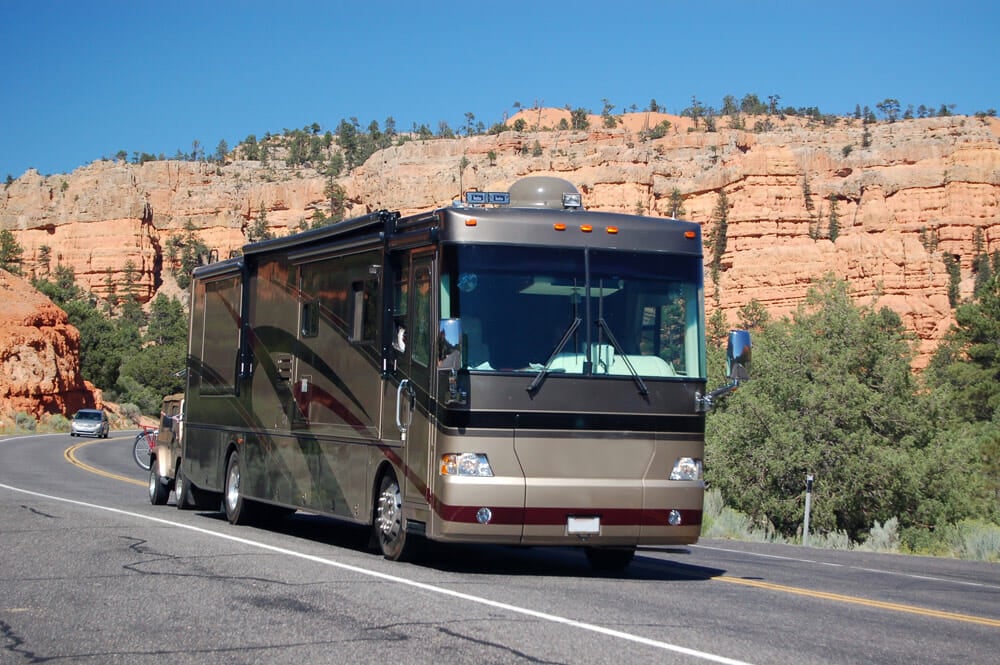 What is a Class A Motorhome?
Class A motorhomes are easily recognizable for their large size and bus-like appearance. They are built with a strong chassis and come in gas or diesel models which are known as "diesel pushers."
These motorhomes have ton of power, and can easily tow a second vehicle behind them.
There are a lot of reasons to get a large motorhome.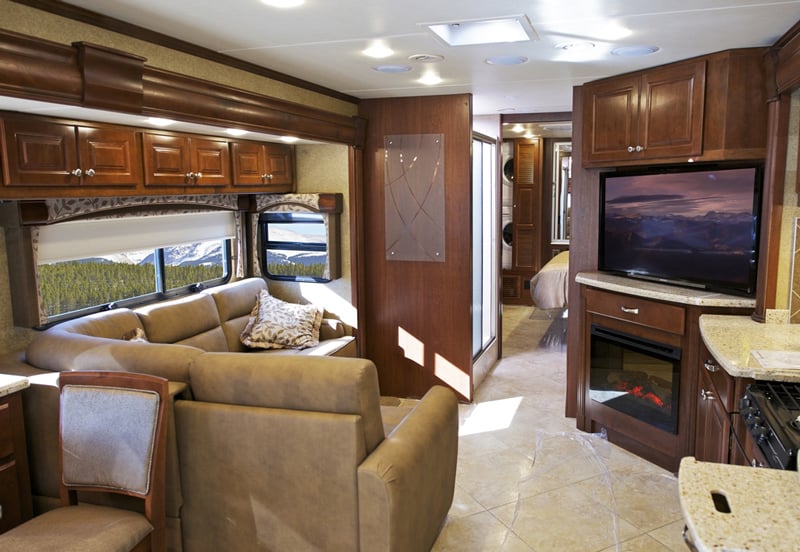 Class A Motorhome Features
Spacious and comfortable
Variety of floor plans and layout options
Residential amenities
Easy to pack up and drive away
Safe and secure for boondocking
Strong chassis
Power to tow an extra vehicle
Class A Motorhome Brands and Manufacturers In The USA
In the United States, there are currently 12 brands of Class A motorhomes, but there are only 5 manufacturers. Thor Industries and the Rev Group manufacture the majority of all Class A motorhomes.
Thor Industries

Entrega
Jayco
Thor Motor Coach
Tiffin

Forest River
Nexus
Rev Group

American Coach
Fleetwood RV
Holiday Rambler
Monaco Coach

Winnebago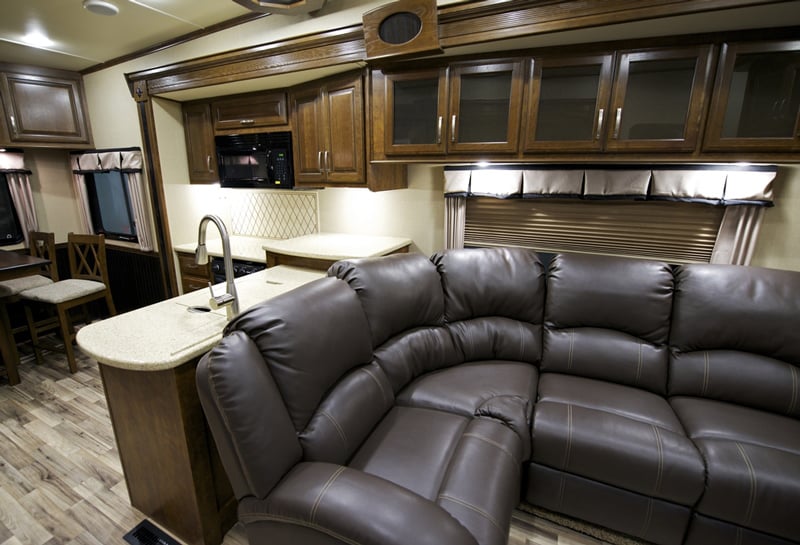 What are the Top Class A Motorhome Brands For The Money?
When it comes to value, these brands are consistently rated among the top choices according to full-time RV travelers.
Winnebago
Newmar
Tiffin
Coachmen
Forest River
Best Class A RV Motorhomes
There are plenty of Class A Motorhomes out there, but our favorite brands for your money include Winnebago, Newmar, Tiffin, Coachmen, and Forest River.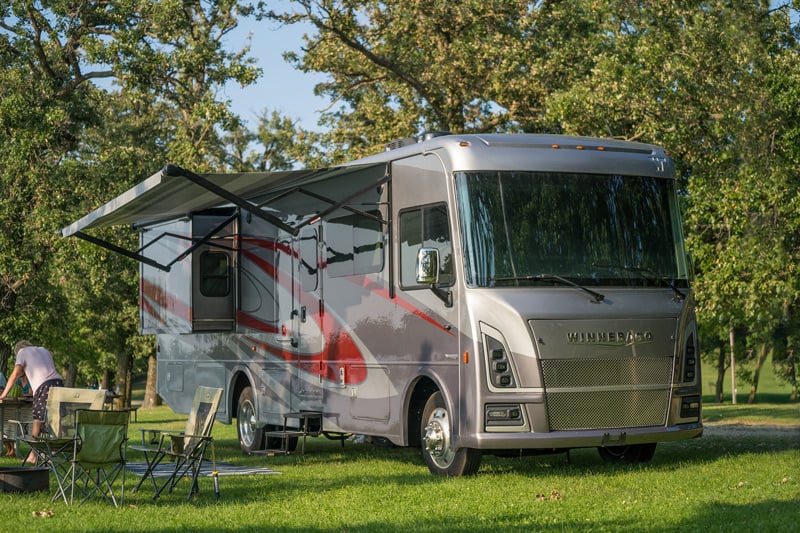 The Winnebago Vista makes the perfect small Class A motorhome for families that want to hit the road full-time but don't want to navigate a large, 45-foot camper.
The Vista model is only 28'5″ long and comfortably sleeps 5 passengers. It's priced on the lower end of the motorhome budget but still comes with plenty of premium features.
2 slide-outs are included in the floor plan to expand the master suite and living area for maximum comfort. A large dinette with seating for 4 combined with swivel captains chairs and sofa bed allow for lots of room for entertaining.
And if you're looking for something smaller, Wineebago also manufactures some of the best Class C RVs.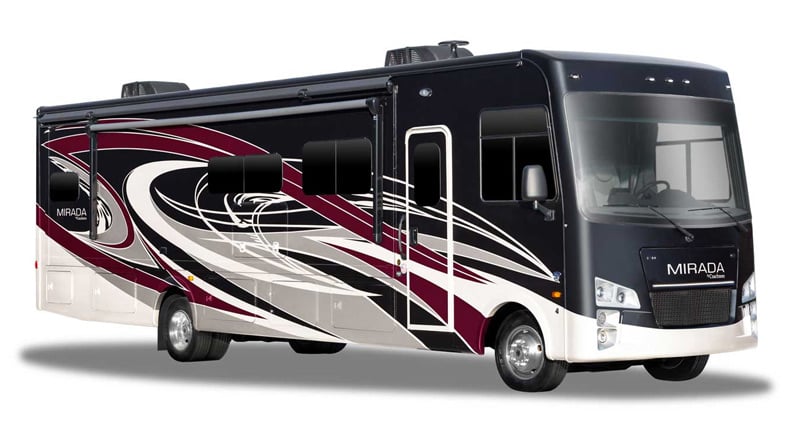 If luxurious accommodations for two travelers is what you're looking for, then the Coachmen Mirada is our top choice. The motorhome comes with five different layout options that each include a master suite big enough to fit a king sized bed.
The comfortable camper starts at $176,000 and includes features like cable or satellite television, an electric fireplace, reclining sofas, a large double-door refrigerator and more.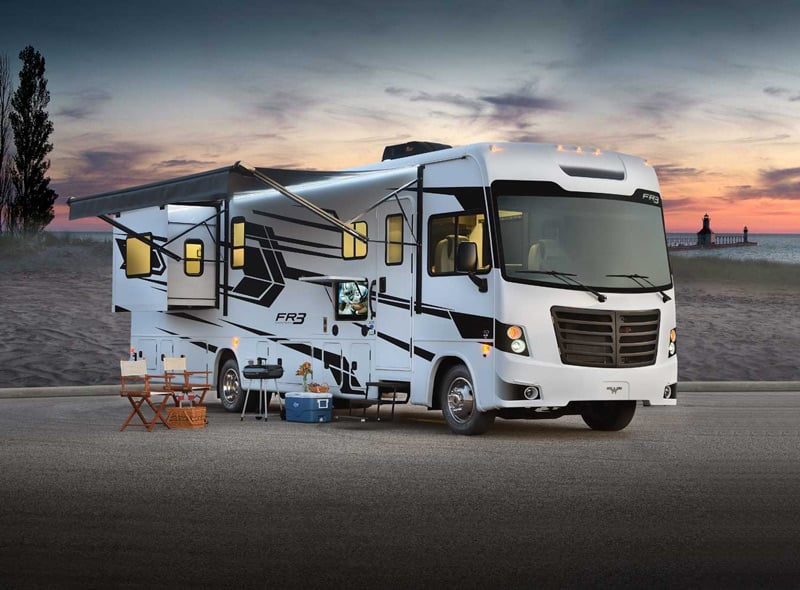 3. Gas-Powered Class A Motorhome: Forest River FR3
Those who are looking for a Class A Motorhome that runs on gas should look no further than the Forest River FR3. The bus comes with four different floor plans that each include 2-slides for added space.
The FR3 comfortably sleeps up to six passengers and comes with residential amenities such as a washer/dryer, theater seating, and multiple living areas.
Everything you need to hit the road comes included so can focus on camping rather than outfitting your new vehicle.

Tiffin Motorhomes may not be the cheapest, but they come with highly customizable options so you can truly make the camper your own.
Everything from the exterior color scheme to the interior materials and finishes can be customized to your style.
The Class A Motorhome comes with tile flooring, stainless steel appliances, a dishwasher, RV washer and dryer, porcelain toilet bowl, and flat panel televisions.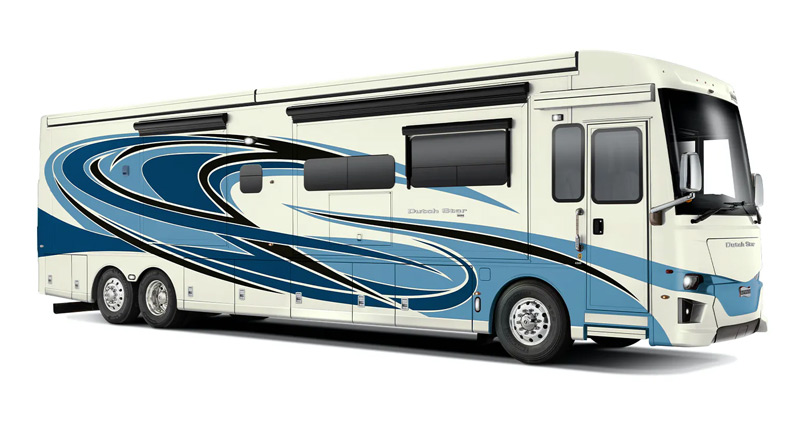 If you want to go camping without feeling like you're camping, then the Newmar Dutch Star is a motorhome that can't be overlooked.
The bus comes with multiple layout options including some that are wheelchair accessible!
One thing we love about this camper is the extremely spacious bathrooms. You'll find a large shower, washer/dryer, and two vanities all nestled within the master suite.
And when it comes to entertainment options, you can snuggle up alongside the electric fire watching satellite or cable television.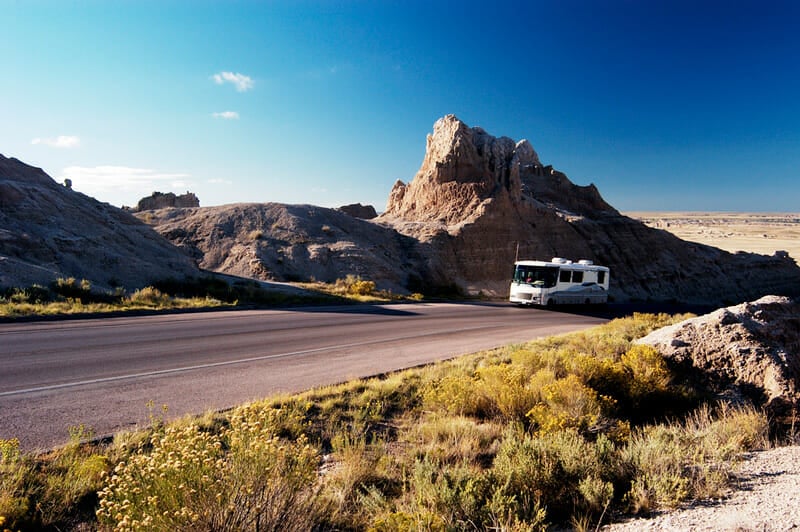 What To Look For In A Class A Motorhome
Chassis
Class A motorhomes are either gas or diesel powered. The gas engines are located in the front of the camper, whereas diesel engines are located in the back.
Number of Axels
Large, Class A Motorhomes come with single or DUAL rear axels. A single rear axel is referred to as the drive axel and includes four wheels (2 on each side).
A DUAL rear axel includes the drive axel (4 tires) plus an additional tag axel (2 tires) which supports extra weight behind.
Tow Hitch
The biggest Class A Motorhomes include a tow hitch on the back which can support passenger vehicles with either a tow bar or tow dolly.
This is the perfect way to bring along a secondary vehicle for quick trips to the grocery store or around town without having to pack up camp or worry about tight turns and height restrictions.
Exterior Storage Garage
The livable interior of a Class A Motorhome sits above the chassis which leaves you with plenty of space to store large items like generators, camping gear, and outdoor equipment like RV grills.
The exterior storage area accessible from the outside is known as the motorhome "garage" or "basement."
Slideouts
Slide-outs are a standard feature in large Class A motorhomes. Most buses have 2-4 slide outs which greatly increase the interior space.
Interior Features and Accessories
Class A Motorhomes come fully equipped with many of the same features and amenities you would find in a residential home.
In the kitchen you will find things like dishwashers, fully-functional sinks, stoves, ovens and microwaves.
The living room has space for recliners and loveseats, as well as a large TV and dining area. Up front, the captains chairs frequently come on a swivel to add additional seating.
Washers and dryers can be found in the closet to make you feel at home.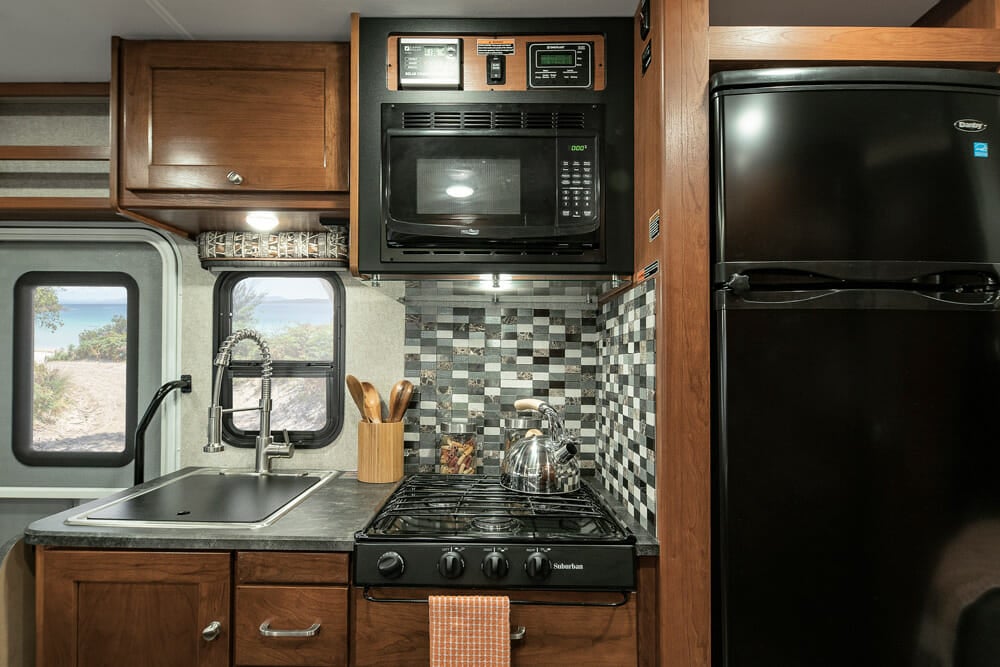 Water Tanks
Class A Motorhomes have the largest water tank capacity out of all the recreational vehicle types.
That means you can take long showers and spend even more time dry camping without having to drive back to town.
Frequently Asked Questions
How wide is a Class A Motorhome?
The standard body width ranges between 8'2″ to 8'6″. Class A Motorhomes do not exceed 8'6″ wide including mirrors and other safety features.
How long is a Class A Motorhome?
Motorhomes range from 26′ to 45′ long. The maximum length of a Class A motorhome is 45 feet.
How much does a Class A Motorhome weigh?
The lightest Class A Motorhomes weigh 10,000 pounds, and the largest can weigh over 50,000 pounds.
Can a Class A Motorhome fit in National Parks and campgrounds?
How much does a Class A Motorhome cost?
The sky is the limit when it comes to these buses. A Class A motorhome starts at around $100,000 and can cost up to $500,000 or more!