The Most Efficient 12v Fridge Engel Portable Refrigerator Review
By
on
This post may contain affiliate links. As an Amazon Associate, I earn from qualifying purchases. Please read my full disclosure.
Engel is a company that has been making portable refrigerators that run well for a long time. They have a long line of portable fridge/freezers that open both from the top and from the side. The Engel models are some of the most simplistic looking designs with the focus on functionality. Because of their German motor, they are also one of the most efficient 12v fridge models on the market today.
For the purpose of this comparison, we will be focusing only on the top-open refrigerators Engel sells. Each of these refrigerators run off 12V 24V DC and 110V AC power. They can be used as either a refrigerator or a freezer, but do not have separate compartments to do both.
| Model | MT35F-U1 | MT45F-U1 | MT60F-U1 | MR040F-U1 |
| --- | --- | --- | --- | --- |
| Height, Width, Depth (in.) | 25.5 x 14.3 x 16 | 25.5 x 14.3 x 20 | 31.1 x 19.3 x 17.4 | 25 x 15.5 x 18.5 |
| Weight (lbs.) | 60 | 66 | 85 | 48 |
| Volume | 34Qt. | 43Qt. | 64Qt. | 40Qt. |
| Amp (12V) | .7 - 2.5 | .7 – 2.7 | .7 – 3.6 | .7 – 2.7 |
| Availability | Amazon | Amazon | Amazon | Amazon |
Features of the Engel Portable Refrigerator
Highly efficient
Built to last, Engel has our highest reviewed 3-year warranty. The motor in the Engel fridge is a German design, Japanese built swing motor. The compressor has only one moving part leaving it highly efficient with less to break. This is one of the most efficient refrigerators on the market.
Simple and Functional
The Engel refrigerator does not have all the bells and whistles that come with a brand like Dometic or ARB. They are simply built for functionality. The entire exterior of the refrigerator is built out of steel meaning it could fall off the back of a truck and still function properly.
There is a dial for temperature setting which is displayed digitally as well as a low-voltage cutout to prevent you from running completely out of batteries.
The power cord uses a tri-voltage system that will draw the correct amount of power whether you are using 12V 24V, 110V or 240V electric power.
Inside the fridge is a removable wire cage and interior lighting. This works great in dark and humid environments.
There is also a separator between the exterior walls and the internal food bin. That means if the interior gets damaged for any reason, you will not have to replace the entire refrigerator. There are no separation walls on the interior and all food will stay the same temperature.
View the Engel Portable Refrigerator
Considerations when purchasing an Engel Portable Refrigerator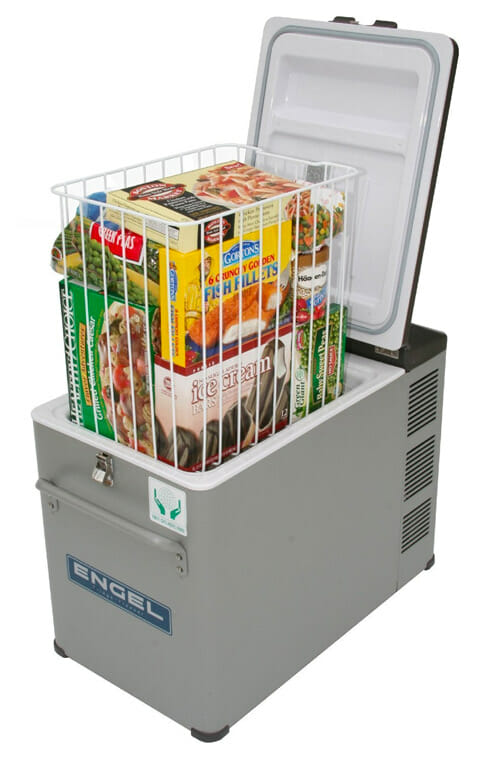 Weight
Engel refrigerators are solid and build to last. Their exterior is made out of steel making them the heaviest refrigerators on our list. Because the refrigerator is so heavy, you may not want to add this to a slider unless it's very sturdy.
Space Constraints
Because Engel refrigerators have a compressor added to the side of the interior compartment rather than on the bottom of it, the is less interior space compared to the external dimensions. The external dimensions also do not include the steel handles that are added to the side. Handles will add about 1.5" to each side when attached.
Older versions of Engel Refrigerators
The Engel brand has always made solid refrigerators so it is worthwhile checking out second-hand shops or craigslist for deals on less expensive models. Keep in mind that the compressor Engel uses did change just a few years ago.
The compressor in the older versions of the Engel refrigerators will not be nearly as efficient as the new swing-motor. Nonetheless, you will be getting a quality product with any Engel portable refrigerator.