National Parks In Indiana – What to See and Where to Stay
By
on
This post may contain affiliate links. As an Amazon Associate, I earn from qualifying purchases. Please read my full disclosure.
Indiana is considered the covered bridge capital of the world. If you take a road trip through Historic Parke County, you can find 32 covered bridges alone!
Even though it only shares 40 miles of shoreline with Lake Michigan, Indiana is a great lakes state. And when it comes to outdoor adventure, the Indiana Dunes National Park is a must-see destination.
The state is also home to President Lincoln's boyhood cabin, a historic park commemorating George Rogers Clark, and a portion of the Lewis and Clark Historic Trail. Keep reading to learn more about each park, things to do in the area, pet policies, and nearby campgrounds.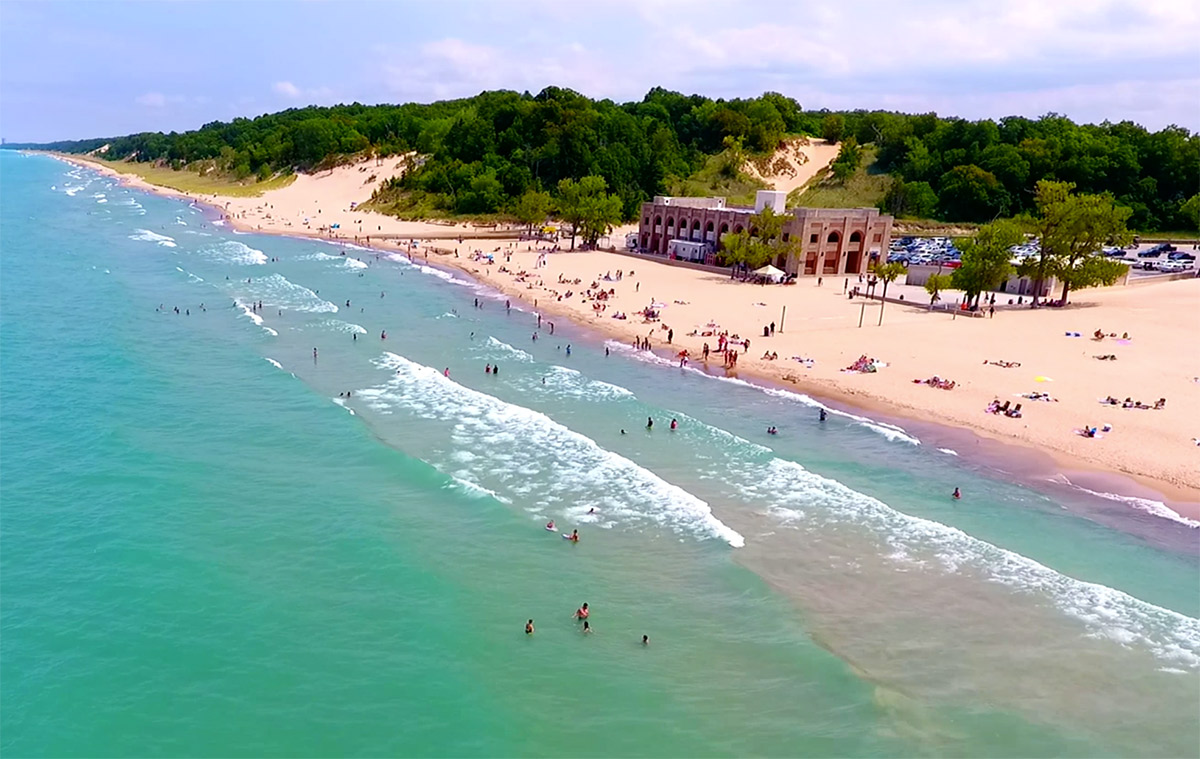 What National Parks are in Indiana?
There are two National Parks in the state of Indiana:
Indiana Dunes National Park
George Rogers Clark National Historical Park
There are also two commemorative sites in Indiana. National Historic Trails recognize original trails or routes of historical significance:
Lincoln Boyhood National Memorial
Lewis and Clark National Historic Trail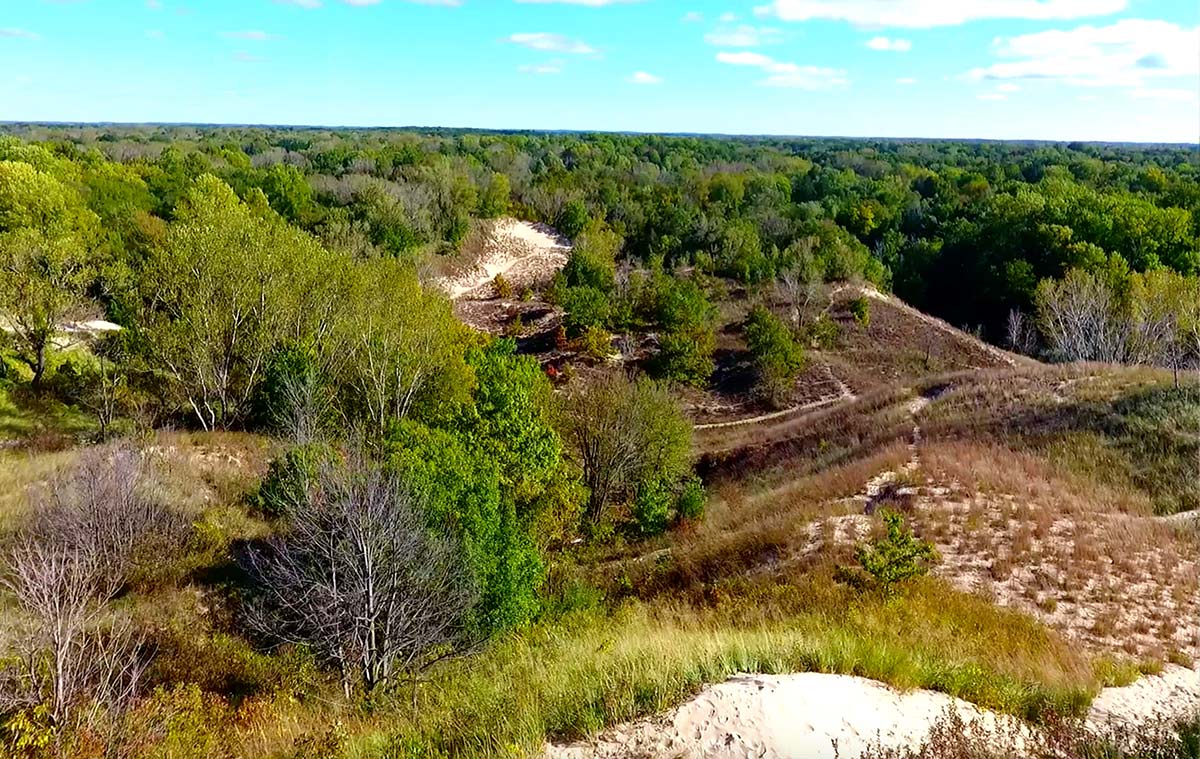 Indiana Dunes National Park
The Indiana Dunes National Park is located in Porter, Indiana. This is on the far north side of the state stretching 15 miles along the Lake Michigan shoreline.
At the park, you'll find over 50 miles of hiking trails that run by rivers, forests, wetlands, and sunny sand dunes. Picnicking and swimming at one of the park's eight beaches is a popular activity for families and groups of friends.
Indiana Dunes is also a fantastic location for identifying rare species of birds, and it's extremely pet-friendly. Dogs are allowed on almost all trails and beaches as long as they are on a leash.
Things to do at Indiana Dunes National Park:
Hiking
Swimming
Picnic on the beach
Fishing and paddling
Birding
Geocaching
Ride horses on the equestrian trails
Biking
Camping (April 1 – October 31)
Snowshoeing and cross country skiing
Fees: Parking is free at all of the beaches with the exception of West Beach during summer. The parking spots fill up quickly during weekends and peak swimming season.
Pets: This park is very dog-friendly. You can take your pet on nearly all trails and parts of the park with a few exceptions. Pets are not allowed in the lifeguard area of west beach, on the equestrian portion of the Glenwood Dunes Trail, or on the Pinhook Bog Trail.
Camping: Dunewood Campground is located within the National Park just 1.5 miles from the beach. There are 67 campsites suitable for both RVs and tent camping. Half of the sites can be reserved and the other half are available on a first-come, first-serve basis. There are restrooms and showers at the campground but no electric or water hookups. The campground also lacks an RV dump station.
Shuttle bus: On weekends during the summer months, a free shuttle bus is available to ride from the campground to the beaches. You can also make stops at Marquette Park, the Miller Train Station, The Douglas Center, and Lake Street Beach.
Things to do near Porter, Indiana
Nearby in the town of Porter, you can find a variety of restaurants and small shops. In addition, some of the main attractions to visit in the area are:
Indiana Dunes State Park (walking distance)
Portage Lakefront and Riverwalk (15 minutes west)
Miller Beach (20 minutes west)
Chicago, Illinois (1 hour northwest)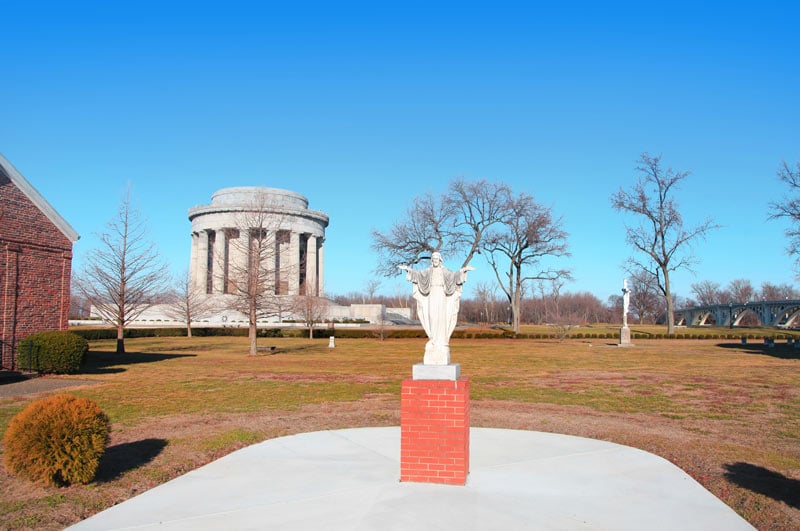 George Rogers Clark National Historical Park
The George Rogers National Historic Park is located in southwest Indiana, next to the Wabash River. This is a small National Park consisting of a visitor center, a few monuments, statues, and a picnic area.
Most visitors spend approximately 1 hour at the park.
Who Is George Rogers Clark?
George Rogers Clark was a lieutenant colonel who captured the British-held village of Vincennes in 1779.
This memorial was established in the 1920s commemorating George Clark's success for the 150th anniversary of the revolutionary war. He effectively captured claims to the frontier, an area almost as large as the 13 original colonies.
When you visit the center you'll learn about the history of the area, how it was built, and what life was like living in the Pullman District. There is also a 30 minute film explaining the life of George Rogers Clark.
District Surrounding the Pullman National Monument
Within short walk around the nearby town of Vincennes, you can find:
Restaurants
Campgrounds
State Historic Sites
The Old Cathedral
Shops
Antique stores
Pets: You can take your leashed pets on the walkways around the visitor center and memorial but they are not allowed in any of the buildings.
Camping: There are no campgrounds at the National Historic Park, but the Ouabache Trails Park in Vincennes has campgrounds for both tent and RV camping.
Things to do Nearby
Lincoln Boyhood National Memorial (1 hour southeast)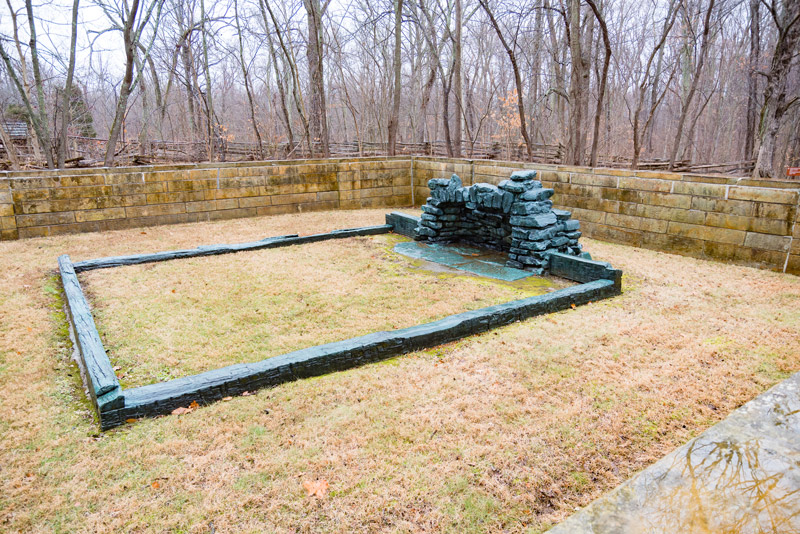 Lincoln Boyhood National Memorial
If you're traveling through southern Indiana, you'll find the Lincoln Boyhood National Memorial in Lincoln City. President Abraham Lincoln lived there as a child before becoming the 16th President of the United States.
Most travelers spend between 1–3 hours visiting the memorial site. You can watch a film about Lincoln's early life at the visitor center, then take a short hike to the old cabin he used to live in.
One of the main attractions at the memorial is the Living Historical Farm. It is a recreation of a typical 1820s Indiana Farm; complete with livestock, gardens, and outbuildings. This is a fun place for families to watch demonstrations of quilt-making, splitting rails, cultivating fields, and other farming activities–every day is different!
Outside of the memorial, there are two miles of trails that are pet-friendly and open year-round for short hikes.
Things To Do At The National Memorial
Watch a film at the Memorial Visitor Center
Hike to Pioneer Cemetary
Visit Nancy Hanks Lincoln's burial site
Walk to the Cabin Site Memorial
Experience the Lincoln Living Historical Farm
Pets: Pets are allowed on the nature trails and hiking trails outside.
Camping: There are no campgrounds at the national memorial, but just a short drive to the east will lead you to the Hoosier National Forest. There are both free campsites, and developed campgrounds in the National Forest.
Cities Nearby:
Louisville, Kentucky (1 hour east)
Nashville, Tennessee (2 hours, 30 minutes south)
Indianapolis, Indiana (3 hours north)
St. Louis, Missouri (3 hours west)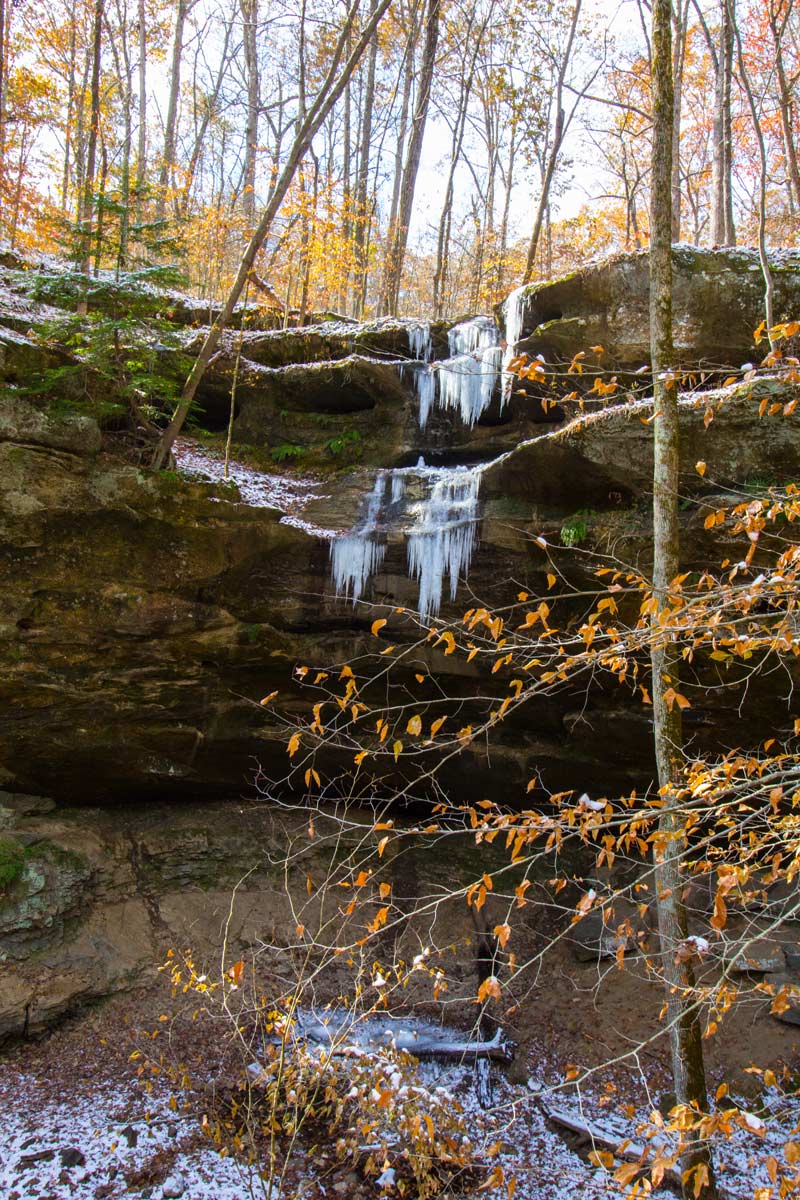 Lewis and Clark National Historic Trail
The Lewis and Clark National Historic Trail crosses 16 states including Indiana. The main park headquarters are located in Omaha, Nebraska but you can take an auto tour through Southern Indiana and visit a few points of interest.
If you hike or drive along the Historic Trail, you'll be following in the footsteps of Lewis and Clark as they made their historic expedition across 4,900 miles of the US. In Indiana, you'll pass by the Lincoln Boyhood Memorial and travel through Evansville and Henderson.
Pets: Leashed dogs are allowed on public sections of the trail along the Lewis and Clark Historic Trail.
Camping: The Hoosier National Forest is prominent in Southern Indiana. You can find free, primitive campsites located there as well as paid campgrounds with amenities.
Indiana National Parks
Indiana may not be well-known for its National Parks, but the Indiana Dunes is a must-see pitstop if you're in Northern Indiana. To the south, the Lincoln Boyhood Memorial, George Rogers Clark Monument, and Lewis and Clark Trail are also great places to stop.
National Parks In The Surrounding Area