National Parks In Ohio – What to See
By
on
This post may contain affiliate links. As an Amazon Associate, I earn from qualifying purchases. Please read my full disclosure.
Ohio may be densely populated, but you can still find outdoor adventures including miles of hiking trails, mountain bike routes, camping opportunities, and places to paddle in the state.
You can also find a number of historic sites, parks, memorials, and trails dedicated to some of Ohio's most memorable events.
There is one National Park in Ohio. There are also 10 sites affiliated with the National Park Service.
National Parks In Ohio
Cuyahoga Valley National Park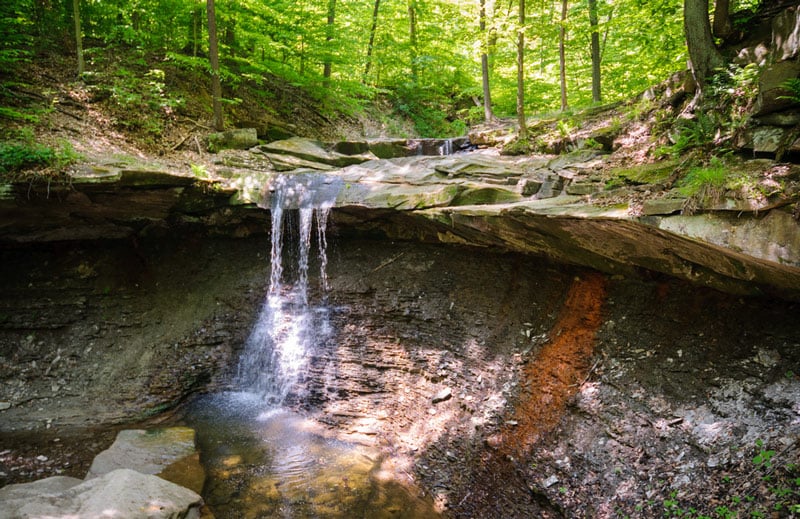 Cuyahoga Valley National Park
Located only 30 minutes south of Cleveland on the Cuyahoga River, is the Cuyahoga Valley National Park. This wildlife refuge feels as if it's worlds away from the bustling city to the north.
At Cuyahoga you can find dense forests, rushing waterfalls, rolling hills, and a variety of plant and wildlife species. It's the perfect refuge for someone who wishes to escape from the great outdoors. The park itself covers over 32,000 acres and was originally deemed a National Recreation Area. That changed in the year 2000, when it became Ohio's first and only National Park.
Despite being so close to the city, this park has a surprising number of outdoor adventures to pursue.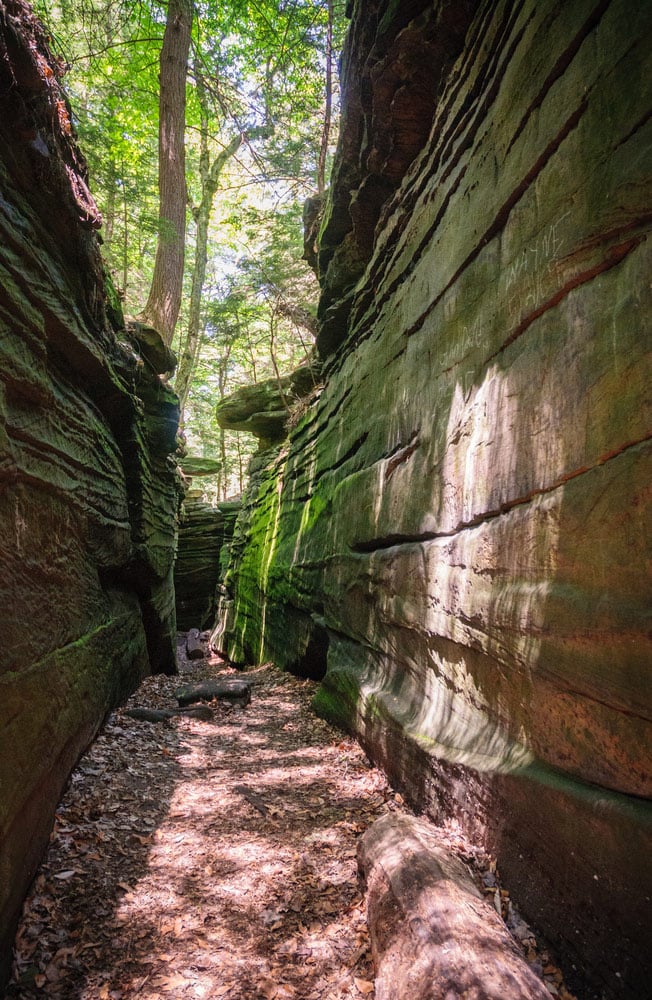 Hiking is probably the most popular activity. Cuyahoga has over 125 miles of trails ranging from short, 0.5 mile walks to 19.5 mile treks. Many of the trails involve hilly and rocky terrain which gets muddy after a good rain shower. However, there are a few trails that are flatter, and lined with crushed limestone which makes for a great place to walk your dog, or go for a bicycle ride.
Mountain biking is another popular activity within Cuyahoga National Park. The trails along the east rim offer challenging terrain as well as spectacular views. Most bike trails are designed for the moderate or intermediate level bikers with the longest loop stretching 9.9 miles.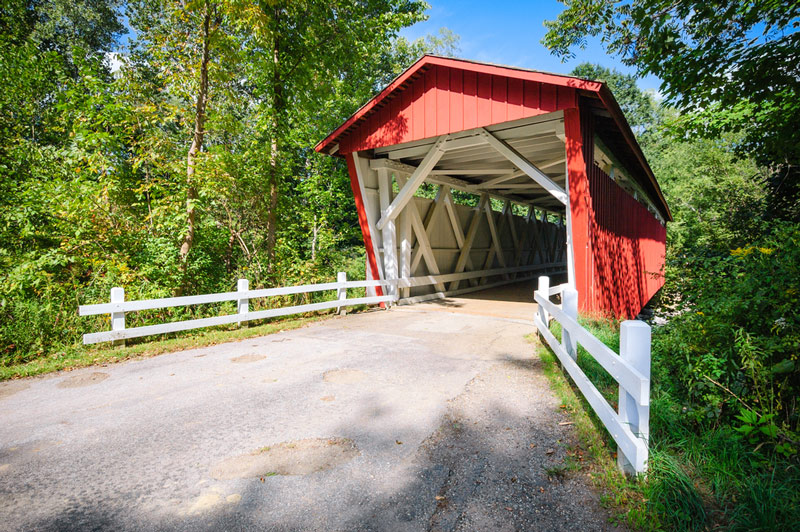 Riding horses on the equestrian trails, backpacking, picnicking in the park, and even golfing are some other things to do. There is also a 2.5 hour scenic trail ride you take take aboard the Cuyahoga Scenic Railroad!
For those who like water activities, paddling down the Cuyahoga river is the perfect activity for families. While the park service doesn't offer watercraft rentals, you can rent a boat in some of the surrounding communities.
In the winter, snowshoeing, cross-country skiing, sledding, and ice fishing are dominant activities.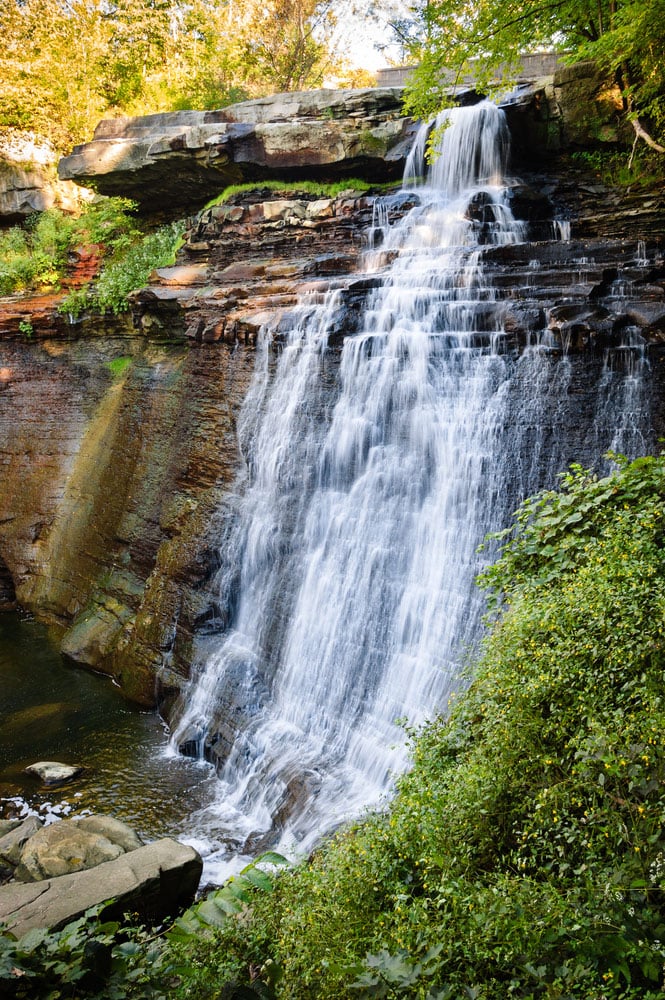 Camping
Unfortunately, there are no campgrounds within Cuyahoga National Park. Backcountry camping in the area is also prohibited. The best place to find camping outside of the park is at the following locations:
Pets
Cuyahoga is a dog-friendly National Park with over 110 miles that leashed pets are allowed to walk on. Dogs are not allowed in any of the park's buildings or on the East Rim mountain bike trails.
Ohio National Park Affiliated Sites
Charles Young Buffalo Soldiers National Monument
David Berger National Memorial
Dayton Aviation Heritage National Historical Park
Fallen Timbers Battlefield and Fort Miamis National Historic Site
First Ladies National Historic Site
Hopewell Culture National Historical Park
James A Garfield National Historic Site
National Aviation Heritage Area
Perry's Victory And International Peace Memorial
William Howard Taft National Historic Site
Charles Young Buffalo Soldiers National Monument
Located in Xenia, Ohio, this National Monument commemorates the accomplishments of Charles Young who, despite many obstacles along his path, was able to rise to prominence through his unwavering devotion to duty.
Young was an escaped slave who fought in in the Army as one of its Buffalo Soldiers and ultimately became the first African-American colonel in the U.S. Army.
This museum celebrates his life, accomplishments, and contributions that continue to affect our nation. Today, visitors enjoy the ability to watch living history unfold as they explore this monument and guided tours of Young's home.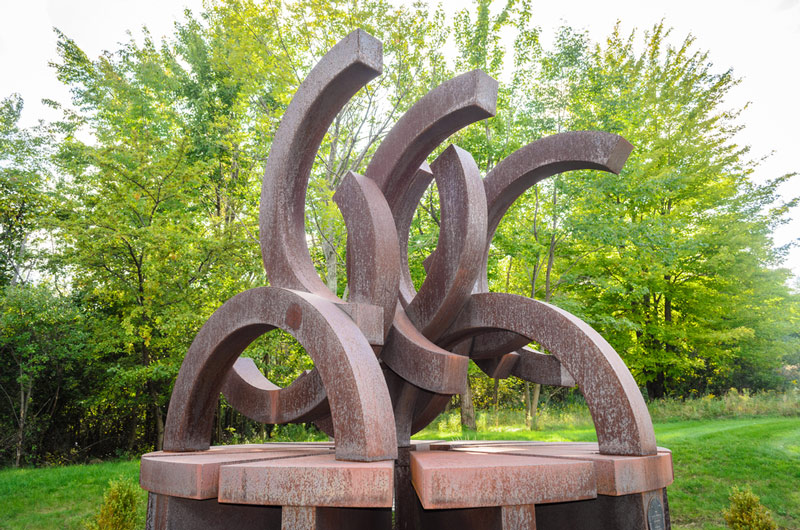 David Berger National Memorial
In 1972, 11 Israeli athletes were murdered at the hands of a Palestinian group, Black September, who broke into the Olympic compound seeking the release of Palestinians who had been jailed in Israel and Germany.
Among those killed in the ensuing tragedy that has been identified as the Munich Massacre, was David Berger, an American athlete on the Israeli team.
The National Memorial is a sculpture in the form of the five Olympic rings that had been broken in half. The sculpture's intent is to symbolize the interruption and cancelling of the Munich games as a response to the tragedy.
Dayton Aviation Heritage National Historical Park
The history of flight around the world begins in Dayton, Ohio where you will find the Dayton Aviation Heritage National Historical Park. There is no entrance fee for this park where you can go to learn all about the failures, successes, and birth of flight that occurred on these very grounds.
While exploring the park you can learn about the families that made modern flight possible through oral histories and storytelling as well as through photographs and more.
Popular attractions include the Wright-Dunbar Interpretive Center and the Wright Cycle Co. Bike Shop as well as the Paul Laurence Dunbar House Historic Site.
Fallen Timbers Battlefield and Fort Miamis National Historic Site
The Battle of Fallen Timbers in 1794 was one of the culminating events as Americans sought western expansion and dominance in the Old Northwest Territory. This happened even though the official boundaries were not settled upon until the War of 1812, when the disputes were finally resolved.
Fort Miamis was constructed by British forces supporting the Indian Confederation's efforts against America at the time. Visitors can learn about the major players in these events including General Anthony Wayne, Chief Michikinikwa, Chief Blue Jacket, Chief Bukongahelas, and Tecumseh.
The National Monument itself, is a 10-foot bronze statue depicting General Wayne with a settler on his left and an Indian guide on his right.
First Ladies National Historic Site
Located in Canton, Ohio, this particular National Historic Site involves two properties, the home of First Lady Ida Saxton-McKinley and a visitor center where you can watch a film and see an exhibit.
The site seeks to educate visitors about the evolving and increasingly public roles of first ladies throughout U.S. history. In addition, the site explores what it means to be a First Lady, the remarkable women who have served as First Ladies throughout the nation's history and includes multimedia images and photographs of first ladies past and present.
Hopewell Culture National Historic Park
Built by Native Americans some 2,000 years ago, the Earthen mounds at Hopewell Culture National Historic Park were once gathering locations for feasts, funerals, and various rites of passage for those who built the mounds as well as those who came along after them.
The park also includes an active archeology program to study the history and culture of this culture that is not as widely known and recognized as so many others.
There are active efforts underway to have this site names a World Heritage Site so that more people are encouraged to learn the history of the Hopewell Indians.
James A. Garfield National Historic Site
James A. Garfield took his front porch seriously. It is obvious that he was proud of his porch when you first visit the home where he greeted visitors throughout his Presidential campaign in 1880.
Today, this porch represents a fitting introduction to the story of President Garfield told through a tour of his home. Guided tours are available for those who make the trip to this National Historic Site as well as virtual tours online which are suitable for today's interactive classroom environment.
Visitors can enjoy a site movie that lasts 18 minutes and a ranger-led Google 360 tour that lasts approximately 40 minutes.
National Aviation Heritage Area
Ohio has a rich history when it comes to American aviation and is widely known to be the birthplace of modern aviation.
The purpose of the National Aviation Heritage Area, designated by Congress in 2004, is to honor the invention of the first aircraft in history. And also to recognize the continued development and innovation within the fields of aviation and aerospace technology.
The NAHA is located in Southwest Ohio and managed by the National Aviation Heritage Alliance. It is open to the public for education and to offer inspiration alike.
Perry's Victory and International Peace Memorial
The War of 1812 had an important impact on the state of Ohio and ensuring lasting peace between Canada, Great Britain, and the U.S.
Perry's Victory and International Peace Memorial is a monument honoring those who fought in the Battle of Lake Erie and a testament to that lasting peace as it stands five miles from the longest undefended border in the world. The monument itself is a Doric column standing 352 feet tall and overlooking Lake Erie.
William Howard Taft National Historic Site
Located in Cincinnati, Ohio, the childhood home of William Howard Taft is now a National Historic Site.
The Greek revival home is located in the historic Mount Auburn area of Cincinnati and many believe the home, and the family who lived there, did much to shape the philosophy, character, and dedicated servant President (and Chief Justice) Taft would become of the United States.
The park is free to visit, is located at 2038 Auburn Ave. in Cincinnati, and sees some 20,000 visitors each year.
National Trails In Ohio
Lewis & Clark National Historic Trail
North Country National Scenic Trail
National Parks In The Surrounding Area