KOA Campgrounds: What To Know Before You Go There
By
on
This post may contain affiliate links. As an Amazon Associate, I earn from qualifying purchases. Please read my full disclosure.
KOA stands for Kampgrounds of America, a chain of nearly 500 campgrounds in the United States and Canada. Each KOA campground is unique, and each is owned by a distinct family or group of people.
Some are near state parks, and almost all are conveniently positioned off major highways, allowing anybody traveling to access them.
Almost every KOA allows pets and has a dog park. KOA campgrounds also provide organized seasonal activities and accommodate the specific needs of each family member.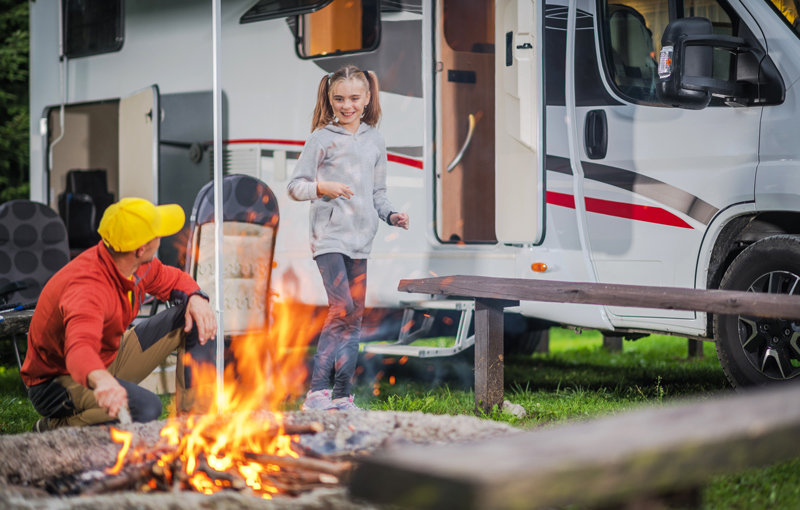 KOA Campground Lodging
RV Sites
These sites are available in lengths ranging from 10 to 99 feet, with a variety of hook-up options. Some Koa campgrounds provide the exclusive KOA PATIO, which includes tent camping, a fire pit, and plenty of seating.
KOA Camping Tents
Tent camping areas are available at practically every KOA. They come standard with a picnic table, fire pit, and some sites even have special amenities like a swing.
Camping tent areas are the ideal setting for travelers who want to be immersed in nature without the pressure of planning in an unknown area.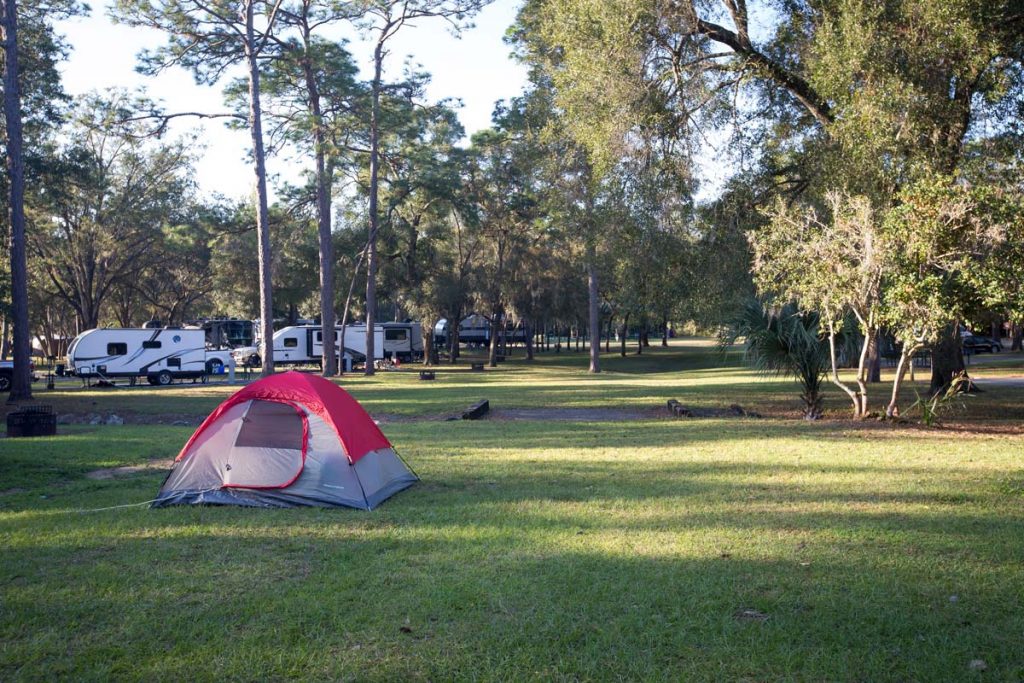 KOA Brand Cabins
Many travelers might be surprised to find that you can rent glamping cabins at KOA campgrounds. In these types of cabins, you will have a choice of facilities depending on the site.
Cabin for Camping
There will be a bed and a bunk bed in these cabins, but no restroom or kitchen. Some will include a microwave, a small refrigerator, or both. They have power, heat, and air conditioning through window units.
A grill and/or a fire feature are also included. Some camping cabins have a two-room layout, giving you a wide variety of choices and letting you pick what's best for your camping trip.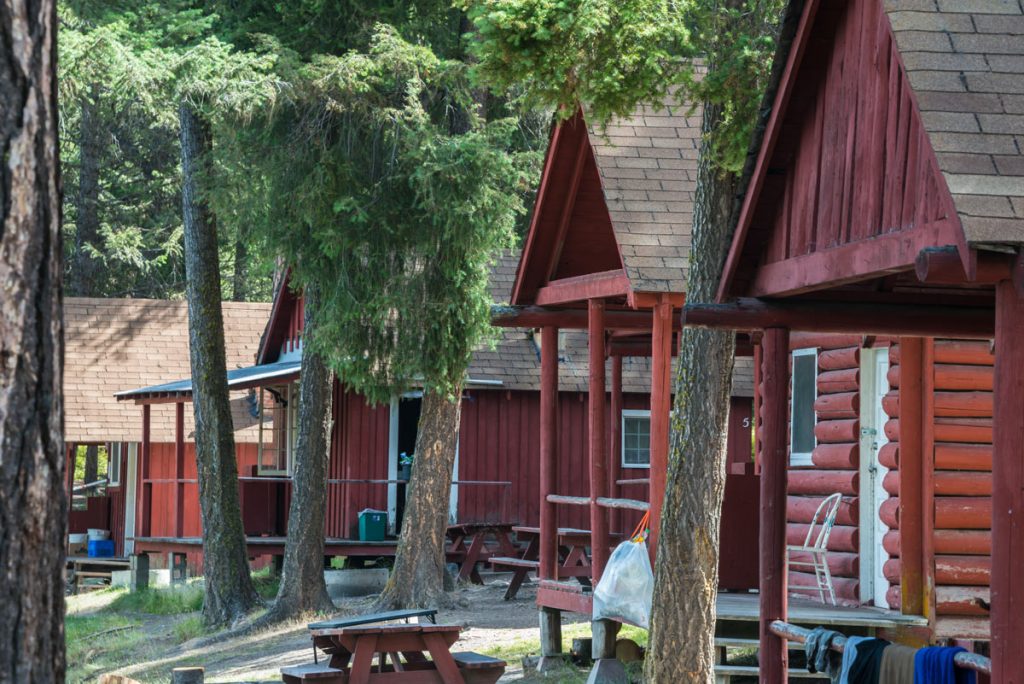 Deluxe Cabin
Campers love Koa campgrounds for the comfort it provides in their deluxe cabins. The size of the cabins varies, but most, if not all, have a bathroom and a shower on the interior.
Some cabins offer a full kitchen with all of the culinary gear you'll need to prepare meals. A gas grill may be included for outside cooking. The Koa campgrounds are specifically designed with all amenities you might need when renting the deluxe cabin.
Deluxe cabins feature separate bedrooms or a loft area above the living room, which is ideal for little children who need their own space. The deluxe cabins come with a wide porch or deck where you can sit outside and watch the dawn or sunset.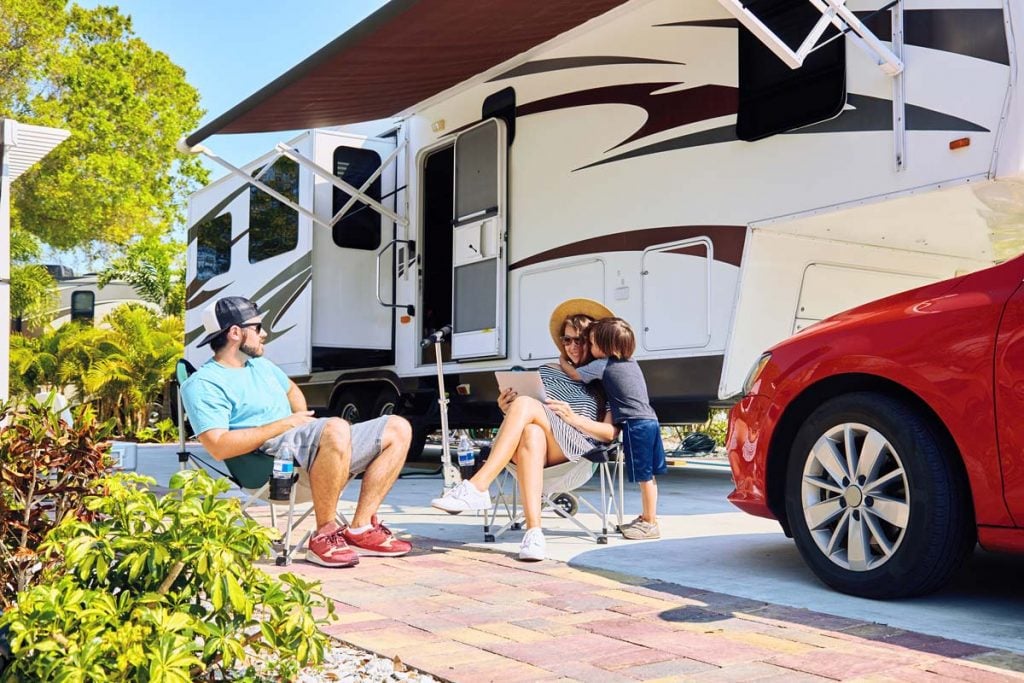 Different Types of KOA Campgrounds
There are three different kinds of KOA campgrounds. Each has its own set of amenities, although they all provide RV sites, restrooms, showers, and most also have tent sites.
Journey, Holiday, and Resort KOAs are the three types of privately-owned campgrounds.
KOA Journey
These are the simplest of the Kampground of America, but they still have a lot to offer! Cabins for families of all sizes are available, and they almost always include a fire pit and a place to sit outside.
KOA Journey Campgrounds are often found between major destination cities, making them a wonderful place to stop on the way.
Tent sites cost roughly $30 per night, cabins without a bathroom but close to amenities cost $55, and luxurious cabins cost around $100. The cost of an RV spot starts at roughly $50.
KOA Family Holiday
If you're looking to establish a base camp while exploring a nearby city, then the KOA Family Holiday Campgrounds are your best option.
There will be renovated Deluxe Cabins available, as well as large patio sites for RV enthusiasts. The facilities will be updated as well, and these campgrounds will be ideal for families looking for family-friendly options near major tourist destinations.
Tent site prices cost as little as $30 per night, but larger cabins, which are normally priced around $125 and above, are available.
You can find cabins that can accommodate up to eight people, making them an excellent value for money for families traveling together. Access to the private KOA PATIO, which will cost roughly $95, is available to all RV enthusiasts.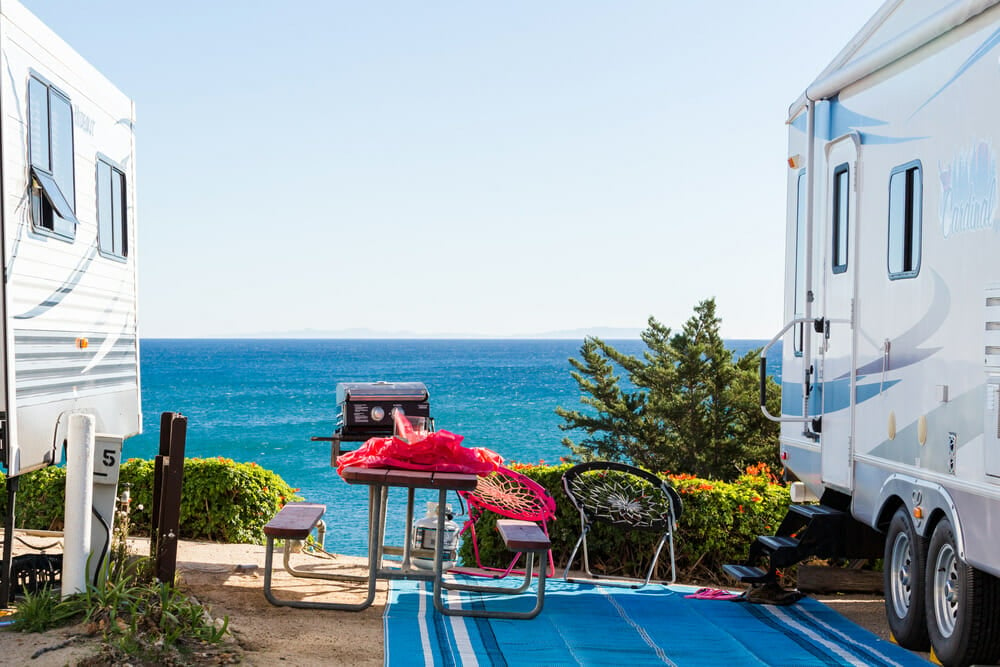 KOA Resort
As a truly luxury stay, these live up to their title. KOA resort campgrounds are in and of themselves destinations.
You won't have to leave the KOA to take advantage of world-class amenities like on-site restaurants, coffee shops, gyms, and basketball/tennis courts. Make sure to book these cabins and RV sites as soon as possible because they sell out rapidly.
What To Know Before KOA Camping
When it comes to camping destinations across the country, KOA RV Parks are a popular option. With over 500 parks around North America, there's bound to be one near you or your next vacation spot.
Despite their good reputation among campers, some RVers regret their time at one of these campgrounds.
We'll share some of the regrettable experiences from people who stayed at KOAs across the country recently.
1. They're a bit pricey
When a park has full hook-up sites and several amenities, it usually comes at a higher cost. When staying at a KOA, you can also expect to pay a premium. The cost of a night at a KOA varies from one to the next, although it often ranges from $30 to $100.
You may pay considerably more if you stay in a popular location or during peak season. You might be able to get a cheap motel for less than a night at a KOA RV park in some places.
When you stay for several nights, the prices might rapidly pile up.
2. The locations for tent camping are close together
You could also spend an arm and a leg on a suffocating location. In densely populated areas, you may have little space and privacy. It may even be impossible for you to enjoy a campfire since you are too near to your neighbors.
The KOA RV park's business line benefits from cramming as many RVs into the campsite as possible, but it might leave you feeling like an unhappy camper.
3. There are numerous rules at tent sites
There are a number of rules in KOAs. Upon your arrival, they'll usually provide you with a copy of the list.
While rules might assist guarantee that everyone has a pleasant time, many RVers believe that KOAs have too many rules.
If you don't like constraints, staying at a KOA may be a mistake.
4. Extra charges for additional vehicles and individuals
You can also regret staying at a KOA RV park because of the additional expenses. It can feel like they're nickel-and-diming you when you're already paying a premium for your site.
That's A Wrap!
KOA cabins are offered at most parks for campers who want to dip their toe into the camping environment before taking the plunge. Bunk beds, electricity, and a covered porch are included in the basic cabins.
For a bathroom, kitchenette, furnishings, and a fire pit upgrade to a luxury cabin. Experienced RVers are aware of their parking options or whether they choose a pull-through or a back-in space. Make sure the campsite has spots wide enough for a big rig when making reservations.