Glamping vs Camping: Biggest Differences and What To Expect
By
on
This post may contain affiliate links. As an Amazon Associate, I earn from qualifying purchases. Please read my full disclosure.
Now that summer is in full swing, many travelers are making plans for vacation. For some, that means packing up the car and heading to the nearest campground.
But what if camping isn't really your thing? Maybe you're more of a glamping kind of person.
Glamping combines all of the comforts of home with none of the hardships commonly associated with camping.
Here's a quick rundown of the biggest differences between these two popular accommodation types.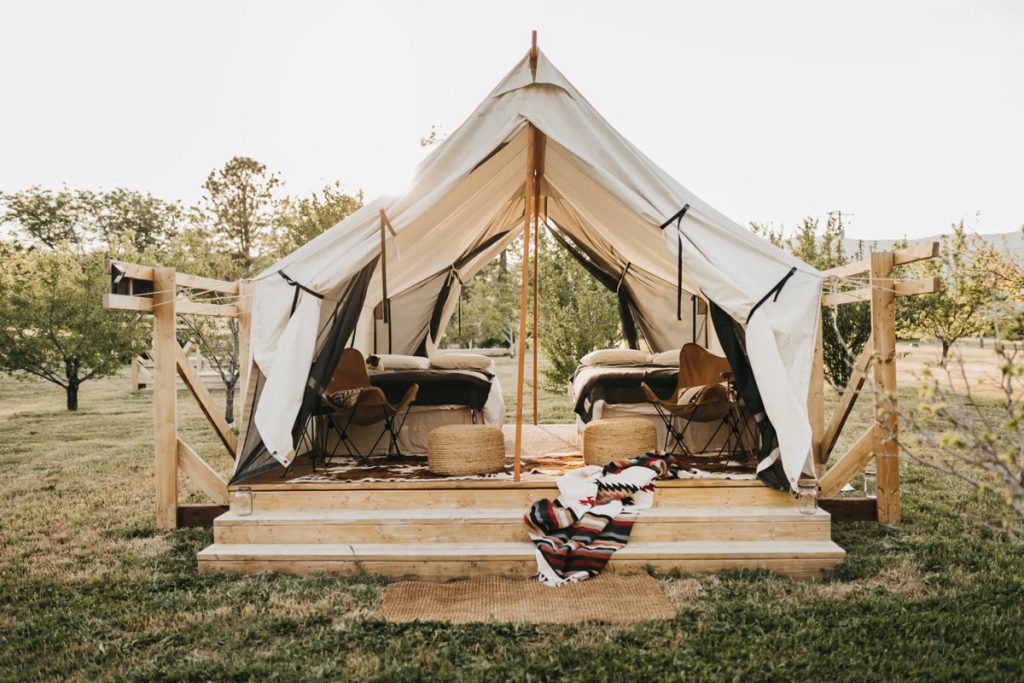 Camping & Glamping Accommodation Types
When most people think of camping, a typical tent in the woods comes to mind. RVs, small travel trailers, and even hammocks sometimes fall into this category as well. Either way, chances are good that if you're going camping you are roughing it.
Glamping on the other hand, covers a wide variety of overnight stays. The most common accommodation types are:
Yurt tents: Spacious, circular tent made of wood and covered in fabric. The design originated in Mongolia.
Geodesic domes: Modern dome structure designed using iron, wood and canvas.
Pods: Wooden huts with a solid, domed roof which are protective against wind and other elements.
Treehouses: Small cabins built above the ground on stilts or using a large tree for support.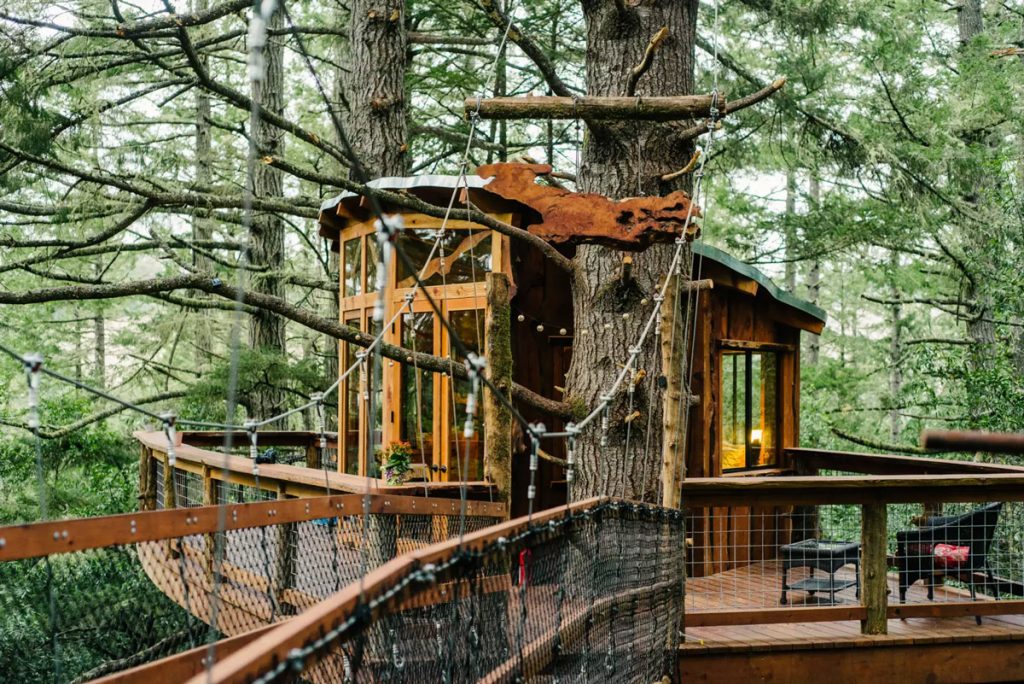 Safari tents: Large canvas structure that is built using a framework of poles and typically has a hard floor.
Tipis or teepees: Wood poles wrapped in durable canvas to create a comfortable and portable tent. Originated from the Native Americans.
Bell tents: Cotton canvas tent designed with a simple structure and central pole.
Igloos: Insulated homes built using blocks of snow. Originated by the Inuits.
A-frame cabins: Small camping cabin with steep, angled sides.
Tiny homes: A catch-all phrase for tiny living accommodations consisting of 1-3 rooms. These are often built on a trailer, inside a shipping container, or as an accessory dwelling unit.
As you can see, glamping is more of a catch-all term for anything that is more comfortable than sleeping on the ground in a thin tent.
If you're glamping for the first time, then it's important to know that there's a lot more differences than the structure.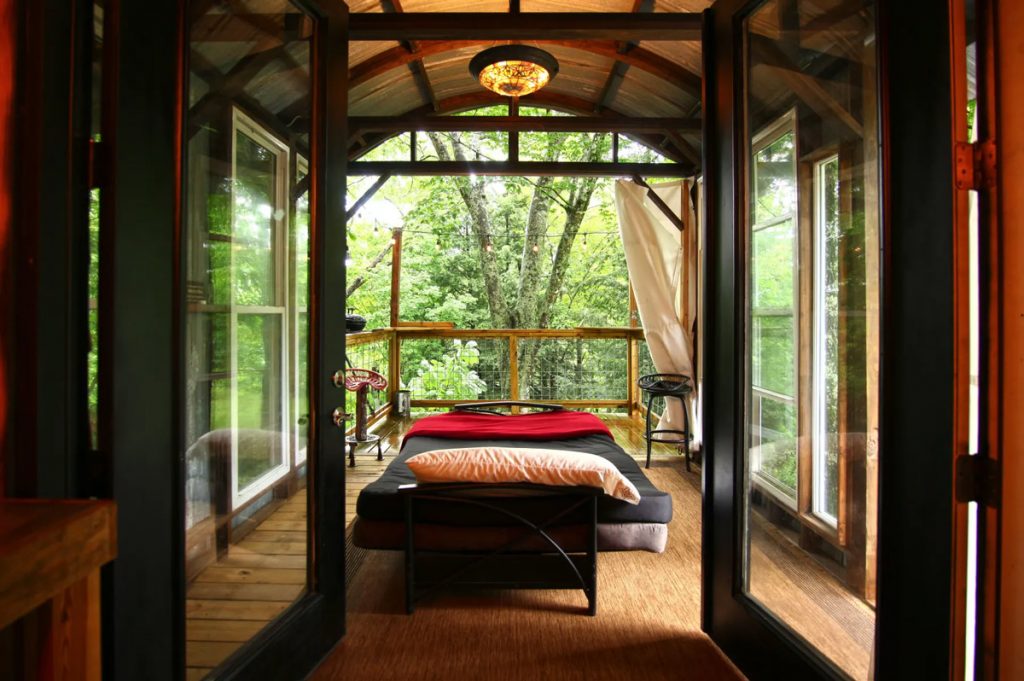 Sleeping Styles
Tent camping involves sleeping directly on the ground. If you're lucky, you might get a more comfortable ground pad or even a cot. But glamping is a lot more comfortable.
The typical glamping site comes with a standard mattress, comforter, pillows, sheets, and additional blankets.
Most glamping sites have queen-sized or even king-sized mattresses which are raised off the ground just like your bed at home.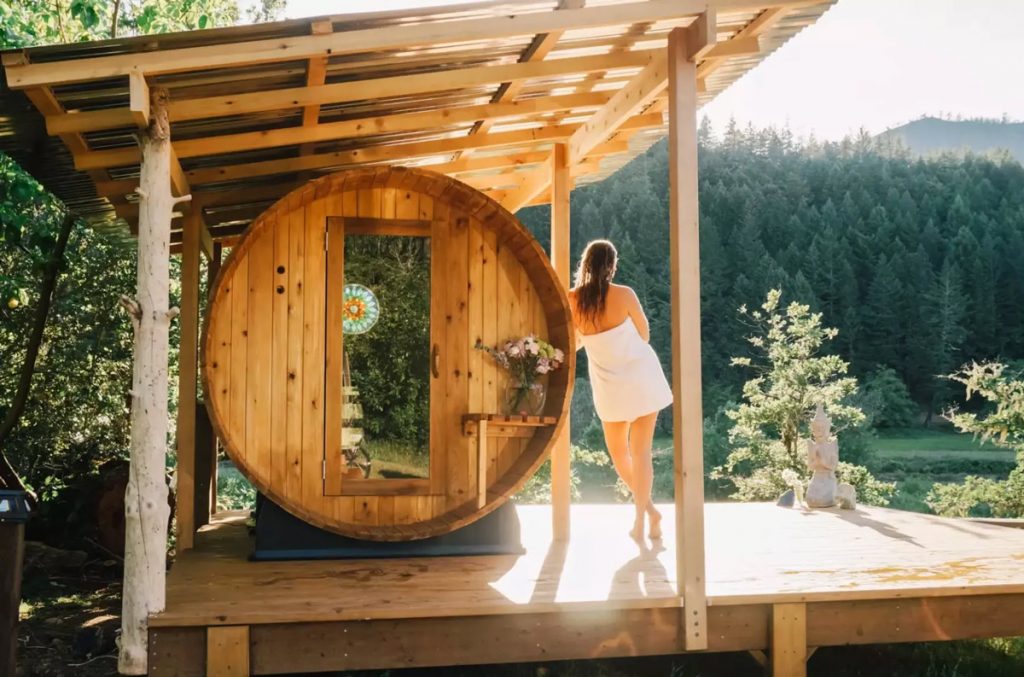 Glamping vs Camping Plumbing
Luxury glamping sites come with plumbing included. Just like you would find in your home.
Campsites on the other hand, rarely have plumbing. And even if your campsite does come with a spigot, the water is not always potable.
Toilets
Modern glamping tents, cabins, and homes come with an ensuite portable toilet. This is one of the biggest advantages over camping.
When you go glamping, you don't have to worry about getting up in the middle of the night and stumbling through the woods to find the nearest outhouse.
Tiny homes, yurts, and cabins typically have modern bathrooms that have plumbing just like you would find at home.
SPECIAL OFFER

Showers
Most campers will choose to go the entire weekend (or even longer) without taking a shower.
Glampers on the other hand, have the luxury of showers on-site. Some accommodation styles have showers directly in the vicinity, while others utilize a more public-style restroom.
Either way, you'll have a place to wash up and relax after a long day of hiking.
When booking your accommodation, be sure to check the amenities of each structure and filter your selections. You can't always tell from the outside which features a glamping stay might have.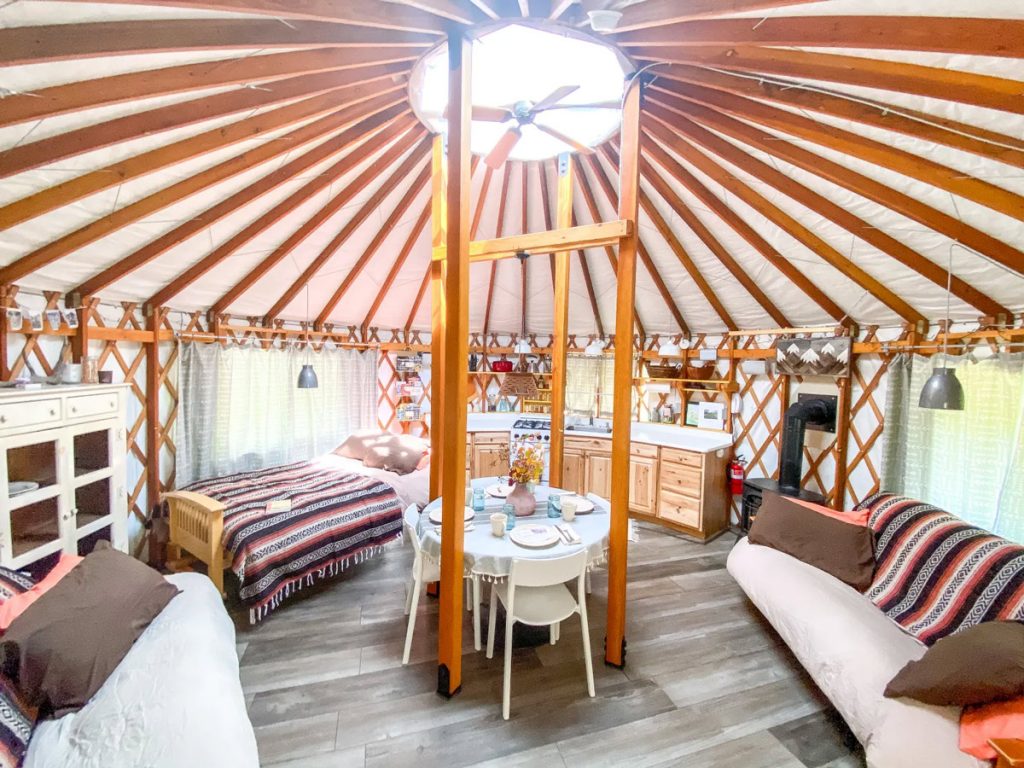 Glamping vs Camping Kitchens
Most campers choose to prepare their meals over an open fire. Or pack things that don't need to be heated like sandwiches and power bars.
Glampers get the luxury of a functioning kitchen.
The range of kitchen features varies according to accommodation type, but it's not uncommon to have luxury amenities such as stovetops, ovens, and even portable refrigerators which will keep your drinks cold after a long day of hiking.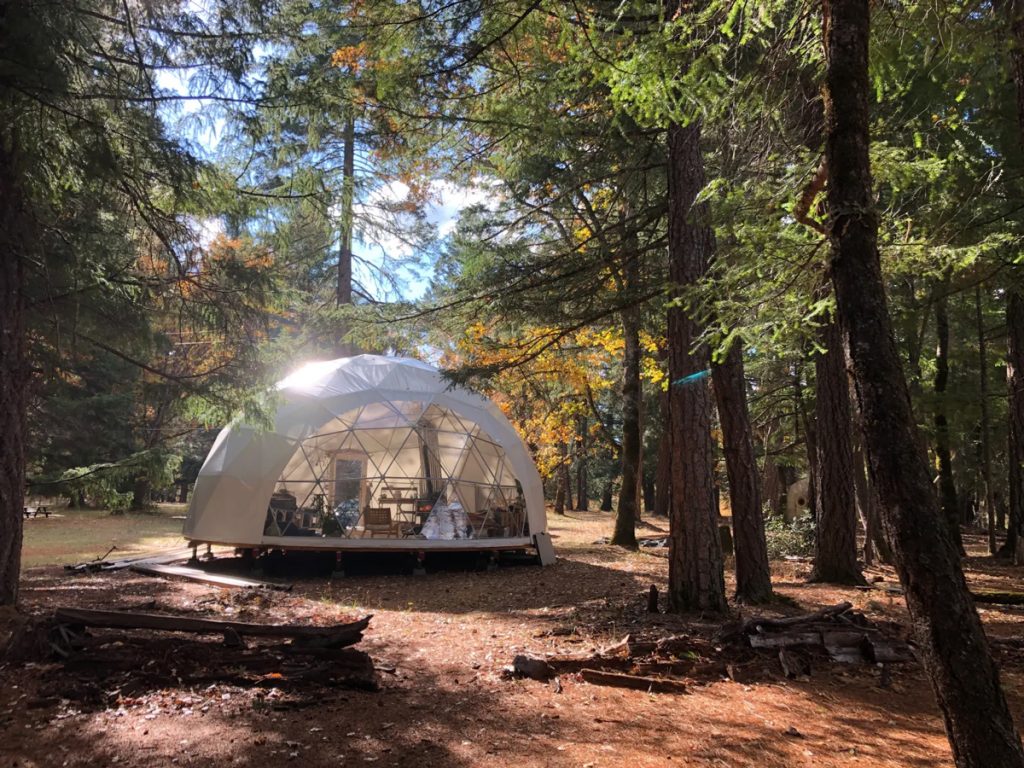 Temperature Control and Comfort
When you decide to go out camping, you're at the mercy of the elements. If it's hot, you're going to feel it. And if it's cold–well then I hope you packed some blankets.
Glamping gives you more control of the enviornment.
Glamping tents are built using much thicker materials. They're not designed to be portable so they can get away with heavier construction and equipment.
Cabins often have air conditioners and heaters so you can more precisely control the temperature. These types of structures are also insulated so they hold the temperature in better.
Plus, glamping accommodations have more solid walls and better bug protection so it will feel more like living in a tiny home than outside.
Luxury Camping Items
Glamping sites come with a variety of luxurious items that you won't find at a standard campsite. After all, it's called "luxury camping" for a reason! A few examples of things you'll find at a glampsite include:
Ensuite toilets and showers
Air conditioning and heating
Beds, couches, and other furniture
Tiny kitchens and appliances
Lighting, electricity, and other electronics
WiFi and even televisions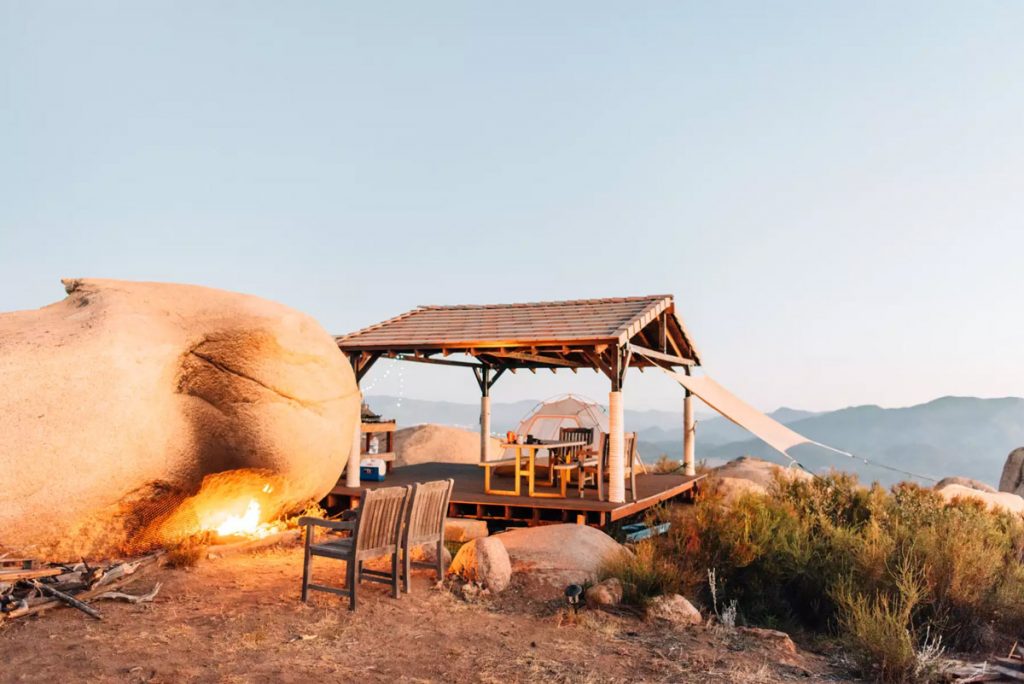 Glamping Site Rentals
You can find glamping site rentals from a variety of different sources.
HipCamp.com is a popular glamping rental platform which offers all types of rental options including treehouses, yurts, tiny homes, and more. The website is similar to Airbnb and caters to adventurous travelers looking for unique accommodations.
KOA campgrounds offer more traditional glamping site rentals that are standardized similar to a hotel room. You can find KOA glamping rentals nearby major cities. And the resorts come with amenities like swimming pools and even hot tubs.
Booking.com used to be well-known for their hotel and car rental services. But as glamping has become a more popular activity, they now have an entire category dedicated to off-the-grid accomodations.
Glamping In Your State
Wanna go glamping in your state? We've put together a list of our favorite glamping rentals, from treehouses, to yurts, to cabins, and everything in between: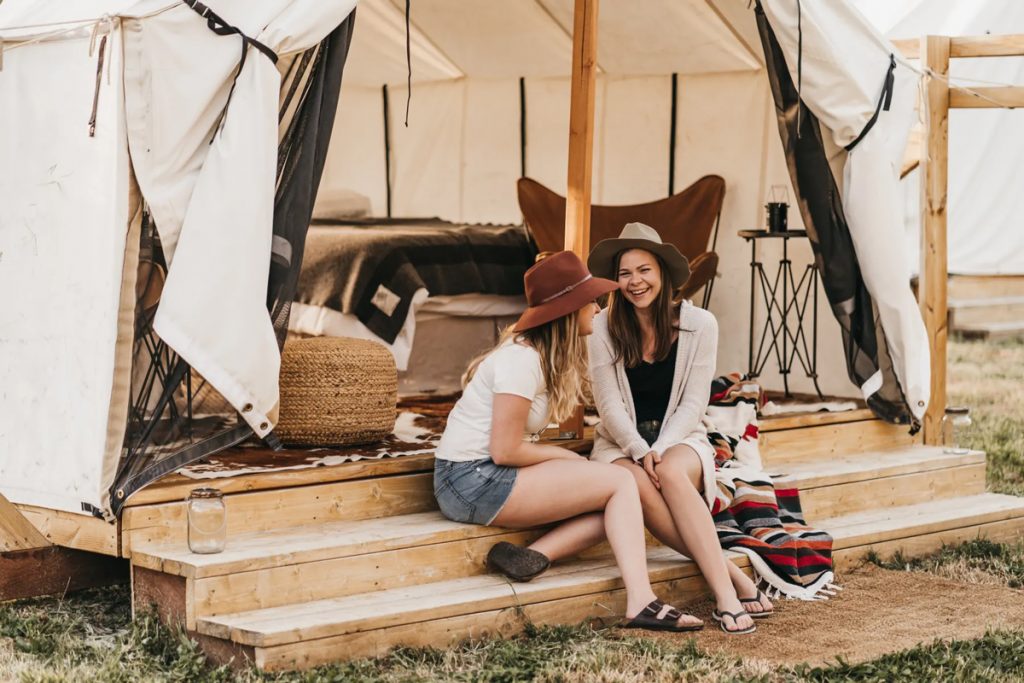 Glamper Demographics
Kampgrounds of America (KOA) recently put together a North American Glamping Report which had some eye-opening information about the recent popularity of glamping.
While there were many things in the report that caught our attention, some of the most surprising findings were the demographic information:
Millennials are more likely to try out glamping than any other generation.
Couples with children encompass nearly half of all glampers.
Cabins are the preferred form of glamping accommodation.
81% of glampers are open to doing it again.
The Future Of Glamping
Overall, glamping offers a unique type of outdoor experience. People who have never camped before are interested in the amenities that don't come with traditional camping.
Meanwhile, those who have tried glamping are likely to do it again.
Future growth is looking strong when it comes to glamping.
Glamping FAQs
Why is glamping better than camping?
With glamping you get luxury amenities such as electricity, plumbing, and temperature controls. The structures are sturdy and more resistant to wind and rain. Plus, it is a more comfortable sleeping arrangement.
What is better, camping or glamping?
Glamping is better for families or travelers who need greater amenities such as ensuite bathrooms and larger kitchens. Camping appeals to more adventurous travelers who don't mind a bit of discomfort.
What is considered glamping?
Many different types of unique accommodations are considered glamping including: yurts, domes, pods, treehouses, safari tents, tipis, bell tents, igloos, cabins, and tiny homes.
Does glamping have electricity?
Many luxury camping accommodations come with electricity. This is why digital nomads and even families often prefer glamping vs camping.