Exploring The Kolob Canyon Area In Zion National Park
By
on
This post may contain affiliate links. As an Amazon Associate, I earn from qualifying purchases. Please read my full disclosure.
The Kolob Canyons are located 50 miles north of the main park entrance in Zion National Park. It's the most remote, and least visited area of Zion, so it's the perfect way to get away from the crowds.
In the Kolob canyons you can experience isolated hiking trails, towering arches, and cascading waterfalls. The parallel box canyons features 2,000-foot cliff walls and are a favorite among photographers.
In this article, we're going to cover the best hiking trails, canyoneering routes, scenic drives, and advice about where to spend the night. Let's get started!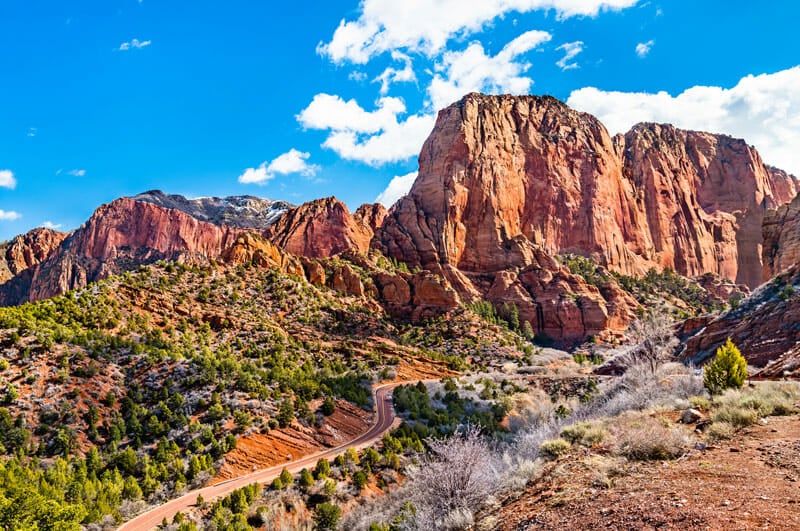 Getting There
The most direct route to the Kolob Canyons is from Interstate 15. From there, you will take exit 40 and follow Utah Route 9 to the Kolob Canyon Visitor Center. Along this drive, you'll experience breathtaking views of Zion National Park and its canyons—so be sure to bring your camera!
The canyons are located inside Zion National Park. That means you'll need to pay the Zion park entrance fee or use an interagency park pass to visit.
Kolob cannot be reached from Zion's south entrance unless you intend to a multi-day hike.
You can get to the entrance with any type of vehicle, but as soon as you pass the visitor center you'll be greeted with a winding uphill drive that quickly rises 1,000 feet in elevation.
Visitor Center
The Kolob Canyon Visitor Center is your gateway to the majestic scenery in this area of the park. Here you can find out more information about the trails, a small bookstore, snacks, drinks, and weather conditions of the area.
You can obtain a wilderness permit for backpacking sites and canyoneering routes in the area. Day hiking the canyon is free, but if you want to do some backcountry camping, permits cost $5 per person.
Things To Do
Hiking Trails: There are several moderate to difficult hikes in the area, including a six-mile hike along Taylor Creek and a fourteen mile trek to the world's largest free-standing arch.
Canyoneering: If you're looking for something more adventurous, canyoneering is a popular activity. "The Subway" is a 8-mile route that requires rappelling and swimming through emerald pools in some sections.
Scenic Drives: For those who want an easier way to explore the Kolob Canyons, you can take advantage of two scenic drives available in this area. This includes the Kolob Canyons Road, where you can see panoramic views from the Timber Creek Overlook.
Camping: If you're looking to stay overnight in the Kolob Canyons, there are plenty of camping spots available. You can set up camp at one of the designated sites or make your way further into the park for some more remote and less crowded areas
Photography: Last but not least, the Kolob Canyons are a popular spot for photographers. The canyon walls taller and more striking than southern Zion because of the high elevation which makes capturing stunning photos easy.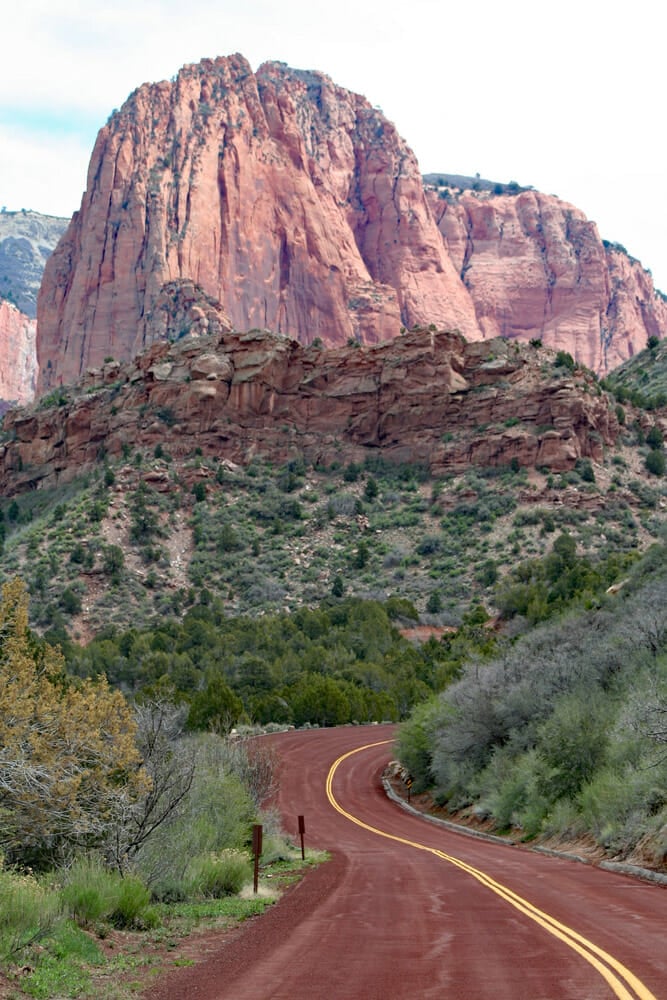 Weather
Located at a higher elevation, the weather in the Kolob Canyons can be quite different from the main part of Zion National Park.
Generally, temperatures are about 10 degrees cooler and the cliffs block out some of the afternoon sunshine. The area gets more rain than other parts of the park so it's best to bring warm clothing just in case you get caught in a storm.
Deep snow in winter can make some of the canyon roads impassable so the best time to visit is between May and October. You should research the current road conditions before planning your trip.
Map of Kolob Canyon
For a better understanding of the Kolob Canyon area and its trails, it's best to use a map. This infographic should give you a better understanding of the roads and hiking trails available in the Kolob Canyon area, Wildcat Canyon, and the West Rim.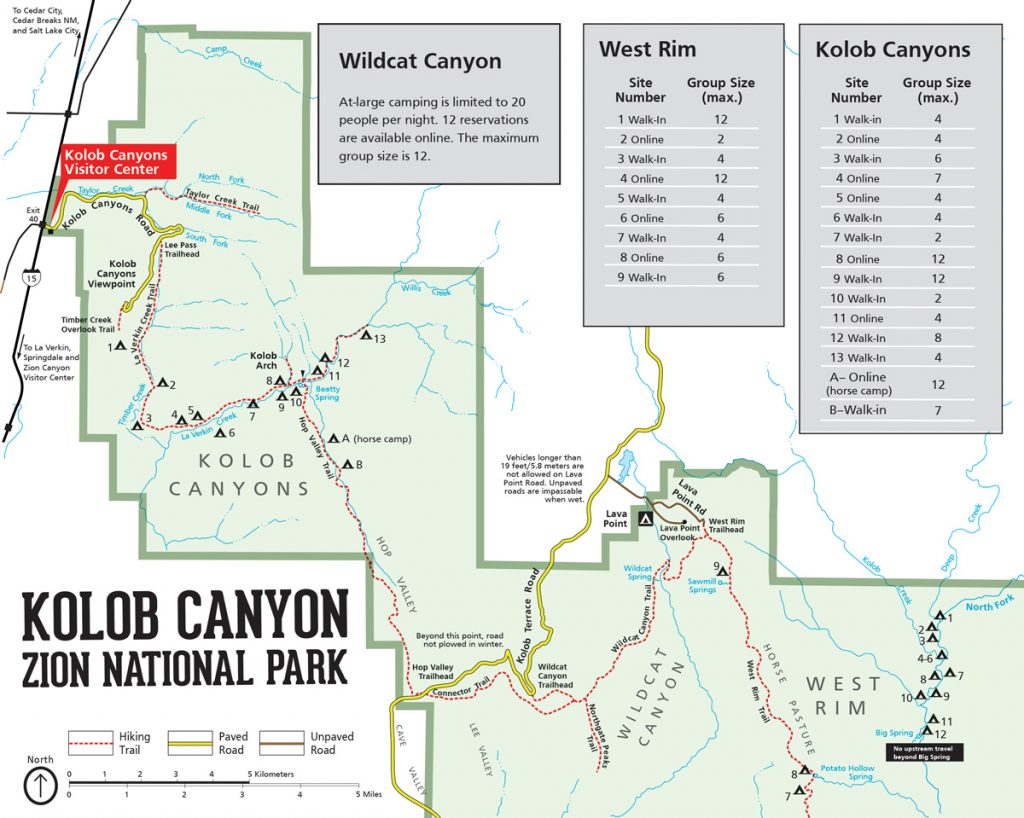 Scenic Drives
There are two scenic drives in the Kolob area which will lead you to incredible views, and some of the highest rated hiking destinations.
Kolob Canyons Road
Kolob Terrace Road
Kolob Canyons Road
The Kolob Canyons Road is five miles long and introduces you to spectacular views of Zion's tallest peak – Horse Ranch mountain. Along the way, numerous pull outs and interpretive signs line the ridgeway. And you'll have access to miles of backcountry hiking trails.
Kolob Canyons Road starts at the Visitor center and ends at the Timber Creek Overlook Trail where you can take panoramic pictures of Zion.
Although the road is paved, it climbs 1,000 feet in elevation and has hairpin turns so this is not somewhere you would want to take a large RV.
This is the main route to it to get to Kolob Canyon, Lee Pass Trailhead, or the Timber Creek Overlook Trail.
Kolob Terrace Road
South of Kolob Canyon is the scenic drive along Kolob Terrace Road. This is where you should travel to get to The Subway canyoneering route and gain access to the Lava Point Campground.
The scenic route starts in Virgin, Utah which is just outside of Zion.
Rising 8,000 feet in elevation, Kolob Terrace road gives you a top-down view of Cedar Breaks, the Pink Cliffs, and the Narrows. Much of the route is isolated so it's a favorite among campers who enjoy solitude.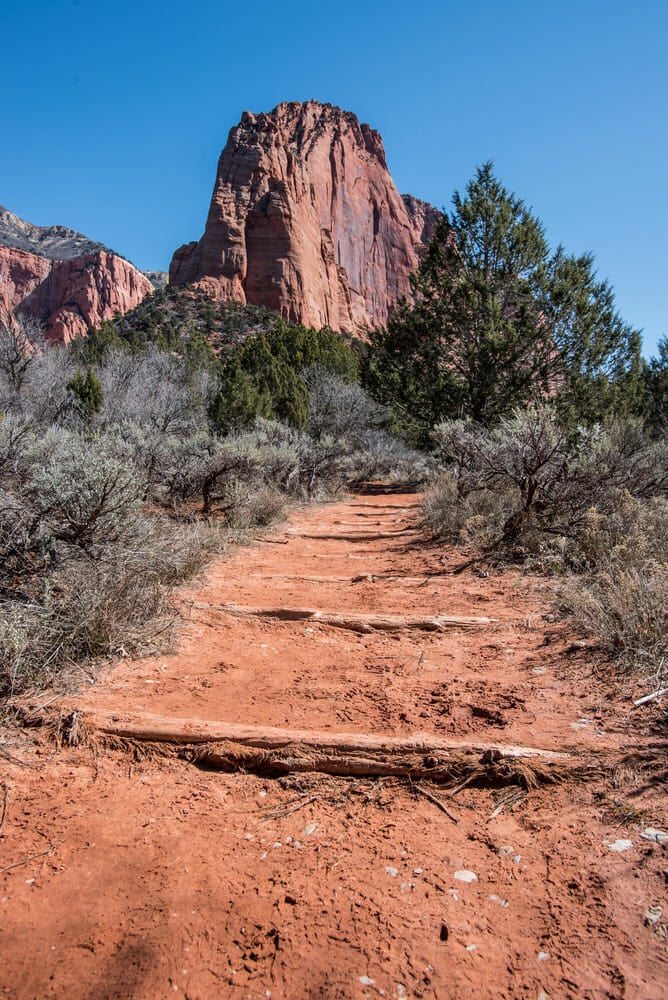 Hiking Trails
There are three main hiking trails in the Kolob Canyon Area which are perfect for an afternoon of exploration.
| Trail | Distance | Elevation | Difficulty | Time |
| --- | --- | --- | --- | --- |
| Timber Creek Overlook | 1.1 mi | 255 ft | Easy | 35 min |
| Middle Fork Taylor Creek Trail | 4.9 mi | 590 ft | Moderate | 2 hr |
| Kolob Arch via La Verkin Creek | 13.9 mi | 1669 ft | Moderate | 5.5 hrs |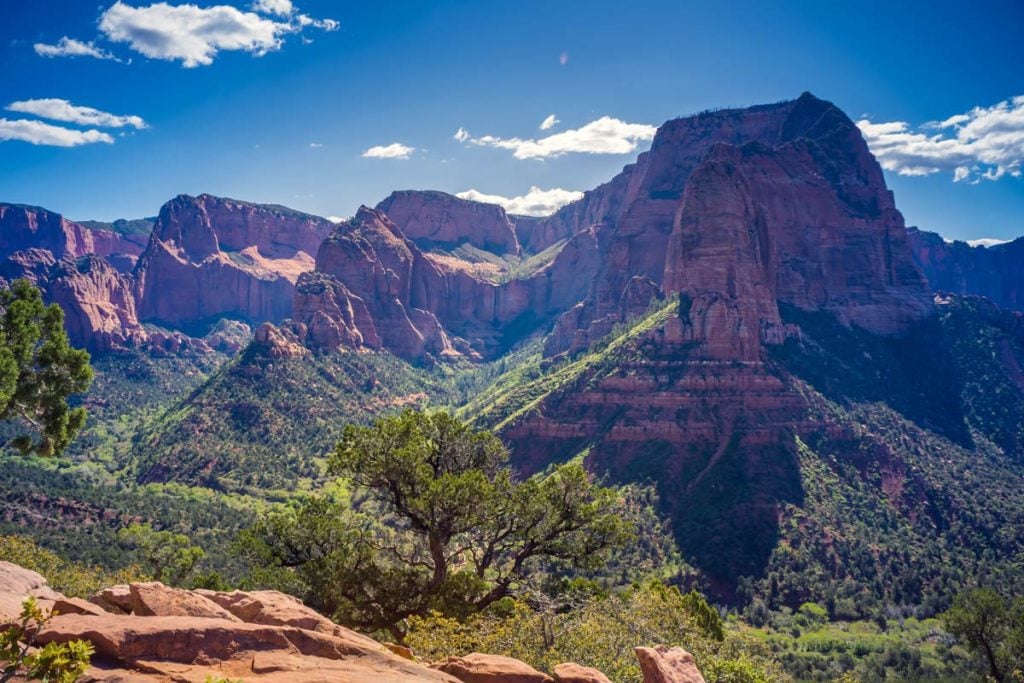 Timber Creek Overlook
If you want spectacular views without the stress of a long hike, the Timber Creek Overlook Trail is short and easy to access. Timber Creek starts at the end of Kolob Canyons road where you'll find a large parking area and restrooms. The trail extends 0.5 miles out along a ridgeline and rises only 100 feet in elevation.
A picnic area breaks away just yards from the start of the trail. This is a popular place for families to share a mid-afternoon snack.
During spring, the trail can get muddy from snowmelt; but colorful wildflowers bloom in the early summer months. The trail is regularly breezy and stretches parallel along the Horse Rance Mountain Range.
Reaching the overlook, you'll be provided with some of the best views of Kolob Canyon, Kolob Terrace, and the Pine Valley Mountains. On a clear day, you can see as far as Mt. Trumbell, which is 100 miles away on the North Rim of the Grand Canyon.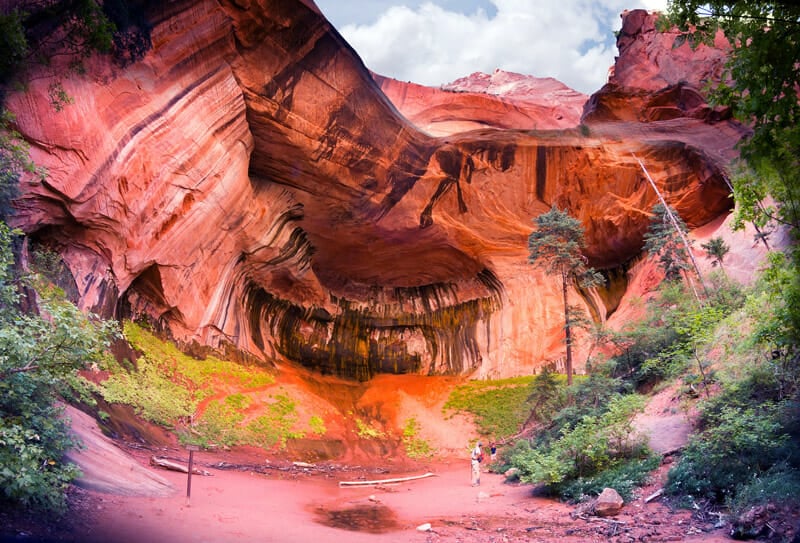 Middle Fork Taylor Creek Trail
Located only 3 miles from the Kolob Canyon Visitor Center is the Taylor Creek Trail. This trail is like a miniature version of Zion National Park itself–you get to experience canyons, rivers, and arches all within 6 miles.
Stretching nearly 3 miles out, Taylor Creek leads you up and down muddy steps crisscrossing the creek before leveling off onto a sandy canyon trail. There are multiple stream crossings although with some carefully placed stepping stones you may be able to avoid wet feet. Throughout winter, the area can get particularly icy.
Along the trail, you'll wind past vertical canyon walls 1,700 feet tall and beautiful foliage. The colors are especially breathtaking in the fall. With 450 feet in elevation change, Taylor Creek is rated as a moderate hike; but it's certainly one that you can do with children. The first few miles are shaded so it stays cooler in the summer months.
Reaching the end of the trail, you'll be greeted with a fantastic double-arch alcove and two old cabins built in the early 1930s. A little known secret is that if you travel another 0.25 miles beyond the double arch you'll run into a cool cave waterfall.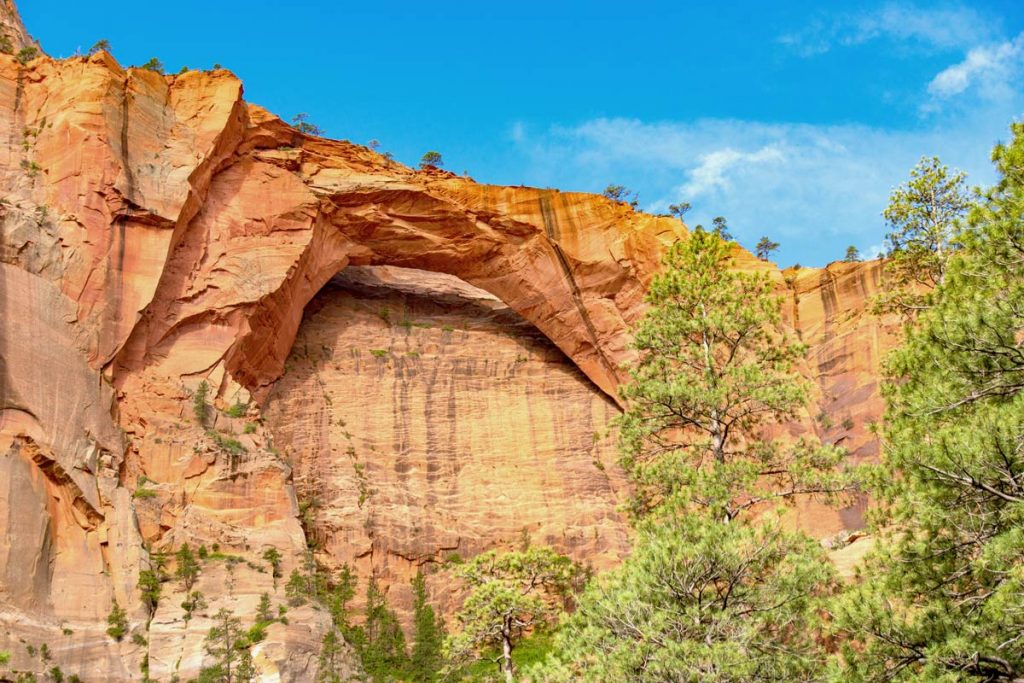 Kolob Arch via La Verkin Creek
One of the world's largest free-standing arches is Kolob Arch. It spans 287 feet and can be accessed via the La Verkin Creek Trail. Starting from Lee's Pass, the La Verkin Creek Trail is not something to take lightly. This trek is 14 miles round-trip and has over 1,000 feet of elevation change.
This hike can be done as a day trip, but many people choose to backpack because there are 13 dispersed camping sites along the way. Of course, you'll need to purchase a permit to spend the night.
The trail starts with a walk along Timber Creek where you can view the open finger canyons. It then gradually descends to LaVerkin creek before heading upstream to a sandy pathway. The arch doesn't reveal itself until the very end.
We recommend avoiding this trail in the winter because it can get icy and covered in snow.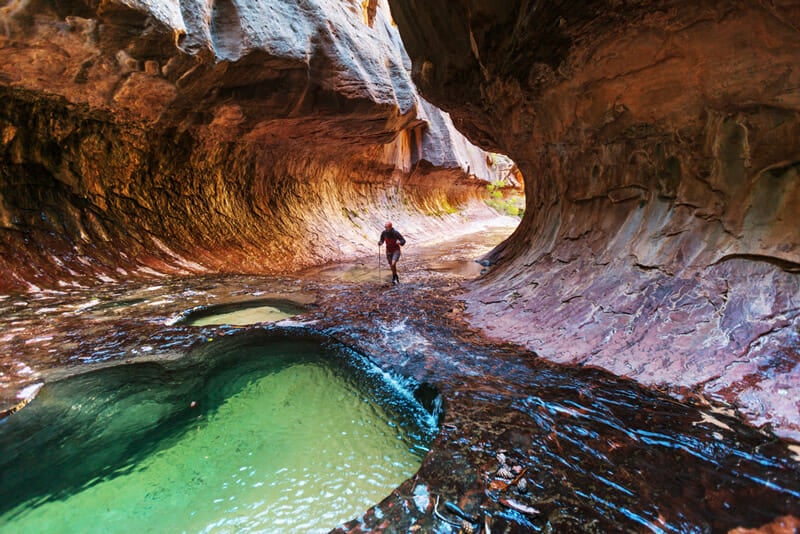 The Subway
One of the most picturesque sections of Kolob Canyon is The Subway. It's a tubular slot canyon where you can go hiking or canyoneering next to waterfalls, past boulders, and through emerald pools deep enough to swim in.
The Subway can be reached from Kolob Terrace Road and experienced either from the top-down or from the bottom-up.
Wilderness permits are required for all hikes within the subway. Although it can be hiked year-round with the proper gear, you should never enter the canyon if there's rain in the forecast.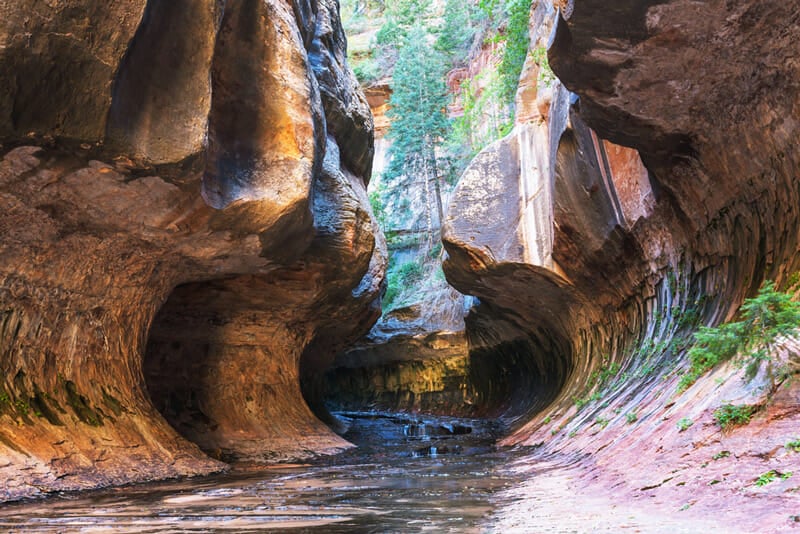 Hiking The Subway From The Bottom Up
Swimming and rappelling are not necessary when exploring the Subway from the bottom up, but you will get wet! This is a strenuous, 8-mile hike and you should be prepared to spend the entire day exploring.
The hike starts at the left fork trailhead and begins with an easy 0.5-mile walk before turning into a steep, 400-foot downward trek through loose rock and sand. Once you reach the base of left fork, a roughly 2-mile hike across dessert trails and boulders awaits. As you get closer to the canyon, a slick rock stream appears and two large, 15-foot waterfalls shower down.
Just south of the waterfalls, you'll come across the lower subway. This is the most photographed area; a short section of emerald pools, shallow potholes, and carved tunnel walls. Take your time to admire the glistening water and consider cooling off with a swim.
Beyond the lower subway, you can continue to the waterfall room. It features a 20-foot tall waterfall that can sometimes only be reached with a swim.
The hike out of the lower subway is a grueling steep, and hot climb. You'll want to save plenty of water for this portion of the hike because many people underestimate how tiring exploring the canyon can be. Pay careful attention to the trail because it's easy to miss the exit on the way out.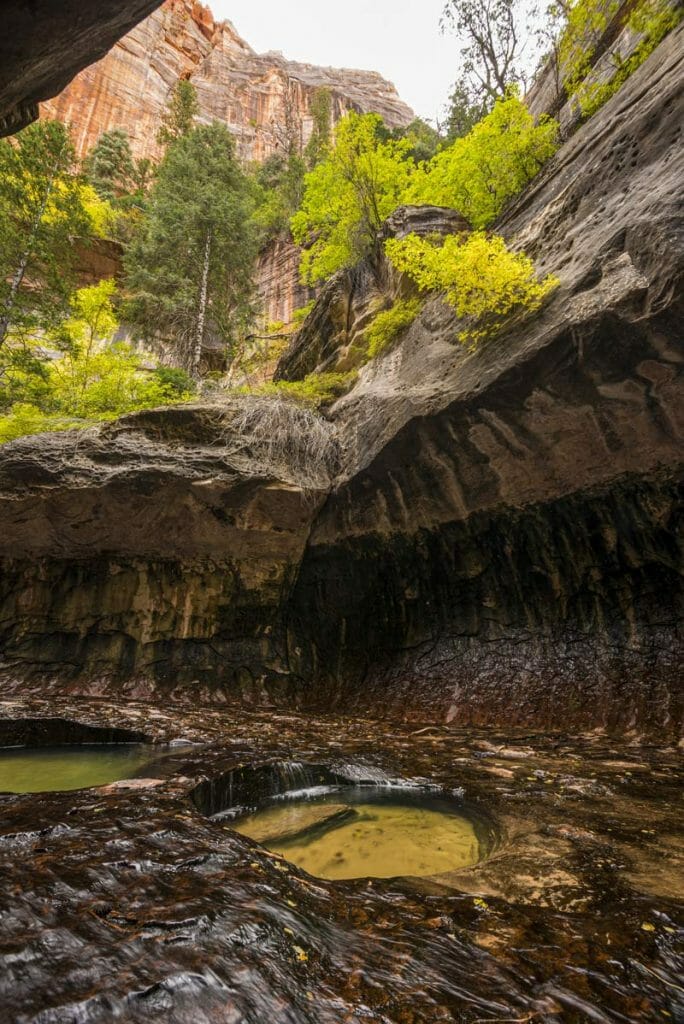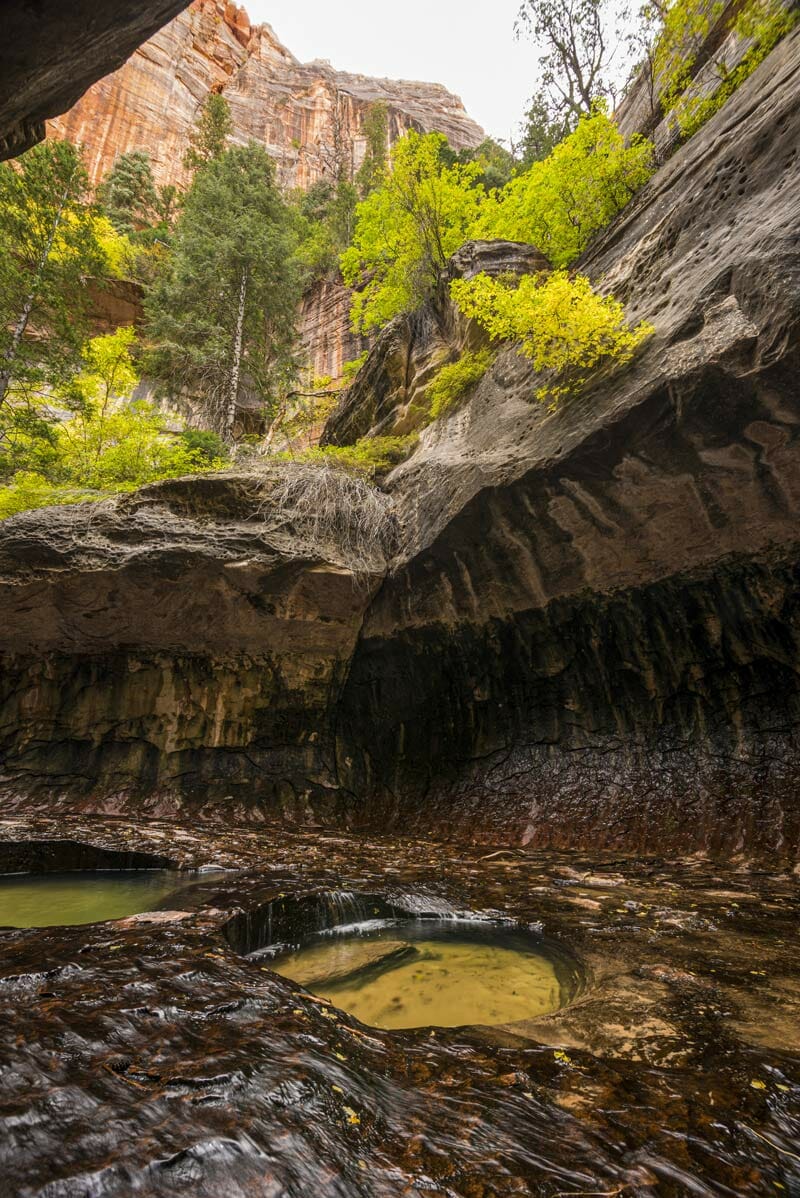 Canyoneering The Subway From The Top Down
Canyoneering in the Subway from the top down is for experienced hikers only. This trail requires rappelling, swimming, and extensive route-finding. You should only attempt to go canyoneering in the subway with an experienced guide.
Anyone canyoneering in the subway will need to obtain a wilderness permit. You'll also want at least 60 feet of rope, belays, a dry bag, and a wetsuit.
Starting from the Wildcat Canyon Trailhead, the route continues 9.5 miles and ends at the Left Fork Trailhead. Both of these are on Kolob Terrace Road, but they're 7.5 miles away so you'll need a spot car to drop off your group. Pack some food, because this route will take the entire day and leave you ravaged at the end.
The route is very technical and has several 30-foot rappels and required swims. You'll pass emerald pools, keyhole waterfalls, and end up in the picturesque lower subway which can be hiked out.
Backpacking in Kolob Canyon
Backpacking is a popular activity throughout all of Zion National Park. In Zion, the wilderness area is divided into sections, and a set amount of permits are granted in each area. About half of the permits can be reserved ahead of time and the rest can be picked up the same day on a first-come, first-served basis.
Wilderness permit reservations can be made up to three months in advance.
Campsites and wilderness trails in the Kolob Canyons include: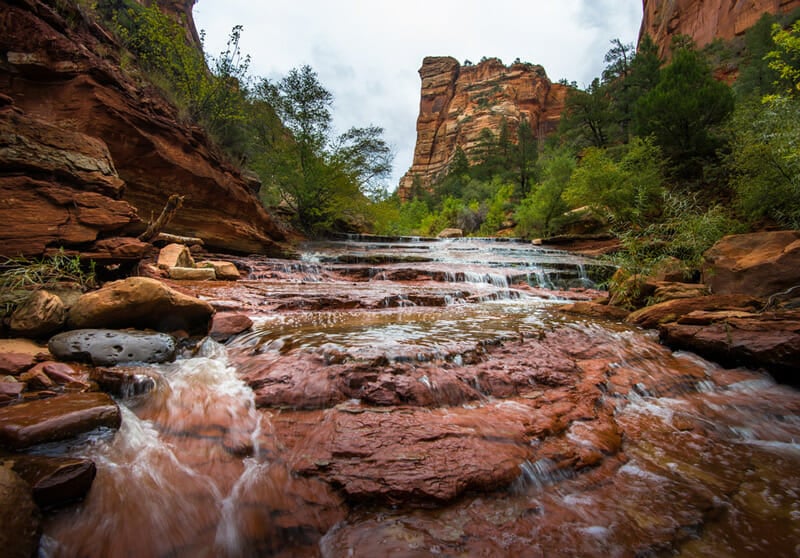 Camping Near Kolob Canyon
Lava Point Campground is open May-September and can be accessed 2-miles off of Kolob Terrace Road. A high-clearance vehicle may be required to get there.
There are 6 campsites at Lava Point that have picnic tables and fire rings as well as pit toilets. There is no running water in this area so you'll need to pack your own. The campground is free and cannot be reserved so you'll want to arrive early during the busy season.
The Subway and Wildcat Canyon hiking trails are only a short drive away so Lava Point Campground is a great starting point for summer adventures.
FAQs
Is Kolob Canyon worth visiting?
Absolutely! Kolob Canyon offers some of the most breathtaking views in Zion National Park. You'll find isolated hiking trails, towering arches, and cascading waterfalls. There is also a variety of hikes and scenic drives for all types of travelers.
Can you drive into Kolob Canyon?
There are two scenic drives located in the Kolob section of Zion National Park where you can top-down view of Cedar Breaks, the Pink Cliffs, and the Narrows. To get into the canyon itself, you'll need to enter on foot.
How much does it cost to get into Kolob Canyon?
The Zion National Park entrance fee covers your trip into the Kolob Canyon area. Additional fees are required if you plan to go canyoneering or backpacking in the area.
How long does it take to see Kolob Canyon?
Visitors should set aside a full day to hike around the Kolob Canyon area, take pictures, relax at viewpoints, and enjoy the scenic drives.
Nearby Attractions
Kolob Canyon may be one of the coolest hiking areas in Zion, but it's not the most popular.
The hike to Angel's Landing is one of the most thrilling hikes in the park and rises over 1,500 feet in elevation with exposure on both sides of the narrow trail.
The Narrows are another popular hiking spot where you can walk along the river beneath a narrow slot canyon.
After exploring Kolob Canyon, don't forget to spend some time in the southern part of Zion. Angel's Landing and The Narrows are among the top 10 things to do in Zion National Park.
Outside of the park, take some time to explore Cedar Breaks National Monument which is in the Dixie National forest 1-hour northwest of the Kolob Canyon Visitor Center.