Top 10 Things To Do In Zion National Park
By
on
This post may contain affiliate links. As an Amazon Associate, I earn from qualifying purchases. Please read my full disclosure.
Zion was the first National Park in Utah, and remains one of the most popular parks in America today. Recognized for its sandstone cliffs, narrow slot canyons, and cascading waterfalls, it's no wonder so many people flock to Zion National Park.
From hiking, to climbing, scenic drives, and history tours, there are endless things to do in Zion National Park.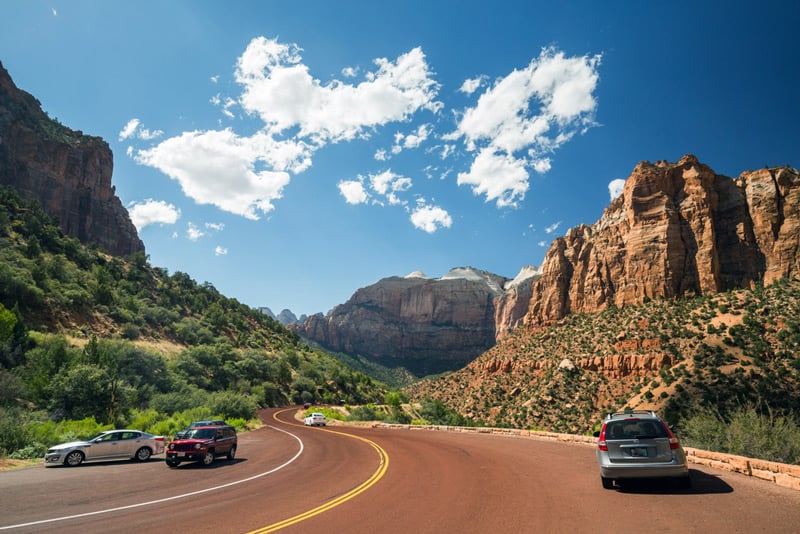 Enjoy The Zion Canyon Scenic Drive
If there's anything that visitors to Zion National Park must see, it's the incredible Zion Canyon. Fortunately, this road is difficult to miss!
The 54 mile route takes about 1.5 hours to drive and winds past towering cliffs on either side. During the busy tourist season, shuttle buses make stops along the route dropping hikers and climbers off at their destinations.
Many of Zion National Park's top attractions are found along this road, including the West Temple, the East Temple, the Court of Patriarchs, Zion Lodge, Weeping Rock, the Temple of Sinawava, and the Zion Human History Museum.
With a combination of gorgeous sights and flexibility, the scenic drive is worth enjoying all on its own.
Aside from the shuttle service, cyclists can also bike along the Zion Canyon Scenic Drive. The shuttle buses have bicycle racks, so riders can bike out and ride the shuttle back at the end of the day.
Visit The Human History Museum
Located at the first stop along the scenic bus route, the Zion Human History Museum is the best place to get out of the sun and learn about the American Indians and pioneers who used to frequent the area.
While you're there, make sure to check out the enormous model of Zion National Park inside the building. The replica helps put the size of everything within the park into perspective and may give you some ideas for day hikes.
Displays within the museum are visitor-friendly, with extremely large panels that make it easier to read text even if you're with a crowded group of people. Temporary exhibits rotate through regularly, so you may see some very different attractions if you come through more than once.
Finally, park rangers are usually around to answer additional questions, so make sure to stop by if you want additional camping or exploration tips.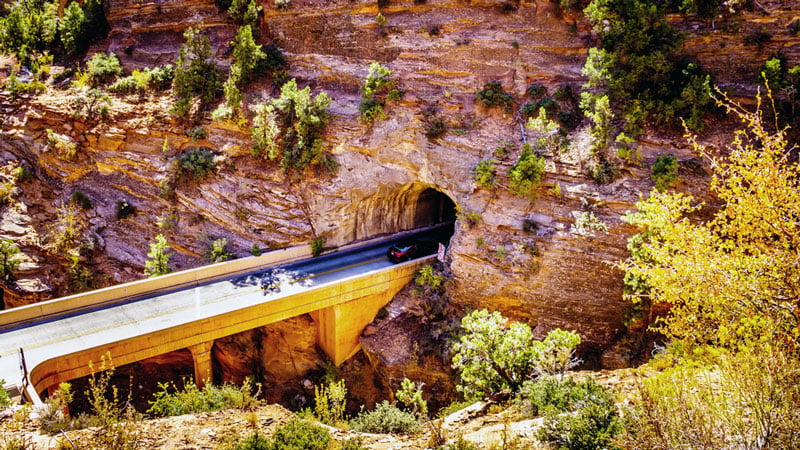 Drive The Zion-Mount Carmel Highway
While the Zion Canyon Scenic Drive is undoubtedly the heart of the park, the Zion-Mount Carmel Highway is a scenic path in its own right.
The difference between the two is that the Scenic Drive passes low through the canyons, while the Highway heads up the cliffs to offer dramatic views.
One of the highlights of this road is a narrow tunnel that stretches over a mile long, where you'll have ample opportunity to see the inside of the enormous natural rock formations.
The area immediately after the tunnel has a one-mile round-trip hike for a viewpoint, with other observation pullouts are scattered generously along the path.
This is a particularly great area to visit in summer, where the higher elevation offers some cooler air.
The shuttle buses don't serve the Zion-Mount Carmel Highway, so you'll want to bring your own vehicle if you plan to head down it.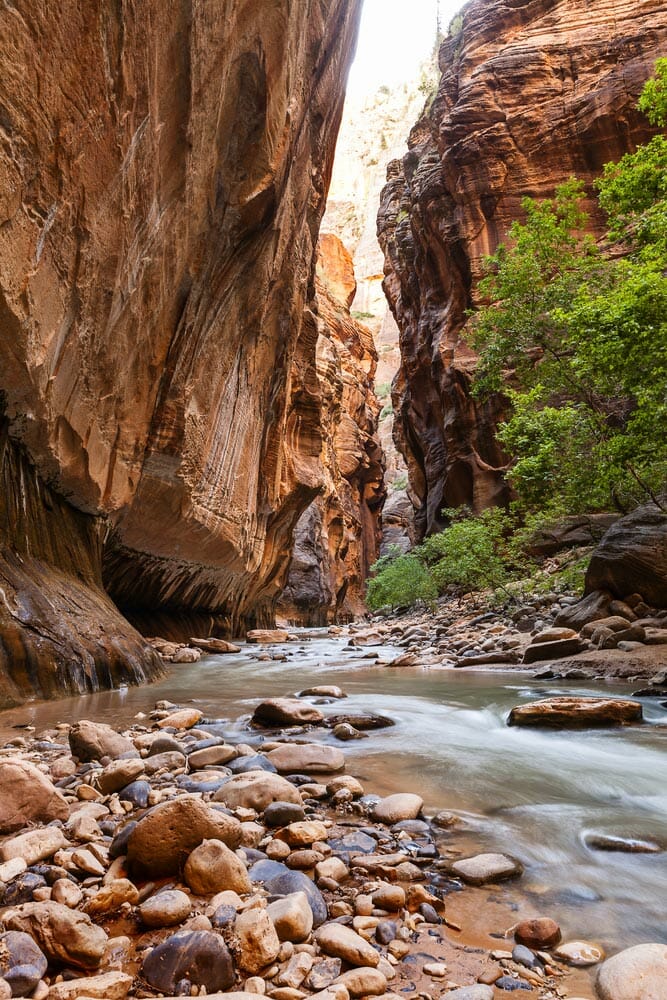 Challenge The Narrows
If you're looking for something that goes beyond a scenic hike along towering cliffs and beautiful trees, get ready to challenge The Narrows.
This is one of the longest and most strenuous hikes in the region, and it's located all the way at the northern side of the park.
While the 9.4-mile distance is challenging in its own right, what makes this path unique is the fact that it goes in the river for much of its length.
You heard that correctly: In the river, not just alongside it. Bring some waterproof boots and expect to get wet.
Given the environment, this path is more dangerous than most, with some potential for flash flooding if the weather is poor. Make sure to check with park rangers before attempting this course.
Expect this route to take about eight hours at a normal speed, or longer if you're especially cautious.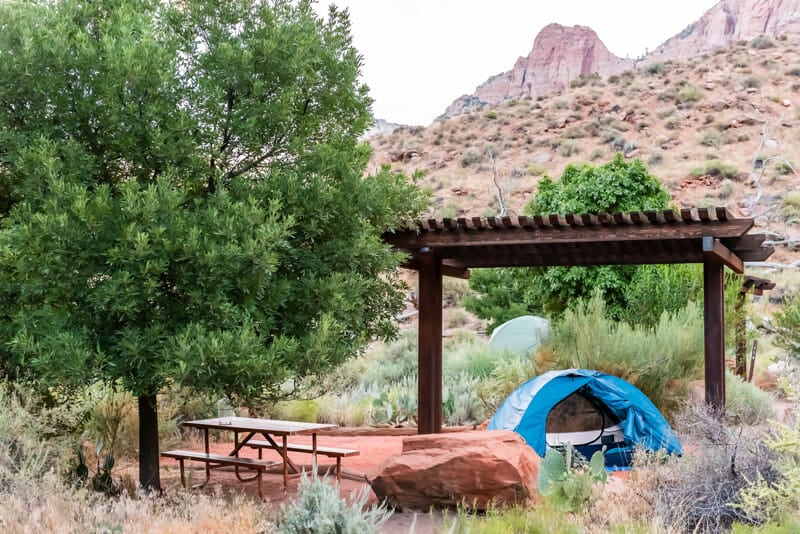 Go Camping
Chances are you'll be ready to rest after visiting The Narrows once your adventure is over. If that's the case, you might want to settle down at one of Zion National Park's Campgrounds.
There are two notable camping areas within the park: Watchman Campground and South Campground.
Both of these are located close to the south entrance of the park, making them a convenient place to park your vehicle if you want to take the shuttles through the park.
These campgrounds are reservation only, so make sure you call ahead. South Campground can be booked up to two weeks ahead, while Watchman Campground can be booked up to six months ahead.
While many people enjoy setting up tents, the campgrounds are also RV-friendly and have dirt areas where you can park a camper.
Most areas also have benches and tables but don't expect enough seats to fit a large family. However, they're perfect for a couple having a rustic yet romantic getaway.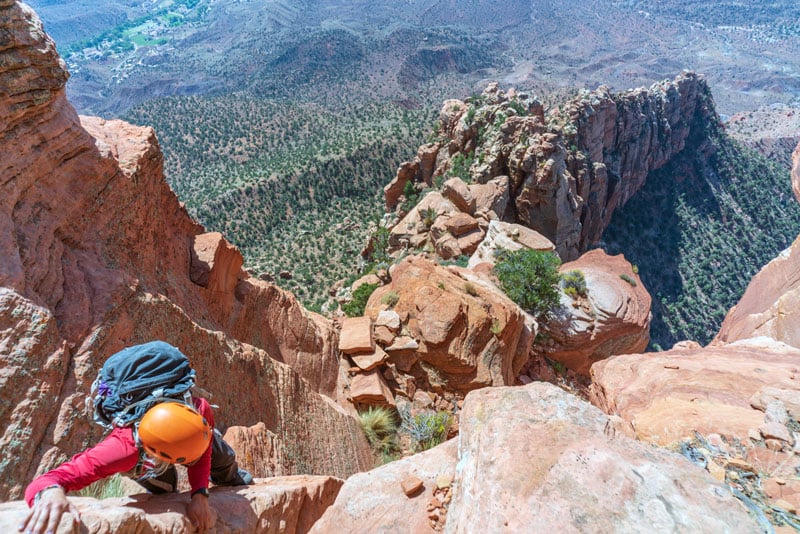 Rock Climbing
When you're deciding what to do in Zion National Park, few activities stand out more than rock climbing.
The world-renowned cliffs provide provide up to 2,000 feet of vertical climbing routes. A collection of a climber-submitted topographic maps can be found at the Wilderness Desk at the Zion Canyon Visitor Center.
While most of the routes in Zion are rated for experts, outfitters in the nearby city of Springdale offer instruction courses, equipment rentals, and tips for specific locations throughout the park.
Some of these shops also arrange climbing trips in Zion National Park, which are a great choice if you want a guided tour instead of choosing the route yourself.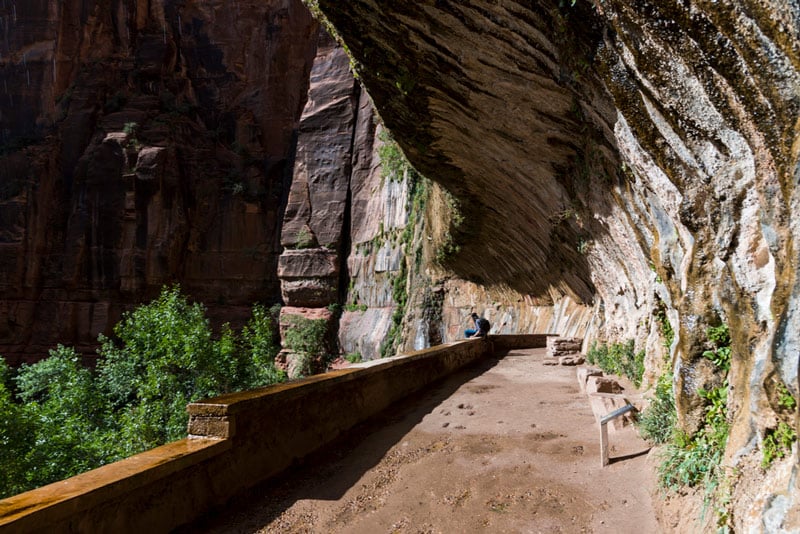 Enjoy A Casual Day Hike
The Narrows are a fantastic place to explore if you want a challenging hike, but they're certainly not the only things to do in Zion National Park.
The Pa'rus Trail is a gentle, paved path with very little elevation gain that takes about 2-hours round trip. This hike goes from the visitor center near the entrance to the Canyon Junction, which is where people need to either head up to the tunnel or get onto the shuttle.
This is one of the few paths in Zion National Park that is open to pets so it's a great place to exercise the pup after a long drive.
The Emerald Pools Trail is one of the most beautiful hikes in the park. It's a short, 2.2 mile hike that takes you past 3 gorgeous waterfalls that cascade down to the slippery rocks below.
For a shorter route, The Grotto Trail is a one-mile round trip that goes from the Zion Lodge to The Grotto.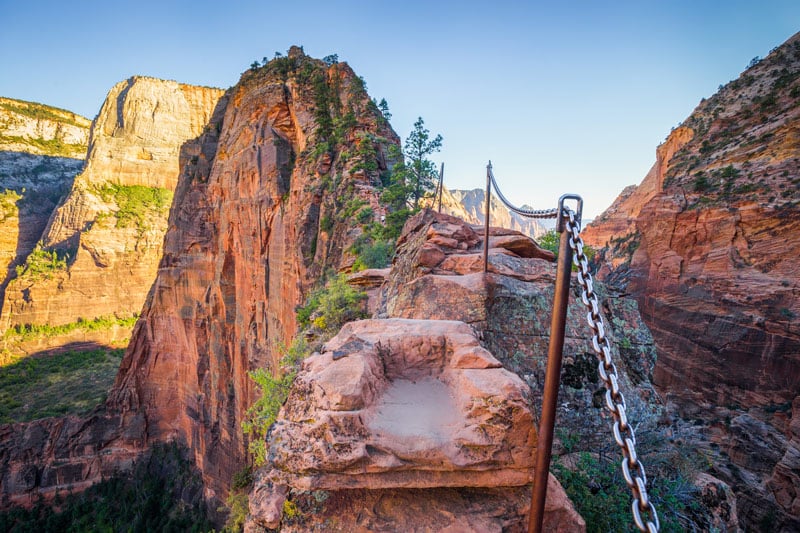 Hike to the top of Angel's Landing
One of the most famous hikes in Zion is the hike to Angel's Landing. The route is only 5.5 miles long but involves over 1,500 feet of elevation change.
Angel's Landing is not a route to be taken lightly! Anyone with a fear of heights or balance issues should avoid it. The peak of the route includes crossing over a steep, narrow rock bridge with long drop-offs on both sides.
As you reach the summit, there is a series of chains to help guide you along the final stretch.
In the end, you'll be rewarded with a bird's eye view of the valley below. Most visitors take about 4-5 hours to complete this hike and the best time to concur it is during the spring and fall.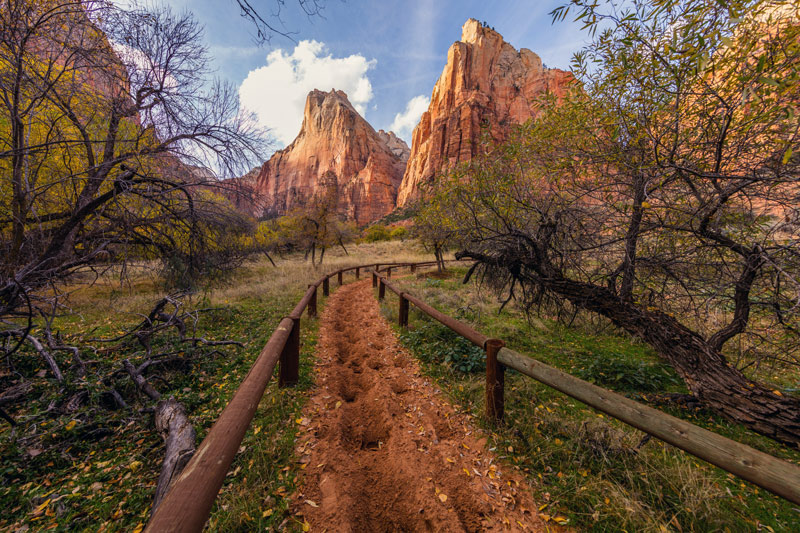 Enjoy A Trail Ride
Horses have long been one of the primary ways of traveling around the area, and that's as true today as it was when pioneers first settled the area.
The tradition continues from March to October each year, where riding tours can take guests for a one-hour trip along the Virgin River.
For experienced riders, longer tours are also available. These are a unique way for you to enjoy a national park, so make sure to book well ahead of time if that interests you.
All horseback riding tours are provided by authorized concessioners, who are private companies awarded special contracts by the National Park Service to provide additional activities or entertainments throughout a park.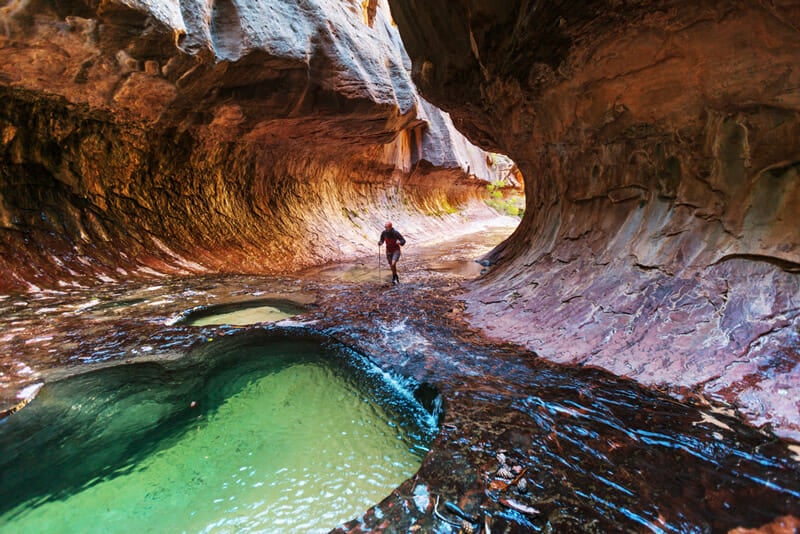 Visit Kolob Canyon
Zion National Park is a great place, but there's one natural wonder that most visitors don't even realize is there: Kolob Canyon.
The reason why it's so overlooked is simple. Kolob Canyon happens to be located in a different section of the park, and its entrance is about 45 minutes away from the main entry point that most people use.
There aren't any direct roads or trails, either, so it's best to enter this area from the outside unless you're willing to hike a long way through the wilderness.
The highlight of this location is a five-mile scenic drive featuring outstanding views of crimson canyons and valleys.
Like the main section of the park, Kolob Canyons features numerous hiking trails. Stopping at the visitor center is mandatory but offers access to permits, a bookstore, and information about dispersed camping and canyoneering locations.
If you want a casual path, the Timber Creek Overlook Trail is an easy one-mile round-trip that offers excellent views of Kolob, Terrace, the Pine Valley Mountains, and Timber Creek.
If you're looking for a tougher path, the Kolob Arch via La Verkin Creek Trail is an eight-hour, 14-mile path to one of the world's largest natural arches.
"The Subway" is a famous, tubular slot canyon that will take you past waterfalls, boulders, and through emerald pools deep enough to swim in.
That's A Wrap!
There are plenty of things to see and do in Zion National Park.
Whether you're looking for a tough hike through a river or a casual horseback ride followed by a rest in a comfortable private lodge, this park has entertainment for groups of all sizes, skills, and fitness levels.
You Might Also Like: