Vanlife Office Inspiration: Work On The Road
By
on
This post may contain affiliate links. As an Amazon Associate, I earn from qualifying purchases. Please read my full disclosure.
Some people save up and drop everything for adventure. Others work on the road. Knowing your goals before building out a camper will make the journey more comfortable and practical. These vanlifers made work a priority and came up with some cool ideas to earn money and travel as digital nomads.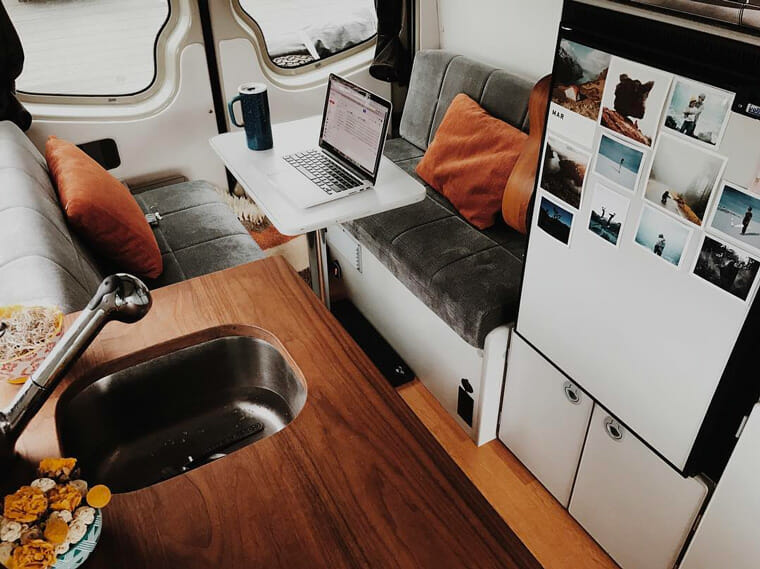 @sheepfeet works as a photographer on the road and spends his free time climbing. Living out of a sprinter van he was able to setup a desk with plenty of legroom for editing photos. @sheepfeet travels all over the place for shoots and if you're looking for some photos you can check out his portfolio and upcoming locations on katchsilva.com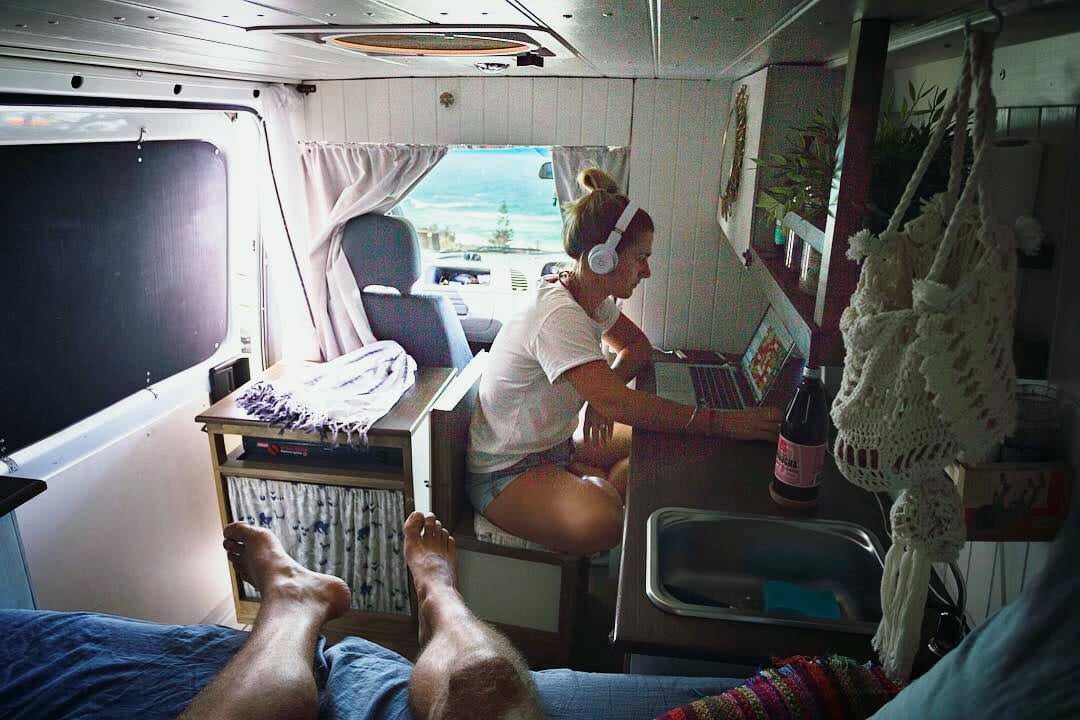 Having a desk separated from the bed was important for @adventuringtwo. These two Australians travel in a Mercedes Sprinter van and save space by building storage into their chair. When tucked underneath the desk, the chair looks just like a kitchen cabinet.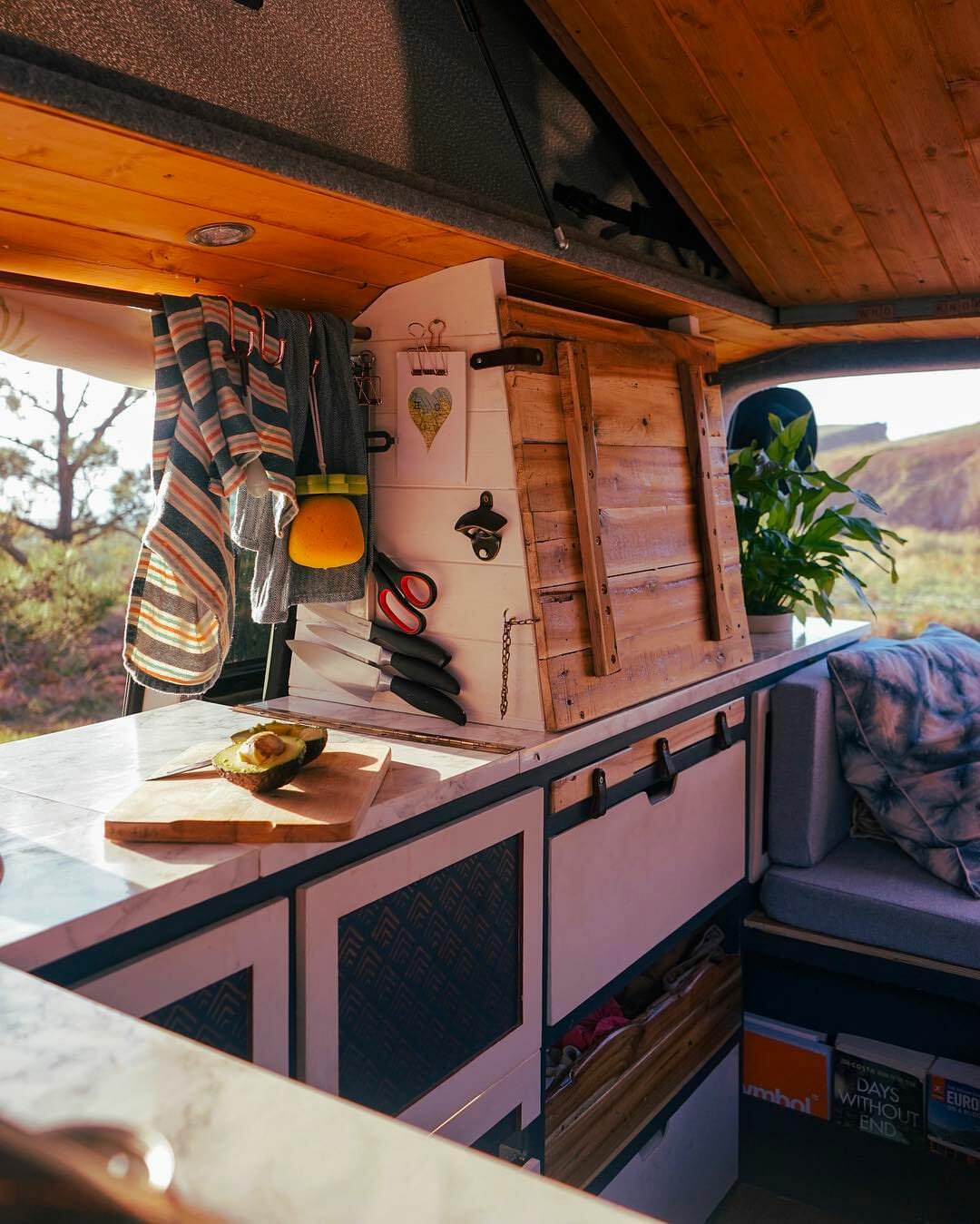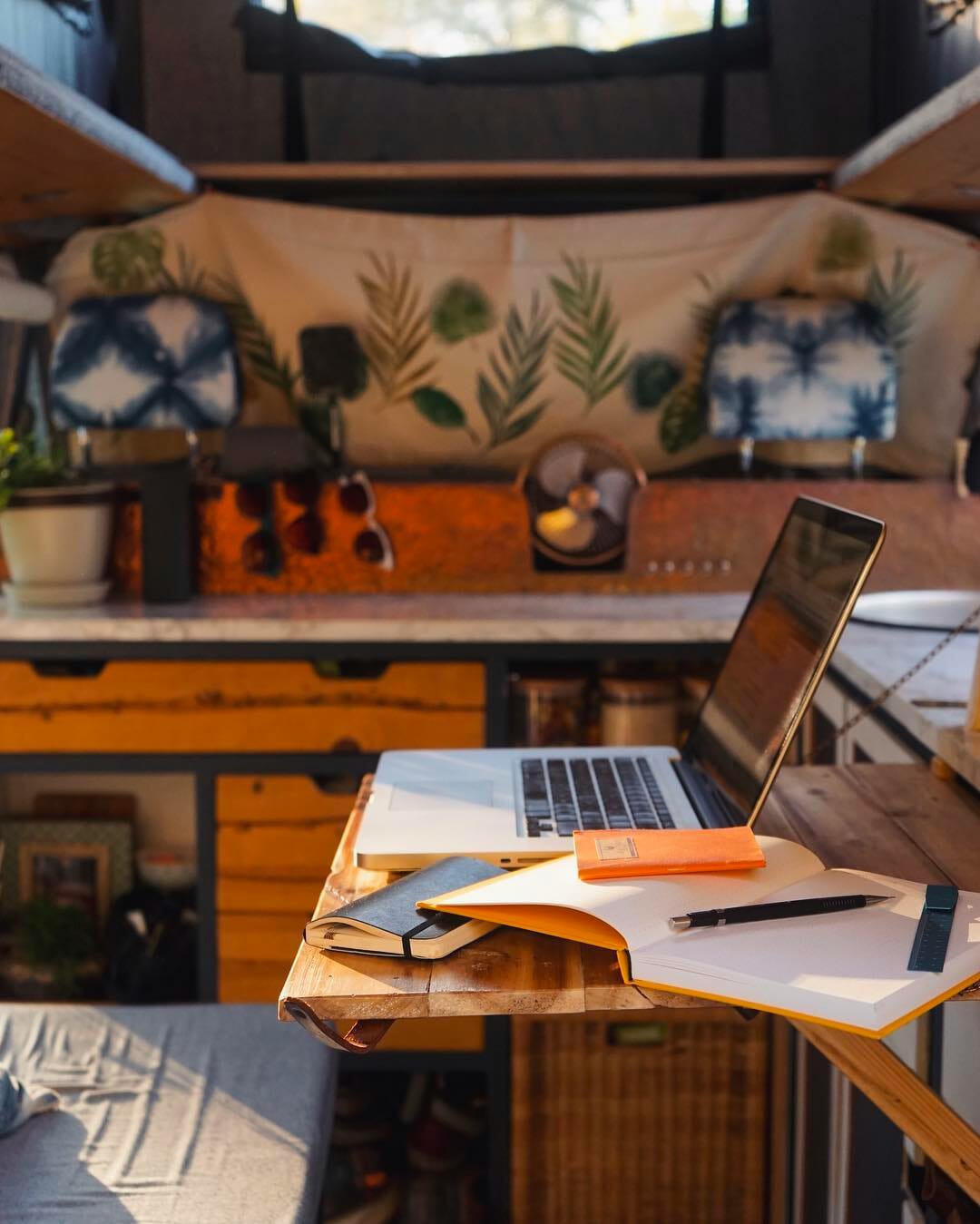 @whoknowswherenext built a pantry on top of their kitchen counter. The pantry door folds down to create both a cutting board and a workspace. The workspace folds just far enough out over their bed to use as a chair.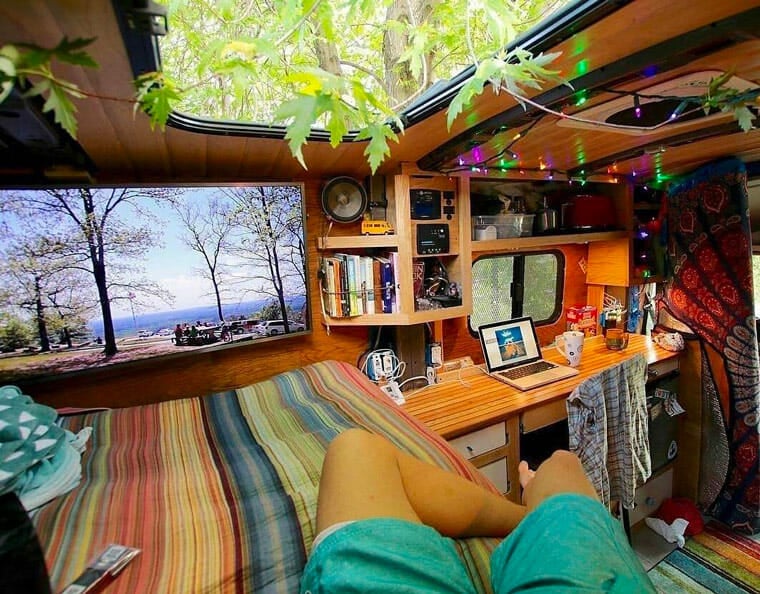 @wjplata builds and renovates vans. This Ford Transit was built for work and play. It's got a skylight, desk space and TV. What more could you need? These custom van conversions are based in New York City. Look up WJP Renovations if you want one of your own.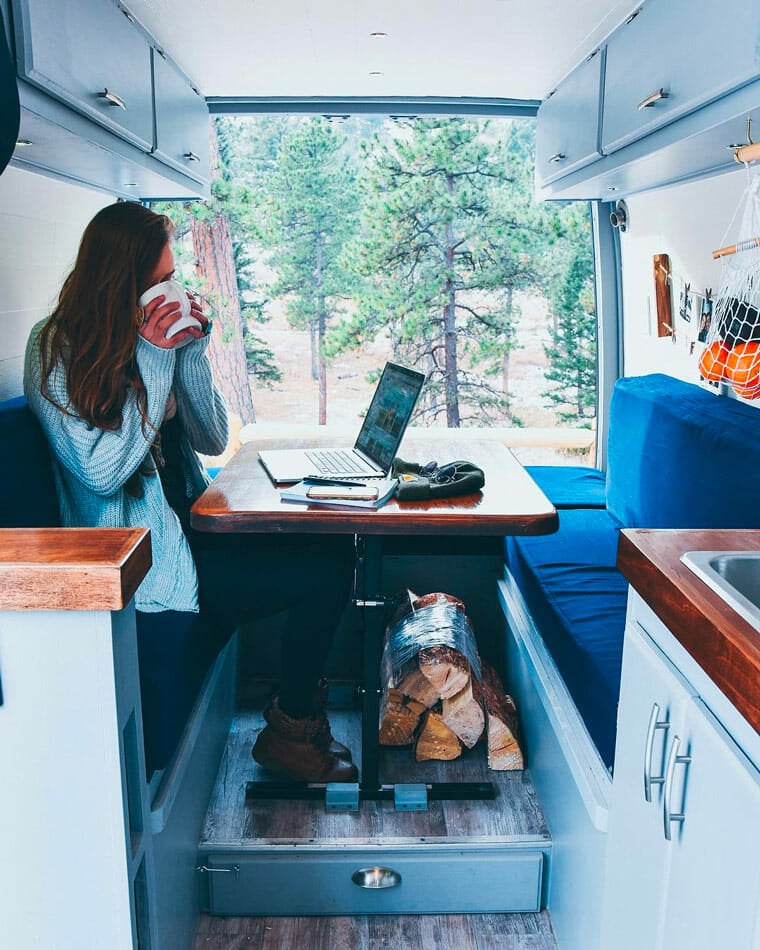 This converted sprinter van belongs to Sydney from Divine on the Road. She is a yoga instructor and full-time traveller. There is tons of space built into the camper with room to stretch your legs and sit straight up. The table folds down into a bed at night.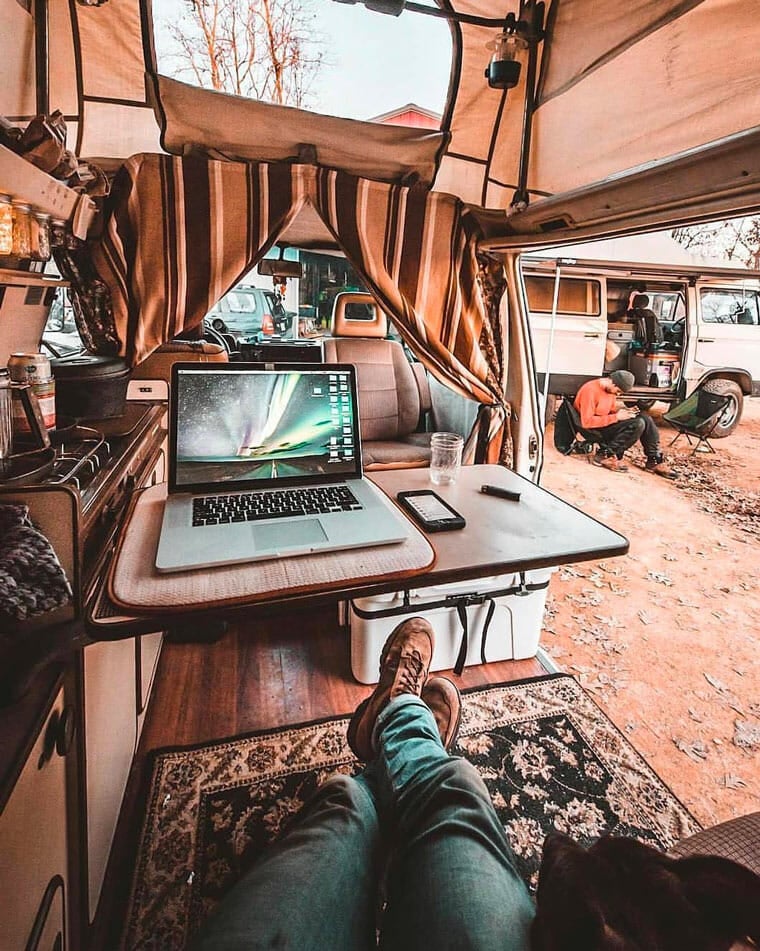 @greg.mills is a photographer and vanlifer. He travels in an 1982 VW Westie and also does ocean rescue work for New York State Parks. You can check out some of his work on GregMillsPhotography.com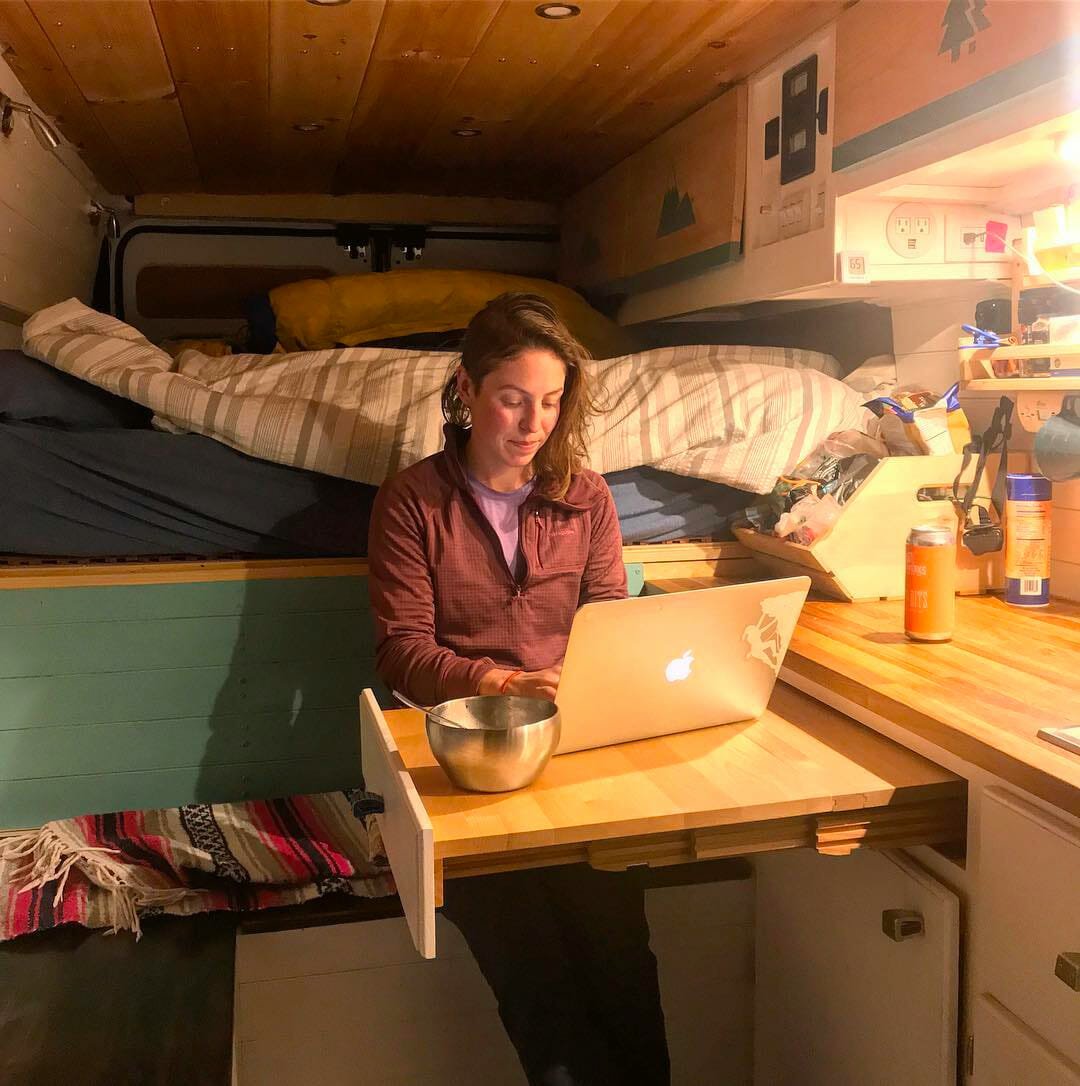 @alpinemargarita travels in a Dodge Promaster. We like the small slide-out drawer that fits perfectly over the bench seating to make a small and useable desk. The AC outlets built right under the shelving also makes for the perfect workspace.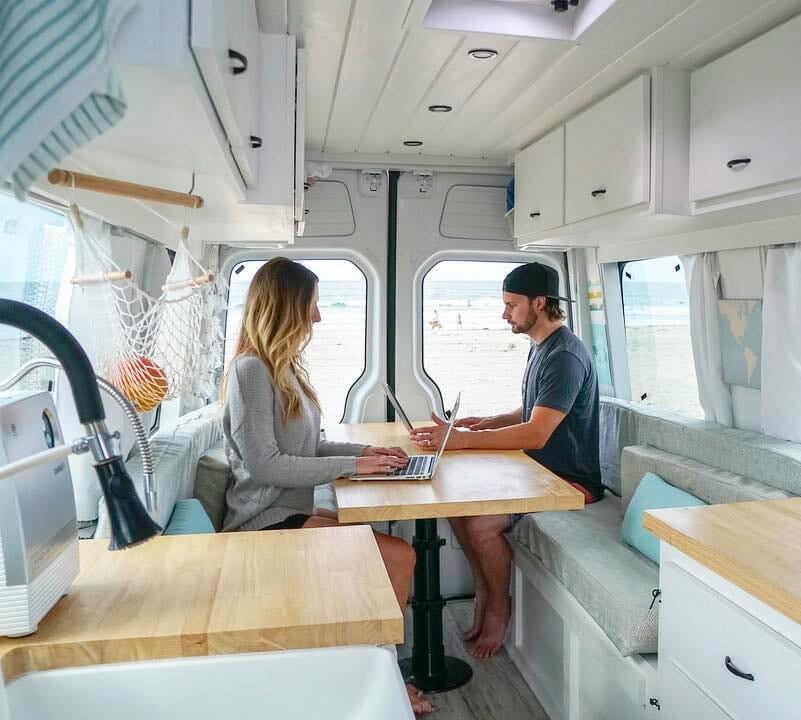 @saraandalexjames are a couple that work out of their 2008 Dodge Sprinter. Work is a priority for them so having a comfortable place to set down computers is key. This couple makes their money online with blogging and social media. They even have a creator academy set up if you want to learn how. Check it out on SaraAndAlexJames.com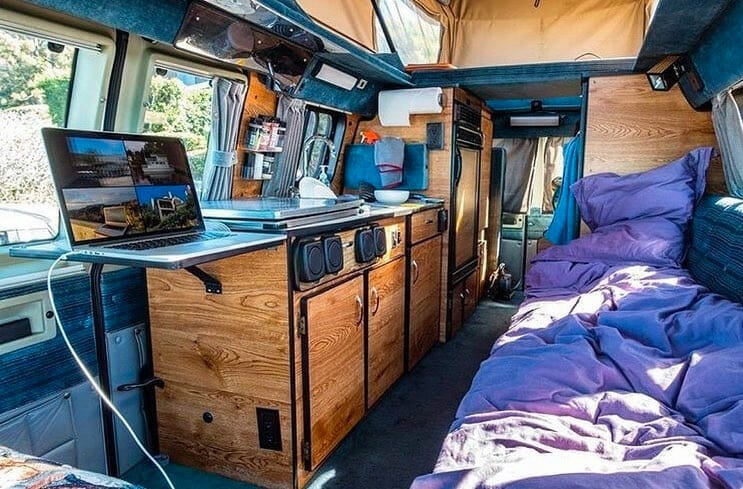 This sportsmobile belongs to @ecocamper who works as a programmer throughout the day. The van is built around a mobile workstation that looks pretty spacious for a van. The desk can be propped up for work and folded down when more space is needed.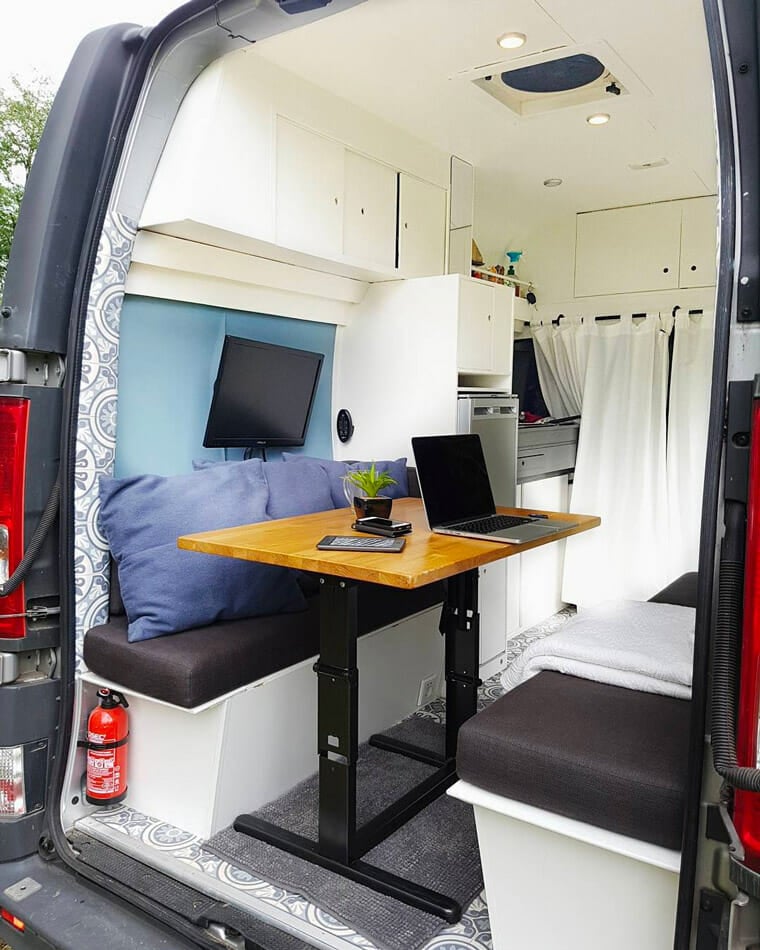 @backpackinglikeaboss helps people set up businesses and monetize their blogs. This mobile office is set up with a table that folds down into a bed and plenty of backyard views. Learn more about this space on Facebook.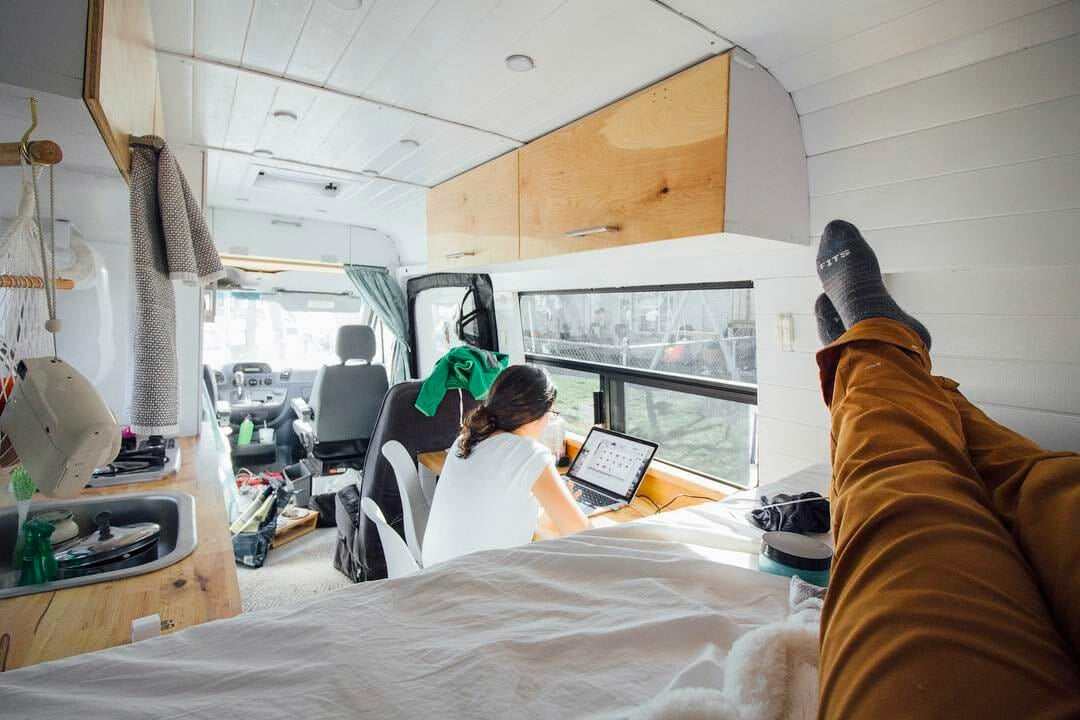 @ourhomeonwheels is a 2005 Freightliner Sprinter 158″. Jace and Giddi run a jewelry fabrication shop online as they travel around the country. The handcrafted jewelry is crafted inside the van and can be purchased on Carteo-Handmade.com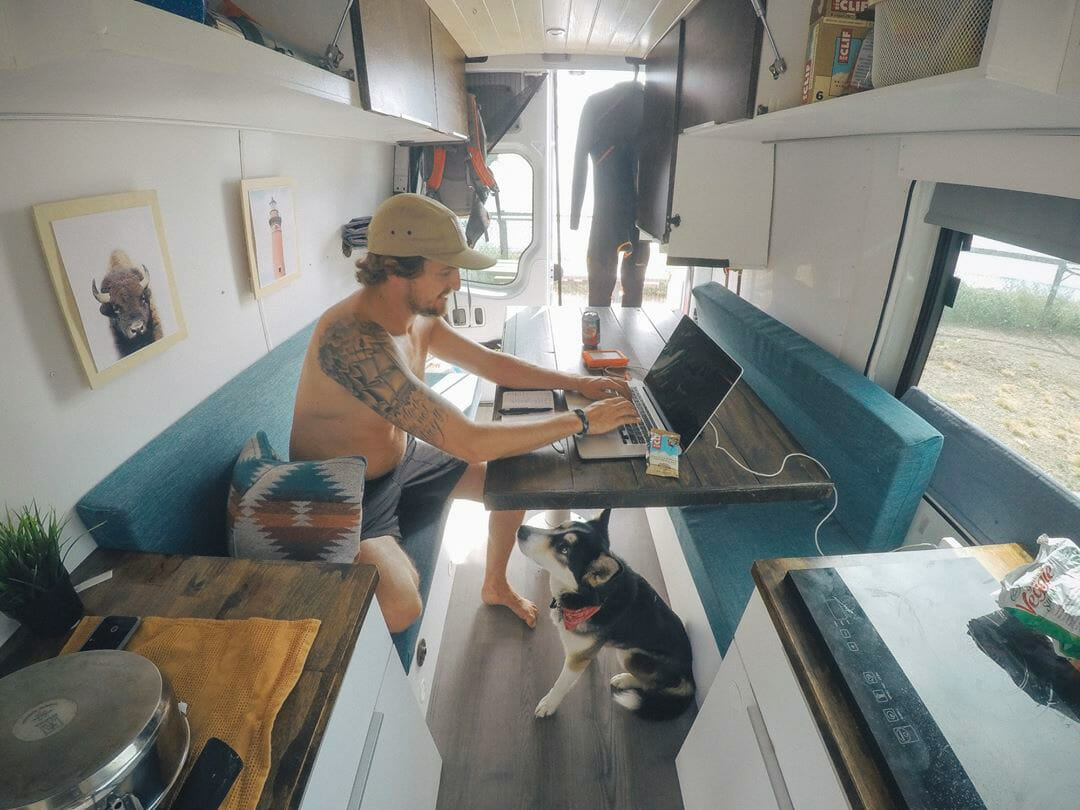 Scott and his travel buddy Elli work together in their DIY Sprinter van. This is another popular fold-down table setup that makes working on the road easy. You can follow their journey on Instagram @comeswithaview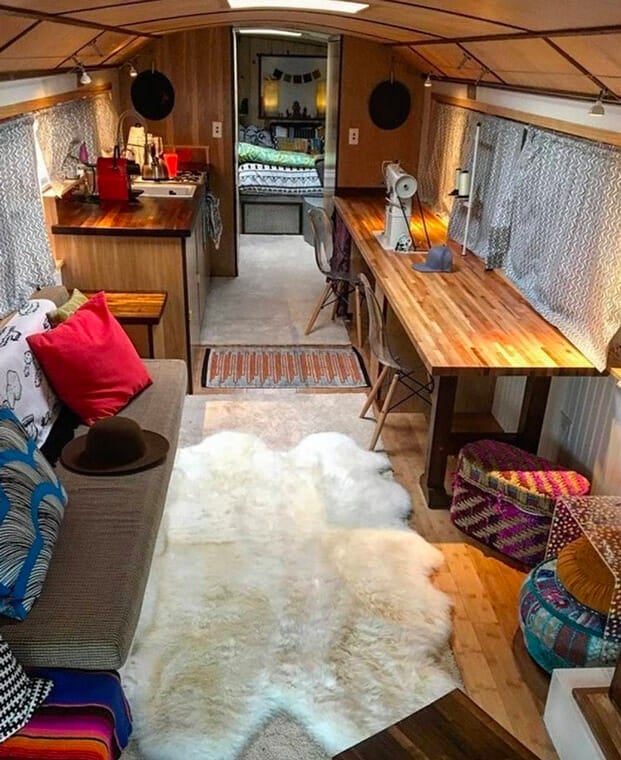 Sarah from @hecstudio designs and sews custom hats in her 40′ converted school bus. The bus serves as both a mobile studio space and a home. You can purchase her one-of-a-kind hats on HecStudio.com
@yoav.kafets travels around the UK and offers workshops on bowl turning with a lathe. You can also find him at Spoonfest – the biggest spoon carving gathering in the world. There he gets to showcase wooden spoons and bowls he makes by hand. Check out his products on yoavkafets.bigcartel.com