10 Amazing Sprinter Van Conversion Ideas and Examples
By
on
This post may contain affiliate links. As an Amazon Associate, I earn from qualifying purchases. Please read my full disclosure.
On the surface, sprinter van conversions are the perfect van to live in. They have plenty of space, excellent gas mileage for the size, and a long lifespan.
Many aspiring van lifers dream of converting their own Mercedes Sprinter van and hitting the road. But is the price tag worth it?
A new sprinter van can cost anywhere from $36,000 to $50,000. And that's before you do the work of converting it into a camper.
DIY Sprinter Van Conversion Examples
Seeing example van to camper conversion ideas is a good way to research your future build. Whether you want to build out a DIY sprinter van yourself – or rent one for a quick road trip – these vans will have you drooling over a #vanlife adventure.
1. Van Life Sprinter Built For Climbers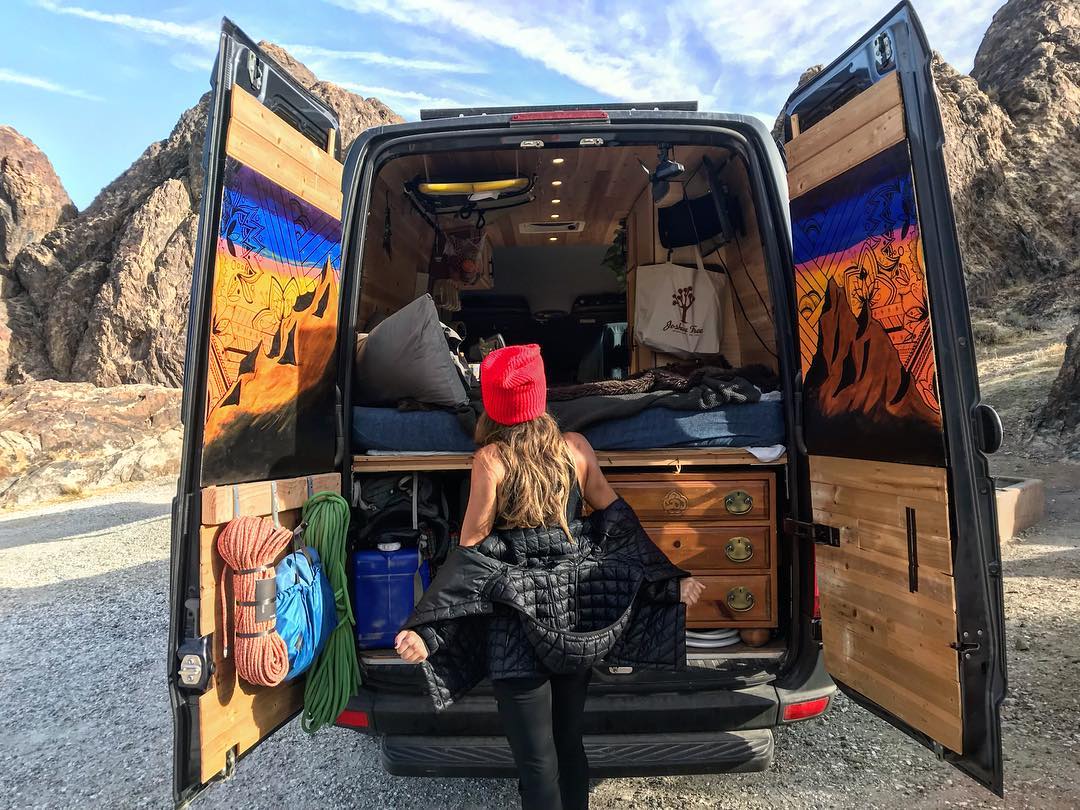 Justin from @van.surf.climb built a Mercedes Sprinter RV with a purpose. The goal was to build a rock-climbing, wave surfing adventure vehicle to take anywhere.
We like this sprinter because it has tons of storage for climbing equipment and cool designs on the back.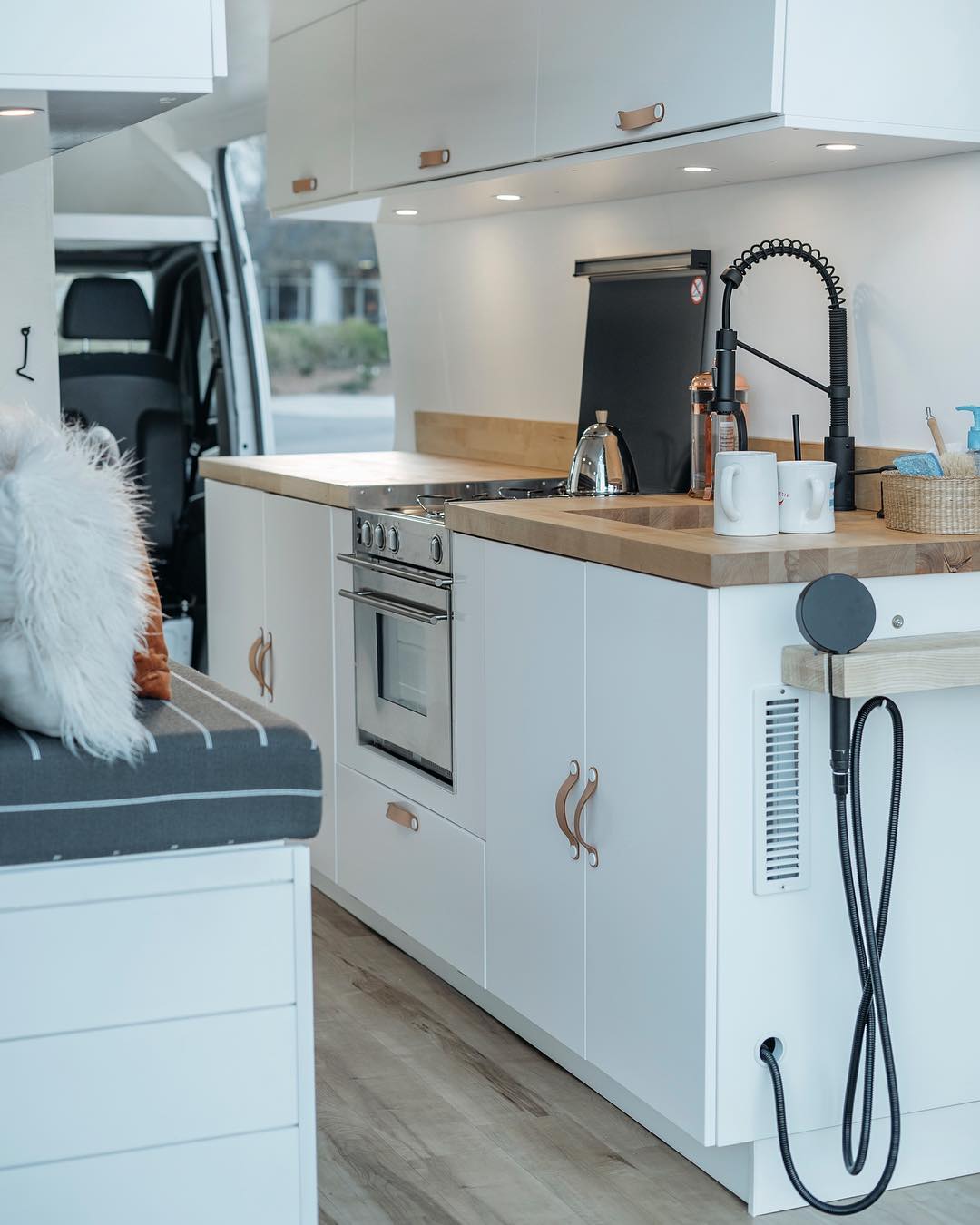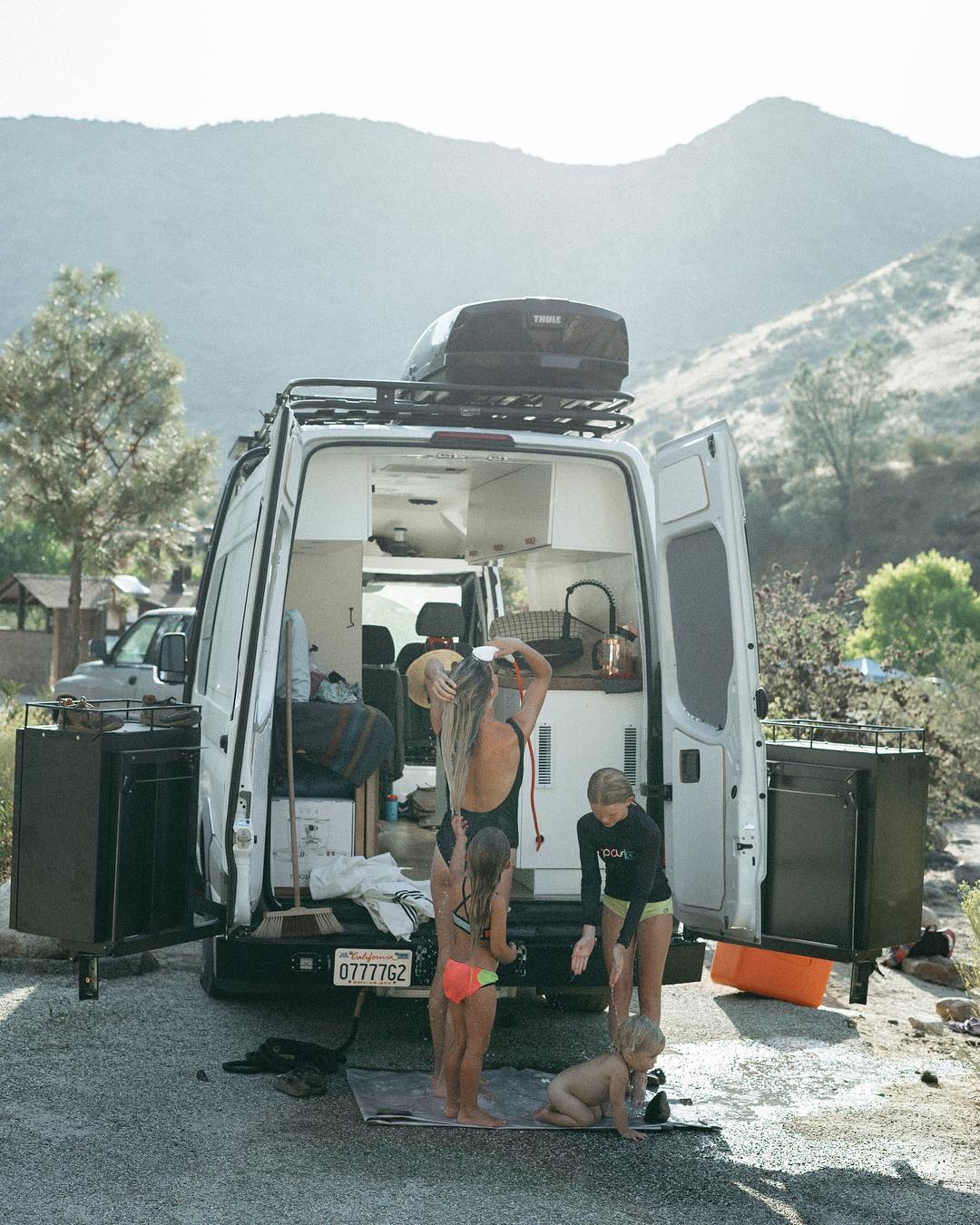 2. Family-Friendly Sprinter Van Build
@Rosenesontheroad travel as a family of four so space is of the essence. This is one of the more unique layouts that we have found from a couple that built their own DIY sprinter van conversion.
The family keeps their propane tanks in aluminum boxes on the outside of the vehicle for maximum safety. They have gas supply lines that attach to the inside which power a hot water heater for a shower and a propane oven.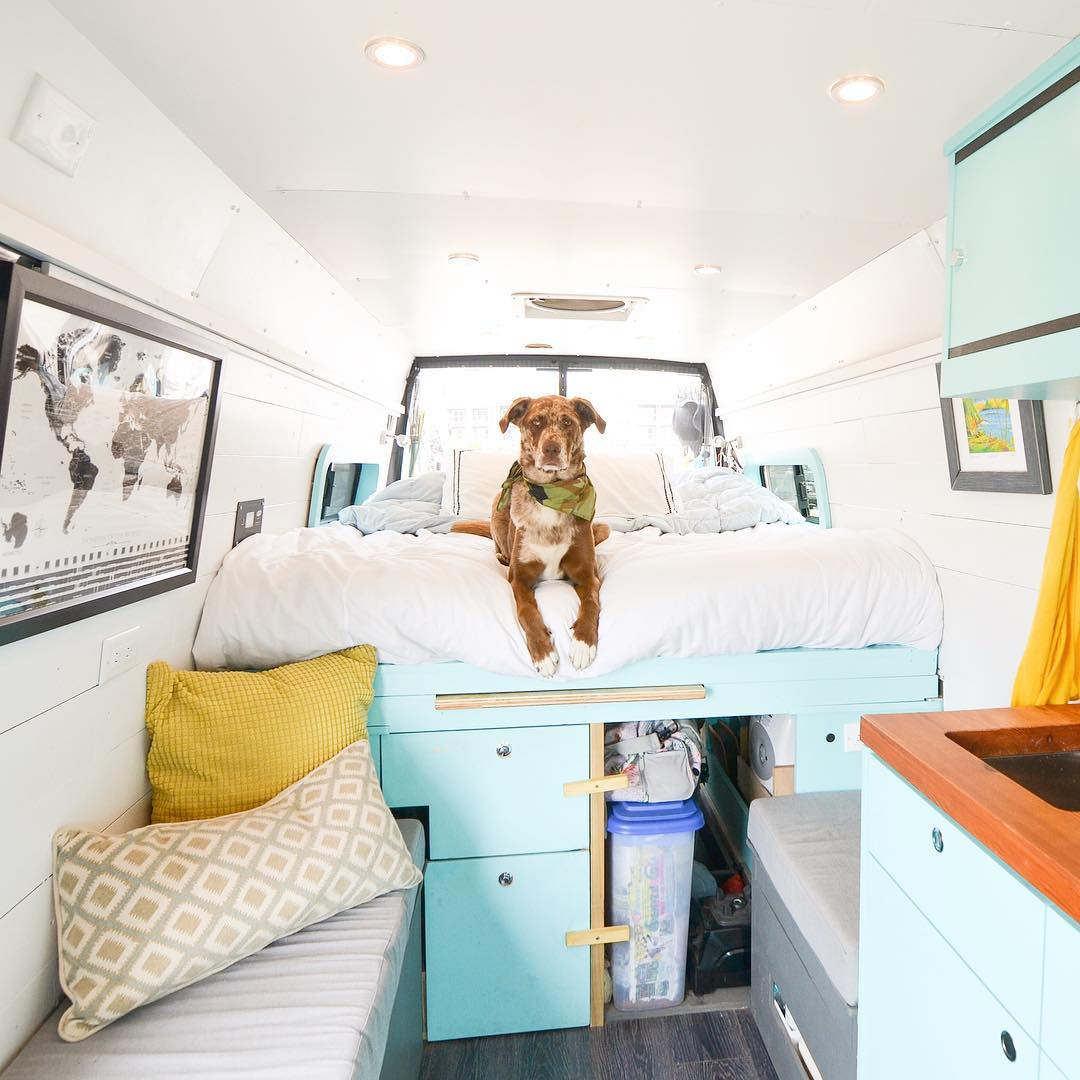 3. Modern Sprinter Van Camper
@sand.meets.summit built a simple and colorful layout into their Sprinter van. We like all of the storage and organization this design allows.
The couple was careful to build smooth surfaces that are easy to clean. They also added inexpensive diy stoppers to keep the drawers and cabinets from flying open during a drive.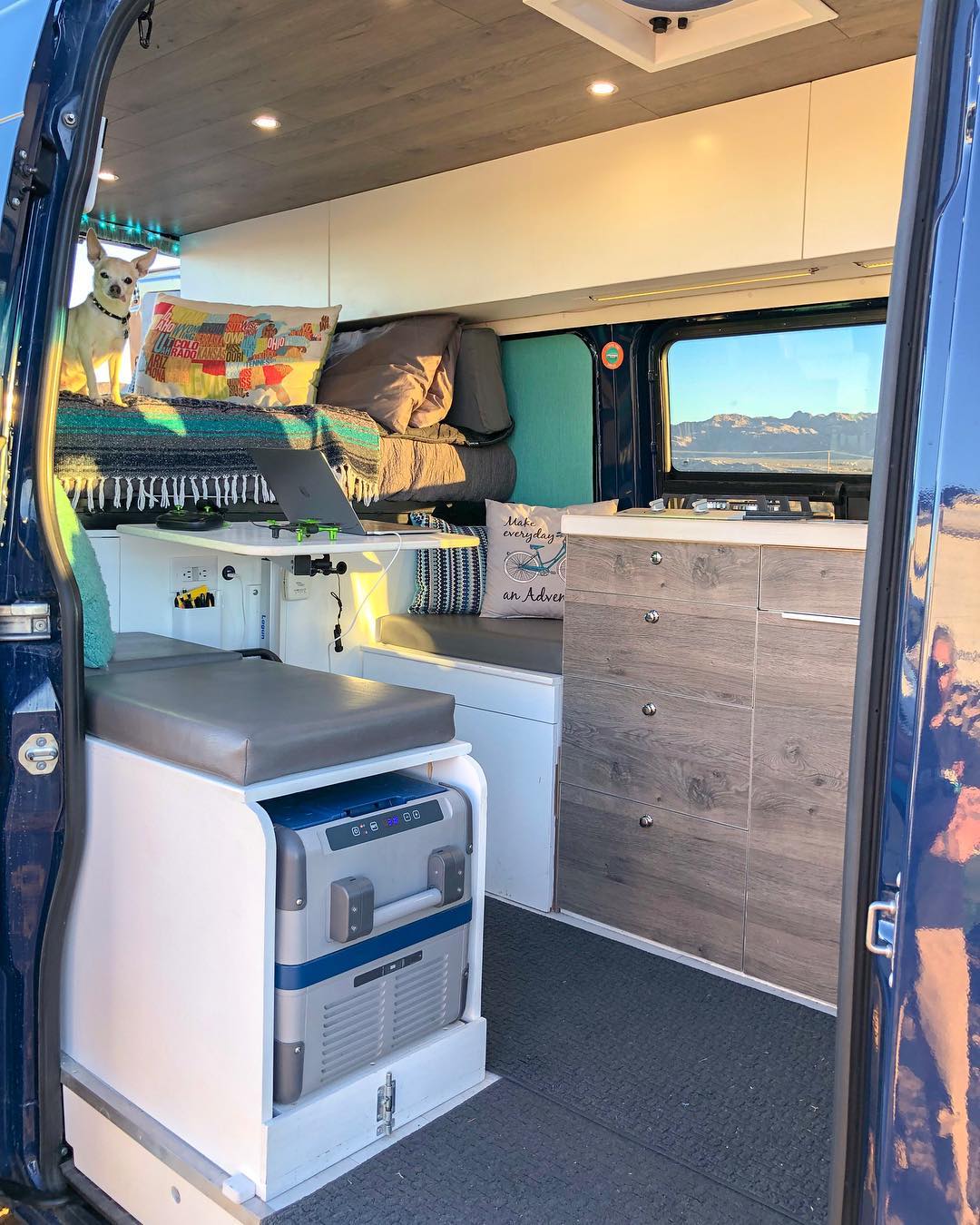 4. Sprinter Van with a Mobile Office
@van.there had a home office in mind when they designed their Mercedes Sprinter RV conversion. They have a nice desk space that can pop up for work and fold away when not in use.
They also built their 12v ARB refrigerator onto a slider drawer so it can stay hidden away and pulled out when necessary.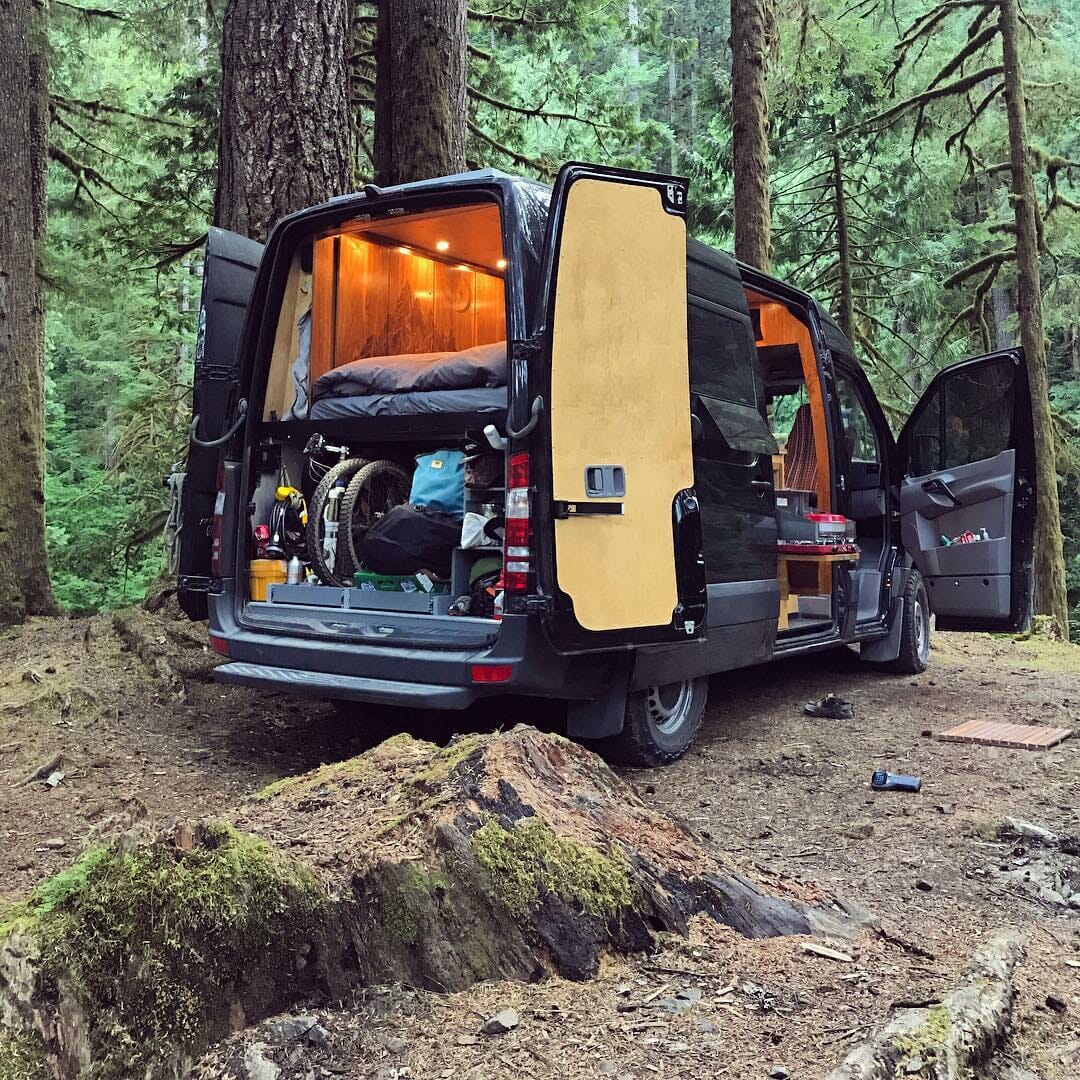 5. Adventure-Packed Sprinter Van Conversion
@Permanentroadtrip built the ultimate garage under the bed of his Sprinter. Heavy duty drawer sliders keep everything organized and allow him to pull out a mountain bike before hitting the trails.
Another cool feature is the pop-out shelf near the side doors for cooking food outside.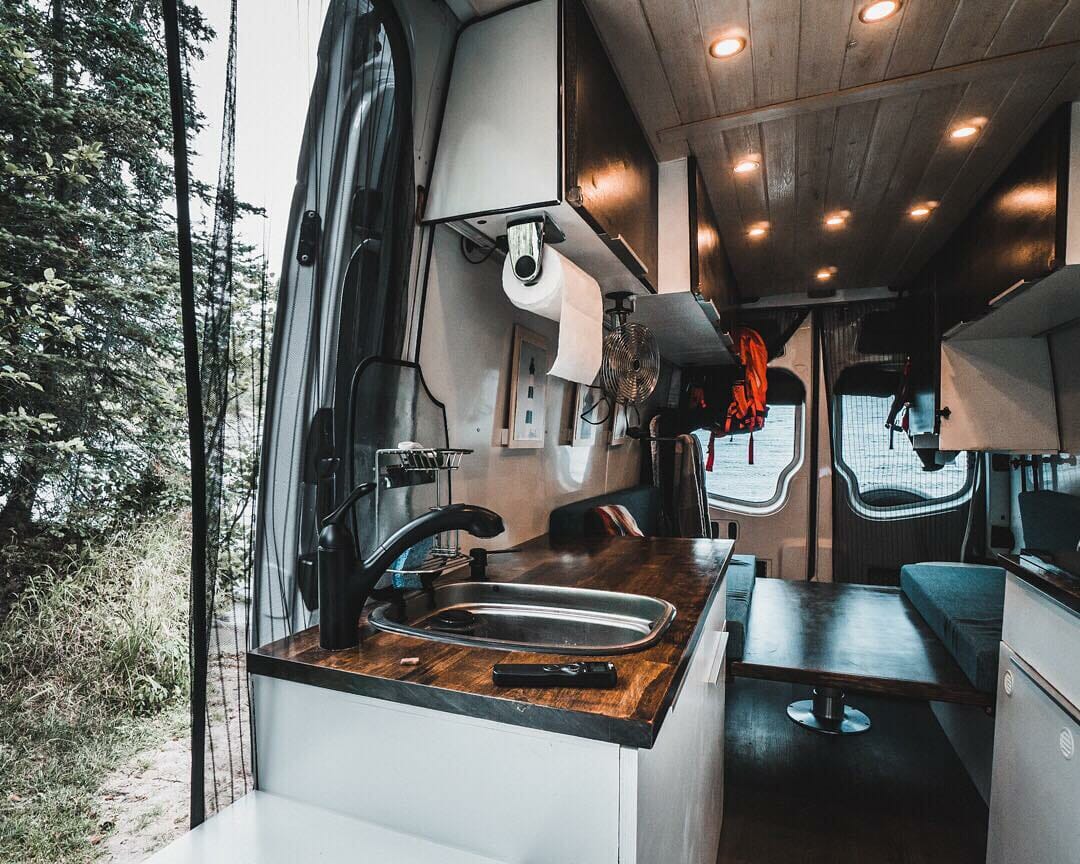 6. DIY Sprinter with lots of organization
@comeswithaview built a DIY Sprinter with a great organization. The telescoping table base underneath the bed lets you create benches or a full-sized mattress.
Designing a camper van sink next to the side doors also gives you a convenient way to fill and empty water tanks more easily.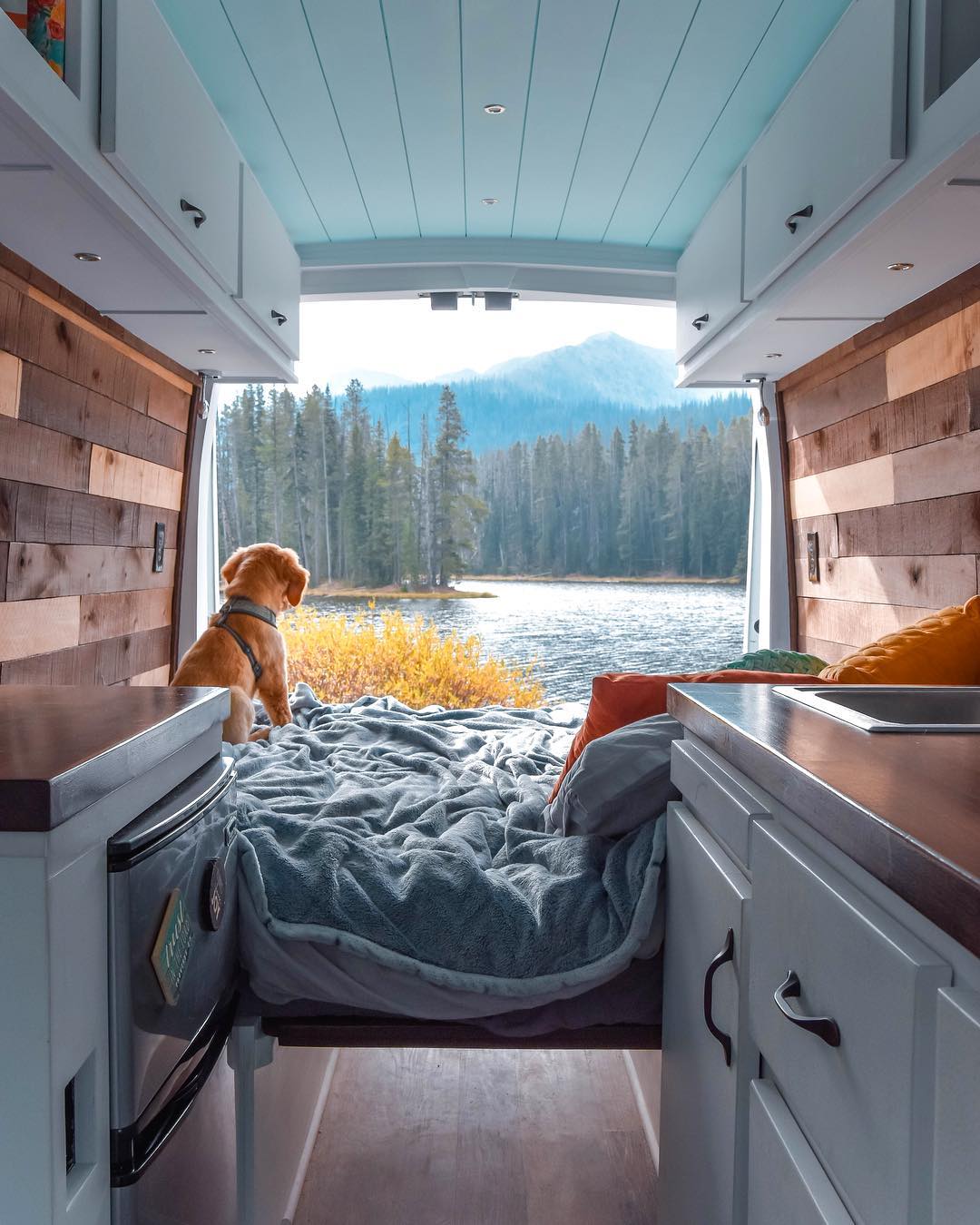 7. Layout built for travel
Divine on the Road has a beautiful build with lots of storage and counters on both sides. The layout leaves plenty of space to move around and doesn't go over the top with components.
We like this simple and clean approach for a van to camper conversion.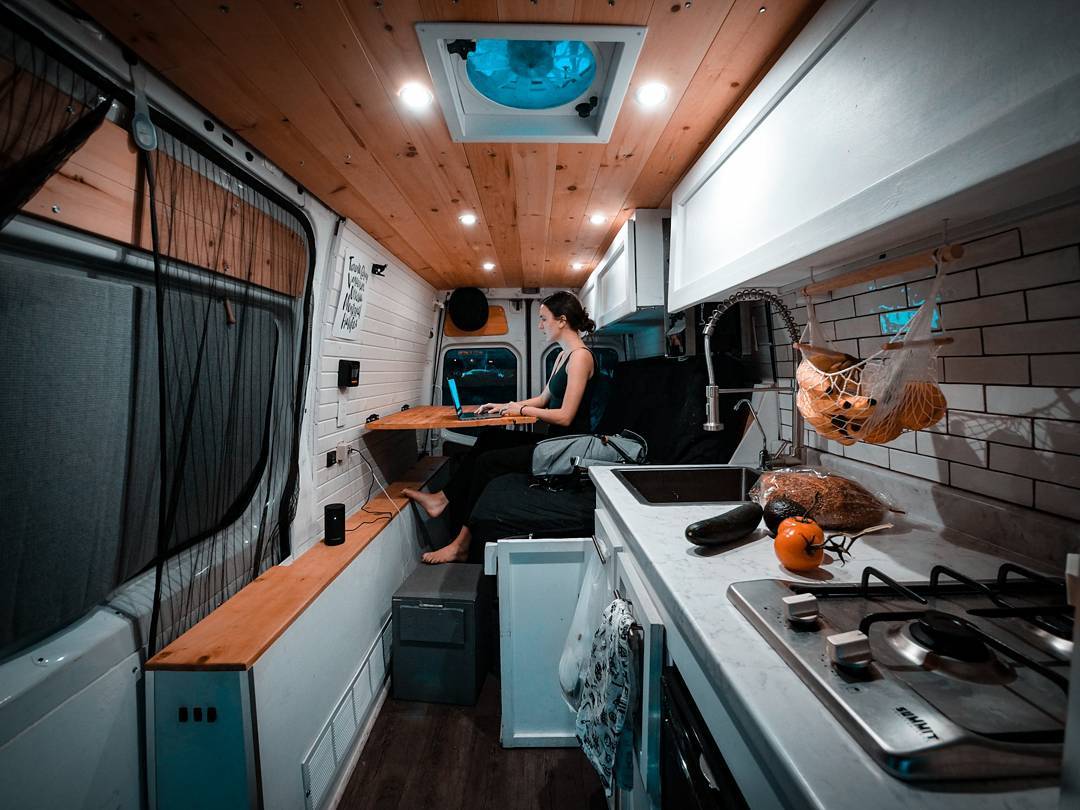 8. 170″ Sprinter Van Conversion
Ehmon and his wife Rebecca are popular youtubers that live and travel in a 170″ Sprinter Van.
Not only does the large camper allow them to have lots of desk and countertop space, but there's even enough room for friends to hang out!
They also turned their entire bed into a workbench combo which is a great design for digital nomads who are looking for a mobile office.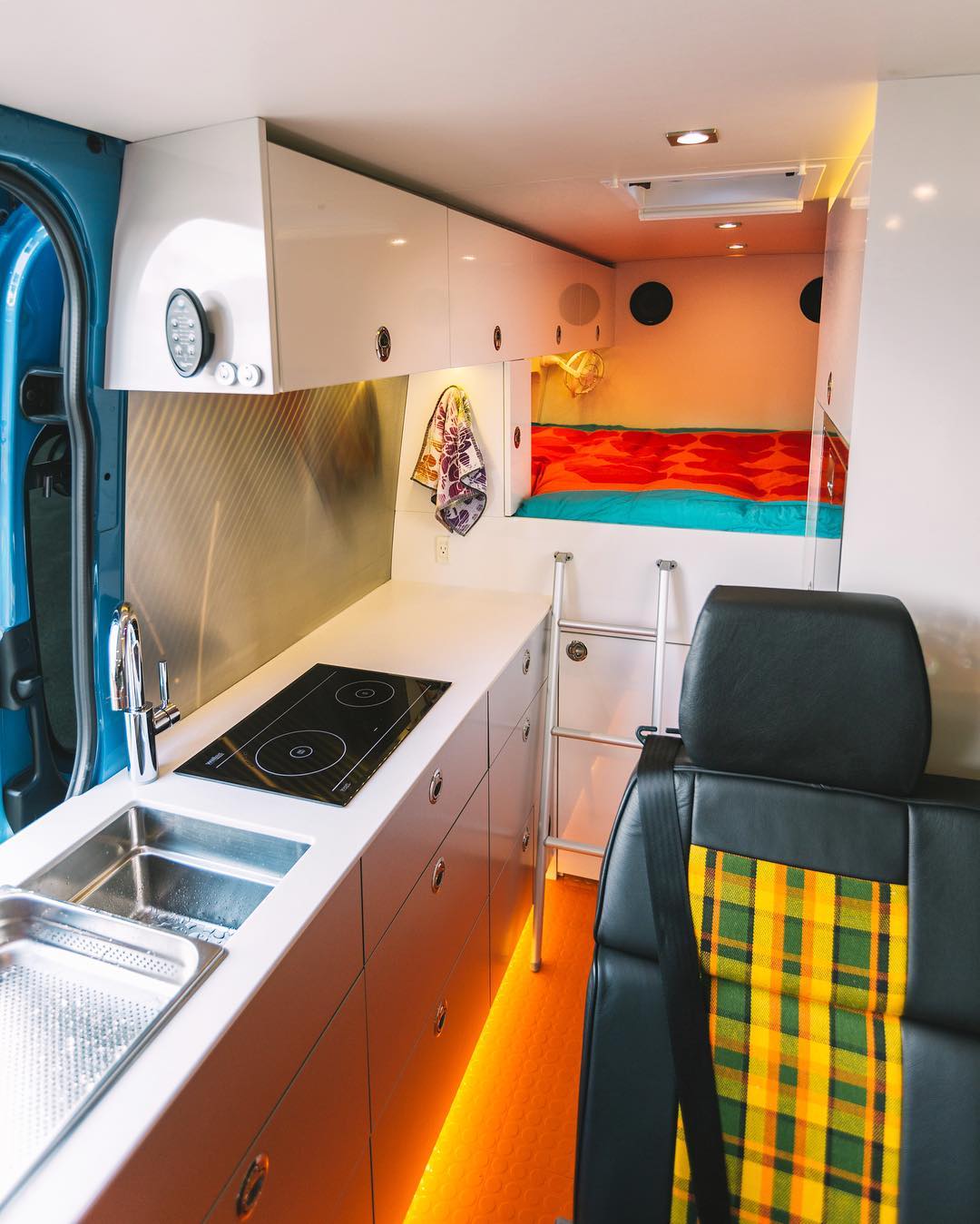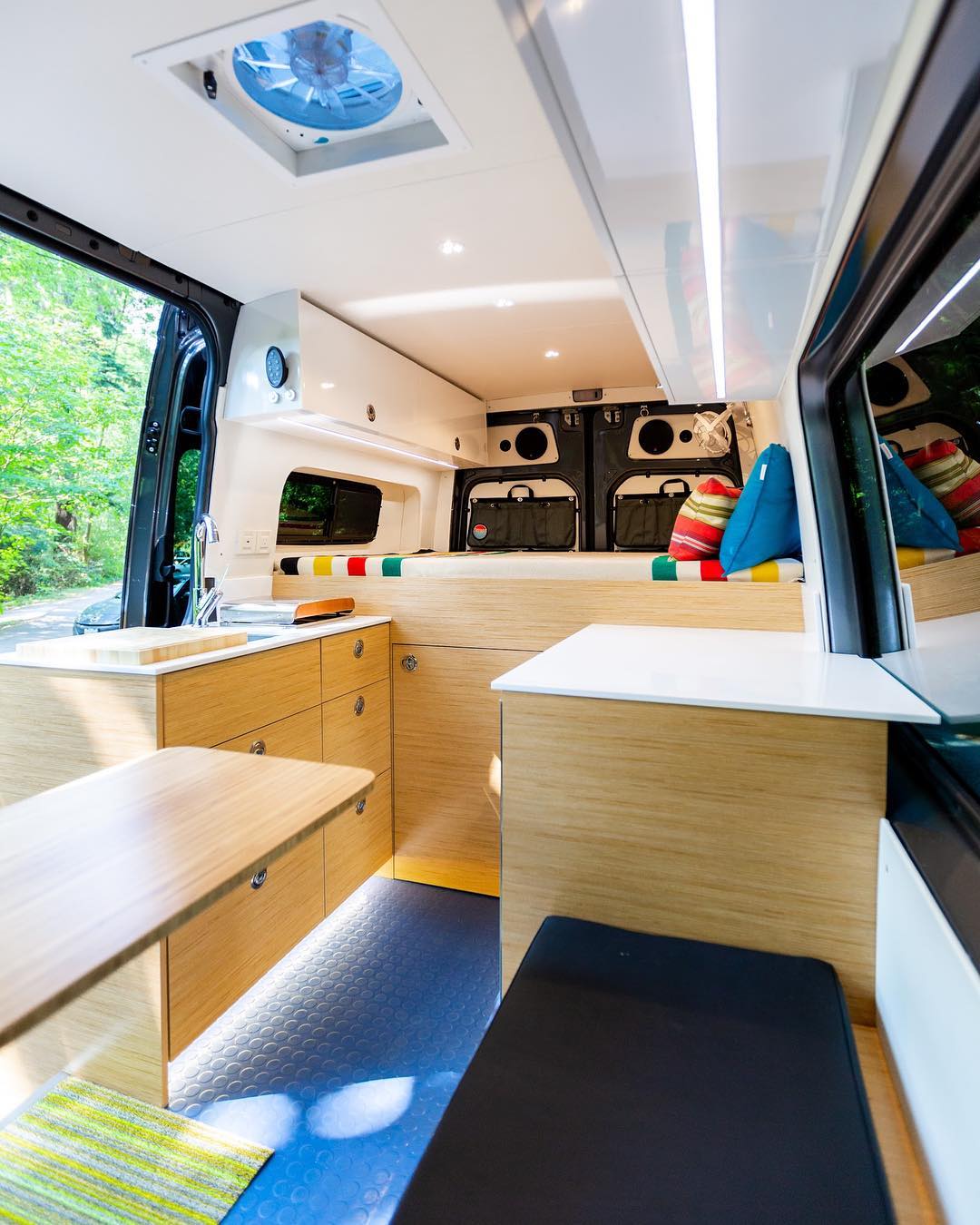 9. Professional Sprinter Van Conversion
NomadVanz is a van conversion and camper rental company based out of Vancouver, British Columbia. They make some of our favorite modern Sprinter designs.
We like that they incorporate so many bright colors and smooth surfaces to make their vans sleek and easy to clean. Nomadvanz outfits their vehicles with some of the best camper components and minimalistic designs.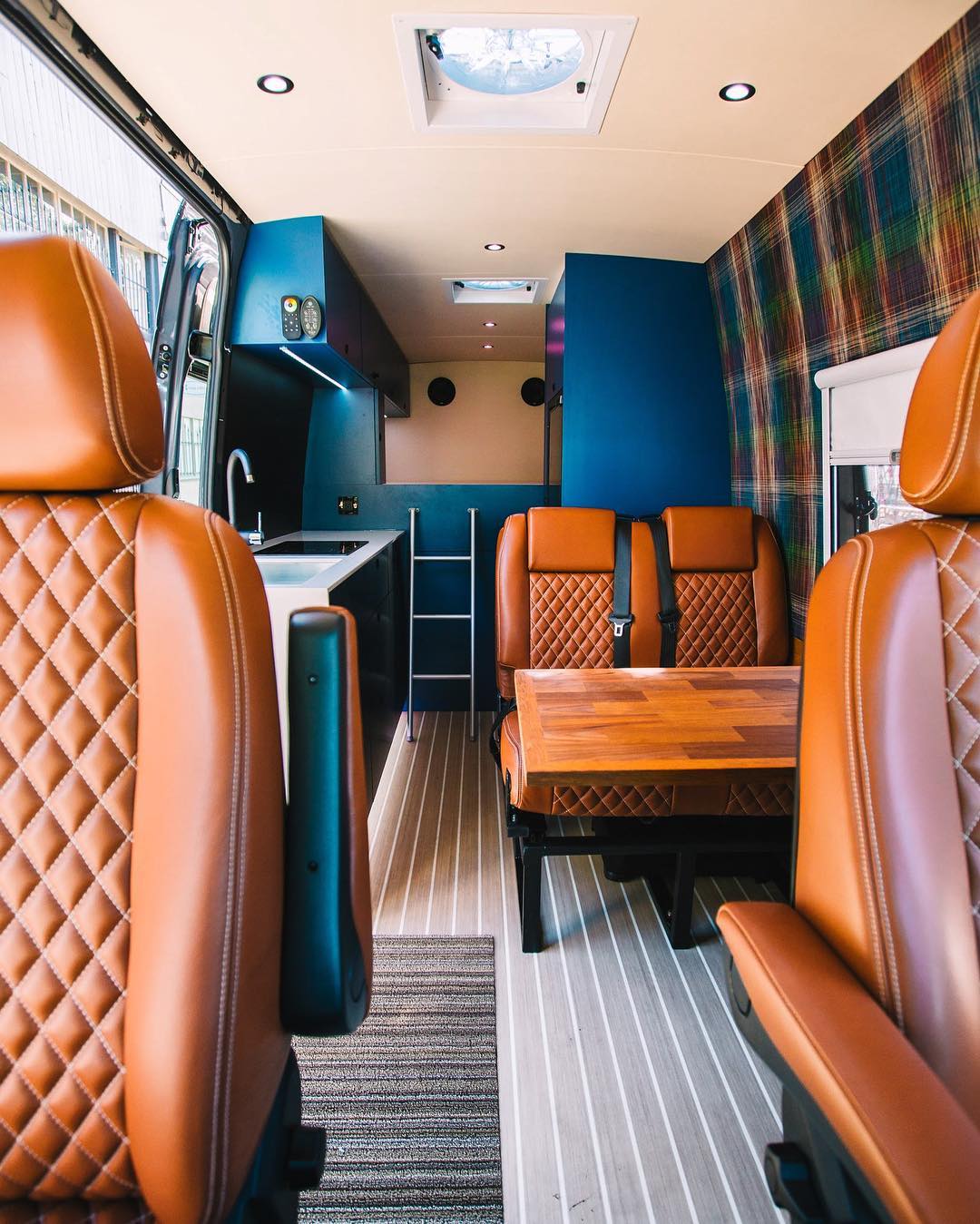 10. Off-Grid Sprinter Van Camper
Outside Van is a camper van conversion company that specializes in rugged vehicles that can travel off-grid. These hard-core vehicles come with bike racks, roof boxes, heavy-duty tires, and everything you need to travel off the beaten path.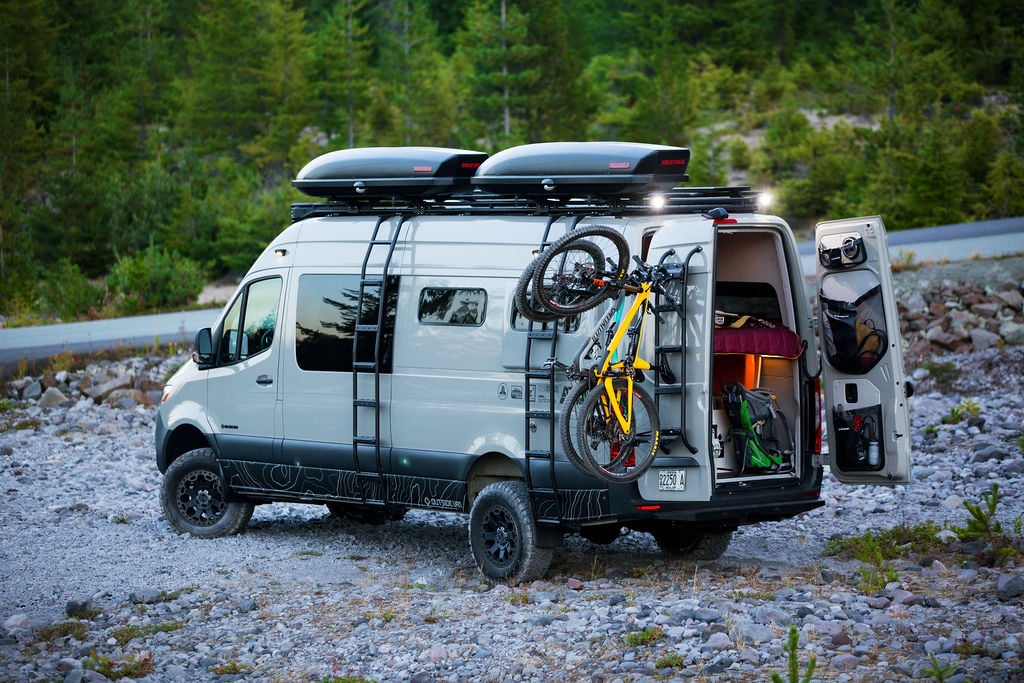 In this article we're going to highlight the pros and cons of building a sprinter van conversion.
We'll cover everything from the cost, to the different models, where to purchase them, how to get them converted, and tips to build your own DIY camper and save some money.
Choosing the best Sprinter for a Conversion
When starting your search for the perfect sprinter you're going to come across three different types:
Dodge Sprinter Van
Mercedes Sprinter Van
Freightliner Sprinter Van
Fortunately, all three models are the same. Between 2001 and 2007, sprinters were branded as the Dodge Sprinter Van. From 2007 onward, they were branded as either Mercedes Sprinters, or Freightliner Sprinters.
No matter which sprinter you choose to buy. The meat and bones are just the same.

Cargo VS Passenger VS Crew
Sprinter vans come in a variety of sizes with different lengths, heights, and power train options to choose from.
In addition to that, there are three main styles of sprinter vans:
Cargo van
Passenger van
Crew van
---
In a nutshell, a cargo van is the best choice for a sprinter van conversion. These vans are a blank slate that will allow you to add and remove windows, seats, and other components as needed. They are also the cheapest option.
---
The cargo sprinter van is a commercial vehicle. It comes with one row of seats for a driver and two passengers. The rest of the van is bare bones and designed to haul large loads of equipment. Cargo vans have the largest payload capacity and are the least expensive.
Passenger sprinter vans are the most expensive. They offer comfortable seating for 8-15 people and come with all of the bells and whistles that you would find in a passenger vehicle. If you're planning to build a camper conversion, passenger sprinter vans are not the best choice.
Crew vans are a hybrid between the cargo and passenger vans. They come with a second row of seats which are removable. The payload capacity is in-between that of a cargo and passenger van. Crew vans come with windows pre-installed so they're a good choice if you're looking to add that feature.

Standard VS High Top
Sprinter vans come with two different height options: standard, and high roof. Most people cannot stand fully upright inside a standard height sprinter van.
Standard roof sprinters: Measure 96.3 inches (8 feet) exterior. 65.3 inches (5.4 feet) interior.
High roof sprinters: Measure 107.5 inches (9 feet) exterior. 76.7 inches (6.3 feet) interior.
There are a lot of different pros and cons to owning a standard vs a high top van. A high roof van will give you more storage overall. It's easier to get dressed and cook inside, and there's enough space to add a bathroom or bunk beds.
High roof sprinter vans are best for large families and more passengers. They can also be more stealth since you can hide solar panels and other equipment on the roof.
Standard height vans are easier to park in structures, take in drive-throughs, and pack toys like kayaks on the roof. They also allow you to articulate solar panels more easily or add accessories like a pop top.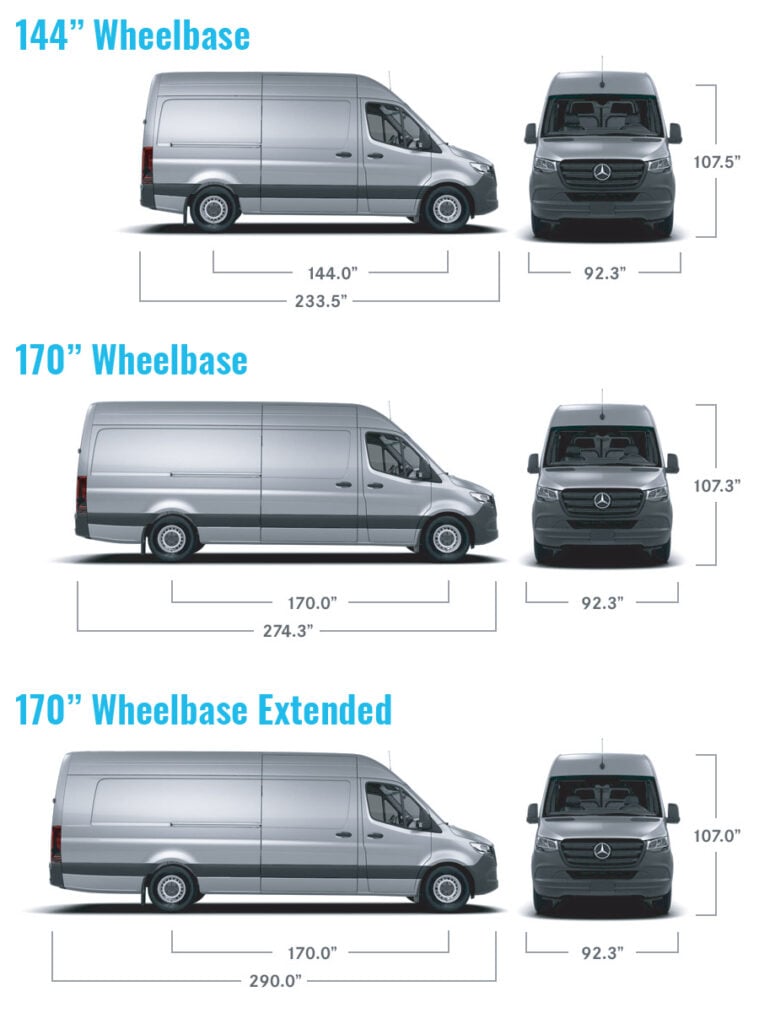 Wheelbase Length
Cargo sprinter vans come in three different wheelbases:
144 inch wheelbase
170 inch wheelbase
170 inch wheelbase extended
The extended wheelbase adds an additional 15 inches in length.
Crew vans and passenger vans come in 144" or 170" wheelbases (there is no extended version).
Which wheelbase is best for a conversion van? 15 inches adds a significant amount of space inside your camper, but it does come with some downsides.
For one, a longer wheelbase is more difficult to maneuver. The extended wheelbase will not fit comfortably in a standard parking space.
And, for those who enjoy overlanding, a vehicle that long is just not a good choice because you can easily scrape the bottom or get stuck.
Dimensions
If you're looking for the interior and exterior dimensions of the Sprinter van, we've got a helpful comparison chart to help you.
This table allows you to filter each type of Sprinter by brand, model, wheelbase, roof height, and year.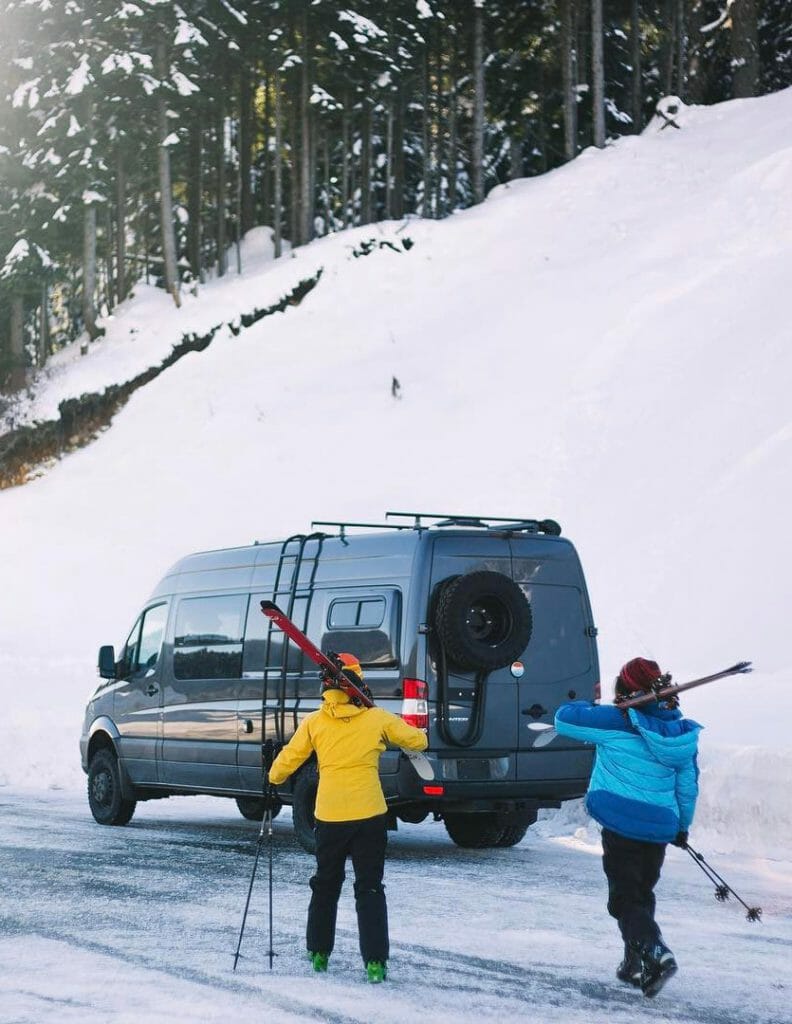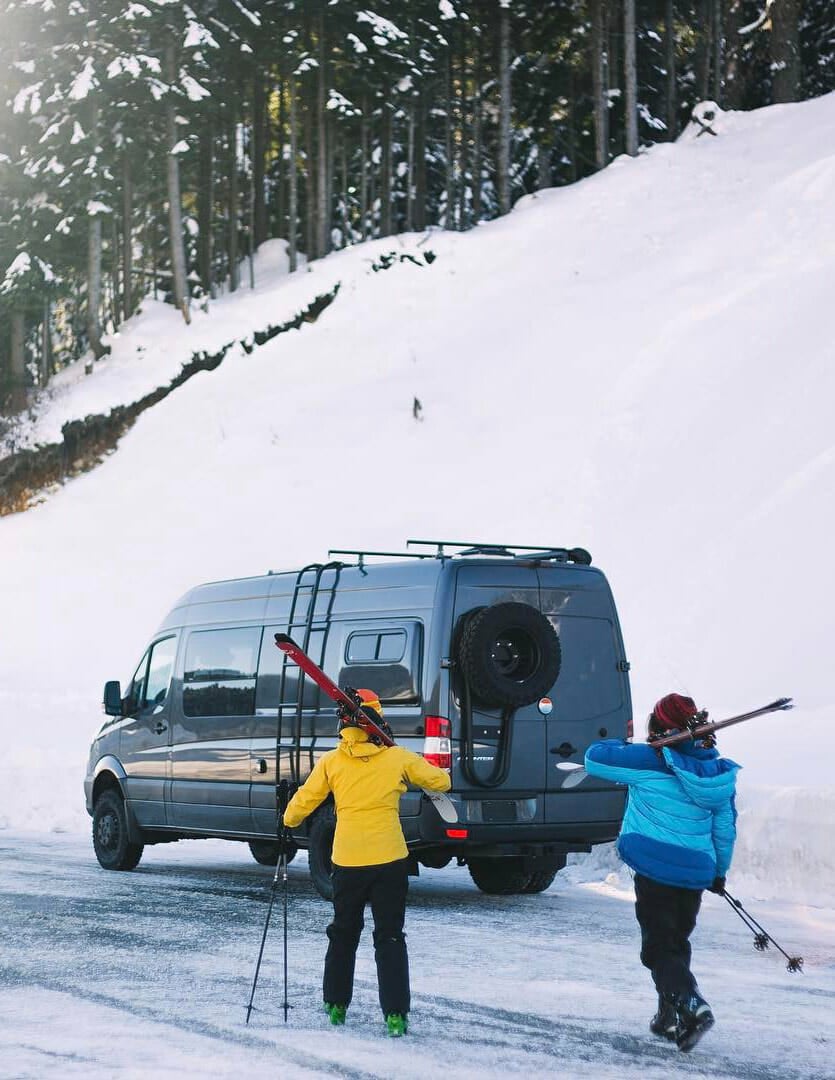 Power Train Options
There are a number of different power train options that are going to affect the handling and gas mileage of your vehicle. They are:
4-cylinder gas
4-cylinder diesel
6-cylinder diesel
6-cylinder diesel 4×4
Diesel engines last longer than gas engines, but they are more difficult to service. You'll also get the best gas mileage with a 2WD vehicle.
The 4×4 power train option is a good choice if you need a lot of traction for ice, sand, snow or other overlanding activities. Unfortunately, this option will also have the poorest gas mileage.
How Much Does A Sprinter Van Cost?
Prices are going to vary by dealership. As a ballpark estimate, the starting prices for a brand new 2021 sprinter van range from $36,000 to $47,000:
| Style | Wheelbase | Roof Height | Starting Price |
| --- | --- | --- | --- |
| Cargo Van | 144" | Standard | $36,400 |
| | 144" | High top | $39,200 |
| | 170" | Standard | $43,000 |
| | 170" | High top | $47,800 |
| Crew Van | 144" | Standard | $41,400 |
| | 144" | High top | $44,200 |
| | 170" | High top | $47,400 |
A sprinter van conversion can range anywhere from $10,000 to $100,00+.
A DIY build with less accessories is going to be the cheapest, while hiring a specialized conversion company will be the most expensive.
Most sprinter van conversion companies will require you to purchase the vehicle separately before bringing it into the shop.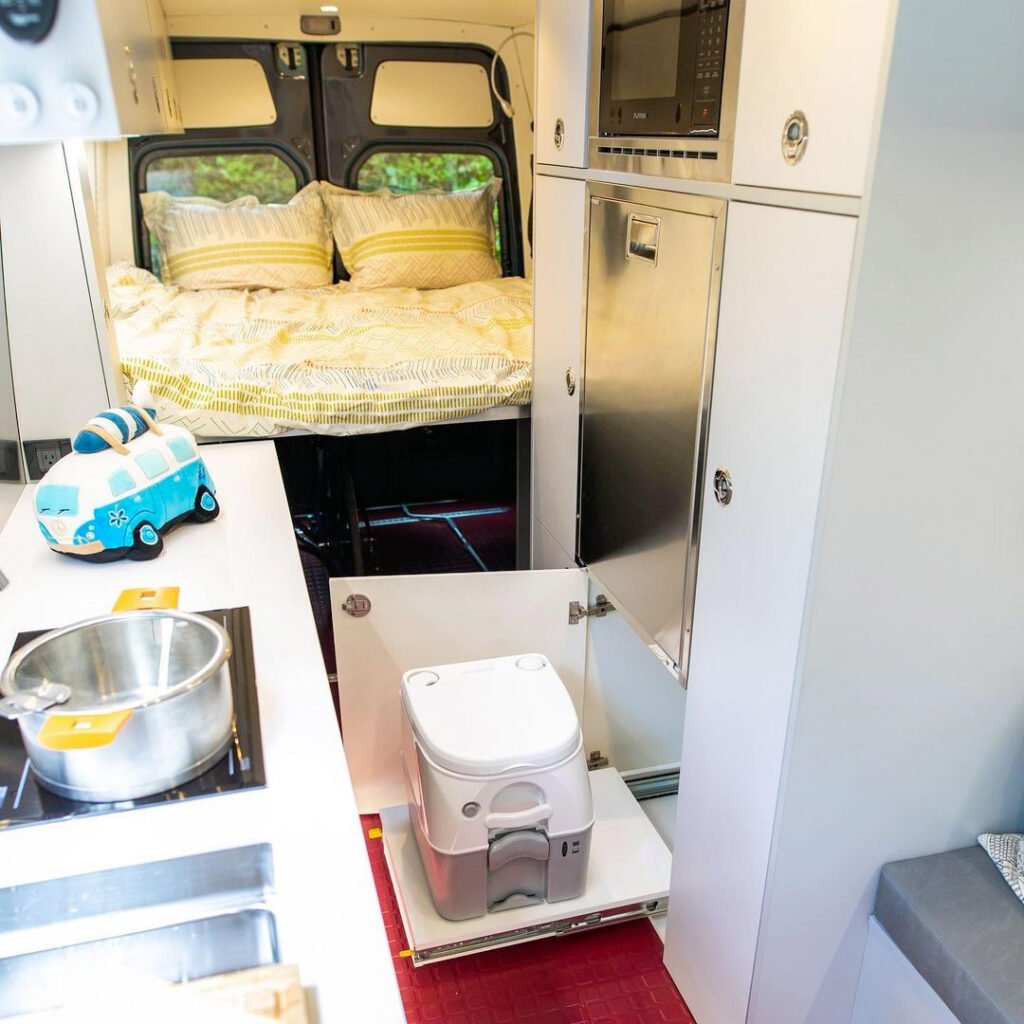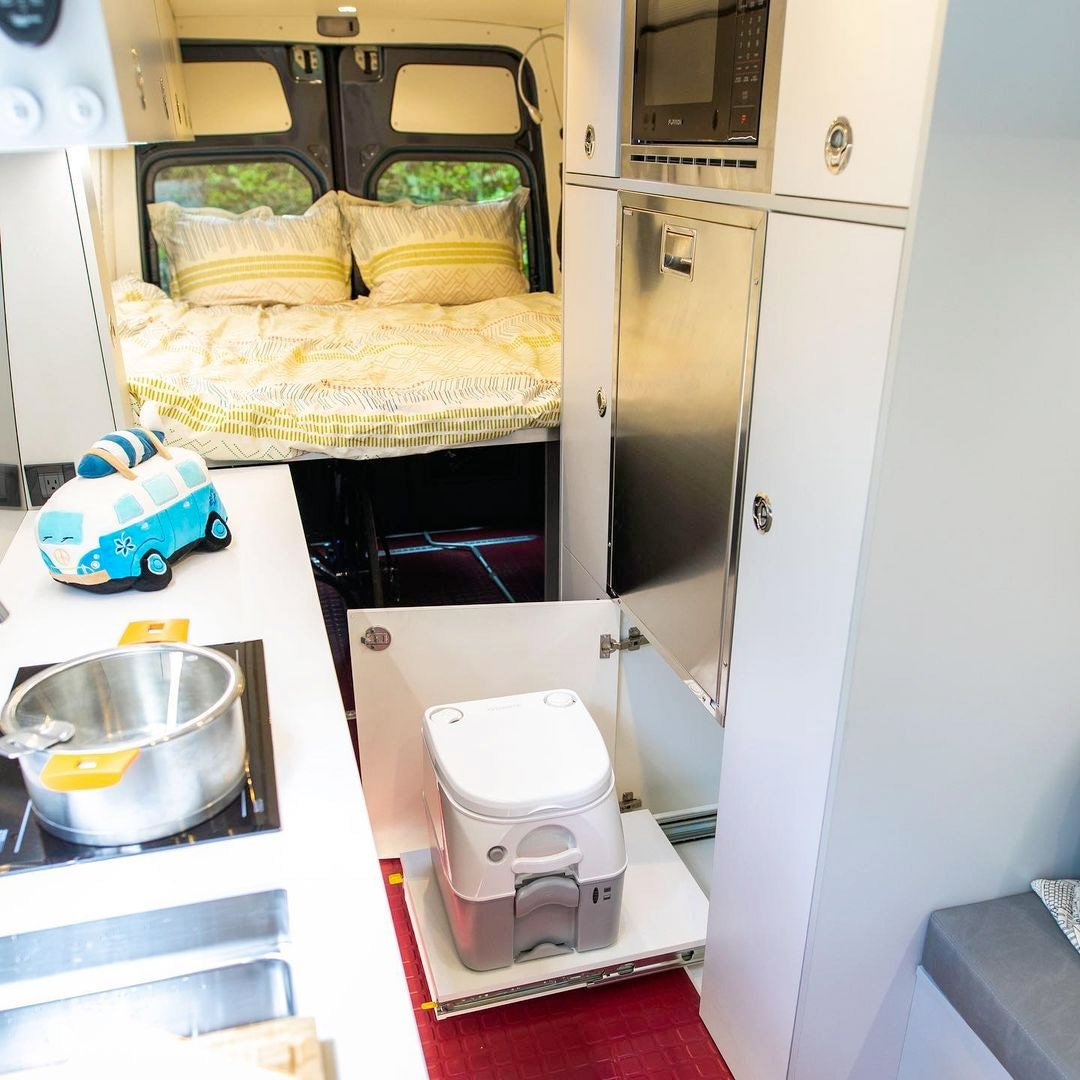 Sprinter Van Conversion Pros and Cons
Sprinter vans make a great vehicle for camping or converting into an RV because they have ample storage space, get good gas mileage for the size, and they're long lasting.
These vehicles also have a lot of quality aftermarket components. And, if you're buying new you can customize the wheelbase, height, and power train.
The best part about a sprinter van is that they tend to hold their value. So while the cost may seem high up front, this type of vehicle is an asset that you can sell later.
Good gas mileage for the size
Reliable and long lasting
Large, boxy interior
High quality aftermarket components
Variety of lengths, heights, and power train options
4×4 capable
Holds value well
The biggest downside to a sprinter van conversion is the high price tag. Not only are they expensive to buy new, but the used market is high-priced as well.
Maintenance can also be a significant expense on these vehicles. You can only get them serviced at a Mercedes dealership and repairs can be technical and expensive. Fortunately, your trips to the shop should be far and few between.
Expensive repairs
Technical maintenance that requires specialized shops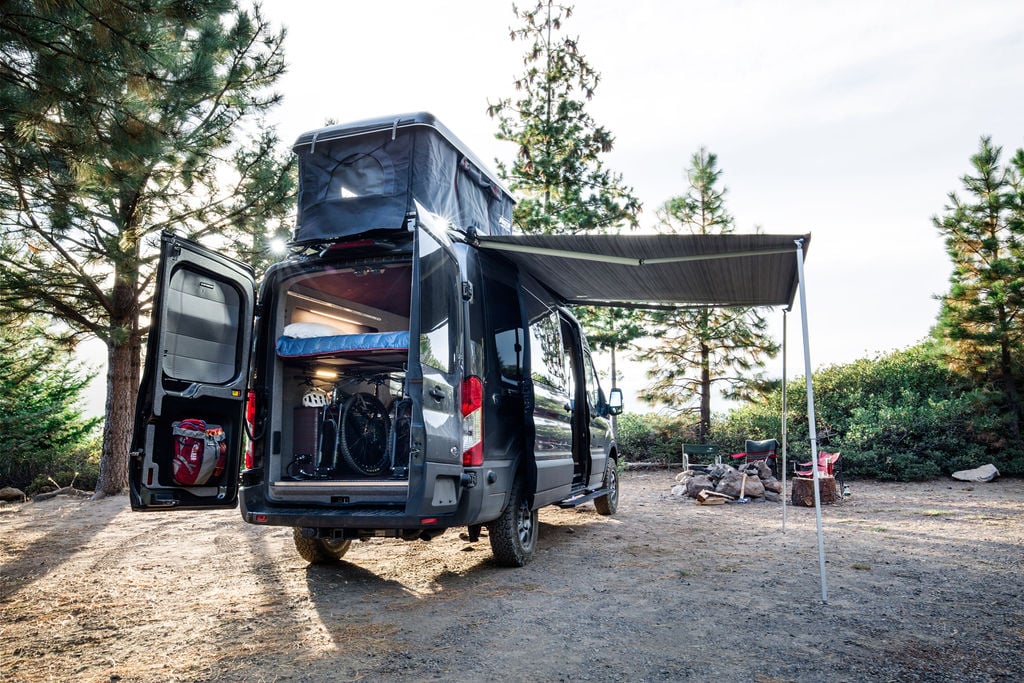 Where To Buy A New Sprinter Van
The best place to buy a brand new sprinter van is straight from the source. You can build your dream van online at mbvans.com or search local dealerships to see what they have in stock.
If you're planning to have a conversion van company build out your vehicle, reach out to them. Some companies can help source your vehicle.
Buying A Used Sprinter Van To Convert
There are a number of marketplaces specific to sprinter vans. When you go to inspect the vehicle, make sure you bring a friend or mechanic along for the ride.
Here is our complete list of things to look for when buying a used camper van.
Craigslist
Facebook Marketplace
eBay
Auto trader
MercedesSprinterCamper.com
Alternatives
Cargo vans make the perfect blank slate for a camping vehicle, but a quality vehicle can be difficult to find. Ford Transit conversions and Dodge ProMasters have many of the same upsides as a sprinter and are worth some consideration.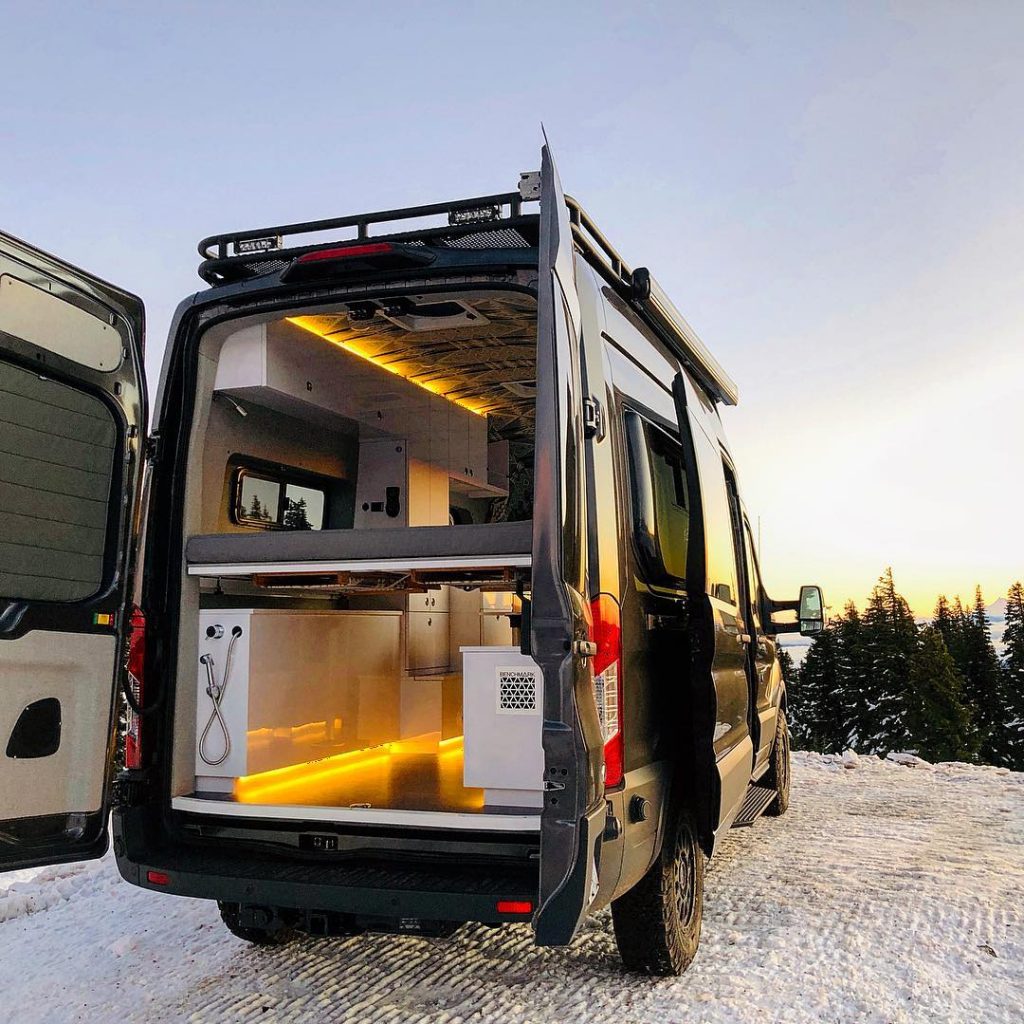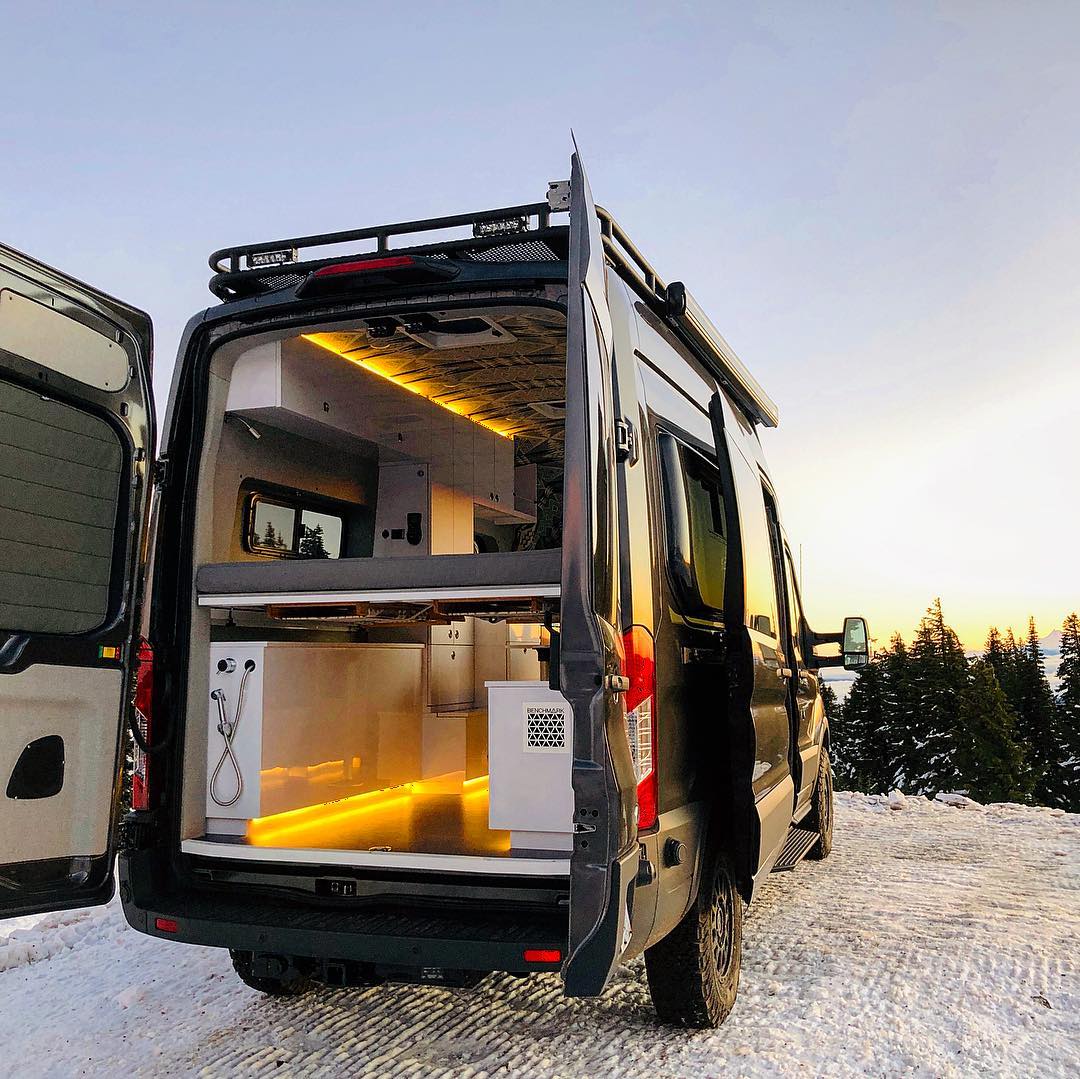 Building A Sprinter Van Camper
After you purchase your van, the next step is to gather inspiration and plan your build! There are a few different way to complete your dream camper van:
Purchasing a turnkey camper van
Hiring a custom van conversion company
Building a camper with conversion kits and aftermarket components
Designing a DIY sprinter van conversion
Turnkey Sprinter Van Campers
If you don't want to deal with the hassle of waiting for a build to get completed, the next best thing is to buy a turnkey camper. Two companies that sell completed sprinter van campers are:
You can expect to pay $150,000 minimum for a completed sprinter van conversion.
Of course, these campers come with a warranty, professionally installed components, and the peace of mind that you have a vehicle that will last.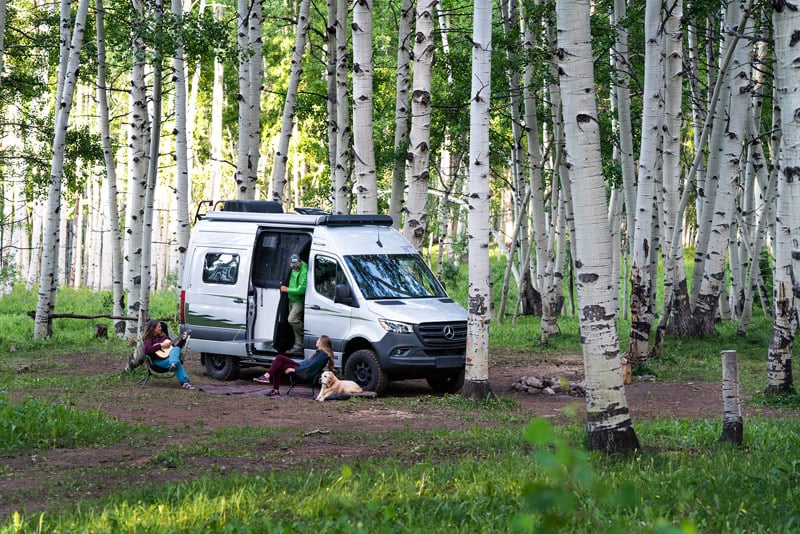 Custom Sprinter Van Conversion Companies
In a recent article, we created a list of custom camper van conversion companies organized by state. This is the most expensive way to get your van build completed, but by choosing this route, you won't have to lift a finger.
You should plan to invest a minimum of $35,000 when choosing to hire a company. And that doesn't include the cost of a van.
A big advantage to hiring a custom conversion company is that you'll be paying for expertise. These builders have completed tens, and even hundreds of vans so you can rest assured that it's being done the right way.
Hiring a team of experts is also going to give you a wealth of information when it comes to the best components and styles available on the market today.
An established company will be able to help you narrow down exactly how much power you need, water to store, and even the type of vehicle you should buy.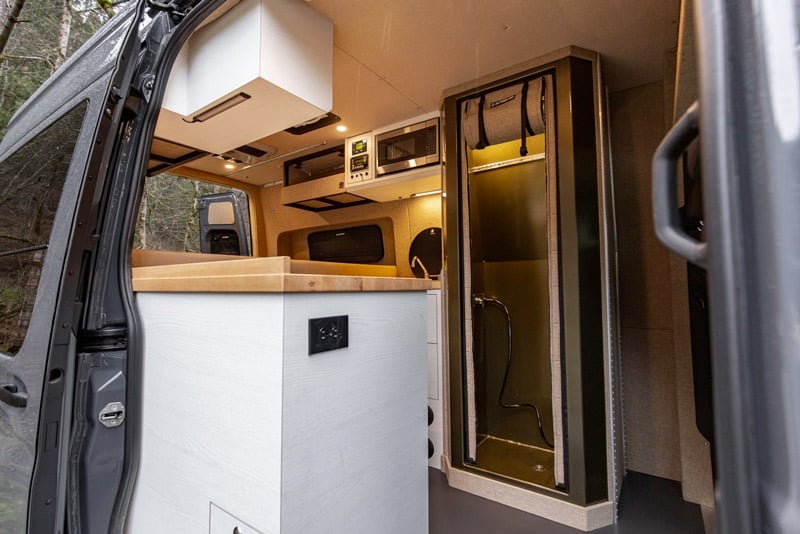 One of the great things about converting a sprinter van is that they're so widespread and popular. You can find high-quality aftermarket kits and components that will fit your vehicle perfectly.
If you're building a DIY sprinter van camper, these aftermarket accessories will make your job significantly faster and easier.
Some components that you can find in aftermarket kits include:
Cabinets, shelves and headliners
Interior panels
Water tanks that wrap around the wheel wells
Seating and lockers
Kitchen and plumbing components
Bike mounts, ladders, roof rails and bumpers
Fabric panels, cargo storage and platform beds
Windows and awnings
Our favorite aftermarket component companies for a sprinter van camper include:
DIY Sprinter Van Conversion Ideas
Building a DIY van is going to be the cheapest option, but it's also going to take a significant amount of time and research.
Fortunately, there are a number of different websites and youtube videos online to help you through the process. Building your own sprinter van conversion can be the most rewarding experience.
When you do-it-yourself you'll also have intimate knowledge about every system in your van so you'll know exactly how to make repairs if necessary.