Overland Van Project: Portland Upfitters
By
on
This post may contain affiliate links. As an Amazon Associate, I earn from qualifying purchases. Please read my full disclosure.
Overland Van Project is a camper van upfitter located in Portland, Oregon. Dustin Sauer started the company in 2017 and it has quickly grown.
There are typically between 9-12 builds in the shop at any given time. And with over 140 completed conversions, they are no stranger to van life. In fact, Justin and his wife traveled in a 2006 Chevy Express for some time.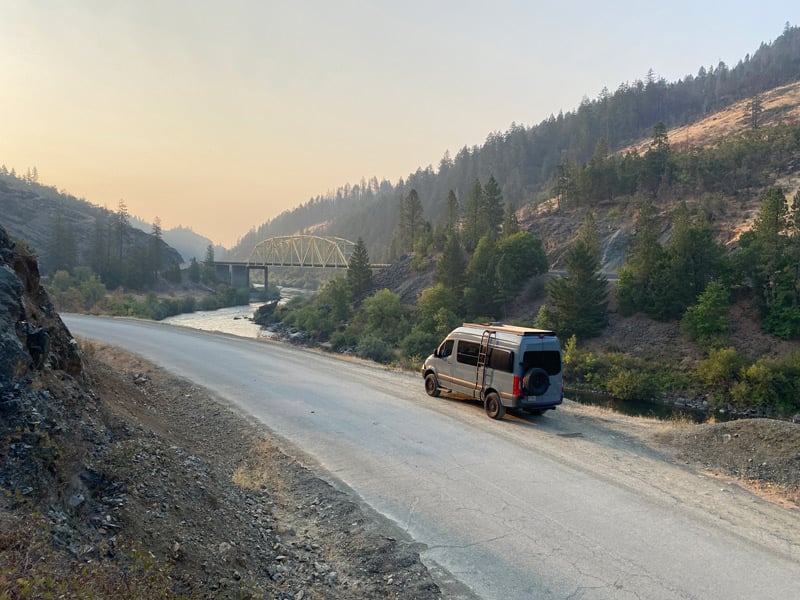 Overland Van Project Quick Facts:
Location: Portland, OR
Founded: 2017
Vehicle Specialty: Ford Transit, Mercedes Sprinter, Dodge ProMaster, Military LMTV 1079's
Completed Builds: 140+
Employees: 10+
Favorite van? Personally we love the 144 sprinter 4×4 HR, but if a ProMaster is the van for you, you will find no judgement here!
Full builds only or partial? Right now we are only doing full builds with the exception of installing exterior accessories (racks, ladders, bumpers), Van Life Tech heated floors, heaters, and some suspension components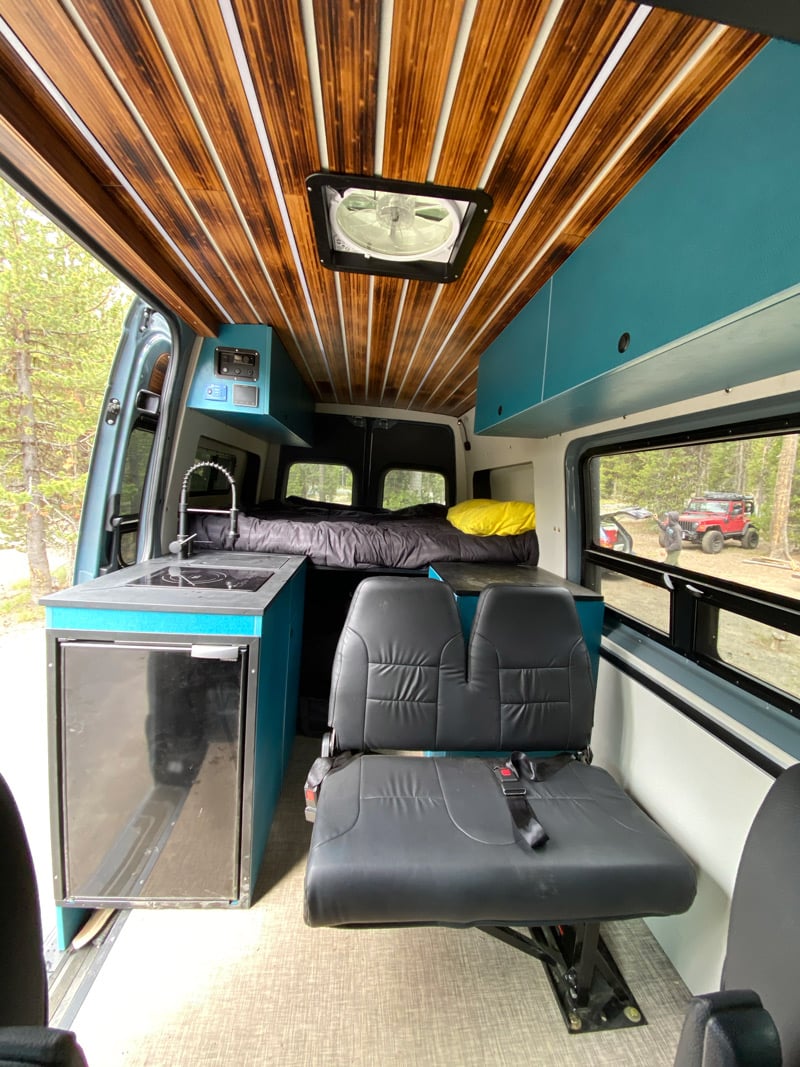 The Van Conversion Process
Average production time: 10-14 weeks
Base price: $45,000
Deposit: $500 build slot then 50% at start of build and the balance on pickup
*Note: vehicle not included in build contract
When it comes to building the van, Overland Van Project has a fairly standard process. It starts by contacting the company with details of your dream van!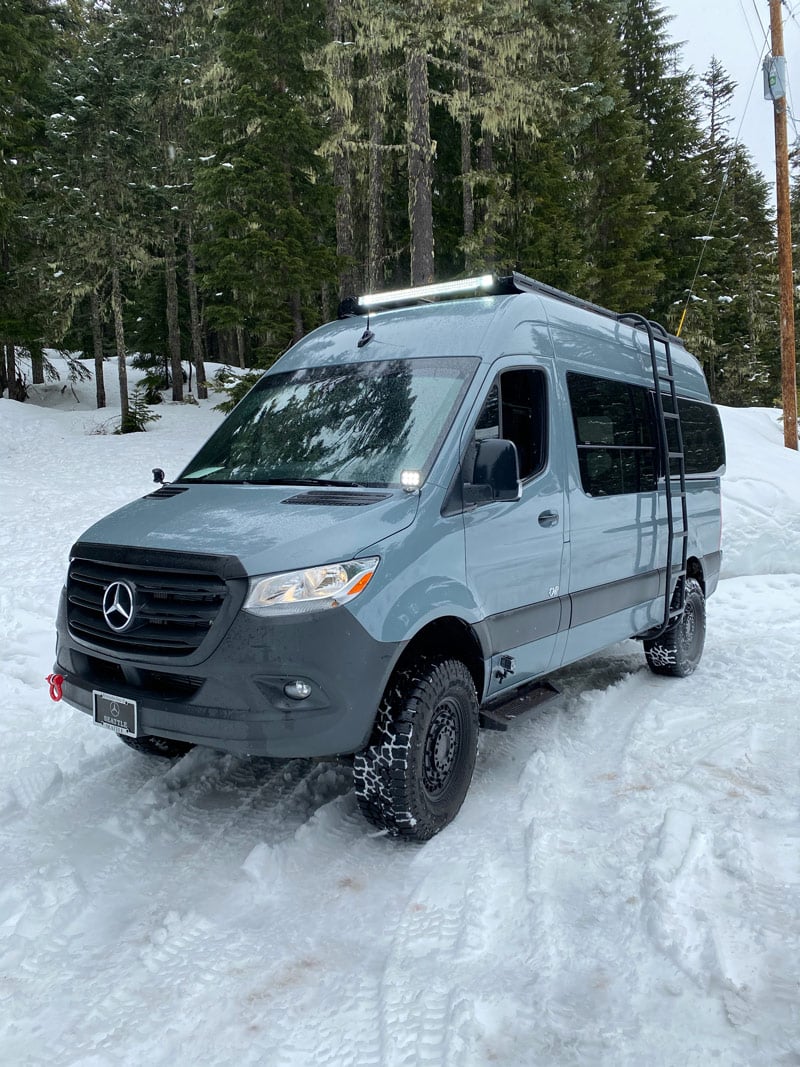 Getting The Van
It's recommended that you purchase your vehicle prior to bringing it to Overland Van Project. However, OVP can help you pick out the right van if you don't know where to start.
Dustin says, "typically we like to help someone pick out a van so it has all the right goodies. For instance, the automatic sliding door on a Sprinter looks very attractive. But, for a camper van it is one of the worst features you can get because it will kill your battery and you cant operate it after a certain amount of time after turning off the van.
We have dealers at Ram, Ford and Mercedes that we work with on a regular basis to get our clients the best van the soonest."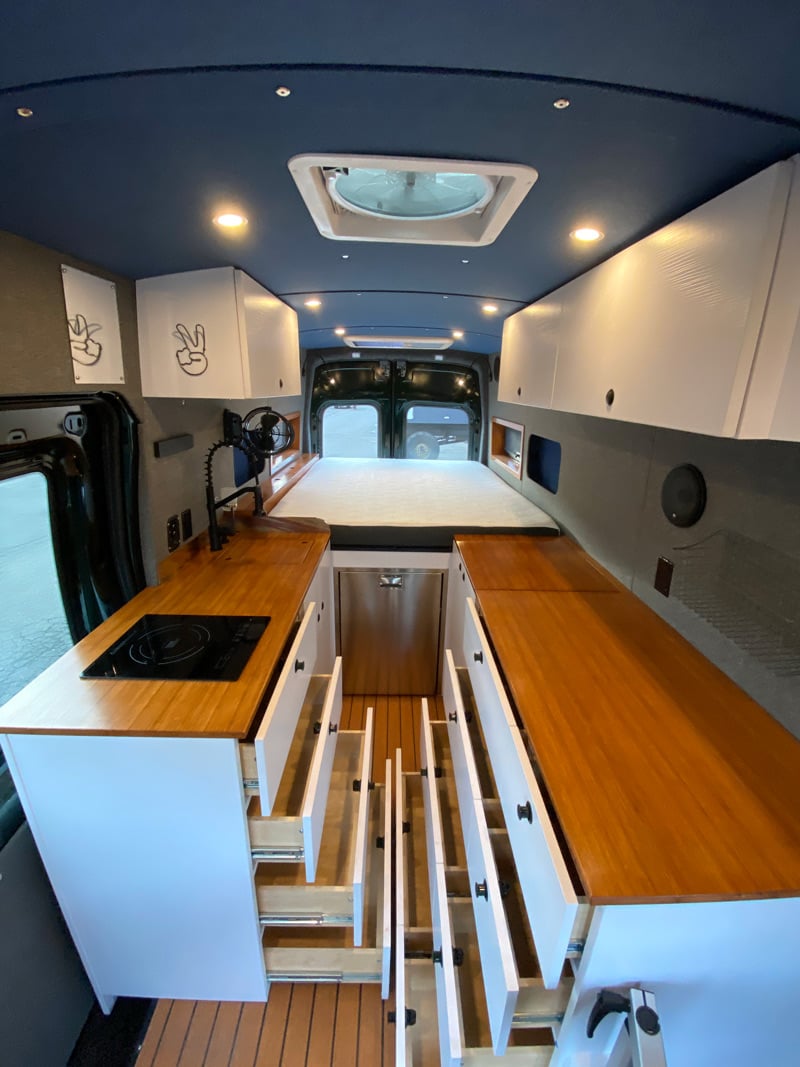 The Design
Does your typical customer come with a pretty good idea of what they want in terms of layout? Or do you generally have to guide them through the entire process?
"It's a mix really, we get a lot of people who are new to vans and RV's and about half that have owned one or more who know exactly what they want. Many times I find people can get distracted by the 1,000,000,000 ideas on YouTube and Instagram and lose sight of what's important in the van and it's my job to steer them back to safety where functionality and beauty converge."
Dustin has found that their standard components and layouts fit 95% of clients. From there, you are able to mix and match as needed for your specific build. You can pick and choose colors and utilities as well!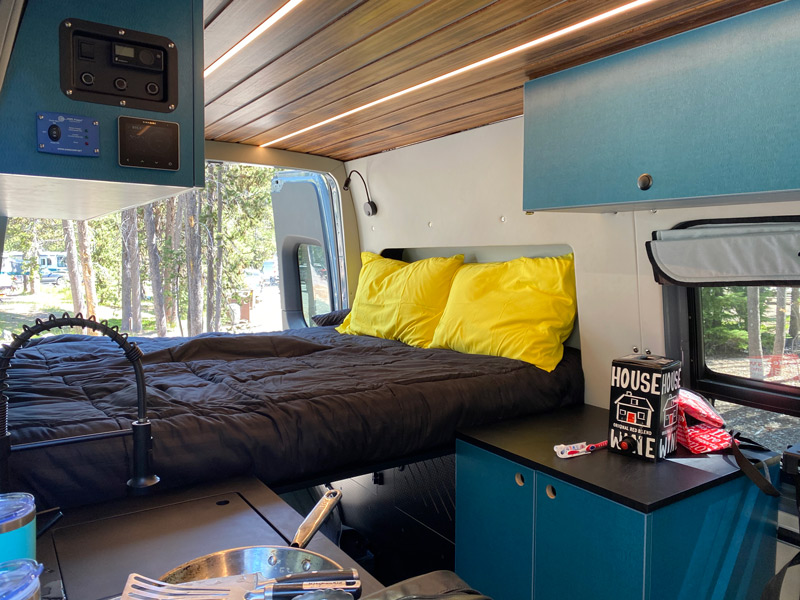 The Planning Phase
Overland Van Project works together with the client to find the best design, layout, and components for their vehicle.
"We typically spend 40-50 hours with a single client just to hammer out the ins and outs of the design. We recently completed our design board with over 100 samples of walls, ceiling, cabinet, counter, and flooring so people can pick, choose, and feel the actual material going in their rigs.
We use Sketchup religiously! We have even gotten to the point of showing every USB port, switch, and outlet."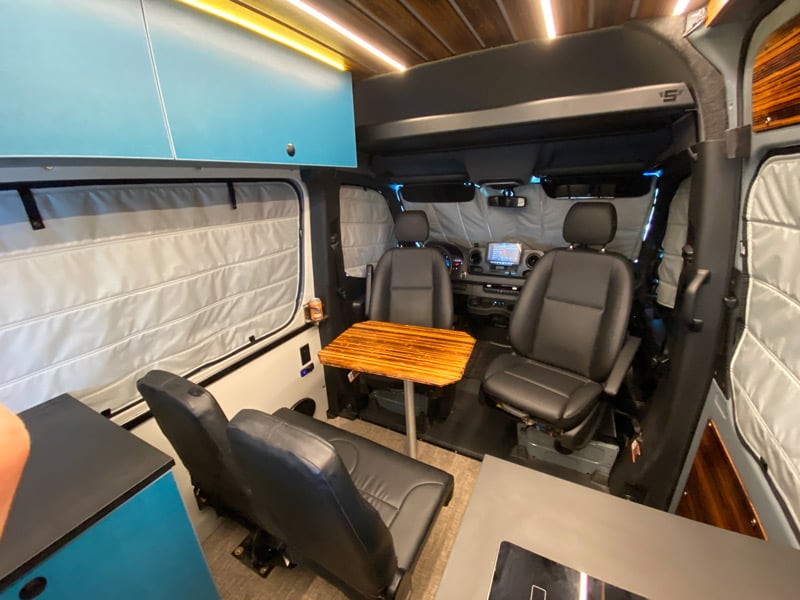 The Components
The company likes to work with many local and small businesses. All of the components can be purchased through OVP with the exception of small hangers or trinkets that the client wants installed upon completion.
"Contrary to what many believe it is NOT cheaper if the client supplies materials because they are not buying in bulk, and if something is wrong with it, its on them to replace it since it wouldn't be under our warranty!
Not only do we like supporting local, but it also tends to be more eco friendly, which is something we think about a lot when building our rigs!"
Some of the local businesses that Dustin likes to work with include:
"The marine industry has a lot of medium size brands like Indel and Webasto that we really appreciate as well. We also use Victron and Lithionics components and some Renogy or Dometic."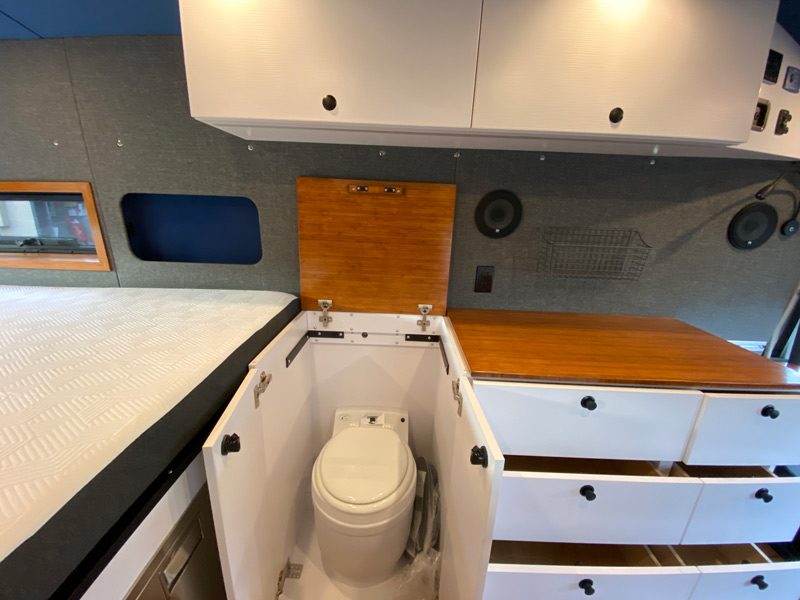 Do you have a preferred insulation method?
"Absolutely! Our preferred insulation is Thinsulate. Havelock is fine, but i find it always has a little odor of sheep and tends to float around the van indefinitely. Foam board, while having the best R value, tends to squeak over time and has the most possibility of condensation because it doesn't cover the metal.
You need airflow to create condensation and the gaps behind the foam allows that, Thinsulate does not. Industrial spray foam would be the best form, however the couple times i've seen it done it deformed the outside of the van, so that is a non-starter in my book. Can you tell i've thought about a lot? ;-)"
Build Progress
Throughout the build, progress photos are sent wherever the client requests them until the last 2 weeks of the build. "I like the final reveal to be a surprise!"
A typical build takes anywhere between 10-14 weeks.
In the end, you'll receive a completed van, full vehicle walk-through, and all warranties and manuals organized in a binder.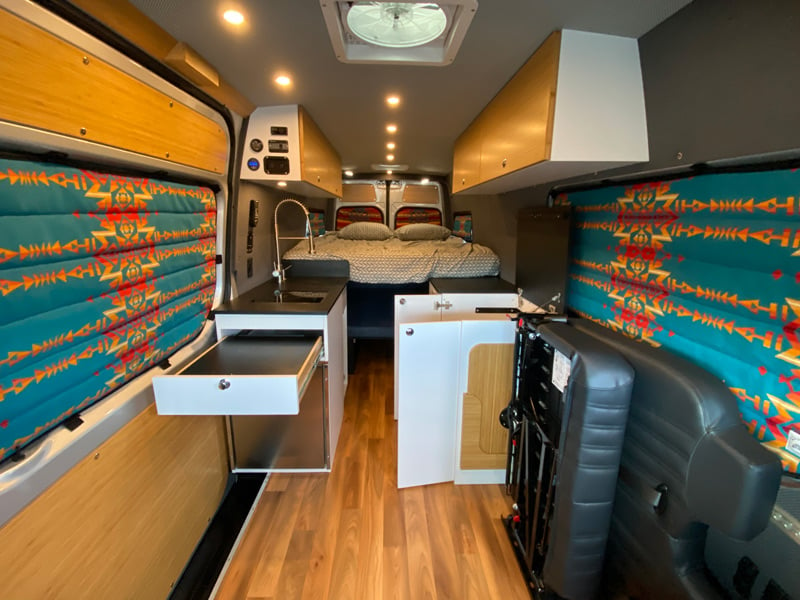 Billing
Overland Van Project requires a $500 deposit to hold your build slot. Half of the build price is due upon van drop-off, and the other half is due upon completion.
Vehicle Insurance
OVP does help you find insurance after the build. "One of our awesome clients, Jerry Braun, is a broker for Farmers and he can insure any van we build in OR, WA, CA as an RV which will cost thousands less than other methods even for the most expensive vans."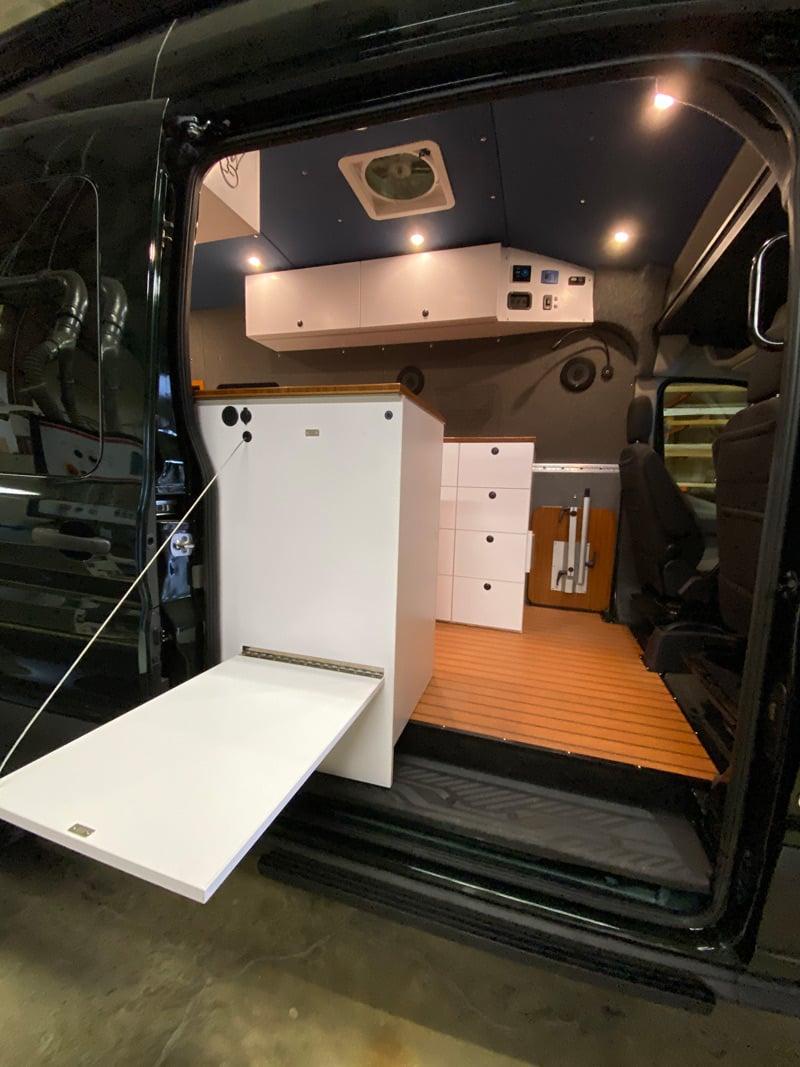 What makes Overland Van Project unique?
I think what makes us unique is that with every van we are striving to better our product and user experience. I have a whole table dedicated to R&D to getting our clients the best product at the best price with the most versatility and durability.
Do you have a favorite build that you've completed?
The next one!