Camping Portable Oven Review
By
on
This post may contain affiliate links. As an Amazon Associate, I earn from qualifying purchases. Please read my full disclosure.
Pizza, bread, and baked desserts. One of the things we miss most about living in a van is the ability to cook in an oven. I didn't realize this was a possibility until we had been on the road a few months and I saw other van lifers with built-in camping ovens.
If we had more space in our vehicle, I would certainly take a closer look at one of these.
BEST VALUE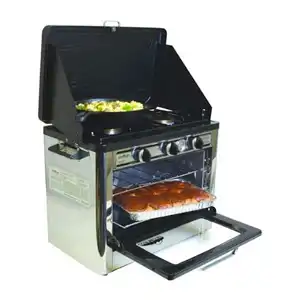 MOST POWERFUL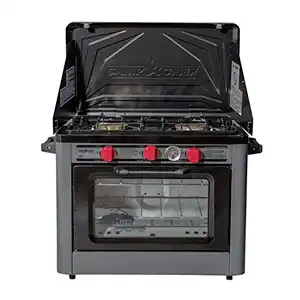 There are two brands of portable camping ovens that I have seen most frequently in van life. The camp chef outdoor camp oven which runs off propane fuel, and the Omnia stovetop oven which can work on top of any type of camping stove.
I think anyone who loves cooking and is running a propane van setup would benefit from taking a look at the camp chef oven. An oven like this is going to require a decent amount of space, so it's certainly not for everyone. However, it will add an extra layer of home comfort that some van lifers crave.
Caution: Camp Chef emphasizes that their oven has been tested and approved for outdoor use only. They explicitly warn that it should be used outdoors to avoid carbon monoxide risk or fire use this product outdoors only.
This warning should be properly considered, because you will be liable anything beyond their recommended use. With that said, the risks involved are the same for any propane product, so if you are already installing propane devices you should be taking precautions that should address these concerns.
Never cover the vents on the rear bottom of the unit. Always use proper ventilation when using the oven, and make sure you are aware of the risks with using propane.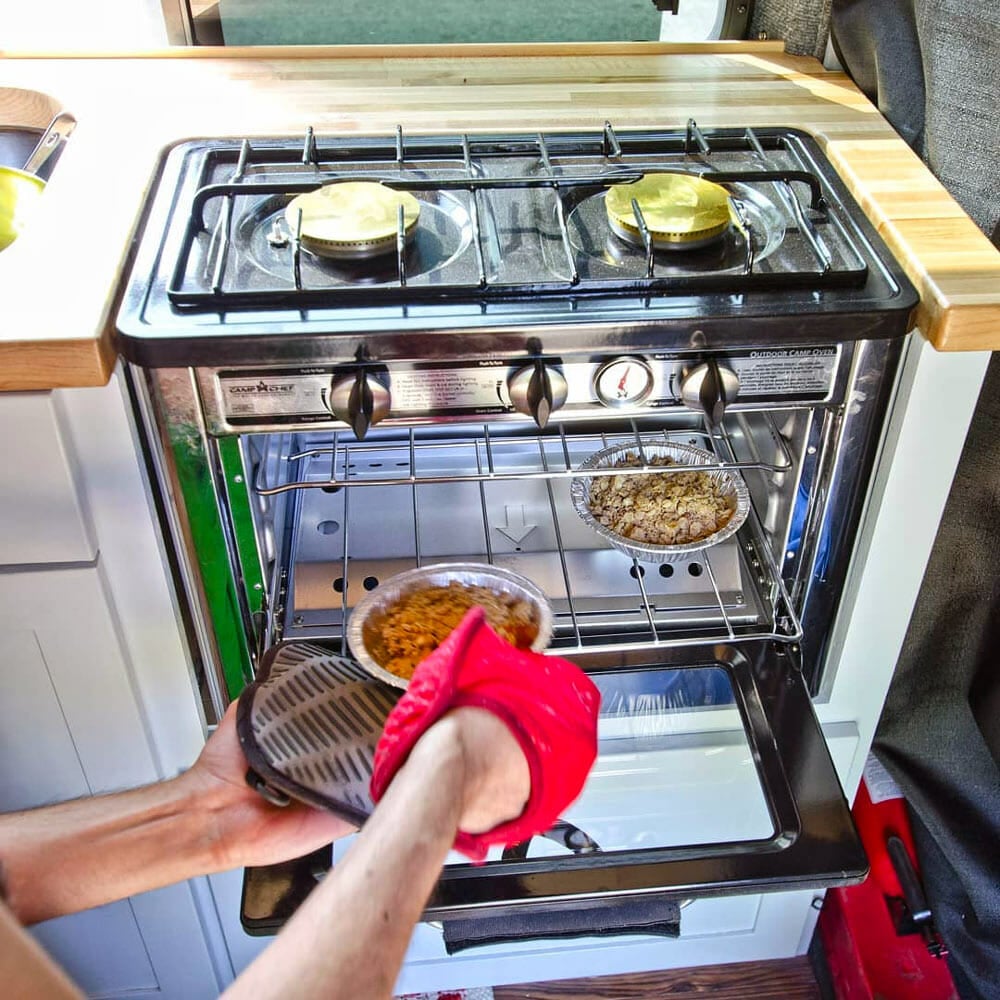 What Is A Portable Propane Camping Oven?
A portable propane oven is an upgrade from the camping stoves that you're probably familiar with. The camp chef is a two-in-one, meaning it has a 2-burner stovetop sitting above a propane powered oven. These items work independently, so you can choose to use just the stovetop or just the oven at any given time. Of course, they can work in tandem as well. You can boil a cup of coffee and bake some morning biscuits at the same time!
The portable oven was built for campers who want a little bit of extra luxury at a campsite or have a lot of extra mouths to feed. Because of this it's completely mobile. We have seen van lifers build the unit directly into their countertops; but it will work just as well (if not better) sitting on an outdoor table. The unit comes standard with a 1lb. propane canister connector, however if you add a longer hose adaptor it can be easily hooked up to larger propane tanks.
The camp chef oven works similar your household oven, albeit smaller. It is highly insulated to keep the temperature in and can cook for hours on end. We think it's best for people who have the space and are able to tow around a tank of propane. It would make a great addition to a large campervan kitchen setup.
MOST POWERFUL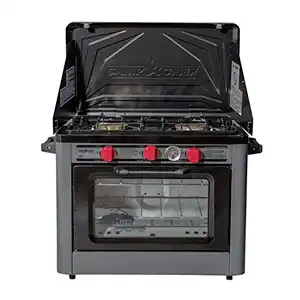 Features And Benefits Of A Camping Oven
Pros:
Adjustable, 2 burner stovetop
Efficient fuel setup
Easy To Clean
Portable
Independent temperature dials
Cons:
Large footprint
Requires propane fuel
Requires proper ventilation
Constant observation while cooking needed
2-Burner Stovetop
The camp chef oven comes with a 2-burner stovetop built in. Each range burns at 7,500 BTU which is comparable with many of the dedicated stovetops we reviewed in the past. The burners have a matchless pizzio ignitor. The oven range measures 21"x12" so you can fit two 10" pots or pans on the stovetop simultaneously giving it the perfect all-around cooking potential.
Just like a standard propane stove, the range comes with a hinged cover and two windscreens. The lid will lay flat giving you a bit of extra surface area if you build a place for it in a counter. Reviewers do say the windscreens are difficult to detach. So unless you plan on cutting any of the pins holding them in place, they're there to stay.
The entire unit measures 23 ¼ inches wide with the handles and 21 ¼ inches wide without. Bottom to top it stands at 18 inches tall.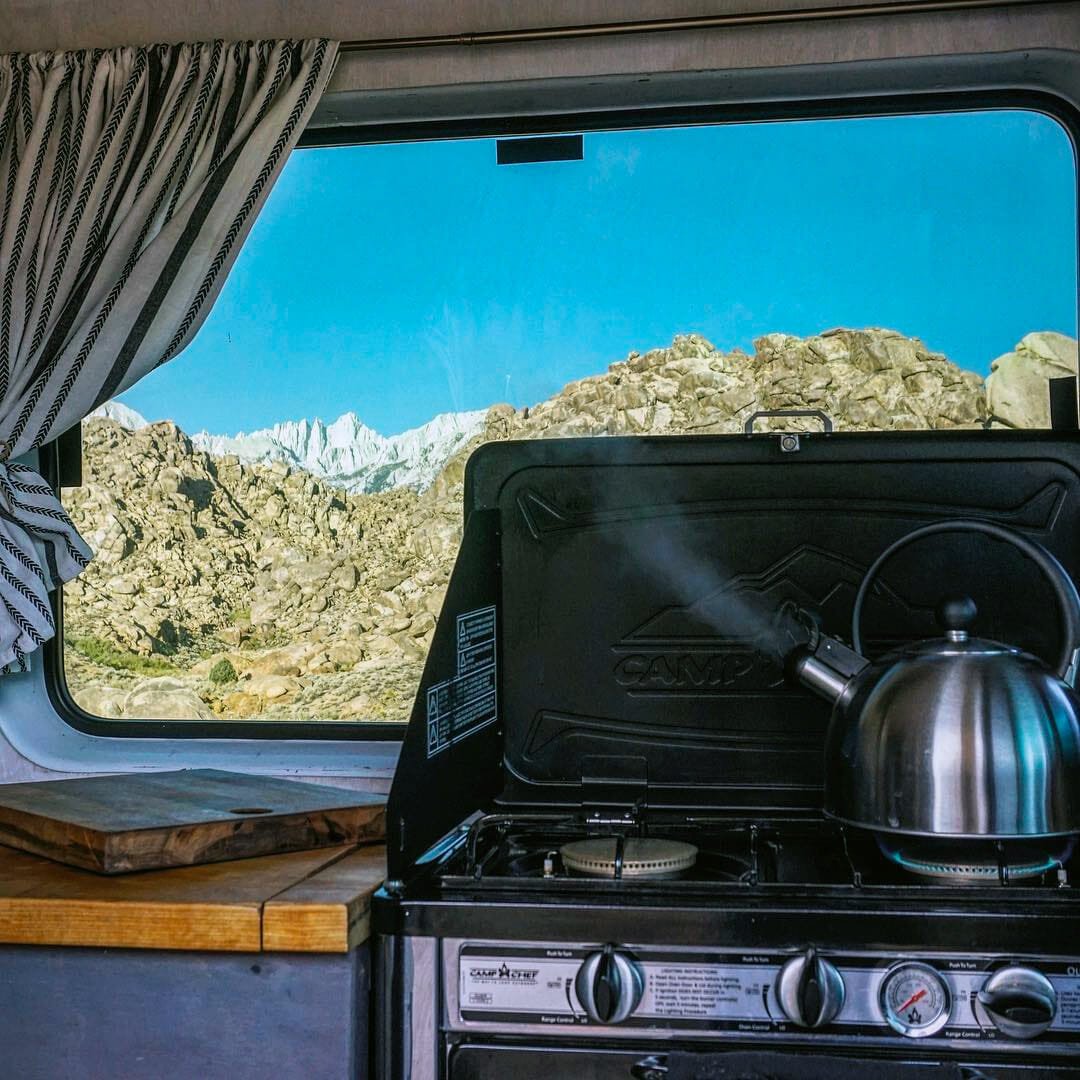 Portable Propane Oven
This may come as a surprise, but you really can cook anything you would at home in this oven! Baking cookies, bread, lasagnas, casseroles and even a frozen pizza is achievable. The only thing this oven doesn't have is a broil feature. Internally, the oven measures 10x16x10". This means you can fit 9×13" pans on each of the two removable oven racks.
BEST VALUE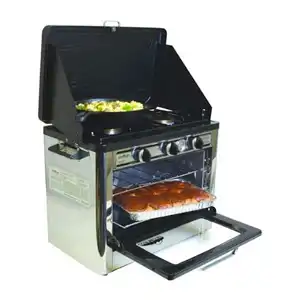 Efficiency
So how does it work? The lining of the oven is highly insulated to hold in as much heat as possible once ignited. It's a self-igniter so you don't need to carry around extra matches. There is a direct hookup on the back side for a 1lb. propane cannister. Additionally, you can add an adaptor hose to this hookup and run a line to a larger propane tank.
The camp chef oven measures 20" front to back when the propane canister is attached
The oven burns at 3,000BTU and gets to a maximum of 400 degrees. Because of the high insulation, just 1lb. of propane will allow it to work for 5 hours at 400º or 7 hours at 350º. That's more than enough to make your dinner for the night!
Easy To Clean
Everything inside the oven and on the range is coated in enamel which is non-stick and easy to clean. The racks inside the oven as well as the wire rack on the stovetop are all removable.
Portability
This oven weighs 35lbs. and comes with handles on both sides. This will make it easy to transport from place to place and bake almost anywhere. The oven stays relatively cool on the outside, so there will be no problem placing it on a plastic table while baking. Heat vents out the rear bottom of the unit so you'll want to be extra careful to keep this space ventilated.
Temperature Dials
The oven and two stovetop burners each have adjustable dials. Heat can be set independently which is a big bonus when cooking a variety of foods. The oven has its own internal thermometer to keep track of the heat.
How Does Cooking With A Camping Oven Differ From A Household Oven?
With a normal household oven, you would pre-heat until the inside hits an acceptable temperature. A portable oven is built to heat food using the least amount of fuel. That means there is no pre-heat option on a portable oven.
Instead, it's recommended that you put food in the oven immediately after lighting it. Because the unit is so small, it will heat up fast. If the inside temperature gets too hot, simply crack the door to release a little heat and regulate it.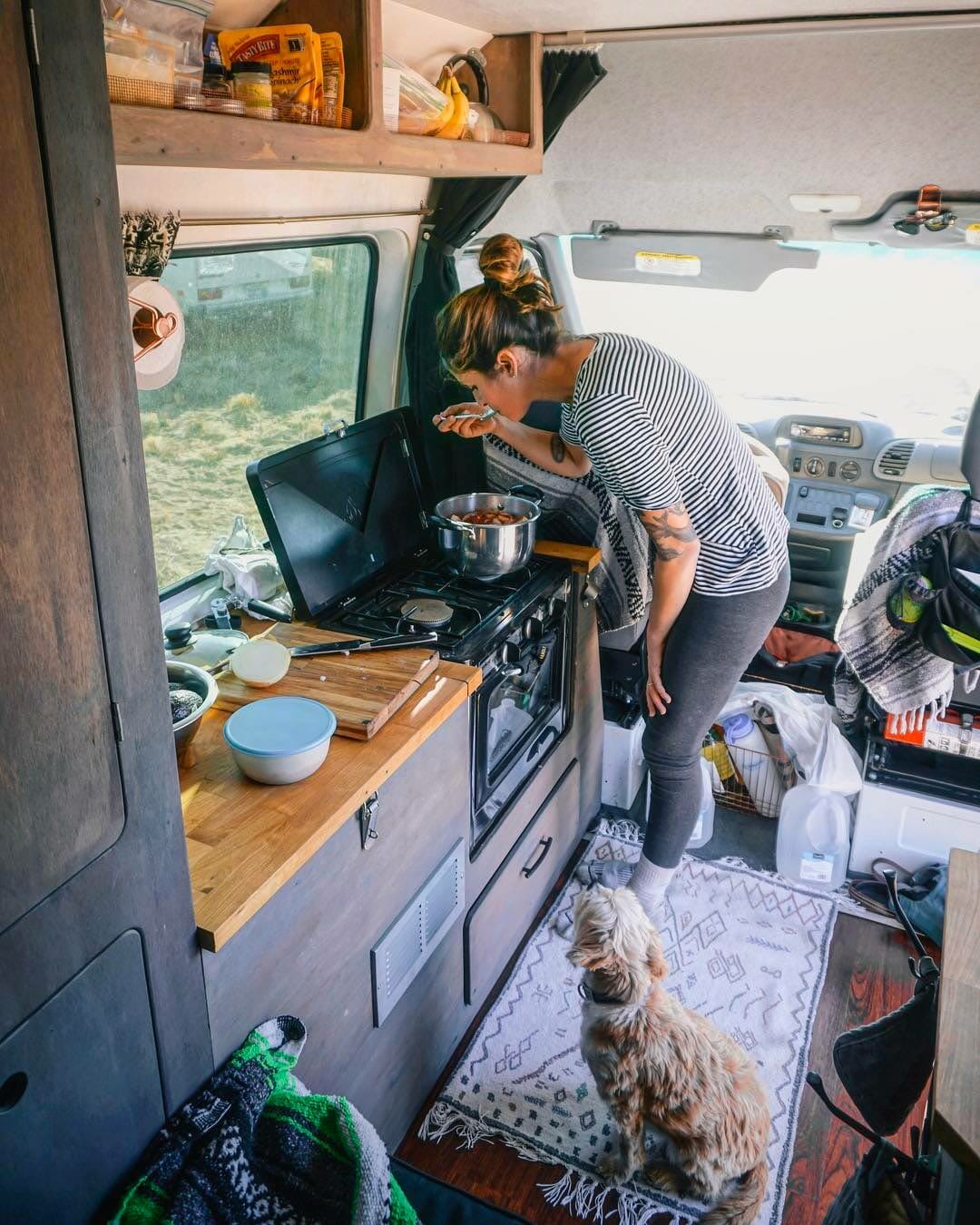 Considerations Before Purchase
A portable oven does require you to pay more attention to your food as you cook. There is no pre-heat option and the temperature regulation can be finnicky. That said, it should only take a few tries to understand how your unit works.
Ventilation
It cannot be overstated that ventilation is extremely important in any product dealing with fuel. The portable oven should be ventilated well (especially on the rear bottom). This unit should be used outdoors only.
Hose Regulators And Adaptors
This oven has built-in connections for a standard 1lb. propane canister. A hose regulator and adaptor are not included for larger propane tanks. However, these inexpensive connectors can be bought online to integrate with other propane fueled products.
Wind Barrier
The wind barrier is not meant to be removed. This might get in the way of any pan handles if you're short on space. The barrier is attached with small pins that can be broken off, but it will require special tools and is not recommended.
Final Thoughts
Fresh baked foods are one of the things I miss most about living in a van. If we had the space I would certainly consider adding a portable oven to our list. The camp chef is a reasonably priced unit that would tie in nicely if you already have a propane setup.