Best Portable Propane Camping Stove (Review)
By
on
This post may contain affiliate links. As an Amazon Associate, I earn from qualifying purchases. Please read my full disclosure.
Having a portable kitchen is one of our favorite parts about van life. When we first took off on this adventure, I thought cooking on the road was going to be a hassle. I wasn't sure how creative we could be with limited space – or how well it would perform. Fortunately, none of my worries came to fruition.
A portable propane camping stove gives you the freedom to cook outside on sunny days and bring the kitchen inside when it's raining (with ventilation of course!). The fact that fuel is cheap and easy to find is a big bonus. You'd be surprised at the number of things you can prepare!
There are a lot of stoves out there, so we took the time to look at the options carefully. Listed below are our ideal choices for a portable kitchen.
Top Propane Camping Kitchen Stoves: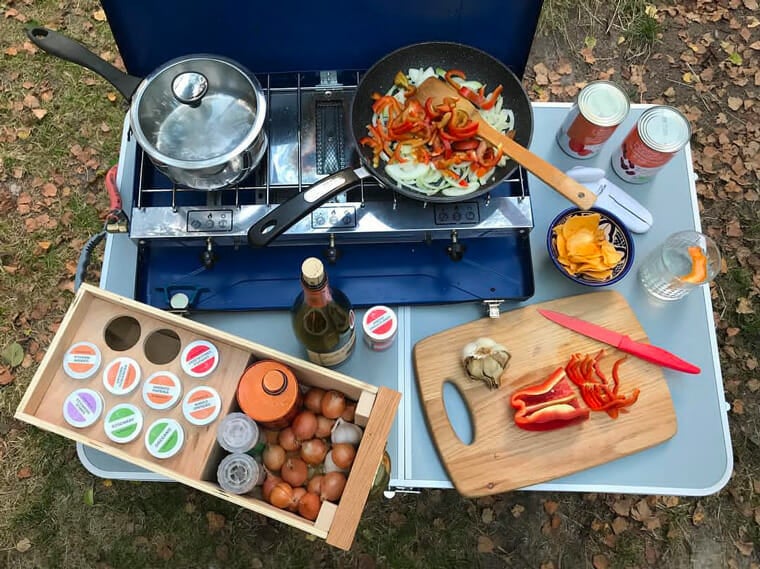 Why We Like Propane
When it comes to functionality, a propane stoves make a lot of sense. When looking at different cooking options you can see how useful this fuel is. Ovens, water heaters and winter heaters can all run off propane in addition to a stove. Propane also works well in cold weather. It has a low boiling point unlike butane fuel which makes it ideal for freezing temperatures.
Propane comes in either small 1lb. canisters or larger 20lb. tanks; both of which are easy to find. Propane is cheap. It can be bought at Walmart, gas stations or any camping outlet. The price and availability make it the perfect match for vanlife.
Is Propane Safe To Bring In A Camper?
Propane is a very safe fuel to cook with! There are two, maybe three things that people think will happen with cooking propane. The fact that you have pressurized bottles in your home scares some people, so it might be best to just address all of them:
Exploding containers. For people unfamiliar with the fuel, but familiar with movies, this is the scariest idea. The fact is that it's incredibly hard to get a propane container to explode. You pretty much need a high powered rifle and road flares for the conditions to be right, and even then it doesn't go "boom". They also have pressure relief valves on them to account for if the tank heats up (like setting it in the sun or something). The plastic tank of gas under your car is riskier as far as being engulfed in flames, and no one bats an eye for those.
Propane leaking. This is a more realistic concern. If you don't have a good connection or the bottle wasn't made correctly (this usually for the little 1lb cylinders), propane can leak. Propane has a rotten egg smell to it, so it is easy to recognize if it does leak. But you can be even safer by storing the propane in a ventilated, outdoor area. Some people just put it out when they set up camp and others
Carbon monoxide poisoning. This is probably the biggest danger in a small space, but easily mitigable. First off, buy a battery-powered CO detector for the van/camper. These are good just to have anyway. Then, when cooking or using propane inside, keep the space ventilated. This kills two birds with one stone by keeping moisture managed anyway (cooking and propane both create humidity). I'm not a huge fan of the Mr.Buddy heaters, but many people have high success with them. I personally wouldn't have propane running overnight, but it's possible to do. I would rather run the heat just before bed and right upon waking up.
Things To Look For In A Propane Camping Stove
Propane stoves are one of the top choices for campers. Portability allows you to move the kitchen inside or out and take advantage of the weather. Portable stoves pack down small and are safe to use with appropriate ventilation.
Appropriate Dimensions
In an area as small as a van, every extra inch matters. Dimensions of the stove are going to become an important factor in deciding which stove to purchase. Most of these portable stove pack down quite small and some even include handles to easily move them around.
For this post we are going to focus on portable stoves. Built-in propane cooktops are another great choice that will come with their own criteria.
Fuel Type And Connection
Propane stoves come with a threaded connector and the stoves featured here will all fit a standard 1lb. canister. If you choose to refill one of these canisters using a larger propane tank, it will be necessary to purchase a hose adaptor connection.
One Burner vs. Multi-Burners
Think about how you plan to cook. Will you be making complicated meals that require multiple burners? Many people find that one burner will do just fine. Others enjoy the option of cooking multiple foods at once. Some stoves produce more heat in one burner than another so pay attention to the BTU output of each burner.
Other Features To Consider
Igniter type: Not all stoves light up with the push of a button. Some require a manual start using a match or lighter. Bear in mind the igniter and decide if this is something you are up for.
Number of parts: Less parts means fewer things to break. Are you willing to sacrifice extra features for this? Also, look into the shape and design of the burner. How easy will the grill be to clean?
Wind barrier: Most portable stoves have hinges that double as a wind barrier. This can decrease the surface area of the burner. A wind barrier closer to the grill will be better in bad weather but also leave less space. Some wind barriers are adjustable.
BTU output: Not all stoves have the same burner output. A BTU is a measure of how fast 1 pound of water will raise 1 degree Fahrenheit. Consider how this relates to the output of each stove.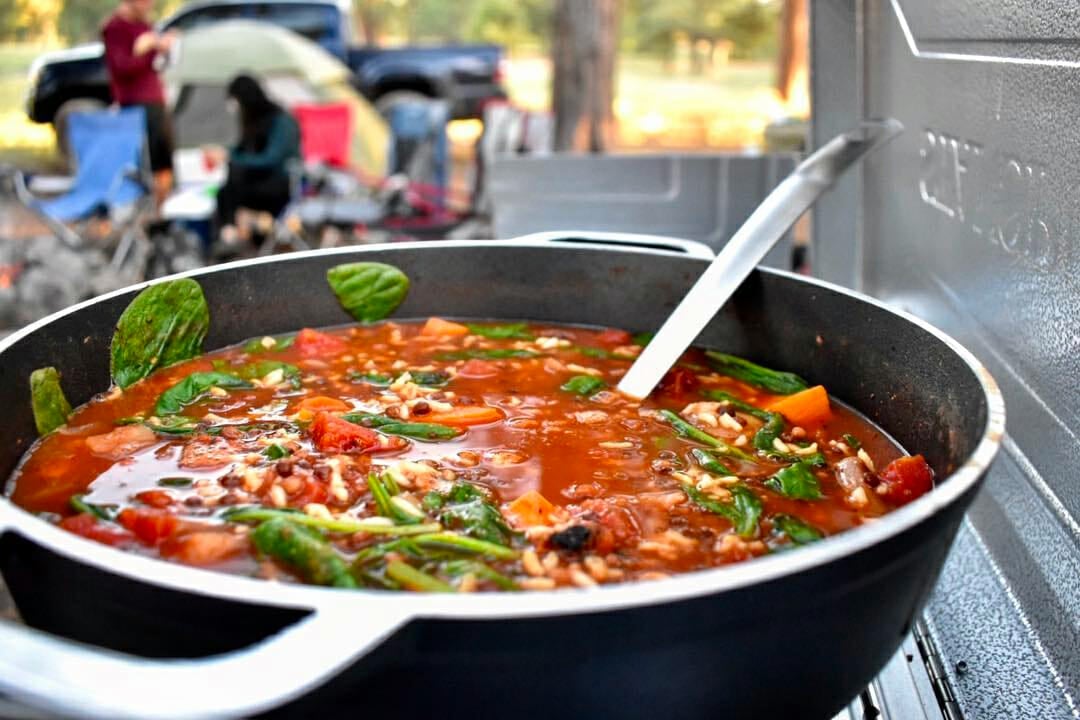 Best Propane Camping Kitchen Stoves
TOP CHOICE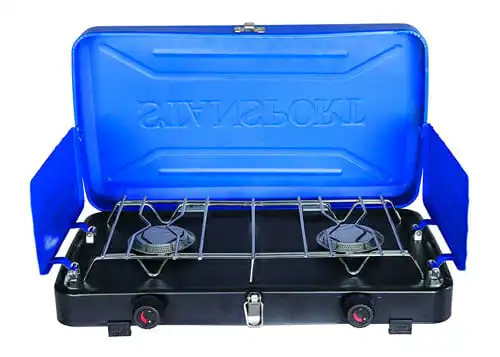 Top Choice: Stansport Outfitter Series 2-Burner
The Stansport Outfitter brings the heat with two adjustable burners each with a heat output of 25,000 BTU's. This is the highest heat output in our roundup which means you can cook food and boil water faster. The adjustable control valves allow you to cook with precision and the grate can hold both a 12" and 10" pot simultaneously.
This stove comes with two twistable control handles for separate adjustment of the burners. The outer dimensions measure in at 6" x 13.2" x 24″ and the whole stove is encased in steel making it especially durable.
Like the other burners on this list, Stansport comes with effective windshields and an easy to clean stainless steel drip-pan underneath the grate.
So what are the cons? According to customer reviews, there aren't very many. Because the controls can sometimes be difficult to precisely manage – especially when wearing gloves. This stove also lacks a carry handle like some of the others.
50,000 BTU's of Power
Durable Steel Design
Easy To Clean
Holds 12″ + 10″ Pot
2 Twistable Control Handles
GREAT CHOICE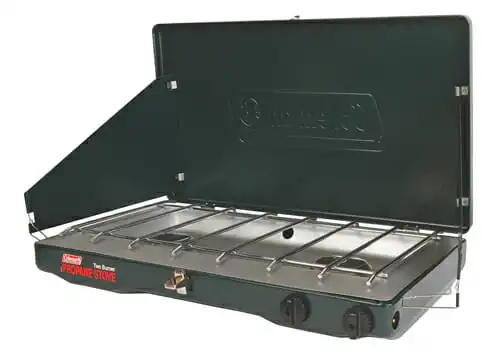 Runner Up: Coleman Classic Propane Stove
Consistently one of the highest-rated stoves on the market, the Coleman Classic makes a great choice for vanlife. This product measures in at 4.1" x 21.9" x 13.7" so it can fit in tight spaces.
What we like about the Coleman classic is the minimalist design. There are few parts built into this stove keeping it simple and less likely to break. That also means that it's easy to clean. Once the grill is taken off there is a flat, chrome-plated surface to wipe down and prepare for the next meal.
The Coleman classic stove has two adjustable burners and can fit both a 12" and a 10" pot at the same time. The two reliable props for the lid keep wind from blowing out the flame. This stove also has its own carry handle that can be used when the lid is closed.
This stove is missing the piezo ignitor we've found on many others. This means you will have to bring along a set of matches or a lighter to get a flame going. The burner heat can be difficult to adjust compared to some other stoves.
20,000 BTU's of Power
Minimum Parts
Carry Handle
Holds 12″ + 10″ Pot
WEATHER RESISTANT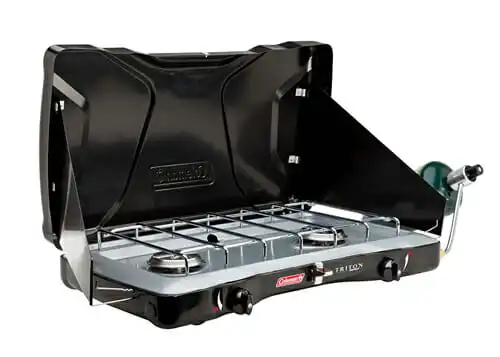 Most Weather Resistant: Coleman Triton 2-Burner Propane Stove
The Coleman Triton shares many of the same features as the Coleman Classic. Measuring in at 13.9" x 5.8" x 23.1" it is middle of the road in this list.
One cool thing about the Triton is the adjustable windscreen we don't see frequently. The side props can be slid inwards or outwards depending on weather conditions. This keeps drafty winds from blowing out the flame but also allows you a larger cooking surface in good conditions.
This stove comes with two adjustable burners and a grill that will fit both a 12" and 10" pan simultaneously. Coleman is a company that likes to get by with minimal parts. That makes it perfect for cleanup and less likely to break.
Where this item is lacking is the InstaStart ignitor button. Although this is the thing that sets it apart from the Classic, there have been quite a few reports of the button getting stuck or not lighting. In this case, it is important to bring along a backup lighter or set of matches to get it up and running. It also lacks a handle on the product so you will have to be careful when carrying.
22,000 BTU's of Power
Adjustable Wind Screen
Easy To Clean
Minimum Parts
GREAT VALUE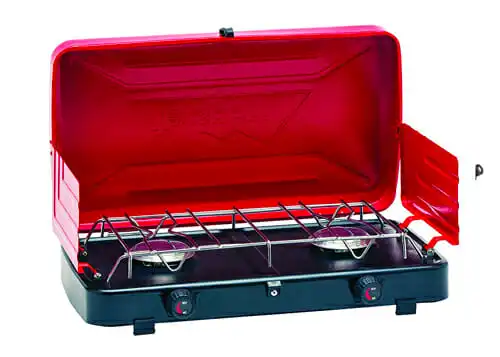 Great Value: Texsport Rainier Compact Dual Burner Propane Stove
The Texsport Rainier camping stove is comparable with the two Coleman stoves above but at a lower price point. This stove packs a total of 20,000 BTU's of heat into its two adjustable burners. Like the Stansport, it comes encased in a durable steel package.
With exterior dimensions of 11" x 18" x 12" it is the smallest stove on our list. It also has the least amount of cooking space on its burners and will only be able to fit two 9-10" pots on this small surface. Despite this, the Texsport makes a great bang for the buck stove.
With minimal parts you can expect this stove to be reliable, but don't expect too many extra features. The stove lacks a carry handle and any type of ignitor so a pack of matches will be required.
20,000 BTU's of Power
Inexpensive
Durable Design
Easy To Clean
Minimum Parts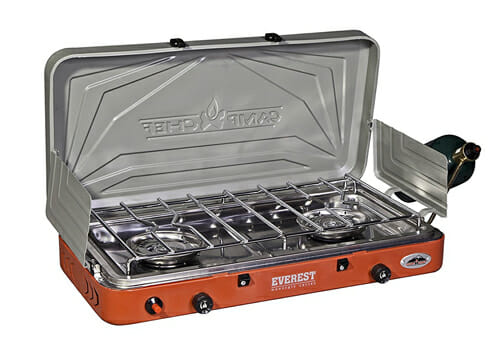 The Camp Chef Everest is the most efficient stove in our roundup and comes with some of the most desirable features. The two high-powered burners pump out 20,000 BTUs each making it an efficient cooker.
Encased in steel, the stove comes with carrying handles and a double-locking lid. These features make it durable in the toughest of conditions and built for the road. The Camp Chef Everest measures 13.5" x 23.5" x 4" which is right in line with the others. A piezo igniter lights up the burners saving you the effort of carrying extra matches.
Like many of the other stoves on this list, the grill is easy to clean and can hold a 10" and 12" pot or skillet concurrently. As for cons, there are few to find.
40,000 BTU's of Power
Durable Design
Minimum Parts
Easy To Clean
Carry Handle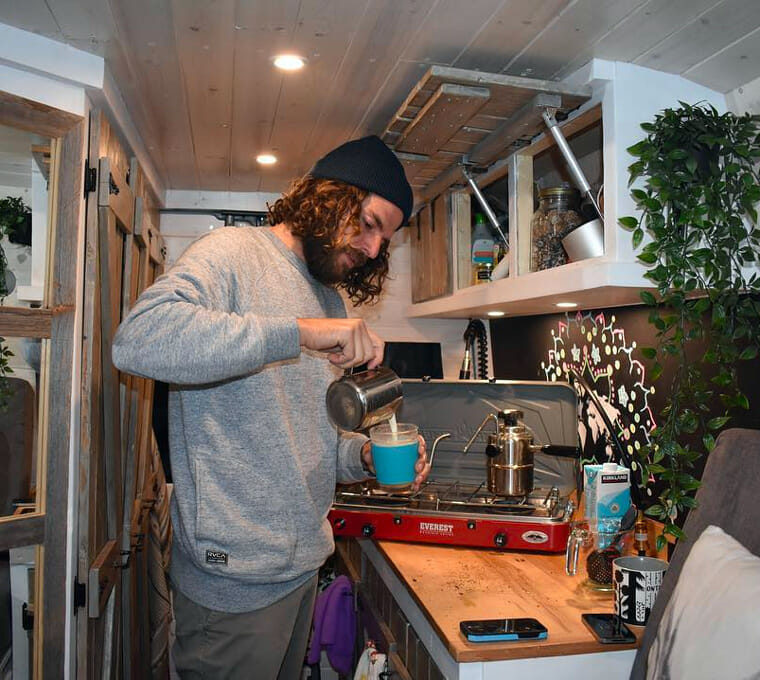 Our Pick For The Best Camping Kitchen Stove
Taking each of these stoves into consideration, the Stansport Outfitter Series 2-Burner has everything you need in a propane stove without the high price tag. This stove gives out the most BTU's in its two burners making it a highly effective way to cook. It also comes with an ignitor and well-designed wind barriers.
Continue Reading: