The Best RV Macerator Pump For Your Toilet (Review)
By
on
This post may contain affiliate links. As an Amazon Associate, I earn from qualifying purchases. Please read my full disclosure.
Having a quality RV toilet on the road is a necessity, not a luxury. It's always a challenge to do away with the waste that gathers in your RV's black tank, so any equipment that can effectively ease the disposal process is well worth researching and trying out.
BEST VALUE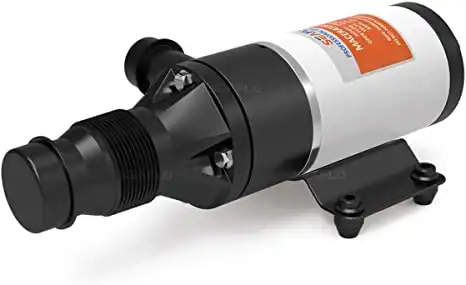 BEST PORTABLE PUMP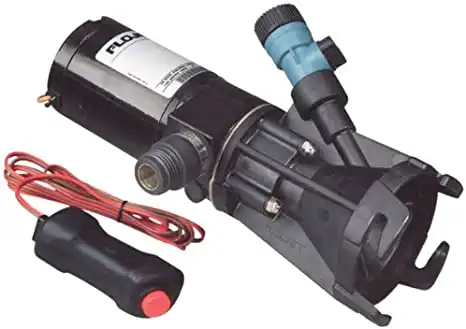 TOP CHOICE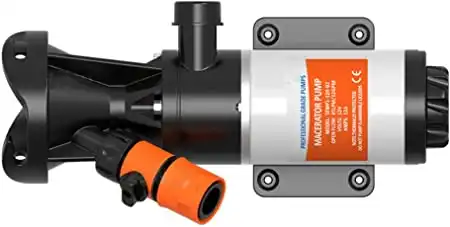 You might have heard of macerator pumps as an additional tool to aid standard gravity flush toilets. Indeed, they have a reputation among RV devotees as an essential unit to bring on board.
But what exactly do they add to your plumbing system, and which toilet macerator pumps are right for you? Read on, and we'll guide you through our reviews of the best macerators. Plus, we'll cover all the questions you might still have about this wonder pump.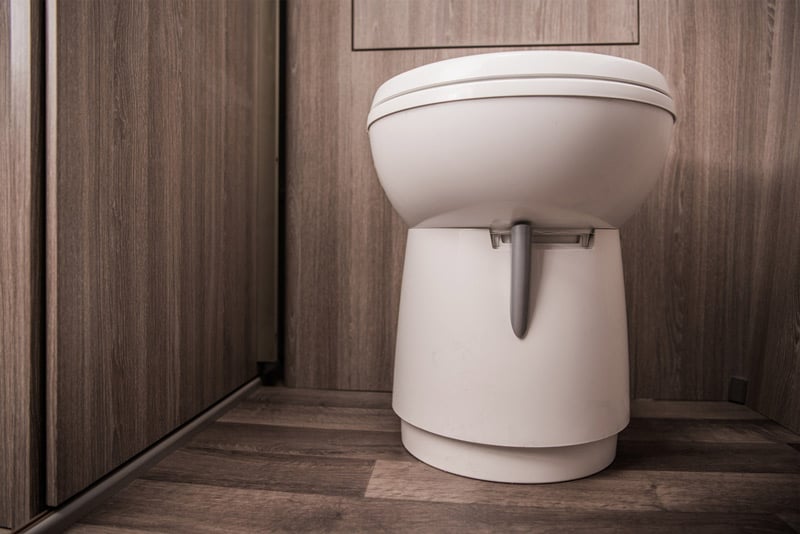 What Exactly Is An RV Macerator Toilet Or Pump?
Handling an RV's black tank is undoubtedly the part of mobile travel that we enjoy the least. Yet, we can minimize plumbing issues and contact with black water quite easily, thanks to macerator pumps. But what is a macerator toilet?
Macerator pumps work by grinding down solid and liquid waste by using a "blender" type apparatus. As the black water liquifies, it becomes easier to dispose of through smaller hoses and even uphill or over far distances. Traditional RV toilets cannot handle slurry so efficiently, and they can't dispose of waste uphill or at distances.
Gravity-fed dump hoses will do the job in most cases. But for RVers who find themselves in situations where they can dump at home instead of waiting in line or park in places without a sewer hookup, a macerator toilet can be a godsend.
You can install a macerator toilet, unlike gravity-fed models, anywhere on the RV. Since they don't need to sit above the black tank, macerator toilets give you much more freedom (and less odor!) as to the RV layout. This is yet another benefit to installing a macerator pump.
Pros and Cons of Macerator Pumps
Just like every component in your RV, there is rarely a "perfect" solution to a problem. Some equipment is too heavy, others have short lifespans, while the rest of your unit needs repeated repairs. It's no surprise that RV macerator pumps have pros and cons too.
Pros
Macerating toilets can be installed anywhere on the RV
The toilets you use at home resemble macerating toilets more than gravity-fed units
Easily accessible: just press a button, and the pump fires up, filling the bowl with water
The best way to prevent clogs
RVers can use paper toilet paper with no issues
Cons
Less water-efficient than gravity-fed toilets
Each water cycle is set, users have no control
Macerators have more parts
Macerating toilets may require more repairs than traditional toilets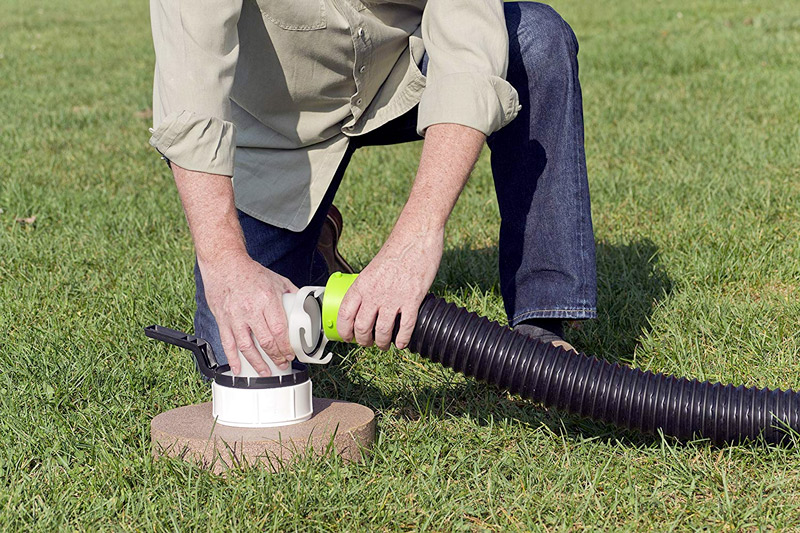 What To Look For In A New RV Macerator Pump
As promised, our last section of the review will deal with any lingering questions or problems that prospective buyers might have about macerator pumps. With so many different models on the market, it can be challenging to select a unit that's perfect for you. Luckily, we've done the hard work for you. Read on for all of the answers to your last pressing questions.
Choose The Right Type
Every macerator pump on the mark works to liquefy waste and make it easier to remove. However, there are at least three different types of macerator pumps that people use–all for various reasons.
The first type of macerator pump is the portable pump. We recommend these pumps if you're looking for a versatile unit that can move from one RV to another. Portable pumps are lighter and easier to stow on board. They do have, on the other hand, a reputation for having lightweight connectors. They are often built of less sturdy materials as well.
Secondly, there are the permanent macerator pumps. As you might expect, these models are more rigid, trustworthy, and last much longer than portable units. However, keep in mind that these units can be pretty costly. RVers who plan long, consistent trips should invest in permanent pumps.
100V pumps are the final group. These units are like the grand piano of macerators. Coming at a steep price tag, these heavy-weight machines have tons of benefits. They're reliable, and they pump waste at a fraction of the speed of other pumps, too.
Easy Installation
If you decide to hire a pro to put your new macerator pump in, then there's no reason to think about easy installation. But if you have a DIY streak in you or don't wish to pay for someone else to install your pump, odds are you want a model that's easy to put in.
Luckily, most pumps that you purchase will come with detailed instructions for installation. This goes for both portable and permanent units. Make sure your unit includes a manual. Otherwise, you might find yourself spending weeks screwing in the pump.
If you choose to buy a DIY full macerator system, you'll get all the tools necessary to install the unit with ease. Some systems will include every part laid out like a LEGO manual, while others give users the freedom to do it themselves. Just check which type of manual is included before purchasing your ideal pump.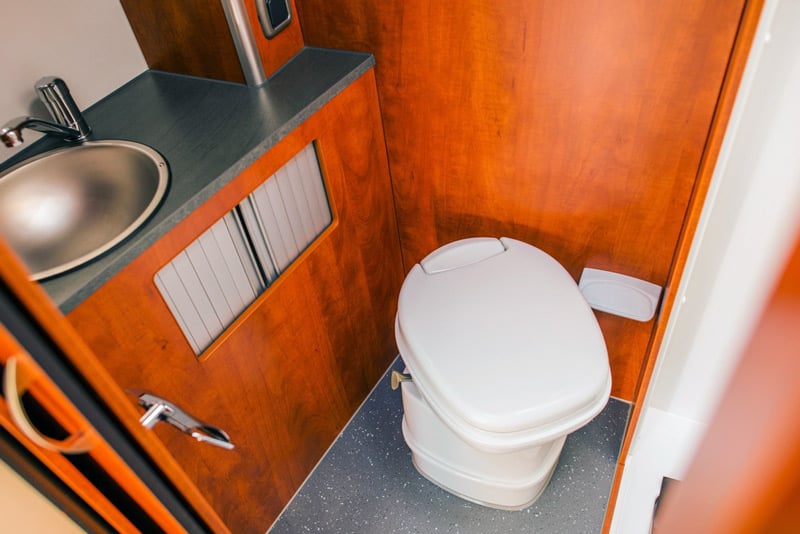 Bonus Features
Any macerator pump toilet comes with the basic unit, power cables, and internal component you need to start it up right away. Yet, some models have extra features that are worth researching.
The first feature to look for is thermal protection for the pump if it gets too hot. A pump without thermal housing lasts longer and gives users an overall better sense of satisfaction. Likewise, you'll want to investigate the blade and shaft material. Stainless steel is the industry norm but double-check before purchase. Finally, you can save a lot of time emptying your black tank if you invest in a unit with self-priming features.
The Best RV Macerator Pumps Reviewed
Now that we've covered the basics behind RV macerator pumps and toilets, let's move on right away to our reviews. After hours of research, we selected the three most popular toilet macerator pumps on the market and organized them into a list.
While all three units have their pros and cons, our review will point out the special features and benefits behind each one. Therefore, we judged each model on its own merits.
TOP CHOICE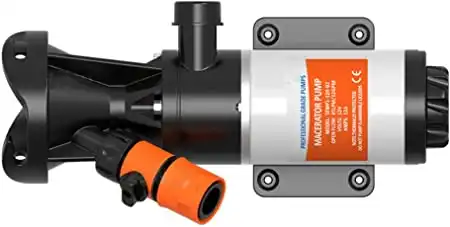 Best Overall RV Macerator Pump: Sewerflo Quick Release RV Macerator Pump
This macerator pump from Sewerflo operates with a steady, heavy-duty 12V motor. Yet, the Sewerflo stands out for many reasons.
One advantage that the Sewerflo has over the competition is its straightforward, no-nonsense attachment and removal to nearly all RV dump receptacles. Its almost universal connection port makes this model a go-to if you dump over long distances and uphill. Even with a garden hose output, the Sewerflo makes cleaning and debris removal a cinch.
Weighing in at 6.42 lbs, this pump is lighter and easier to handle than other macerators, making it ideal for fast-paced and on-the-go RV travelers. Most buyers were head over heels with this model, but there were some downsides. Some users had to do some DIY work on the switches. Similarly, many people complained about the short (8') electrical cord and the lack of a discharge connector in the prepackaged offerings.
As long as you're willing to connect the Sewerflo Quick Release RB Macerator pump with care, then we're confident that you'll enjoy this model from the start.
BEST PORTABLE PUMP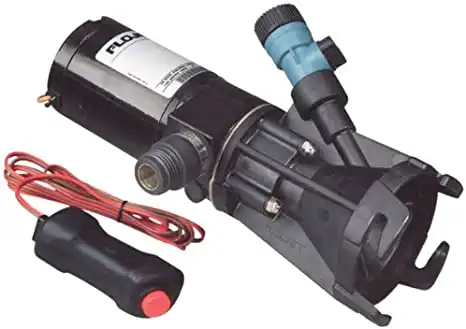 Best Portable Macerator Pump: Flojet 18555-000A Portable RV Waste Pump
Living the RV lifestyle means constantly reassessing and minimizing your weight. Just as you'd like to install a lightweight black tank, hose, and toilet, a portable macerator pump can command a lot of attention and demand. This is the case with the Flojet 18555-000A Portable RV Waste Pump–one of the most popular portable units on the market.
This model is popular for good reason. It eliminates all the worry behind lugging a heavy and unruly pump whenever it's time to discharge waste at home or a sewer pickup. It's small, plus it connects directly to the RV waste outlet, getting rid of 3'' of sewer hose. It can even discharge through a small garden hose thanks to its powerful stainless steel cutters.
The Flojet boasts a 12V permanent magnet type fully enclosed motor that can outperform many macerator pumps twice its weight. Dumping at long distances and uphill is relatively easy too. Keep in mind though: this pump needs manual controls to operate. Luckily, there's a remote control for the on and off switch.
BEST VALUE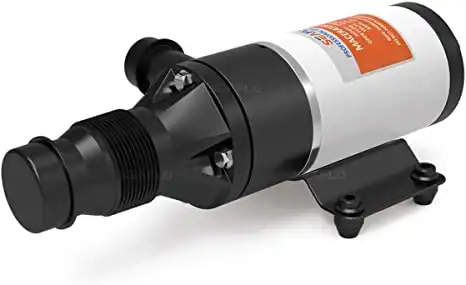 Best Budget RV Macerator Pump: SEAFLO Macerator Pump System 12V
SEAFLO has led the market by producing top-quality macerator pumps at some of the most reasonable prices out there. But don't let this macerator pump system's affordability detract from its high-powered and easy-to-use setup.
This model comes in a traditional four-blade system that gives out a sizable 12V of power. The blades are stainless steel and protected with a thermal layer that also covers the ignition. It can pump 12 gallons a minute (that's 45 liters for everyone else). Priming and pumping uphill are virtually automatic thanks to their self-priming mechanism.
The SEAFLO model gathered lots of praise from online and in-person buyers rather quickly. It is an excellent replacement for more expensive units too. Customers have remarked on its long lifetime (over two years is the norm) and simple twist-lock fitting on your sewer connection.
On the other hand, some users have commented on the SEAFLO's uneven connectivity to some small hoses. It may take a little extra time to fit this model perfectly onto your plumbing hose. However, if you're willing to spend some extra effort to set up the unit and assure it self-primes regularly, this budget unit will deliver ASAP.
That's A Wrap!
You'd be surprised to find a single RV owner in the continental U.S. who enjoys emptying or surviving the plumbing system. That's why it's a great idea to invest in a quality macerator pump.
By reducing your hand-on time with waste material, you can almost eliminate bacterial infections from black water. Pumps are better at removing waste uphill, too. All in all, there's no better way to reduce the unpleasant waste removal process to a minimum than with RV macerator pumps.