The Best RV Toilet For Campers And Trailers i (Review)
By
on
This post may contain affiliate links. As an Amazon Associate, I earn from qualifying purchases. Please read my full disclosure.
RV campers and trailers typically come equipped with a standard, gravity-flush RV toilet. These are often designed with flimsy parts, and the cheapest plastic materials available. Replacing your RV toilet with a porcelain bowl will make a noticeable difference in comfort and utility.
Newer models can also save water, and are more effective at giving the perfect flush. RV toilets are easy to replace. So if you're looking for an upgrade, consider the following toilets:
TOP RV TOILET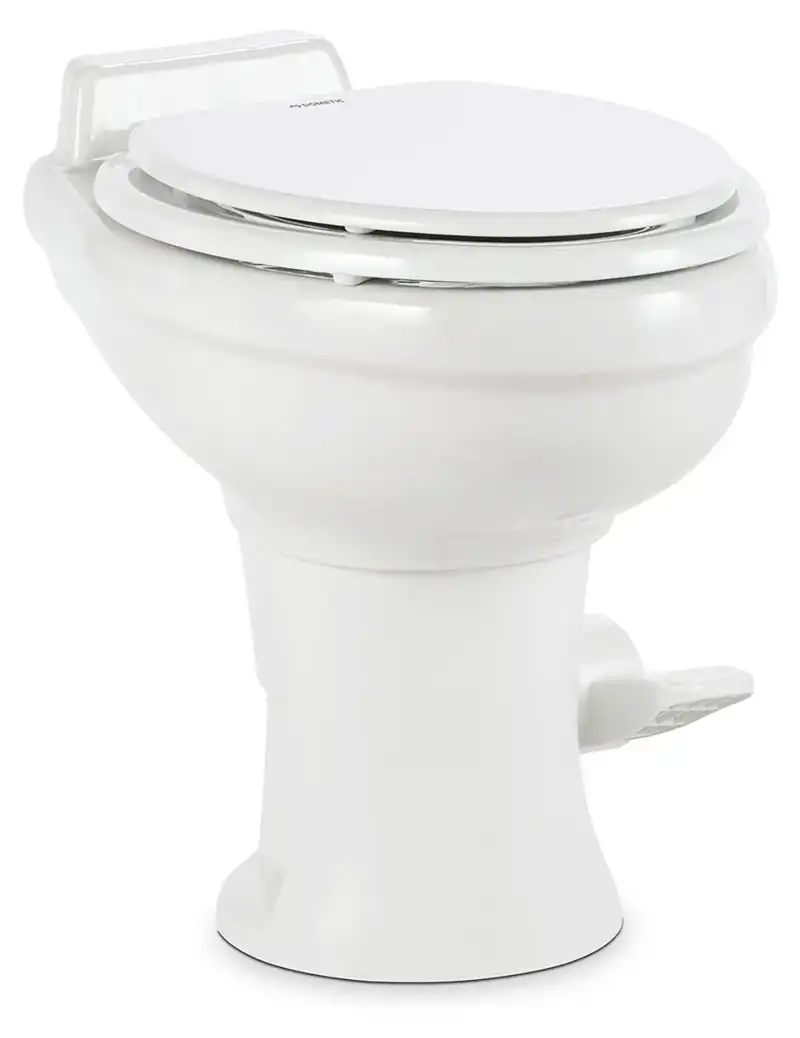 BEST VALUE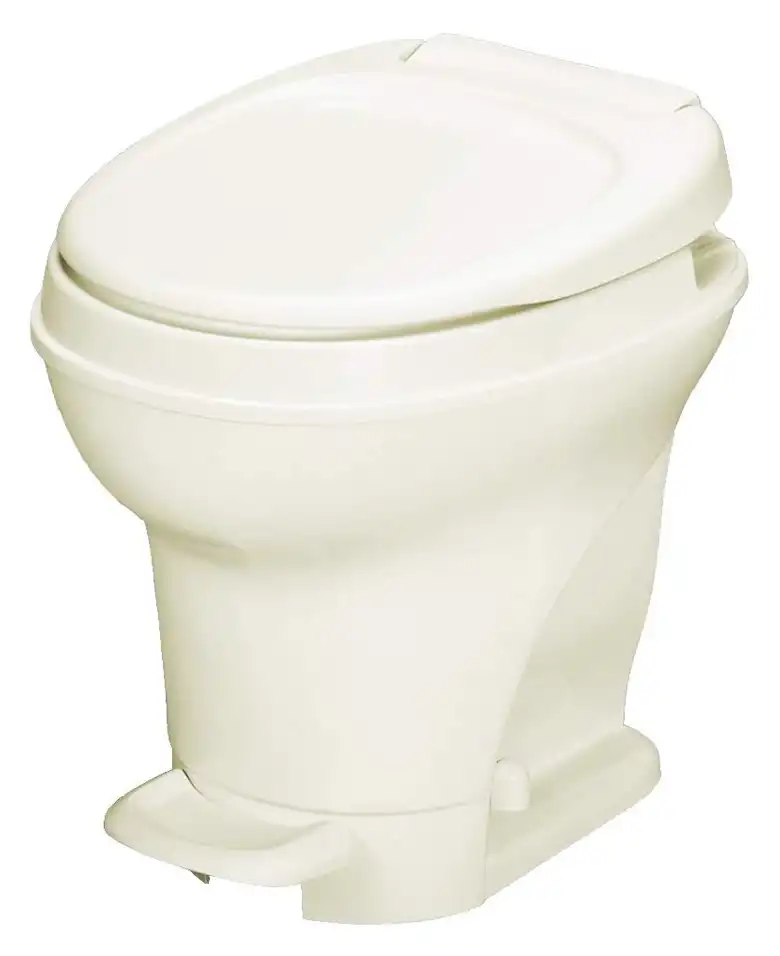 BEST COMPOSTING TOILET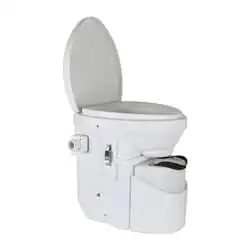 What Type Of Toilet Is In Your RV?
There are many different kinds of RV toilets available. Each has their own advantages and disadvantages. Most popular campers come with a gravity-flush toilet. In fact, chances are good that if your motorhome doesn't specify which type of toilet is inside then it is probably a gravity-flush model.
Gravity Flush: Gravity flush toilets are similar to household toilets in a lot of ways. The main difference is there is no water holding tank in the back. Instead, these toilets sit directly above the black water tank and use a combination of water and gravity to flush the waste away.
You can only use a gravity-flush toilet if you are connected to a water source or if you have the 12-volt water pump switched "on."
Composting Toilet: Composting toilets do not require water or chemicals. Instead, they use a combination of peat moss or coconut coir to break down waste which can then be disposed of in a trash can. If used correctly, composting toilets will not smell bad as many people imagine. There is a vent fan that moves air outside of the bowl to eliminate odors.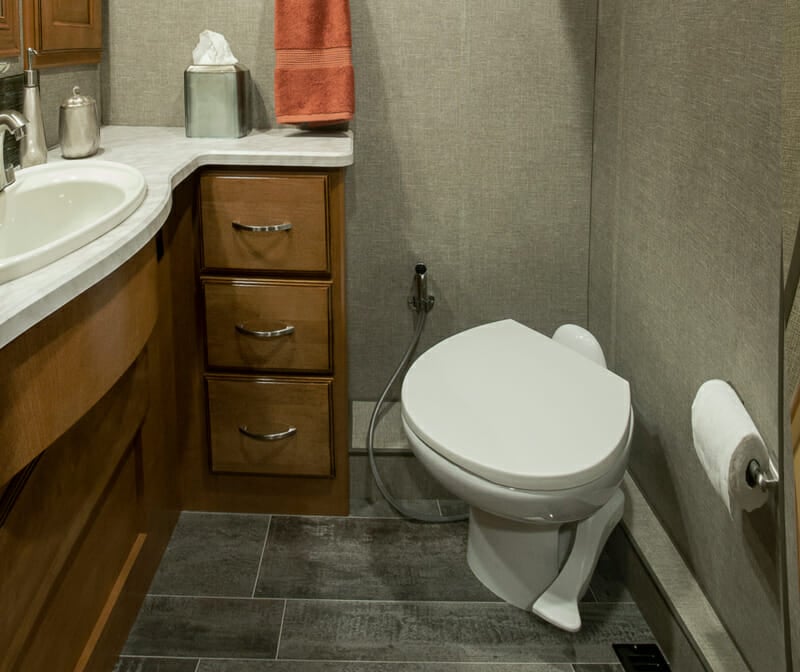 Cassette Toilet: These are similar in many ways to a gravity-fed toilet, but their waste storage tank is typically accessed from a compartment outside the RV. These are normally built into place and can be difficult to replace. Portable cassette toilets are a mini-version that's perfect for smaller rigs like a camper van bathroom. These have the toilet seat and waste tank all-in-one and can easily be moved from place to place.
Good choice for small camper van conversions; not as common in large motorhomes
Macerating Flush: These toilets soften and thin waste before moving it to the holding tank. It moves freely and becomes more fluid as it moves to the black tank.
Less common design, easy to empty
Camping Toilets: A portable camping toilet does not separate solids from liquids, meaning it produces raw sewage. They require frequent dumping but require no installation. These can get smelly fast, and are best used for short, weekend camping trips.
Not typically found in an RV. These are best for short camping trips.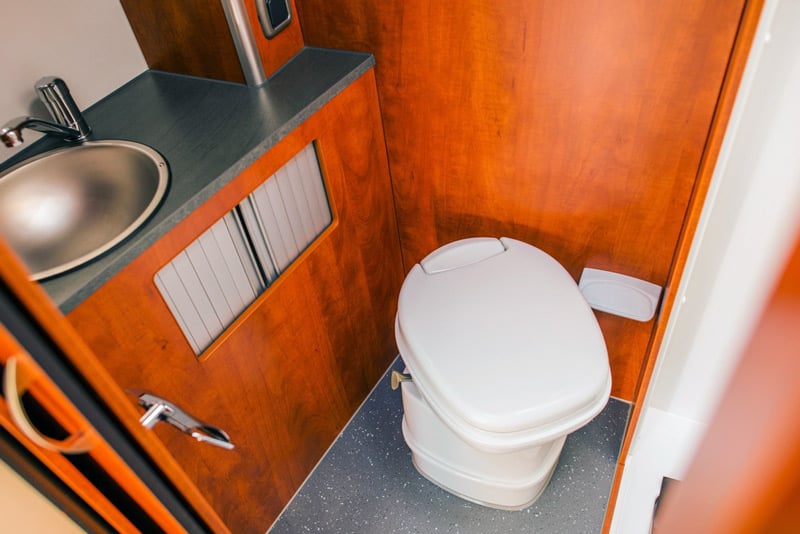 Camper Toilets vS Household Toilets
Gravity-fed toilets have a number of advantages over the household style that makes them better for travel. For one, they use significantly less water. You'll find that camper toilets often use a handheld sprayer (in addition to gravity) to flush down waste.
There is no holding tank. Instead, RV toilets are positioned directly above the black water tank where waste can accumulate.
There is no hand-flush. Foot pedals are the most common way to flush an RV or travel trailer toilet.
A valve and seal is used to prevent odors. This seal can be opened and closed to allow waste through.
How To Flush A Gravity-Fed RV Toilet
When going number 1:
Deposit your liquids into the bowl
Press the foot pedal down
When going number 2:
Connect your RV to a water source or turn on the RV water pump
Lift the foot pedal up to add water to the toilet bowl*
Deposit your waste
Press the foot pedal down
Use the handheld sprayer to clean the bowl
*Some models of RV toilets are designed to fill the bowl when the foot pedal is pressed halfway down.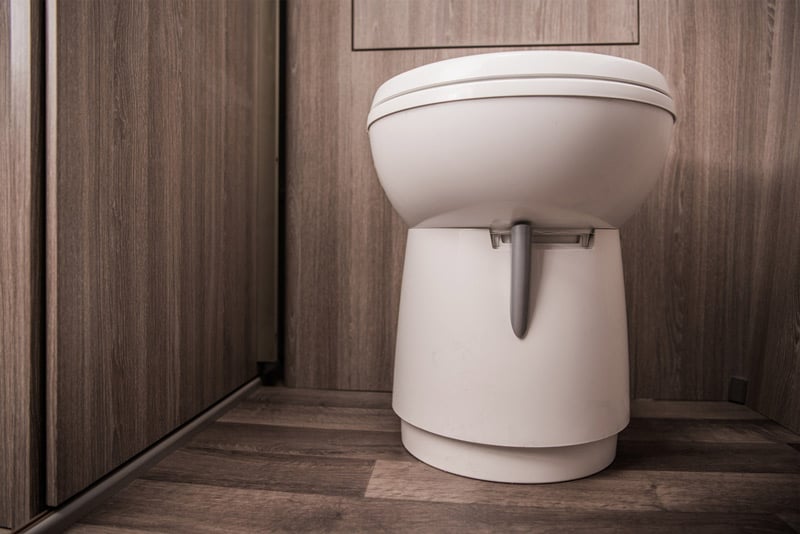 What To Flush
The ONLY items that should ever go down the drain of an travel trailer toilet is water, human waste, and toilet paper. Never flush trash, feminine products, or wipes down the bowl. That's a quick way to clog up your black water tank.
RV safe toilet paper is preferable to household toilet paper.
Keeping The Smells Down
Do not flush an RV toilet with the bathroom fan running! This is a quick way to draw smells from the black tank up through the toilet and into the air; gross!
Expanding Your Black Water Tank
You may find that your black or gray water tank is the limiting factor in how long you can travel without making a pit stop. In this scenario, black water expansion tanks come to the rescue!
These portable waste tanks are designed to store excess waste from your black water tank so you can travel longer between dump stations. Learn more about how they work here.
When To Replace Your RV Toilet
There should be a small amount of water sitting atop the toilet seal. If you see no water, there's a good chance the seal needs to be replaced. This is often when campers choose to upgrade their whole toilet!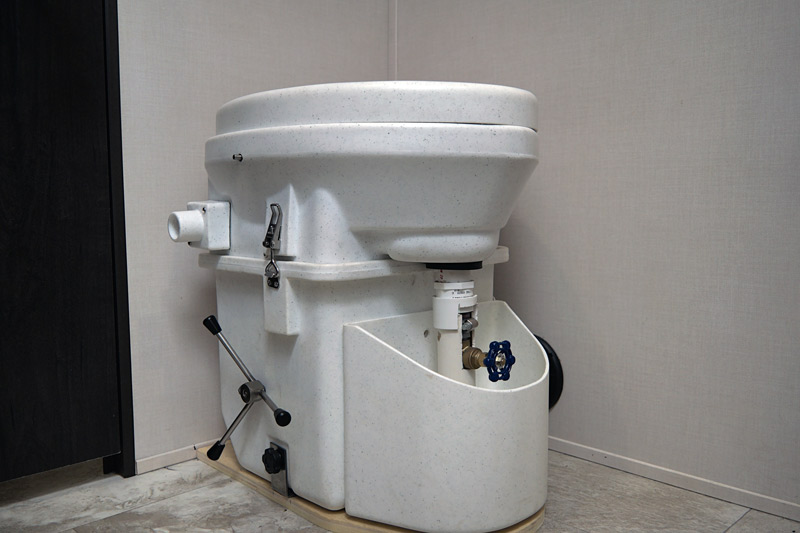 Finding The Right RV Toilet
Gravity-fed toilets are normally simple to replace because all of the camper plumbing is already in place and they don't require any electricity. People who do a lot of boondocking or have extensive water restrictions may consider replacing their gravity-fed toilet with a composting toilet.
The most important factors that you should consider are sizing and materials.
Sizing
Many RVs do not have a lot of space and require compact options for utilities, so your options for toilets may be slightly limited. It is essential to consider the height and size of your toilet. For the most part, higher toilets will be more comfortable and convenient, but with limited space, you may not have that option.
Pick out a toilet that is the appropriate size for your RV. If you have a small RV, you may want to consider a portable RV toilet instead of a plumbed option. The best way to make sure that the RV toilet of your choice will genuinely suit your needs is to match it with the space available in your RV.
Materials
In general, portable RV toilets consist of heavy plastic. If you choose a portable option, ensure that it is a strong, durable plastic that will not fall apart quickly. You want it to last at least the entire duration of your trip.
Plumed-in toilets provide you with more options. You can choose from plastic and porcelain RV toilets that resemble household toilets more closely. A porcelain RV toilet typically lasts much longer and provides more comfort. If you are willing to spend a few extra dollars, ceramic is the way to go.
The Best RV Toilets Reviewed
TOP RV TOILET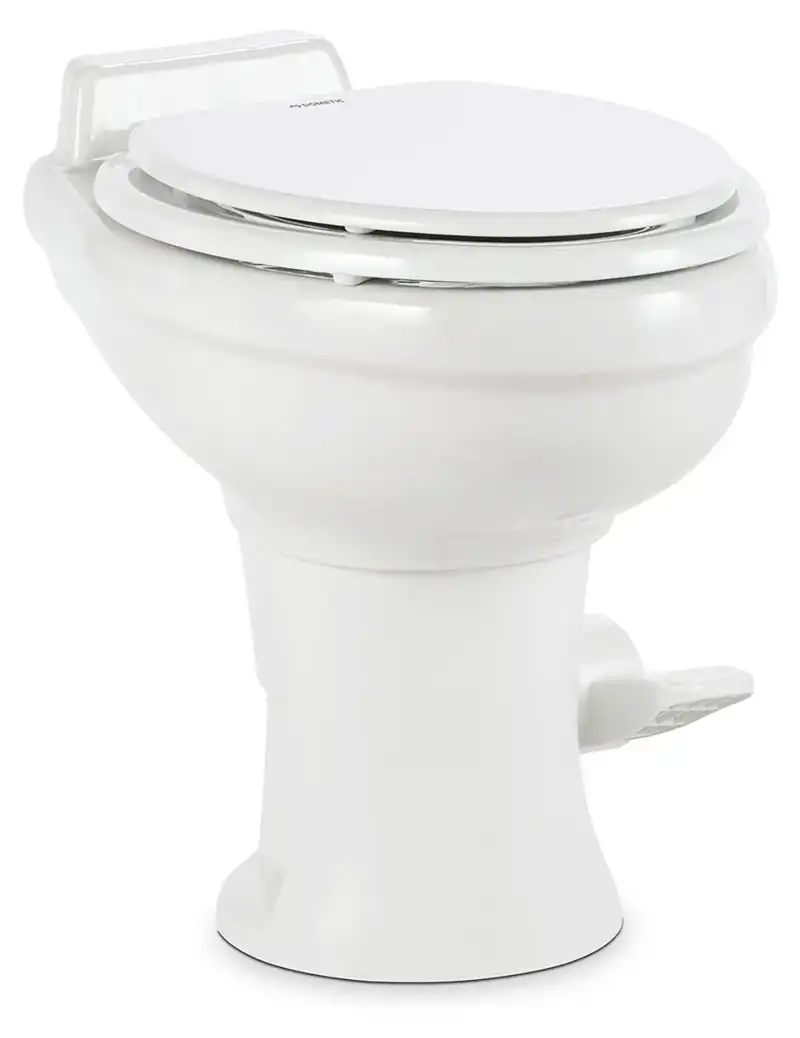 The Dometic 320 is our favorite upgrade for an RV toilet. Dometic is known for providing a high-quality products like refrigerators and awnings, and this toilet is no different.
It is eighteen inches tall with an elongated bowl, proving that comfort is a priority. Everything down to the comfort of the seat aims to provide you with the feeling of being at home while on the road.
The bowl features a scratch-resistant ceramic design to last through a lot of use. The toilet uses better water efficiency than other options at only about a pint of water each flush. The rim design prevents spills and splashes from occurring as well. Like many others, the Dometic RV toilet features a two-bolt installation and easy access to your water connection.
It is also worth noting that Dometic RV toilets come in more than one color. You can get it in either white or bone to make matching the interior of your RV bathroom a little easier.
Key Features:
Luxurious feel without breaking the bank
Sturdy, high-quality materials
Comes in two height options, making it more adaptable for all RV sizes
The flush washes the rim to clean the entire bowl every time
---
BEST VALUE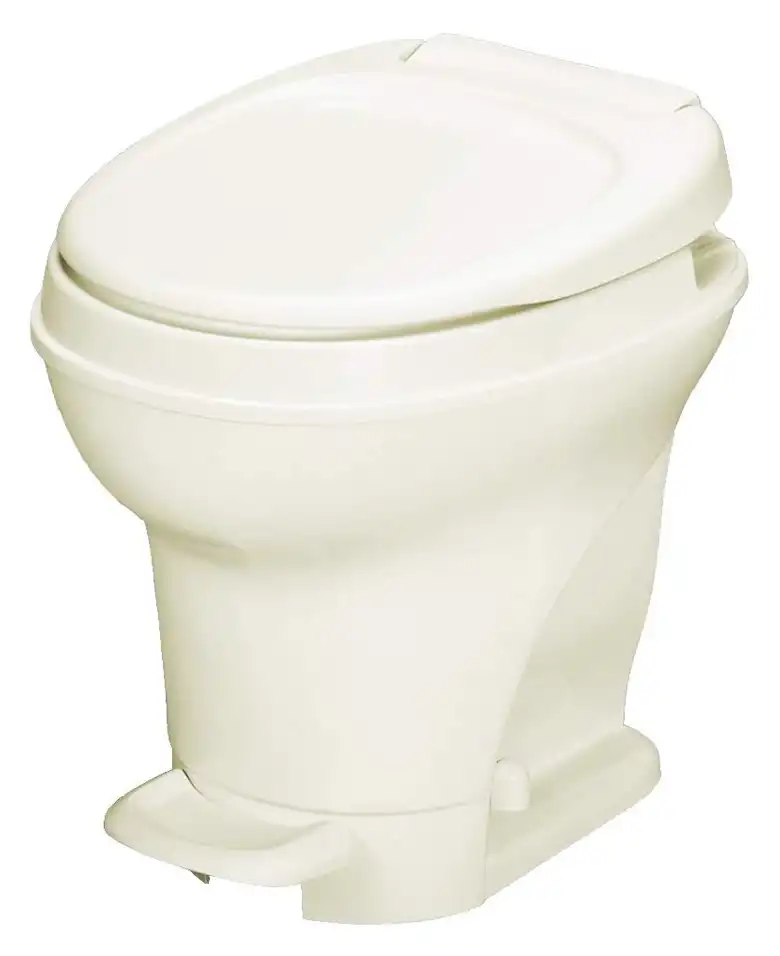 The Aqua Magic V RV Toilet is a simple to use and a fairly basic RV toilet model. It has a single-pedal flushing system. To use it, you need to press the foot pedal about halfway to add water and all the way down to flush. The lid is textured to shed water efficiently and avoid the build-up of scuff marks.
This toilet is easy to install and lightweight. Even though it does not weigh much, it is a durable RV toilet. It is just over eighteen inches tall, so it is an excellent option for older travelers and those who wish to have a more comfortable experience.
After installing these toilets, they are permanent fixtures in your RV, so they are worth considering if you have the space for it. This toilet is a solid choice if you want a durable, permanent toilet in your RV.
Key Features:
Durable enough to last through many years of use
Convenient one-pedal flushing system
The size is ideal for almost all RV spaces, including smaller ones
Textured lid to avoid scuffs and any possible waste build-up
---
BEST COMPOSTING TOILET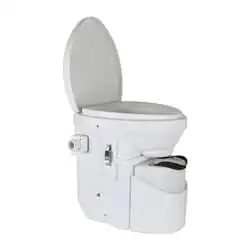 If you're looking for an alternative to a traditional RV toilet, the Nature's Head composting toilet is our top choice.
It's designed for campers who want to conserve water and go on extended road trips without making a stop at the dump station every few days.
This is a composting toilet, so it separates liquids and solids. You must empty liquids every few days, but solids get stored inside to compost and take up little space. In theory, you should only need to empty the solids about every 80 uses.
Another thing that people love about composting toilets is that they are environmentally friendly and require no chemicals to break down waste.
Key Features:
Large and elongated design for maximum comfort
Easy to take apart, and clean
Does not require plumbing
Comes with a five-year warranty and is guaranteed to last much longer
---
That's A Wrap!
Size and comfort are two of the most important factors to consider because you will be using your toilet in a more compact space. It is also important to think about the convenience and installation of RV toilets. You do not want to spend multiple hours while preparing for a trip trying to figure out how to make the toilet work. RV toilets can have many perks, but they can be a hassle to empty, so make sure your choice is simple.
If you are looking for the most bang for your buck, the Aqua Magic V RV Toilet is our favorite in terms of value. The Dometic 320 is a luxurious option that comes with the most features, which is why it is our top choice.
If practicality is the most important to you, consider the Nature's Head Composting toilet as it is simple and environmentally friendly.
You Might Also Like: