The Best RV Propane Regulator For Your Camper
By
on
This post may contain affiliate links. As an Amazon Associate, I earn from qualifying purchases. Please read my full disclosure.
Many appliances within an RV operate using propane. Your refrigerator, oven, and hot water heater are just a few examples.
But in order to stay safe, and maintain your appliances for the optimal lifespan, it's important to invest in an RV propane regulator.
These devices take the pressure down to a manageable flow for safe operation in your camper.
What Is An RV Propane Regulator For?
A 2-stage RV propane regulator maintains constant gas pressure in your camper and automatically shifts from an empty tank to a full tank. You can easily remove and replace the RV propane regulator without interruption.
When you install a two-stage propane regulator for your RV, it adjusts and regulates the pressure of gas coming from the propane tank for each appliance attached to receive fuel.
It functions as a gateway between the propane tank and the rest of the system.
How long do they last?
Ideally, RV propane regulators should last a minimum of 10 years. You can wait up to 15 years before you require an RV propane regulator replacement in most cases.
For this reason, it's essential to invest in a good quality RV dual propane regulator that performs exceptionally well for your trailer, RV, or camper van.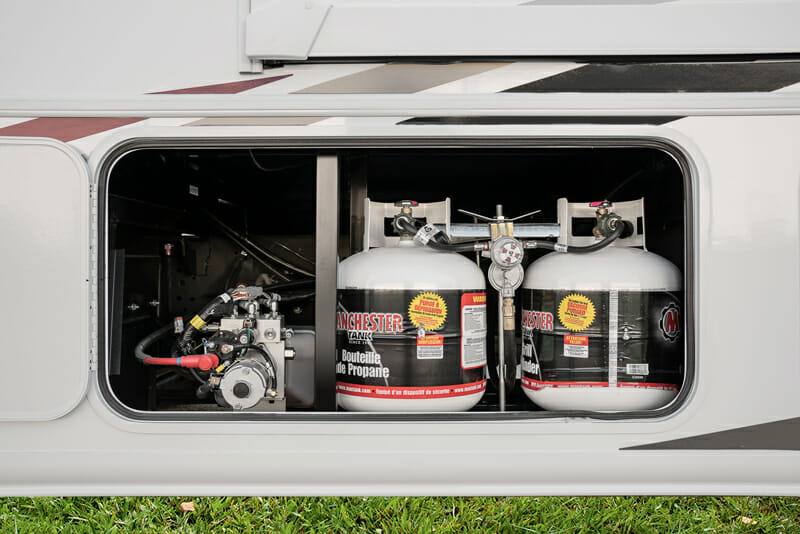 RV Propane Regulator Troubleshooting
Once you purchase a new RV propane regulator, you'll likely find it easy to install. Most products are designed to fit most tanks and make it simple to refill empty tanks and maintain consistent gas flow to your appliance without any issues. In some cases, you may encounter problems with gas flow.
There are essential steps you can take to improve issues with your RV propane regulator. One of the most common problems involves a lack of consistent flow. An excess flow valve is a safety device on propane tanks to immediately stop or severely restrict gas flow once a leak is detected. If the flow stops abruptly, this may indicate a leak.
What can trigger the excess flow valve to engage? Any leak, even the least detectable, can prompt the flow to stop. If the tank valve is opened or fastened too quickly, this may also cause the system to "detect" a leak and shut down. If this occurs, it's essential to slowly turn off the propane tank valve and check all the knobs on the stovetops, water heater, and refrigerator.
When you pressurize the propane system, you must open the tank valve fully; otherwise, you may encounter the same lack of flow. RV propane regulator troubleshooting is an essential part of ensuring your fuel system is working adequately. You'll find most regulators function without incident, though it's crucial to find the correct fit for your RV to prevent the chances of leaking or inconsistent gas flow.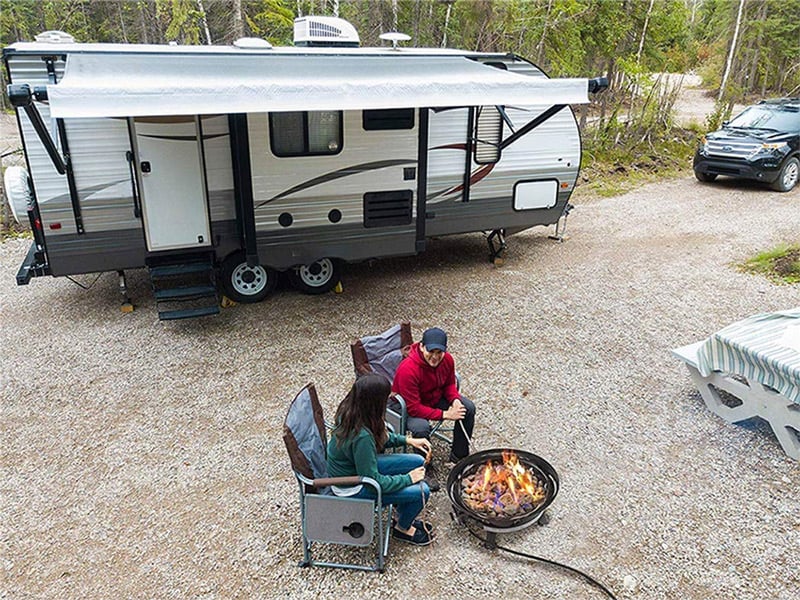 Frequently Asked Questions
When you buy your first RV propane gas regulator, it's essential to find a product that's compatible with your RV.
How can you tell if an RV propane regulator is bad?
If you're uncertain that the RV propane regulator is running correctly, there are significant signs to note to confirm if it's working. The flame should produce a blue color and not yellow or orange. The height of the flame should remain even around the cooktop burner. When you switch the stovetop on or off, you shouldn't hear any clicking or popping sounds.
When you notice any debris on the burners or any of the above issues, reset the pressure regulator. This process will likely correct this situation. It's essential to keep all areas connected to the propane system clear and free of clutter and debris.
How is an RV pressure regulator reset?
Before you reset the regulator, make sure all the propane appliances are entirely shut off in the RV, then shut off the propane tank. Once you shut everything down in the system, wait a few minutes before switching on the propane tank. It's vital to turn on the propane tank valve very slowly so that all the connected lines can become adequately pressurized.
What should I do if there is an odor?
Propane shouldn't smell, and if you detect an odor, it's a sign that there is an issue with the regulator. If this occurs, shut off all sources of gas and flames. Ensure any lit items, including cigarettes and small campfires nearby, are extinguished. Air the interior of your RV with overhead fans and take your RV into the nearest shop for service.
How do I maintain the vents of my two-stage propane regularly?
Keeping the vents clean is easy and essential to the function of the propane regulator. Debris such as dirt and dust can build up quickly. The stage two part of the vent should be pointed down, which can help prevent the accumulation of dirt.
How can I keep the propane system safe and effective?
While most RV propane regulator repairs are easy to perform, we strongly recommend this only if you're comfortable. Propane is highly flammable, and contacting an RV repair expert is ideal to ensure everything is safe and that your regulator is working at its best. Propane regulators are typically long-lasting, and proper care can extend their life.
The Top RV Propane Regulators
The following RV propane regulators provide excellent, long-term service for your trailer or van. These high-quality products offer minimal maintenance, easy tank replacement, and consistent service for years of camping enjoyment.
TOP CHOICE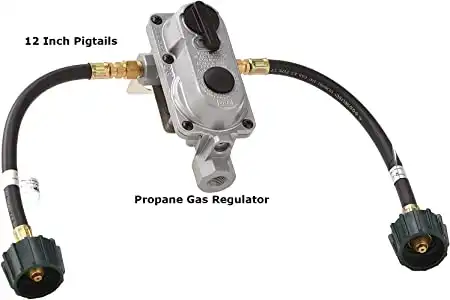 Flame King
2-Stage LP Propane Regulator. Easy installation. Removes empty cylinders for replacement, with auto changeover for consistent gas pressure.
CHECK LATEST PRICE
Flame King 2-stage RV Propane Regulator
This RV propane regulator is one of the best on the market and an affordable investment for your RV or trailer. This 2 stage RV propane regulator is easy to install, removes empty cylinders for replacement, and automatically switches from the main tank to the replacement for consistent gas pressure.
The RV propane gas regulator contains two 12-inch pigtails and works best with various vehicle types, including vans, trailers, and RVs. When one of the tanks is complete and ready to switch to the replacement, a red indicator light will provide this status, so you can prepare to replace the primary tank.
It's an easy mechanism to install. No instructional software is required, and every step is straightforward to understand. Automatic changeover is another significant advantage with this Flame King RV propane regulator. It's inexpensive, keeps your camper heated, and operates consistently without any problems. The average rating for this product is 4.6 out of 5 stars.
BEST VERTICAL REGULATOR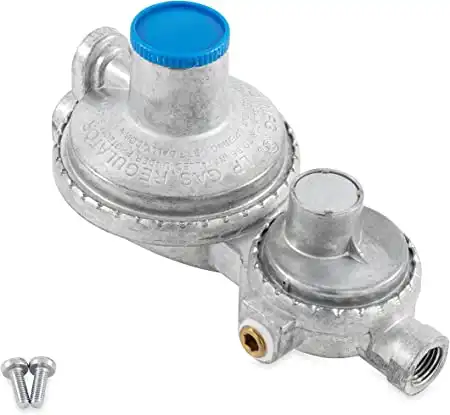 Camco 2-stage Propane Regulator
This two-stage propane regulator is lightweight and fits vertically to access all your RV appliances. The design of this product allows for consistent flow through a two-stage process, keeping your appliances running smoothly with minimal effort. This Camco product offers some significant benefits, including an intense pilot flame, which helps avoid restarts and more efficient use, resulting in fewer refills.
The price is excellent, and the product ships fast so that you can order this regulator shortly before your next camping trip. Due to the feather-light weight of this RV propane regulator's fitting, some individuals find it may seem empty when there's plenty of fuel left. The compact nature of this product is perfect for small enclosures and compact utility propane devices.
The Camco 2-stage propane RV regulator is a versatile product that is adjustable to work with various tank sizes and appliances. It's compact, easy to fit and install, and very affordable. The average rating for this product is 4.4 out of 5 stars.
MOST VERSATILE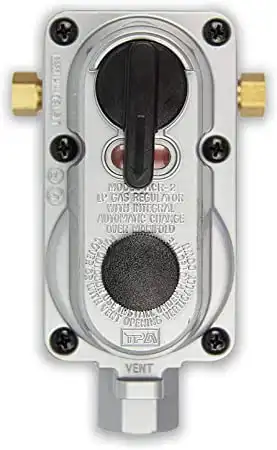 Flame King 2-stage Auto Changeover RV Propane Regulator without Pigtails
This 2-stage auto changeover regulator is a versatile product that fits well for a variety of RV appliances. The auto changeover allows for refilling the empty cylinder without interruption, so the propane supply continues seamlessly. The gas pressure remains consistent, supported by the double stage design.
Many customers find this product easy to install and use with multiple items at the same time. The regulator fits well with most adapters and many smaller appliances. It works great in any season, including the winter, for gas grills and heaters. While this product is labeled as an older regulator design, it works perfectly with most RV setups.
This product is compatible with an inverted RV propane hose from Shinestar and the Thermoplastic hose from Flame King, which are featured on Amazon. It's also ranked as one of the top products in the Automotive products for fuel pressure regulators.
MOST DURABLE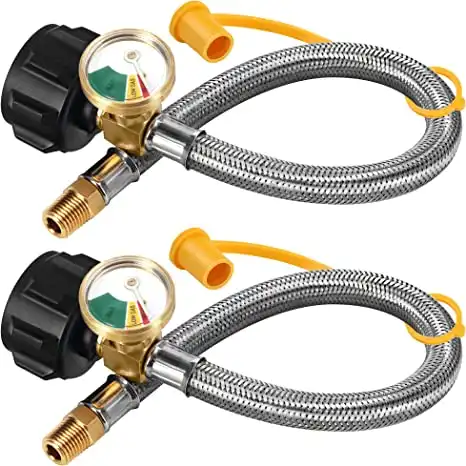 NPT Propane Pigtail Hoses for RV with a Gauge (Double Pack)
Made from durable stainless steel, these RV propane hoses with a two-stage regular are available in two packages for easy replacement. This unit installs easily and quickly without multiple tools for a simple attachment process. The RV propane hoses include a tank gauge. This feature gives you the ability to monitor fuel without removing the tank.
The device is made of solid brass fittings, which fit well to propane equipment with airtight accuracy. The RV propane hoses work well with RV camping and barbecues for outdoor cooking. Many customers find that the hoses are easy to install, and the two-pack provides additional lines for support.
Some customers find that adding tape offers better reinforcement. Tape is offered as an extra with the order of this double pack, though a thicker tape may work best. Overall, the product works consistently well, without leaking or other issues. It's a durable product that comes with a one-year warranty for parts.
That's A Wrap!
An RV propane regulator is a small but essential part of your camper's propane system. It's a durable mechanism that's inexpensive and lasts for at least ten years.
The regulator provides the vital function of adjusting the gas flow to all your connected propane appliances with the specific fuel level for years of camping.