The Best RV Refrigerators And Freezers For Camping
By
on
This post may contain affiliate links. As an Amazon Associate, I earn from qualifying purchases. Please read my full disclosure.
Are you on the hunt for a new RV refrigerator? The long road trips would not be enjoyable with a reliable fridge to keep your food and drinks cold.
RV refrigerators are designed for the rough and curvy roads, small enough to fit in a camper, and can run off fuel or electricity. In this article we're going to cover our favorite residential-style RV refrigerators that are built for the road.
BEST 3-WAY FRIDGE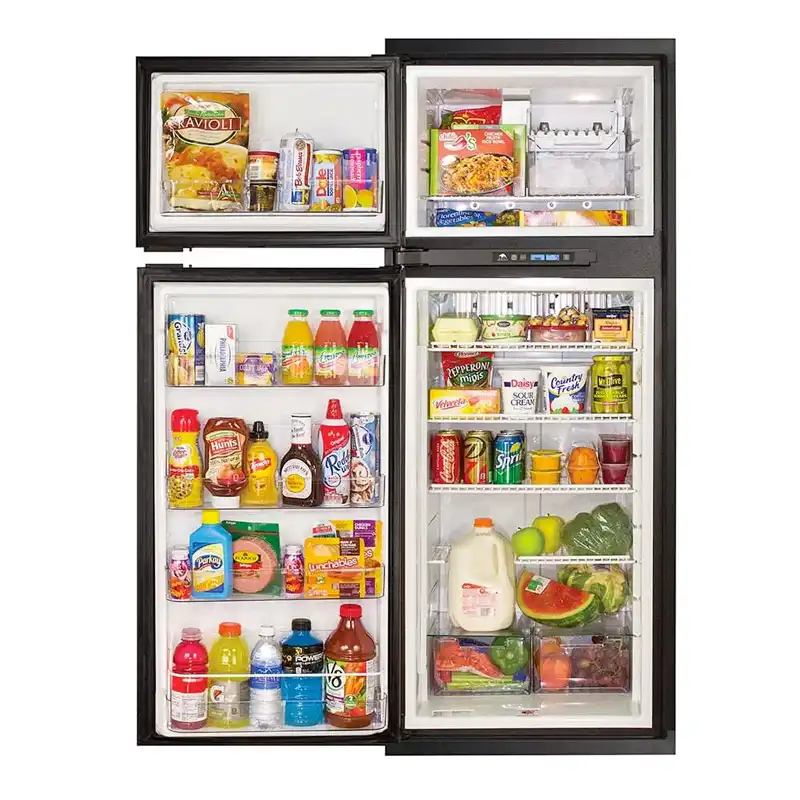 BEST 2-WAY FRIDGE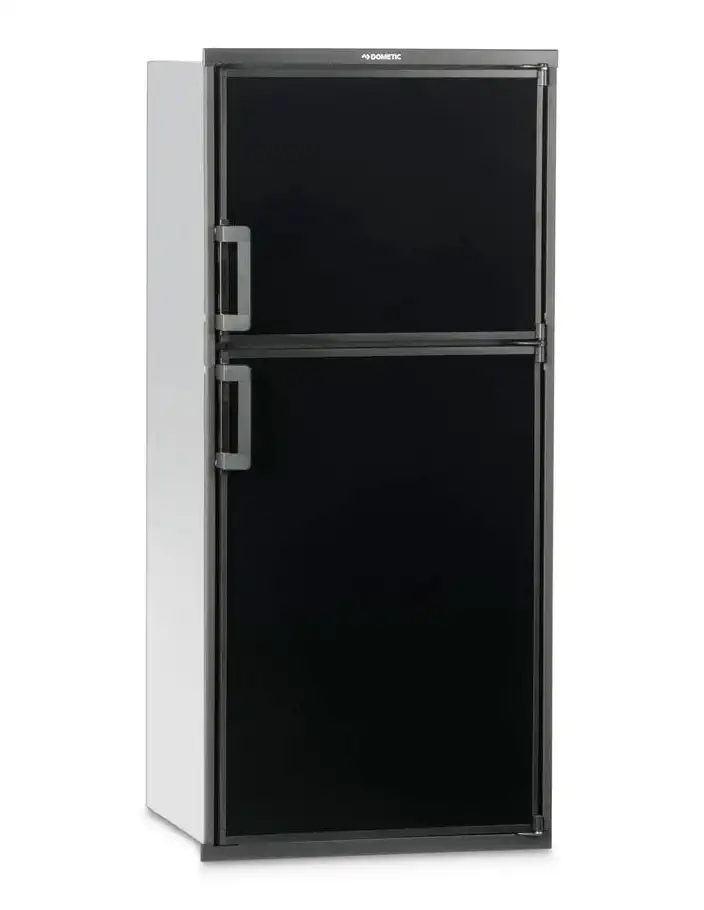 Dometic Americana II
Robust RV refrigerator that runs off 110V AC power or propane. It has 6 cubic feet of storage space, multiple shelving options, and locking door handles for travel.
CHECK LATEST PRICE
GREAT VALUE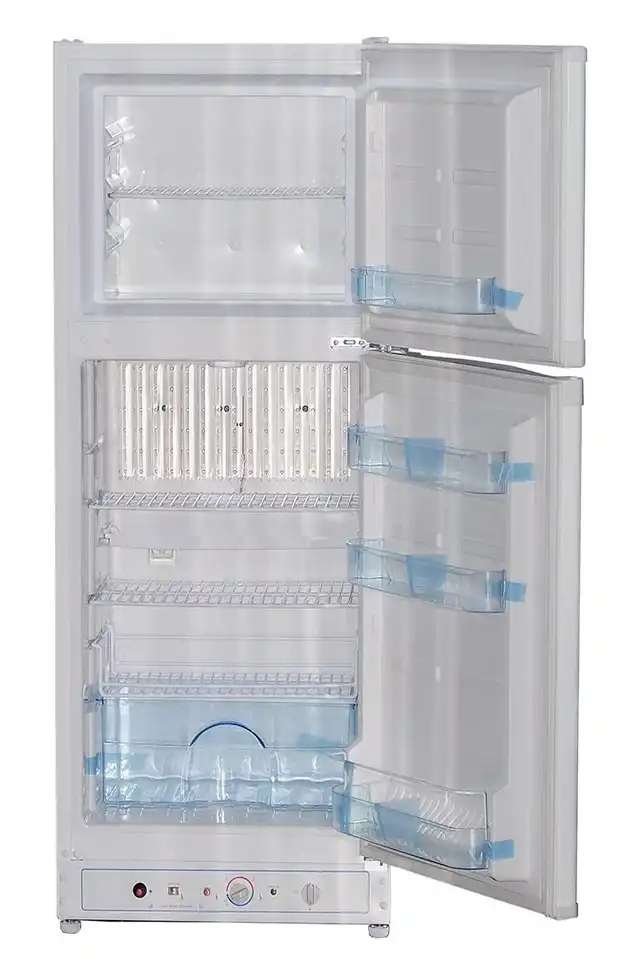 RV Refrigerator VS Residential Refrigerator
Unlike a typical residential refrigerator, the RV refrigerator does not use a compressor or any moving components to make things cool.
An absorption refrigerator utilizes a flame to heat a combination of hydrogen gas, water, and ammonia. The resulting heat source from these chemicals will cause evaporation and condensation to cool down the refrigerator.
If you use a generator or shore power, it creates heat through a single element. When you do not have electricity available, LP gas will build the flame and heat the chemicals.
Most RV refrigerators have settings to switch automatically between electricity and LP gas, depending on whether you are using propane or a generator.
The leading RV refrigerator brands will typically provide three settings: gas, off, and auto. Auto delivers the automatic switch capabilities, while gas allows you to operate the refrigerator strictly on gas. When you do not want the fridge to run off solar power or a generator, the gas setting is the best way to go.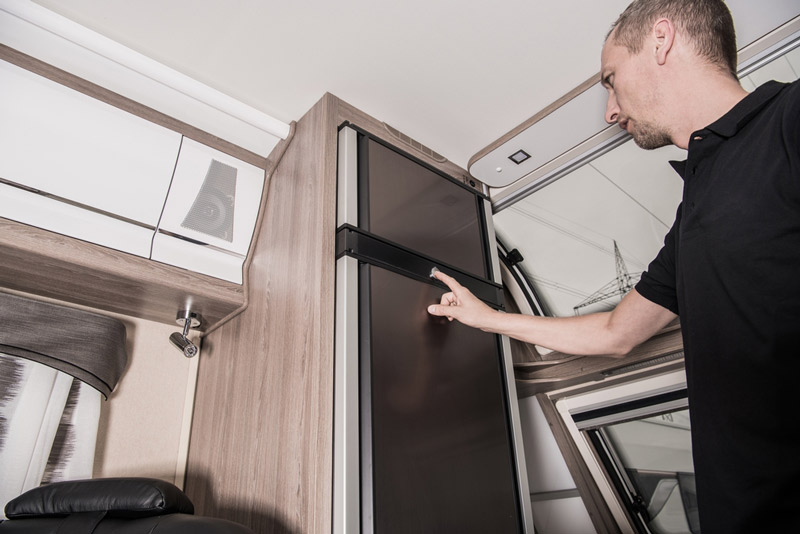 What is the Difference Between a 2-way and 3-way Refrigerator?
2-way refrigerators, also referred to as compressors, and will operate in the same manner as a home model. These products use 12 or 24 volts and gain their power from camping batteries or vehicles. They can also operate on 240 volts of energy provided by a portable generator or another powered source.
2-way RV refrigerators can run off LP gas or AC power
3-way refrigerators, also known as absorption models, run on 240 volts and 12/24 volts (much like the compressor). The main difference is that they can also run on propane gas. A 3 way RV refrigerator utilizes an exchange system of gas flow heat near the unit's back. Instead of making cold air, this process eliminates the heat from inside the refrigerator unit.
3-way will run off DC power, AC power, and LP gas
Other key differences between 2-way and 3-way refrigerator include:
Noise: 2-way compressors will emit the same sound intensity as your home refrigerator, while the 3-way absorption fridge will be much quieter, which will help you get a better night's sleep.
Efficiency: 2-way refrigerators will run more efficiently when connected to a site power source. A 3-way absorption unit will work out better when you are fully remote and need cool air for a couple of weeks at a time.
Temperature: For cooling temperatures, 2-way refrigerators deliver colder air much more consistently in hot climates than 3-way models.
Boondocking: 3-way fridges are the best type for boondocking because they will give you more options to power the appliance through propane or with the travel trailer battery bank.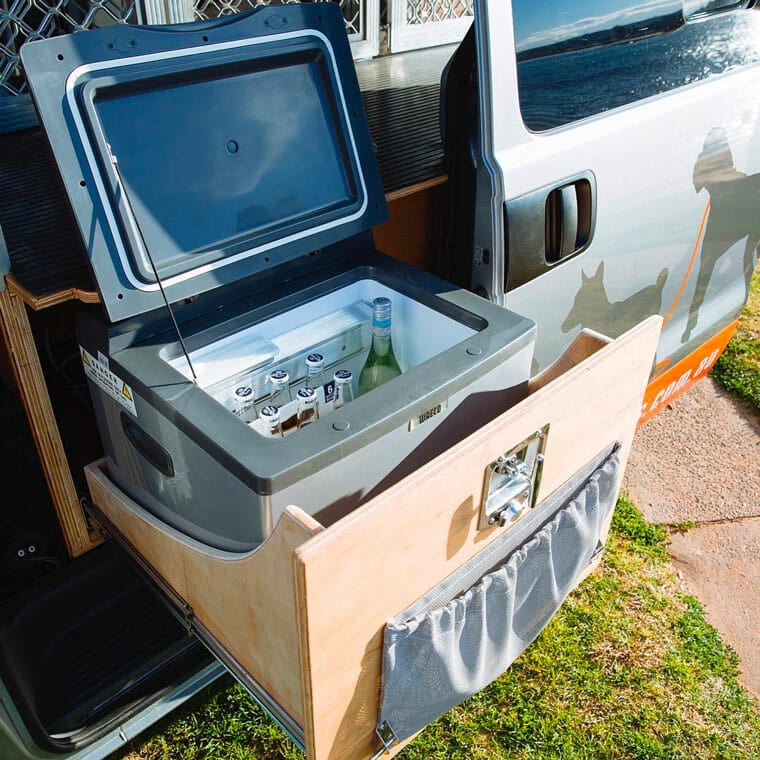 Camping Refrigerators
There is another category of refrigerators that should be mentioned: the portable camping refrigerator. These units are much smaller and are typically found in camper van conversions. They use a compressor design and can be run off AC power, or your battery bank.
Many van lifers will use these types of products because they are energy efficient enough to run off solar power, and can operate on angled surfaces. Another advantage to camping refrigerators is that you can easily move them from place to place because they come in a variety of sizes.
Some of the most popular brands of camping refrigerators include Dometic and Norcold.
Important Factors to Consider Before Buying an RV Refrigerator
An RV refrigerator is a significant investment that will last you many years. To make sure you buy the best product possible, you should consider a few variables.
Size
Space is important, so you cannot expect every fridge to fit perfectly within your RV. Before you make the purchase, you should measure the dimensions closely. That way, you can select an optimal refrigerator that compliments the area nicely. It is also crucial to confirm that you can carry the refrigerator easily through the RV door.
Options & Features
As you look through various RV fridge models, check to see if there is an adjustable thermostat, ample storage space, and movable shelves. Study the different energy and power options for the unit. You want to ensure that the fridge can deliver the optimal cooling levels when you hook up to the campsite or travel remotely. The more features and options a refrigerator has, the more convenient it will be.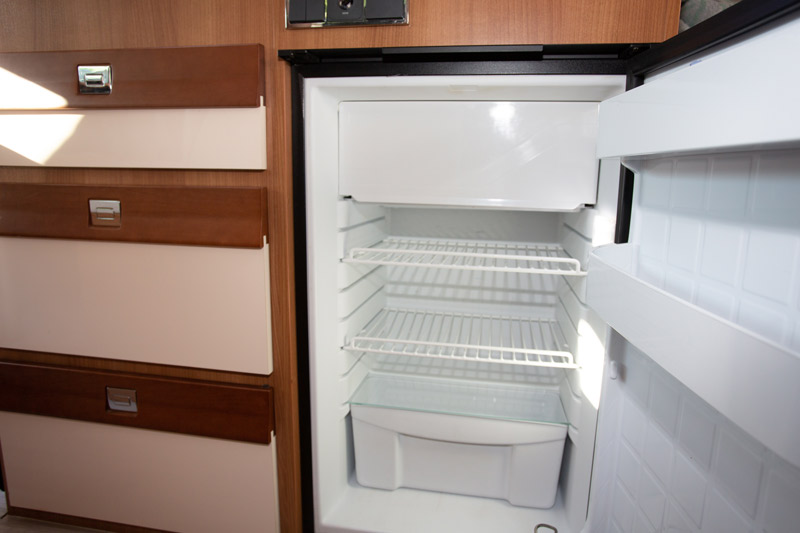 RV Freezers
Most full time campers are going to want the option of freezing a few items as well as refrigerating them. Our favorite appliances include fridge/freezer combos which will allow you to freeze a few cubes of ice and keep the popsicles cold during your hike.
Capacity
The storage capacity is also a key feature of your future RV fridge. It would help if you considered how much food you will store, how long you will be on the road, and how many people will need food from the refrigerator.
Power Source
You should also check to see what type of power source you prefer. You can select a gas unit, electrical unit, or even a hybrid. There are also two types of models: 3-way and 2-way:
3-way will run off DC power, AC power, and LP gas
2-way will run off LP gas or AC power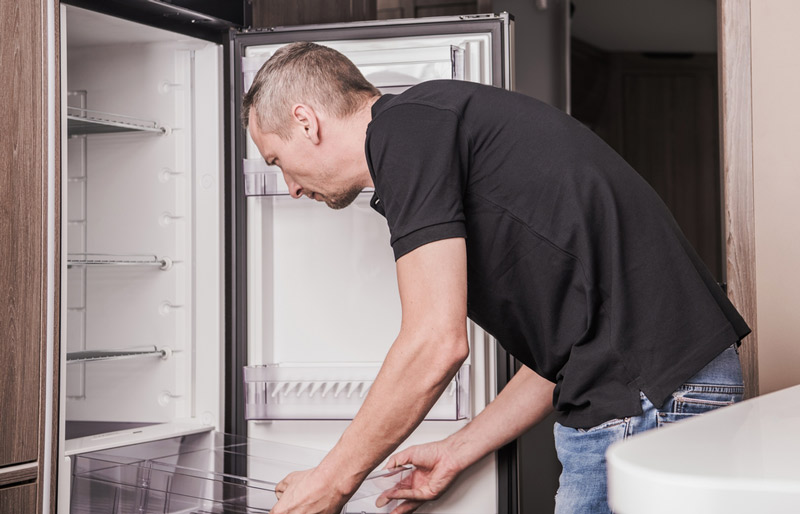 What Are Some Quality RV Refrigerator Troubleshooting Tips?
Things may not always go according to plan, which is why you should be ready for all troubleshooting situations with your RV refrigerator. Here are several quick tips to ensure you have what it takes to address RV refrigerator parts issues:
Open the fridge in every operating mode: If your unit works on one mode but not the other, the basic cooling unit is still appropriately constructed. Check the circuit breakers, the presence of 12 Volts DC, and that the 120 Volt AC is operating correctly.
Pilot light not staying lit: If the pilot light on the refrigerator won't stay lit, that could be an indication of poor gas flow. Make sure the flue, and burner tube is clean. Check for any rust or residue on the sensors.
Uneven cooling: Refrigerator fans keep the air circulating so every shelf of the fridge receives a consistent temperature. If some of your shelves are frozen and others are warm, consider installing a refrigerator fan on the top shelf to blow across the cooling vents.
Level your camper or travel trailer: Propane-powered refrigerators do not work well on uneven surfaces. That's because the chemicals inside an absorption-cooled refrigerator need to stay level to operate properly. Make sure your camper is parked on leveling blocks for a completely flat surface.
Replace the circuit board: Circuit boards are in charge of sensing 12V power and propane usage. Often, when an RV refrigerator 'fails' it's the result of a bad circuit board. Replacing this is significantly less expensive than replacing an entire appliance. Dinosaur Electronics is one of the leading circuit board manufacturers. They sell replacement boards for most of the major brands and electronics.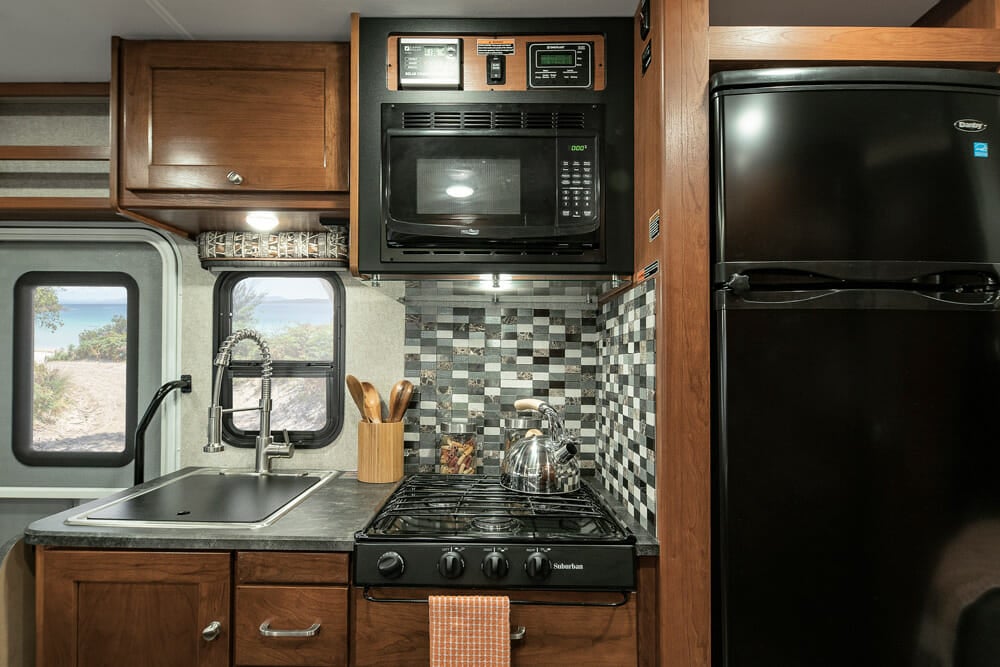 When Should You Replace your RV Refrigerator?
If you've gone through all of the troubleshooting tips and are still having problems, it may be time for a replacement. Most quality RV refrigerators will last anywhere between 10-20 years, depending on the model. There are other several signals to look out for when your fridge is on its last leg:
Spoiled food: If your food and drink start to spoil or smell earlier than usual within the refrigerator, then it might be time to replace it.
Too much condensation: If you start to see mold, mildew, or water droplets around the rubber sealing on the door, then it is an ideal time to start looking at new options. This issue means the unit is not cooling the way it should.
Noisy: If your refrigerator is making louder noises, then it is a sign you need to look for a newer model.
Frosting problems: If you need to defrost the freezer too much, it could mean the refrigerator is not operating correctly.
The Best RV Refrigerators For Camping
BEST 3-WAY FRIDGE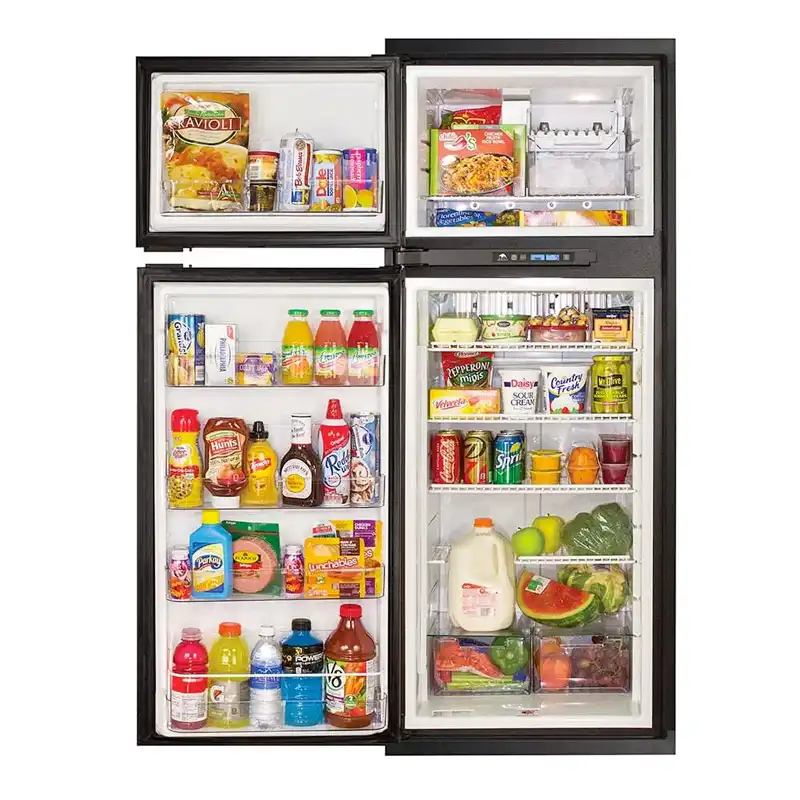 Norcold is known for making high-quality refrigerators, and the Polar 3-Way RV fridge is no exception. This appliance has 7 cubic feet of interior storage space and can run off propane, household power, or your battery bank so it's perfect for boondocking.
The Polar 3-way refrigerator is one of the highest-rated in the RV market. It comes with built-in features including hidden hinges, liner, and inverted door handle. The compact design has a modern style and tall doors making it easy to reach all the way to the back.
Norcold also upgraded its features for the control panel, inserting an adjustable thermostat, LCD, and an intuitive mode select. That means campers will not need to mess with switches or buttons to operate the refrigerator.
Features:
7 cubic feet of storage
Adjustable thermostat for easy user control
Able to withstand freezing temperatures down to 0 degrees Fahrenheit
Extra space with four shelves and transparent bins for the doors
The Control panel is eye-level and straightforward to operate
---
BEST 2-WAY FRIDGE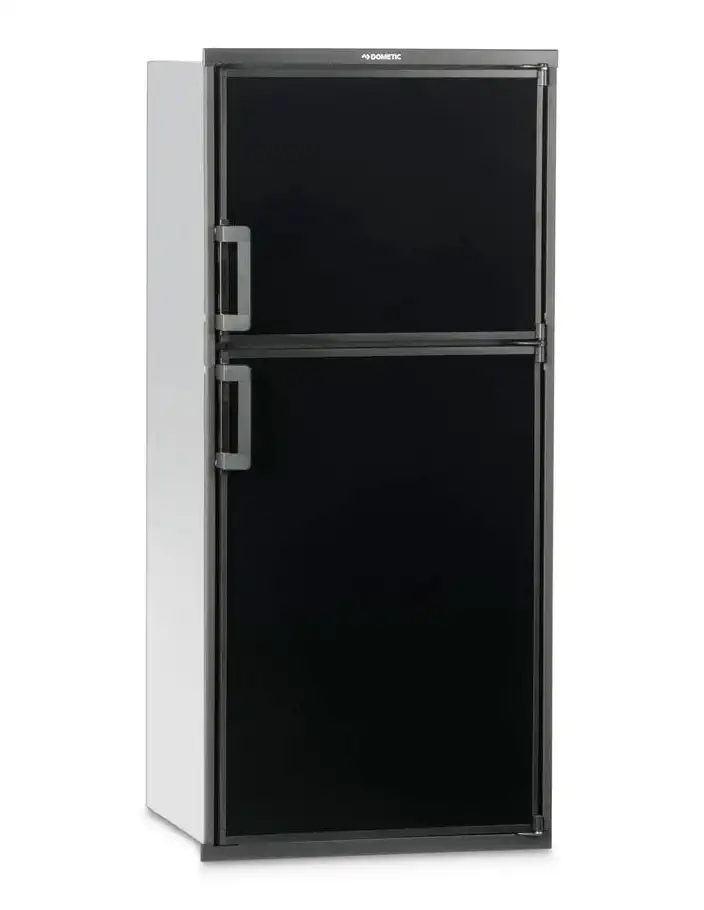 Dometic Americana II
Robust RV refrigerator that runs off 110V AC power or propane. It has 6 cubic feet of storage space, multiple shelving options, and locking door handles for travel.
CHECK LATEST PRICE
Dometic is another familiar RV brand focused on designing products robust enough for the road. The Americana II RV refrigerator has a slightly smaller capacity than Norcold (6 cubic feet of storage), but it has many great features which is why it's one of our favorites. It's built with robust steel construction, and locking door handles to maintain safety during rugged transit.
The 2-way refrigerator can run off 110V AC power or propane gas. It has a straightforward operation that includes automatic gas ignition with electronic controls.
Two ultra-wide crisper bins with carrying handles are convenient for carrying multiple items outside during a BBQ. The appliance also has a number of adjustable shelves in both the fridge and freezer to make it easy to fit all of your food.
Features:
6 cubic feet of storage
LED lighting raises brightness on the inside by 30%
Freezer shelf can convert to three different positions for more effective frozen food access.
User can select either a right or left door swing (hardware supplied to make the switch)
Ergonomic door handles and convenient shelving layout can change to fit your storage needs
---
If you're a traveler looking for the perfect fit, the SMETA compact refrigerator is a great choice because it comes in a number of different sizes to suit any camper.
3 options are available with differing amounts of storage space including 3.5 cubic feet, 6.1 cubic feet, and 9.4 cubic feet. Each model also comes with a freezer section which is perfect for holding ice for several days or weeks at a time.
The SMETA is a 2-way refrigerator that can run off 110V AC power or propane gas. It comes with a large crisper drawer for storage and variable shelving for tall items. Overall, the SMETA is an efficient, trustworthy, and compact solution for a couple of travelers.
Features:
2-way operation with AC Electric or Propane LP/110V
Large interior crisper drawer for added storage
Environmentally friendly
Utilizes an absorption system with no compressor, providing an efficient cooling process
---
GREAT VALUE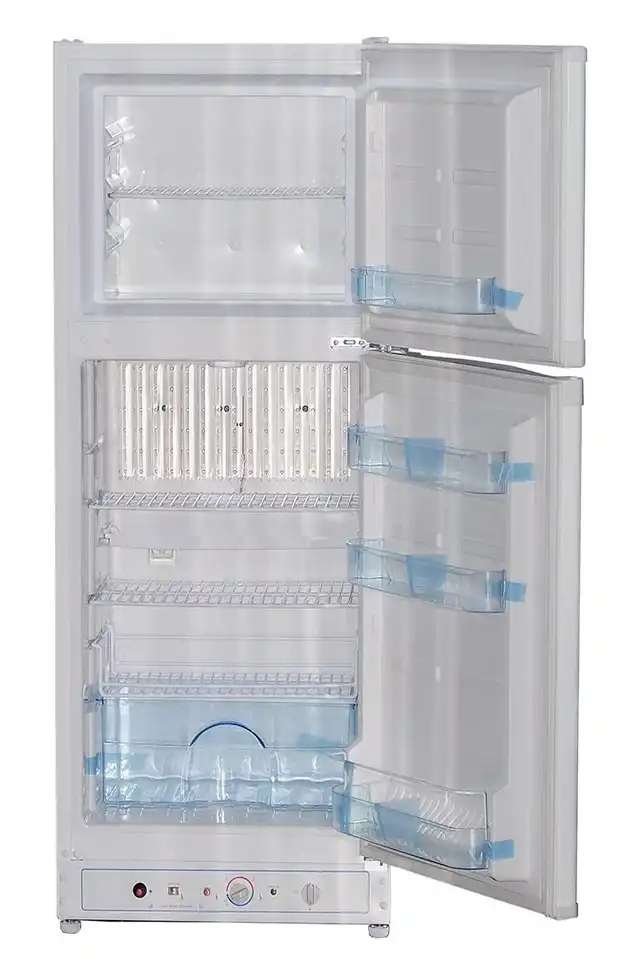 The Smad refrigerator is a 2-Way electric absorption fridge that runs smoothly and quietly on either propane gas or 110 AC power. This product also provides a spacious freezer and refrigerator room with models ranging from 3.5 to 6.1 cubic feet. That's enough storage space for 1-2 campers.
Inside, you'll find manual temperature controls which can be adjusted to keep food as cool as you need. It also comes with an egg tray, ice cube tray, clear balcony and energy efficient LED lighting.
Features:
Manual temperature settings for optimal food cooling
A reversible swing door is simple to install
The refrigerator comes with an ice cube tray, egg tray, and transparent balcony.
Energy efficient LED lighting
---
That's A Wrap!
There are a variety of quality RV refrigerators on the market that satisfy different needs.
If you're looking for the best 3-Way refrigerator for camping, we recommend the Norcold Polar 3-Way. The Dometic Americana II is our top choice when it comes to 2-way refrigerators.
If you're looking for versatility and the perfect fit, the SMETA Propane Absorption Refrigerator is our top choice. Depending on your needs, any of these excellent options can be an ideal choice for your next great adventure.
You Might Also Like: