Best RV Recliners And Wall Hugger Loveseats For Campers Review
By
on
This post may contain affiliate links. As an Amazon Associate, I earn from qualifying purchases. Please read my full disclosure.
A recliner may seem like a luxury accessory for an RV owner, but if you spend any significant amount of time on the road you'll appreciate the comfort they can add.
RV recliners are lightweight, compact, and designed to provide you with the most comfortable seating in a tiny amount of space.
Why Buy An RV Recliner?
At first glance, an RV recliner may not look much different than the standard version. But there are a number of differences that set camping specific recliners apart.
For one, they're more lightweight. RV recliners are designed to be on the move and not add excess pounds to your rig.
Secondly, these recliners are designed to be secured to the ground. That prevents them from moving around during travel.
Finally, RV recliners are compact and built to take up a very small amount of space. Unlike residential recliners, RV recliners use a track system to move the chair portion forward before leaning back. These systems are called "wall hugger" recliners and they're the best for saving space.
Lightweight
Easily anchored
Compact
Wall hugger designs available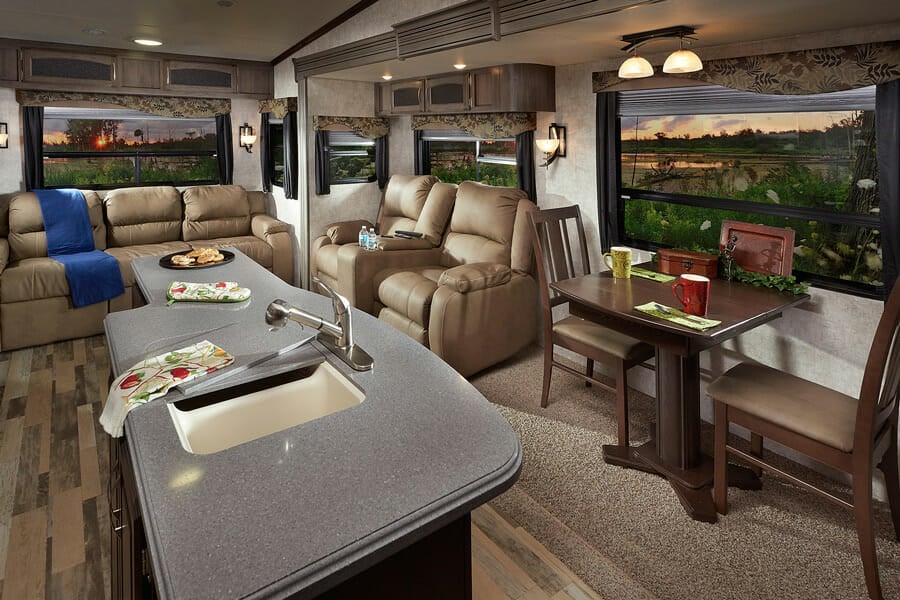 Types of RV Recliners
There are several types of RV recliners to choose from. The most common designs include the wall hugger, loveseat, and euro chair.
Wall hugger recliners are the most compact design because they use a track system which will pull the chair forward, and lean the seat back saving a considerable amount of space when reclining.
Loveseat recliners are designed for two people to sit next to each other. These can either have separate reclining systems (one for each partner) or move together. Some loveseat recliners have a center console in the middle to place drinks, books, or other accessories.
Euro chair recliners are the most mobile. These look similar to a chair and have a pop-out foot rest and swivel system. Euro recliners are nice because they save a considerable amount of space and they are lightweight so you can choose to move them outside the RV on sunny days.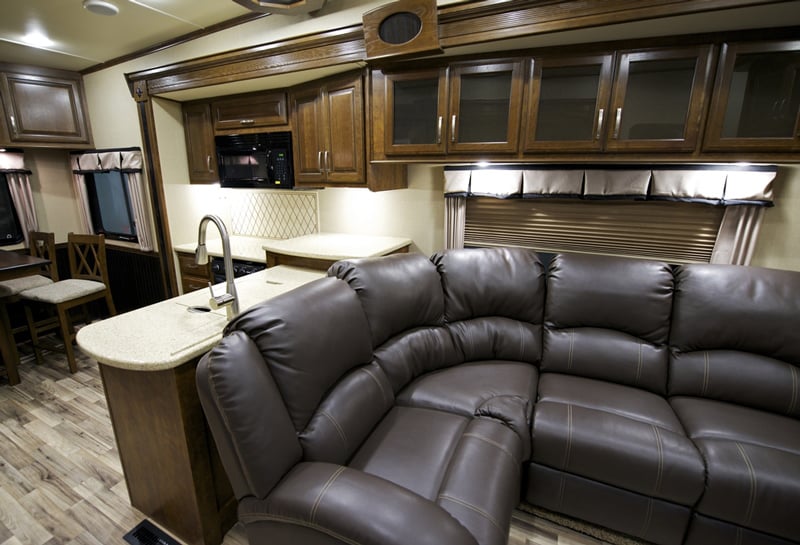 Fabric Texture and Color
Just like residential recliners, you'll find that there are all sorts of different fabric textures and colors available to choose from.
Leather
Leather is excellent for furniture because it is durable and doesn't show stains or spills easily.
However, leather can be expensive depending on the type of leather, and some people might not want to put that much pressure on the fabric when they recline in their chair.
Nylon
Nylon is a very popular choice for RV recliners because of how easy it is to clean up any dirt or spills.
It also dries out quickly after getting wet or dirty, so you won't need to worry about mold building up over time if your RV has a water leak while camping.
Linen
Linen is a fabric that will stand the test of time. It can withstand repeated wearings and cleaning without showing signs of damage, unlike other materials.
The natural fibers are strong and durable, ensuring an even better fit after being laundered repeatedly.
Wool
Many RV owners prefer wool fabric on their seats because of its warmth and comfort. Wool also has natural insulating properties that will help you stay warmer in cold weather and cool when it is hot.
This fabric also protects against minor spills because wool can be spot cleaned with water.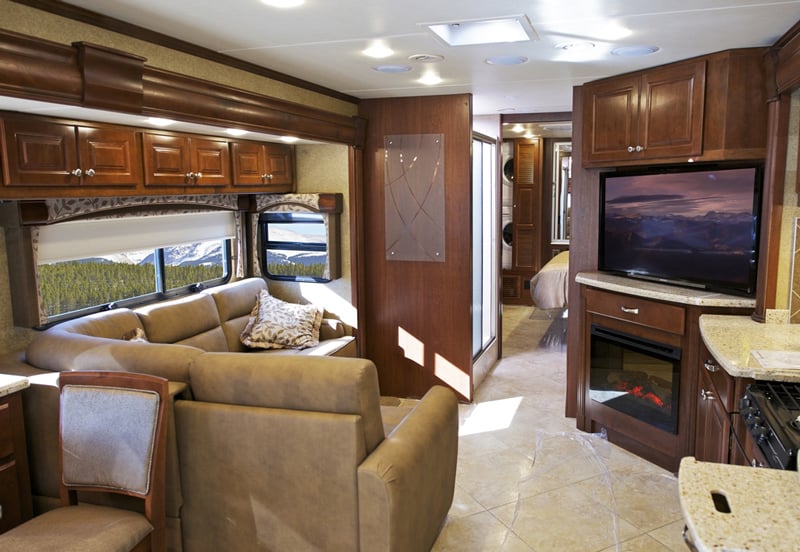 Size and Weight
Size and weight can also play a significant role in deciding which chair suits best with your needs. Some seats are smaller and won't accommodate a larger person, while other chairs might be too bulky for easy storage in your rig.
Size isn't the only thing to consider. You'll also need to think about how heavy the recliner weighs. Some chairs are very heavy and require a helper to get them in or out of your RV.
Will there be someone to help you install a 200-pound theater chair or recliner? If not, you might be better off looking into RV recliners that are lighter and that you can easily carry or move around if you need to change up your seating arrangements.
Extra Space
One thing that many new RV owners need to consider when buying an RV recliner is storage space. As you can probably guess, there is not a lot of storage space in most RVs. In addition, an RV recliner chair can take up what would be valuable storage space.
Luckily, some RV recliners come with extra storage space underneath. You can use this storage to store your TV, DVD player, gaming console, or other items.
While RV recliners with extra storage are typically heavier and more expensive than traditional RV recliners, they might be worth it in the long run.
Use and Adaptability
Use and adaptability refer to how you can use and adapt the RV recliner for various situations.
Some of the ways you might use an RV recliner include:
Chair
Couch
Bed
Storage area
In addition, some manufacturers have designed RV recliners to be mobile, meaning that you can quickly put them away and take them with you to use in any configuration you want, even outside your rig.
Comfort
Last but not least is comfort. You might be surprised to find that some RV recliners are not as comfortable as the traditional ones. For instance, you may feel a little cramped in one if you're taller than six feet tall because they don't typically have headroom for people over six feet (which is something you might want if you're taller).
In addition, there's often no option for adjusting lumbar support or armrests when using an RV recliner — so make sure those things aren't deal-breakers before purchasing your new RV furniture.
A good rule of thumb is this: if comfort is important to you, then go with a more expensive model with the features you want.
TOP CHOICE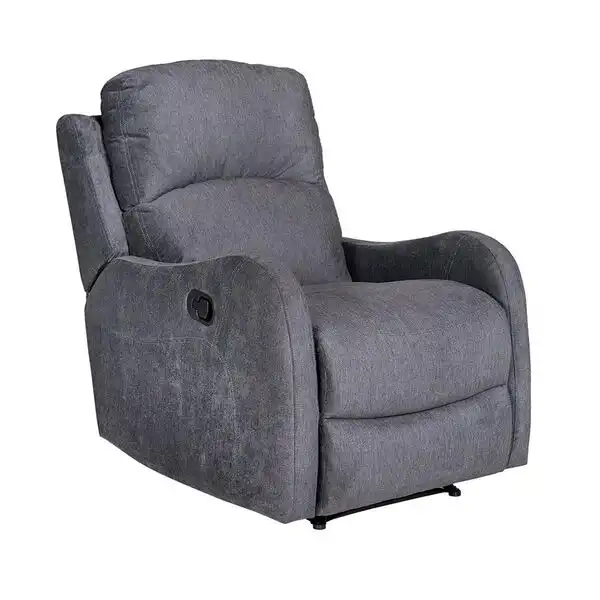 Top Choice: Opulence Home Galen
Our favorite RV recliner is the Opulence Home Galen. We like this recliner because it's comfortable and has all of the space-saving features campers will enjoy without the high price tag.
The wall hugger design allows you to get comfortable using only 2.5 inches of setback from the camper wall. It also has an extremely quiet footrest that slides in easily so reclining won't disturb anyone nearby.
And because the seat is designed with lounge-style, most people, regardless of size, will find it highly comfortable and easy to relax.
Timeless design and is also very comfortable.
Sleek and contemporary design
Plush pads with quality support for your back
Only requires 2.5″ from the wall for full extension
BEST LOVESEAT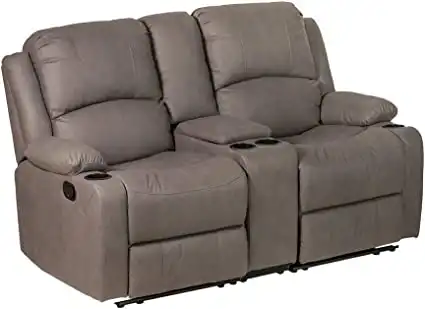 Camper Comfort Loveseat
Wall hugger style loveseat designed to recline with only 3 inches of space. This RV recliner comes with separate reclining functions (one for each side) and a center console with cup holders.
CHECK LATEST PRICE
Best Loveseat: Camper Comfort Wall Hugger
The Camper Comfort Wall Hugger is our favorite loveseat design. The recliner requires only 3 inches of space from the wall for a full recline.
Its small size makes it perfect for those with tiny RVs. The loveseat comes in three separate pieces, which allows you to install it easily inside your rig.
It has softly padded armrests on each side and center console with two cup holders which makes it easy to relax with your partner.
Finally, because this RV recliner sofa is made of high-quality faux leather, you can clean it very quickly, and it still feels soft when sitting.
Deep recline for improved relaxation
Fits in small and larger-sized rigs
Only needs minimal space to maximize comfort
High-quality material for easy cleaning
BEST EURO CHAIR RECLINER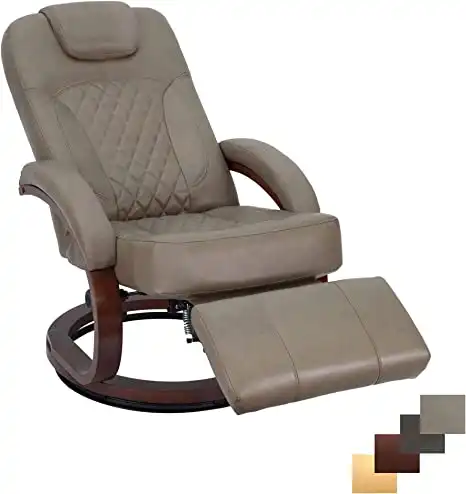 Best Euro Chair Recliner: RecPro Nash 28″ RV Euro Chair Recliner
The RecPro Nash Euro Chair Recliner is perfect for anyone looking to add a touch of modern class and style to their RV.
This chair is easy to assemble, lightweight, and compact enough to fit into any space. In addition, the RecPro Recliner weighs only 50 pounds, meaning that you can easily move it around either inside or outside your RV.
One thing that makes this RV recliner stand out from the others on this list is that it comes in four designer colors (Toffee, Putty, Mahogany, and Chestnut), so you can easily match it to your rig's look and design.
Dual-recline function which increases your recline depth significantly
One of the more contemporary RV recliners on the market, giving your RV an updated, modern look
Swivel function allows for more versatility when in use
Comes in multiple clounge stylet; you can match it with the rest of your RV's furniture
BEST WALL HUGGER RECLINER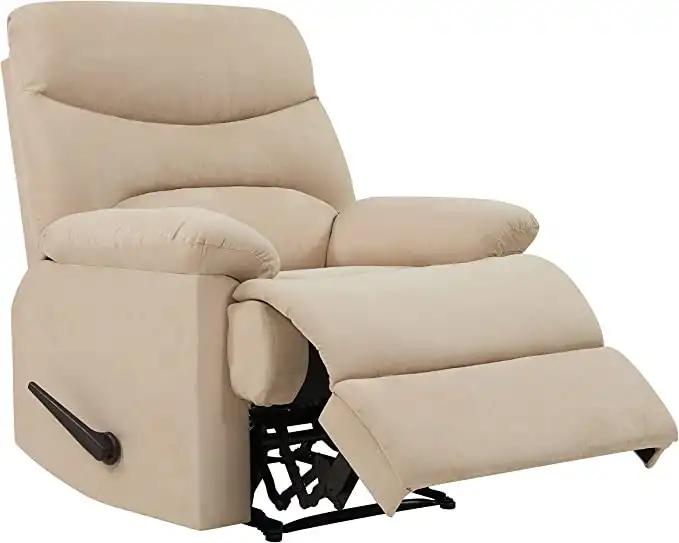 Best Wall Hugger: ProLounger Wall Hugger Recliner Chair
The most comfortable recliner on our list is the ProLounger Wall Hugger. The space-saving design of the chair only needs 4 inches of clearance out from the wall, and it takes up less floor space than a standard recliner.
This particular model has extra padded armrests, and it comes with a full chaise pad that sits between the seat cushioning and leg rest. That's perfect for resting your legs after a long day of hiking.
The chair is durable and stain-resistant made from 100% polyester khaki microfiber that will give you fantastic comfort while reading, watching TV, or hanging out inside the trailer.
Incredibly easy to assemble, even for one person
Microfiber material makes it very easy to clean up
Solidly constructed to last for a long time
Deeper seat depth than most other RV recliners
That's A Wrap!
Owning an RV is a great way to live life on the road, but if you want to make your experience even better, choosing the right recliner for your needs can do just that.
For example, if you want the best RV recliner for comfort, you're better off going with the ProLounger Wall hugger.
For those traveling with two campers, the Camper Comfort Loveseat is our top choice.
Those who want to move their chair in and out of the RV should consider the lightweight RecPro Nash.
And finally, if you want a little bit of everything without breaking the bank, the Opulence Home Galen is our top choice.