100+ RV Accessories To Add To Your Packing List
By
on
This post may contain affiliate links. As an Amazon Associate, I earn from qualifying purchases. Please read my full disclosure.
Creating a packing list before heading off on an adventure is one of the most stressful parts of RV travel. It's hard to decide between the must-have essentials and the RV accessories to bring along for fun.
We've been on the road for over two years now and have narrowed down some of the most common supplies that we see travelers use on a frequent basis.
To help you out, we've created a master list of 100+ RV accessories and gadgets to consider. Not all of these supplies are essentials­­–but this comprehensive list should give you a lot of ideas to get the mental wheels spinning. Below you'll find: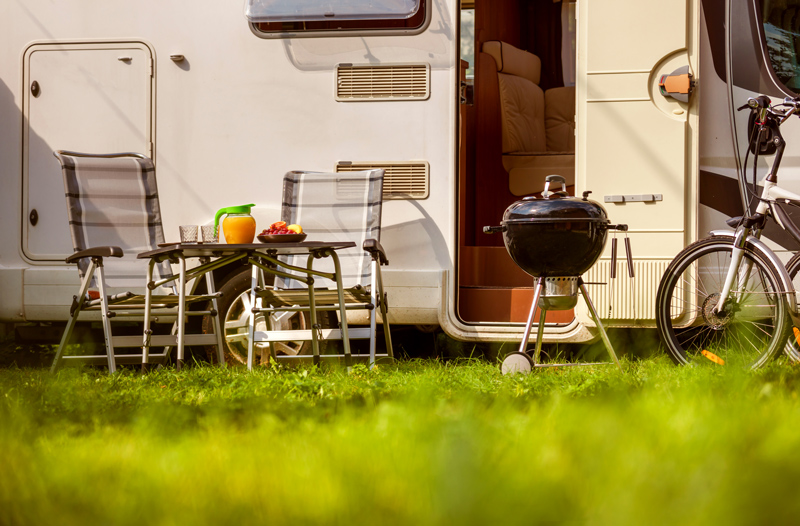 RV Driving Accessories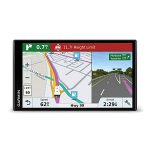 Safety is the number one reason to add a few of these items to your motorhome. There's nothing worse than getting lost on a winding mountain road in a 40-foot RV. When it comes to driving, having maps and backup maps is the top priority.

You want a GPS system that can access maps both online, and when you travel out of service. This RV GPS can create custom routes based on the size and weight of your motorhome or travel trailer.
---
Nothing beats the reliability of a paper map. In fact, we would label this RV accessory as an essential item. This adventure edition map labels points of interest for hiking, biking, winter sports, climbing and other outdoor activities.
We've gone on more than one crazy adventure just by picking one of those map dots and heading that direction sight-unseen. We cannot recommend this map enough!
---
---
Depending on your driving skills, and the size of your rig, an RV backup camera is going to make you feel a lot more at-ease when parking at the campground.
---
Dashboard cameras are something that we recommend not only for your motorhome, but for your regular vehicles as well. They can help you avoid tickets in the event of a crash or catch some cool animal videos while you're zooming through the roads of Yosemite National Park.
---
Another item that we would consider a must-have when driving long distances is a tire-pressure monitoring system. These sensors will send a signal to your dashboard when a tire heats up and is about to blow. The system itself will cost less than replacing the tires and it's a much safer way to travel.
---
Leveling Gear
RV campers, 5th wheel and travel trailers all need to be properly leveled when parked. Not only does this make for a more comfortable living experience, but it's also essential to keep some of the larger propane powered appliances like your refrigerator running properly.
There are numerous ways to level your camper. Some accessories are more helpful in large rigs while others are best for stabilizing smaller trailers. Check out the suggestions for advice on the best leveling gear for your motorhome.
RV leveling blocks are helpful for any type of camper. That includes everything from large diesel pushers to DIY camper van conversions. All you have to do is stack the blocks to the appropriate height then roll your tires onto the levelers.
Pro tip: Keep your tire centered on the blocks with no overhang to prevent tire damage.
---
Wheel chocks keep your tires from rolling out of place when parked. With all the movement inside an RV these are easy to set up and worth the low price. All you have to do is wedge 1-2 wheel chocks beneath each tire when you park and you're good to go!
---
Anti-rock chocks work similar to individual wheel chocks but they are designed for larger motorhomes that have tandem tires. These x-chock wheel stabilizers go in-between the tire sets and ratchet into place.
---
Stabilizers are one of those must-have accessories you need when camping in a 5th wheel. They hold the camper in place when the tow vehicle has been removed.
---
This is a travel trailer jack stand that works in the same way as the 5th wheel stabilizer. They're used to hold your trailer in place and prevent unnecessary rocking when moving around inside the camper.
---
Lots of campers find these bubble level indicators useful when setting up their RV. These attach to the outside of your RV and give you a more accurate reading than you could get from eyesight alone.
---
RV Campground Supplies
Comfort at the campground is a priority if you're planning on staying more than a night or two. The items listed here will give you some of the comforts of home even while out in the wilderness.
Our favorite items are the awning and rug because the awning will keep you shaded in the sun and rain. The rug will prevent your family from tracking dirt inside the motorhome with every visit.
Arguably one of the most satisfying outdoor comforts you can add to your RV is an awning. Not only will these block the rain, but they'll prevent intense sunlight as well.
Awnings are a great way to partition off your area and create a cozy home base.
---
This item might seem unnecessary but it's something you'll be glad to have if you're a full-timer. The sun shade attaches to your current awning set up and blocks the intense sunlight that rises in the morning or sets at sun down.
In smaller RV parks it will also give you more privacy which is another advantage.
---
De-flappers are clips that hold your RV awning in place. They're especially helpful during high wind and rainy conditions. Another big benefit is they'll keep the noise down when your canvas is flapping with the weather.
---
Outdoor lighting becomes extremely handy at night, especially when boondocking or camping off grid.
---
Even though you want to walk in the grass and connect with nature when camping, a patio mat is still a really useful supply to have. RV rugs will prevent guests from tracking dirt inside the motorhome each time they enter and exit.
It's also going to be more comfortable when setting up camp on a paved parking spot. You'll be able to walk outside with your morning coffee without the annoyance of stepping on sharp rocks.
---
RV tires break down over time and excess heat is the number one culprit. Using tire covers for an RV when you're parked at the campground is going to greatly reduce the chances of blowouts happening.
If you camp at one site for weeks at a time we would consider it a must-have RV accessory.
---
---
RV Camping Accessories
When it comes to outdoor activities, camping accessories are a big part of the RV experience. Things like bug spray, grilling utensils, and comfortable camping chairs are going to make all the difference in your stay.
A proper camping table is essential for outdoor food prep. We like to use the larger utility tables rather than the smaller camping tables because it leaves a bit more space to spread out and oftentimes you'll have a little extra space in a vehicle as big as an RV.
---
To go along with the table you'll want a few camp chairs. Most RV parks only supply a picnic table if you're lucky so a camping chair is something you'll be glad to have on hand.
---
Just like the chairs, a camping hammock is the perfect accessory to pack especially if you're staying somewhere with a lot of trees. This is a great place to nap, read a book or relax. We bust out our hammock on nearly every camping trip so it's gotten quite a bit of use!
---
When you take the whole family camping for the weekend, biking is a great activity to fill the day. We like this hitch rack because it's easy to install and carries up to four bikes–perfect for a road trip adventure!
---
Portable camping grills are a big upgrade from the standard fire rings available at most campgrounds. This grill has two adjustable burners so you can cook food for a big group of people. It also runs off standard propane tanks just like the ones you're probably already hauling around.
---
No grill is complete without a set of utensils. These can be used both in your RV kitchen, and at the propane stove outside.
---
Lighters are a must-have RV essential whether you think you're going to use it or not. They have so many uses from starting an evening fire to cooking and lighting up lanterns.
---
You always want to try and get the camping experience. Even if your campground doesn't have a fire ring you can bring along your own. Propane fire pits are nice to have because they burn off the propane you already have with you and you can adjust the flame.
This fire pit comes with a carry case and cover making it perfect for RV road trips.
---
Marshmallow forks are cleaner and easier to use than whittling down your own sticks. Plus, they're great for high desert campgrounds which might not have the most suitable trees for finding sturdy branches.
---
You need sunscreen when you're outside camping all day. Enough said. Add this as another item to the list of must-have packing essentials!
---
If there's one thing that's guaranteed to make a camping trip truly miserable it's mosquitos and insects. Don't forget to pack plenty of bug spray! If that's not enough, we've also put together a list of mosquito prevention tips!
---
RV Kitchen Accessories
Everyone cooks differently, that's what makes the list of must-have RV kitchen accessories different for each camper. Some travelers might find this list overkill, and others might we've recommended just the right amount of supplies. No matter what type of camper you are, you can benefit from seeing common gadgets that other road trip chefs are using.
Alter this equipment based on the amount of space, time and cooking style!
An Omnia allows you to bake bread, cakes and other dishes using far less fuel and heat than a conventional oven. This gadget is popular with campers because you can bake delicious recipes without heating up your entire RV.
You can also bake goods on a grill or stove top with this accessory making it a versatile accessory for your road trip.
---
In hot and humid summer months, you may notice your propane refrigerator struggling to operate efficiently. An RV fridge fan circulates air inside your refrigerator keeping the temperature even throughout and preserving your food longer.
Fridge fans are also a useful accessory for defrosting your freezer. To do this, temporarily remove items from your freezer. Turn the refrigerator off, and circulate air in the freezer compartment using the fan with the door open.
---
Space is extremely limited in an RV and that's why it's so important to find items that fit into place well together. We recommend looking for sets of mixing bowls and measuring cups that can stack on top of each other because they'll leave you with more storage space for camping equipment.
---
We use our cast iron skillet every day; both at home and on the road. Along with a dutch oven, this is one of the most important pieces of camping equipment you can add to your kitchen.
With a cast iron skillet, you can cook food on anything. That includes a stove top, oven, grill or campfire. A properly seasoned skillet will prevent sticky foods and they're simple to clean. We can't recommend this item enough!
---
Just like the skillet on our list, we'd consider the dutch oven a must-have camping accessory. You can cook practically anything in this from soup to roasts and non-knead bread.
This dutch oven comes with a lid that can double as a skillet. Just be sure to pack some oven mitts as well if you plan to go that route.
---
Quality grilling gloves are even more important to have at the campsite than at home. You're going to find these accessories useful for tending the campfire, taking bread out of the dutch oven and grilling on a stove top. Those cast iron skillet handles get HOT!
---
Instant pots have quickly become a favorite among RV travelers and it's easy to see why. These gadgets take up so little space for the variety of food they can produce. We also like them because they won't add a lot of heat to your small camper kitchen.
---
Immersion blenders are a good alternative to the traditional blenders because they take up so much less space in a camper but still provide sufficient power to mix smoothies, drinks and soups.
These are also easy to clean and don't have to many parts to keep track of which is ideal for an RV.
---
Even at home, French Press is our coffee style of choice. We recommend packing your favorite camping coffee maker along with a bunch of grounds for the morning. If you're into boondocking and want to read up on some delicious coffee recipes that don't require a lot of power.
---
A good knife set is an essential item for cooking and general preparedness during travel. We like sets that come with cover guards because items shift so much while driving.
---
Flexible cutting boards are lightweight and easy to store. That means you can bring a few of them on your trip to prevent cross-contamination and make cleaning easier.
---
Due to all the movement in an RV, you'll need some sort of drawer organizer or utensil holder to keep everything in place. We like this utensil caddy because it's easy to transport outside when you're grilling or set it on the table when you're eating in the kitchen.
---
We prefer to use plastic or enamel tableware instead of glass when camping because then we don't have to worry about kitchen accessories shifting and breaking while in transit.
---
Just like the dinnerware; shatterproof, stemless wine glasses are our top choice when it comes to night time entertainment.
---
If you don't have a multi-tool in your RV you should at least remember to pack a corkscrew. Even if you don't drink wine yourself, you're likely to run into a neighbor who forgot one of their own.
---
It's probably safe to say you already own a can opener. The reason it's on this list is so you don't forget it! Bonus points if you have one with an integrated bottle opener.
---
This dish drainer can save space by doubling as a drying rack. You can leave it in the sink while you clean and then remove the whole thing as use it as an organizer in your cupboard.
---
Refrigerator bars are an important RV kitchen accessory if you want to keep your cold items from shifting around and falling out when you open the door. This spring loaded fridge bar will hold your drinks in place to prevent unwanted spills.
---
Standard ice cube trays may not fit in your RV refrigerator depending on the size. That's why you should invest in some mini ice cube trays; so your drinks can always stay frosty.
---
We used this cool little gadget for keeping spices in place during the drive. You can attach them to the inside of your cabinet doors to keep spices out of the way when closed and easy to reach when opened.
---
Similar to the fridge bars, cupboard bars will prevent items from falling out of your cabinets when you open up the doors after driving. You'll immediately notice the value in these RV kitchen accessories after your first trip.
---
On the first road trip we took we forgot to pack paper towels. As it turns out, paper towels might be one of the most necessary items when you're camping. Immediately after we got home we installed a paper towel holder and now we never forget to bring them along.
---
Collapsible garbage cans are especially useful when you want to place them outside the RV during the day. This brand collapses down small making it easy to store when it's time to leave the campsite.
---
Don't Forget These RV Kitchen Essentials
---
RV Gadgets For Entertainment And Comfort
On those rainy days when it's difficult to pull yourself outside, entertainment is a must-have in the motorhome. Getting a solid internet connection, satellite signal, or even a board game is going to make all the difference in your travels.
A 12v TV can provide entertainment for the family when it's raining and windy outside. These AC/DC televisions draw only a small amount of power and the screen is optimized for outdoor use. A 12 volt RV TV is the perfect luxury accessory!
---
If you're looking to catch the game on Sunday, a satellite dish for your TV will be a big upgrade for your rig. These receivers are designed to work in all sorts of weather conditions and are compatible with pay as you go services.
---
If cable TV is more of your thing, don't forget to pack a coaxial cable! Many established RV parks will have cable television connections available; but you'll have to bring your own cable. Don't forget to use one that's weatherproof.
---
weBoost is the gold standard when it comes to cell phone signal boosters for your RV. These gadgets will amplify your cell phone signal giving you a stronger connection in sparse areas.
We've used this thing to stream Netflix in locations you would never expect and can't recommend this product enough!
---
Having an extra power bank or two around the RV means you won't have to be stuck inside with your laptop when the weather is nice. These portable devices charge up quickly and you can use them later when there aren't any outlets available.
---
Heat is one of the worst parts about traveling in an RV. If you're not quite ready to turn on the air conditioner yet, consider a 12v oscillating fan. A little bit of breeze might be all you need to keep the edge off.
---
Another thing that can help you combat the heat is a compact, portable dehumidifier. If you have access to power at the campground these can make a big difference in making the inside of your RV feel cooler.
---
Must-Have RV Water And Plumbing Accessories
The RV plumbing system is complex; and it comes with an equally high number of parts to keep track of. The items listed below are some of the most important components to add to the packing list.
If you want a more thorough explanation of how an RV water system works and what each part does, read our article on RV water system accessories and upgrades. Let's get started!
RV potable water hoses are lead and BPA free. We recommend traveling with one or more hoses totaling 25 feet in length because you never know how far your camper will be parked from a city water connection.
---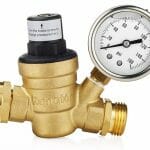 RV plumbing systems are built to withstand water pressure of 40-60 PSI. Any higher, and you risk leaks in water piping and connections.
City water is highly pressurized and often exceeds 60 PSI. For this reason you should travel with a water pressure regulator.
---
If your water hose is too big to fit down the inlet in your RV, a water tank filler comes in handy.
This helps to fill the tank quickly without having to wait for air bubbles to settle down. It's a faster and easier way to fill your fresh water tank when using a city water spigot.
---
This right angle hose adaptor screws directly into your RV city water fill tank. It will eliminate strain on your hose preventing kinks and leading to a longer lifespan.
---
Occasionally you may find yourself spending the night at a campground with an oddly sized water spigot.
A water bandit has a rubbery connection on one end that lets you attach your potable water hose to nearly any size outlet.
---
A filter can help improve the taste and quality of your drinking water. Inline water filters attach directly to your potable water hose.
This is a disposable filter that will last an entire camping season.
---
You never want to use anything other than a potable water hose for fresh water. And that means you need a separate hose just for cleaning out your sewer hose, washing the gray and black water tanks, and keeping your RV clean.
We recommend grabbing a secondary hose designed in a color or style completely different from the potable water hose. That will take away all of the guesswork and ensure that you never accidentally use your potable water hose for cleaning out a waste tank!
---
A sewer hose kit assists with dumping your black water tank. We recommend traveling with both a 10 foot, and 20 foot hose with fittings.
While you can skimp and buy cheaper versions of most water accessories on this list, do not skimp on buying a cheap sewer hose! You want one with thick sidewalls and tight connections so you don't spring a leak. Quick tip: You can screw the two ends of the hose together for storage to keep everything sanitary.
---
If your sewer hose kit doesn't come with a transparent connector, we recommend adding this accessory to your list. Clear connectors will give you a good idea of when the tank has been fully emptied. That way you won't be stuck guessing when a good time is to pull the connection.
---
This product helps to hold the sewer hose in place and prevent a failed connection between the RV and dump station.
It's a recommended accessory if you're camping at a site for long periods of time and want to avoid other travelers from tripping or moving your sewer hose connection.
---
RV toilet paper is different than the stuff that you probably use at home because it's built to dissolve quickly and won't build up in your black water tank. This type of toilet paper will run smoothly through your sewer hoses and make emptying the black water tank as easy as possible.
---
Holding tank treatments greatly reduce the smells coming from your black water tank. We recommend this type because it's biodegradable and environmentally friendly.
---
Factory installed tank monitoring systems are notorious for having a short lifespan or giving inaccurate readings. That's because most tank monitoring systems that come with an RV have sensors located inside the water tanks. Over time, these sensors get water-logged or inhibited with waste and debris.
Newer tank monitoring systems use foil strips with sensors that stick to the outside of the water tanks. These are very easy to install and don't have the inaccuracies of sensors inside the tanks.
Special note: Tank monitors that use sticky foil strips only work on plastic water tanks. If you have metal water tanks, you'll need to replace them with a different type of sensor.
---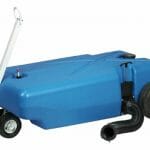 If you've never heard of a black water expansion tank, its because this accessory is made for boondocking. Boondockers typically camp off-grid for long periods of time away from established campgrounds.
A black water expansion tank holds your black water and waste water when there is no dump station nearby. This can greatly extend the length of your trip.
---
There are two types of RV water heaters: direct spark ignition (DSI) and pilot light heaters. Both of these use propane to heat your water.
A lightning rod connector screws right into your hot water heater an allows you to use electricity to heat your water rather than propane. This can be cheaper than buying fuel and you won't have to wrestle with lighting a faulty pilot light.
This video is a good intro on how to install a lightning rod water heater.
---
This is an extra piece of tubing containing two valves that allows you to bypass water around the water heater.
There are two reason to use it: drain the water heater faster, and save money on winterizing your RV.
With a water heater bypass, you save gallons of anti-freeze by not having to fill your water heater each winter for storage.
---
A hand spray kit is used to clean out your toilet after use. Some RVs come with these pre-installed while others simply rely on the extra bit of water pressure that a toilet provides.
These spray kits can be a big upgrade to your RV bathroom if you don't already have one. They'll help keep the bowl extra clean and smelling fresh longer.
---
RV travelers who spend a lot of time boondocking or camping off grid tend to prefer a composting toilet over a traditional cassette toilet. Composting toilets like Nature's Head require no water or chemicals to operate and can last much longer between dumps.
Adding a composting toilet to your motorhome will also allow you to turn your black water tank into a second gray water tank–further extending your stops between campgrounds.
---
Propane Supplies
Propane keeps your RV appliances running! Everything from the refrigerator to the stove and grill runs off propane. Lucily, there aren't too many extra accessories to deal with in this area. That said, a couple of these items will make your trip run more smoothly.
Not every propane fill station will be prepared to cater to an RV. That's why you always want to keep a propane extension hose on-hand. These will allow you to park a little further away from the propane tank during filling.
At the campground, you can also use these hoses to run lines to your outdoor grill or fire pit which may be sitting further away from your camper.
---
Composite propane tanks weigh significantly less than the standard steel versions. Because of this, they are much easier to carry around–especially when full.
---
Your RV control panel should have a propane regulator to keep track of the tank levels. If it doesn't, you should add your own. These drop the pressure from your propane tanks down to a safe level for use in the RV.
---
When shore power is not available, a generator becomes a must-have accessory if you want to use household electronics. This RV generator is one of the quietest on the market and produces both AC and DC power.
---
Electric Cords And Adapters
RV motorhomes and travel trailers typically have either 30A or 50A electric systems. Unfortunately, not all campsites have hookups to supply both of these types of power sources. For that reason, you should always travel with adapters specific to your rig.
An electricity tester can let you know whether the shore power outlet is on, and supplying a safe supply of electricity. It will light different colors to detect common wiring problems and let you know if it's safe to plug in.
---
PowerGrip Heavy-Duty Extension Cord
If you drive a 30A RV, you'll want to pack a 30A extension cord. If you drive a 50A RV, you'll want to pack a 50A extension cord.
These are used to connect your motorhome to shore power at the campground. We recommend at least 25 feet of cord because you never know how far away the power pedestal might be.
---
Heavy Duty RV Dogbone Electrical Adapter
Dogbone adapters are change the physical shape of the plug to fit the type in your rig. They do not change the power output. If you drive a 50A RV, you want to have a 50A male to 30A female adapter with you.
Similarly, if you own a smaller camper or travel trailer, you can purchase these adapters:
---
RV Surge Electrical Protector
Surge protectors prevent voltage spikes. These are especially useful when protecting against improperly wired outlets or lightning strikes. RV surge protectors won't tell you voltage, but they will prevent most electrical problems.
---
Smart converter chargers are the fastest and most efficient way to power your house batteries. They are a big upgrade from a standard converter charger. Aside from speed, smart chargers are also better for your battery health. Your batteries will last longer and require less maintenance over time.
Smart converter chargers are also known as multi-stage converter chargers or 3-way converter chargers.
---
An inverter charger does two tasks: it acts as a smart converter charger and as an inverter. This is the best of both worlds when boondocking. It allows you to charge your batteries and also power your household outlets all from one device.
If you want to use all of your electric outlets off-grid you should replace your RV converter with an inverter charger.
---
Circuit boards are in charge of sensing 12V power and propane usage in appliances your furnace, refrigerator and hot water tank. Oftentimes when an RV appliance 'fails' it's the result of a bad circuit board. Replacing a circuit board is significantly less expensive than replacing an entire appliance.
Dinosaur Electronics is one of the leading circuit board manufacturers. They sell replacement boards for most of the major brands and electronics.
---
Trailers And Towing Accessories
Towing a travel trailer or 5th wheel camper requires a few extra pieces of equipment that you wouldn't need for a standard RV. The items listed below are going to make your towing experience safer and easier.
A 5th wheel jaw hitch is used to connect a 5th wheel camper to a pickup truck. These sit in the truck bed and prevent side to side swaying.
---
Because jaw hitches need to be bolted into the truck bed, many travelers choose to install rail mounts to secure the hitch in place. These will make your hitch easier to install and remove when you're not using it.
---
A sliding hitch can be used to tow a 5th wheel trailer with a short bed truck. They can slide back and provide additional clearance on tight turns.
---
Travel trailers can be towed with any vehicle (with the proper towing capacity) using a ball and coupler hitch. A weight distribution hitch allows you to travel with your max tow capacity. They also increase friction and braking power, reduce way, and make your vehicle safer to drive.
---
Tow bars are used to tow cars and commuter vehicles behind an RV.
---
Safety cables are a necessary accessory for anyone towing a 5th wheel or travel trailer. They protect your vehicles against accidental disconnection and keep the vehicles in control if there's a failure.
---
Proper lighting (turn signals and brakes) are required on the back of every 5th wheel and travel trailer. This flexible cable connection makes it easy to identify all of the wires and keeps the connections organized.
---
Mirror extensions are useful for all motorhomes, but they're especially helpful when towing travel trailers or 5th wheels. These clip on extenders are easy to mount and will give you significantly more control over your rig–especially when it comes to parking.
---
If you're travelling solo, hitch aids can be used to visually line up your travel trailer with your tow vehicle. They make it easy to see the alignment of your hitch ball and coupler through the rearview mirror.
---
A locking hitch pin is just an extra security gadget you can use to prevent theft of your camper. These will give you peace of mind–especially when traveling to new areas.
---
Trailer brake controllers are another item we would add to the list of must-have RV accessories. These will engage the trailer brakes when you start braking the tow vehicle. You can only imagine how helpful a system like that can be.
Brake control systems like the Tekonsha monitor your brakes and provide a visual inside the cab. You can also adjust the braking tension depending on the weight and type of camper you choose to tow.
---
RV Tools And Cleaning Accessories
Not only do you want to keep your RV clean for aesthetic purposes, but keeping your motorhome in top shape is going to prevent breakdown of the RV systems over time. We recommend always traveling with a tool chest of cleaning supplies and tools. You never know when these items will come in handy!
Wire brushes can be used for a lot of things, but most importantly preventing rust and corrosion. You should be checking your RV every few months for corrosion on piping, plumbing, and other systems.
---
A basic socket wrench set is important to have on any long road trip. These will come in handy for any number of circumstances; whether you have loose bolts rattling around, or the RV awning stops working electronically.
---
Just like the wrenches, a basic screwdriver set is a must-have for any RV traveler.
---
You can use a bottle brush to clean hard-to-reach places in the RV. We've found them handy when cleaning water heaters and other plumbing equipment.
---
An extendable brush can be used to clean leaves and debris off the roof and awning of your RV. It allows you to easily clean without having to climb up on a ladder. These are especially important if you have solar panels! Dirt and shade can greatly reduce their power output.
We like this model because it packs down small and has both a brush and a squeegee.
---
Another accessory to help you clean the roof of your RV or awning is a collapsible step ladder. We like the telescoping designs because they pack down small and are easy to store.
We also recommend these if you are traveling in a DIY camper van conversion because many times those don't have built-in ladders of their own.
---
There are a number of times you may come across the need for a funnel! This is an easy way to fill your fresh water tank using regular water containers. They're also necessary if you want to winterize your RV without getting antifreeze everywhere.
In the home, you'll find funnels helpful for everyday tasks like filling up water bottles before a hike.
---
Mud doppler screens prevent insects and rodents from getting into your RV through the plumbing system or other exterior connections. They come in a variety of shapes and sizes so you can find vent covers for any opening.
---
Thermal guns can help you diagnose issues with your RV using temperature. One example of this is checking the tires during or after a long drive. If you find that one tire is getting significantly hotter than the others, you could be facing a blowout risk.
---
A multimeter is a general electrical tool that everyone should have in their RV because they are key to diagnosing and troubleshooting electrical problems. They can give you a reading of voltage, DC current, resistance, diode, continuity and more.
---
Zip ties can be used to secure objects and the sky's the limit when it comes to uses within the camper.
---
Emptying the RV black water tank is probably the most common reason to have disposable gloves around. But, they can also be used for a variety of other things like cleaning and handling food.
---
Vehicle fuses can blow at any time so it's a good idea to keep extras around. We like to travel with a variety of sizes.
---
This is a nice-to-have device so you won't have to worry about a dead battery while camping. It's especially useful if you don't typically stay in crowded campgrounds where it's easy to find a neighbor to help you jump-start the vehicle.
---
At the very least, you should pack a pair of jumper cables. In fact, this is a must-have for any vehicle whether you're towing a trailer or not!
---
Air compressors have a lot of uses in an RV. You can top off your tires, blow up pool toys, and use compressed air to winterize the plumbing system.
---
Safety And Security Supplies
As with anything in life, safety is the top priority. The following items are necessary for RV safety. They'll also make you feel more comfortable during travel which is especially important when you spend time in so many new environments.
You need to pack multiple fire extinguishers in your RV. These should be placed at the front, back and in the camper kitchen at a minimum.
---
Another safety supply that should be obvious are smoke detectors. Make sure you are testing these before heading out on each long road trip, and after winterizing your RV.
---
Propane detectors are especially important in an RV. Propane is heavier than air so LP detectors should be placed near the floor. It's important to be aware that aerosols like hair spray, Febreze and some cooking sprays can set off a propane detector.
---
Motion sensor lights are something lots of travelers like to have when camping. These lights are wireless and solar powered so they're easy to install on your RV.
---
Most RV doors are built with pretty inexpensive materials–and that includes the locks! You can upgrade your deadbolt locks with these to give yourself some more security.
---
This steering wheel lock works on cars, vans and SUVs. We recommend installing using one on your tow vehicle if you plan to camp for long periods of time. These are also perfect for DIY camper van conversions to prevent theft.
---
It's helpful to have a few locks and cables around to prevent theft at the campground. You can use these for your bikes, satellite dishes, outdoor grills, or any other pieces of equipment that shouldn't be walking away on their own.
---
We recommend personal locator beacons for all travelers. Whether you're backpacking, kayaking or driving an RV, these will help you send out distress signals and location details anywhere. That includes the most remote wilderness where no cell signal can be found.
---
Walkie Talkies are another great item to have when there's no phone service in the area. These will help you keep in touch with your travel partner across the entire campground and they're very reliable.
---
Last but not least is a reliable headlamp. Even if your RV is connected to shore power and has electricity 100% of the time, you'll be glad you have a headlamp with you! These are great for walking to cabins or camp showers at night–or for taking an evening hike in search of marshmallow sticks.
---
That's a wrap!
Hopefully this list has given you a lot to think about before you hit the road. Is there anything we missed that you can't live without? Let us know in the comments!
Continue Reading: