The Best RV Water Filter For Camping
By
on
This post may contain affiliate links. As an Amazon Associate, I earn from qualifying purchases. Please read my full disclosure.
As you travel across the country with your RV, you will encounter different water flavors. Every campsite or location will use a unique water source, which is why it's essential that you and your family have access to safe, clean drinking water. A quality RV water filter allows you to enjoy the benefits of water without sacrificing your health or your travels.
What Is the Goal of an RV Water Filter?
The purpose of an RV water filter is to remove sand, dirt, and metals from the vehicle's water supply. Advanced RV water filters can remove undesirable microscopic contaminants too.
Campsite water quality will be unpredictable. Various places will have healthy city water that goes through regular testing. Other locations will have water from an unknown location. Regardless, your RV water plays an essential role in delivering clean drinking water for you and your loved ones.
RV water filters do more than clean your drinking water. They also ensure that your whole water system is free of the contaminants that come from unhealthy sources. The sediment can get stuck in the pipes, which will infect the RV water pump filter or system. Without a reliable RV water filter system, you may experience unhealthy water, obstructed pipes, and further damage to the toilet and other facilities.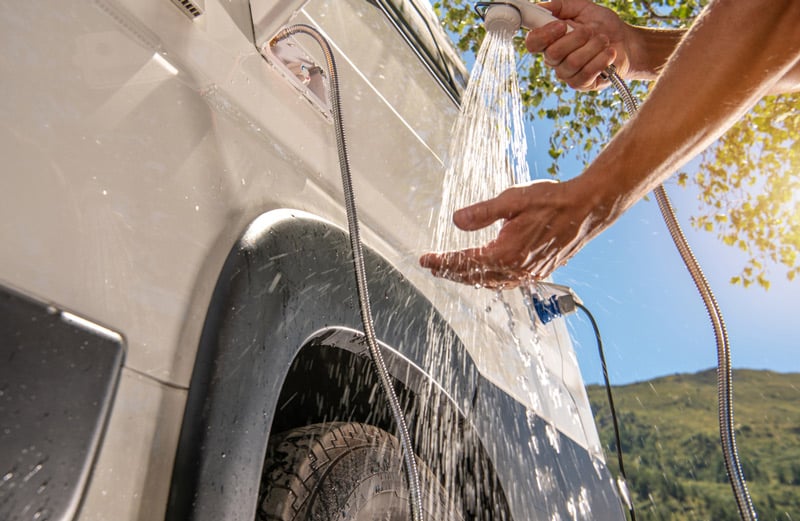 RV Water Filter Benefits
RV water filters offer three trusted benefits: water quality, appliance protection, and resistance against microscopic contaminants.
Because the filter eliminates contaminants and chlorine, it will elevate your water's taste. You can drink your water with peace of mind knowing that the water filter system is doing its job correctly.
If sediment gets into the RV pipes, it can cause further damage when left untreated. Dirt and soil buildup can cause your appliances and plumbing to clog up. This obstruction will lead to other issues that will ruin the camping trip.
Lastly, an RV water filter keeps your family safe from dangerous chemicals and microorganisms. With a consistent water filter, you can drink from any water source. A camping trip will take you everywhere, and the RV water filter is designed to address any type of microorganism.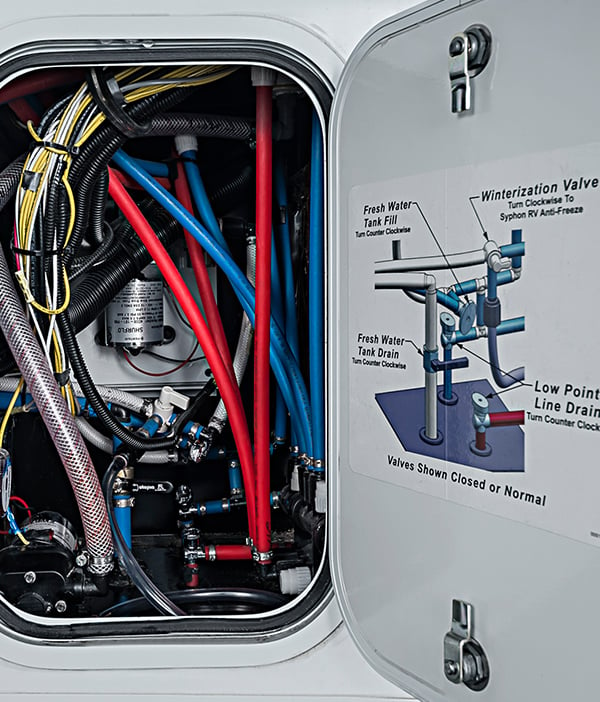 Water Filtering Methods
Before we dive into the different RV water filters, you must consider where the system will go. There are three approaches to positioning the RV water filter system: internal, external, and hybrid.
Internal Water Filter
You can install most RV water filters inside the RV. Placing them on the interior will reduce the space they take up on the inside. The best place to install the filter is right inside the location where the water infiltrates the RV. This strategy allows you to quickly locate the filter if you need to change it out. Also, you can efficiently monitor the filter for any leaks or defects when it is in a conspicuous spot.
External Water Filter
When you install an external filtration system, you can place it on the hose directly. Make sure you position it on the hose that carries the city water into the RV. This filtering system is straightforward and will do an excellent job of cleaning contaminants.
Hybrid Water Filter
Many RV owners utilize a combination of the methods described above. The external water filter would serve as the basic level of filtration. The internal water filter will usually be a more advanced water filter for kitchen sink water. Not only does this approach maintain water cleanliness, but it boosts the quality of your drinking water.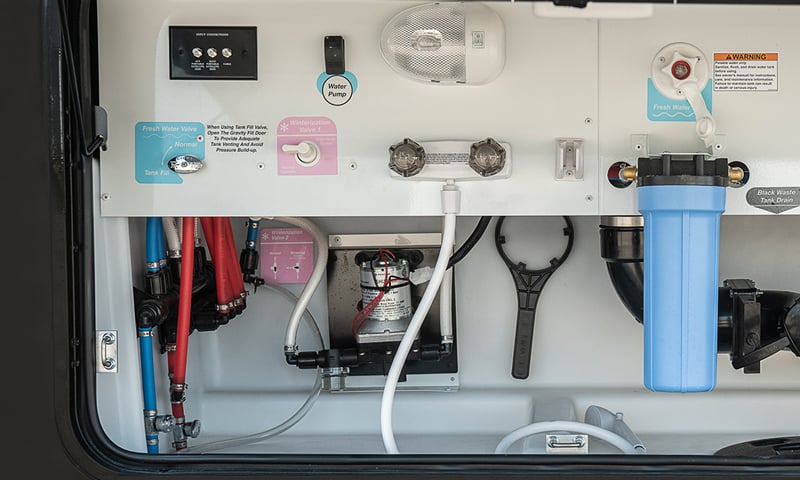 Types of RV Water Filters
There are many RV water filter types that you can choose from. It is essential to consider how many people will use the water and the size of your RV.
Countertop
A countertop filtration system is a portable option that will filter the water right at the source. Brita pitchers, kitchen sink filters, and countertop distillers are all excellent options. Countertop water filters are not only cost-effective, but they also address different types of water sources. The only downside is that they take up critical space within the RV.
Inline
Inline water filters are placed on the exterior of your RV. They sit between two critical spots: the hose connection to the campground water and the junction where the water enters the camper.
The best thing about an RV inline water filter is its ease of use and installation. Not only are they simple to install, but they are easily replaced and transported. Inline RV water filters are an ideal solution for those who travel or camp on a part-time basis.
One drawback of the inline is that you will need to replace it often. As inline water filters near the end of their useful life, they will typically produce a lower water flow rate.
Canister
Canister filters are a more advanced solution than inline because the water goes through multiple filter types. The RV owner has the choice to customize the filtration system to his or her choosing. One canister may be designed to remove particles, while another is dedicated to eliminating chlorine. You can also install canister filters on the inside without worrying about the hookup.
One downside of the RV water filter canister is that the filters need to be changed regularly. Leaks and damage may also be tough to notice if the filter is in a hidden spot.
Other Things to Consider Before Purchasing an RV Water Filter
Besides the water filter method and type, here are some other critical factors to consider before purchasing your next RV water filter:
Micron Rating: communicates the particle size that the water filter will let pass through the system. For example, a filter that offers 0.1-micron water will remove more particles than a product with a 2-micron rating.
Amount of use: full-time RV owners will need a filter that is stronger and more long-lasting than someone who travels on a part-time basis.
Ease of use and installation: if your experience with installation and plumbing is limited, it would be best to select a product with a straightforward setup process.
The Best RV Water Filters Reviewed
TOP CHOICE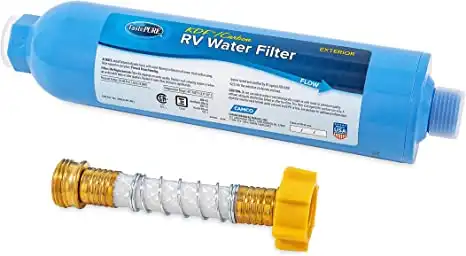 Camco 40043 TastePURE RV/Marine Water Filter with Flexible Hose Protector
The 40043 TastePURE water filter from Camco is designed to decrease bad odor, taste, sediment, and chlorine from the drinking water. It also eliminates heavy metals, aluminum, lead, iron, hydrogen sulfide, mercury, and other contaminants. Camco's filter attaches to all standard water or garden hose connections. This 20-micron filter is also low lead certified and in compliance with all state and federal laws.
What We Like
You can utilize it as an inline filter between the hose and RV, campsites, and even yard work
A strong hose protector reduces unnecessary strain on the hose
KDF and GAC filter eliminates all carbon, fungus, mold, and bacteria growth
The wide body enables the optimal flow rate
Durable materials allow the filter to last throughout the entire camping season
FRESHEST TASTE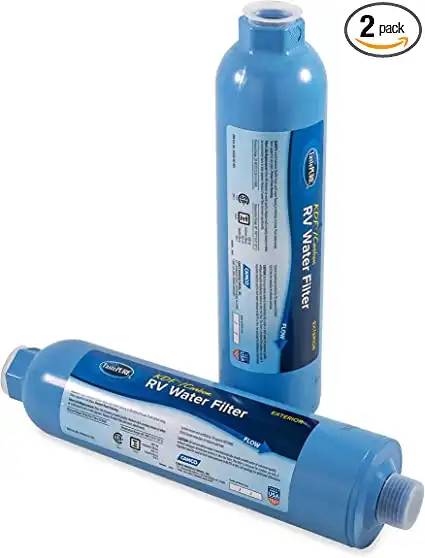 Camco 40045 TastePURE Inline Water Filter
The Camco 40045 TastePURE inline water filter is also made to reduce bad odor, teste, sediment, and chlorine in drinking water. It is a large capacity option that lasts for up to six months of filtration. You receive versatility with this product because you can attach it to any type of standard water hose for optimal drinking water.
What We Like
Wider design help increase flow rating
Easy to set up because there is no assembly required
Provides premium protection against contaminants that others do not, including: mold, fungus, cadmium, and bacteria
Low lead certified and made in the USA
BEST PERFORMANCE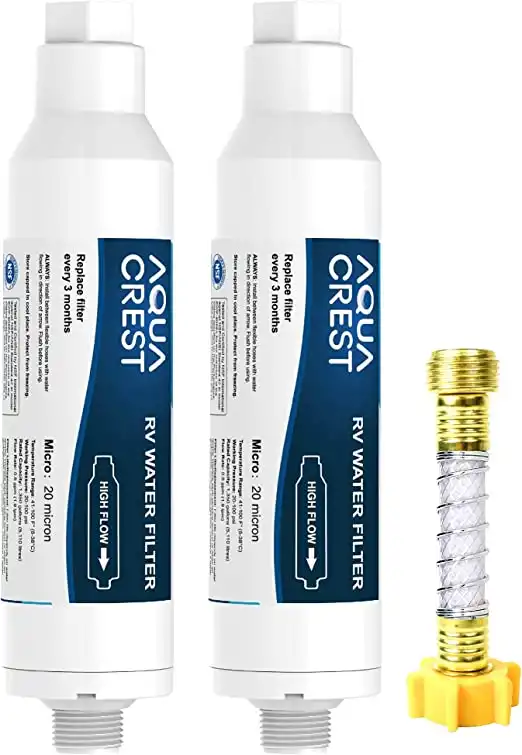 Aqua Quest Inline Water Filter
The Aqua Quest inline water filter delivers superior performance and a commitment to safer drinking water. Its high-efficiency filtration system removes bad taste, odor, chlorine, and other undesirable contaminants. This filter also utilizes multiple stages of KDF and GAC to produce optimal filtration. This water filter is an ideal solution for RVs, boats, car-washing, and gardening.
We also love the water filter's anti-kink hose protector, which is connected easily for excellent water flow. It will also adopt food-grade material without returning contaminants into any filtered water.
What We Like
Multiple stages of filtration with advanced use of KDF and GAC
The fluoride reduction included will protect your bones, teeth, and digestive system
Stronger plastic housing offers another upgraded safety feature
Easy to connect to a faucet or hose
The advanced design promises a fit that does not leak
BEST FILTER SYSTEM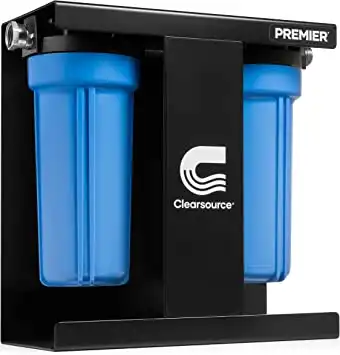 Clearsource Premium RV Water Filter System
The Clearsource Premium RV water filter system provides an ultimate canister alternative with stainless steel filters, oversized canisters, and a powder-coated metal chassis. What we love most is its 0.2-micron rating, which outperforms all other single or dual canisters. Its tighter filter pores also capture more contaminants for a better overall drinking water product.
What We Like
Its bullet-proof exterior construction utilizes powder-coated metal chassis
Includes a 5-micron coconut shell first stage carbon block removes chlorine, sediment, and other harmful contaminants
Offers oversized filter canisters for optimal water flow
Tight-sealing buttress threads facilitate overall operation
That's A Wrap!
As you can see, there is an RV water filter for any type of situation. After you define your budget, camping frequency, and RV design, you can buy a quality solution for healthy drinking water. Whether you decide on a canister, inline, or countertop RV water filter, this investment in your health will go a long way.