The Best 12 Volt RV Water Pump For Your Camper
By
on
This post may contain affiliate links. As an Amazon Associate, I earn from qualifying purchases. Please read my full disclosure.
Running water in an RV is something many travelers take for granted until they try boondocking. When you decide to go camping off-grid there is no city water to tap into. And that's where an RV water pump comes into play.
A 12 volt water pump draws potable liquid from your fresh water tank and pumps it into the faucets and shower heads of your RV.
TOP CHOICE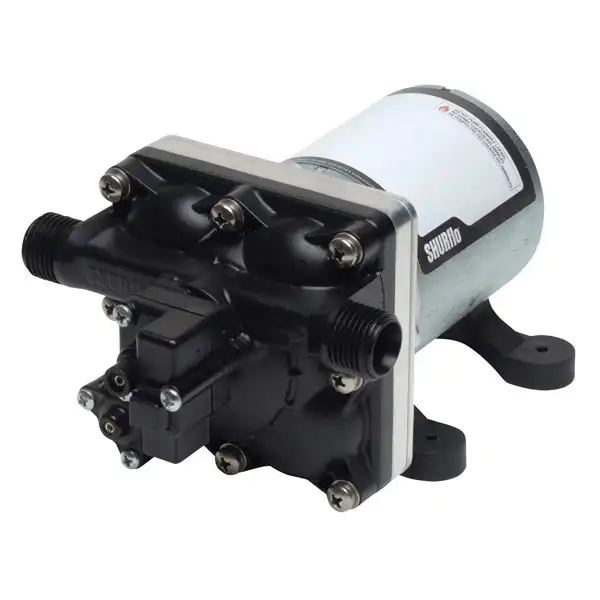 BEST HIGH VOLUME PUMP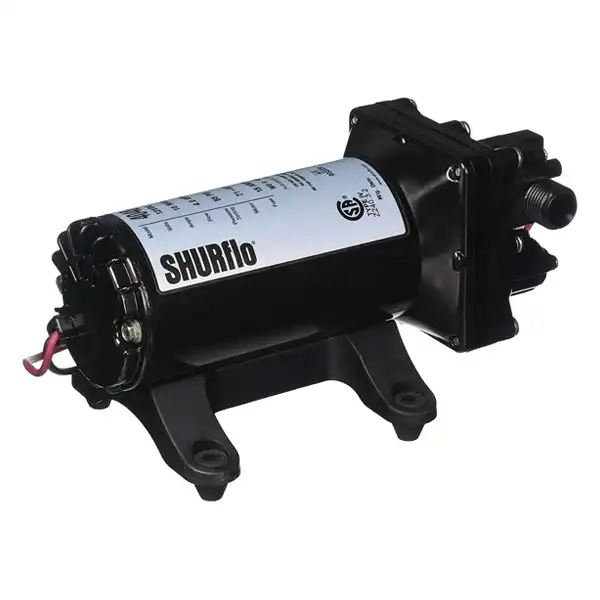 BEST VARIABLE SPEED PUMP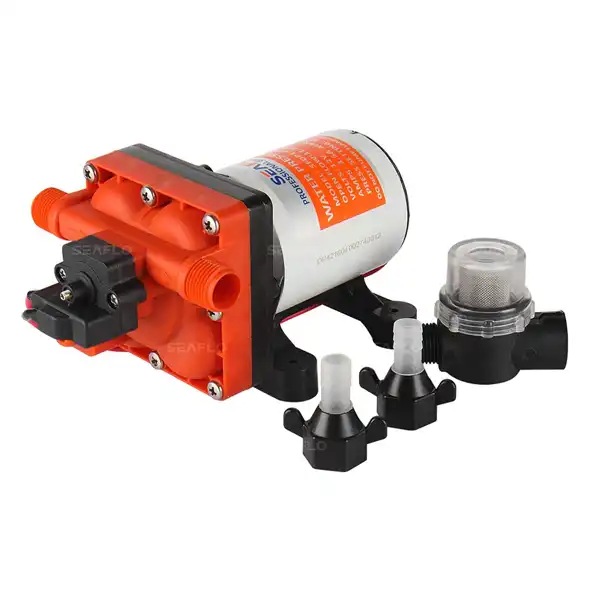 What to look for in an RV Water Pump
The best water pumps will improve water flow and stabilize pressure. That means you won't be wasting water, and you'll have a more comfortable experience in the shower.
Water pumps come in a variety of sizes, but all RV water pumps run off 12 volt electricity. This is not to be confused with 110V or 120V pumps which are designed for buildings.
Aside from voltage, there are three things to pay attention to when purchasing a pump: GPM, PSI and Amps.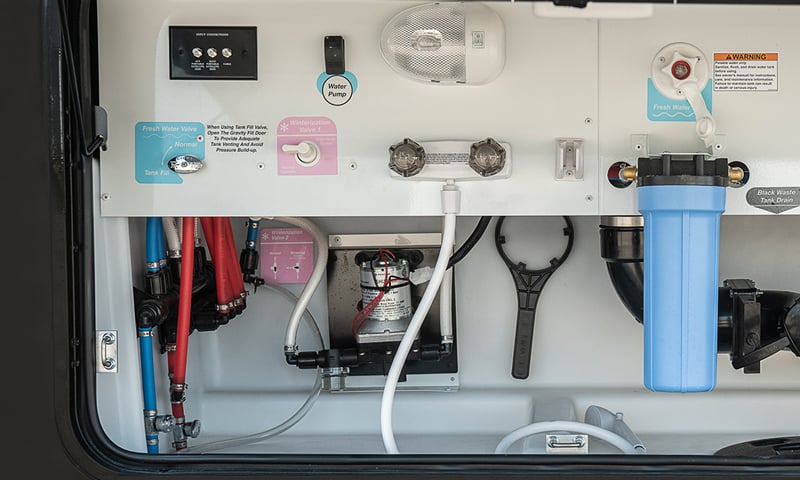 Gallons per minute (GPM)
Water flow is measured in gallons per minute (GPM). Weaker pumps will churn out as little as 1.2 GPM while the most powerful pumps can crank out 6 GPM or more.
Typically a small RV or trailer will come with a water pump that handles a flow rate of 3.5 GPM. Larger RVs may take advantage of pumps averaging 5.3 GPM.
Pounds per square inch (PSI)
Water pressure is measured in pounds per square inch (PSI). Newer RV plumbing systems are designed with polyethylene tubing, and older systems are plumbed with polybutylene tubing.
These plumbing systems are designed to handle a sustained maximum of 40-60 PSI. All of the RV water pumps we've reviewed below fall within that range. Any higher and you'll risk damage to your pipes and connections.
Bonus info: city water is often pressurized to more than 60 PSI. To protect your plumbing system, you should always use a water pressure regulator when connecting an RV to city water.
Amperage (Amps)
Every electric water pump uses a small amount of electricity when running. The electric current is measured in amperage (amps). The smaller the amps, the less power you'll be drawing from your battery bank.
Luckily, 12v water pumps tend to be very efficient. They only draw power when they're turned on and running.
High volume water pumps will draw up to 15 amps.
Types of 12 Volt Water Pumps
There are three main types of water pumps: constant speed, variable speed, and high volume.
Constant speed pumps are the most common. These pumps use a switch to detect when to turn the motor on or off. They can only deliver water at one speed.
Variable speed pumps create pressure that feels most similar to your home plumbing. They have a pressure sensor that adjusts the motor speed to keep water at a consistent pressure. At higher flow rates, the motor will run faster.
Variable speed pumps are quieter, but also tend to be more expensive than constant speed pumps.
High volume pumps deliver higher flow rates than standard 12v water pumps. They are typically found in larger RVs because they use more electricity to operate. RV water pumps are normally considered high volume if their flow rate is over 4 GPM.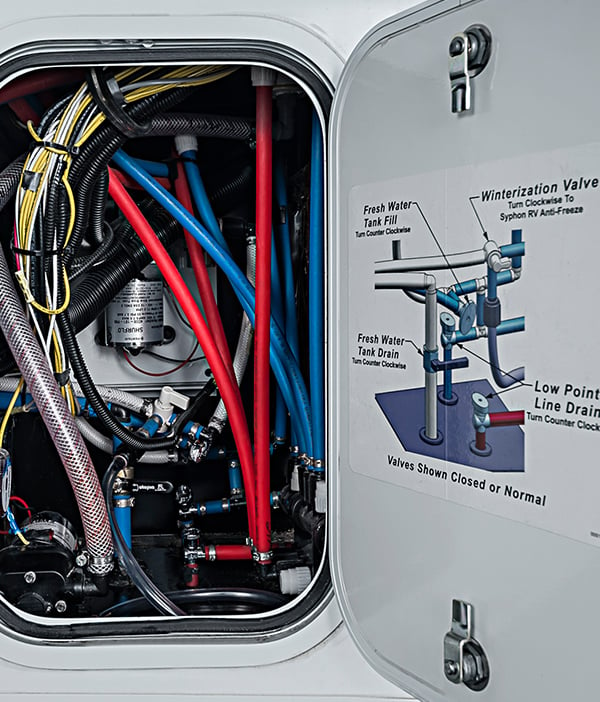 Adding a Water Pump to your RV
Chances are good that your RV came with a water pump pre-installed. If that's the case, you're probably looking to replace or upgrade your existing water pump.
Water pumps tend to be very reliable. The most common reason they stop working is if an RV isn't winterized properly and water is left stagnant in the pump for months at a time.
Fortunately in an RV, the plumbing and electric systems are already in place to replace your pump. That makes it a fairly quick process.
If you're starting from scratch, we have plumbing and wiring diagrams for installing a 12v water pump in a DIY camper van conversion.
How to replace an RV water pump
Placement is the most difficult part of installing a 12v water pump. Many times existing pumps are hidden behind a barrage of other equipment which can be an annoyance. Not all water pumps have the same footprint so you may need to drill additional mounting holes when installing the new pump.
Water pumps should be placed in a space that gets sufficient airflow because they get hot when they operate.
To replace an RV water pump:
Turn off your water pump switch cutting power to the pump
Open all faucets to depressurize the system
Shut off the fresh water storage valve located near your pump
Disconnect the power connection (wiring) on the old pump
Disconnect the water connections from the sides of the old pump

Have a plastic container and towels ready to catch any excess water left in the system as you disconnect the water lines.

Unscrew the filter from the old pump if you have one
Remove the old pump mounting screws
Replace the old pump with the new one

You may need to re-position the mounting screws

Hand tighten the water lines onto the new pump.

Most pumps use a standard ½" inlet and outlet for plumbing

Reconnect the pump wiring

You may need crimp new spade connectors to the existing wiring

Turn on the pump and visually check for any leaks in the connections
Additional installation tips:
You'll want to use flexible braided water lines leading to the pump to prevent excess strain on the connections. This will also make the pump quieter because it will reduce noise from the vibrations.
All plumbing connections should be tightened by hand. They can crack if you over-tighten.
How to prime an RV water pump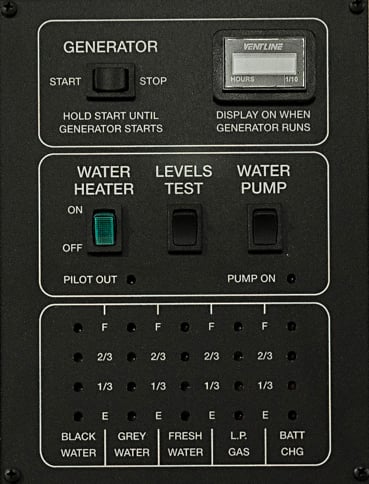 When you arrive at a campsite without a city water connection, you'll be relying on the 12v water pump to supply your rig. Before you can get water out of your faucets, you'll have to prime the water pump.
The process is simple:
Open a cold water faucet
Turn on the water pump switch

This will be located on the control panel inside your RV

Once the water begins to flow, close the faucet
Do the same with every other faucet in your camper

This will purge any remaining air out of the plumbing system

The pump will stop running after you've closed the last faucet and won't turn on again until you open the faucet again.
Once you've completed those steps, the pump will be primed and you'll have a consistent flow of water. When it comes time to pack up and leave, simply turn off the water pump using the switch on the control panel and take off – easy as that!
Hot Water Heaters
RV hot water heaters require sufficient volume to operate correctly. That means one of the best tips for troubleshooting your water heater is to ensure you have a pump that can deliver water at high pressure.
The Best 12 Volt RV Water Pumps
TOP CHOICE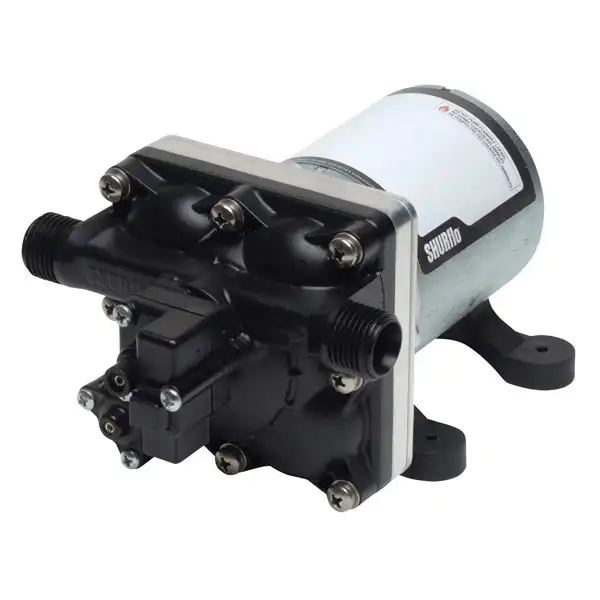 Our Favorite Camper Water Pump: Shurflo 4008
Shurflo makes a variety of RV products and sells some of most popular water pumps on the market. The Shurflo 4008 is their more recent water pump design replacing the discontinued 2088 model.
This pump has a water flow rate of 3 GPM and a pressure of 55 PSI. It uses just 7.5 amps of electricity. The flow rate may sound low, but it should be more than enough for an RV as long as you aren't using multiple faucets at the same time.
We like the Shurflo models because they are tried and true; having been installed in campers since the 70s and still kickin'. They consistently rank among the most reliable brands.
This is a constant speed water pump so you may benefit from an accumulator to keep the noise down. Shurflo also sells pump silencing kits if your water pump is not located in an external compartment.
Check Current Price: Surflo
BEST HIGH VOLUME PUMP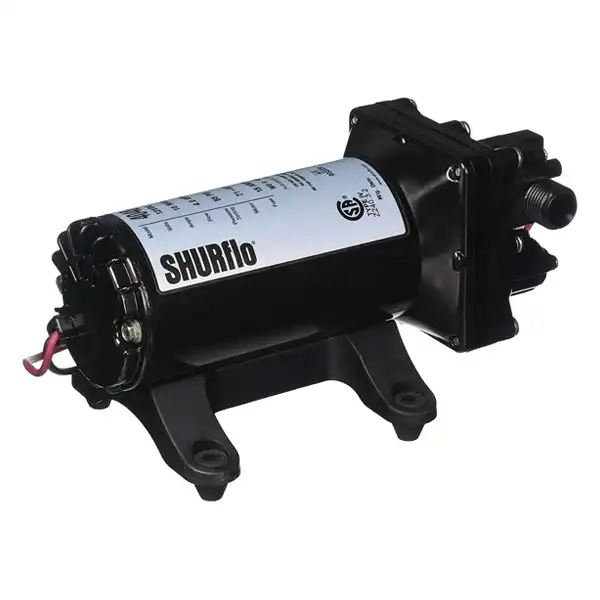 Best High Volume Water Pump: Shurflo 4048
Along with the 4088 model, Shurflo also produces a well-regarded high volume pump. This pump is a little bit more expensive than the standard one but it has a higher water flow rate.
The higher flow rate is good for larger rigs when you may be using multiple faucets at once. It also helps the shower and faucet water to run at a more consistent pressure.
The Shurflo 4048 has a flow rate of 4 GPM, a water pressure of 55 PSI, and uses 10 amps.
Because this product is more powerful than the regular volume pumps the motor does run a bit louder. That noise can be contained minimized using an accumulator or pump silencing kit.
Check Current Price: Surflo
BEST VARIABLE SPEED PUMP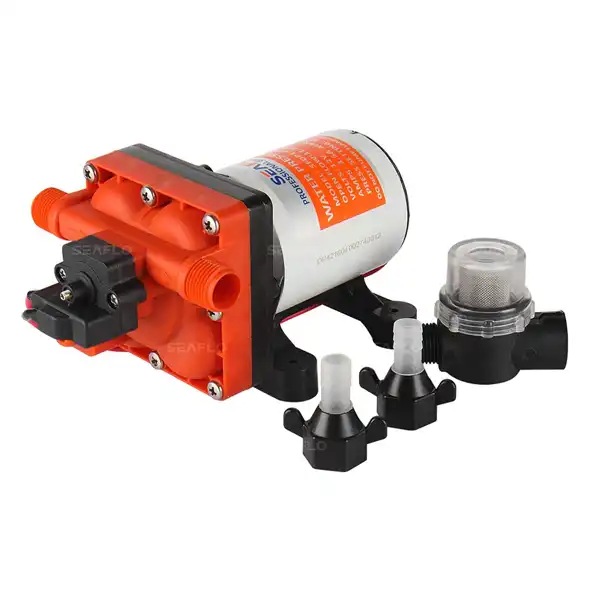 Seaflo makes our favorite variable speed pump because it is so reasonably priced and has a great warranty (4 years).
The Seaflo 42-Series pump has a flow rate of 3 GPM, water pressure of 55 PSI and uses 7.4 amps of electricity.
Because this pump is a variable speed, no accumulator is necessary! The water flow will automatically adjust to the pressure given making it run quieter overall and more efficient than a standard pump.
Check Current Price: Seaflo
---
Water tank monitoring system
The last thing you want is to run out of water when in the middle of boondocking. RVs have a tank monitoring system located on the interior control panel. This keeps track of water levels in the fresh water, grey water and black water tanks.
If your fresh water tank runs dry, you'll hear the pump speed up and the water flow will slow or stop. This won't hurt the pump, but you should turn it off when you run out of water.
Factory installed water monitors frequently break or become inaccurate because they are placed inside the water tanks where they are submerged in water and waste. Newer water tank monitoring systems use foil strips with sensors that stick to the outside of the tanks. They are very easy to install, inexpensive and more accurate than old monitors.
Accumulator
Water pumps are notoriously noisy and the motor will turn on any time you are using a faucet or shower head. Because of this, many RVs come with an accumulator installed next to the pump.
An accumulator holds a reserve of pressurized water that the faucets can draw from before triggering the pump. That helps you save power by reducing cycling, lead to a more constant water flow, and cut down on the noise.
Accumulators are easy to install, they connect to the outlet side of your water pump.
Never use an accumulator with a variable speed water pump. They are unnecessary and make the pump less efficient.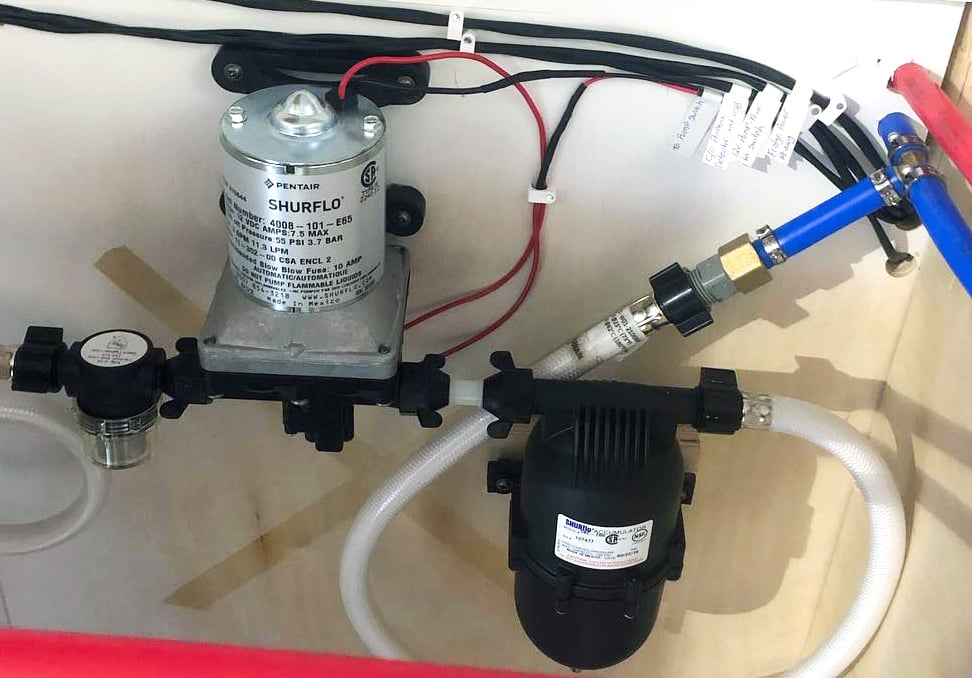 Water filters
Water filters are not necessary to your plumbing system, but many travelers prefer them because they improve the taste and quality of your drinking water.
Inline water filters can screw directly into your potable water hose and come with either disposable or reusable cartridges.
Potable water hose
Never use anything other than a food-safe potable water hose to fill your fresh water tanks. These hoses are lead and BPA free making them safe for water consumption.
We recommend traveling with one or more hoses at least 25 feet long because you never know how far away the nearest water hookup will be from your campsite!
Water pressure regulator
As mentioned earlier, a water pressure regulator is important if you ever decide to plug into city water. An RV plumbing system is only designed to handle 40-60 PSI of water pressure.
Water pressure regulators are portable and screw directly into a city water faucet.
Water bandit
Occasionally, you may come across a campground with an oddly sized water spigot that won't screw directly onto the potable water hose. A water bandit solves this problem because it has a rubbery connection on one end that will fit any size spigot.
They cost just a few dollars and we recommend keeping one in your rig if you plan to travel frequently.
Shower head upgrade
Many stock RVs come with inefficient shower head designs. These are made with cheap parts and don't allow for the best water conservation. RV shower head upgrade kits allow you to get more pressure with a lower flow rate which can save a lot of excess water.
This accessory is easy to install and inexpensive.
Wrapping it up
12v water pumps are necessary to get water into your faucets when boondocking in an RV. In our opinion, Shurflo makes some of the most reliable water pumps, and Seaflow makes great variable speed pumps. Taking advantage of a few water system accessories can save a lot of headaches at the campsite and keep your plumbing system in-tact for the long haul.