The Best RV WiFi Booster For A Steady Internet Connection (Review)
By
on
This post may contain affiliate links. As an Amazon Associate, I earn from qualifying purchases. Please read my full disclosure.
When you have an RV, you can go anywhere; that's the beauty of it. The only trouble is that you won't always get a solid WiFi signal everywhere you go.
RV WiFi boosters help extend the signal so you can work from the road more consistently and watch your favorite Netflix shows during your downtime.
TOP CHOICE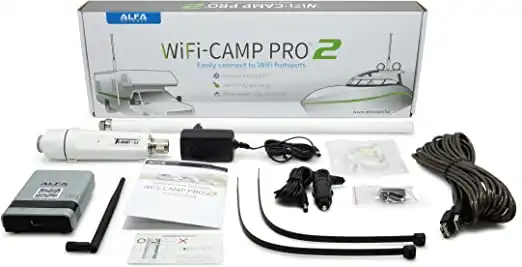 MOST DURABLE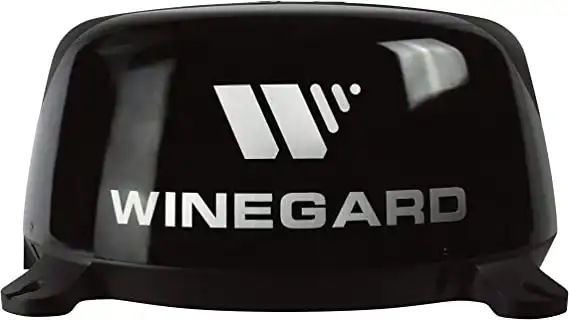 Winegard ConnecT 2.0
Links to nationwide 4G LTE for reliable, uninterrupted, in-motion and stationary coverage.

Includes antenna, 20′ power cable, exterior mounting hardware, interior mounting hardware, and instruction manual.
CHECK LATEST PRICE
BEST VALUE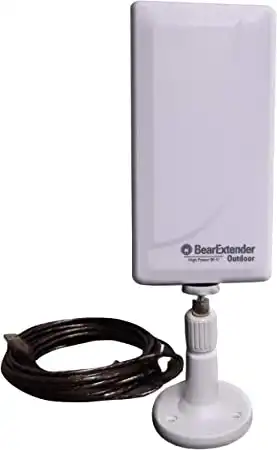 BEST FOR FAMILIES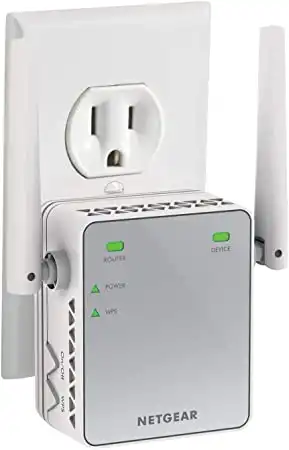 Why Use A WiFi Booster In Your RV?
If you've never had a WiFi booster before, it can be difficult to determine if you really need one – besides a reliable internet connection, there are a couple of different benefits that come along with having a WiFi booster on your rig.
Updates on Weather and Directions
Whether you're keeping your rig parked at a campground or constantly driving from one place to the next, there are two things you'll also want to have: weather updates and directions. Unfortunately, with an RV, those two things aren't always guaranteed – especially if you're boondocking or sticking to back roads where there's not always a reliable signal.
A WiFi booster is an easy way to solve this. Since you're getting a more secure signal, you won't have to worry about getting lost in the middle of nowhere or getting blindsided by unpredictable weather.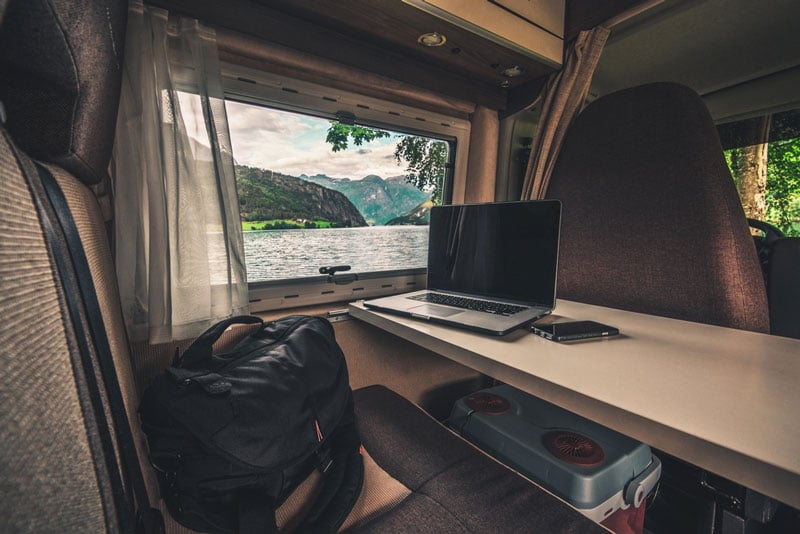 User-Friendly
You don't need to be a technical savant to install a WiFi booster on your rig and most of these boosters are designed to be incredibly user-friendly – most installations only take a few steps (and a few minutes) to set up, and the boosters themselves have limited controls that shouldn't be hard to operate.
Most of the time, switching from an unpredictable to a secure internet connection is as simple as flipping a switch or pressing a button.
Versatility
While some boosters are specifically meant for RVs, a lot of these devices are multi-purpose. You may not spend all your time on the road, but if you're still looking for a reliable internet signal while you're out on a boat, camping, or taking a vacation, you can grab your booster and take it with you.
Boosting Public WiFi Signals
While a lot of RVers prefer to use their own routers, others don't mind camping near public signals and piggybacking off free WiFi from nearby coffee shops, campgrounds, or other sources.
However, most public WiFi signals aren't reliable or strong unless you're extremely close to them – which is where a booster can come in handy. Your booster may be able to pick up on a WiFi signal that's miles away and extend it so that you have a steady, strong connection.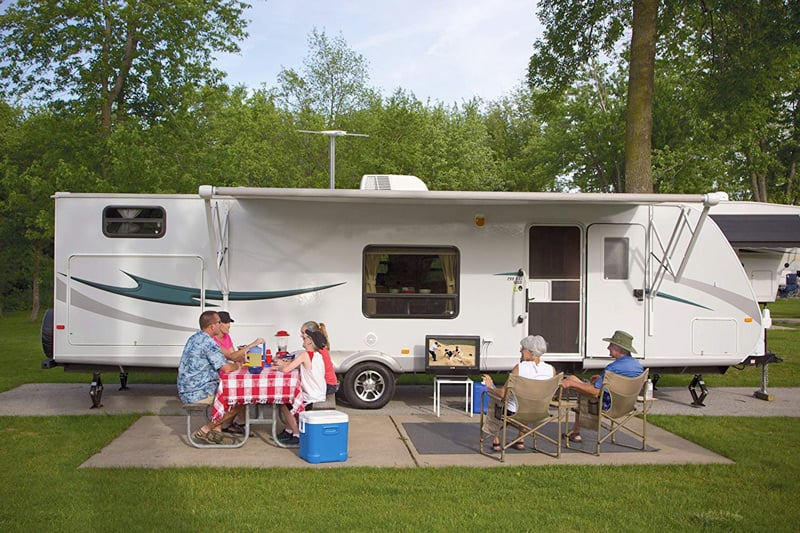 What to Look For in a Great RV WiFi Booster
Now that we've covered the benefits that come along with a WiFi booster, it's important to look at what differentiates a good booster from a great one.
Good Security
While any booster will extend your WiFi signal, not all of them will protect your connection from people that may be looking to take advantage. Secure WiFi boosters will usually add a level of encryption for extra security, and some devices may require that you enter a password before you're able to get through to the network.
Good security is always important, but it's especially crucial if you're planning to boost public WiFi signals and not just your own.
Speed
Just like routers, boosters play a role in the speed of your internet connection – and it's important to make sure your booster can support your existing internet speed. You might have a router that's capable of giving you download speeds of 100 Mbps, but if your booster can only support speeds up to 50 Mbps, you're going to be limited.
The same is true if you've got an extremely fast booster but a slow router – there's not a whole lot of profit in purchasing a booster that offers speeds above your router's max since you won't get to take advantage of them.
Design and Sizing
Before you buy a booster, it's a good idea to map out where you're going to put it – while color or style may not matter much, the physical design and size of your booster can make a big difference. The smaller and sleeker your booster is, the easier time you'll have fitting it into your rig.
Types of WiFi Boosters
Although they may look similar, there are actually three different types of WiFi boosters that you can purchase: wireless signal boosters, mobile WiFi boosters, and dual-band WiFi boosters.
Wireless signal boosters: Not only are wireless signal boosters affordable and straightforward, but these devices work as a bridge, boosting the signal between your router and your phone.
Dual-band WiFi boosters: Dual-band WiFi boosters can come as fixed or portable, but they're a popular option for RV users since they offer a broader, more secure reach than wireless or mobile boosters typically do.
Mobile WiFi boosters: If you're constantly on the move, a mobile WiFi booster is designed to be compact and offer a signal regardless of where you're at or where you're going.
The Best RV WiFi Boosters Reviewed
TOP CHOICE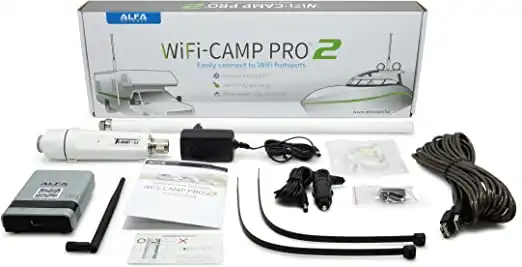 ALFA Network WiFi CampPro 2
If you're looking for a booster that's all-inclusive, the ALFA Network WiFi CampPro 2 comes with an extensive kit that includes everything you need for a user-friendly setup.
As long as you've got a smartphone or a web configurator, the ALFA CampPro 2 has a straightforward installation process, and it's specifically designed to work on remote, isolated vehicles like RVs or even yachts.
You'll also get vehicle surge protection, which prevents sensitive cables and electronic systems from getting damaged while the booster is in use. Once you've got it hooked up, you'll easily be able to connect to laptops, smartphones, or even gaming consoles while you're on the road.
Includes a USB cable, car charger, water-resistant tape, and a power adapter
Includes vehicle surge protection
Specifically designed for boats and RVs
Allows for setting up via smartphone or the internet
MOST DURABLE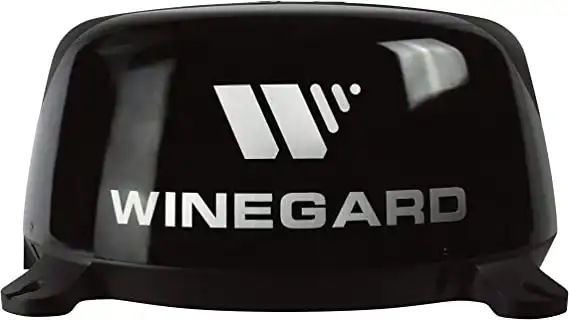 Winegard ConnecT 2.0
Links to nationwide 4G LTE for reliable, uninterrupted, in-motion and stationary coverage.

Includes antenna, 20′ power cable, exterior mounting hardware, interior mounting hardware, and instruction manual.
CHECK LATEST PRICE
Winegard 434719 ConnecT 2.0
If you're worried that you won't have the space or room for a WiFi booster for RV, the Winegard WiFi Extender for RVs solves that problem – this rugged dome installs to the roof of your RV and is durable enough to withstand long drives or unpredictable weather.
While you can use it to maintain 4G LTE cellular data when there isn't a WiFi signal around, this device also works as an extender and will boost nearby WiFi signals as well. One of the biggest perks of this booster is its security – you'll get advanced WiFi protected access, double firewall protection, a guest network option, and DoS attack prevention.
Includes WiFi calling and VoIP services
Includes mounting hardware for installing it on the roof of your RV
Backed by a 2-year limited manufacturer's warranty and 1-year labor warranty
Connects easily to WiFi hotspots
BEST VALUE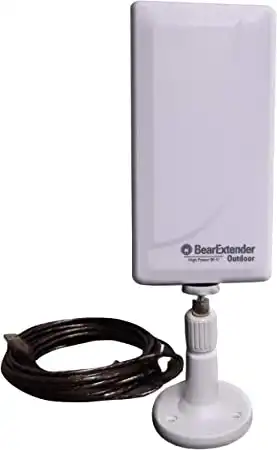 Bearifi BearExtender USB Wi-Fi Extender Antenna
For an RV park WiFi booster that only needs to connect to one computer or laptop, there's no need to look any further than the Bearifi BearExtender Outdoor High Power Extender – this sleek booster uses a USB cable to connect to your device, and it doesn't offer 3G, 4G, LTE, or other cellular connectivity.
However, what it does offer are three different ways to mount the extender on your rig and a durable shell. Since it's water-resistant, the extender shouldn't break if there's a spill, and it's designed to be anti-corrosive as well.
Water-resistant, dust-resistant, and anti-corrosion coating
Three different mounting options, including a tabletop tripod
Compatible with Windows systems (but not Mac OS X, iOS, or Android)
Uses a USB cable for easy connection
BEST FOR FAMILIES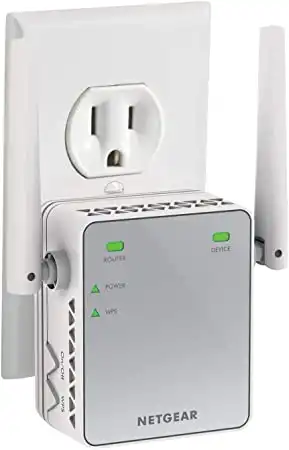 NETGEAR N300 WiFi Range Extender
While some RV WiFi booster repeaters may be designed for one or two devices at a time, that's not the case with the NETGEAR WiFi Range Extender – this booster is meant to boost your WiFi signal up to 1,500 square feet and connect up to twenty-five different devices.
And, if you're worried about internet speeds, the extender offers 1,200 Mbps WiFi speeds, which work well for both gaming and streaming.
Compatibility is also another perk with this extender – as long as you've already got a wireless router or a cable modem with WiFi, the NETGEAR extender should be compatible with it.
Connects up to twenty-five different devices, including smartphones, laptops, gaming consoles, and even speakers
Supports standard wireless security protocols (WEP and WPA/WPA2)
Boosts your signal up to 1,500 square feet
Uses fast internet speeds that work well for gaming or streaming
That's A Wrap!
There's no shortage of options to pick from, and what may be the best RV wifi booster for you may not work for someone else. If you're looking for something that's a well-rounded option, the Winegard WiFi extender features cellular connectivity and standard security protocols.
However, if you're traveling alone and looking for something that won't break the bank, the Bearifi BearExtender is affordable and easy to carry. The NETGEAR WiFi extender is more inclusive for larger groups or families, but nothing beats the ALFA Network CampPro 2 when it comes to an easy setup or user-friendly features. So, regardless of what you're looking for, there's an RV WiFi booster that fits the bill.