How To VanLife With A Dog
Is It Possible to Live on the Road With a Dog?
According to Bettridge's Law, NO! Oh wait, I mean yes. Yes, it is possible to have a long term vanlife with a dog. There are a few often repeated concerns for those planning to head out; We've developed a process that has been working pretty well.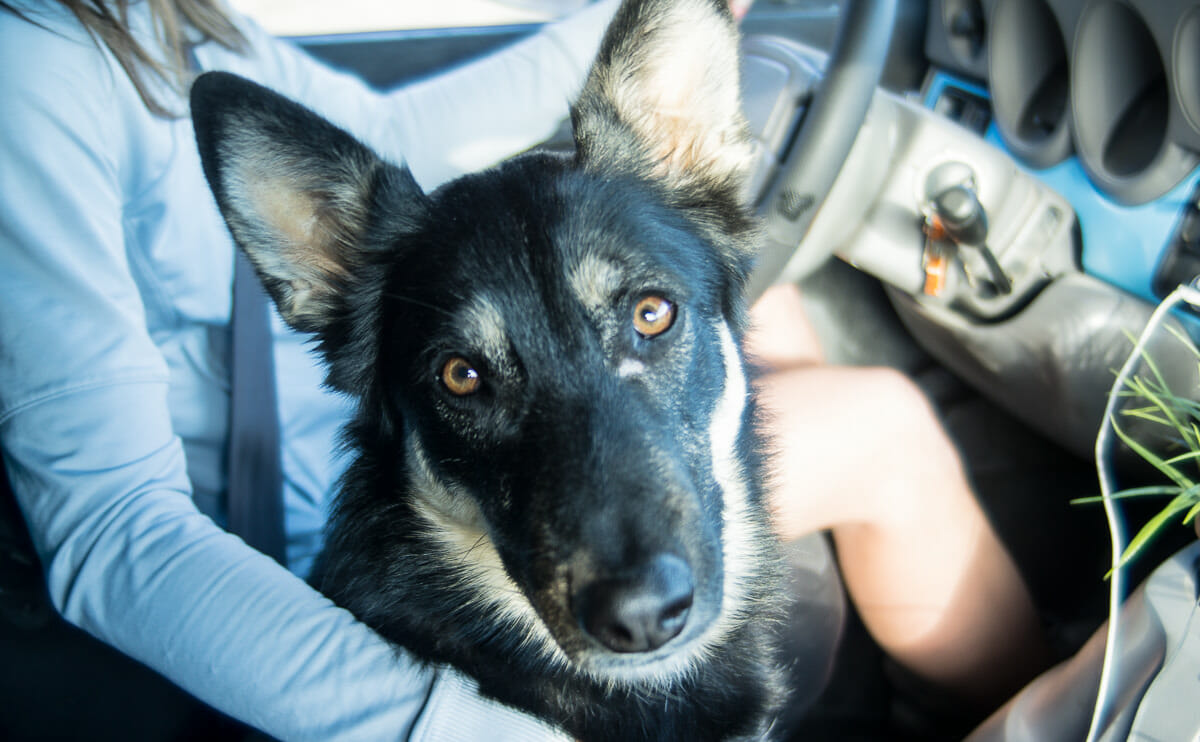 As in our preparation post, I'd like to point out that we are traveling the country living mainly on BLM areas, National Forests, and state campsites- keeping our time in the cities to a day or two. We work remotely and generally tend to play outdoors in our free time. For those living in one area and at a 9-5 office job this post will seem woefully inadequate.

Leaving your Dog in the Vehicle
Is it even legal?
Public perception, especially in hot states, is that it's outright illegal to leave your dog in the car. And for good reason: a car in the sun on a hot day can heat-stroke out your pup quickly. The public has been educated fairly well recently to avoid this, and I'm not complaining. I've done some casual research on this and it appears that it's not explicitly illegal in most states. With the exception of Nevada, it only becomes illegal under conditions that are potentially unsafe for your pet. There are also a number of good Samaritan laws protecting citizens from prosecution if they break into your vehicle to save your pet. See the animallaw.info website for the breakdown per state.
What does this mean? It means you should legally be in the clear as long as you are careful about the real-time living conditions of your vehicle. That being said, it might be good to mentally prepare to accept that it is possible that someone might break a window to protect your pet.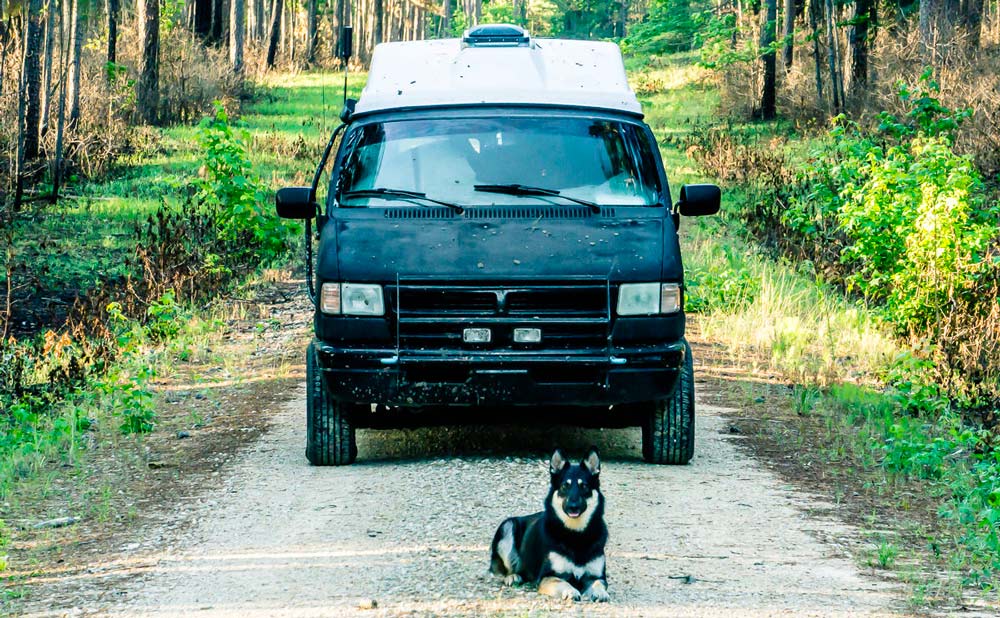 How to keep your dog comfortable while you're gone
A common concern for dwellers is mitigating the effects of the sun while they head indoors, whether it be to get a gym workout and shower or gather food at the local grocery. The greenhouse effect is strong in a box full of windows. As mentioned in the preparation post, you can significantly reduce this with a vent fan. Having a positive airflow keeps the interior temperature closer to the outside temperature. To really make use of a fan you need some inlet to draw air from. Our van is conveniently broken so that the driver's door can't be opened from the outside. We just open that window a bit. Unless you know how to break your door to do the same thing, planning some pre-cut vent or alternative is important. We've tested with no window open and it's a deal breaker to not have it.
The second part of the equation is a reflective standard sun shade on the front window. Most of the heat will be coming through the windows, so the more you can limit this the better.
The third step is adding a bowl of water and a blank should our dog want to lie down.
The last thing that we do is put a note on the windshield that lets them know that we have a dog in the vehicle with our phone numbers, and if they're concerned to call or text us. We haven't had anyone follow us up yet, but it assures them that there's food, water and ventilation in the vehicle and we have made steps to comfort our pet.
Testing your setup
This will come naturally to most people, but it's important to understand how your particular vehicle is responding to the weather. Take your van to a coffee shop and park it outside for an hour or two and check on it every 15 minutes. Do this in the shade and in the sun and in humidity, etc. We did this on the road with the vandwelling dog in it. As we got more used to how our vehicle heats up and when we need to be extra-cautious we were able to confidently approximate how long and in what weather we could plan on leaving our dog in the van.
The next step would be to get a remote temperature monitor but we haven't found that necessary yet. When we were starting, we could go into a Starbucks and find a seat where we could visually observe the dog in real time in the van (and still do this whenever possible).  Something that we never would have thought to do previous to our trip is to park in a place that we could see the van from inside.
Can you leave your dog in the van all day?
This time the answer really is "no", in our opinion. But there are some options so that this doesn't limit your trip.
Friends and Family
This one will vary on the traveler, but as we're roaming around we cross cities where we can visit folks for a day or two. We've found that without even asking, some of them will offer to watch our dog for a day as we explore a city. This gets us out of their hair for a minute and they get the opportunity to be great hosts with little effort. Many people like to help so we take every offer we get!
Petsmart Doggie Day Camp
Your wife really likes Six Flags and you're near Arlington, Texas. It's not easy to check on the van frequently and not safe in those big parking lots anyway.  Here's where bringing all of your veterinary documentation comes in. There are a number of Petsmart stores that offer Doggie Day Camp from open to close. Unlike most boarding services, they don't need a prior visit to accept your pet. We just walk in with copies of our vet records and do all of the first-time paperwork involved. Petsmart doesn't track your dog from location to location, so you're signing up for a new service every time as you visit different cities. Here's the bonus: first time visitors get a half-off promo! Day Camp goes from $18 to $9 at every location we visit.
Rover.com
You're in New Orleans and you want to visit the Jazz Museum and hike around in Jean Lafitte National park where they don't allow dogs. The kicker is that there are no Petsmart locations with a Doggie Day Camp near New Orleans. The next thing we look at is Rover.com, which is basically Airbnb for dogs. You can find people who will board your dog for a day or several, read reviews, and look at pictures of their setup if they have any. In this case, we found someone a mile away from the French Quarter who watched our dog for $15 for a day.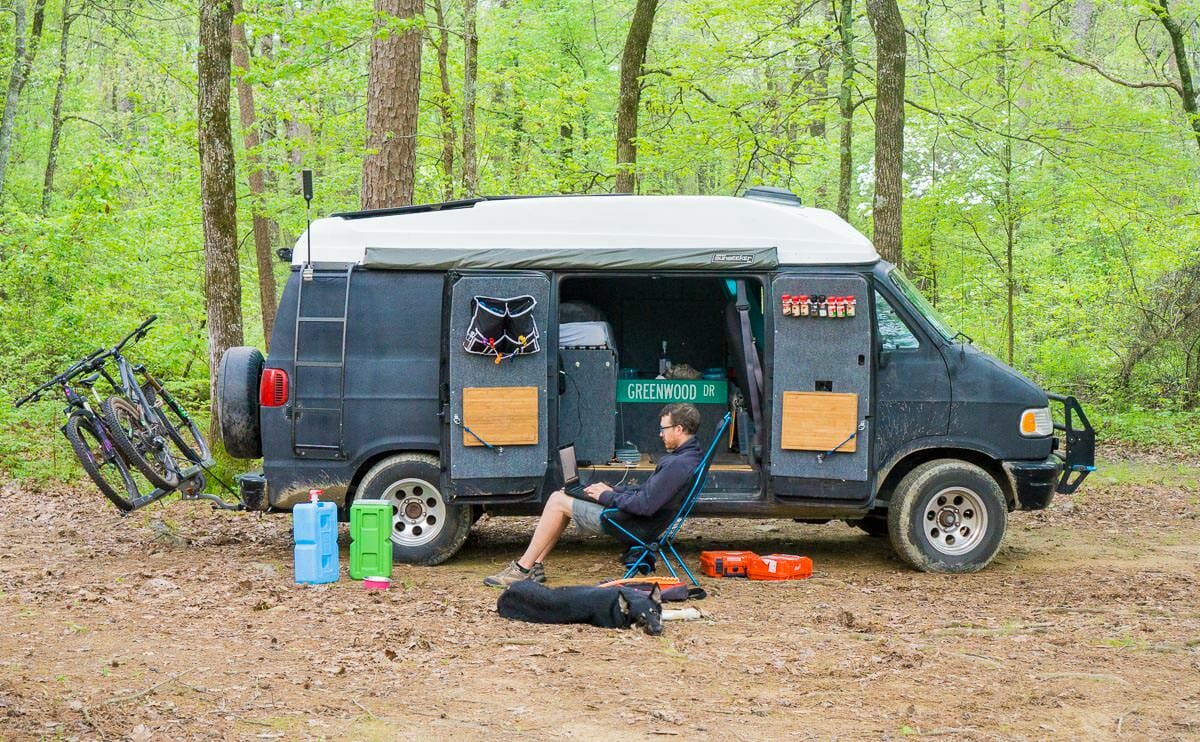 What else should I know?
Adventure Planning
Physical trips are the best! They add a nice cherry on top when your pup is exhausted and exhilarated after a long day on the trails. The variety of smells across the country seems to be lost on us humans, so it's good to see someone appreciate them. Look online or call in advance to parks and restaurants to see if they're dog friendly. Don't be sure either way because sometimes we're surprised at what is allowed. Many cafes have dog-friendly patios and some parks don't allow dogs on any of the trails. Pick activities that your dog can enjoy with you!
Budgeting
It's relatively cheap to keep the vandwelling dog going once we're on the road. Food should be fairly easy to determine from what they eat currently. Make sure you set aside some funds for vet care should you need it. You might not know until you get to Oklahoma that your dog needs some tick-repellent!
Use Discretion
Every public location we've come across requires the dog to be on a leash. This is common dog etiquette and even if your pup is well behaved it doesn't mean that someone else's will be. When we're in a campground, our dog is tied up unless there is no one else in the campground, which actually happens pretty frequently! Same for trails; if it's a busy weekend at a popular park we default to leashed dog. If it's a Tuesday in a state park, we'll set her free. It's provided a great opportunity to train her to "heel" as she is naturally a front-leading dog. After some practice she's able to stay at arm's reach should we encounter other travelers.
Bringing our dog was a relatively late decision in planning for our trip, and now that we have her along we wouldn't want it any other way!