Best RV Roof Vent Fan For Van Life
We've reviewed the best roof vent fans for vanlife and RV enthusiasts. Each of the fans we've reviewed run off 12V DC power and fits into a standard 14"x14" opening in the roof.
While all vent fans are going to make a difference in the amount of cooling in your vehicle, there are two brands that stand out among the rest: Maxxair and Fantastic Fan. Both have stellar reviews on Amazon.com and are the most popular fans on the market.
In our opinion, Maxxair edges out the Fantastic Fan. But there are quite a few models to compare. Check out the chart below to see features of the Maxxfan Deluxe.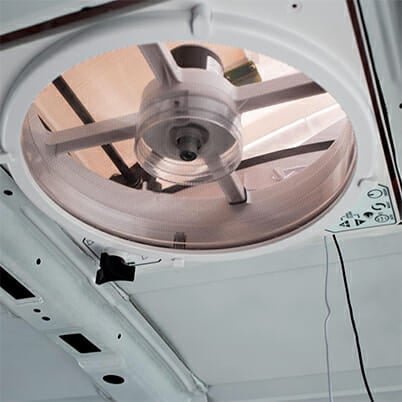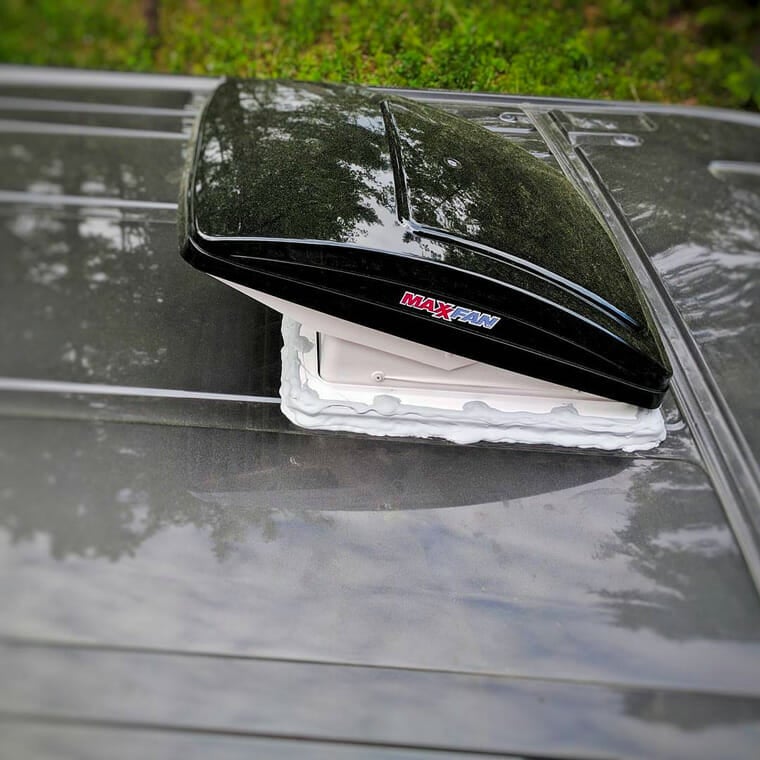 @moreysintransit | @faroutride
MaxxFan Comparison
Our Pick ↠ Best RV Roof Vent Fan For Van Life:

Maxxair 6200K
When it comes to vent fans, the Maxxair 6200k is the top-of the line manual model and comes with all the bells and whistles. The biggest difference between the Maxxair fan and the Fan-tastic line is the built-in rain cover preventing any moisture from getting inside.
The Maxxair line has 10 speed settings that can be adjusted via dial on the unit. With so many speeds, the fan runs quieter than others at the lowest speed. The highest setting will draw up to 5Amps of power with the lowest going down to 0.2Amps. It also has two lever arms that crank into position keeping the unit stable even in high winds.
The technology of the Maxxair is supreme with a temperature sensor that can be set to kick the fan on at a set temp and directional blade. The multi-directional blades are a big bonus for anyone doing high-intensity activities inside the van such as cooking because it will suck the moisture, smells and fumes right out.
Finally, Maxxair is a sleek, low-profile fan. You can expect this product to add 5" to the height of your vehicle when shut, and 9.3" when fully opened.
There are not many complaints that can be found about the Maxxair vent fan models. Aside from the high price, one downside often repeated is the remote control (IR repeater) can sometimes get out of sync with the fan. This is especially noticeable if you are running a TV or another device that also uses an IR repeater remote.
That being said, the Maxxair RV vent fan has been praised for its easily installation and well-built construction.
MaxxFan Amp Draw, Airflow & Decibels
Model 4000K, 4500K, 4700K, 4900K
| Speed | Airflow (CFM) | Current (Amps) | Noise (dB-A) |
| --- | --- | --- | --- |
| 1 | 274 | 0.23 | 32.0 |
| 2 | 364 | 0.32 | 33.0 |
| 3 | 486 | 0.48 | 36.2 |
| 4 | 562 | 0.70 | 42.6 |
| 5 | 655 | 1.02 | 42.8 |
| 6 | 756 | 1.38 | 48.7 |
| 7 | 845 | 1.83 | 51.5 |
| 8 | 934 | 2.36 | 58.0 |
| 9 | 1020 | 3.01 | 56.0 |
| 10 | 1158 | 4.20 | 59.6 |
Model 4751KS, 4951KS, 4301K, 4401K
| Speed | Airflow (CFM) | Current (Amps) | Noise (dB-A) |
| --- | --- | --- | --- |
| 1 | 274 | 0.23 | 32.0 |
| 2 | 486 | 0.48 | 36.2 |
| 3 | 845 | 1.83 | 51.5 |
| 4 | 1158 | 4.20 | 59.6 |
The Fantastic vent fan 2250 has been a go-to fan for many van lifers because of its lower cost, durability and outstanding customer service. Although this fan does not have a built-in rain cover, Fantastic has many adaptor options for this purpose that can be added later if necessary.
Some of the other key differences between this model and the Maxxair are that this fan only has one crank arm holding it open which makes the fan more prone to rattling at high winds. It also only has 3 speed settings. The lowest speed of the Fantastic fan will be a bit louder than the lowest speed of the Maxxair RV vent fan for this reason.
The Fantastic fan does have a temperature sensor allowing it to be automatically switched on and off depending on the temperature. The controls for this are directly on the device as it does not come with a remote control.
This fan is easy to install and will add about 4.5" of height to a vehicle when fully closed. Fantastic has a great warranty system, and the customer service is highly-rated.
Read our article on how to install an RV vent fan in your camper van
Fantastic Fan Amp Draw
| Speed | Amps (in) | Amps (out) |
| --- | --- | --- |
| 1 | 1.0 | 1.0 |
| 2 | 1.3 | 1.4 |
| 3 | 1.6 | 1.8 |
Best Low Budget Vent Fans: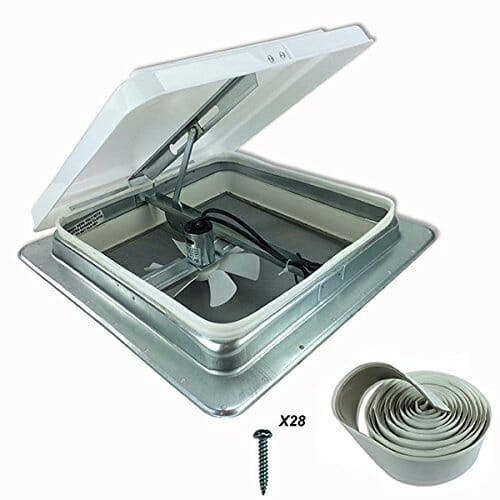 Heng's makes a solid product for anyone looking to do a budget build. Heng's vent fans are a fraction of the price of most of the other fans on this list, but they also lack many of the features.
When buying a Heng's fan you're going to get a bare-bones model fan. The Heng's universal fan comes with one speed, no remote control, rain cover or temperature sensor. The blades only run in one-direction. The fan does however get very good reviews and comes at a low price. The biggest complaint about this fan is that the plastic lid cover is not high-quality and can break or crack easily in hail or bad weather.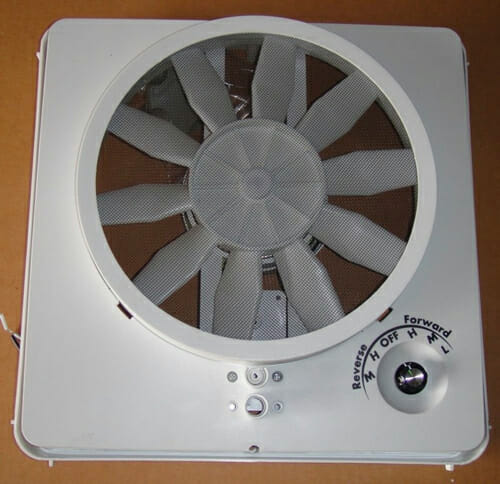 The Vortex II RV Roof Vent is an upgrade kit meant to replace an older vent fan. This means along with the fan it will be necessary to purchase a vent cover. However, the kit does come with mounting hardware and can be used as a stand-alone device.
This fan is low priced for the number of features it offers including 3 speeds with a 2-speed reverse flow. It does not come with a remote control or temperature sensor either. The biggest complaint about this fan is that it runs a little loud and the switch control can be finicky.
How To Install An RV Vent Fan In Your Camper Van
Installing a roof vent fan in your camper van conversion is a relatively straight forward process. All of the vent fans listed above fit into a standard 14×14″ RV opening.
Even without an opening in your roof, the process for installing a vent fan takes only a few tools. We've written a step-by-step guide with pictures to help you through this process.
Read our article on how to install an RV vent fan in your camper van