Best Roof Vent Fan For RV And Camper Van Conversions
By
on
This post may contain affiliate links. As an Amazon Associate, I earn from qualifying purchases. Please read my full disclosure.
We've reviewed the best RV roof vent fans for campers, motorhomes and travel trailers. Each of these vent fans run off 12V DC power and fit into a standard 14" x 14" opening in the roof.
While all vent fans are going to make a difference in the amount of fresh air in your vehicle, there are two brands that stand out among the rest: Maxxair and Fantastic.
In our opinion, Maxxair edges out the Fantastic Fan. In the article below, we're going to go over the features of each and explain why.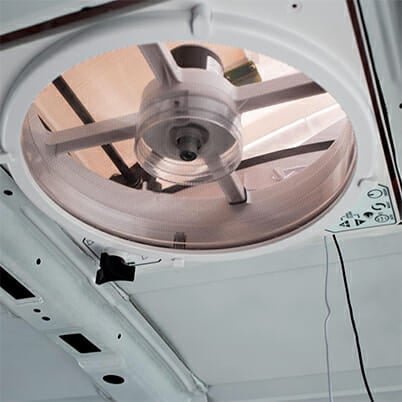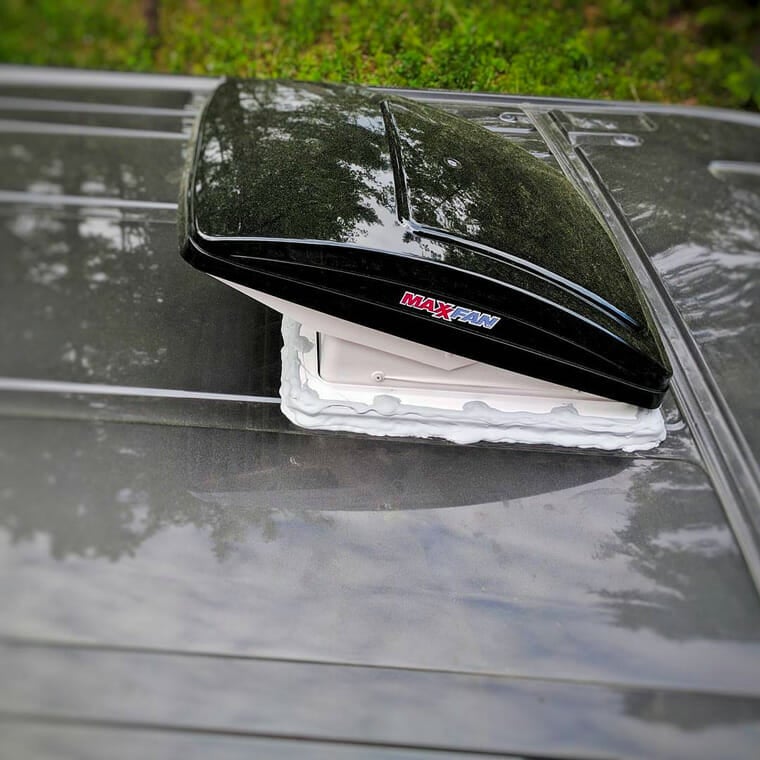 @moreysintransit | @faroutride
MaxxFan Comparison
Our Pick ↠ Best RV Roof Vent Fan For Van Life:

Maxxair 7500K
When it comes to vent fans, the Maxxair 7500k is the top-of the line manual model and comes with all the bells and whistles. The biggest difference between the Maxxair fan and the Fan-tastic line is the integrated rain shield which prevents any moisture from getting inside.
The Maxxfan deluxe has 10 fan speed settings that can be adjusted via dial on the unit. With so many speeds, the fan runs quieter than others at the lowest speed.
The highest setting will draw up to 5Amps of power with the lowest going down to 0.2Amps. It also has twin lifting arms that crank into position keeping the unit stable even in high winds.
Top Choice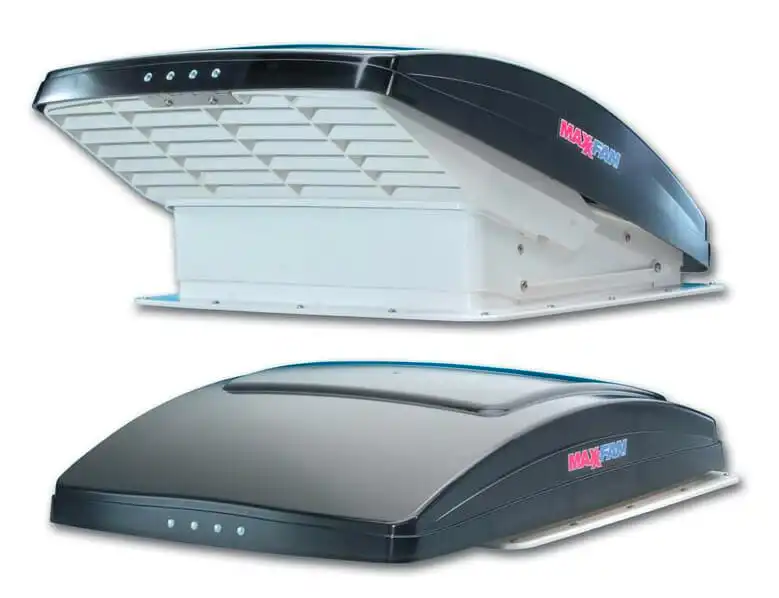 MaxxFan 07500K
Our top-choice vent fan for a camper van or RV. It has a built-in rain cover, 10 speeds, and the lowest Amp draw on the market.
SMOKE GRAY
WHITE
The technology of the Maxxair is includes a built in thermostat that can be set to kick the fan on at a set temperature.
Multi-directional blades are a big bonus for anyone doing high-intensity activities inside the van such as cooking because it will suck the moisture, smells and fumes right out.
Finally, Maxxair is a sleek, low-profile fan. You can expect this product to add 5" to the height of your vehicle when shut, and 9.3" when fully opened.
MaxxFan Amp Draw, Airflow & Decibels
Model 4000K, 4500K, 4700K, 4900K
| Speed | Airflow (CFM) | Current (Amps) | Noise (dB-A) |
| --- | --- | --- | --- |
| 1 | 274 | 0.23 | 32.0 |
| 2 | 364 | 0.32 | 33.0 |
| 3 | 486 | 0.48 | 36.2 |
| 4 | 562 | 0.70 | 42.6 |
| 5 | 655 | 1.02 | 42.8 |
| 6 | 756 | 1.38 | 48.7 |
| 7 | 845 | 1.83 | 51.5 |
| 8 | 934 | 2.36 | 58.0 |
| 9 | 1020 | 3.01 | 56.0 |
| 10 | 1158 | 4.20 | 59.6 |
Model 4751KS, 4951KS, 4301K, 4401K
| Speed | Airflow (CFM) | Current (Amps) | Noise (dB-A) |
| --- | --- | --- | --- |
| 1 | 274 | 0.23 | 32.0 |
| 2 | 486 | 0.48 | 36.2 |
| 3 | 845 | 1.83 | 51.5 |
| 4 | 1158 | 4.20 | 59.6 |
Things To Keep In Mind
There are not many complaints that can be found about the Maxxair fans. Aside from the high price, one downside often discussed is the remote control (IR repeater) on electric models can sometimes get out of sync with the fan.
This is especially noticeable if you are running a TV or another device that also uses an IR repeater remote.
---
The Fantastic RV vent fan 2250 has been a go-to fan for many van lifers because of its lower cost, durability and outstanding customer service.
Although this fan does not have a built-in vent cover, Fantastic has many adaptor options for this purpose that can be added later if necessary.
Some of the other key differences between this model and the Maxxair are that this fan only has one crank arm holding it open which makes the fan more prone to rattling at high winds.
It also only has 3 speed settings and will therefor be a bit louder than the lowest speed of the Maxxair RV vent fan for this reason.
This fan does have a temperature sensor allowing it to be automatically switched on and off depending on the temperature. The controls for this are directly on the device as it does not come with a remote control.
This fan is easy to install and will add about 4.5" of height to a vehicle when fully closed. The company has a great warranty system, and the customer service is highly-rated.
Fantastic Fan Amp Draw
| Speed | Airflow (CFM) | Current (Amps) |
| --- | --- | --- |
| 1 | 478 | 3.00 |
| 2 | 653 | 2.29 |
| 3 | 920 | 1.86 |
---
The Bottom Line: Maxxair vs Fantastic Fan
Top Choice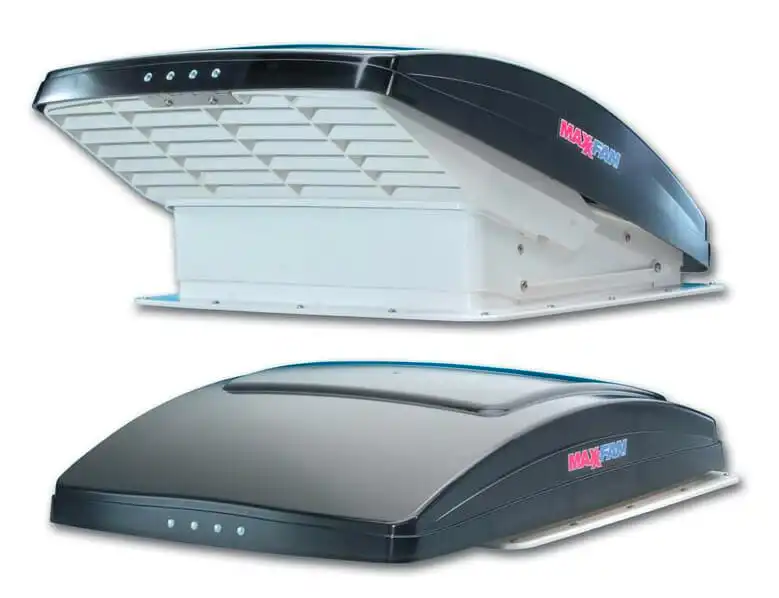 MaxxFan 07500K
Our top-choice vent fan for a camper van or RV. It has a built-in rain cover, 10 speeds, and the lowest Amp draw on the market.
SMOKE GRAY
WHITE
What are the biggest differences?
It's difficult to compare the entire line of Maxxair Fans vs the Fan-tastic Fans because there are so many models to choose from. Instead we'll compare the two manual models from each brand: Maxxair Fan 6200k and Fantastic Fan 2250.
Speed: The Maxxair has 10 speeds while the Fantastic Fan has 3 speeds. That means at lower speed settings, the Maxxfan will have a lower amp draw (under 0.5 amps). Meanwhile, the Fantastic fan draws 1Ah on the lowest setting.
Rain: Maxxfan is fully enclosed and can operate while propped up in the rain. The Fan-tastic Fan has a rain sensor to automatically close the built in rain cover when wet. You can mitigate the rain issue by purchasing a vent cover accessory for the Fantastic fan.
Noise: The Fan-tastic Fan is the quietest on the market.
Height: When fully closed, the Maxxfan will add approximately 5 inches to the top of your camper. The Fan-tastic fan will add 4.5 inches when closed making it the lower profile choice.
Remote control: Only the top-end roof vents of each brand come with remote control models.
Best Low Budget RV Vent Fans:
We highly recommend purchasing either a Maxxair or Fan-tastic fan for your RV. That
We highly recommend purchasing either a Maxxair or Fan-tastic fan for your RV. That being said, any amount of airflow is going to make a world of difference when it comes to summer weather. The two options below: Heng's and Vortex are also made to fit in a standard 14″ x 14″ opening.
They will run a bit louder than our top choices and won't have nearly the same amount of airflow but they are a decent choice for budget buyers.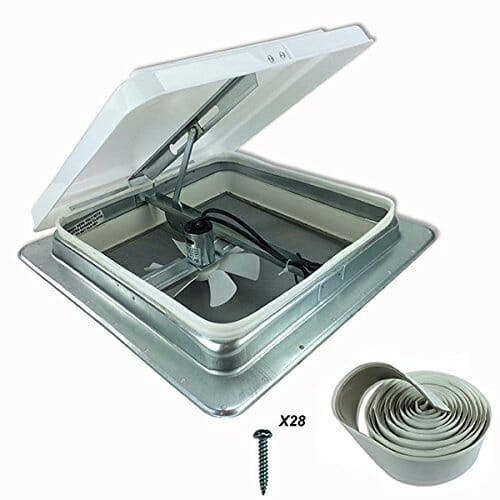 Heng's makes a solid product for anyone looking to do a budget build. Heng's vent fans are a fraction of the price of most of the other fans on this list, but they also lack many of the features.
When buying a Heng's fan you're going to get a bare-bones model fan. The Heng's universal fan comes with one speed, no remote control, rain sensor, vent cover or built in thermostat.
The fan blades only run in one-direction so you don't get the ceiling fan mode of other models.
The fan does however get very good reviews and comes at a low price. The biggest complaint about this fan is that the plastic vent cover is not high-quality and can break or crack easily in hail or bad weather.
The Vortex II RV Roof Vent is an upgrade kit meant to replace an older vent fan. This means along with the fan it will be necessary to purchase a vent cover. However, the kit does come with mounting hardware and can be used as a stand-alone device.
This fan is low priced for the number of features it offers including 3 speeds with a 2-speed reverse flow. It does not come with a remote control, integrated rain cover, or temp sensor either.
The biggest complaint about this vent fan is that it has loud motors and the switch control can be finicky.
Thoughts on RV Roof Vent Fans
Size of Your RV Roof Vent Fan
Travel trailers and motorhomes come with a standard 14″x14″ vent fan.
Roof Vent Fan Covers And Insulators
While you don't need much in the way of accessories, one product that we would like to point out is a vent insulator. These vent covers are essentially a piece of foam insulation designed to fit a 14″ x 14″ vent fan and reduce heat transfer.
You'll find it especially useful in the winter months when you want to prevent any drafts of cold air. Of course, you could make this item yourself, but they are quite inexpensive to purchase online.
Is an RV vent fan good enough for pets?
An RV roof vent fan is a great way to push stale air and smells out of the camper and circulate air in, but they are not a replacement for air conditioners! These devices can only cool the RV so much. You still need to be aware of temperatures in the vehicle.
Camper roof vents with a rain sensor may automatically close creating a dangerous situation if it's too hot outside.
The best thing you can do is frequently check on your pets and consider installing a remote temperature monitoring device.
How To Install A RV Roof Vents In Your Camper Van
Even without a pre-cut hole in the roof, the steps to install a vent fan in your DIY camper van conversion is a relatively straight forward process.
It takes only a few tools and you'll be able to complete the process in just a couple of hours or less. We've written a step-by-step guide complete with pictures to help you through this process.
How To Install A Vent Fan In Your RV, motorhome or travel trailer
Why should you upgrade your RV vent fan?
Factory installed vent fans are sub-par compared to the Maxxair or Fan-tastic fans. This is done as a cost-saving measure and you'll find that standard fans do not produce the airflow of some of the higher end models.
What size opening does an RV vent fan need?
Almost all motorhomes will come with a 14″ x 14″ ventilation fan built-in. That makes the installation and upgrade process significantly easier than starting from scratch.
Vent Fan Installation
Start by unscrewing and removing the old vent fan and flange
Using a handheld scraper, remove the old lap sealant around the edges of the previous fan
Run butyl tape around the perimeter of the opening to create a gasket. If you purchased a Fan-tastic fan, a gasket comes provided (hint: it looks like foam packaging)
Place the new flange into the existing hole
Gently screw the corners in place, then go inside the RV to make sure everything is aligned correctly
Using a digital multimeter, determine which of the existing wires are positive and negative
Connect the new fan wiring to the existing fan wiring and give it a test run
If everything is working properly, solder the wires together
Install the interior frame
Head back up to the roof and secure the remaining screws around the frame; do not overtighten!
To weatherproof and completely seal any gaps, tape the perimeter of the vent fan using eternabond roof seal tape
Apply pressure to the eternabond tape with a small roller
With any extra seams, apply a thin bead of dicor lap sealant
Frequently Asked Questions
What is the difference between the Maxxfan Models?
The Maxxair fan models are designed in pairs. The pairs are exactly the same in design and features. The only difference is the color (smoke vs white).
5301k & 6401k
5100k & 5200k
7000k & 7500k
What size wire should you use to install an RV vent fan?
What is the difference between a manual and electric RV vent fan?
Electric vent fans come with a remote control. In a small vehicle or DIY camper van conversion, a manual vent fan will be more than sufficient. We recommend purchasing a vent fan with a remote and electric opener if you're traveling in an RV with a high ceiling where it's more difficult to reach.
Do RV vent fans work?
No RV vent fan is going to work well enough to replace air conditioning, however these products are highly effective at replacing stale air, cooling the vehicle enough to leave pets for short periods of time, and keeping you comfortable while you sleep.
Which Maxxair fan is best?
The Maxxair 700k and 7500k have the most effective air circulation and air volume. They also automatically close using a built in rain sensor and come with a remote control for convenience.
What is the quietest RV vent fan?
Will these fans keep my pet cool in the RV all day during summer?
No! We do not recommend leaving a pet in your camper van or RV all day. A fan will not be sufficient in hot summer weather. These fans will significantly cool the interior of your vehicle but you should always be aware of radiant heat and temperature changes.
Make frequent checks on your pet. Over time you will get a better idea of how your individual vehicle handles hot weather. Read our post on tips and tricks to stay cool in summer for more ideas.
Wrapping It Up
Both the Maxxair and Fantastic Fans are great choices when it comes to upgrading your RV vent fan. They are simple to install and will make a significant difference in the airflow and cooling abilities of your motorhome.
Continue Reading: